The China Science and Technology Museum says it has served more than 500 million people over the past two decades, with mobile projects aimed at popularising science taking place in some of the country's most remote regions.




Miirage is a new modular holographic system bringing the virtual world to life without any additional need for mobile devices, screens or wearables. The creators behind the technology speak to Planet Attractions about the new product and exactly what it can do...




A new experience exploring space and featuring images from the James Webb Space Telescope has launched at Illuminarium Las Vegas




Qatar has launched an exhibition showcasing plans for four new museums, with the Art Mill Museum, Lusail Museum, Qatar Auto Museum and Dadu Children's Museum of Qatar all to open in the country by the end of the decade




Attractions technology provider accesso has announced the launch of a new PoS platform for restaurant and retail areas in theme parks.




Six Flags will become the first theme park operator to utilise Amazon's Just Walk Out technology, with the cashless and cashierless shopping experience coming first to Six Flags Great Adventure in June




BBC Studios is to launch a collection of immersive experiences on metaverse platform; The Sandbox later this year




MSC Eurbia will become the world's first net zero greenhouse gas emissions cruise when it sets sail next week




How can you leverage user-generated content and photo purchases to drive revenue and simultaneously promote your attraction? Attractions.io's Peter O'Dare has the answers...




The Expo 2020 Dubai site continues to undergo its repurposing following the event, with more than 3,000 workers set to be based on-site by September.




Leading rollercoaster manufacturer Zamperla has opened its first Twister Freeform coaster at Cedar Point in Ohio, US.




Attraction technology specialist Connect&GO has announced an extension to its Series A funding round with an additional US$8m raised to further develop and roll out the company's all-in-one management platform.




Attractions.io has teamed up with the Kennedy Space Center Visitor Complex to develop a brand new experience platform for guests of the popular destination




Universal Destinations and Experiences has filed a patent for a new kind of wearable technology.




Connect&Go has announced a three-year partnership with Canada's Canyon Sainte-Anne nature attraction in Quebec.




The Museums + Heritage show is set for its annual extravaganza next week, with the event returning to Olympia London on May 10-11.




Ohio's Toledo Zoo has had community funding renewed following a successful scheme which aimed to develop a conservation-focused internship programme for local high school students from underrepresented backgrounds.




With the attractions and cruise industries seemingly closer than ever before, RWS CEO Ryan Stana speaks to Planet Attractions about what that means and the steps we can take to bring these two powerhouses under one metaphorical roof




The first ever recipients of The King's Awards for Enterprise have been announced, with 7thSense recognised for demonstrating outstanding short-term growth and commercial success in international trade over the last three years




A first-of-its kind offering will make guests feel like they're at the heart of the action during live UFC events, with Cosm's 'shared reality' spectacles set to transform the way we watch live sporting events




A major museum dedicated to William Shakespeare will be built on the foundations of the theatre where the famed playwright hosted some of his first works




Attractions management technology specialist Connect&GO has announced a three-year contract renewal with Canada's Super Aqua Club waterpark in Quebec.




Universal Destinations & Experiences is seeking a patent that may offer a tease at one of the rumored attractions at its Epic Universe theme park under construction in Orlando.




The 50th anniversary of Pink Floyd's Dark Side of the Moon is being celebrated with a special show taking place at 100 planetariums worldwide




Koji Naito has been named the chairman and CEO of Christie, with Naito set to assume the role in addition to his current position as president and CEO of parent company Ushio




Will AI take over the planet or could it just maybe develop your next new dark ride attraction? Tom Anstey asked an AI a few simple questions to see how it would do in developing such a ride concept




Universal Parks & Resorts has filed a new ride patent that could hint at a future attraction at its upcoming Epic Universe resort in Orlando, Florida.




IAAPA Expo Asia is set to make its grand return this year, with registration for the event in Singapore now open.




NASA is to award millions of dollars of funding to museum projects across the US that encourage student participation in STEM subjects




Christie has teamed up with Brazil's Museum of Image and Sound of Ceará on the installation of an immersive multimedia room as part of a revamp of the historic institution




SeaTrade Cruise Global is returning to Florida. Here's everything you need to know...




A former cinema in Sunderland, UK, is one of three buildings set to be rebuilt at the Beamish Museum in County Durham.




Ferrari World Abu Dhabi's Mission Ferrari opened to the public to much fanfare in January. Holovis's James Lodder shares a decade-long journey to realise this incredible immersive rollercoaster experience




Sonia Coleman has been appointed to lead human resources at Disney after being named executive vice president and chief human resources officer.




Disney has revealed a 'real' lightsaber at this year's SXSW, an arts and technology festival currently underway in Austin, Texas




Staffordshire-based theme park Alton Towers has unveiled details of its upcoming Curse at Alton Manor dark ride ahead of its opening on March 18




The Shanghai Science and Technology Museum in Pudong, China, has unveiled a new digital platform that aims to engage children in science.




A new report exploring the market dynamics of the global cruise industry estimates the sector to grow to $16.7bn over the next several years




The Mary Rose Museum in Portsmouth, UK, is about to launch a brand new attraction, with an immersive 4D experience coming to the heritage attraction on March 31.




Bruce Vaughn is set to return to Disney Imagineering as chief creative officer, co-leading the division alongside Imagineering president Barbara Bouza




Titanic Belfast has reopened to the public following a multi-million-pound refreshment programme that has seen the introduction of four new themed spaces.




BoldMove Nation is developing two new 'phygital' worlds - attractions that use technology to bridge the digital world with the physical world with the purpose of providing a unique interactive experience for the user.




Digitalisation, self-servicing technologies and gamification are key concepts for Semnox, which has developed new innovations with a particular focus on the visitor attractions industry for 2023.




Universal wants to enhance its interactive experiences on offer, with the operator filing two new patents for character and wand technologies at its parks




Attractions management platform Convious is set to grow its advertising module in 2023, with the technology creating a new solution to maximise promotion for its clients.




3D printing has been used to create a full-size replica of a World Heritage site in China, offering visitors an up close and personal experience while also securing crucial data for future world heritage protection




July will see the opening of The Robot & AI Museum (RAIM) in Seoul, South Korea.




From waterpark suppliers and media specialists to creative designers and dark ride producers, Planet Attractions has gone to every corner of the globe to find out what's hot in 2023




The popular Titanic Belfast attraction will reopen next month with four new galleries and a 7.6m-long replica of the iconic ship following a multi-million pound revamp




Jurassic World: The Exhibition will open at the Odysseum in Cologne, Germany, following a successful run at London's ExCel Centre.




Van Gogh: The Immersive Experience will debut in Southeast Asia following successful runs in the US and across Europe.




Ad Gefrin Anglo-Saxon Museum and Whisky Distillery has announced it will open to the public on 25 March 2023 in Wooler, Northumberland, UK.




Ticketing technology specialist Gateway Ticketing Systems has appointed Sharon Parker to the role of senior manager of marketing.




Universal Studios Hollywood is levelling up the experience at the upcoming Super Nintendo World with its all-new Power-Up Band. Here's what the technology does




Another mega project has been announced for Saudi Arabia, with the PIF's Seven announcing plans for a SAR1bn entertainment destination in the city of Tabuk




Connect&Go - a global leader in guest and attractions management technology - has grown significantly over the last decade. Its co-founder Anthony Palermo spoke to Planet Attractions




One of the world's most anticipated museums will finally open this year after a more than 20-year development process with work now complete on Cairo's Grand Egyptian Museum (GEM).




A new technology from the Industrial Technology Research Institute can display information about different animals inside aquariums by tracking the eye movements of the user




After a difficult few years the museum sector is showing promising signs of recovery with several exciting projects set to open this year. Here are 14 of 2023's most anticipated museum openings




The Sidemen recently took a trip to Dubai for an epic game of hide and seek in one of the world's premiere waterparks




A zoo in Gibraltar has embarked on a new mission to modernise its technology in an attempt to better engage with visitors both digitally and in person.




A collection of more than 140 authentic Viking artefacts, including a full-size replica of a Viking ship, is set to go on display in the US at Pittsburgh's Carnegie Science Center.




The virtual band worked with Google to host two first-of-their-kind AR experiences in New York and London to promote their new single




A new version of Amazon's Alexa digital voice assistant will come complete with Disney branding and the ability to work alongside the operator's MagicBand+ technology




The Neobio Museum is a brand new attraction in Shanghai, China, offering experiential STEM education to young people




When it comes to all-in-one solutions for visitor attractions, Semnox's Venue Management Software system has transformed operations at popular FEC Kokomo Joe's. Here's how the technology works




Universal Studios Orlando has officially revealed its new Minions additions, with plans for Illumination's Villain-Con Minion Blast to open at the park next summer.




Professionals working in the creative field can now apply for a UAE Cultural Golden Visa, a permit which grants the holder a 10-year residency in the country.




The highly-anticipated Pipeline surf coaster is coming to SeaWorld Orlando this spring. SeaWorld's vice president of rides and engineering, Jonathan Smith, spoke to Planet Attractions about the project




Convious has signed a multi-year deal with West Midland Safari Park to supply its fully-integrated eCommerce and guest experience platform




Blooloop's Festival of Innovation starts today.




Convious has been recognised by global consulting company Deloitte as one of the fasting-growing companies in the Netherlands.




PortAventura has announced plans for a new Uncharted dark ride coaster with Sally Dark Rides and Intamin behind the €25m attraction




EAG - the Entertainment, Attractions and Gaming International Expo - is on course for one of the largest shows in its history after its organisers revealed registration is up 58% on 2020's pre-pandemic figure.




The world-first theme park will feature several key attractions inspired by iconic Mattel brands including Barbie, Thomas & Friends and Hot Wheels




Dronisos is seeking partners in the US following a successful year, which saw the company serve as a technology partner for Disneyland Paris




Fresh off last week's IAAPA Expo, leading waterpark supplier Whitewater is celebrating after being honoured with three prestigious awards.




ProSlide will announce a major new project at this year's IAAPA Expo, with the company also revealing a record number of projects for 2023




A number of exhibitors will be using Christie technology at this year's IAAPA Expo, with the company also set to showcase its MicroTiles LED among the products on its own stand




Creative software and technology company 7thSense will be supporting a number of partners at this year's IAAPA Expo in Florida, including SimeEx-Iwerks, Medici Media and the Big Break Foundation.




Spree Interactive is getting into the Christmas spirit a little early this year, with the launch of its Christmas Crunch VR title at the upcoming IAAPA Expo in Orlando




Princess Cruises has debuted a brand new immersive experience that combines dining, storytelling, music, scent and more for a one-of-a-kind journey through the Mediterranean




IAAPA has unveiled the list of finalists for its prestigious Brass Ring Awards, with winners to be announced during a special ceremony at this year's IAAPA Expo in Orlando, Florida




The dynamic media-based attractions specialist will showcase the attraction alongside its new Overdrive concept at the IAAPA Expo in Orlando, Florida




Amsterdam-based architecture studio Drift has used specialised drone software to create real-life, life-sized visualisations of architectural landmarks, lighting up the skies to show what they would look like should they be restored or completed.




Convious showcased its digital engagement platform at this year's IAAPA Expo Europe. The company's managing director for the UK & Ireland, Andy Povey, tells Planet Attractions about everything the company has to offer




Leading experience designers Mather & Co have named Kim Kherlopian as the company's new managing director. Planet Attractions caught up with him at this year's IAAPA Expo Europe to find out more




Ahead of a special industry panel looking at iconic attractions, experts from WhiteWater have named their personal picks, explaining why they think their choice is an iconic attraction




WhiteWater brings a strong presence to each and every IAAPA Expo. The company's chief marketing officer, Una de Boer, tells Planet Attractions about everything the company has to offer




TrustRadius - a research and review platform for business leaders - has recognised attractions technology solutions provider accesso as part of its "Tech Cares 2022" award programme.




AVIXA produces a number of popular events around the world, including InfoComm and Integrated Systems Europe. The organisation's regional manager for the UK and Ireland, Ben Barnard, spoke to Planet Attractions




Family-friendly active free-roam VR experiences provider Spree Interactive showcased its technology at this year's IAAPA Expo Europe. Co-founder and CEO Jonathan Nowak Delgado spoke to Planet Attractions at the show




Simworx has partnered with Katapult to develop a new dark ride offering an adrenaline-fuelled car chase. Simworx CEO Terry Monkton and lead creative Matt Clarkson spoke with Planet Attractions about the exciting new project




Vantage announced the launch of The Joy Economy at this year's IAAPA Expo Europe. Planet Attractions spoke to the Whitewater division's new president, Michael Jungen, about the campaign and what he hopes to deliver with the technology




Experiential design collective Conductr made its first appearance at an IAAPA show this year as part of the Experience UK stand in London. Planet Attractions spoke to co-founder and CEO Peter Cliff about the start-up and its plans for the future




Triotech has landed a deal with Puy du Fou Asia that will see the dynamic attractions specialist supply several attractions to the upcoming SAGA attraction in Shanghai




The Giant - a mammoth moving attraction and exhibition - is coming to a city near you




Leading drone entertainment specialist Dronisos has confirmed that Disneyland Paris' has extended the run of its DLight daily show for an additional 12 months.




FlowRider, a WhiteWater company specialising in artificial surf experiences, will expand its product line with two new additions: Flow Curl and FlowSurf.




BoldMove will offer attendees a close-up look at its AR Hybrid Quest attraction




IAAPA Expo Europe is coming to London this September. Here's everything you need to know about the event




OCT Group has debuted a first-of-its-kind attraction at its new Fabland Valley Resort in China. Triotech's Ernest Yale and Nol van Genuchten speak to Planet Attractions about the exciting new multi-path dark ride, how it came to be and what it could mean for future attractions




The attractions community has been sharing stories of the profound impact Queen Elizabeth II had on some of Britain's most beloved institutions, paying tribute to the monarch following her death, aged 96




Convious will recreate the guest experience to showcase the full capabilities of its cloud-based sales and marketing solution with an interactive, rocket ship-themed booth




Holovis has created an innovative two-in-one system that supports the delivery of two different media or real-time interactive experiences simultaneously within the same ride or attraction




accesso is set to showcase what it calls 'the future of mobile consumer engagement' at this year's IAAPA Expo Europe, with expanded solutions designed to help operators connect, engage and build loyalty with visitors




The Zoological Society of London (ZSL) has named Matthew Gould its new director general.




The kind of robotic technology seen at theme park rides worldwide will soon be available to cruise passengers out at sea




Attractions.io is adding a new feature to its mobile platform with the company set to showcase its new for 2022 wayfinding solution at this year's IAAPA Expo Europe




The dynamic media-based attractions specialist will showcase several new ride concepts at IAAPA Expo Europe




Carnival's new sustainability plan will cut its emissions by 500,000 metric tons per year and save US$150m annually in fuel costs




Combining storytelling, architecture, technology and experience in themed entertainment, the TEA's popular SATE event is now open for registration, with this year's edition coming from Las Vegas, Nevada, US.




Surftown MUC - an upcoming surf park featuring WhiteWater's Endless Surf wave technology - has officially broken ground.




eCommerce software platform and app innovator Convious has launched a new technology that allows attractions to enhance the visitor experience with targeted messaging.




Disney is about to launch its upgraded MagicBand+, with the wearable technology offering a host of new features for visitors




The projection mapping market could be worth as much as US$8bn according to a new report on the technology




The Experience Department, popularly known as ted, has expanded its European-based leadership team, naming Jake McCoy its new director of operations.




Alterface has shared details of three interactive projects opened last month featuring the supplier's interactive technology.




Whitewater's patented FlowRider is getting a new look, with the company introducing a brand new identity for the popular artificial surf brand.




Colour deficient and colour-blind visitors to Australia's Chau Chak Wing Museum are now being offered special glasses to see works of art in clear, vibrant colour for the first time




Roger Highfield, science director at the Science Museum Group, has discussed a new study that suggests the soot released by space tourism could have a bigger impact on the climate than the soot from aviation.




Tibet Planetarium, which could open in two years' time, hopes to welcome over 100,000 guests annually




FlowRider's FlowSurf technology was inspired by river waves and creates never-ending waves




Royal Caribbean Cruises has filed a request that if approved will see SpaceX's Starlink satellite internet service rolled out across the operator's entire fleet




The Science and Industry Museum has received a generous donation from The Law Family Charitable Foundation for the refurbishment of its Power Hall




Paris Hilton has made a significant donation to the Los Angeles County Museum of Art that will enable the museum to acquire digital artworks by female artists




Holovis and Azimuth have teamed up with grand plans to develop an XR content creation and digital engineering team in Malaysia, making the country a hub for the Southeast Asia region in XR technology development




The Adler Planetarium in Chicago is one of a number of informal education institutions to receive NASA funding to serve students from communities underrepresented in STEM fields




Electric Gamebox - a location-based immersive gaming platform - has announced a partnership with video game developer Rovio Entertainment to launch a lifesize Angry Birds game.




Attractions.io has teamed up with VisiSoft to merge its guest-facing app technology with the company's electronic point of sale (EPOS) and online ticketing software.




Pop supergroup ABBA need to earn £140m from ticket sales of their London residency Voyage to cover the cost of the virtual spectacle




Triotech has announced that the company has hit a landmark 100 attraction installations in Europe, a figure the supplier passed during the spring.




Google Arts & Culture celebrated Internation Museum Day with the launch of three new mind-bending AR art filters




The British government is supporting a range of public sector organisations in reducing their dependency on carbon and improving energy efficiency




How do you develop a POS system that caters to both digital natives and the generation before them? Convious's Miendu Dang has the answers




Set to debut later this year, Technicians: The David Sainsbury Gallery will feature Marvel's Black Panther as its centrepiece, with the IP being used to encourage children to explore the role of technicians




A new dark ride concept based on the iconic Fisher Price IP from Mattel has been unveiled, with the new attraction utilising a number of the brand's popular children's toys, which will be blown up into epic proportions for the experience.




The Delaware Museum of Nature and Science is set to reopen on May 23 following an extensive renovation




A new Supreme Committee has been formed to plan and implement the future of the Expo 2020 Dubai district




Former Disney man Michael Jungen has taken up a new position as the president of WhiteWater's Vantage division.




Leaders in the themed entertainment industry gathered last month for the return of TEA Summit and Thea Awards Gala for the first time in two years. Christine Kerr on behalf of the TEA and Nicole Sangster from Thea Award recipients Simworx both report on the event




We've rounded up all the special events you should be attending this month




A number of attractions suppliers and manufacturers have been named winners of China's prestigious Golden Crown Awards




Ultraleap is introducing a new tool to allow the use of hand tracking while wearing a Pico Neo 3 VR headset




The Dubai Entertainment, Amusement & Leisure Exhibition returned in 2022, bringing with it much success for attendees and exhibitors alike




A group of big cats which were to be euthanised over fears Russian bombing would set them loose in the city of Kharkiv have been saved after an evacuation to take them to other zoos was organised.




Visual and audio technology company Christie has named Hideaki Onishi as its new chairman and CEO.




Toronto Zoo is starting to undergo a major transformation. Its CEO Dolf DeJong spoke to Planet Attractions about the ambitious masterplan




Marwell Zoo and Attractions.io have teamed up for the development of a brand new app designed to enhance the visitor's digital experience




The companies have entered into a three-year partnership that will see Accesso supply its point of sale solutions across four of Pyek Group's waterparks




Walker joins the company with more than 20 years experience, having held senior creative roles at Universal Creative and Dynamic Attractions




Shanghai Planetarium, Shanghai Museum and more than 100 city parks have already closed to the public




German rollercoaster manufacturer Maurer Rides has launched a new interactive snow coaster.




San Diego Zoo has launched one of its most ambitious ever additions, with the brand-new US$69m Wildlife Explorers Basecamp showcasing a number of different ecosystems through a series of immersive experiences




Attractions.io has announced a new partnership with Chester Zoo, with the animal attraction in the UK launching a fully-branded mobile app to enhance the visitor experience.




Cruise operator Hurtigruten Norway has initiated one of Europe's largest environmental ship upgrades, with rebuilt ships set to cut CO2 emissions by 25% and NOx emissions by as much as 80%.




In order for theme parks to run operations in a smooth and efficient manner, internal communications are key. Ross McCaw, CEO and founder of OurPeople, tells us more




Disney's Imagination Campus has released a new look at the iconic Space Mountain from a STEM perspective, exploring the science and technology behind the attraction while also looking at the role that energy and acceleration play in the design of rollercoasters.




Gail Evans has been named executive vice president, chief digital and technology officer for Disney Parks, Experiences and Products.




Industry veterans Peter Cliff and Jos van der Steen, have launched a new company aimed at creating immersive experiences.




Here are all the events you should be attending this month




The exhibition had its world premiere at Philadelphia's Franklin Institute earlier this month




A combined US$400m investment, Resorts World Sentosa is launching the first phase of its RWS 2.0 expansion plan, with an all-new Minions land at Universal Studios Singapore and the redevelopment of the rebranded and reimagined Singapore Oceanarium




How does an immersive experience tie in with the metaverse? John Munro, CEO and chief creative officer for storytellers Immersive has the answers




Sesame Place San Diego is set to open next month, with the location set to include an interactive Sesame Street Neighbourhood along with themed attractions




Creative software and technology company 7thSense has announced the acquisition of design, consulting and production company Bluebox Attractions.




Disney doubled revenues at its parks in its second quarter, with Bob Chapek saying that there is more storytelling infused into every aspect of a visit to a Disney park than ever before




One of Norway's largest theme parks recently turned to Attractions.io to solve stability problems in its app, with a 'transformational year' seeing Hunderfossen extend its partnership with the company until 2024.




Hailed as the "most beautiful building on earth", the awe-inspiring Museum of the Future finally has its opening date, with His Highness Sheikh Mohammed bin Rashid Al Maktoum, Vice-President and Prime Minister of the UAE and Ruler of Dubai, announcing a February 22 opening date for the attraction.




ATRAX – The Amusement-Attraction, Park-Recreation Industry and Services Exhibition - is underway at the Istanbul Expo Center in Turkey.




Attractions.io partnership with Merlin Entertainments has been expanded to include the supplier's mobile wallet technology at all Merlin-operated theme parks




With so many big things coming in the year ahead, we've rounded up all the key events taking place this year. Welcome to your attractions calendar for 2022.




Using breakthrough aquatic life support technology, Monterey Bay Aquarium will soon debut a collection of sea creatures you would normally only be able to see at the very bottom of the ocean




Parks! America Inc has announced a partnership with ticketing and technology solutions provider accesso to provide a more convenient and easy-to-navigate admission, reservation and shopping system to guests at its Wild Animal Safari attractions.




Both Bob Iger and Bob Chapek received huge pay boosts in 2021, with Disney's top men pulling in a staggering US$74.8m between them last year




The video of Spider-Man having a less than graceful landing so far has more than 822,000 likes with 4.3 million views but don't panic! Spidey is all good.




What does the future look like for immersive experiences when it comes to location-based entertainment? Michael Mascioni has the answers




Ticketing specialist accesso has announced its long-term partnership with Merlin Entertainments has been extended through to 2026.




We're not far off Mark Zuckerberg's big reveal of the metaverse and what that means for the future, but when it comes to attractions, there are some companies already well ahead of the curve. Andrew Jacobs, accesso's chief commercial officer, explains what it means for operators to be in a mobile-first world.




Disney's recently-departed CEO, Bob Iger, has stated his belief that a merger deal between Disney and Apple would likely have "gotten there" over time.




Happy Valley Group has signed a strategic cooperation intention agreement with SimEx-Iwerks to bring the supplier's 4D cinema technology and other attractions to the operator's parks across China.




Ticketing specialist Gateway has announced the promotion of Chase Mory to its new director of operations.




Stéphane Lefebvre is taking the step up from COO to take the reins as president and CEO of the Cirque du Soleil entertainment brand




Bob Iger is set to hand the reins over to Susan Arnold, who becomes the first woman to be appointed Disney chairman in the company's history




You'll need an armed military escort to get there but the reward will be great with a new museum dedicated to exploring themes of peace through art inside Korea's DMZ




Planet Attractions' Editor-in-Chief Tom Anstey is set to host a panel looking at trends emerging from Vietnam's growing attractions industry




Universal Studios Singapore has launched its festive season, with a festive augmented reality experience and new character meet-and-greets among the experiences on offer this holiday season.




Past meets future in this Rockwell-designed exhibition, which features 150 installations and artworks, including a guest appearance from Marvel Studios




Alterface, Storyland and Studios Occitanie are collaborating with the video game company on the project, which is slated to open in 2025




Winners were announced in a special ceremony during the IAAPA Attractions Expo in Orlando, Florida




The Ferrari Experience comprises immersive simulator rides, an eSports adrenaline hub and an exclusive themed dining experience




Triotech and Clifton Hill have announced a major new attraction to be installed at Niagara Falls, Ontario, Canada.




The concept combines lighting, projection, audio and special effects to create an immersive mini-golf experience




A new virtual reality platform from VRsenal can double efficiency, throughput and ROI in footprint and price compared to the company's previous single-player model




The K-pop music arena plans to host some 190 concerts per year




Simworx will be on hand to discuss several of its projects, including the newly opened Massameer Experience Ride at Boulevard RUH City in Riyadh, Saudi Arabia




ParadropVR Pod is a compact, attendant-free version of the company's Paradrop VR attraction




Gateway's immersive Guest Journey experience enables operators to experience their attraction from a guest perspective




A new immersive experience is making its way to the Tower Vaults inside the Tower of London, with The Gunpowder Plot set to make its debut in May 2022.




Illuminarium Experiences and Accesso are teaming up once again, with the operator set to make its Las Vegas debut at the highly-popular AREA15 immersive entertainment venue in 2022




When it comes to global trends this is THE next big thing and there's a good chance you don't quite know what it means yet. Welcome to the metaverse and here's exactly why you need to get in on the ground floor.




Paul Rudd, Evangeline Lily, Anthony Mackie, Brie Larson and more have lent their talents to the Disney Cruise Line's upcoming Marvel Experience




Arizona's Phoenix Zoo has gone live with Galaxy Connect from Gateway Ticketing Systems, streamlining the attraction's ability to sell admission tickets on third-party distributor websites.




ProSlide Technology has been named the recipient of three World Waterpark Association Leading Edge Awards for 2021.




High-performance media specialist 7thSense has appointed Erik Iversen as senior product manager for pixel processing products.




New images of Central Hall - a building that will unite the two halves of the National Railway Museum (NRM) in York, UK - have been released.




Telecommunications giant Vodafone is supporting the development of a brand-new digital museum dedicated to the history of the mobile phone




A new and slightly terrifying museum has opened its doors in China, with the EX Future Science and Technology Museum in Dalian touted as the "world's first bionic humanoid robot museum".




New experiences for the visually impaired are set to be rolled out at a number of Merlin attractions, including Legoland Parks, Legoland Discovery Centres and Sea Life aquariums




A series of Manchester United themed entertainment experiences, featuring immersive projection and tracking technology, are being rolled out in China, with the first "Theatre of Dreams" attraction opening in Beijing earlier this year.




The Innovation Awards were created to recognise excellence and innovation in the attractions and themed entertainment industries




Pokémon is set to make its mark at Universal Studios Japan following a landmark deal to bring the popular IP to the park starting in 2022




WhiteWater has announced that Frank Good and Domingo Vergoossen will join the company in senior roles. Good will take on the role of VP of Business Development at Vantage, WhiteWater's technology arm and has more than 10 years experience providing digital solutions to theme parks.




IAAPA's international trade show is back with IAAPA Expo Europe emanating from Barcelona, Spain. Here's everything you need to know about the event




Forrec has worked on several high-profile projects, including the Nickelodeon Universe indoor theme park at American Dream




7thSense will be exhibiting at IAAPA Expo Europe as part of the Experience UK Pavilion




Attractions.io has developed a direct-to-table in-app food ordering system for those who want to maintain social distancing




Smash & Reload is a family-friendly attraction that combines competitive gameplay with a fun and interactive IP




The upgraded Galaxy is an integrated solution combining ticketing, admission control, resource management




Simworx will showcase two new attractions aimed at smaller venues at family entertainment centres at this year's IAAPA Europe Expo




Architects Stufish have been tasked with creating a pop-up arena for iconic Swedish band ABBA's virtual comeback in London




Battle Arena is a new interactive ride concept from Lagotronics Projects that pits riders against each other as they battle to score points




Security specialists Axon have supplied Six Flags' US theme parks with body cameras for staff




Pixel Artworks has worked with Merlin Entertainments to develop Sundown Spectacular - an all-new lightshow at Warwick Castle celebrating the end of the British summer




The US$1.08bn Legoland Shenzhen Resort is Merlin's latest - and largest - venture in the Chinese market




Everything is about to get bigger (and smaller) as Disney continues to take the world by storm with its latest animatronic projects




Disney has introduced a new digital service offering personalised itineraries for visitors wanting to get the most out of their day at one of the operator's parks




The experience was developed to meet growing demands for high-end turnkey solutions and reliable technology




Following a rollercoaster year, Six Flags is certainly on a high after more than doubling its expected EBITDA for Q2




A carbon-neutral cruise ship could be realised in the not-too-distant future, with MSC Group announcing a feasibility study for a hydrogen-powered vessel




Unesco has deleted Liverpool from its World Heritage List after a committee determined new developments were damaging the city's global heritage




We spoke to Triotech's Ernest Yale and Nol van Genuchten about Knott's Berry Farm's iconic Bear-y Tales dark ride, which has been reimagined for a brand new audience more than three decades later




The migration of artefacts will be the largest since the 1880s and will see more than a third of the museum's collection relocated to the brand-new Harwell Campus




Disney is promising a first-ever Marvel-cinematic dining adventure with the debut of Avengers: Quantum Encounter on board the Disney Wish




IAAPA supports the lifting of US travel restrictions, Donkey Kong could be making his way to Universal's theme parks, George Osborne becomes British Museum chairman and Portugal has welcomed Europe's first five-person water coaster. Welcome to the latest edition of The Week from Planet Attractions.




ProSlide's MammothBlast five-person water coaster has made its European debut at Portugal's popular Aquashow Park




The long-awaited Shanghai Astronomy Museum is set to open its doors to the public on July 18




The Mobile Food Ordering system saves guests time and reduces the risk of COVID transmission




The attraction will feature never-before-seen photographs and behind-the-scenes shots from the Harry Potter and Fantastic Beast films




As the COVID tide begins to turn, the recreation sector looks set to bounce back with a new report suggesting the market could be worth as much as US$1.92tn by 2025


































© Kazoo 5 Limited 2023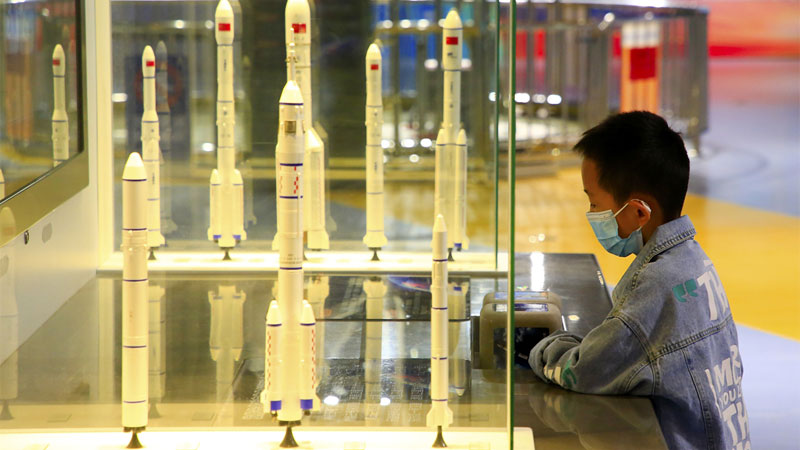 The China Science and Technology Museum says it has served more than 500 million people over the past two decades, with mobile projects aimed at popularising science taking place in some of the country's most remote regions.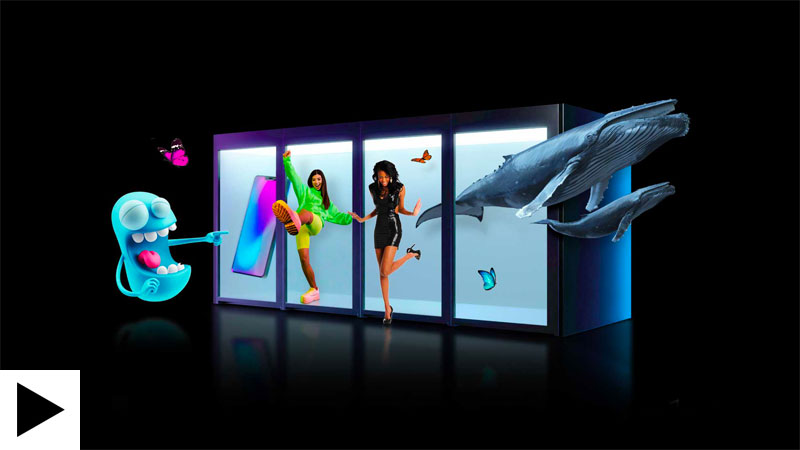 Miirage is a new modular holographic system bringing the virtual world to life without any additional need for mobile devices, screens or wearables. The creators behind the technology speak to Planet Attractions about the new product and exactly what it can do...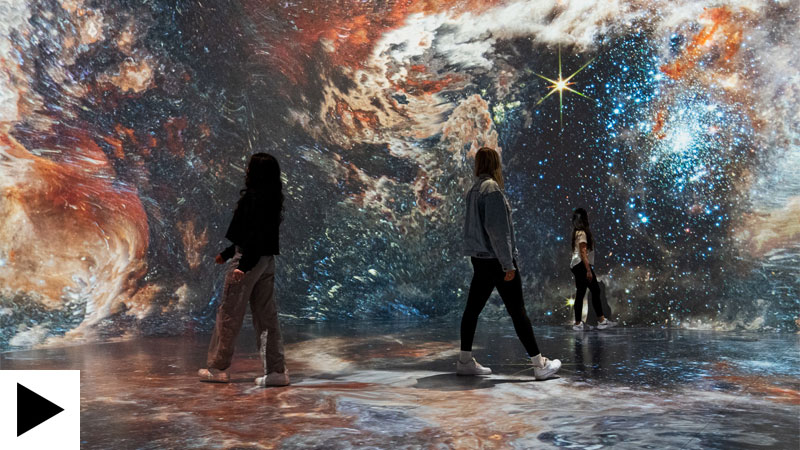 A new experience exploring space and featuring images from the James Webb Space Telescope has launched at Illuminarium Las Vegas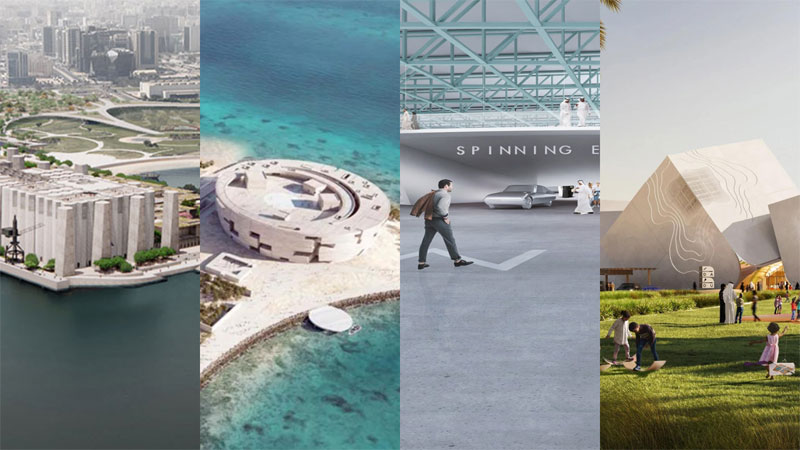 Qatar has launched an exhibition showcasing plans for four new museums, with the Art Mill Museum, Lusail Museum, Qatar Auto Museum and Dadu Children's Museum of Qatar all to open in the country by the end of the decade


Attractions technology provider accesso has announced the launch of a new PoS platform for restaurant and retail areas in theme parks.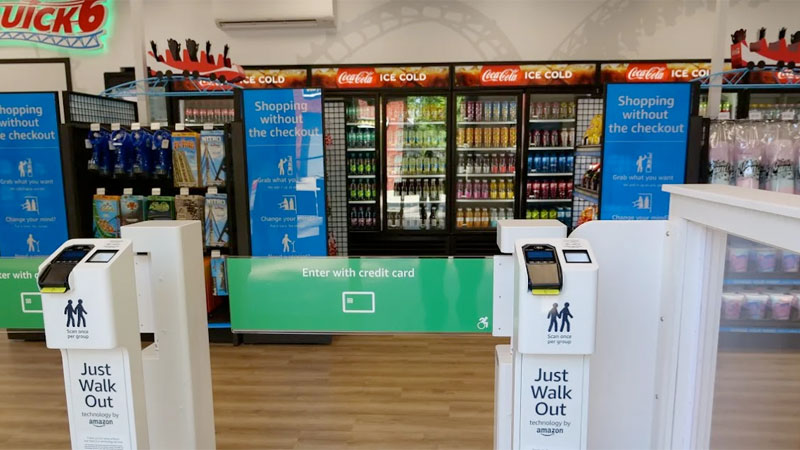 Six Flags will become the first theme park operator to utilise Amazon's Just Walk Out technology, with the cashless and cashierless shopping experience coming first to Six Flags Great Adventure in June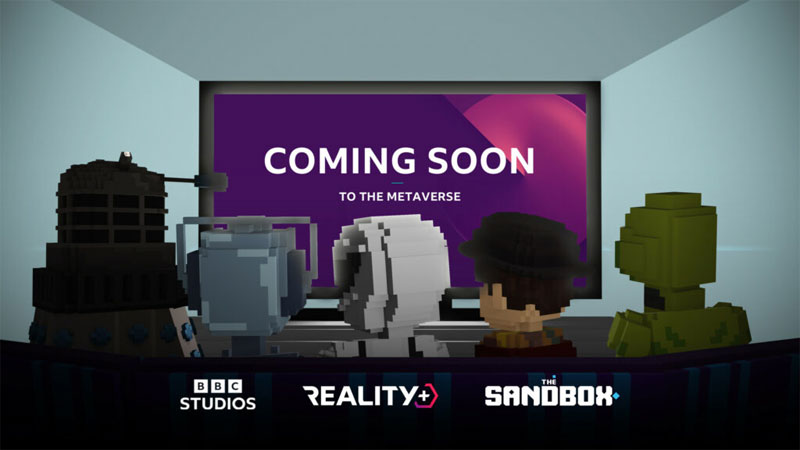 BBC Studios is to launch a collection of immersive experiences on metaverse platform; The Sandbox later this year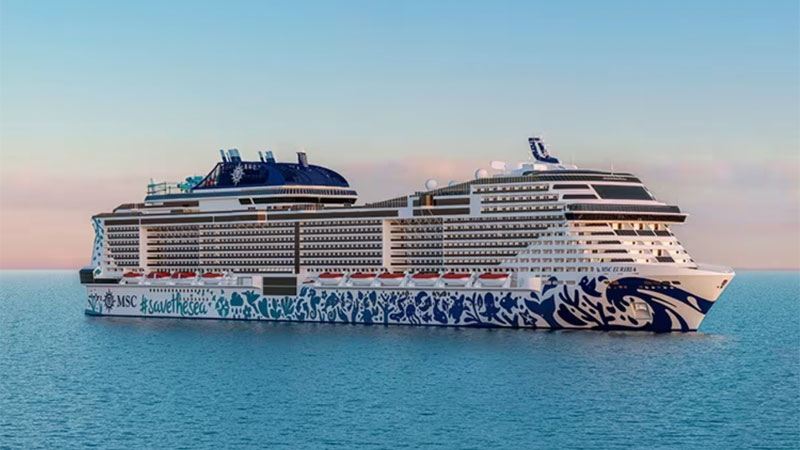 MSC Eurbia will become the world's first net zero greenhouse gas emissions cruise when it sets sail next week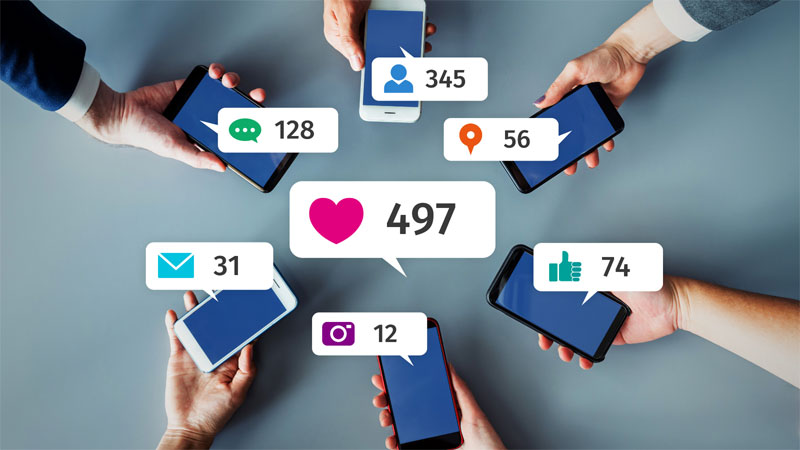 How can you leverage user-generated content and photo purchases to drive revenue and simultaneously promote your attraction? Attractions.io's Peter O'Dare has the answers...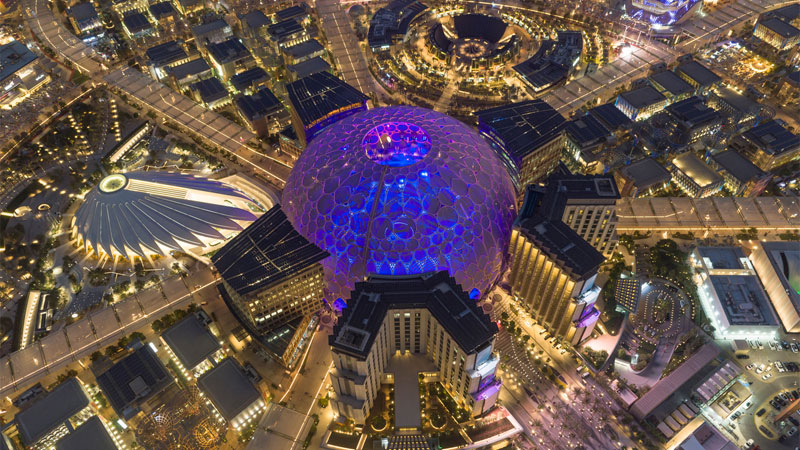 The Expo 2020 Dubai site continues to undergo its repurposing following the event, with more than 3,000 workers set to be based on-site by September.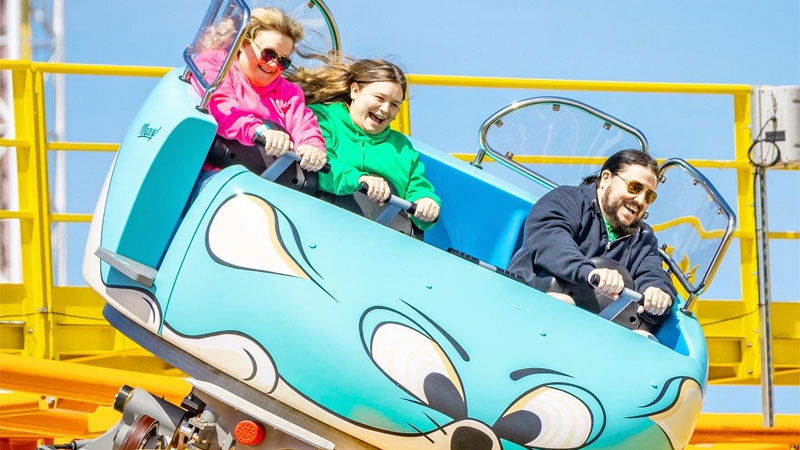 Leading rollercoaster manufacturer Zamperla has opened its first Twister Freeform coaster at Cedar Point in Ohio, US.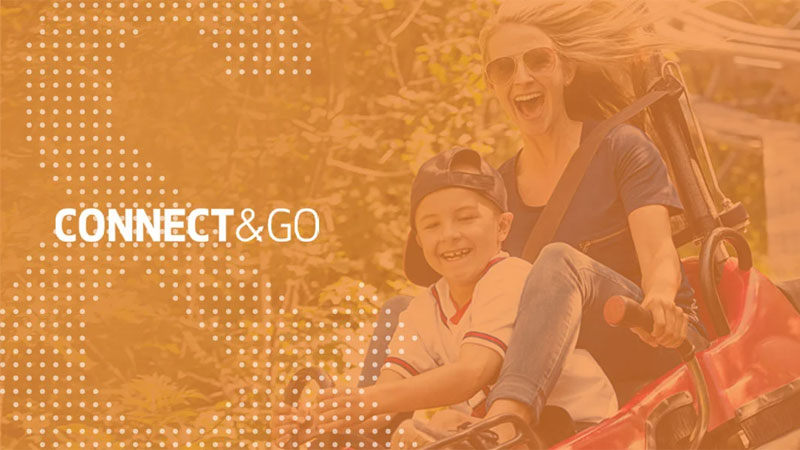 Attraction technology specialist Connect&GO has announced an extension to its Series A funding round with an additional US$8m raised to further develop and roll out the company's all-in-one management platform.


Attractions.io has teamed up with the Kennedy Space Center Visitor Complex to develop a brand new experience platform for guests of the popular destination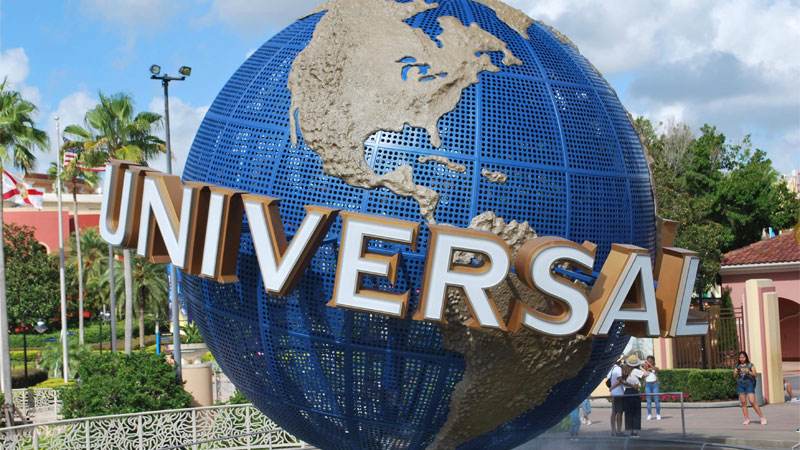 Universal Destinations and Experiences has filed a patent for a new kind of wearable technology.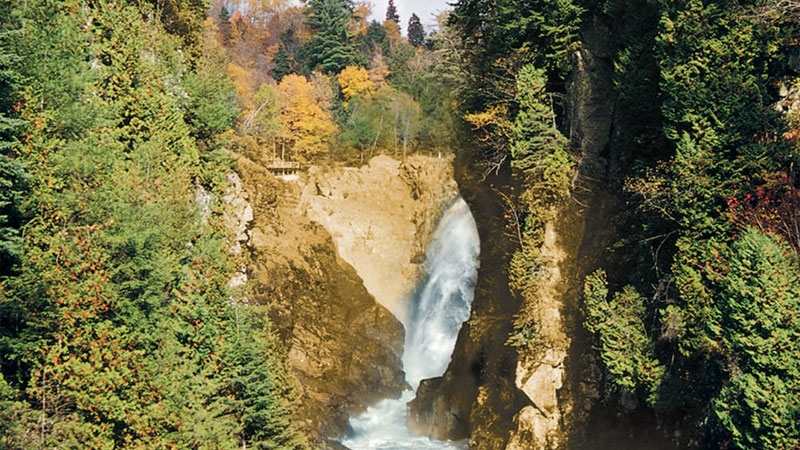 Connect&Go has announced a three-year partnership with Canada's Canyon Sainte-Anne nature attraction in Quebec.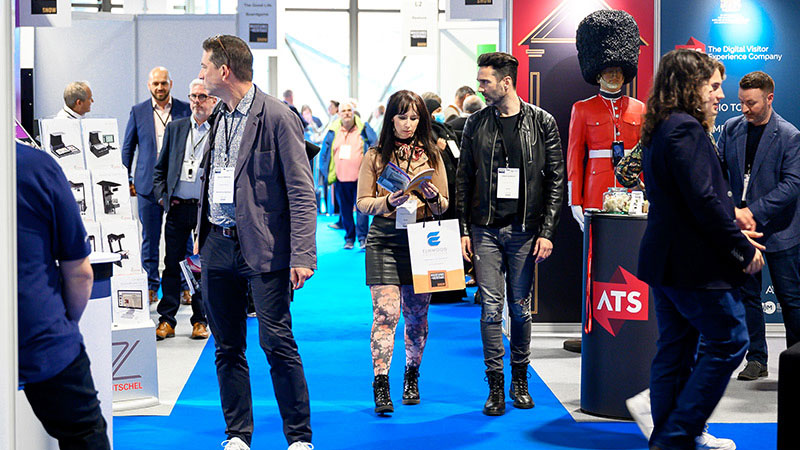 The Museums + Heritage show is set for its annual extravaganza next week, with the event returning to Olympia London on May 10-11.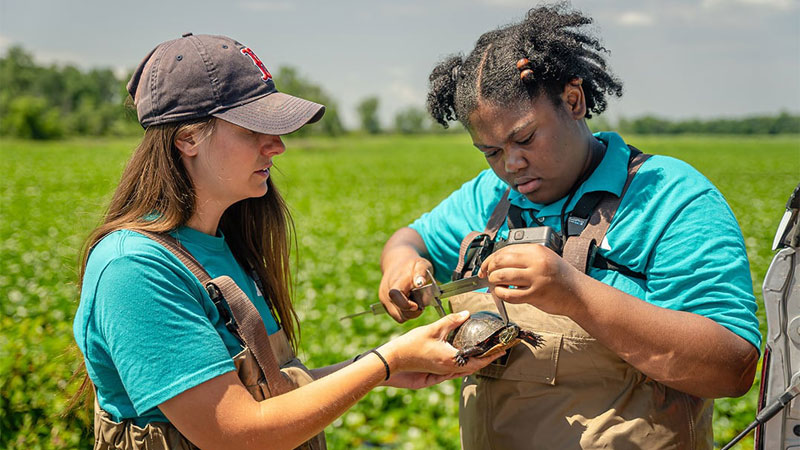 Ohio's Toledo Zoo has had community funding renewed following a successful scheme which aimed to develop a conservation-focused internship programme for local high school students from underrepresented backgrounds.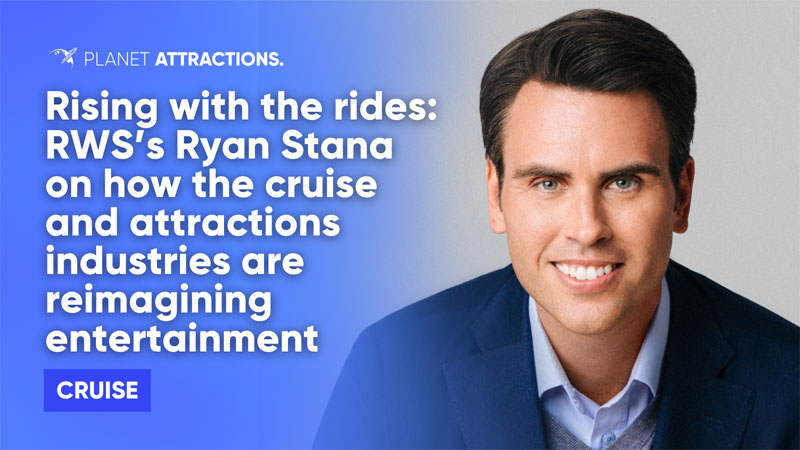 With the attractions and cruise industries seemingly closer than ever before, RWS CEO Ryan Stana speaks to Planet Attractions about what that means and the steps we can take to bring these two powerhouses under one metaphorical roof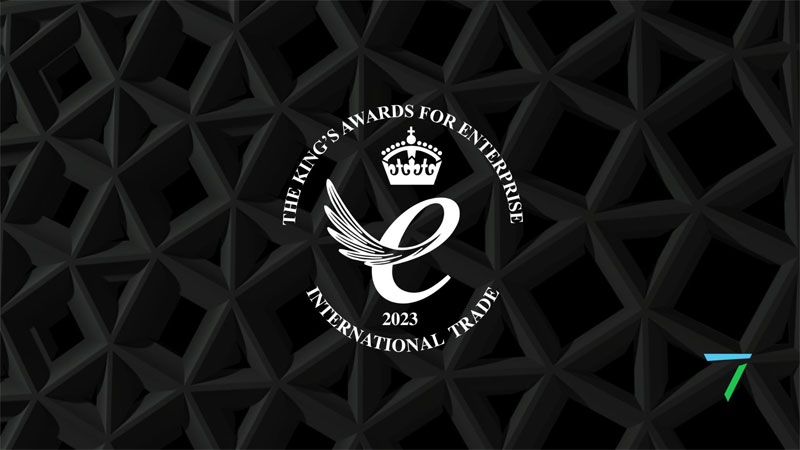 The first ever recipients of The King's Awards for Enterprise have been announced, with 7thSense recognised for demonstrating outstanding short-term growth and commercial success in international trade over the last three years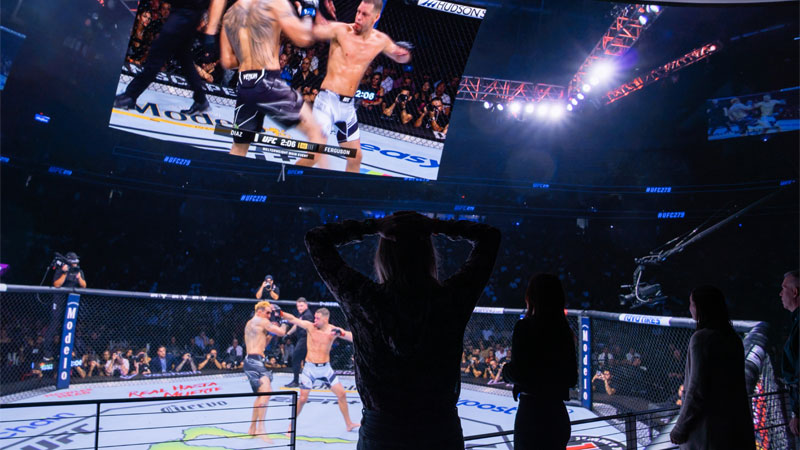 A first-of-its kind offering will make guests feel like they're at the heart of the action during live UFC events, with Cosm's 'shared reality' spectacles set to transform the way we watch live sporting events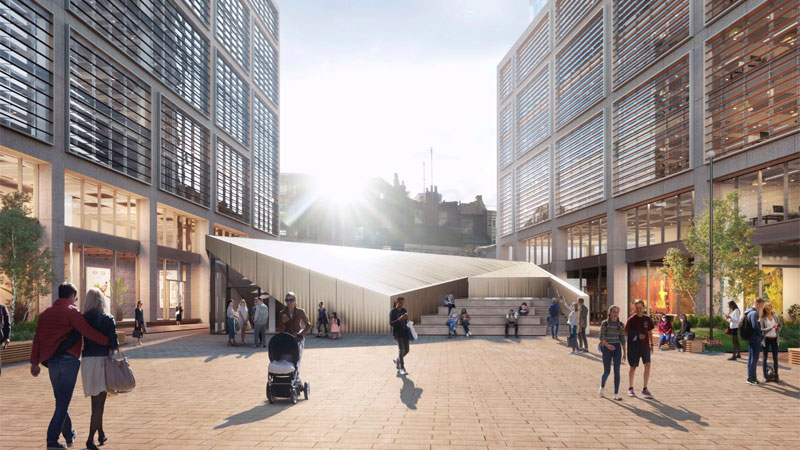 A major museum dedicated to William Shakespeare will be built on the foundations of the theatre where the famed playwright hosted some of his first works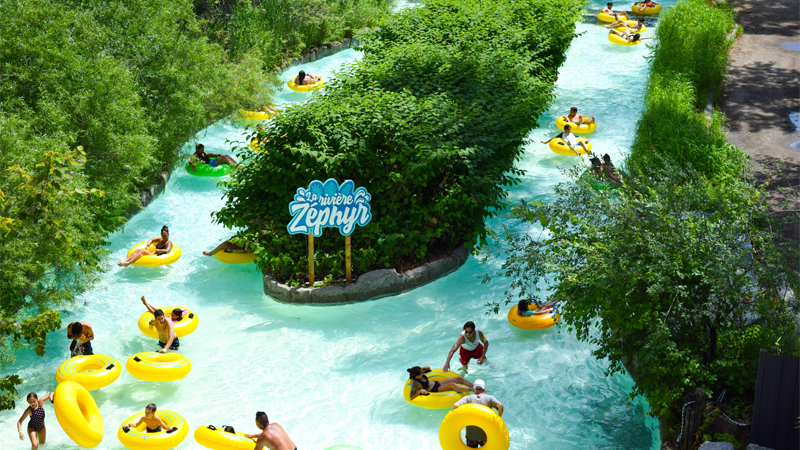 Attractions management technology specialist Connect&GO has announced a three-year contract renewal with Canada's Super Aqua Club waterpark in Quebec.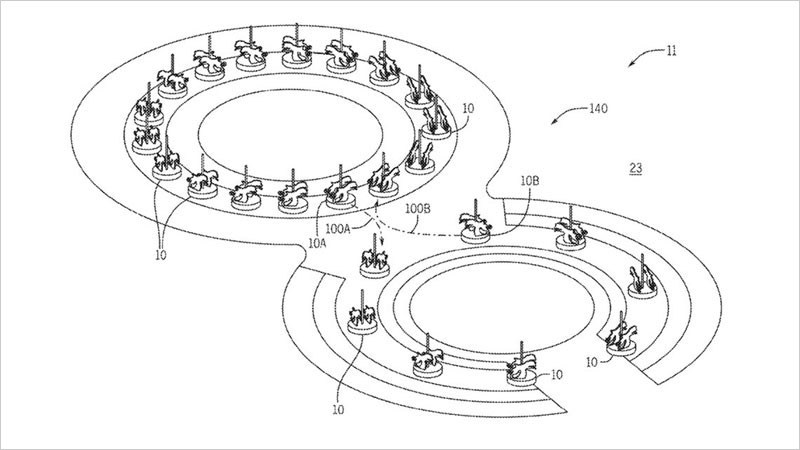 Universal Destinations & Experiences is seeking a patent that may offer a tease at one of the rumored attractions at its Epic Universe theme park under construction in Orlando.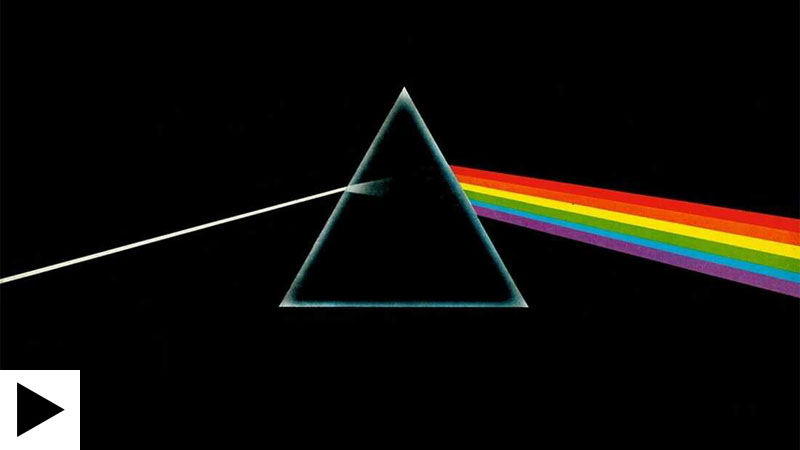 The 50th anniversary of Pink Floyd's Dark Side of the Moon is being celebrated with a special show taking place at 100 planetariums worldwide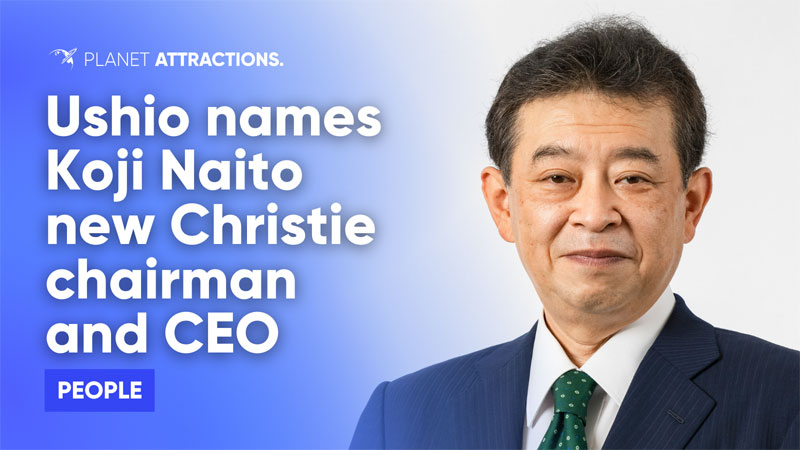 Koji Naito has been named the chairman and CEO of Christie, with Naito set to assume the role in addition to his current position as president and CEO of parent company Ushio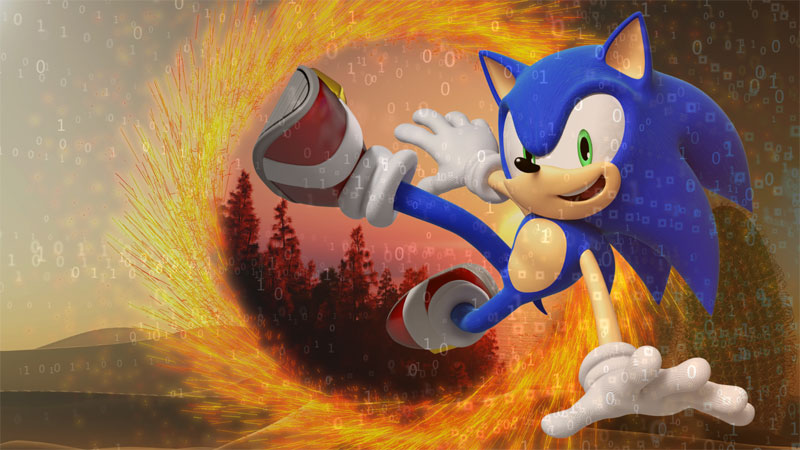 Will AI take over the planet or could it just maybe develop your next new dark ride attraction? Tom Anstey asked an AI a few simple questions to see how it would do in developing such a ride concept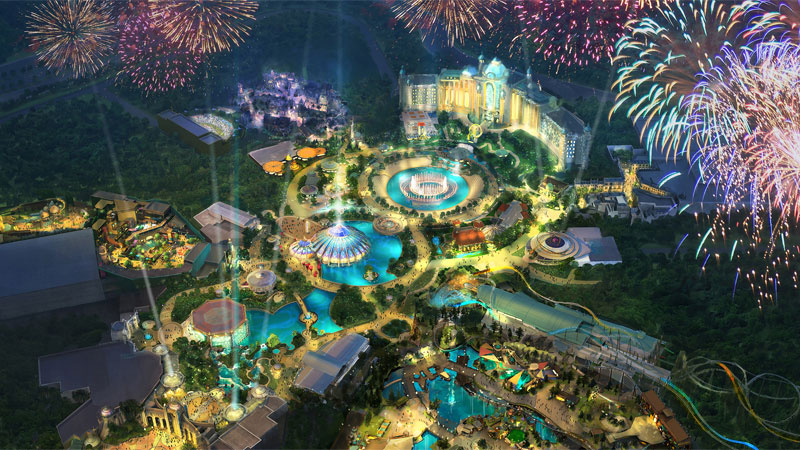 Universal Parks & Resorts has filed a new ride patent that could hint at a future attraction at its upcoming Epic Universe resort in Orlando, Florida.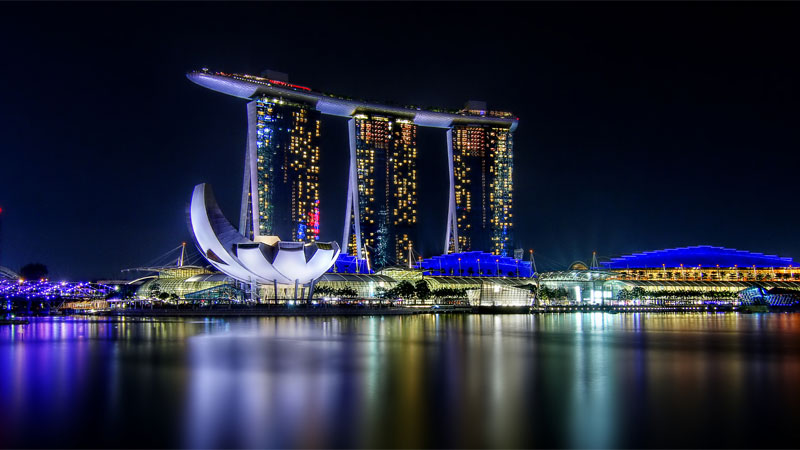 IAAPA Expo Asia is set to make its grand return this year, with registration for the event in Singapore now open.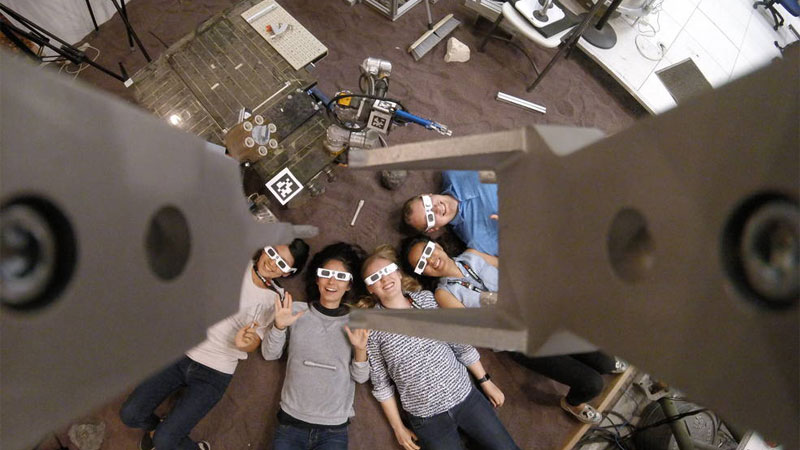 NASA is to award millions of dollars of funding to museum projects across the US that encourage student participation in STEM subjects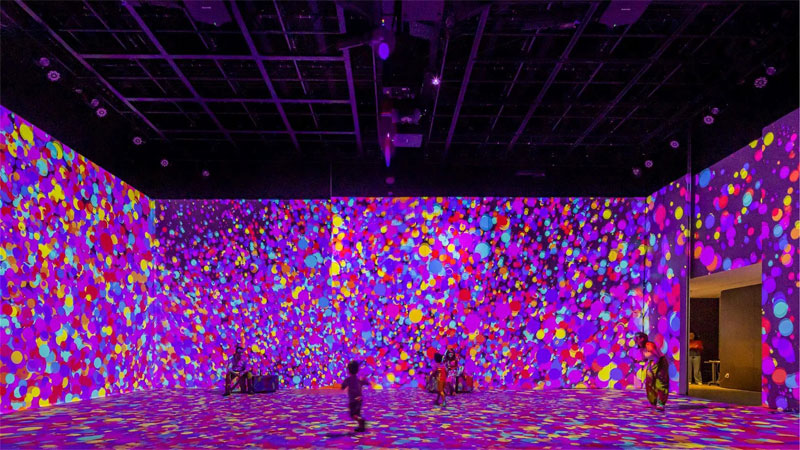 Christie has teamed up with Brazil's Museum of Image and Sound of Ceará on the installation of an immersive multimedia room as part of a revamp of the historic institution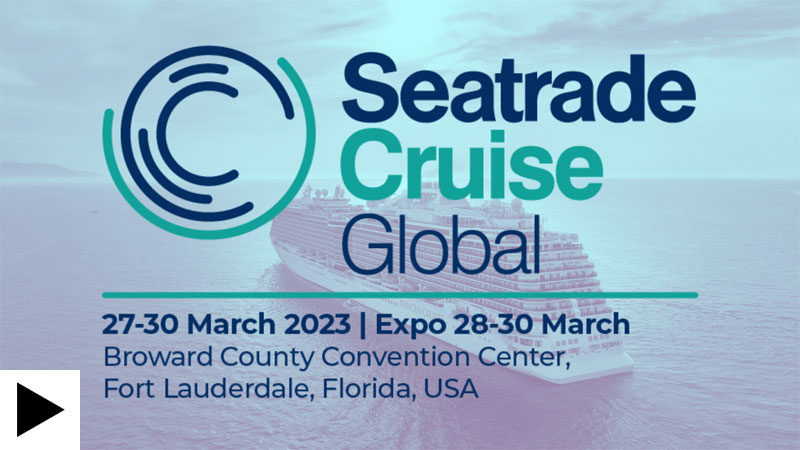 SeaTrade Cruise Global is returning to Florida. Here's everything you need to know...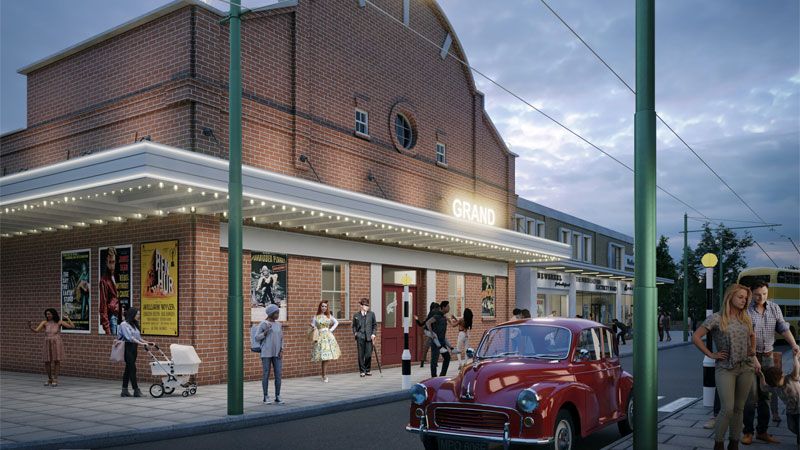 A former cinema in Sunderland, UK, is one of three buildings set to be rebuilt at the Beamish Museum in County Durham.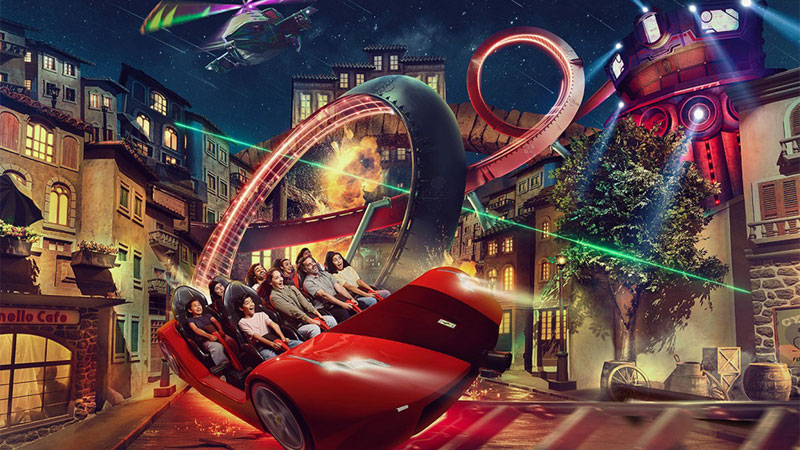 Ferrari World Abu Dhabi's Mission Ferrari opened to the public to much fanfare in January. Holovis's James Lodder shares a decade-long journey to realise this incredible immersive rollercoaster experience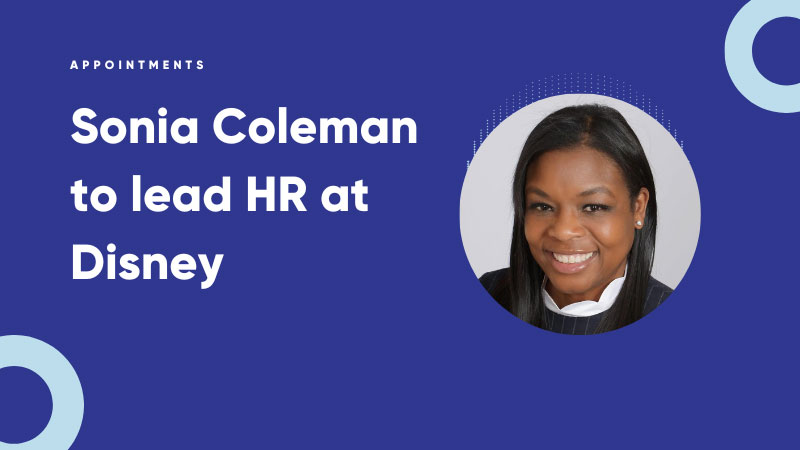 Sonia Coleman has been appointed to lead human resources at Disney after being named executive vice president and chief human resources officer.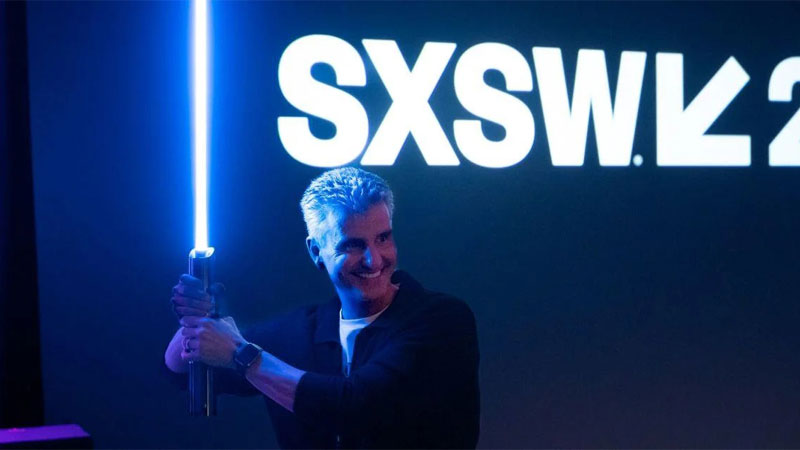 Disney has revealed a 'real' lightsaber at this year's SXSW, an arts and technology festival currently underway in Austin, Texas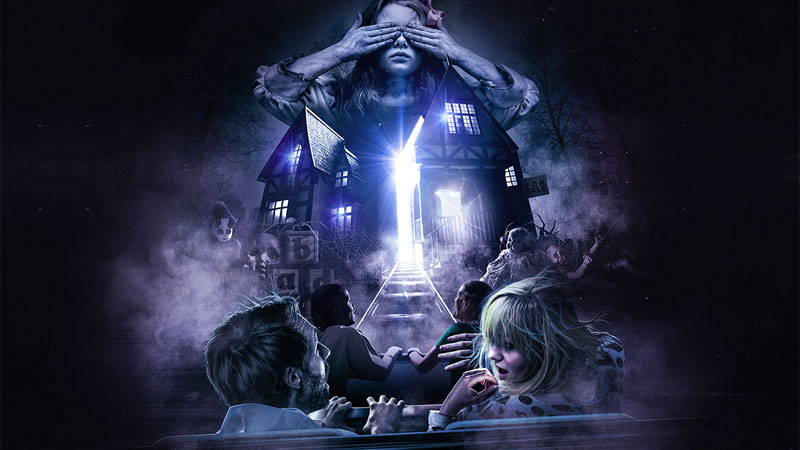 Staffordshire-based theme park Alton Towers has unveiled details of its upcoming Curse at Alton Manor dark ride ahead of its opening on March 18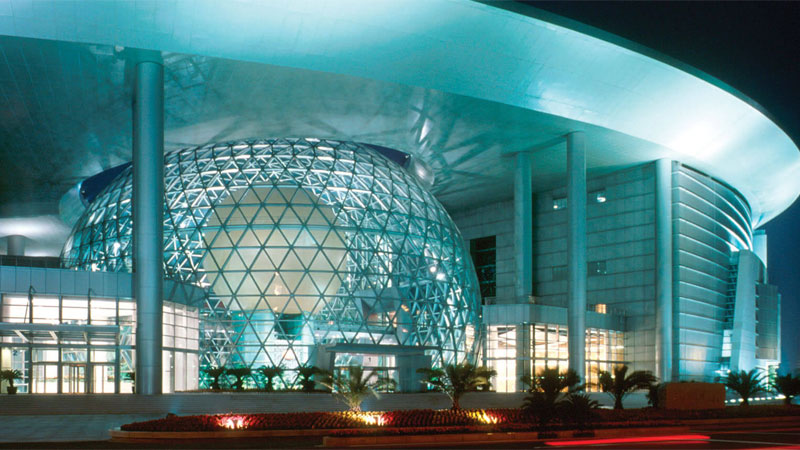 The Shanghai Science and Technology Museum in Pudong, China, has unveiled a new digital platform that aims to engage children in science.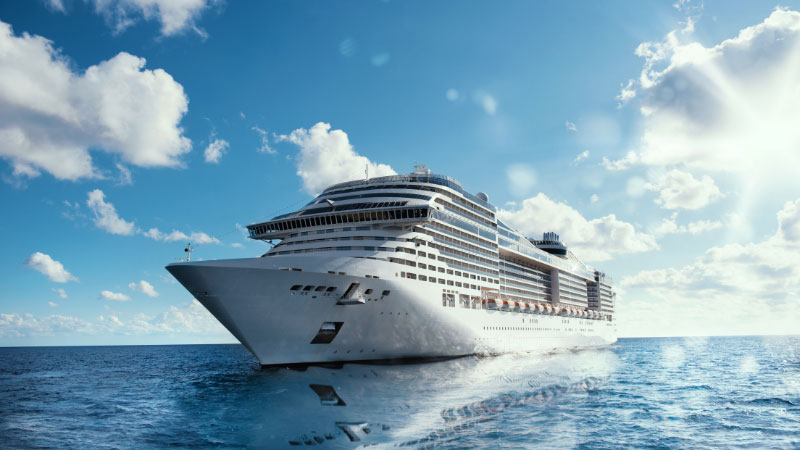 A new report exploring the market dynamics of the global cruise industry estimates the sector to grow to $16.7bn over the next several years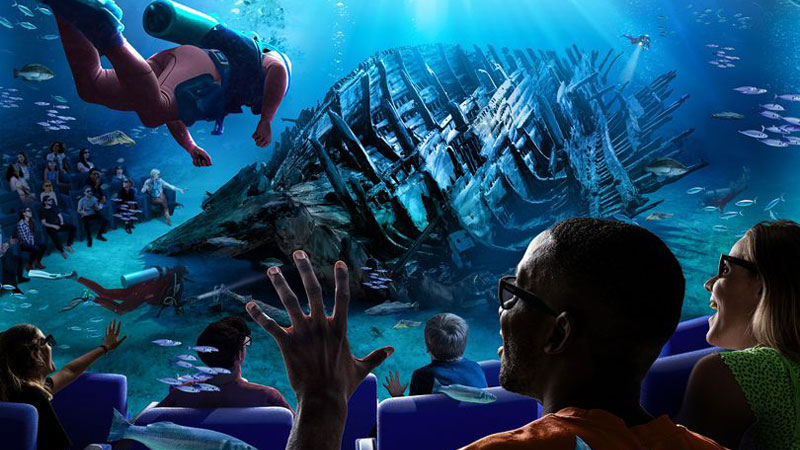 The Mary Rose Museum in Portsmouth, UK, is about to launch a brand new attraction, with an immersive 4D experience coming to the heritage attraction on March 31.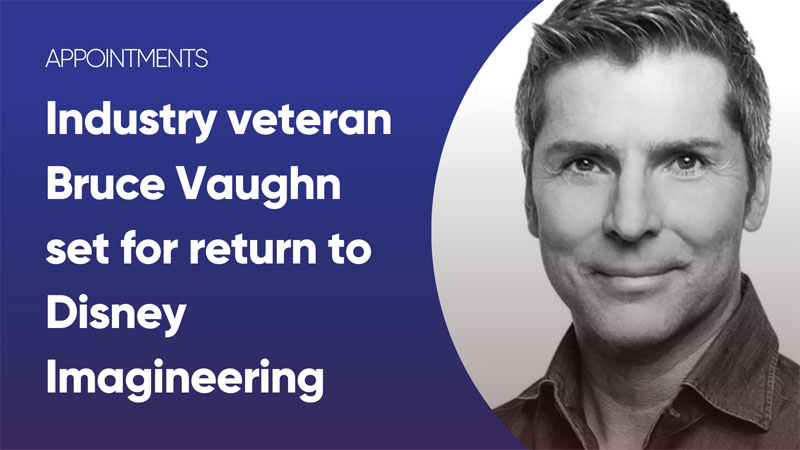 Bruce Vaughn is set to return to Disney Imagineering as chief creative officer, co-leading the division alongside Imagineering president Barbara Bouza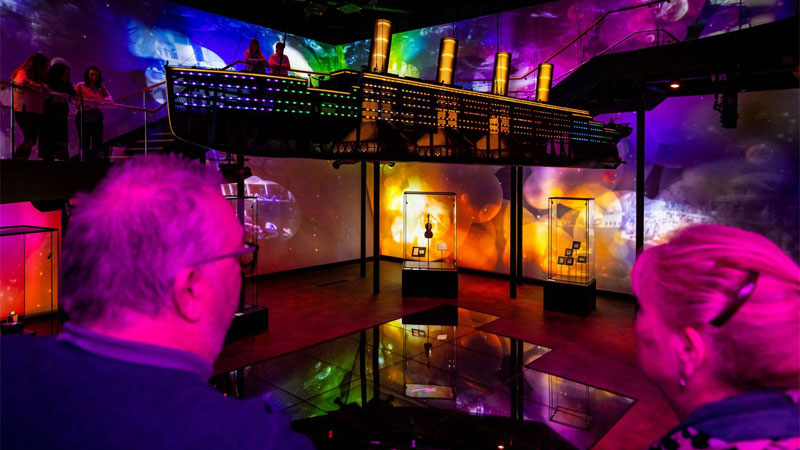 Titanic Belfast has reopened to the public following a multi-million-pound refreshment programme that has seen the introduction of four new themed spaces.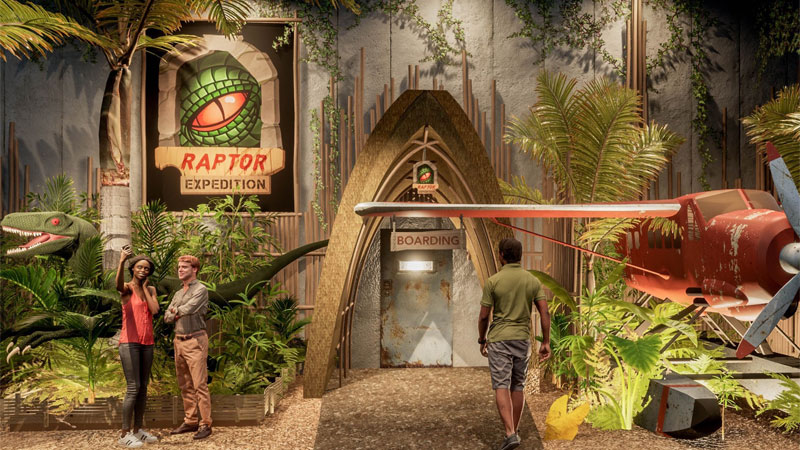 BoldMove Nation is developing two new 'phygital' worlds - attractions that use technology to bridge the digital world with the physical world with the purpose of providing a unique interactive experience for the user.


Digitalisation, self-servicing technologies and gamification are key concepts for Semnox, which has developed new innovations with a particular focus on the visitor attractions industry for 2023.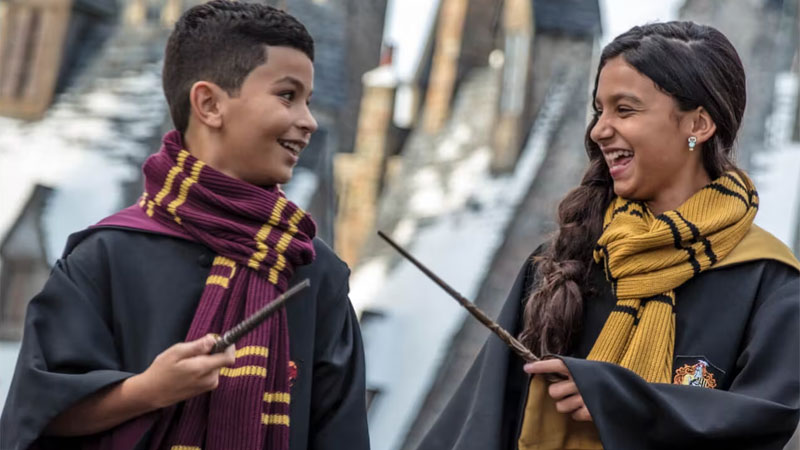 Universal wants to enhance its interactive experiences on offer, with the operator filing two new patents for character and wand technologies at its parks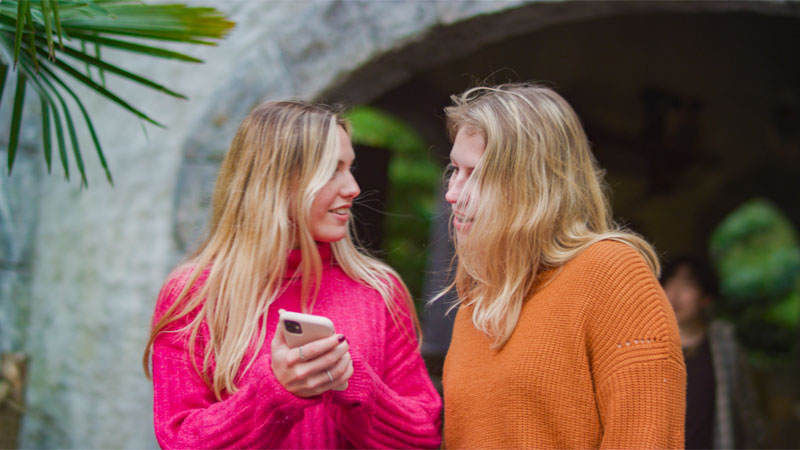 Attractions management platform Convious is set to grow its advertising module in 2023, with the technology creating a new solution to maximise promotion for its clients.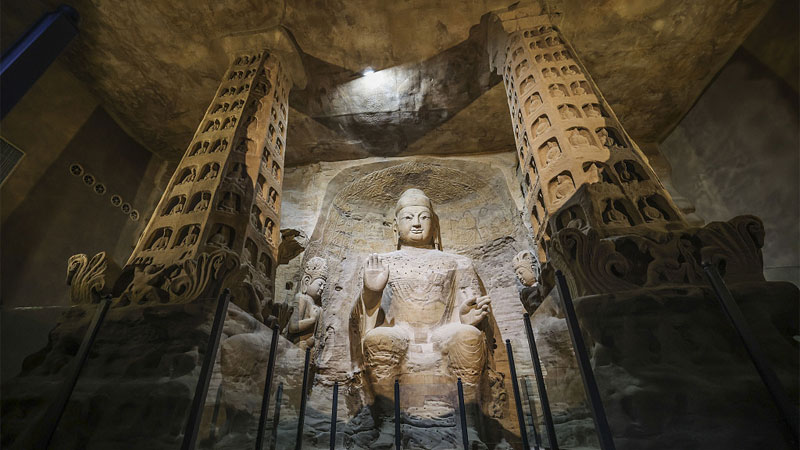 3D printing has been used to create a full-size replica of a World Heritage site in China, offering visitors an up close and personal experience while also securing crucial data for future world heritage protection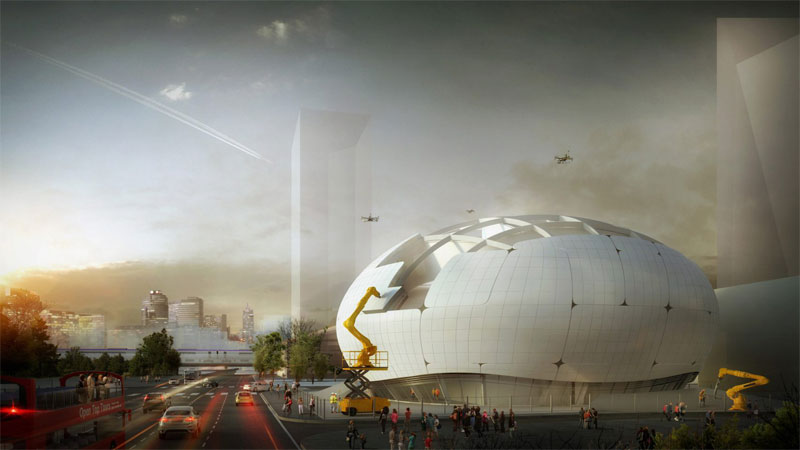 July will see the opening of The Robot & AI Museum (RAIM) in Seoul, South Korea.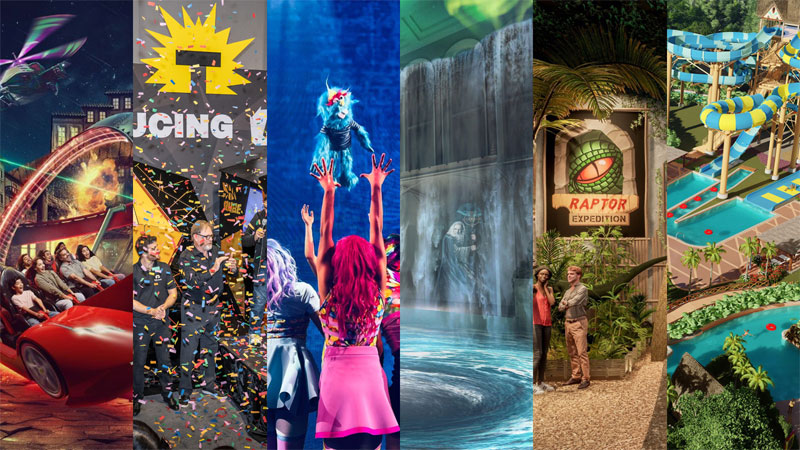 From waterpark suppliers and media specialists to creative designers and dark ride producers, Planet Attractions has gone to every corner of the globe to find out what's hot in 2023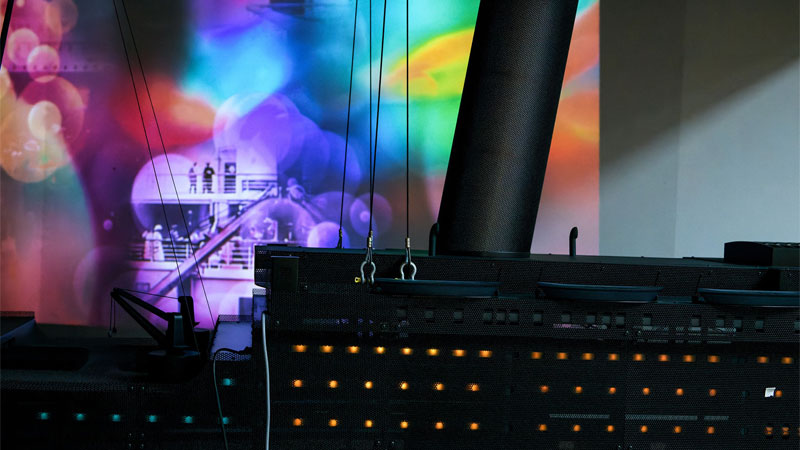 The popular Titanic Belfast attraction will reopen next month with four new galleries and a 7.6m-long replica of the iconic ship following a multi-million pound revamp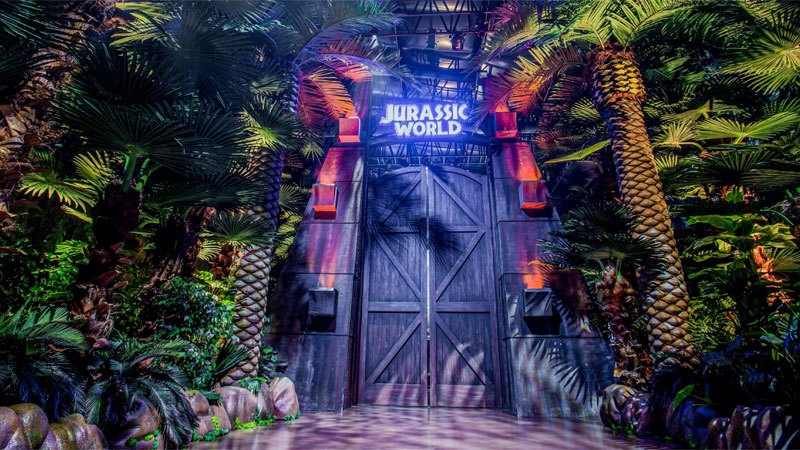 Jurassic World: The Exhibition will open at the Odysseum in Cologne, Germany, following a successful run at London's ExCel Centre.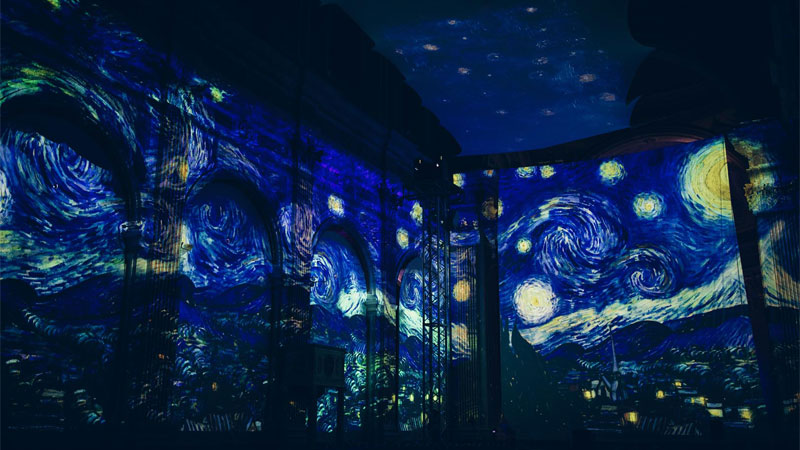 Van Gogh: The Immersive Experience will debut in Southeast Asia following successful runs in the US and across Europe.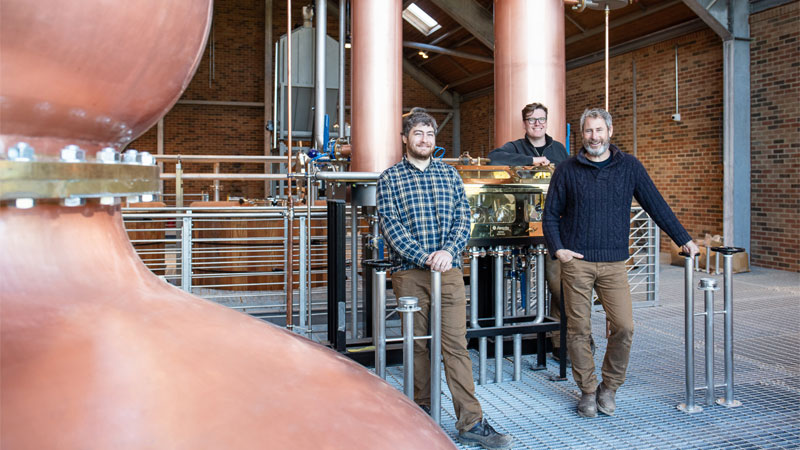 Ad Gefrin Anglo-Saxon Museum and Whisky Distillery has announced it will open to the public on 25 March 2023 in Wooler, Northumberland, UK.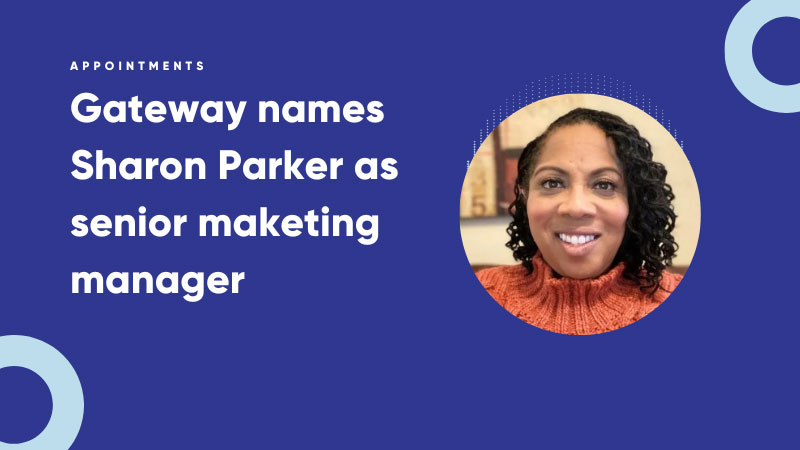 Ticketing technology specialist Gateway Ticketing Systems has appointed Sharon Parker to the role of senior manager of marketing.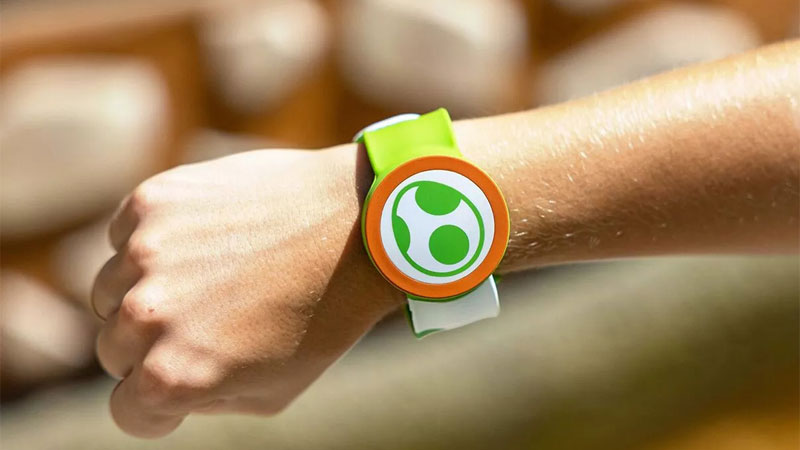 Universal Studios Hollywood is levelling up the experience at the upcoming Super Nintendo World with its all-new Power-Up Band. Here's what the technology does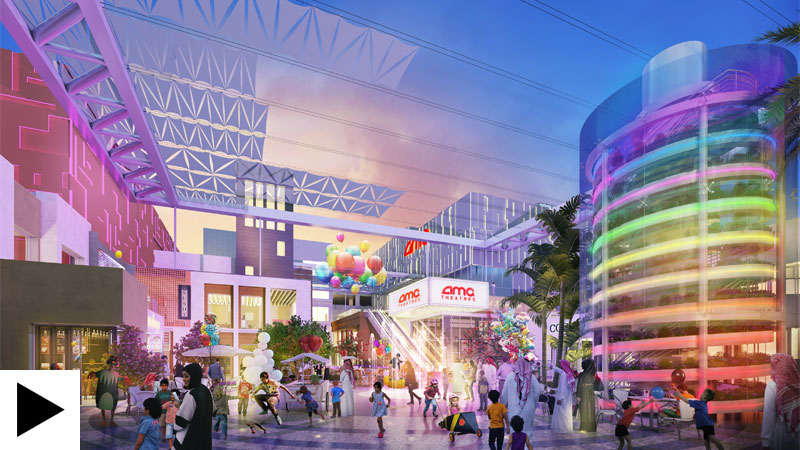 Another mega project has been announced for Saudi Arabia, with the PIF's Seven announcing plans for a SAR1bn entertainment destination in the city of Tabuk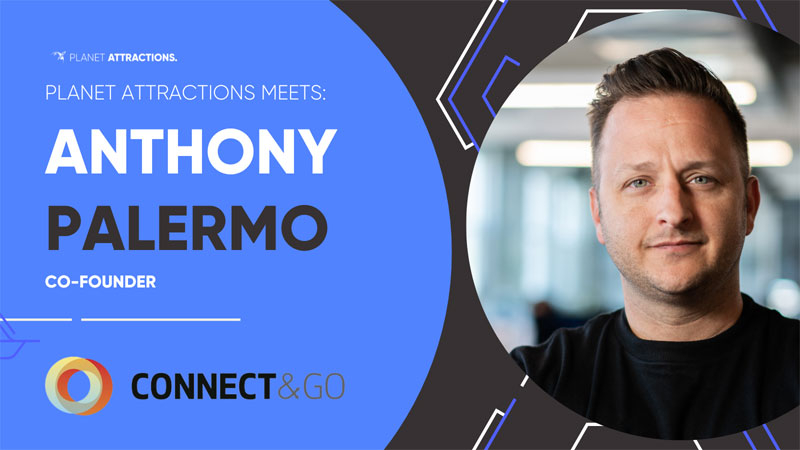 Connect&Go - a global leader in guest and attractions management technology - has grown significantly over the last decade. Its co-founder Anthony Palermo spoke to Planet Attractions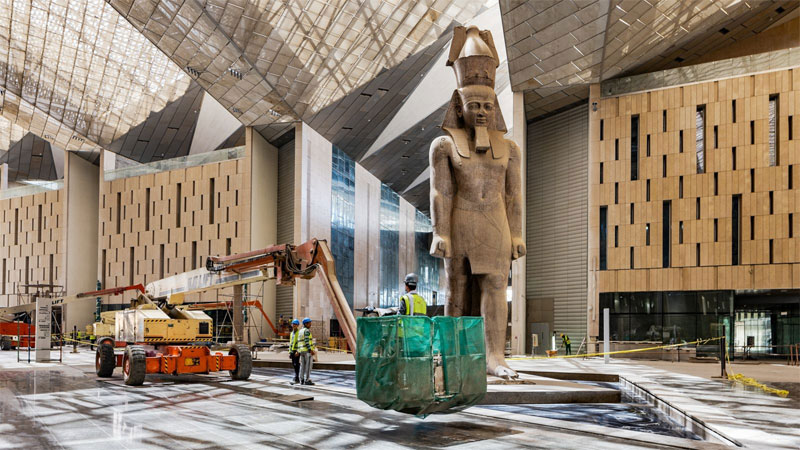 One of the world's most anticipated museums will finally open this year after a more than 20-year development process with work now complete on Cairo's Grand Egyptian Museum (GEM).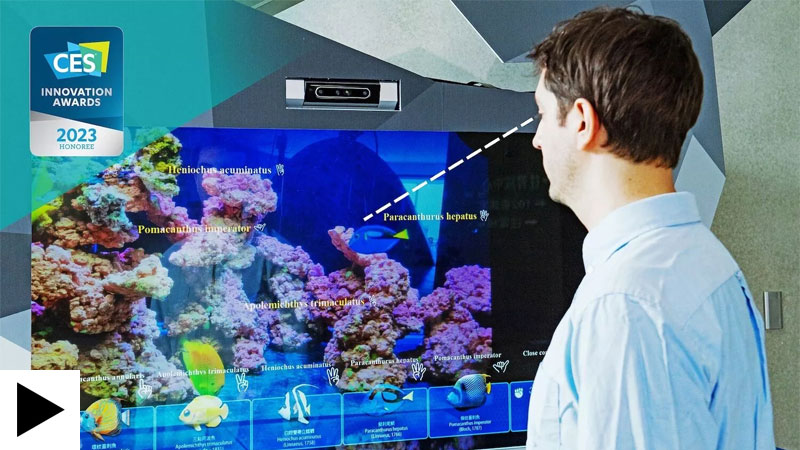 A new technology from the Industrial Technology Research Institute can display information about different animals inside aquariums by tracking the eye movements of the user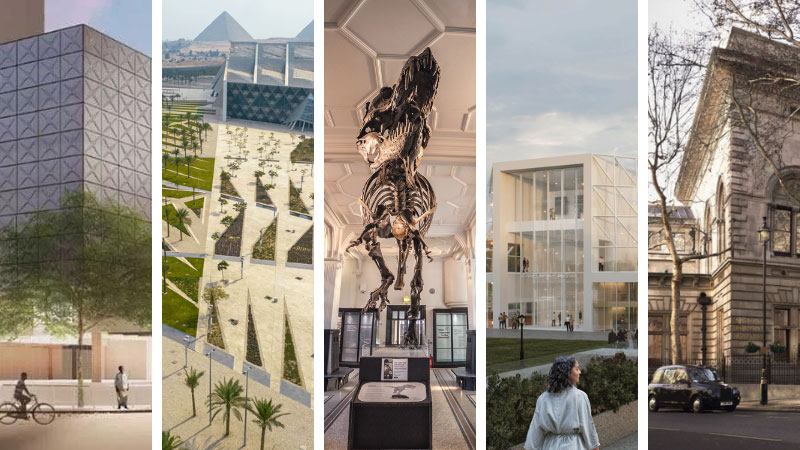 After a difficult few years the museum sector is showing promising signs of recovery with several exciting projects set to open this year. Here are 14 of 2023's most anticipated museum openings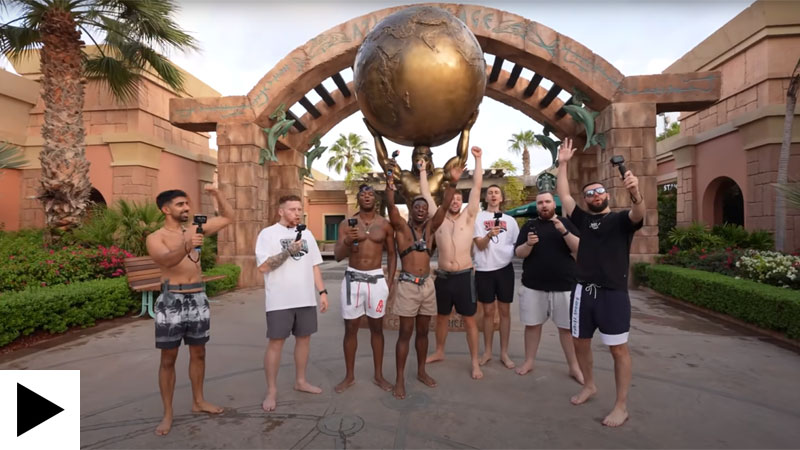 The Sidemen recently took a trip to Dubai for an epic game of hide and seek in one of the world's premiere waterparks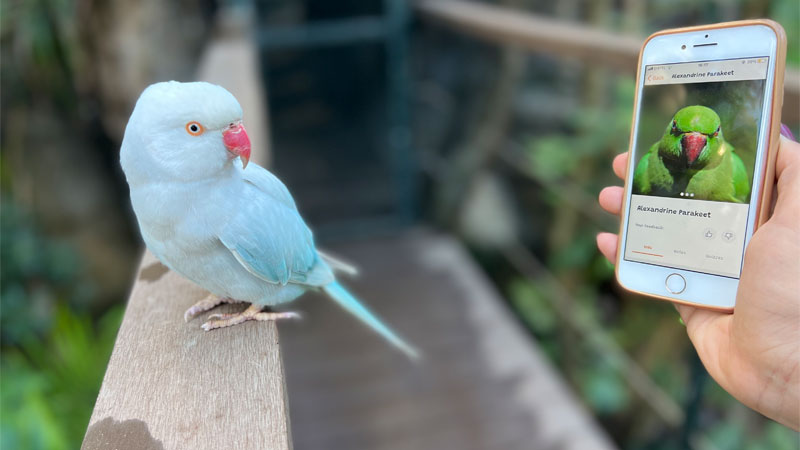 A zoo in Gibraltar has embarked on a new mission to modernise its technology in an attempt to better engage with visitors both digitally and in person.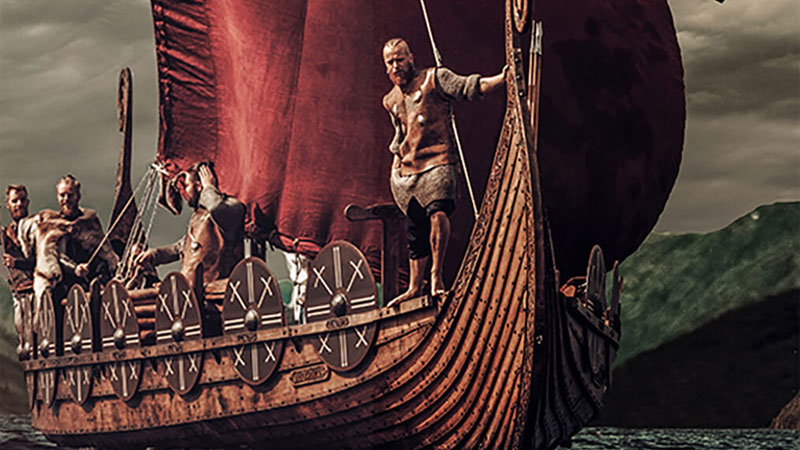 A collection of more than 140 authentic Viking artefacts, including a full-size replica of a Viking ship, is set to go on display in the US at Pittsburgh's Carnegie Science Center.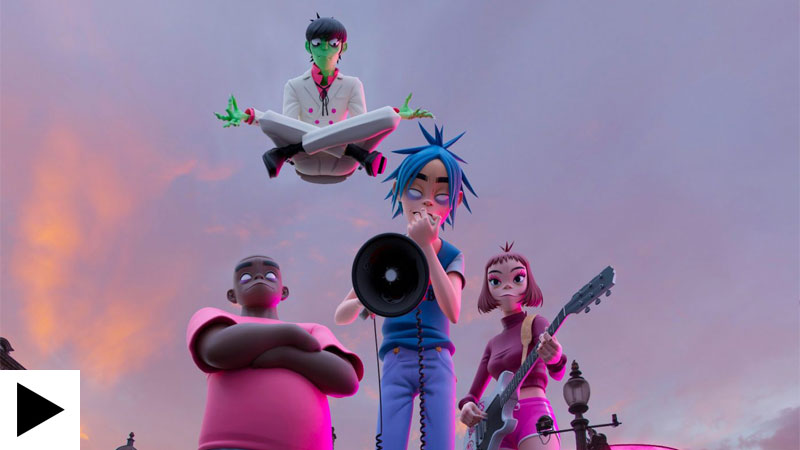 The virtual band worked with Google to host two first-of-their-kind AR experiences in New York and London to promote their new single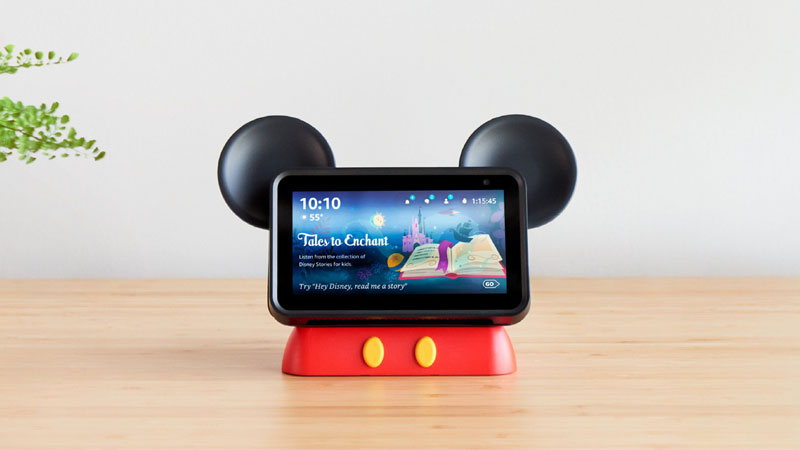 A new version of Amazon's Alexa digital voice assistant will come complete with Disney branding and the ability to work alongside the operator's MagicBand+ technology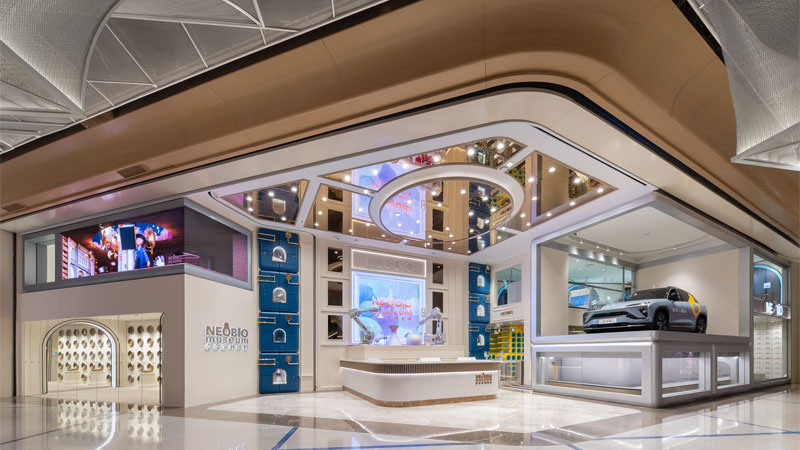 The Neobio Museum is a brand new attraction in Shanghai, China, offering experiential STEM education to young people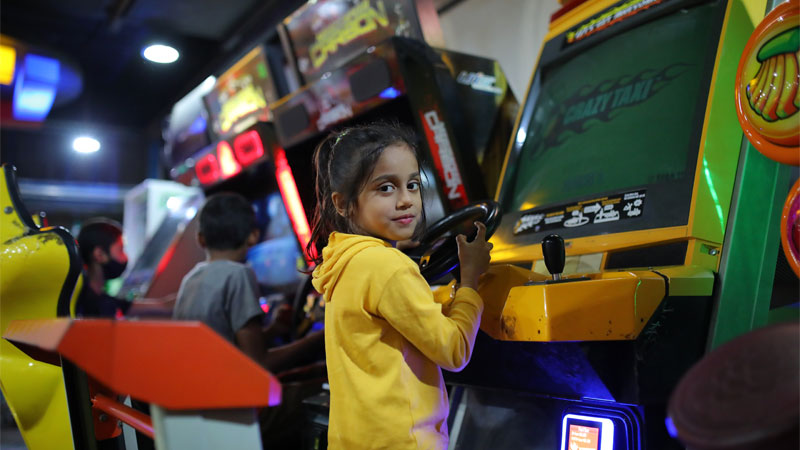 When it comes to all-in-one solutions for visitor attractions, Semnox's Venue Management Software system has transformed operations at popular FEC Kokomo Joe's. Here's how the technology works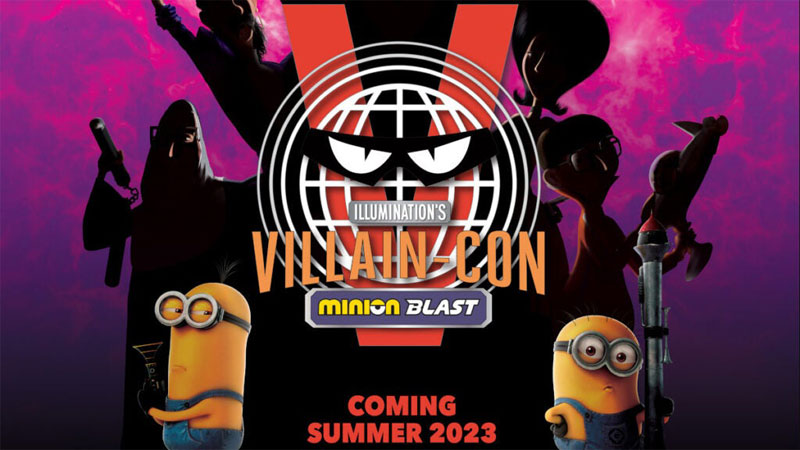 Universal Studios Orlando has officially revealed its new Minions additions, with plans for Illumination's Villain-Con Minion Blast to open at the park next summer.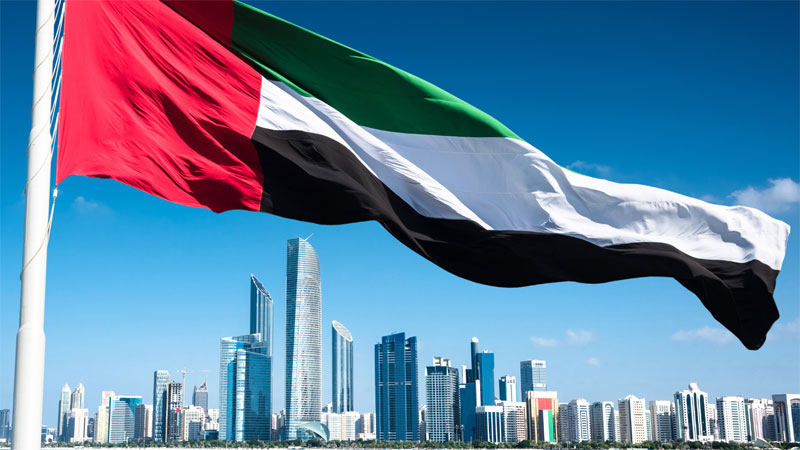 Professionals working in the creative field can now apply for a UAE Cultural Golden Visa, a permit which grants the holder a 10-year residency in the country.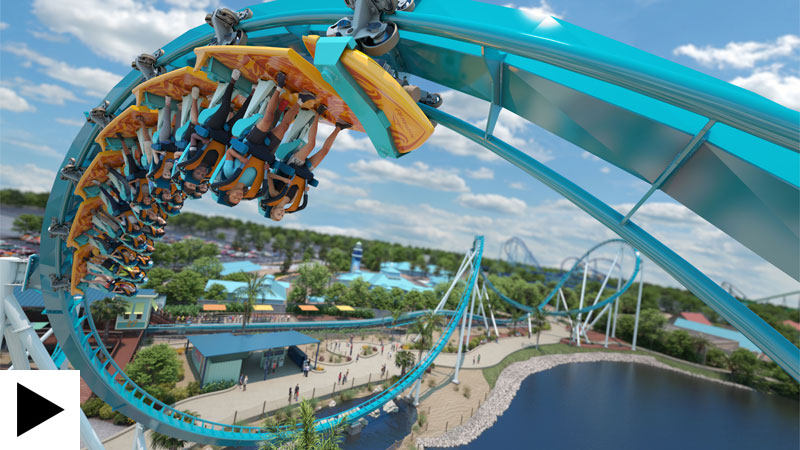 The highly-anticipated Pipeline surf coaster is coming to SeaWorld Orlando this spring. SeaWorld's vice president of rides and engineering, Jonathan Smith, spoke to Planet Attractions about the project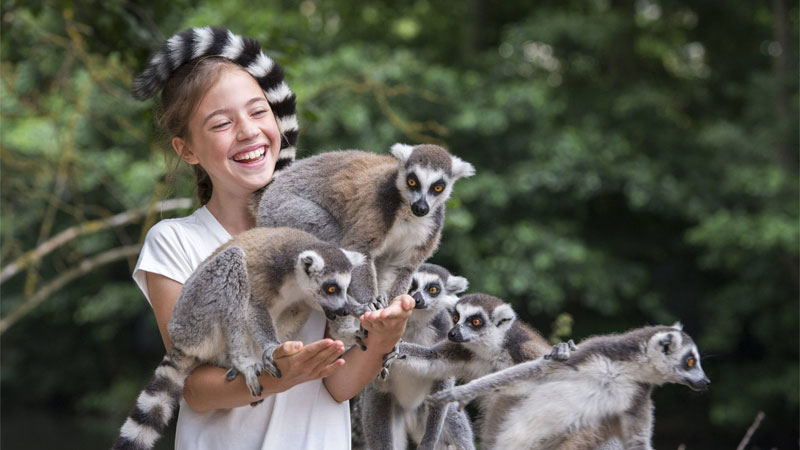 Convious has signed a multi-year deal with West Midland Safari Park to supply its fully-integrated eCommerce and guest experience platform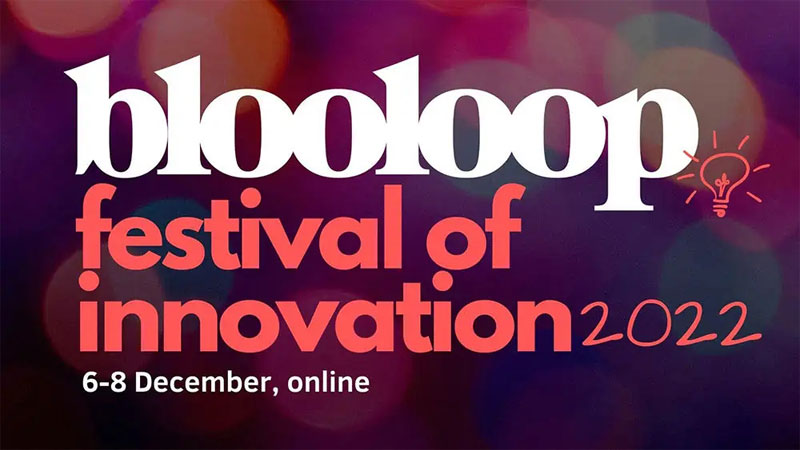 Blooloop's Festival of Innovation starts today.


Convious has been recognised by global consulting company Deloitte as one of the fasting-growing companies in the Netherlands.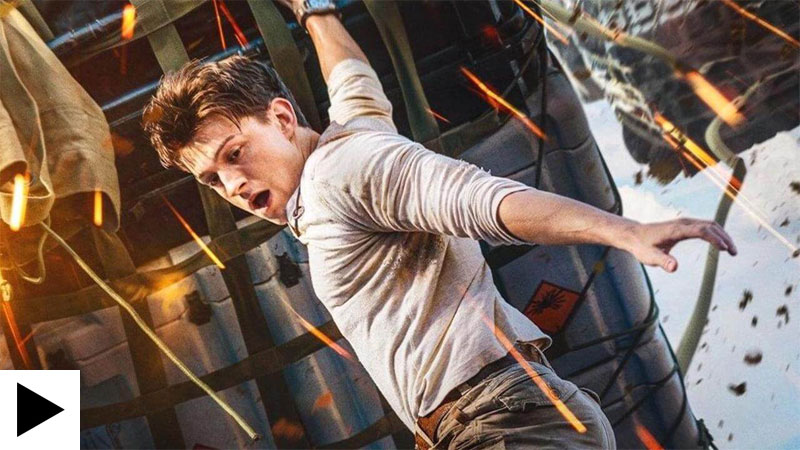 PortAventura has announced plans for a new Uncharted dark ride coaster with Sally Dark Rides and Intamin behind the €25m attraction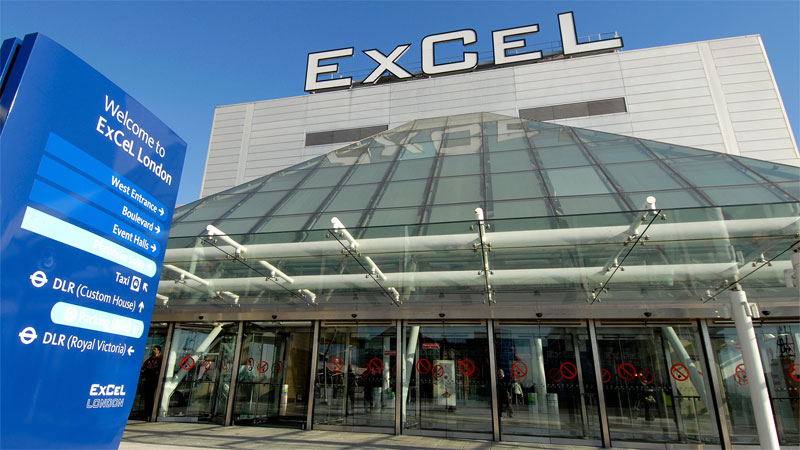 EAG - the Entertainment, Attractions and Gaming International Expo - is on course for one of the largest shows in its history after its organisers revealed registration is up 58% on 2020's pre-pandemic figure.


The world-first theme park will feature several key attractions inspired by iconic Mattel brands including Barbie, Thomas & Friends and Hot Wheels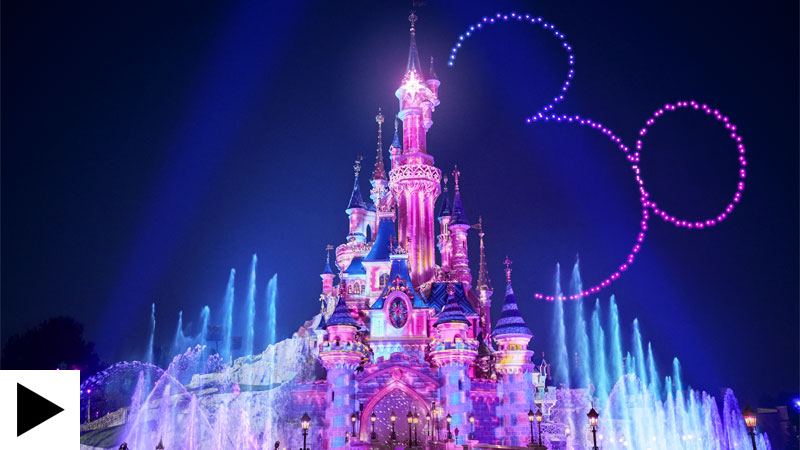 Dronisos is seeking partners in the US following a successful year, which saw the company serve as a technology partner for Disneyland Paris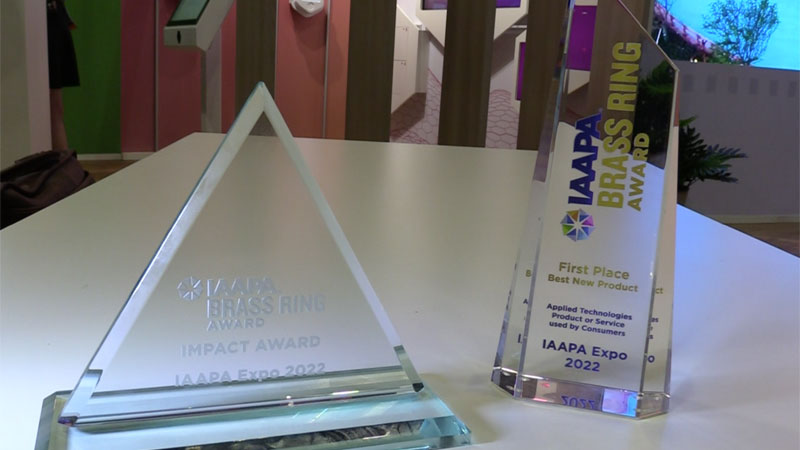 Fresh off last week's IAAPA Expo, leading waterpark supplier Whitewater is celebrating after being honoured with three prestigious awards.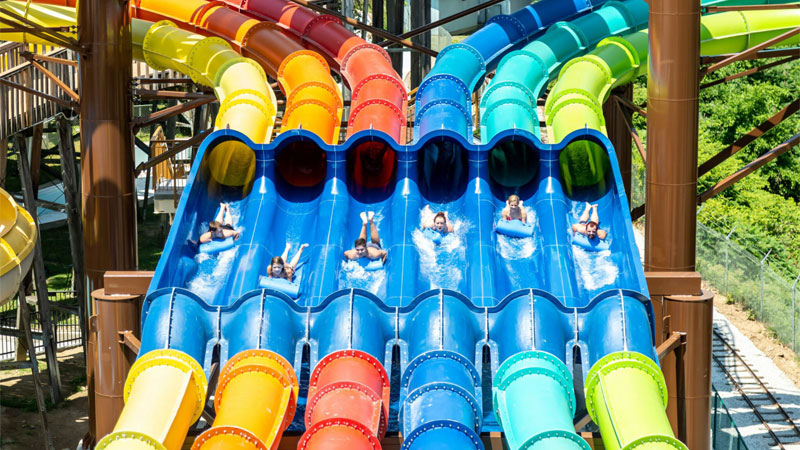 ProSlide will announce a major new project at this year's IAAPA Expo, with the company also revealing a record number of projects for 2023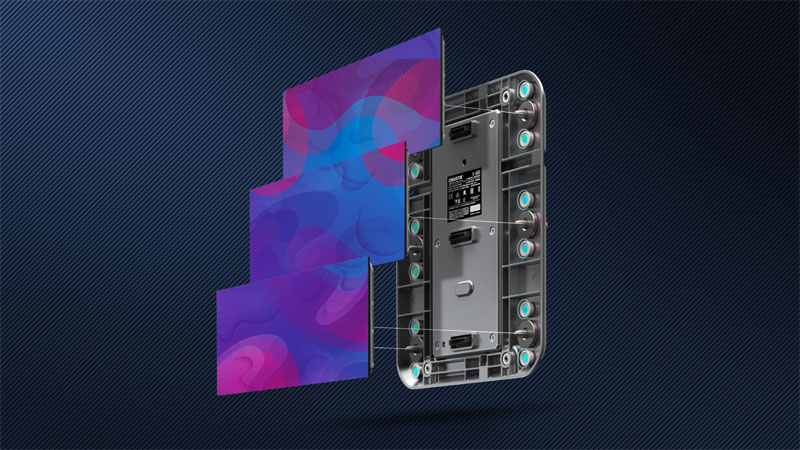 A number of exhibitors will be using Christie technology at this year's IAAPA Expo, with the company also set to showcase its MicroTiles LED among the products on its own stand


Creative software and technology company 7thSense will be supporting a number of partners at this year's IAAPA Expo in Florida, including SimeEx-Iwerks, Medici Media and the Big Break Foundation.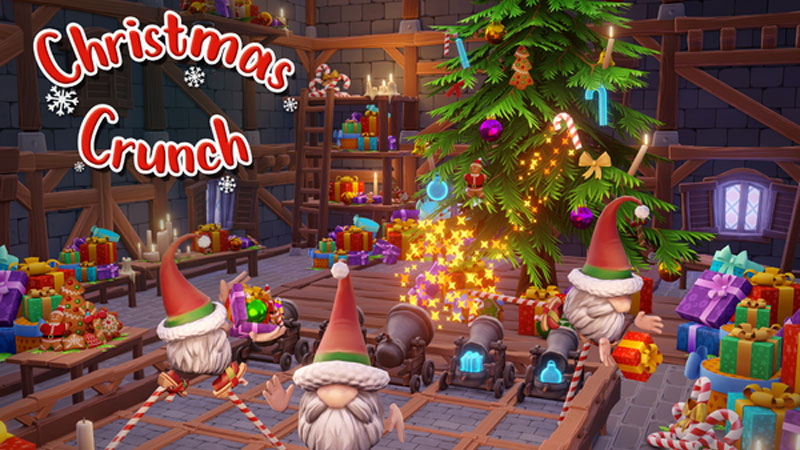 Spree Interactive is getting into the Christmas spirit a little early this year, with the launch of its Christmas Crunch VR title at the upcoming IAAPA Expo in Orlando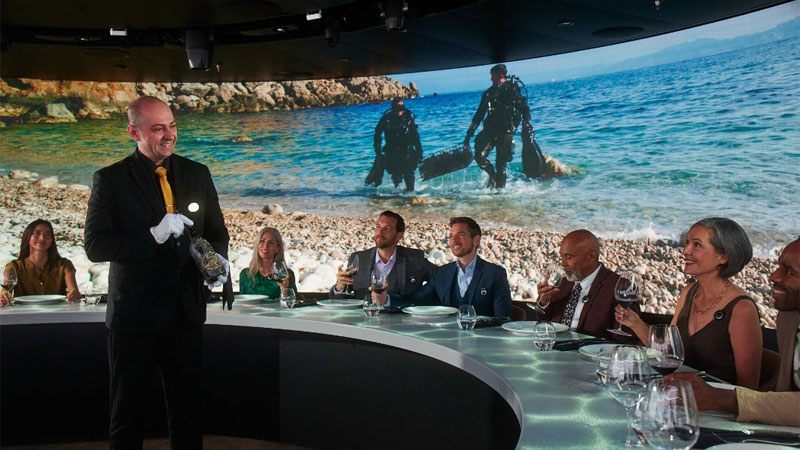 Princess Cruises has debuted a brand new immersive experience that combines dining, storytelling, music, scent and more for a one-of-a-kind journey through the Mediterranean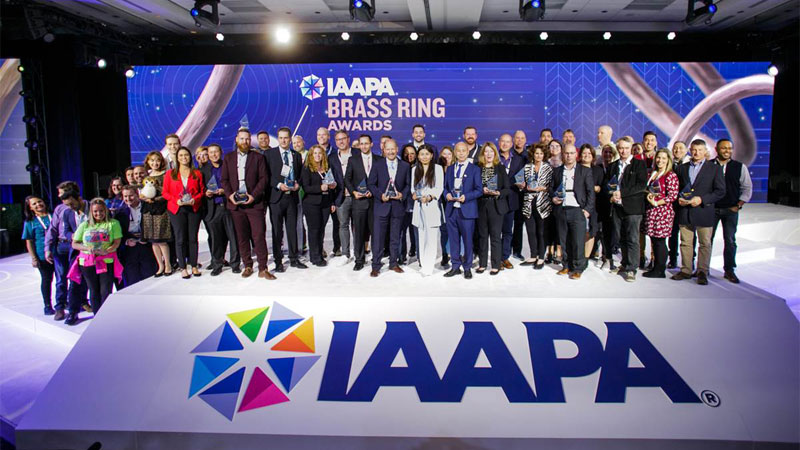 IAAPA has unveiled the list of finalists for its prestigious Brass Ring Awards, with winners to be announced during a special ceremony at this year's IAAPA Expo in Orlando, Florida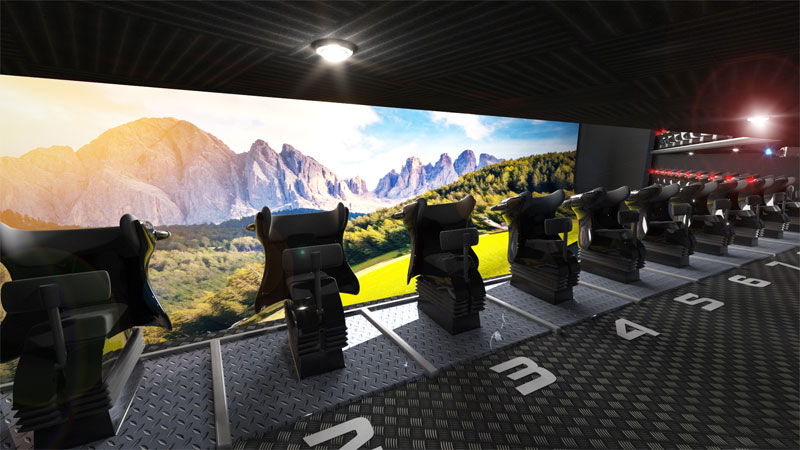 The dynamic media-based attractions specialist will showcase the attraction alongside its new Overdrive concept at the IAAPA Expo in Orlando, Florida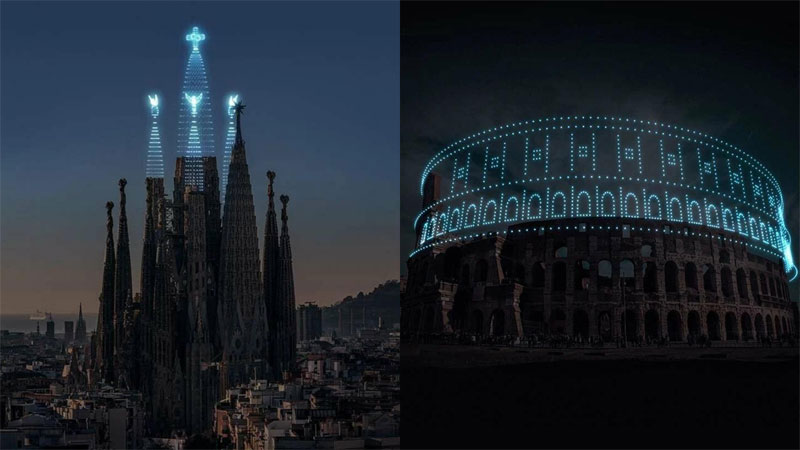 Amsterdam-based architecture studio Drift has used specialised drone software to create real-life, life-sized visualisations of architectural landmarks, lighting up the skies to show what they would look like should they be restored or completed.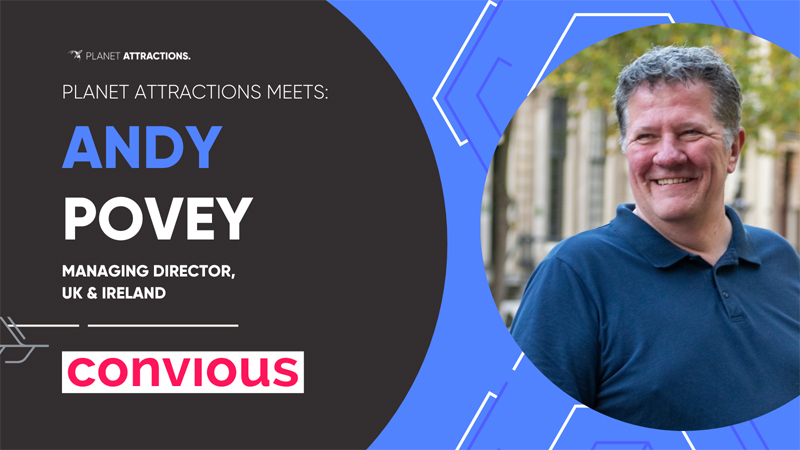 Convious showcased its digital engagement platform at this year's IAAPA Expo Europe. The company's managing director for the UK & Ireland, Andy Povey, tells Planet Attractions about everything the company has to offer


Leading experience designers Mather & Co have named Kim Kherlopian as the company's new managing director. Planet Attractions caught up with him at this year's IAAPA Expo Europe to find out more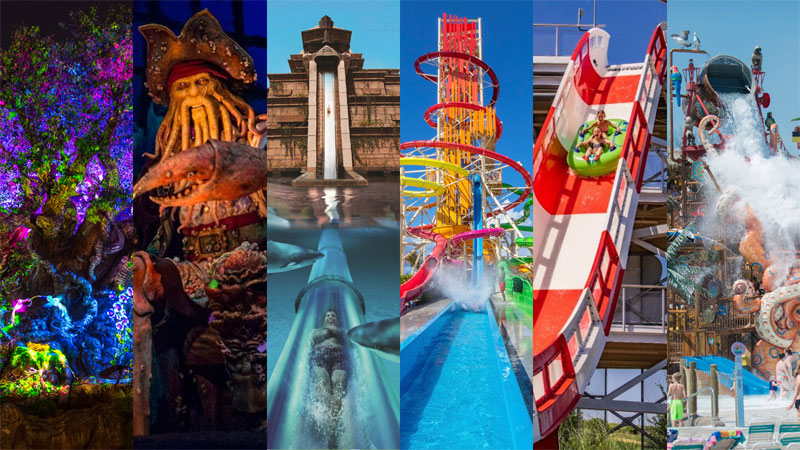 Ahead of a special industry panel looking at iconic attractions, experts from WhiteWater have named their personal picks, explaining why they think their choice is an iconic attraction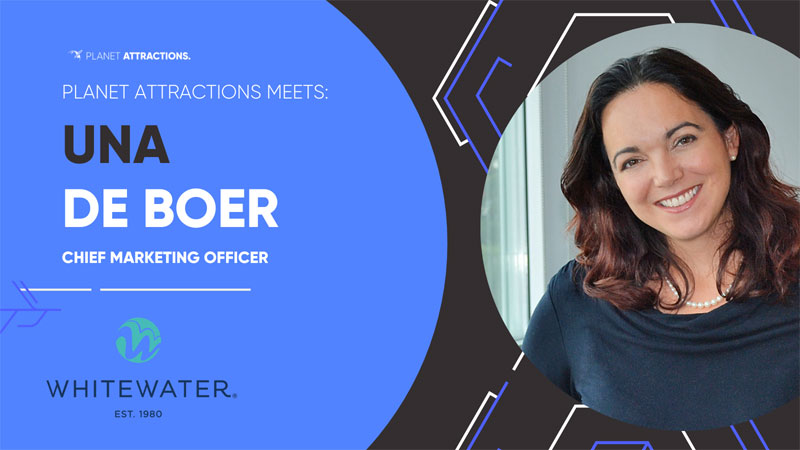 WhiteWater brings a strong presence to each and every IAAPA Expo. The company's chief marketing officer, Una de Boer, tells Planet Attractions about everything the company has to offer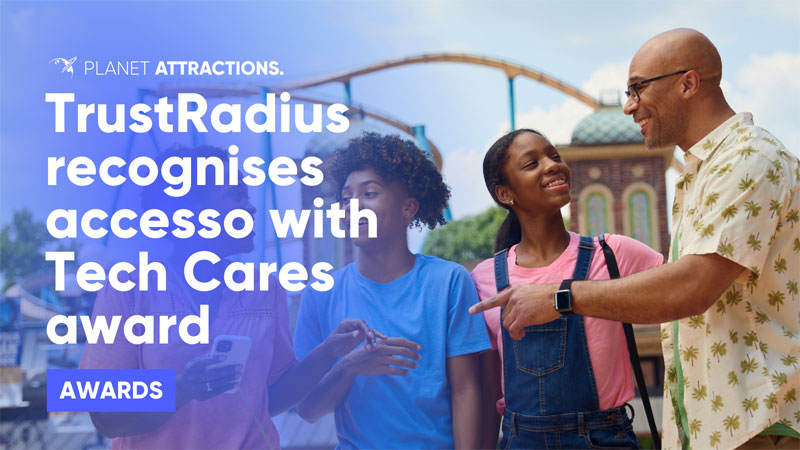 TrustRadius - a research and review platform for business leaders - has recognised attractions technology solutions provider accesso as part of its "Tech Cares 2022" award programme.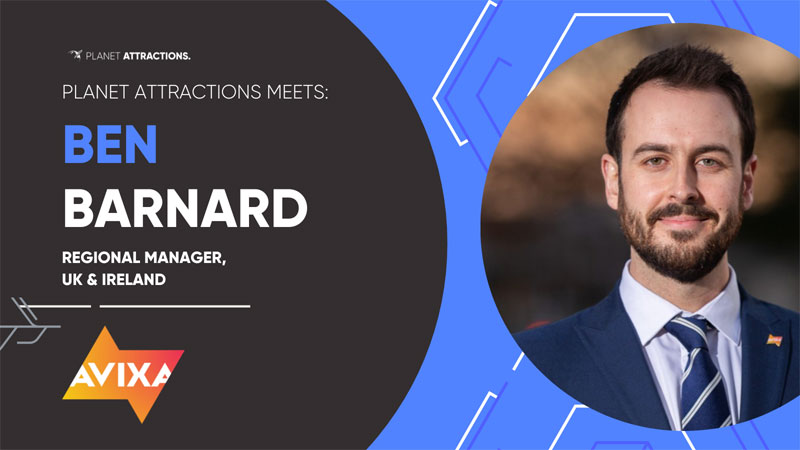 AVIXA produces a number of popular events around the world, including InfoComm and Integrated Systems Europe. The organisation's regional manager for the UK and Ireland, Ben Barnard, spoke to Planet Attractions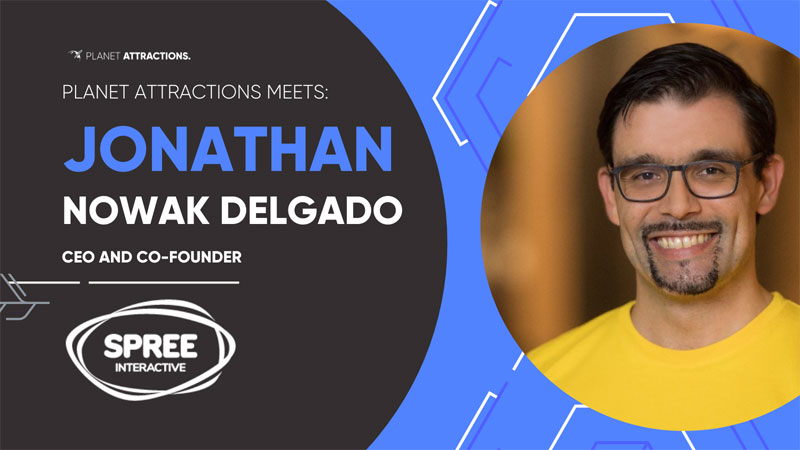 Family-friendly active free-roam VR experiences provider Spree Interactive showcased its technology at this year's IAAPA Expo Europe. Co-founder and CEO Jonathan Nowak Delgado spoke to Planet Attractions at the show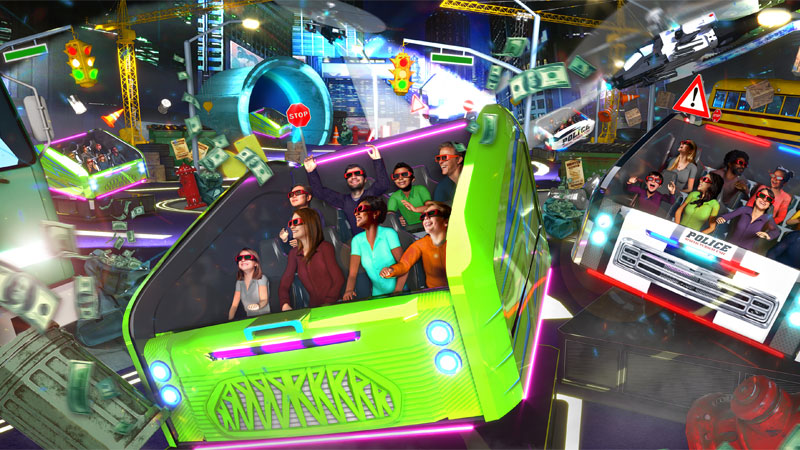 Simworx has partnered with Katapult to develop a new dark ride offering an adrenaline-fuelled car chase. Simworx CEO Terry Monkton and lead creative Matt Clarkson spoke with Planet Attractions about the exciting new project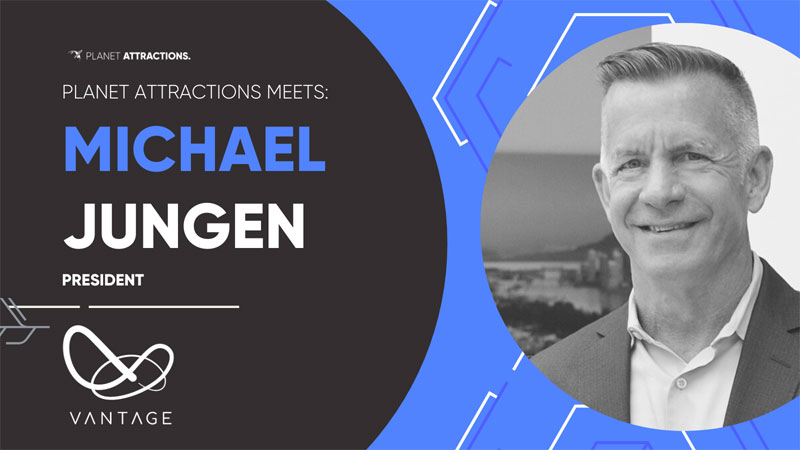 Vantage announced the launch of The Joy Economy at this year's IAAPA Expo Europe. Planet Attractions spoke to the Whitewater division's new president, Michael Jungen, about the campaign and what he hopes to deliver with the technology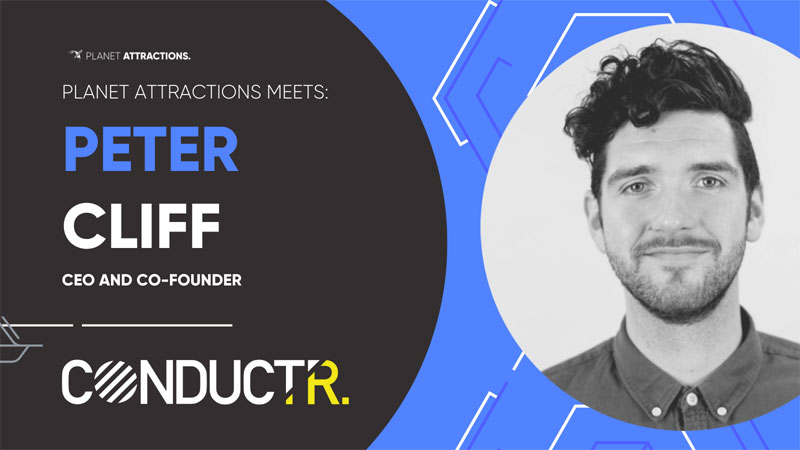 Experiential design collective Conductr made its first appearance at an IAAPA show this year as part of the Experience UK stand in London. Planet Attractions spoke to co-founder and CEO Peter Cliff about the start-up and its plans for the future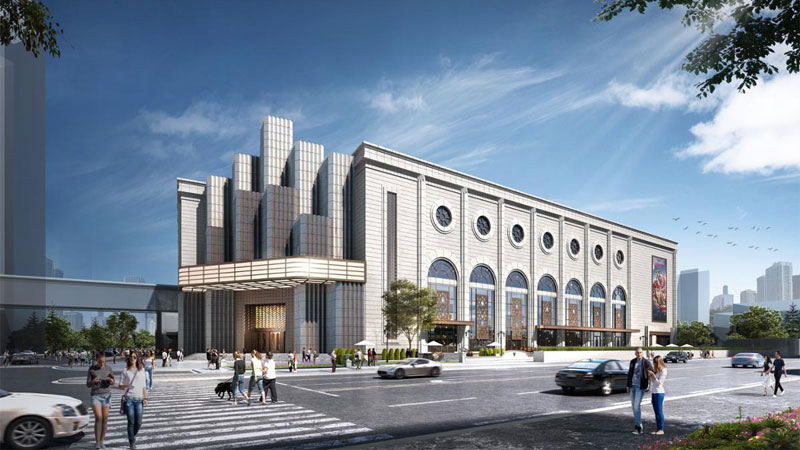 Triotech has landed a deal with Puy du Fou Asia that will see the dynamic attractions specialist supply several attractions to the upcoming SAGA attraction in Shanghai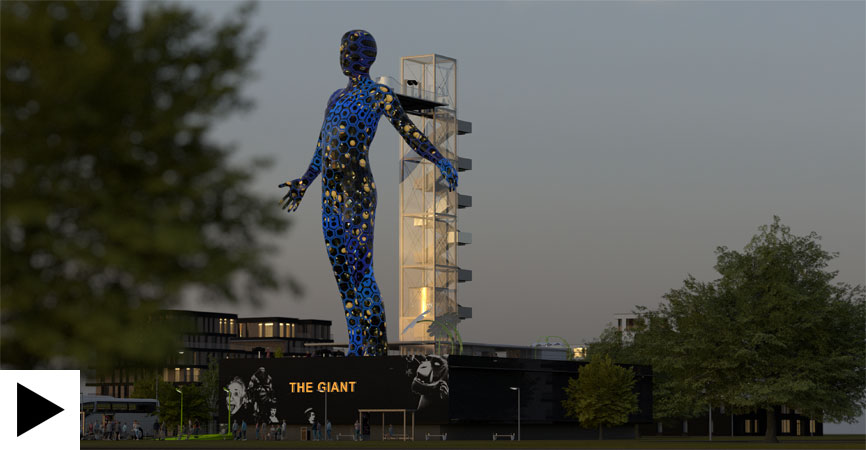 The Giant - a mammoth moving attraction and exhibition - is coming to a city near you


Leading drone entertainment specialist Dronisos has confirmed that Disneyland Paris' has extended the run of its DLight daily show for an additional 12 months.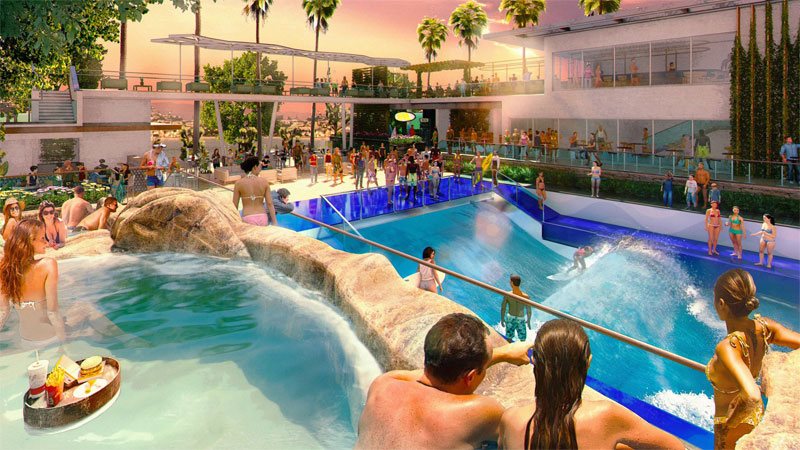 FlowRider, a WhiteWater company specialising in artificial surf experiences, will expand its product line with two new additions: Flow Curl and FlowSurf.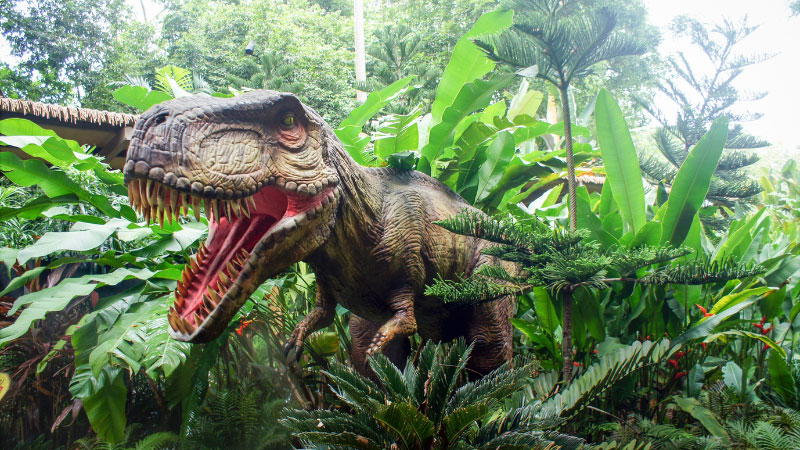 BoldMove will offer attendees a close-up look at its AR Hybrid Quest attraction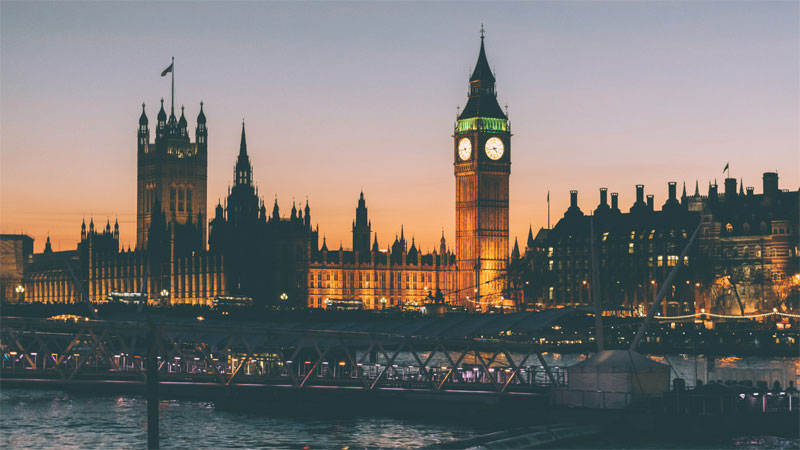 IAAPA Expo Europe is coming to London this September. Here's everything you need to know about the event


OCT Group has debuted a first-of-its-kind attraction at its new Fabland Valley Resort in China. Triotech's Ernest Yale and Nol van Genuchten speak to Planet Attractions about the exciting new multi-path dark ride, how it came to be and what it could mean for future attractions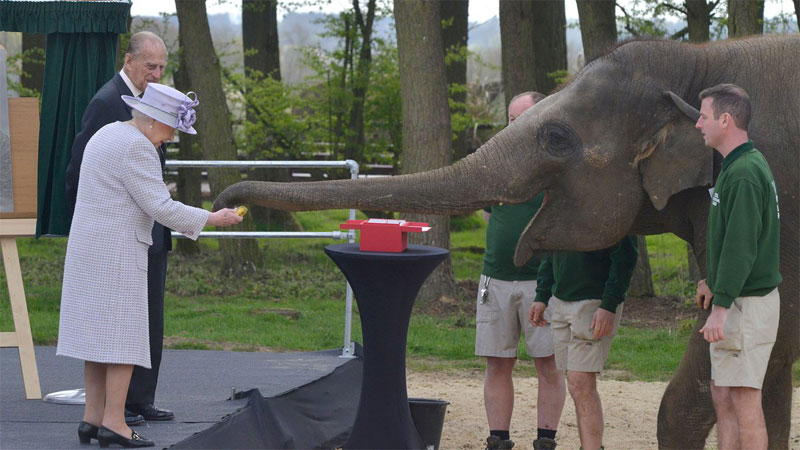 The attractions community has been sharing stories of the profound impact Queen Elizabeth II had on some of Britain's most beloved institutions, paying tribute to the monarch following her death, aged 96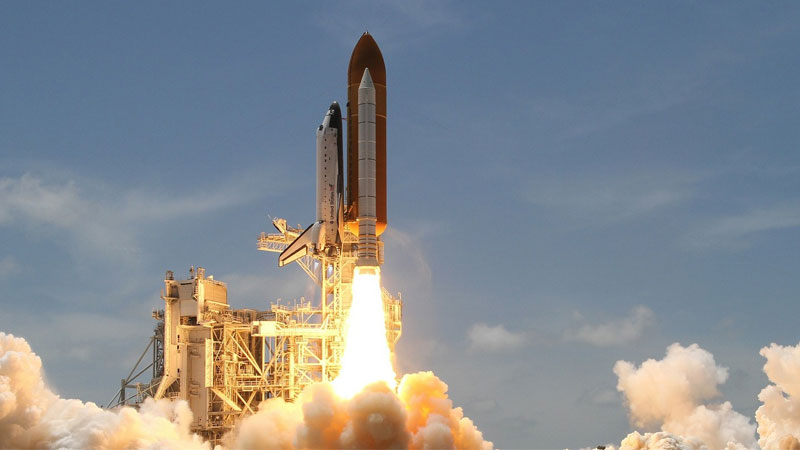 Convious will recreate the guest experience to showcase the full capabilities of its cloud-based sales and marketing solution with an interactive, rocket ship-themed booth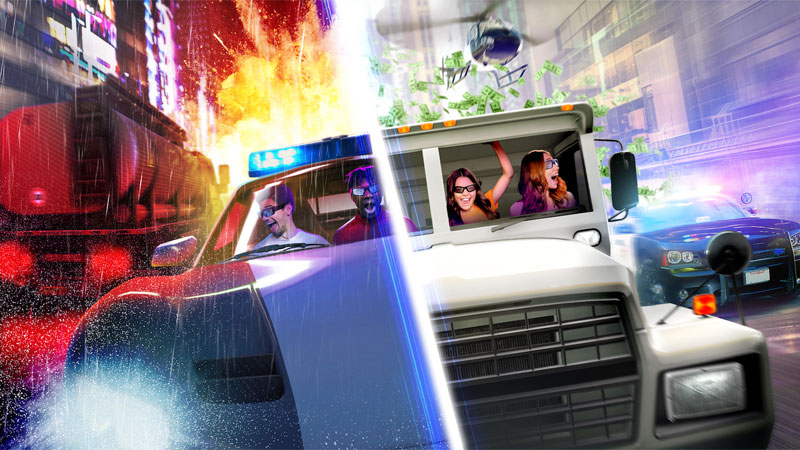 Holovis has created an innovative two-in-one system that supports the delivery of two different media or real-time interactive experiences simultaneously within the same ride or attraction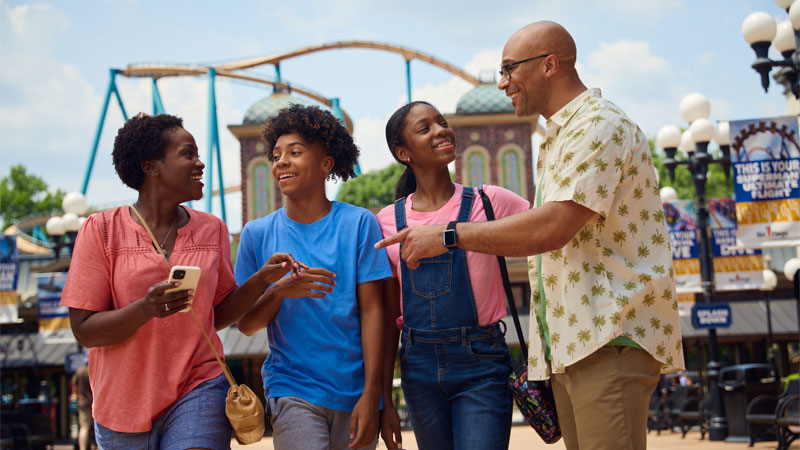 accesso is set to showcase what it calls 'the future of mobile consumer engagement' at this year's IAAPA Expo Europe, with expanded solutions designed to help operators connect, engage and build loyalty with visitors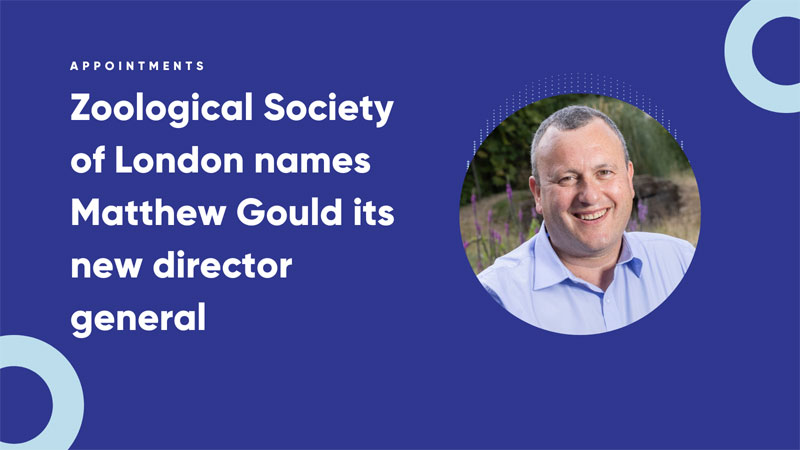 The Zoological Society of London (ZSL) has named Matthew Gould its new director general.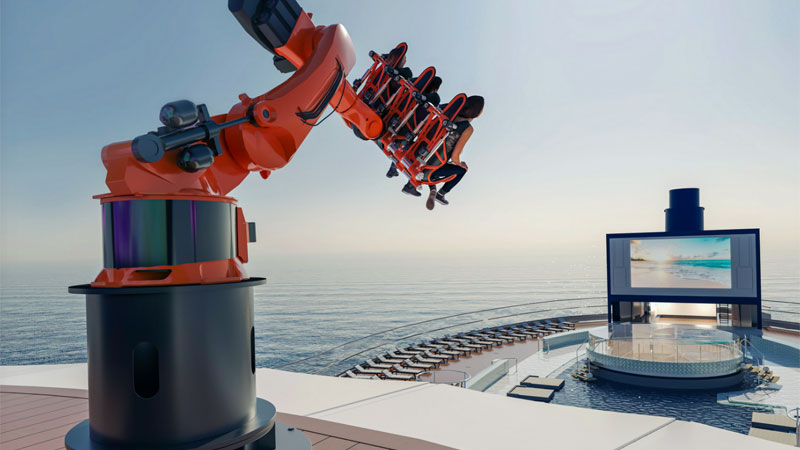 The kind of robotic technology seen at theme park rides worldwide will soon be available to cruise passengers out at sea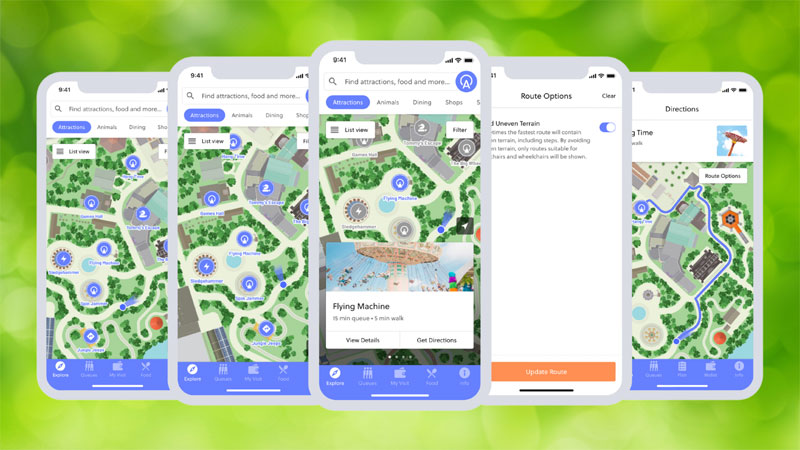 Attractions.io is adding a new feature to its mobile platform with the company set to showcase its new for 2022 wayfinding solution at this year's IAAPA Expo Europe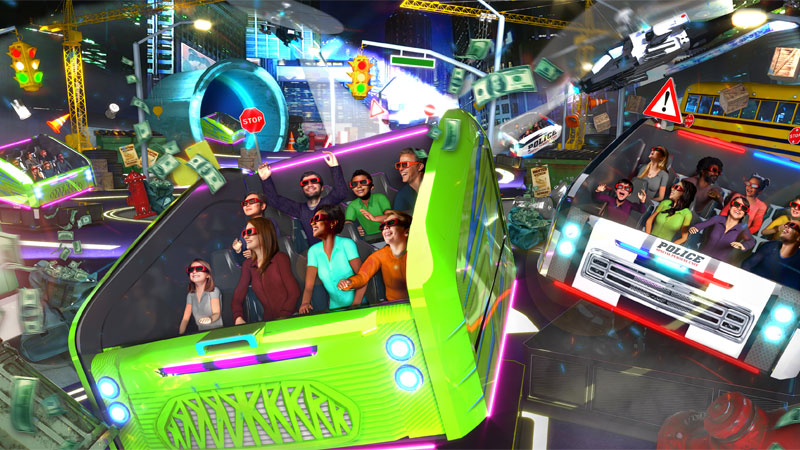 The dynamic media-based attractions specialist will showcase several new ride concepts at IAAPA Expo Europe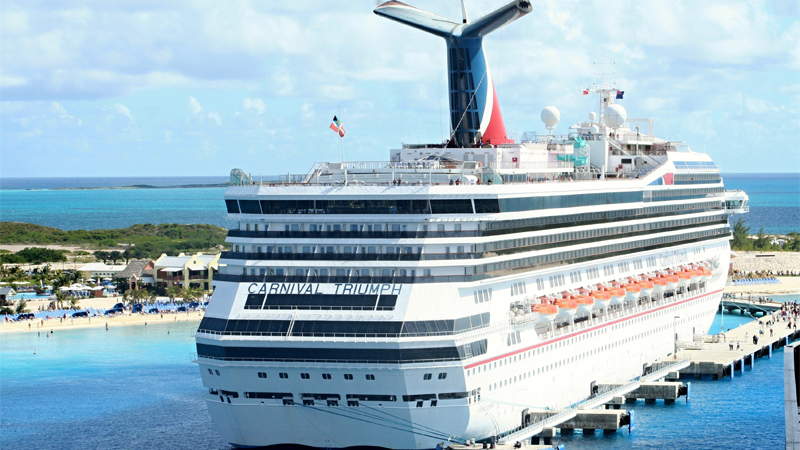 Carnival's new sustainability plan will cut its emissions by 500,000 metric tons per year and save US$150m annually in fuel costs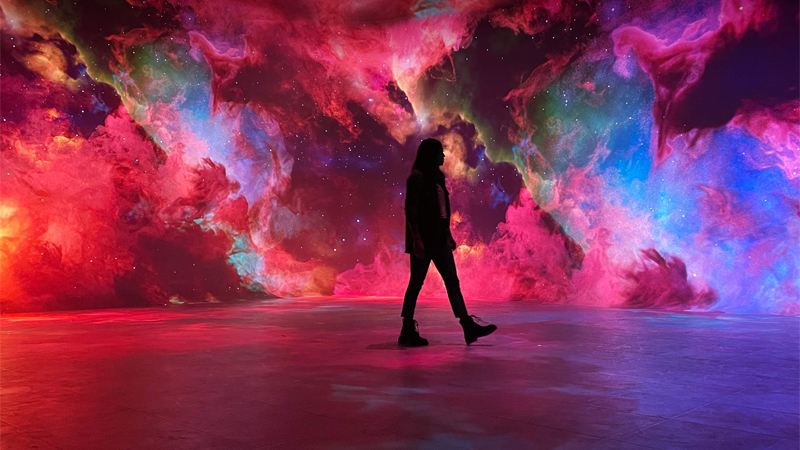 Combining storytelling, architecture, technology and experience in themed entertainment, the TEA's popular SATE event is now open for registration, with this year's edition coming from Las Vegas, Nevada, US.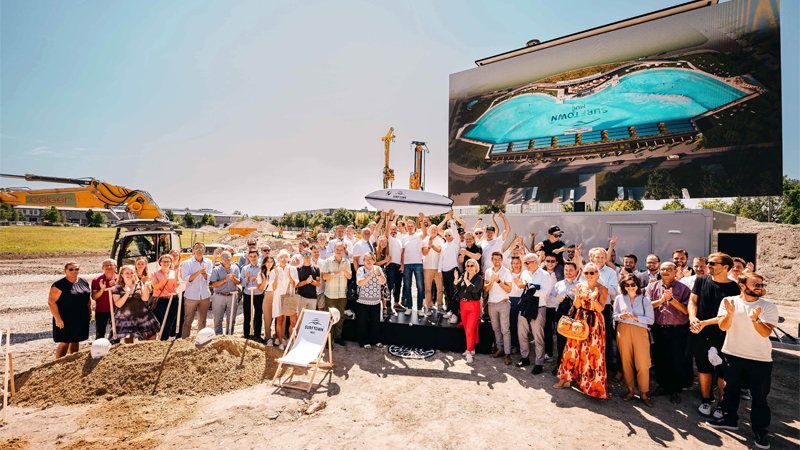 Surftown MUC - an upcoming surf park featuring WhiteWater's Endless Surf wave technology - has officially broken ground.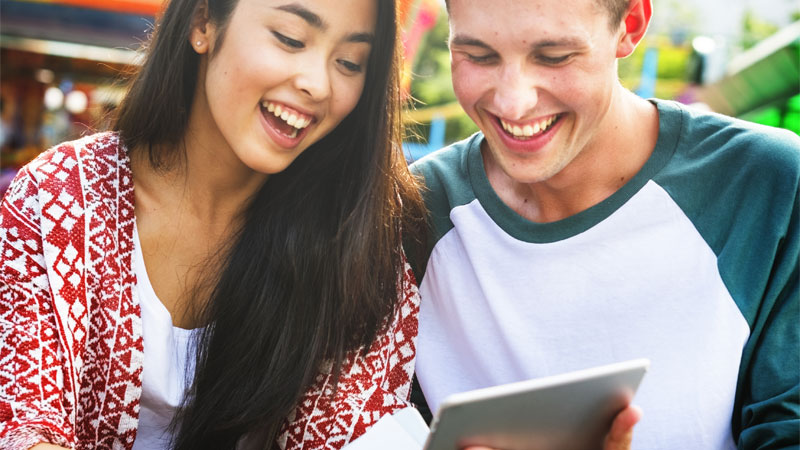 eCommerce software platform and app innovator Convious has launched a new technology that allows attractions to enhance the visitor experience with targeted messaging.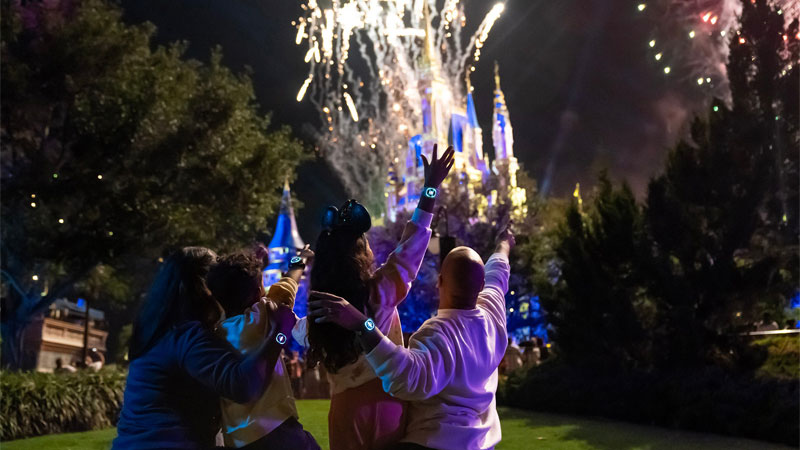 Disney is about to launch its upgraded MagicBand+, with the wearable technology offering a host of new features for visitors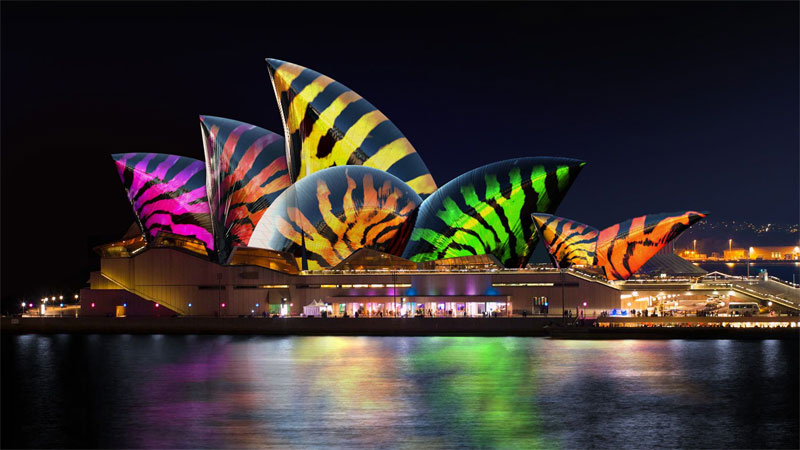 The projection mapping market could be worth as much as US$8bn according to a new report on the technology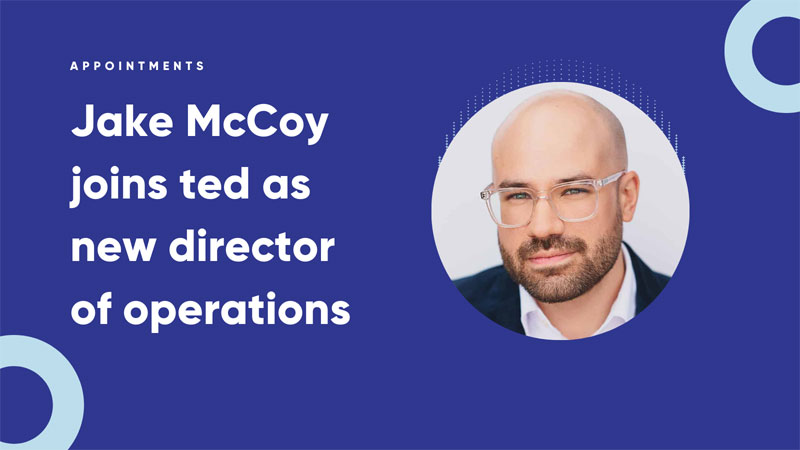 The Experience Department, popularly known as ted, has expanded its European-based leadership team, naming Jake McCoy its new director of operations.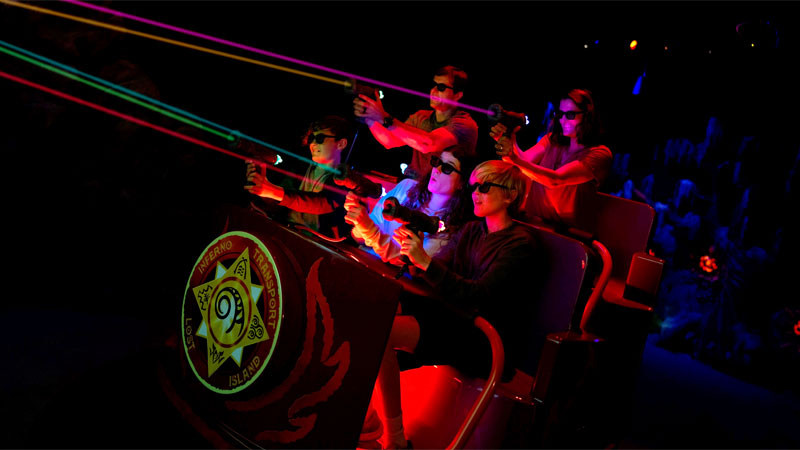 Alterface has shared details of three interactive projects opened last month featuring the supplier's interactive technology.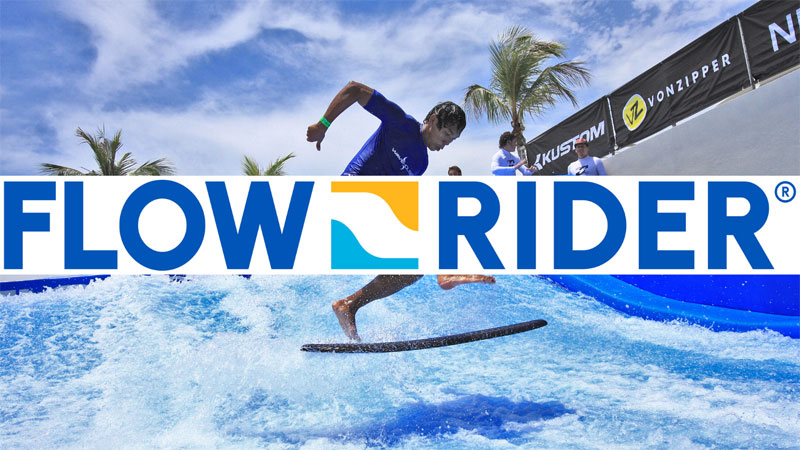 Whitewater's patented FlowRider is getting a new look, with the company introducing a brand new identity for the popular artificial surf brand.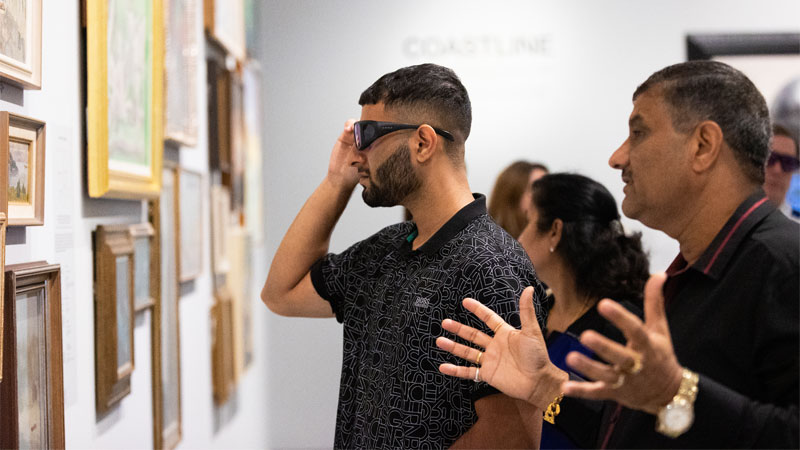 Colour deficient and colour-blind visitors to Australia's Chau Chak Wing Museum are now being offered special glasses to see works of art in clear, vibrant colour for the first time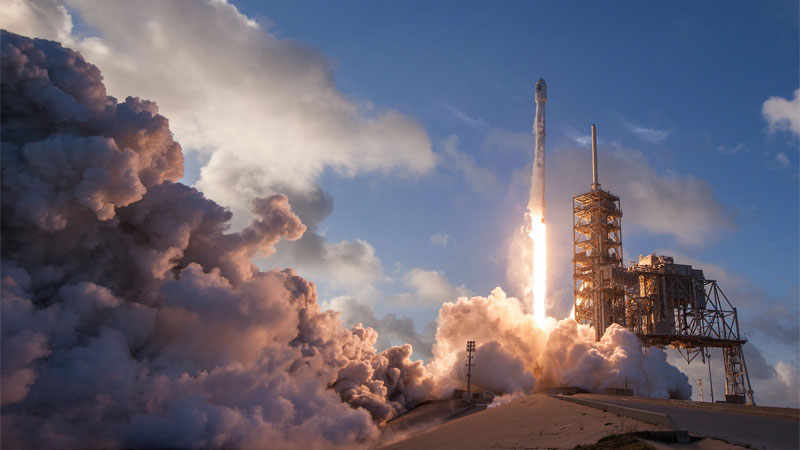 Roger Highfield, science director at the Science Museum Group, has discussed a new study that suggests the soot released by space tourism could have a bigger impact on the climate than the soot from aviation.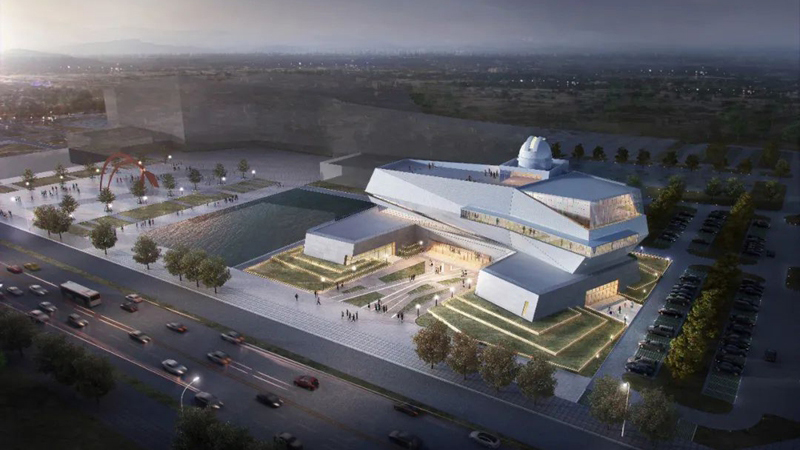 Tibet Planetarium, which could open in two years' time, hopes to welcome over 100,000 guests annually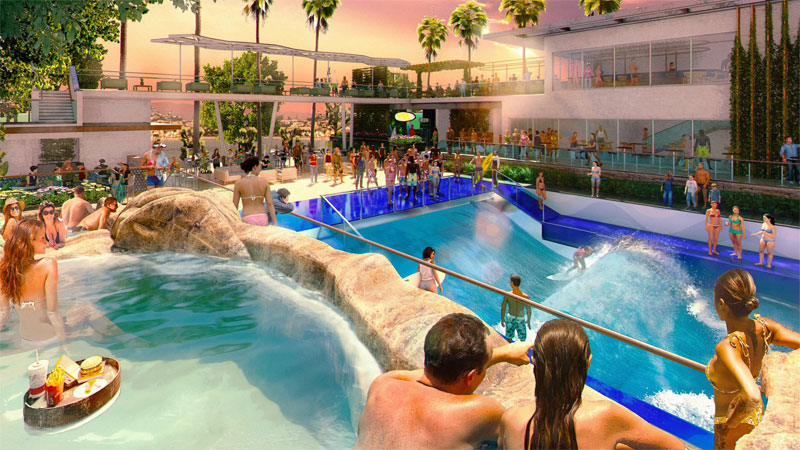 FlowRider's FlowSurf technology was inspired by river waves and creates never-ending waves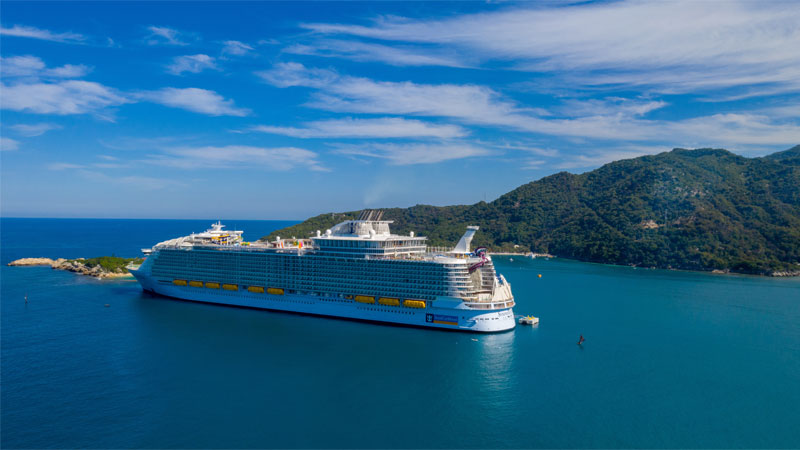 Royal Caribbean Cruises has filed a request that if approved will see SpaceX's Starlink satellite internet service rolled out across the operator's entire fleet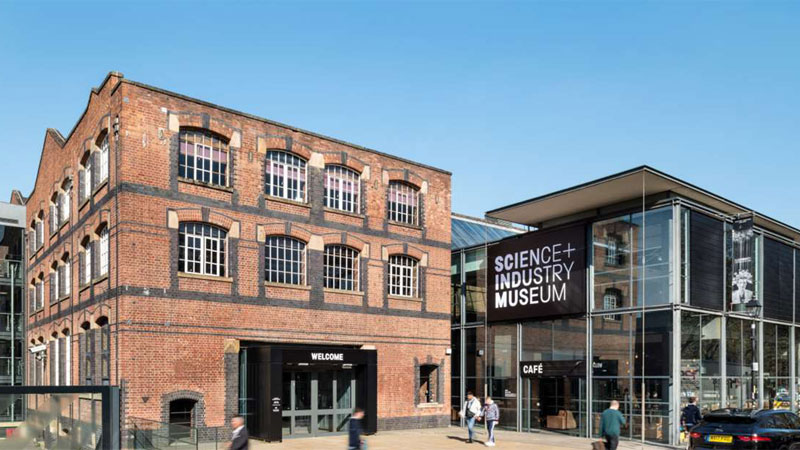 The Science and Industry Museum has received a generous donation from The Law Family Charitable Foundation for the refurbishment of its Power Hall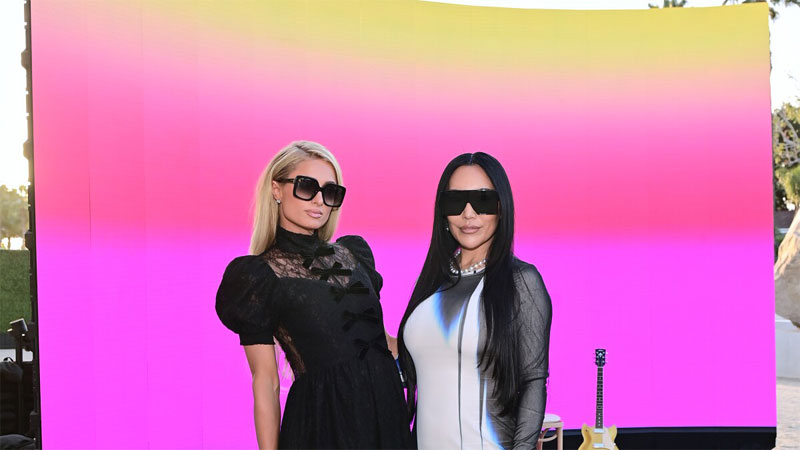 Paris Hilton has made a significant donation to the Los Angeles County Museum of Art that will enable the museum to acquire digital artworks by female artists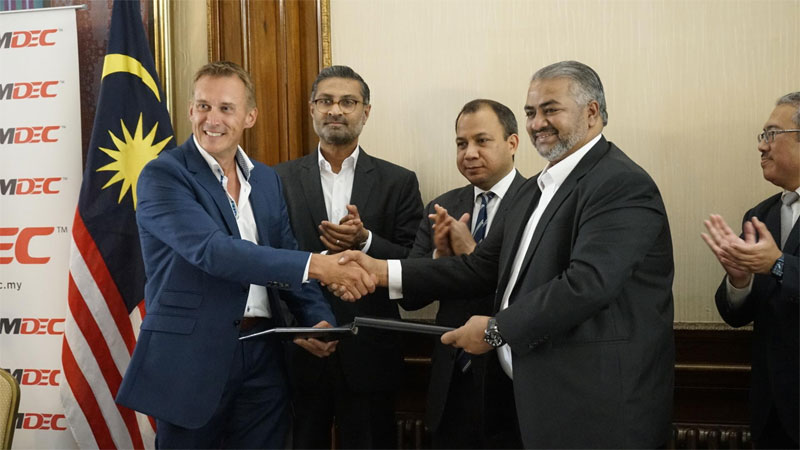 Holovis and Azimuth have teamed up with grand plans to develop an XR content creation and digital engineering team in Malaysia, making the country a hub for the Southeast Asia region in XR technology development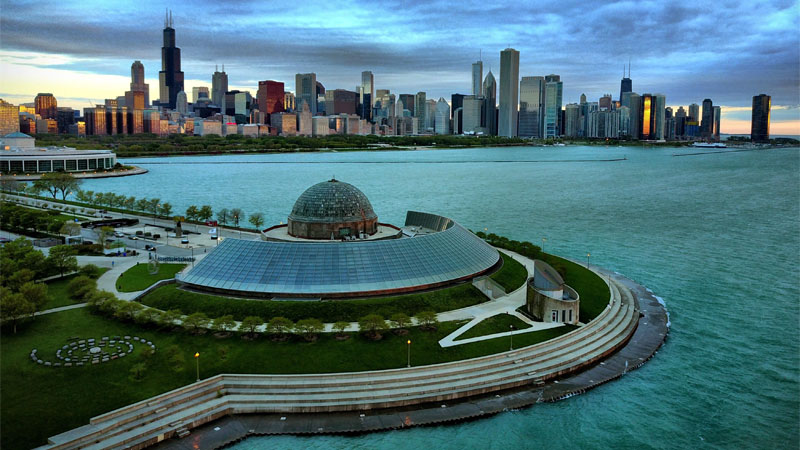 The Adler Planetarium in Chicago is one of a number of informal education institutions to receive NASA funding to serve students from communities underrepresented in STEM fields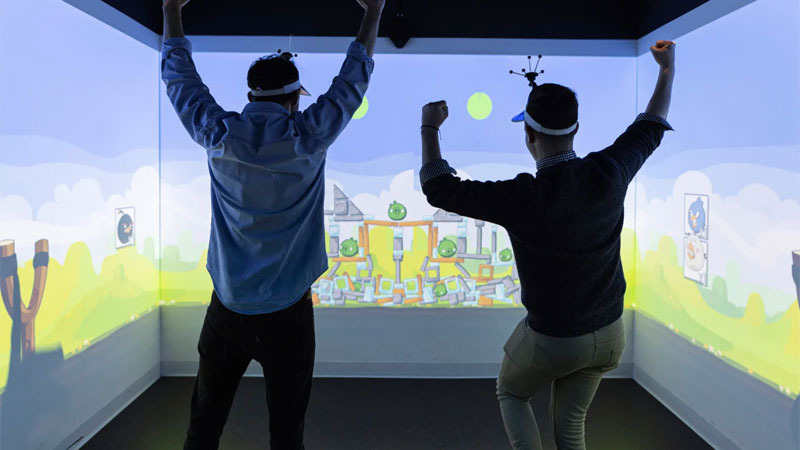 Electric Gamebox - a location-based immersive gaming platform - has announced a partnership with video game developer Rovio Entertainment to launch a lifesize Angry Birds game.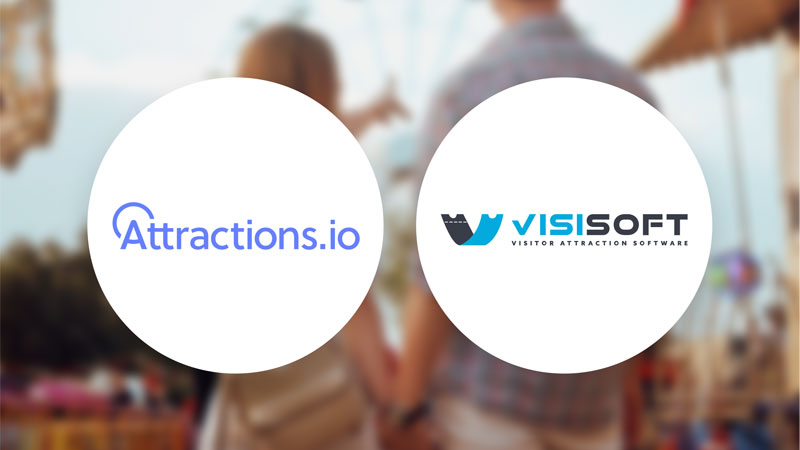 Attractions.io has teamed up with VisiSoft to merge its guest-facing app technology with the company's electronic point of sale (EPOS) and online ticketing software.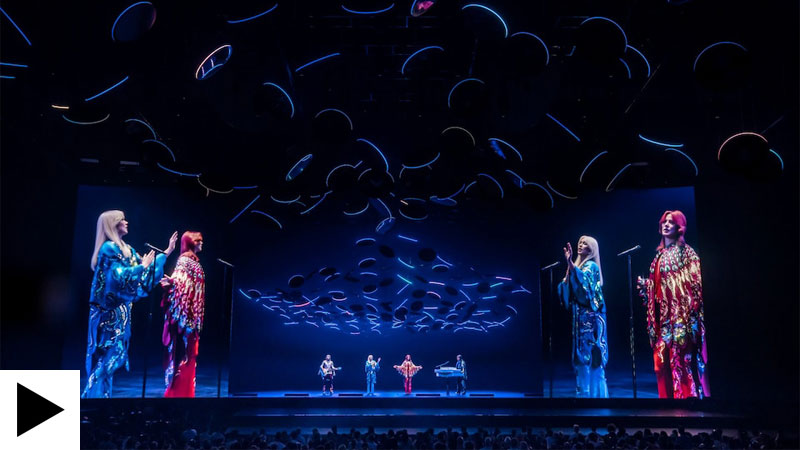 Pop supergroup ABBA need to earn £140m from ticket sales of their London residency Voyage to cover the cost of the virtual spectacle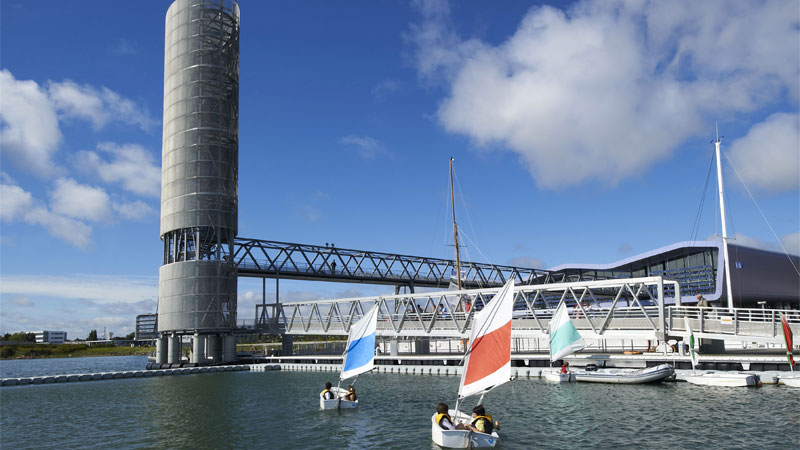 Triotech has announced that the company has hit a landmark 100 attraction installations in Europe, a figure the supplier passed during the spring.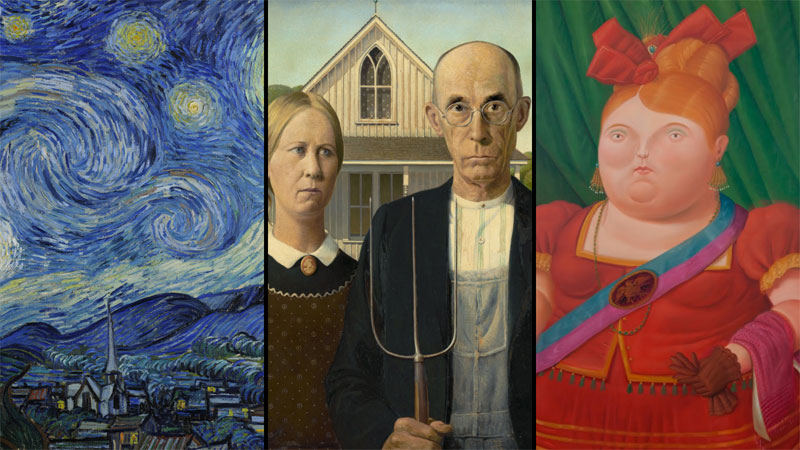 Google Arts & Culture celebrated Internation Museum Day with the launch of three new mind-bending AR art filters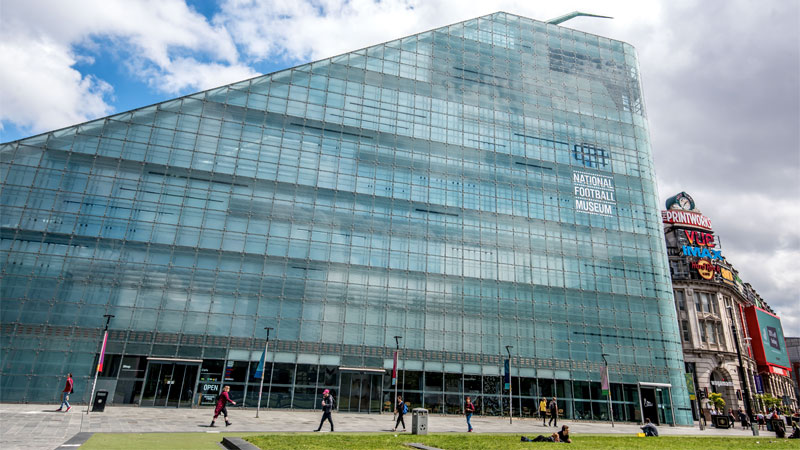 The British government is supporting a range of public sector organisations in reducing their dependency on carbon and improving energy efficiency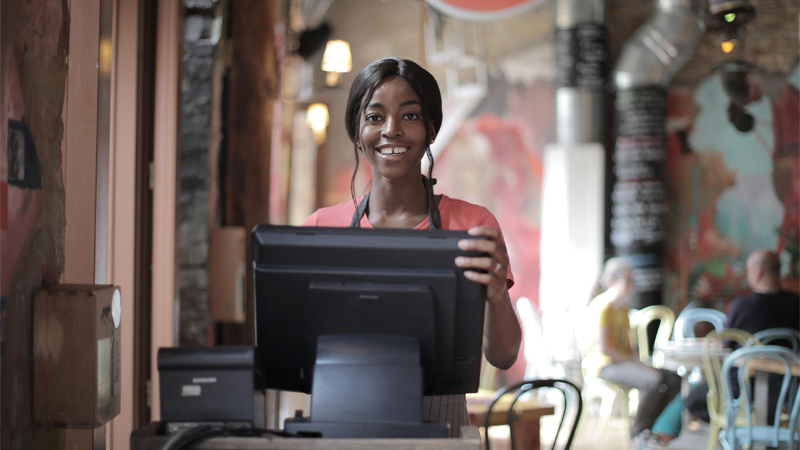 How do you develop a POS system that caters to both digital natives and the generation before them? Convious's Miendu Dang has the answers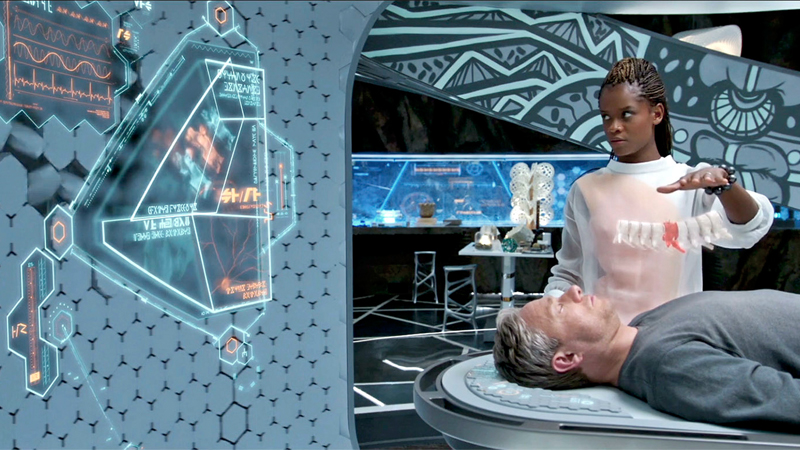 Set to debut later this year, Technicians: The David Sainsbury Gallery will feature Marvel's Black Panther as its centrepiece, with the IP being used to encourage children to explore the role of technicians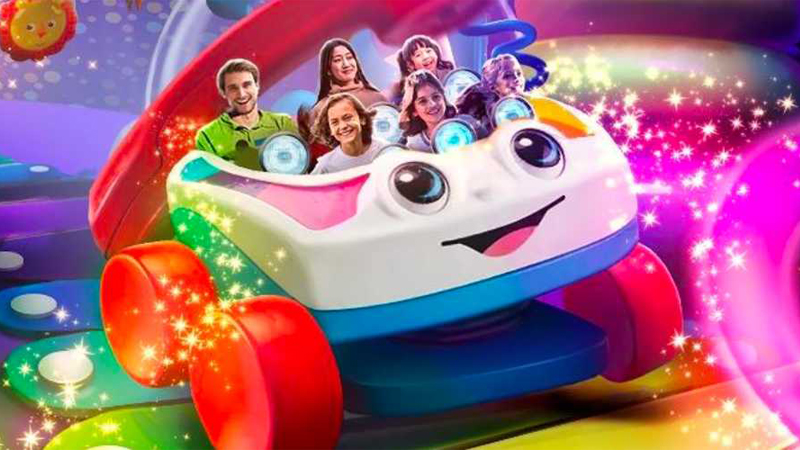 A new dark ride concept based on the iconic Fisher Price IP from Mattel has been unveiled, with the new attraction utilising a number of the brand's popular children's toys, which will be blown up into epic proportions for the experience.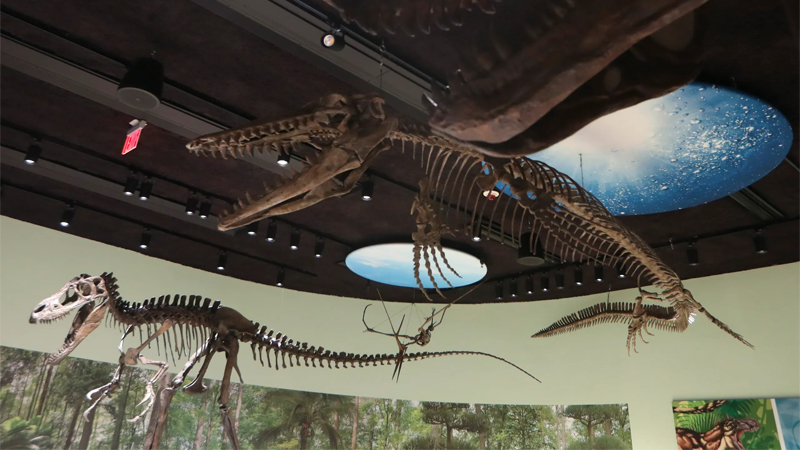 The Delaware Museum of Nature and Science is set to reopen on May 23 following an extensive renovation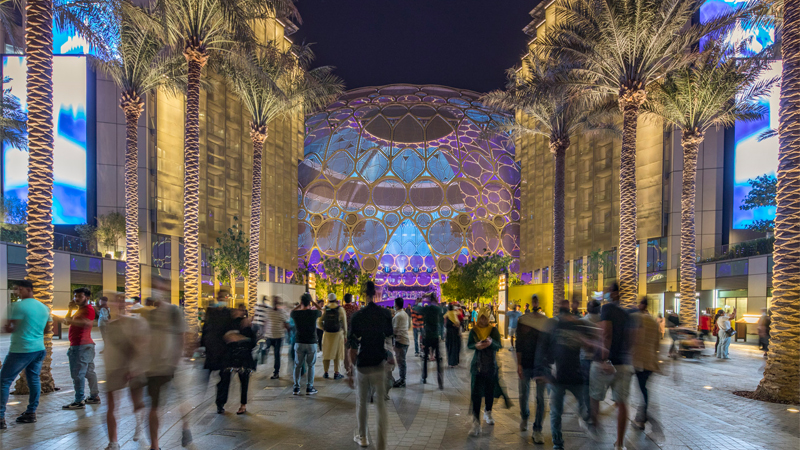 A new Supreme Committee has been formed to plan and implement the future of the Expo 2020 Dubai district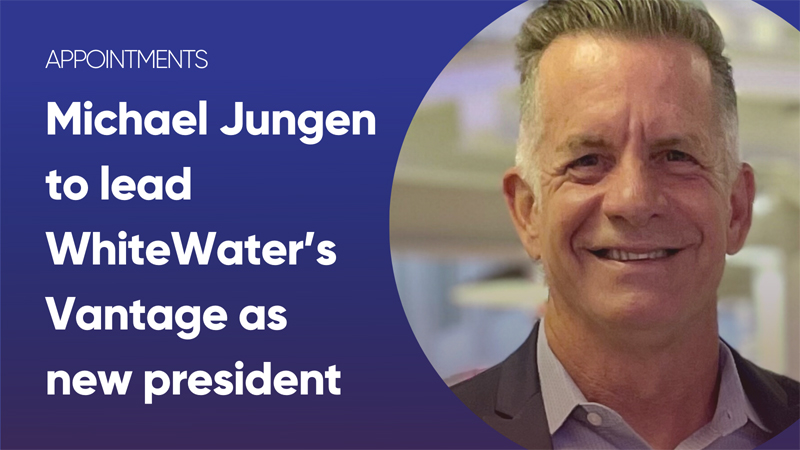 Former Disney man Michael Jungen has taken up a new position as the president of WhiteWater's Vantage division.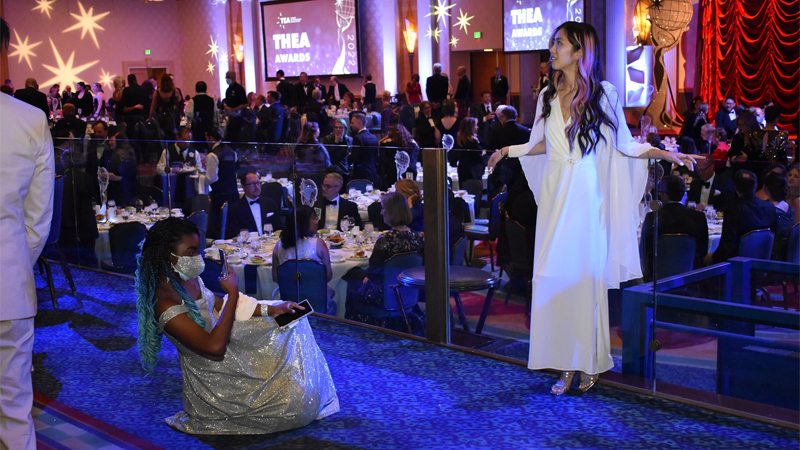 Leaders in the themed entertainment industry gathered last month for the return of TEA Summit and Thea Awards Gala for the first time in two years. Christine Kerr on behalf of the TEA and Nicole Sangster from Thea Award recipients Simworx both report on the event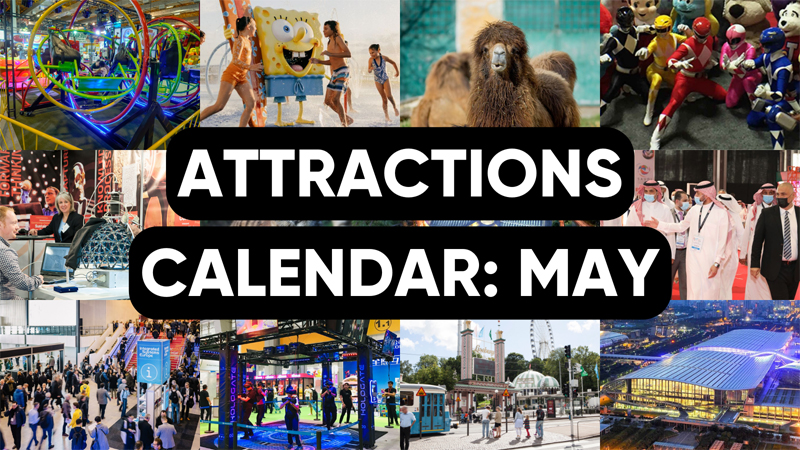 We've rounded up all the special events you should be attending this month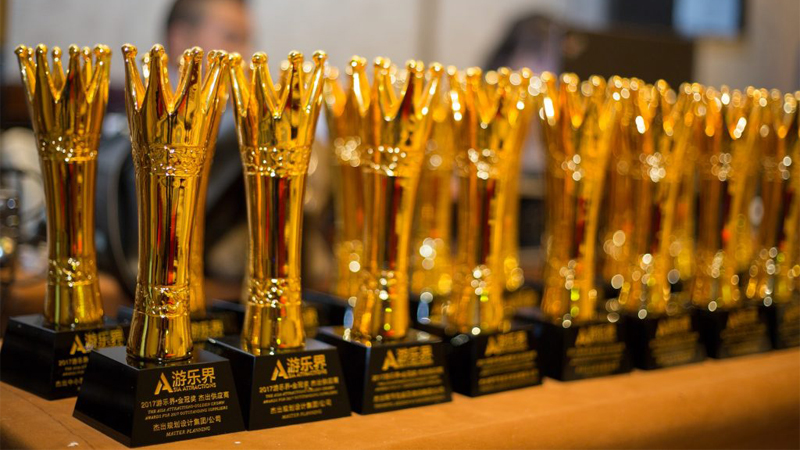 A number of attractions suppliers and manufacturers have been named winners of China's prestigious Golden Crown Awards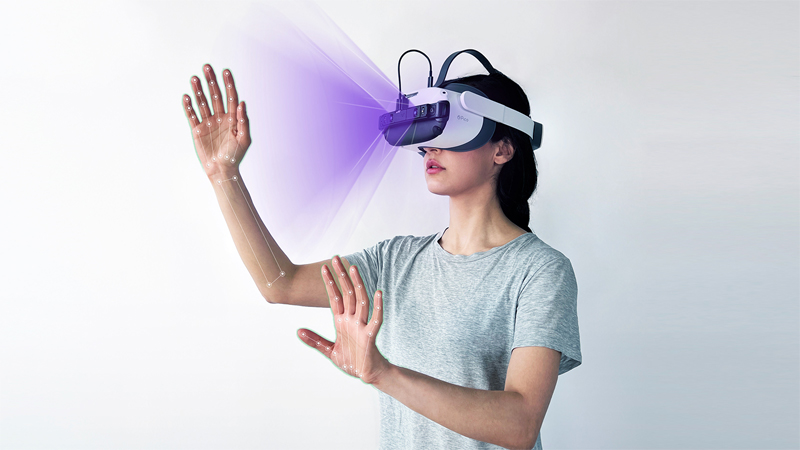 Ultraleap is introducing a new tool to allow the use of hand tracking while wearing a Pico Neo 3 VR headset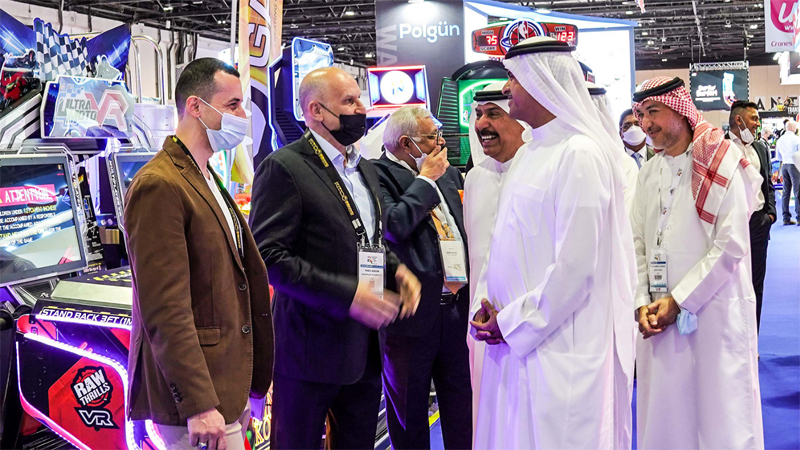 The Dubai Entertainment, Amusement & Leisure Exhibition returned in 2022, bringing with it much success for attendees and exhibitors alike


A group of big cats which were to be euthanised over fears Russian bombing would set them loose in the city of Kharkiv have been saved after an evacuation to take them to other zoos was organised.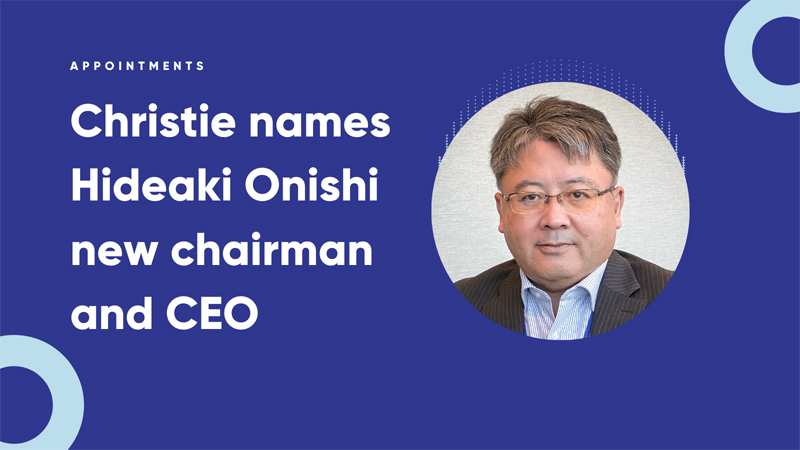 Visual and audio technology company Christie has named Hideaki Onishi as its new chairman and CEO.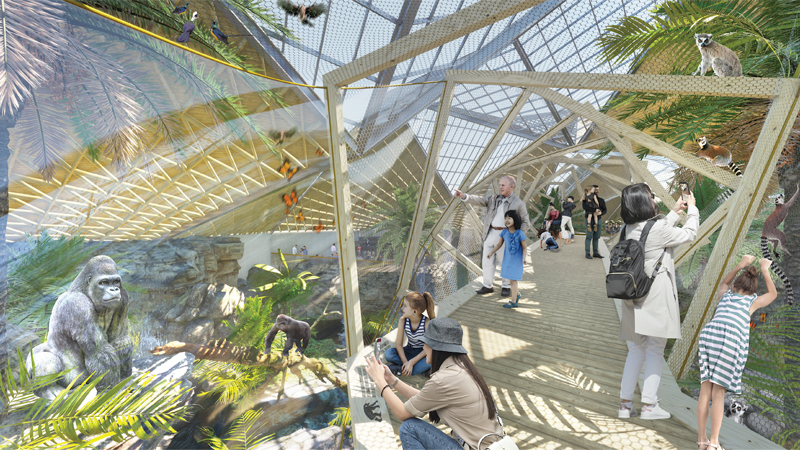 Toronto Zoo is starting to undergo a major transformation. Its CEO Dolf DeJong spoke to Planet Attractions about the ambitious masterplan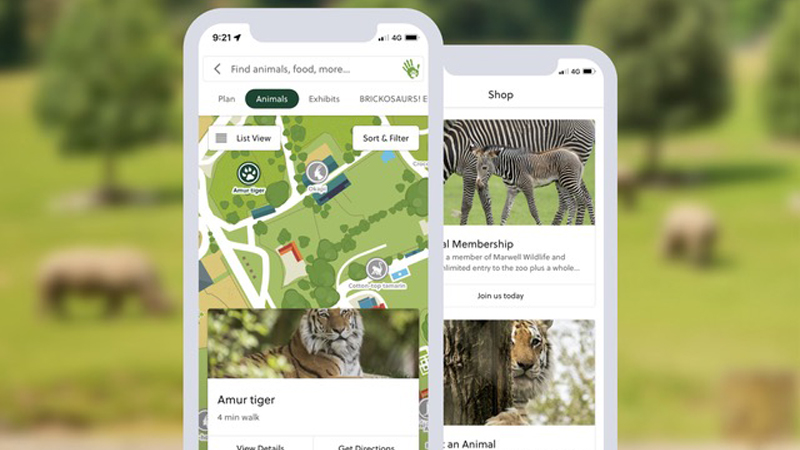 Marwell Zoo and Attractions.io have teamed up for the development of a brand new app designed to enhance the visitor's digital experience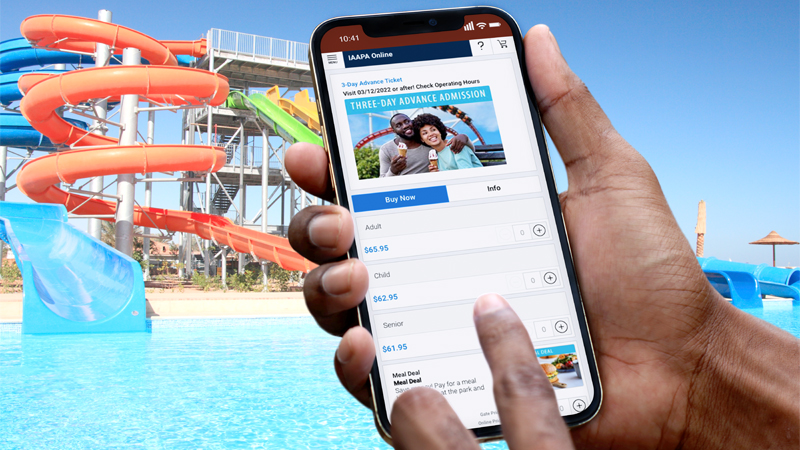 The companies have entered into a three-year partnership that will see Accesso supply its point of sale solutions across four of Pyek Group's waterparks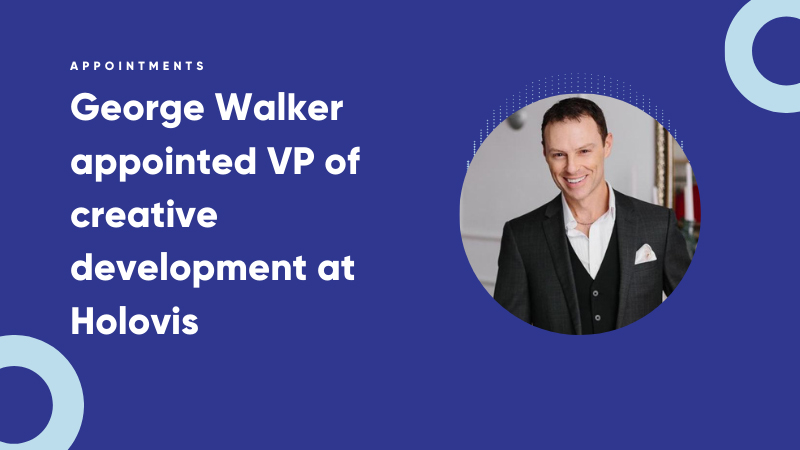 Walker joins the company with more than 20 years experience, having held senior creative roles at Universal Creative and Dynamic Attractions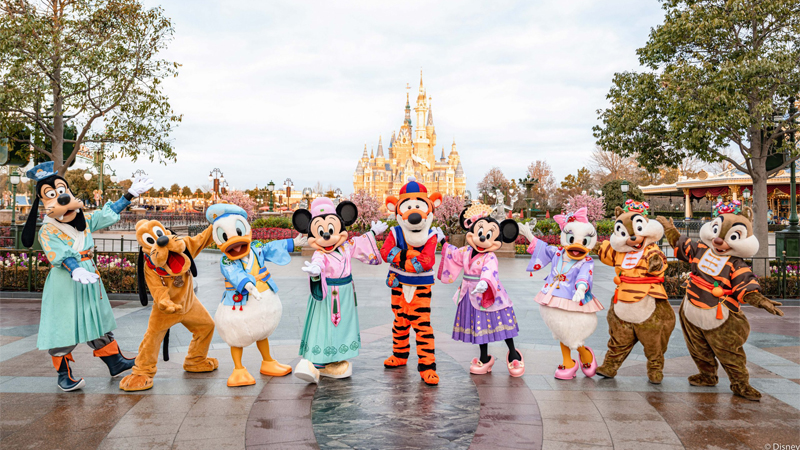 Shanghai Planetarium, Shanghai Museum and more than 100 city parks have already closed to the public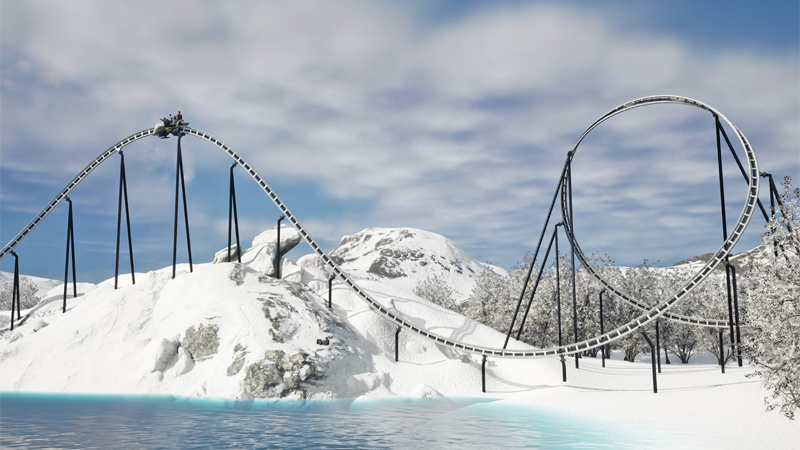 German rollercoaster manufacturer Maurer Rides has launched a new interactive snow coaster.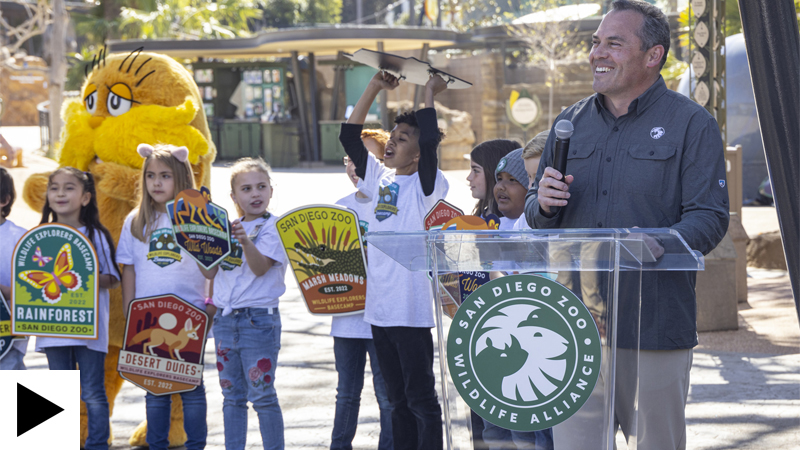 San Diego Zoo has launched one of its most ambitious ever additions, with the brand-new US$69m Wildlife Explorers Basecamp showcasing a number of different ecosystems through a series of immersive experiences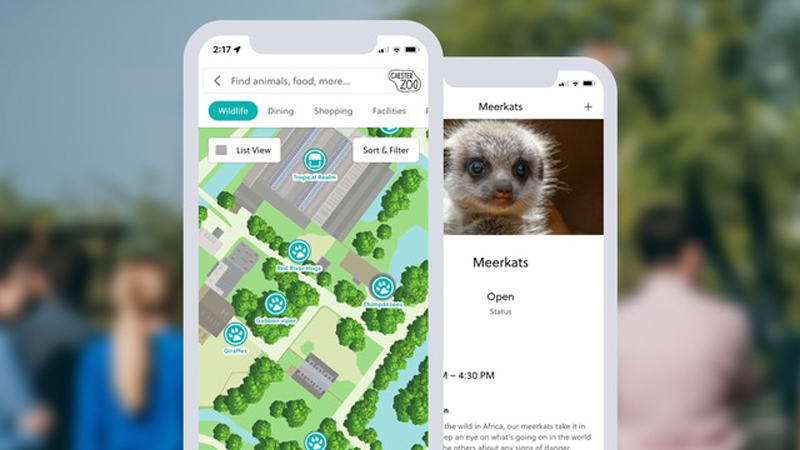 Attractions.io has announced a new partnership with Chester Zoo, with the animal attraction in the UK launching a fully-branded mobile app to enhance the visitor experience.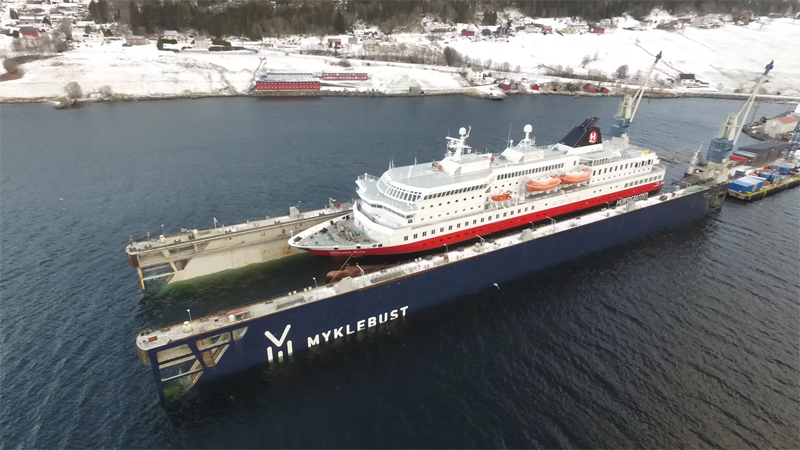 Cruise operator Hurtigruten Norway has initiated one of Europe's largest environmental ship upgrades, with rebuilt ships set to cut CO2 emissions by 25% and NOx emissions by as much as 80%.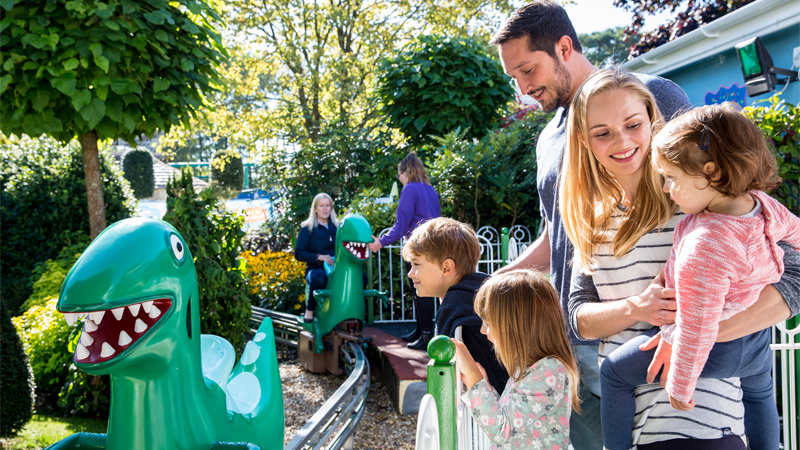 In order for theme parks to run operations in a smooth and efficient manner, internal communications are key. Ross McCaw, CEO and founder of OurPeople, tells us more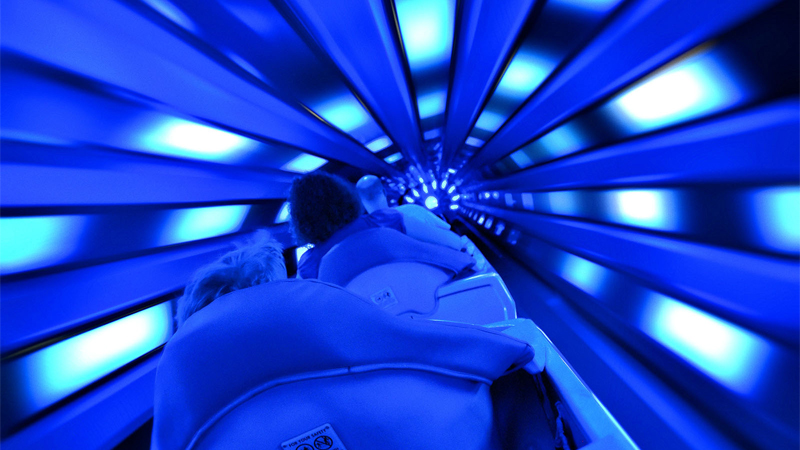 Disney's Imagination Campus has released a new look at the iconic Space Mountain from a STEM perspective, exploring the science and technology behind the attraction while also looking at the role that energy and acceleration play in the design of rollercoasters.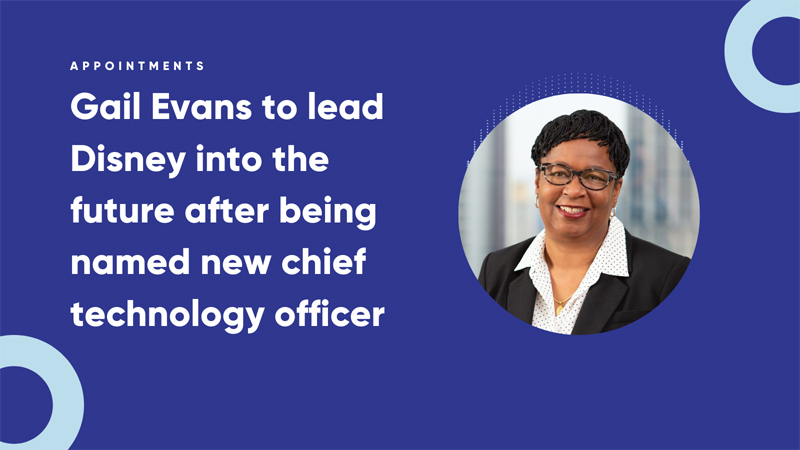 Gail Evans has been named executive vice president, chief digital and technology officer for Disney Parks, Experiences and Products.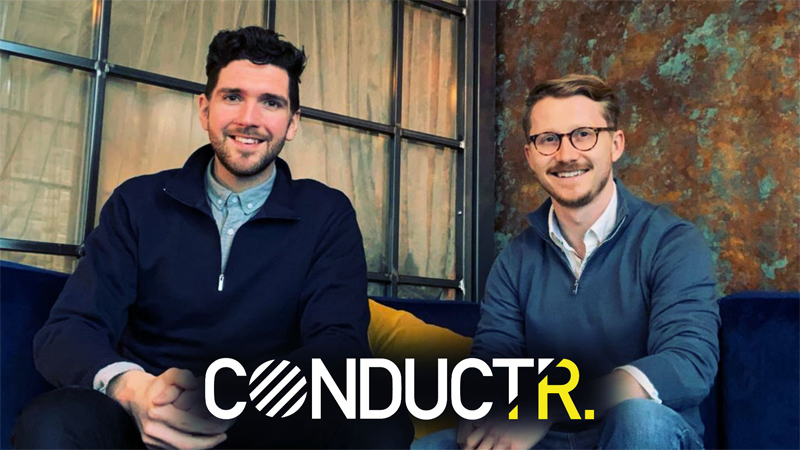 Industry veterans Peter Cliff and Jos van der Steen, have launched a new company aimed at creating immersive experiences.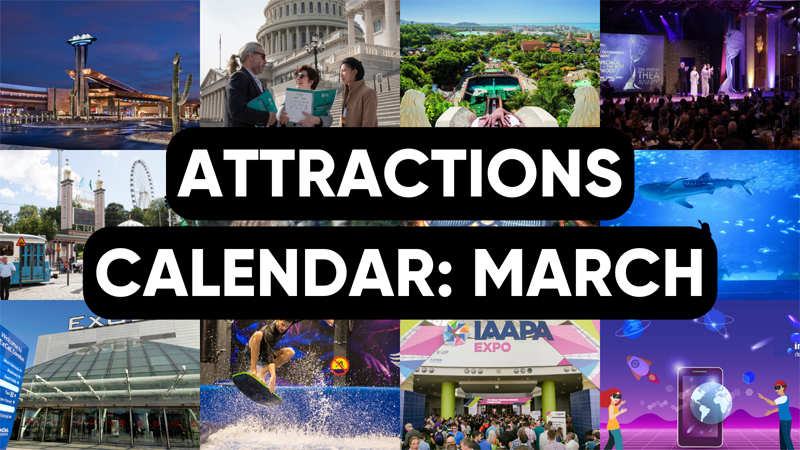 Here are all the events you should be attending this month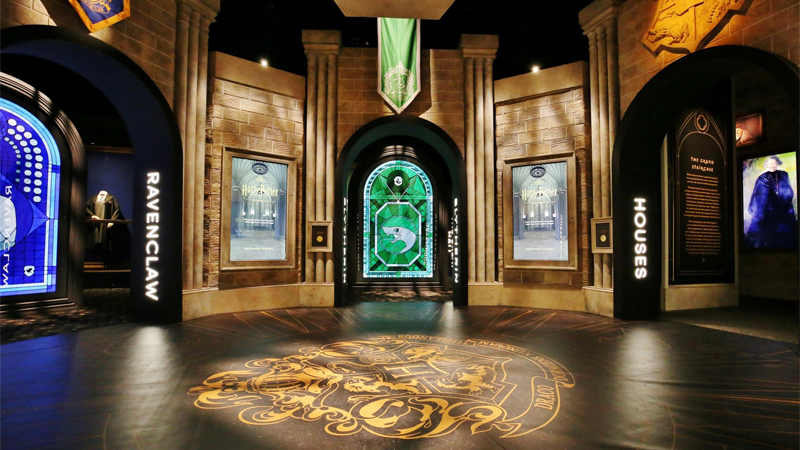 The exhibition had its world premiere at Philadelphia's Franklin Institute earlier this month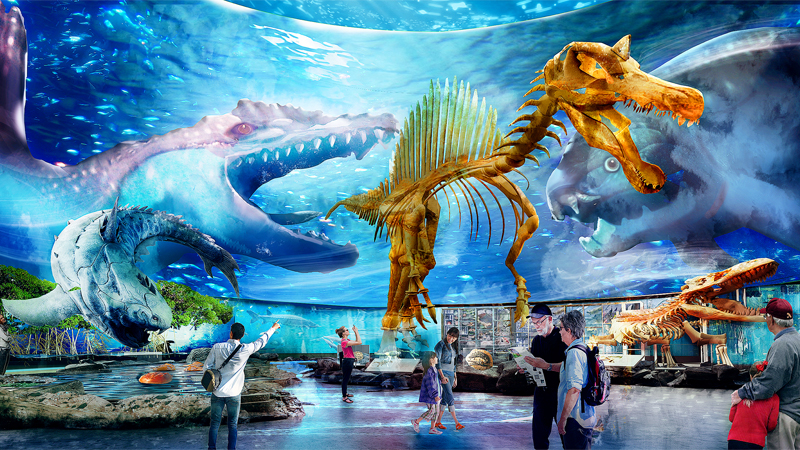 A combined US$400m investment, Resorts World Sentosa is launching the first phase of its RWS 2.0 expansion plan, with an all-new Minions land at Universal Studios Singapore and the redevelopment of the rebranded and reimagined Singapore Oceanarium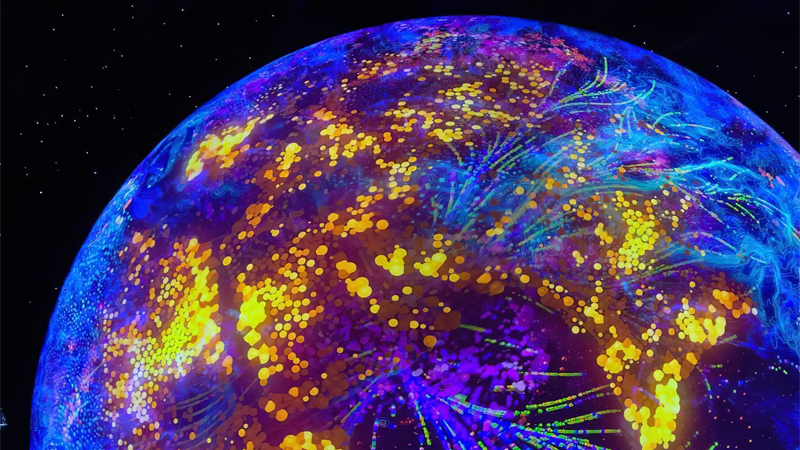 How does an immersive experience tie in with the metaverse? John Munro, CEO and chief creative officer for storytellers Immersive has the answers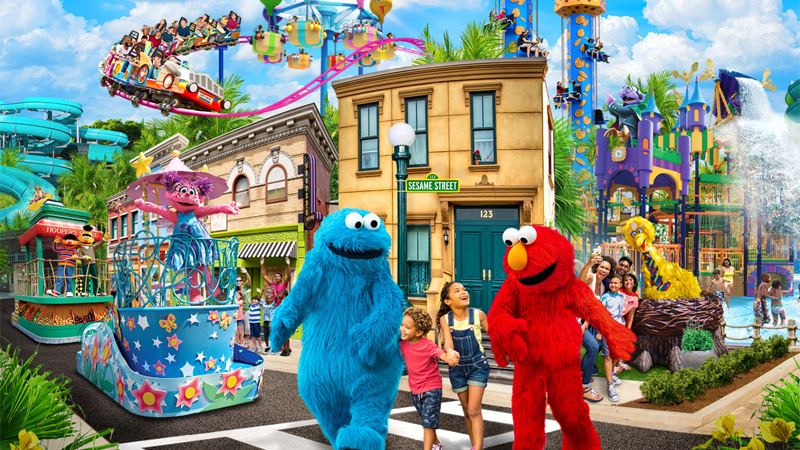 Sesame Place San Diego is set to open next month, with the location set to include an interactive Sesame Street Neighbourhood along with themed attractions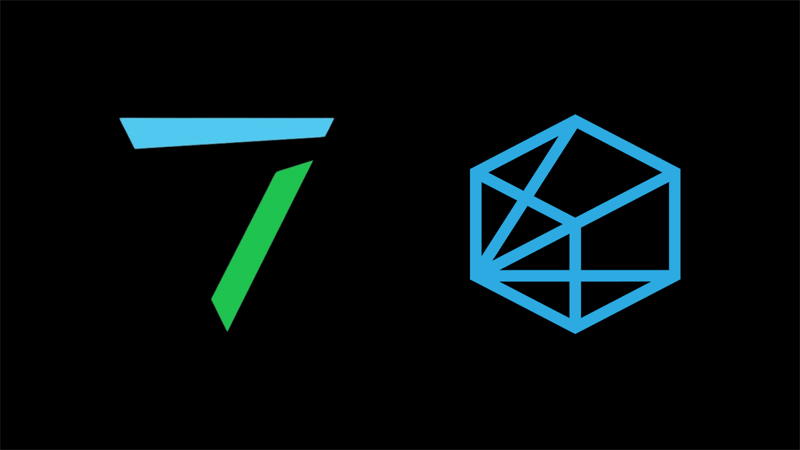 Creative software and technology company 7thSense has announced the acquisition of design, consulting and production company Bluebox Attractions.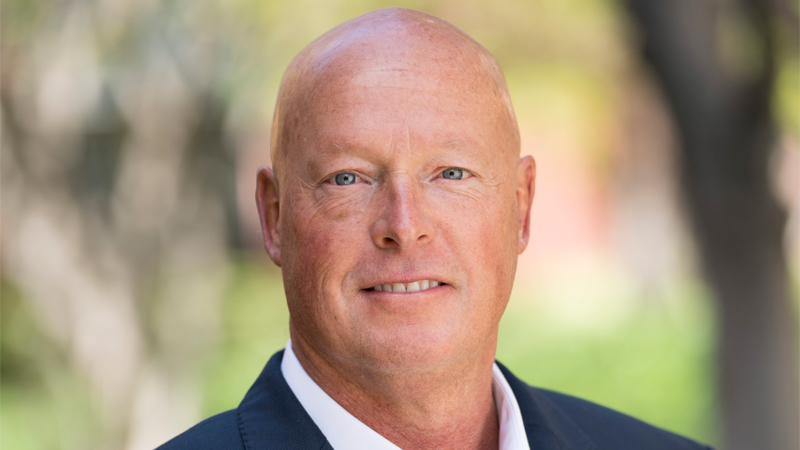 Disney doubled revenues at its parks in its second quarter, with Bob Chapek saying that there is more storytelling infused into every aspect of a visit to a Disney park than ever before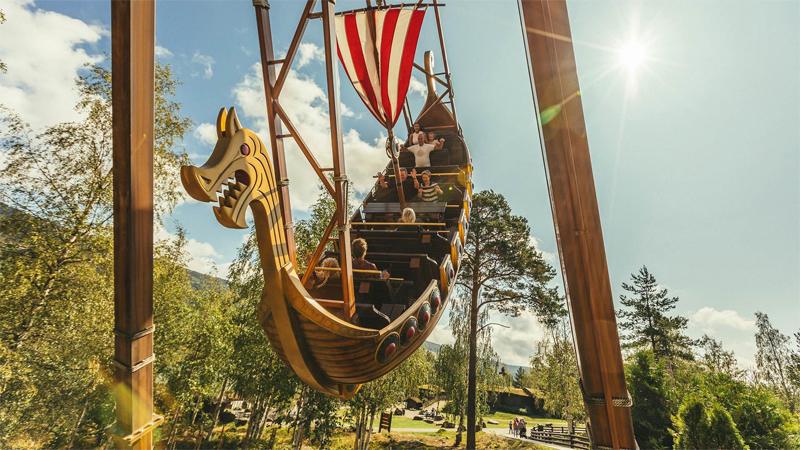 One of Norway's largest theme parks recently turned to Attractions.io to solve stability problems in its app, with a 'transformational year' seeing Hunderfossen extend its partnership with the company until 2024.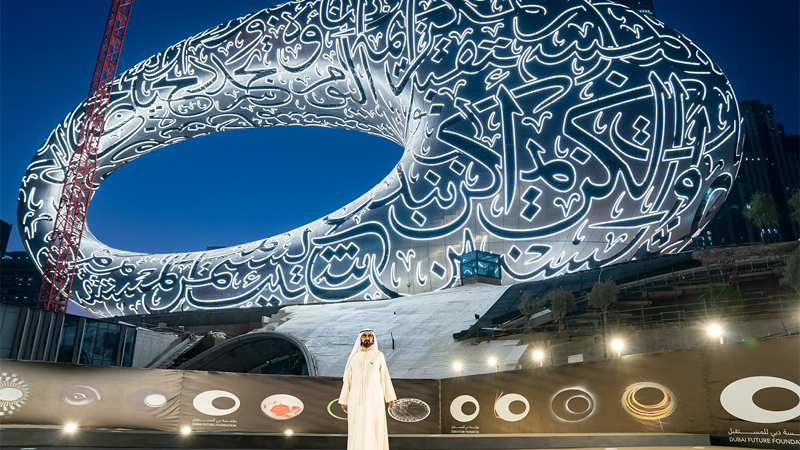 Hailed as the "most beautiful building on earth", the awe-inspiring Museum of the Future finally has its opening date, with His Highness Sheikh Mohammed bin Rashid Al Maktoum, Vice-President and Prime Minister of the UAE and Ruler of Dubai, announcing a February 22 opening date for the attraction.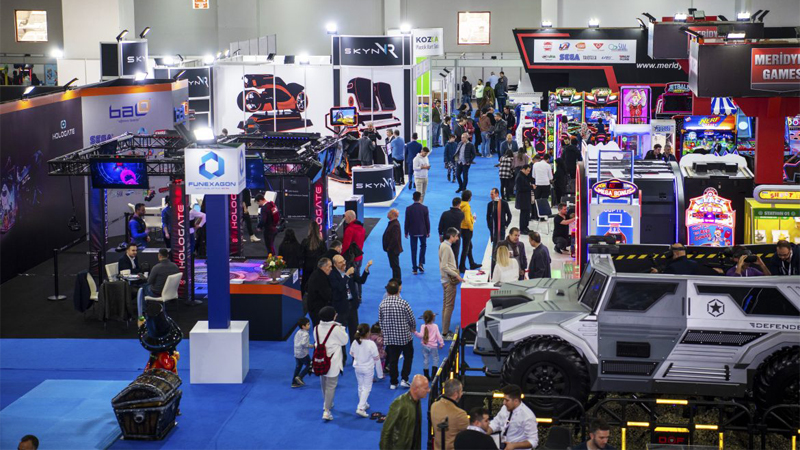 ATRAX – The Amusement-Attraction, Park-Recreation Industry and Services Exhibition - is underway at the Istanbul Expo Center in Turkey.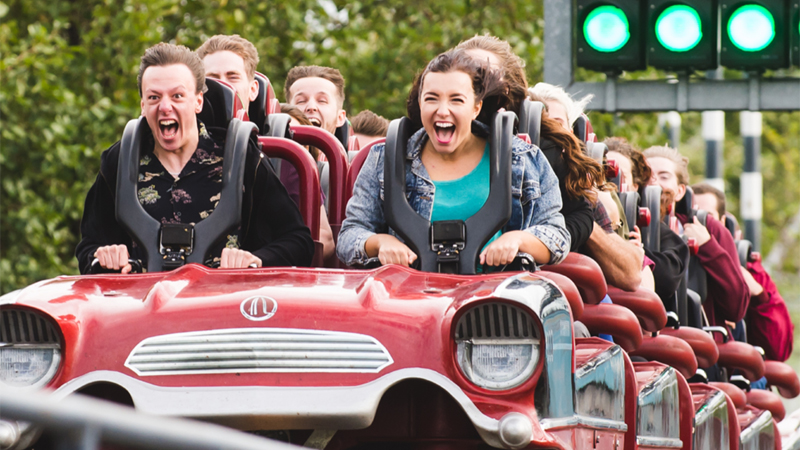 Attractions.io partnership with Merlin Entertainments has been expanded to include the supplier's mobile wallet technology at all Merlin-operated theme parks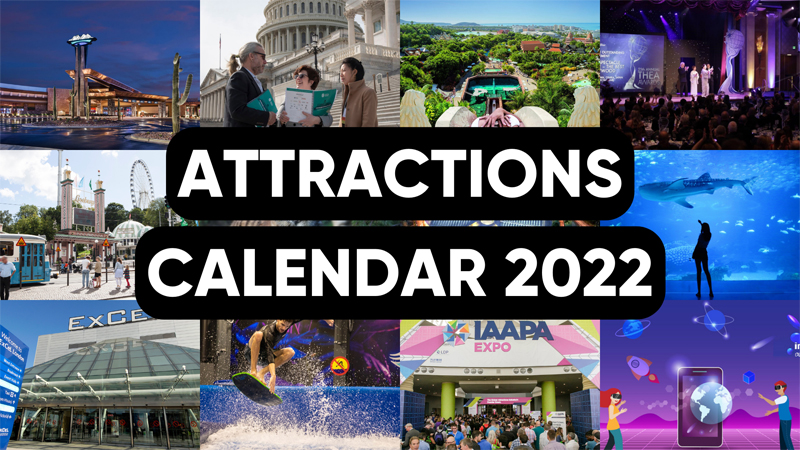 With so many big things coming in the year ahead, we've rounded up all the key events taking place this year. Welcome to your attractions calendar for 2022.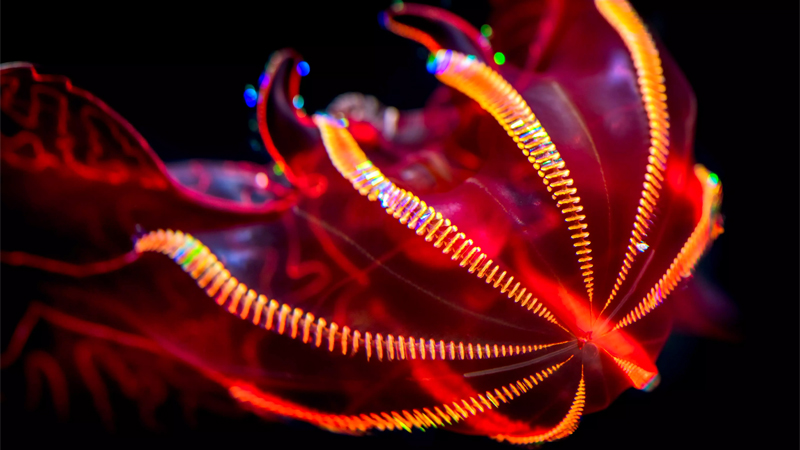 Using breakthrough aquatic life support technology, Monterey Bay Aquarium will soon debut a collection of sea creatures you would normally only be able to see at the very bottom of the ocean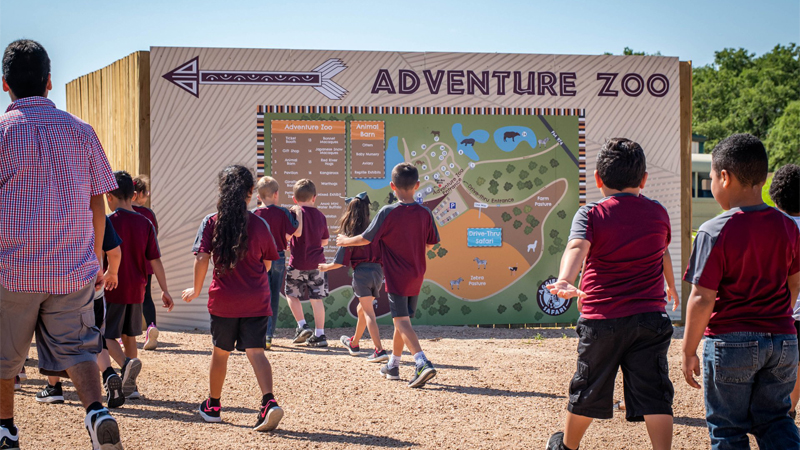 Parks! America Inc has announced a partnership with ticketing and technology solutions provider accesso to provide a more convenient and easy-to-navigate admission, reservation and shopping system to guests at its Wild Animal Safari attractions.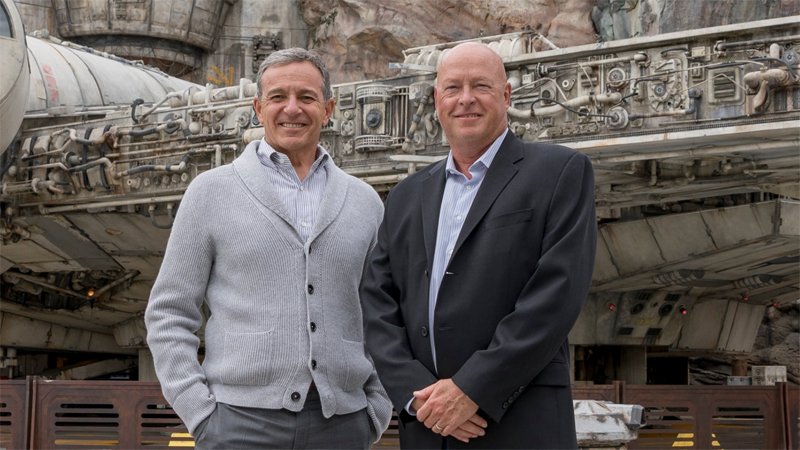 Both Bob Iger and Bob Chapek received huge pay boosts in 2021, with Disney's top men pulling in a staggering US$74.8m between them last year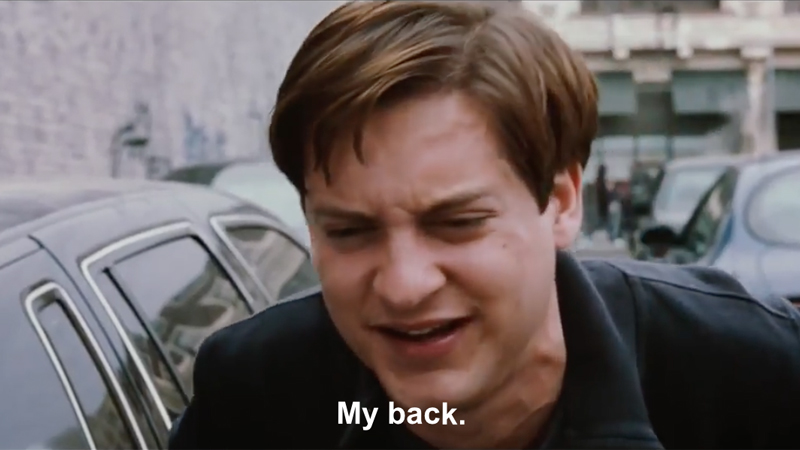 The video of Spider-Man having a less than graceful landing so far has more than 822,000 likes with 4.3 million views but don't panic! Spidey is all good.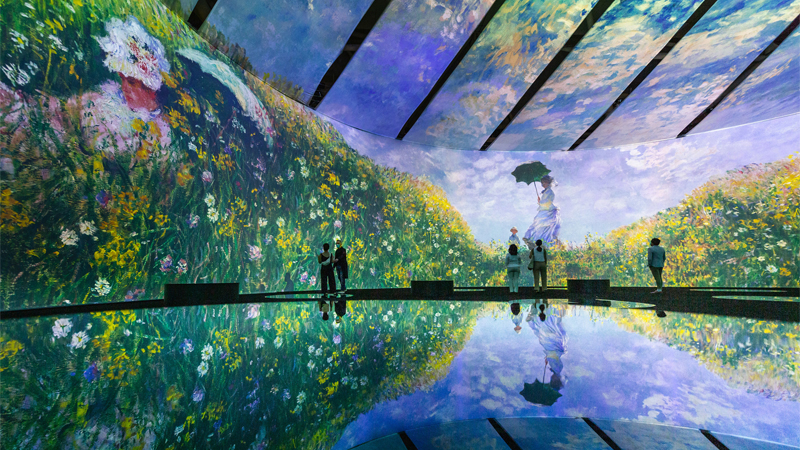 What does the future look like for immersive experiences when it comes to location-based entertainment? Michael Mascioni has the answers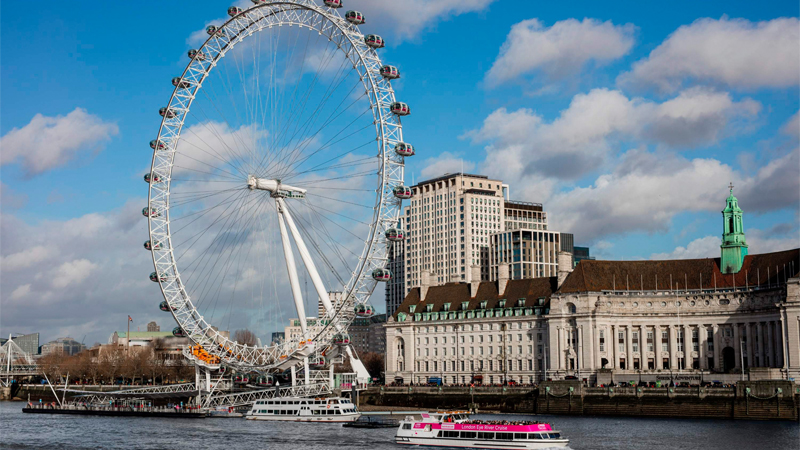 Ticketing specialist accesso has announced its long-term partnership with Merlin Entertainments has been extended through to 2026.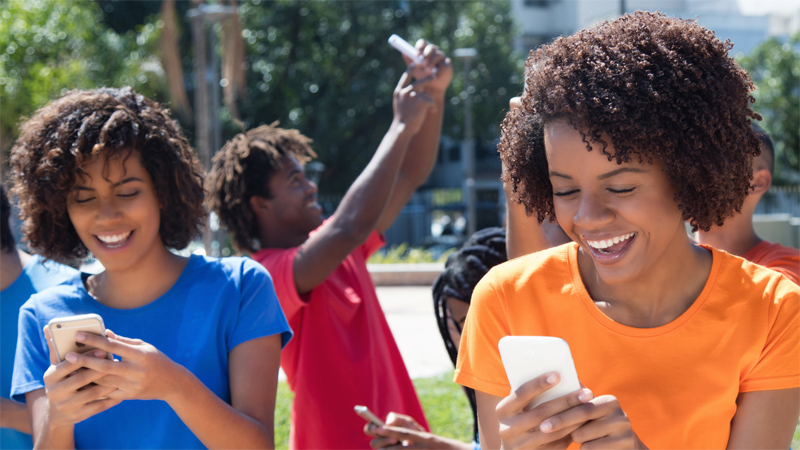 We're not far off Mark Zuckerberg's big reveal of the metaverse and what that means for the future, but when it comes to attractions, there are some companies already well ahead of the curve. Andrew Jacobs, accesso's chief commercial officer, explains what it means for operators to be in a mobile-first world.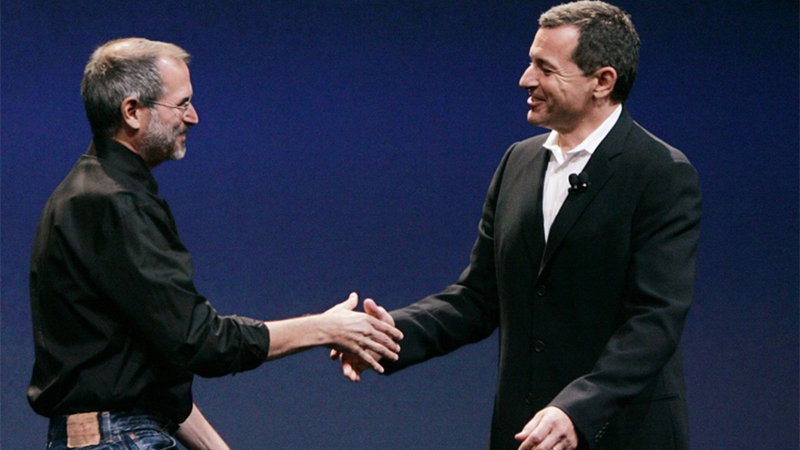 Disney's recently-departed CEO, Bob Iger, has stated his belief that a merger deal between Disney and Apple would likely have "gotten there" over time.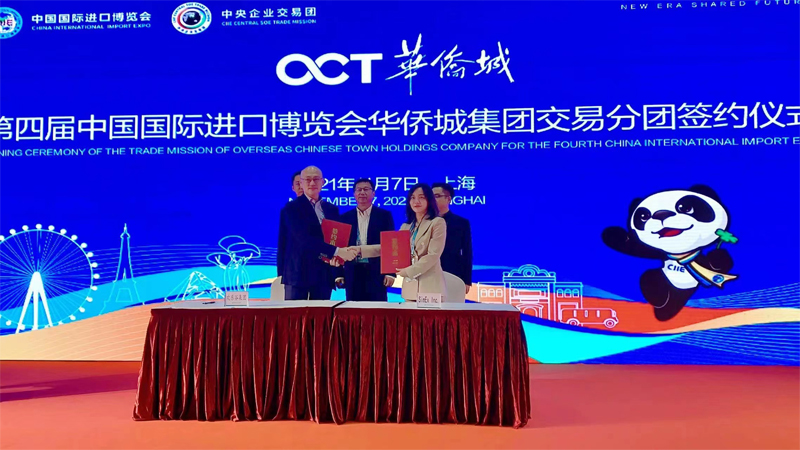 Happy Valley Group has signed a strategic cooperation intention agreement with SimEx-Iwerks to bring the supplier's 4D cinema technology and other attractions to the operator's parks across China.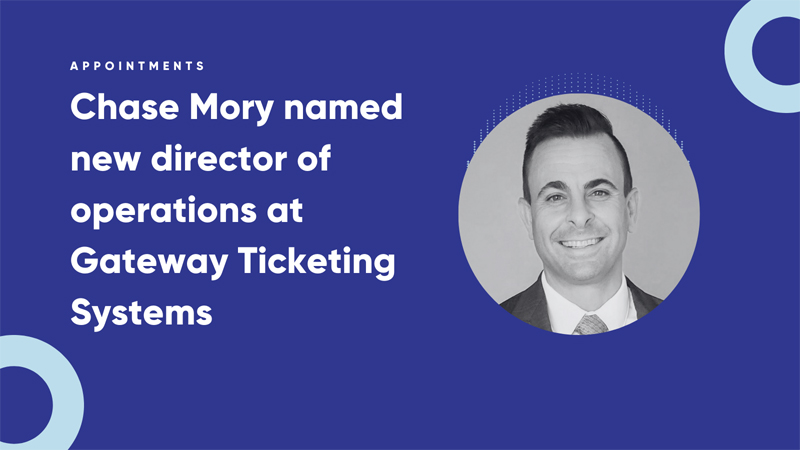 Ticketing specialist Gateway has announced the promotion of Chase Mory to its new director of operations.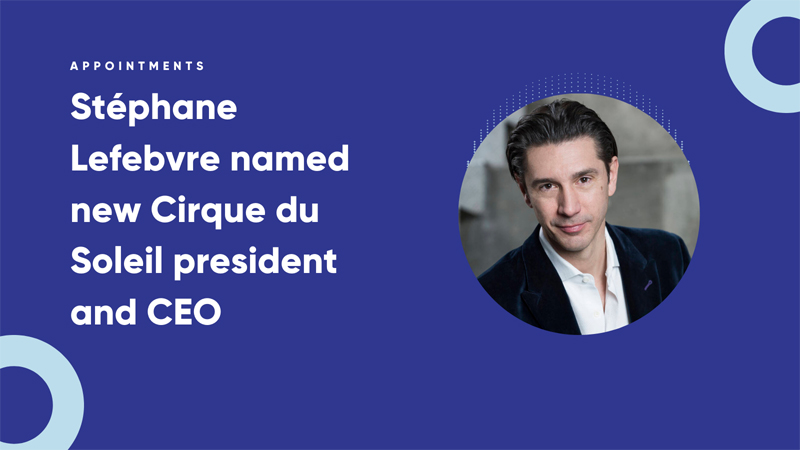 Stéphane Lefebvre is taking the step up from COO to take the reins as president and CEO of the Cirque du Soleil entertainment brand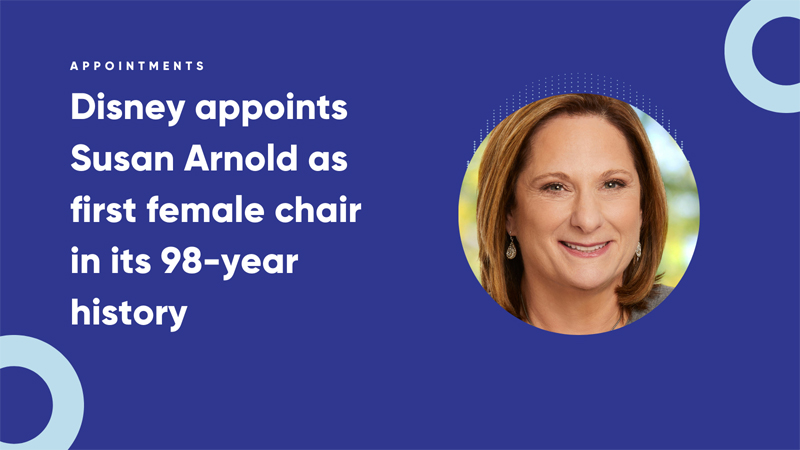 Bob Iger is set to hand the reins over to Susan Arnold, who becomes the first woman to be appointed Disney chairman in the company's history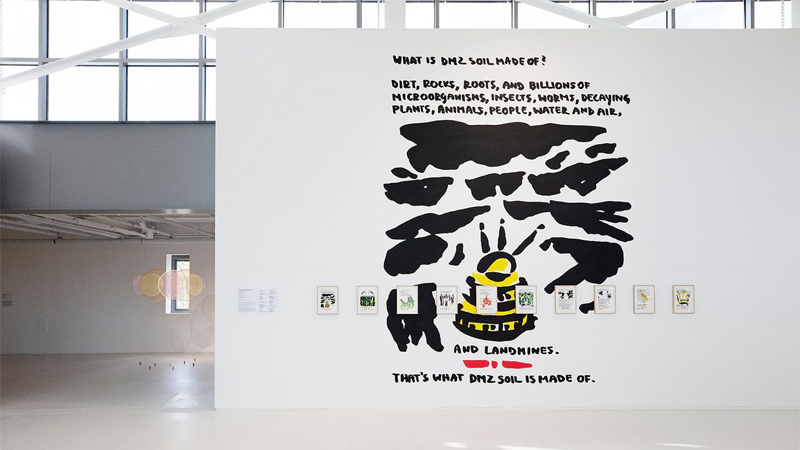 You'll need an armed military escort to get there but the reward will be great with a new museum dedicated to exploring themes of peace through art inside Korea's DMZ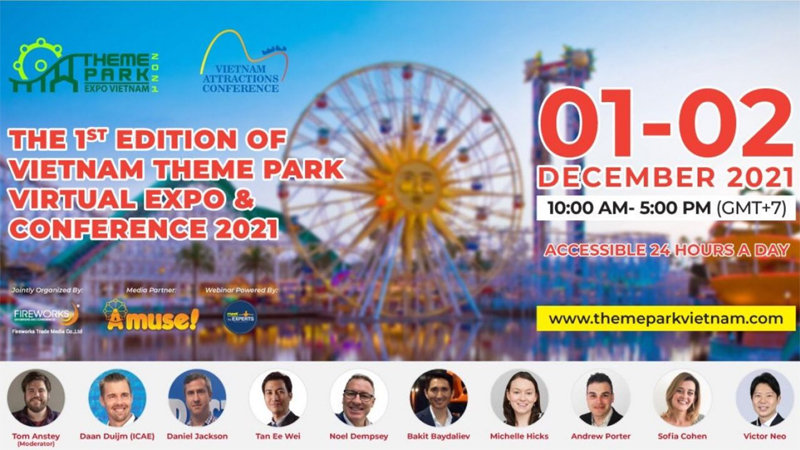 Planet Attractions' Editor-in-Chief Tom Anstey is set to host a panel looking at trends emerging from Vietnam's growing attractions industry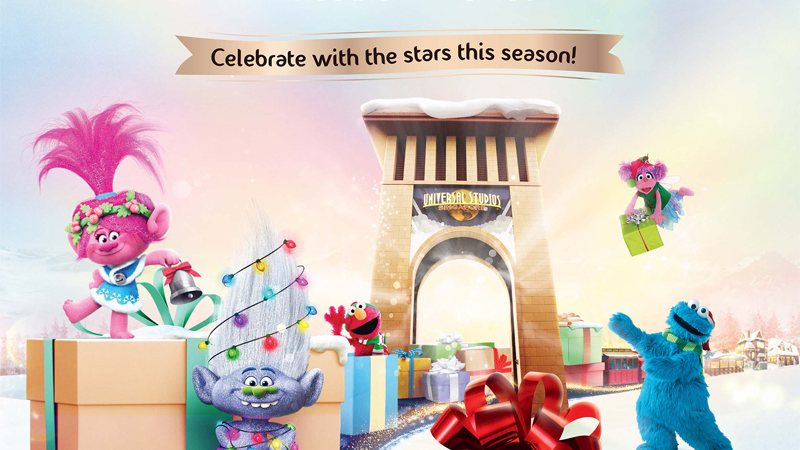 Universal Studios Singapore has launched its festive season, with a festive augmented reality experience and new character meet-and-greets among the experiences on offer this holiday season.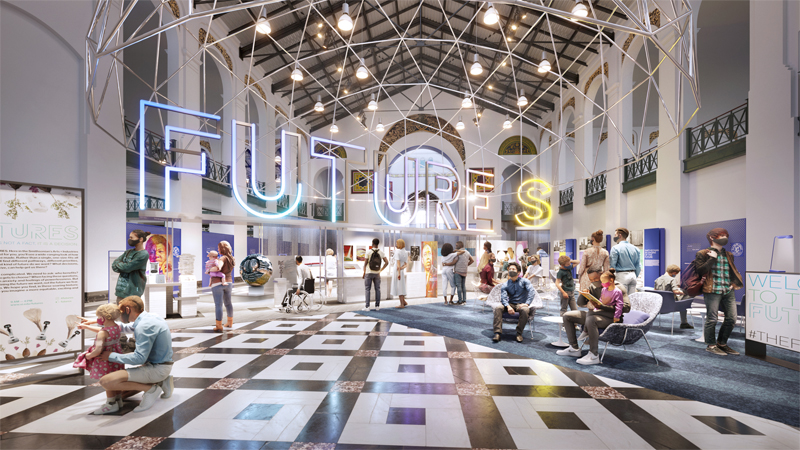 Past meets future in this Rockwell-designed exhibition, which features 150 installations and artworks, including a guest appearance from Marvel Studios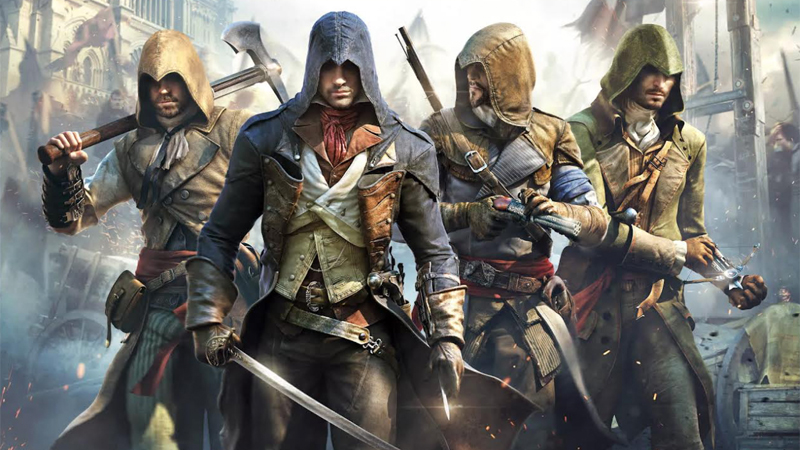 Alterface, Storyland and Studios Occitanie are collaborating with the video game company on the project, which is slated to open in 2025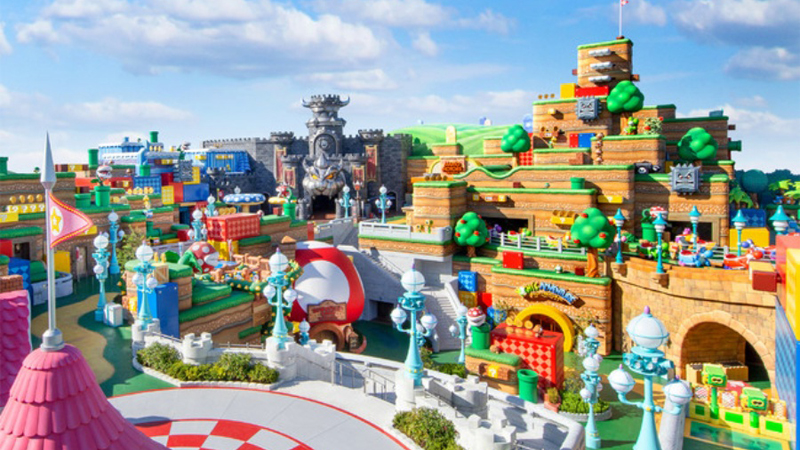 Winners were announced in a special ceremony during the IAAPA Attractions Expo in Orlando, Florida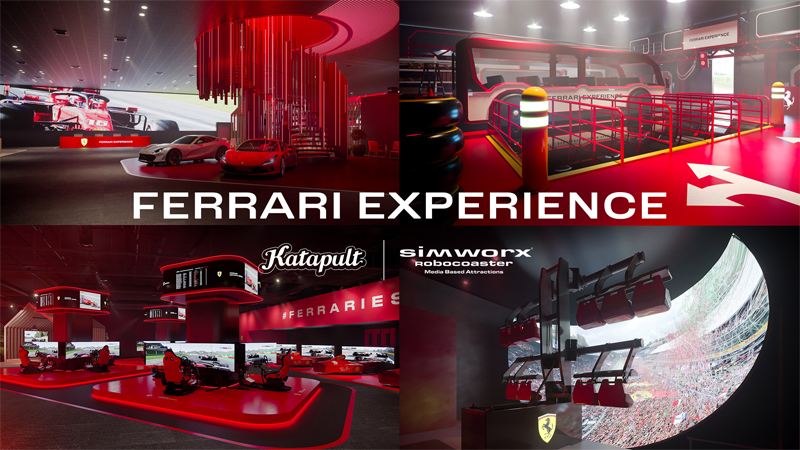 The Ferrari Experience comprises immersive simulator rides, an eSports adrenaline hub and an exclusive themed dining experience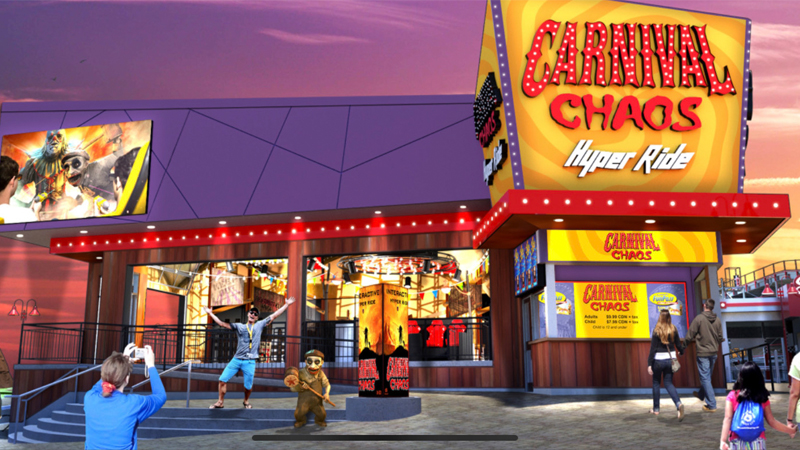 Triotech and Clifton Hill have announced a major new attraction to be installed at Niagara Falls, Ontario, Canada.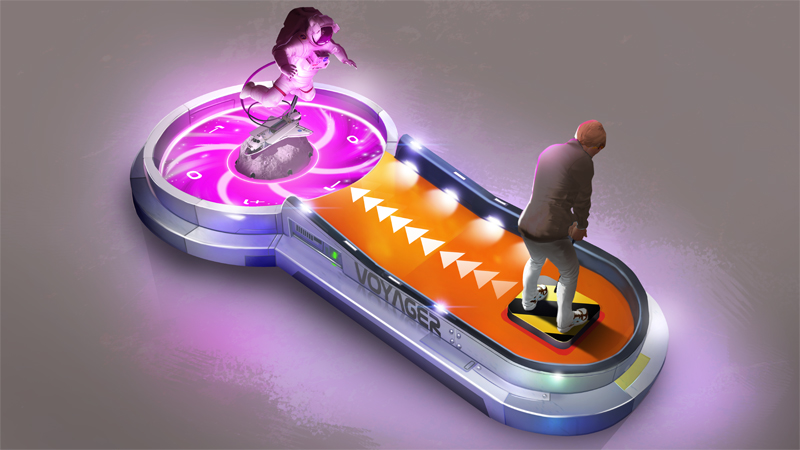 The concept combines lighting, projection, audio and special effects to create an immersive mini-golf experience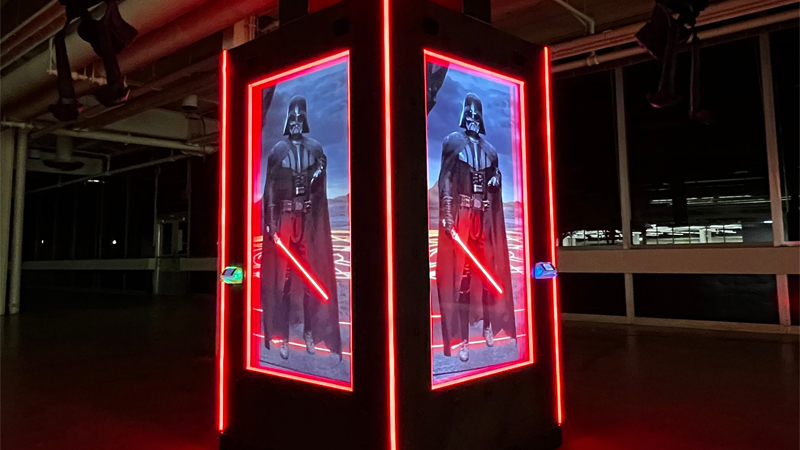 A new virtual reality platform from VRsenal can double efficiency, throughput and ROI in footprint and price compared to the company's previous single-player model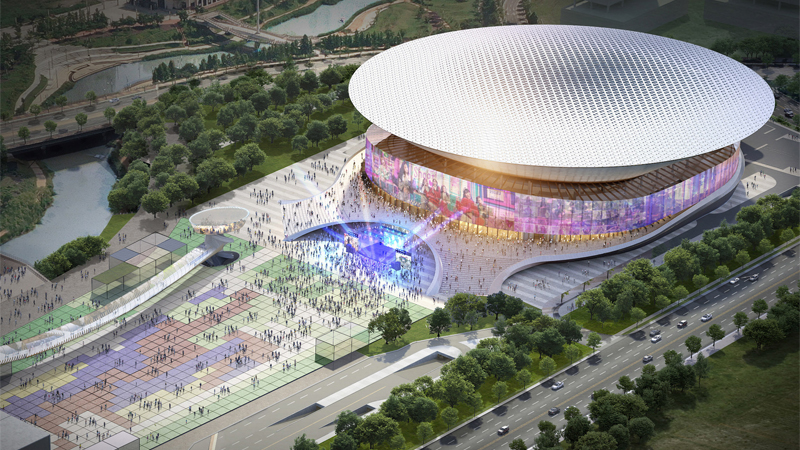 The K-pop music arena plans to host some 190 concerts per year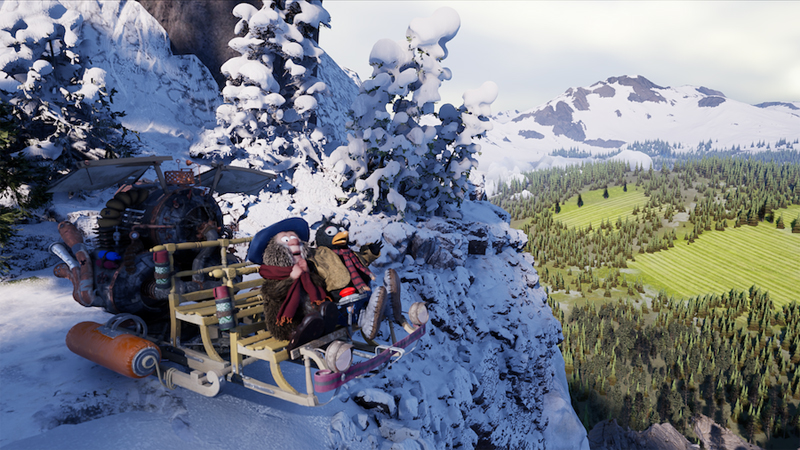 Simworx will be on hand to discuss several of its projects, including the newly opened Massameer Experience Ride at Boulevard RUH City in Riyadh, Saudi Arabia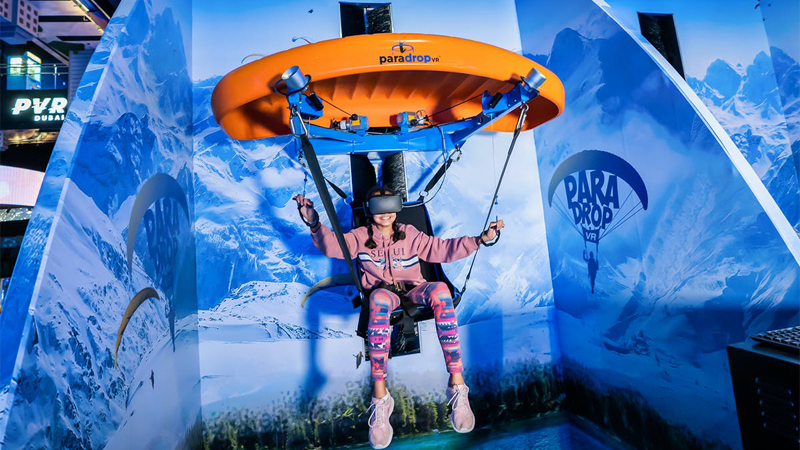 ParadropVR Pod is a compact, attendant-free version of the company's Paradrop VR attraction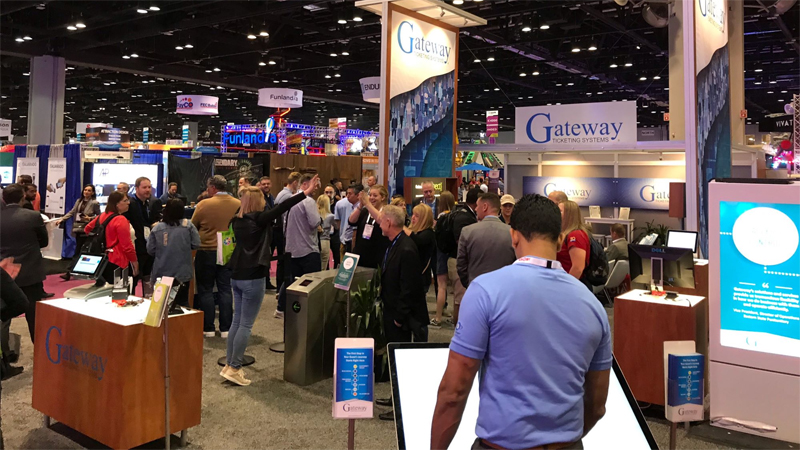 Gateway's immersive Guest Journey experience enables operators to experience their attraction from a guest perspective


A new immersive experience is making its way to the Tower Vaults inside the Tower of London, with The Gunpowder Plot set to make its debut in May 2022.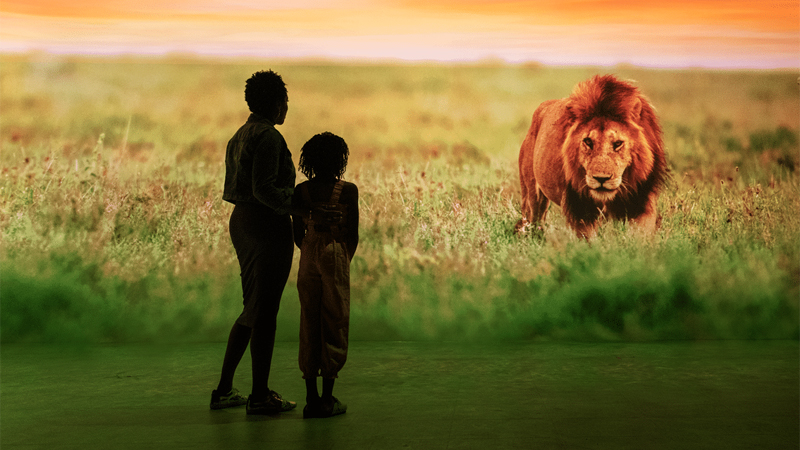 Illuminarium Experiences and Accesso are teaming up once again, with the operator set to make its Las Vegas debut at the highly-popular AREA15 immersive entertainment venue in 2022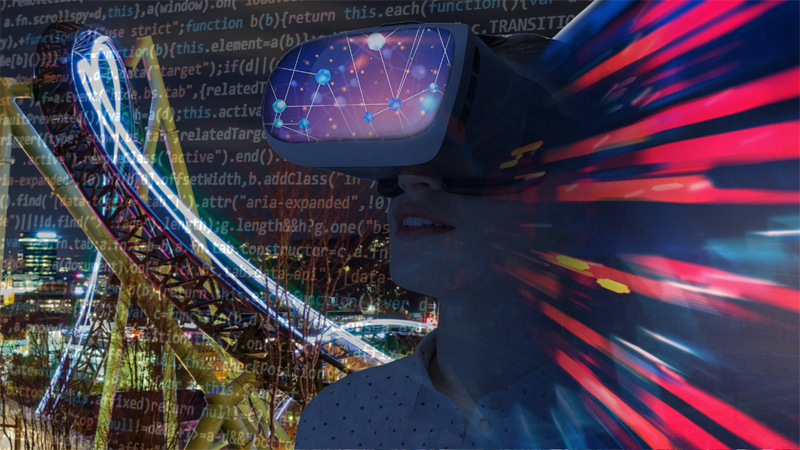 When it comes to global trends this is THE next big thing and there's a good chance you don't quite know what it means yet. Welcome to the metaverse and here's exactly why you need to get in on the ground floor.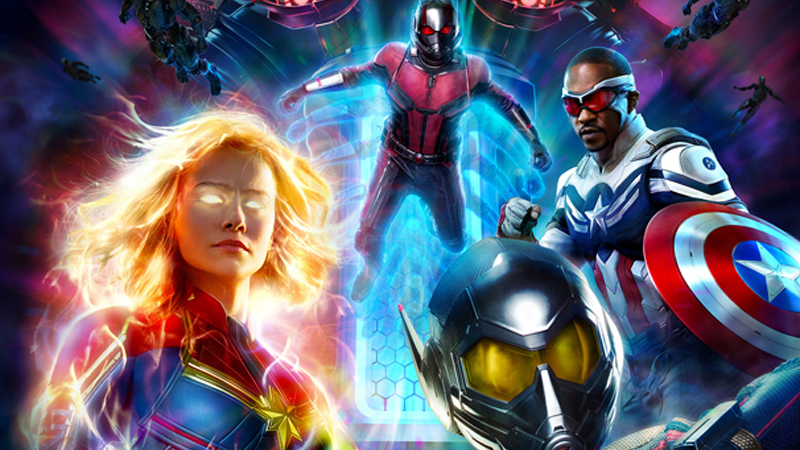 Paul Rudd, Evangeline Lily, Anthony Mackie, Brie Larson and more have lent their talents to the Disney Cruise Line's upcoming Marvel Experience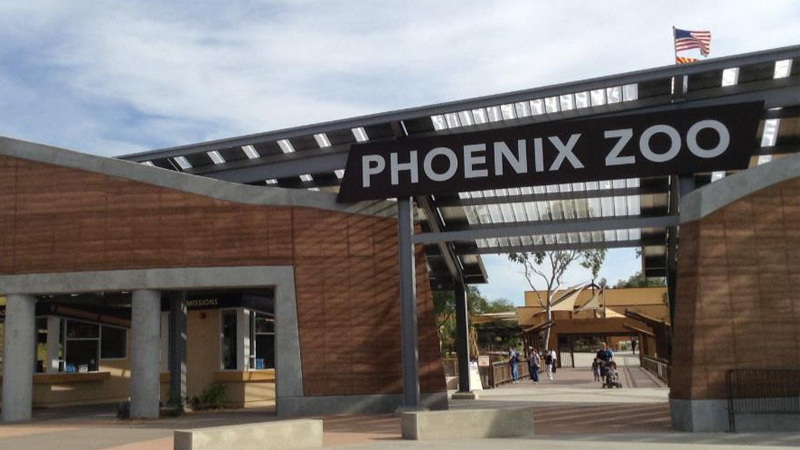 Arizona's Phoenix Zoo has gone live with Galaxy Connect from Gateway Ticketing Systems, streamlining the attraction's ability to sell admission tickets on third-party distributor websites.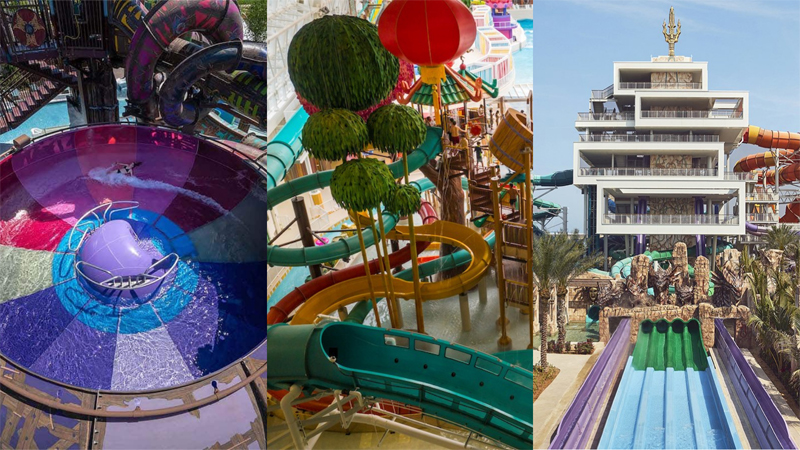 ProSlide Technology has been named the recipient of three World Waterpark Association Leading Edge Awards for 2021.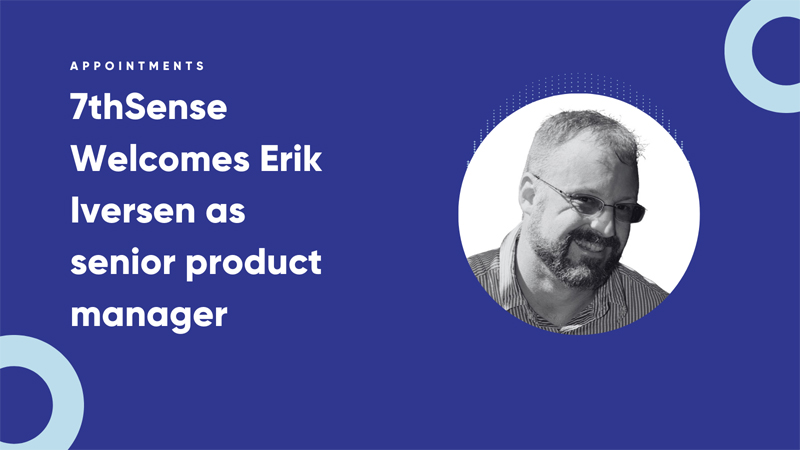 High-performance media specialist 7thSense has appointed Erik Iversen as senior product manager for pixel processing products.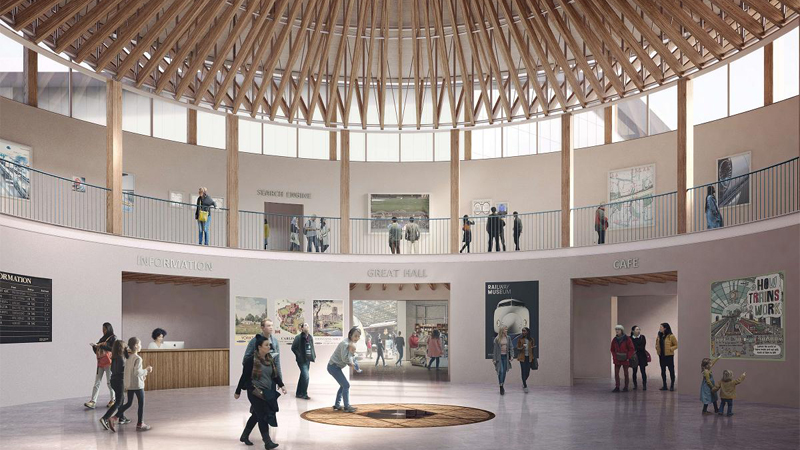 New images of Central Hall - a building that will unite the two halves of the National Railway Museum (NRM) in York, UK - have been released.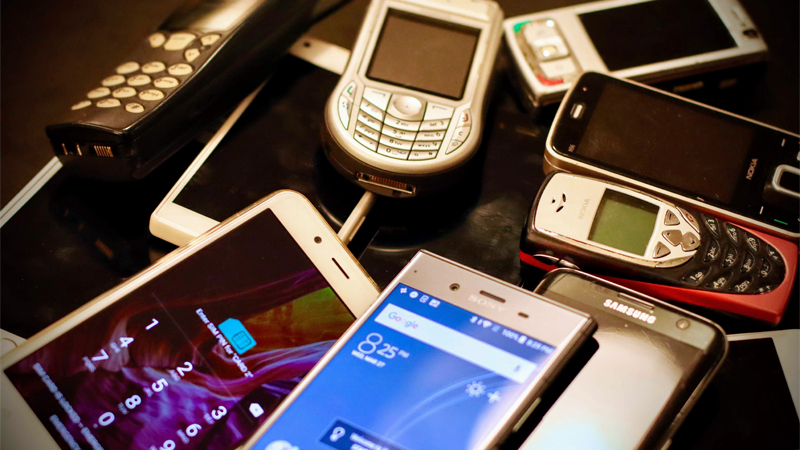 Telecommunications giant Vodafone is supporting the development of a brand-new digital museum dedicated to the history of the mobile phone


A new and slightly terrifying museum has opened its doors in China, with the EX Future Science and Technology Museum in Dalian touted as the "world's first bionic humanoid robot museum".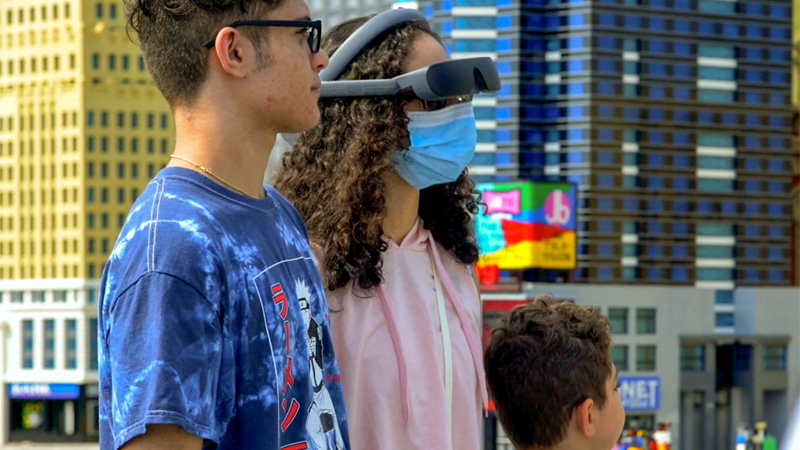 New experiences for the visually impaired are set to be rolled out at a number of Merlin attractions, including Legoland Parks, Legoland Discovery Centres and Sea Life aquariums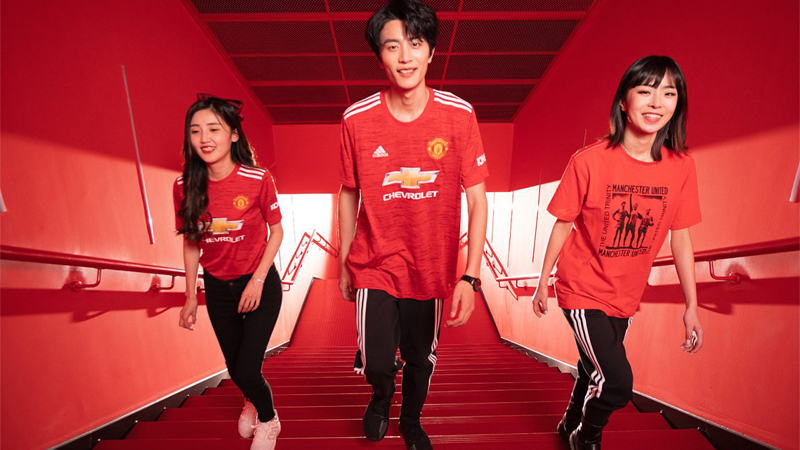 A series of Manchester United themed entertainment experiences, featuring immersive projection and tracking technology, are being rolled out in China, with the first "Theatre of Dreams" attraction opening in Beijing earlier this year.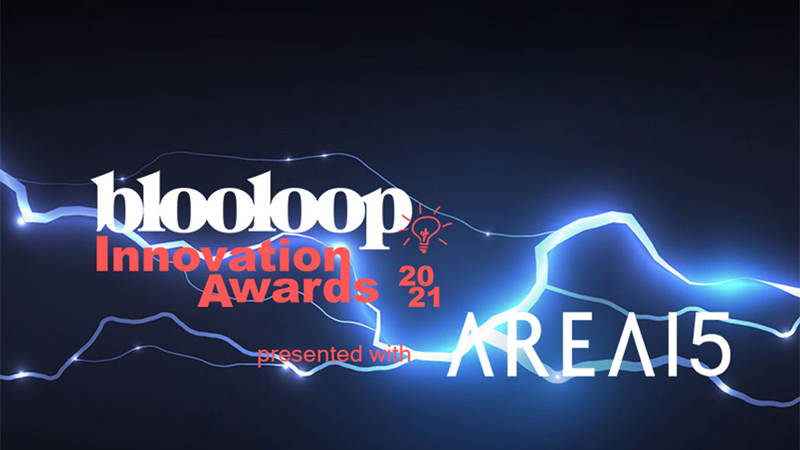 The Innovation Awards were created to recognise excellence and innovation in the attractions and themed entertainment industries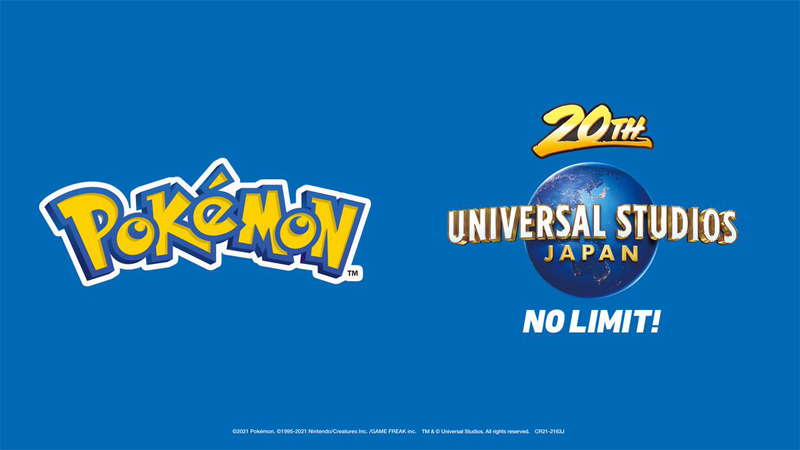 Pokémon is set to make its mark at Universal Studios Japan following a landmark deal to bring the popular IP to the park starting in 2022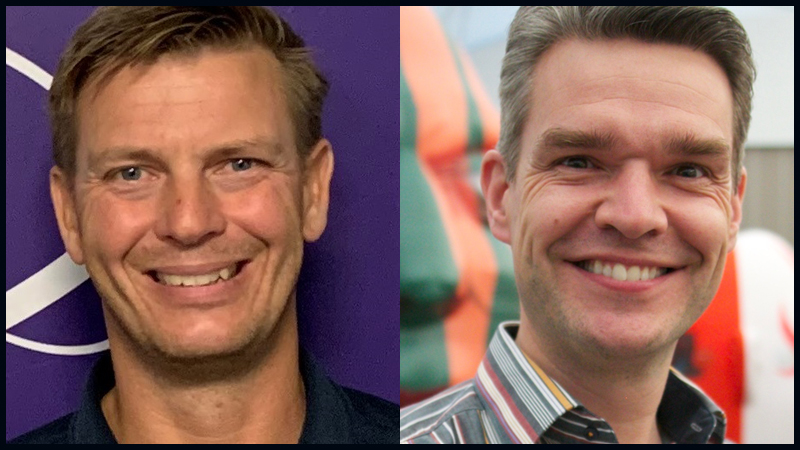 WhiteWater has announced that Frank Good and Domingo Vergoossen will join the company in senior roles. Good will take on the role of VP of Business Development at Vantage, WhiteWater's technology arm and has more than 10 years experience providing digital solutions to theme parks.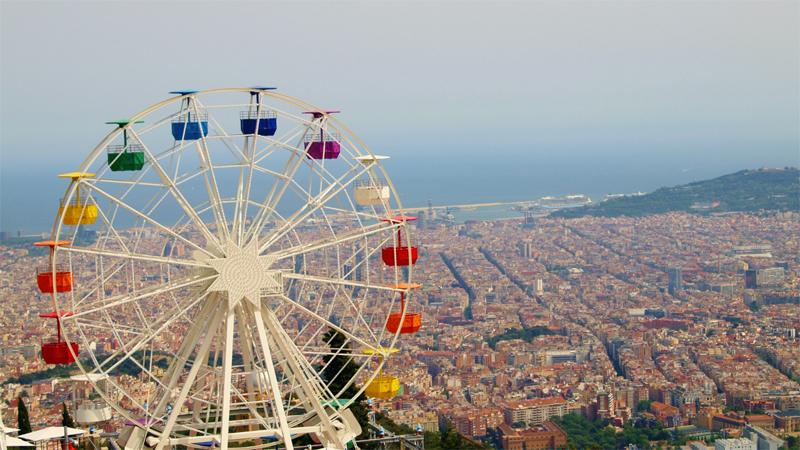 IAAPA's international trade show is back with IAAPA Expo Europe emanating from Barcelona, Spain. Here's everything you need to know about the event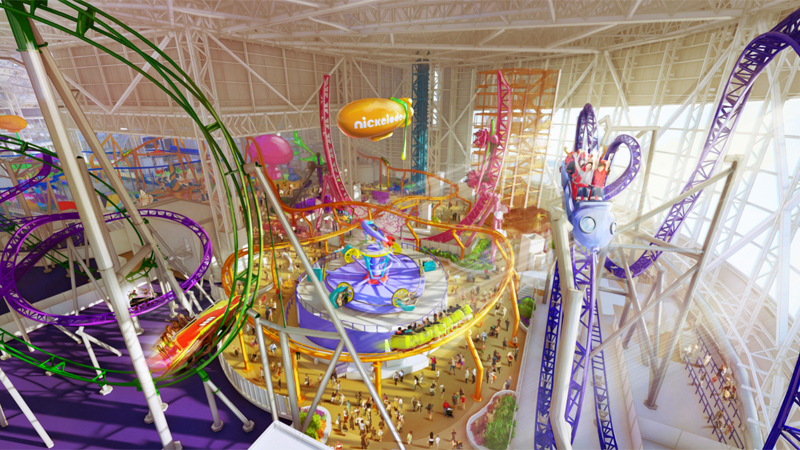 Forrec has worked on several high-profile projects, including the Nickelodeon Universe indoor theme park at American Dream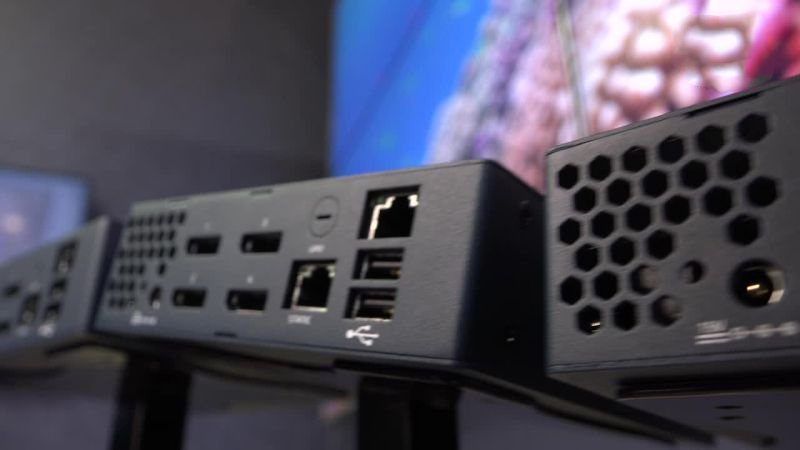 7thSense will be exhibiting at IAAPA Expo Europe as part of the Experience UK Pavilion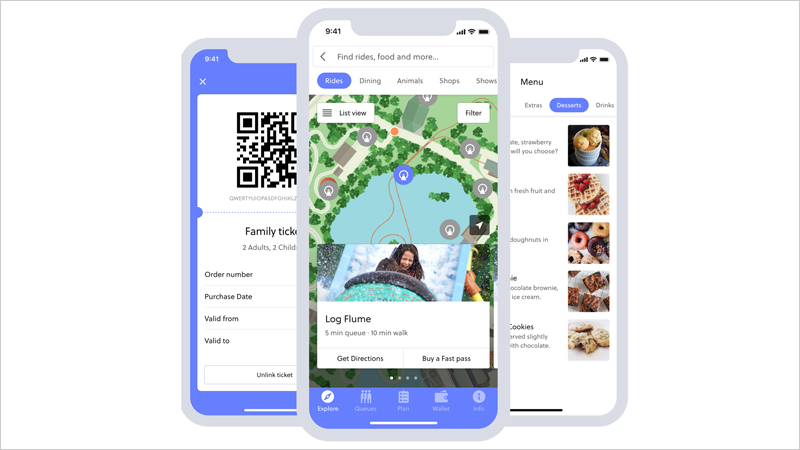 Attractions.io has developed a direct-to-table in-app food ordering system for those who want to maintain social distancing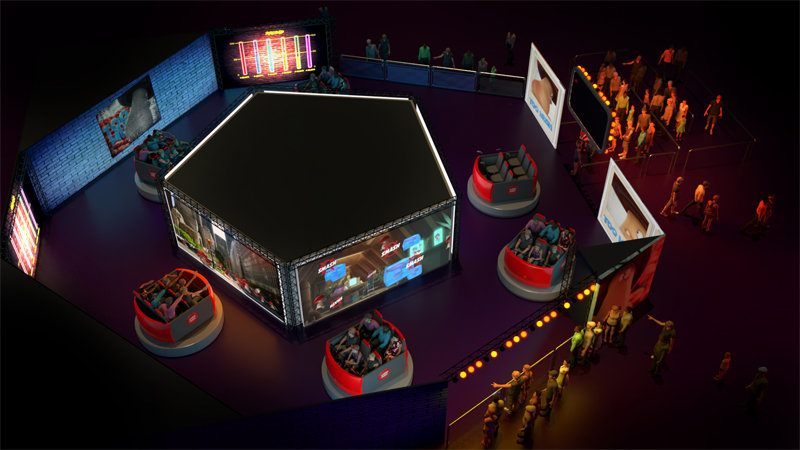 Smash & Reload is a family-friendly attraction that combines competitive gameplay with a fun and interactive IP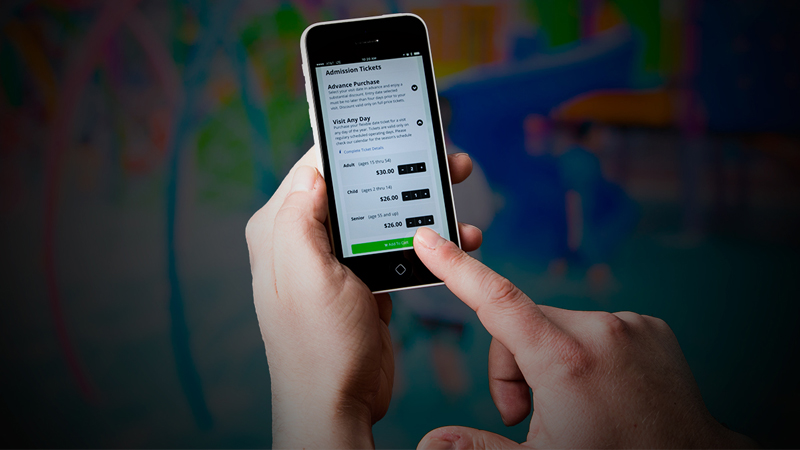 The upgraded Galaxy is an integrated solution combining ticketing, admission control, resource management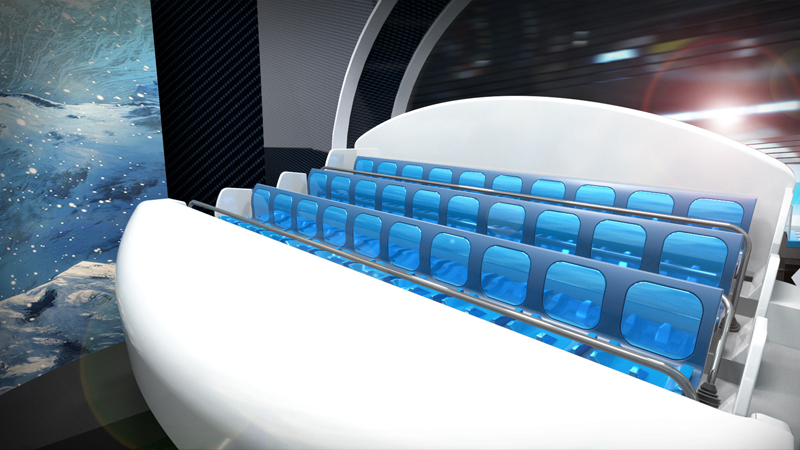 Simworx will showcase two new attractions aimed at smaller venues at family entertainment centres at this year's IAAPA Europe Expo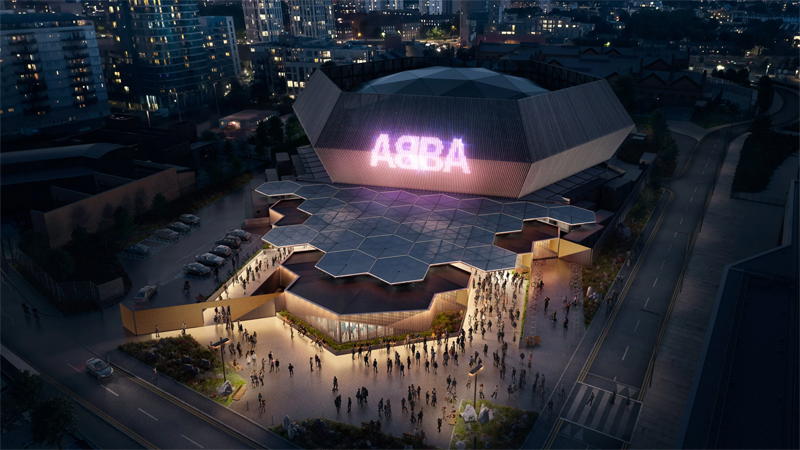 Architects Stufish have been tasked with creating a pop-up arena for iconic Swedish band ABBA's virtual comeback in London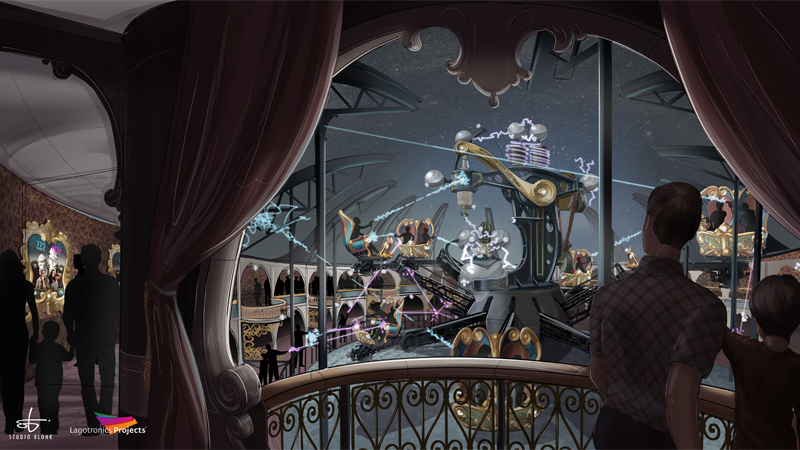 Battle Arena is a new interactive ride concept from Lagotronics Projects that pits riders against each other as they battle to score points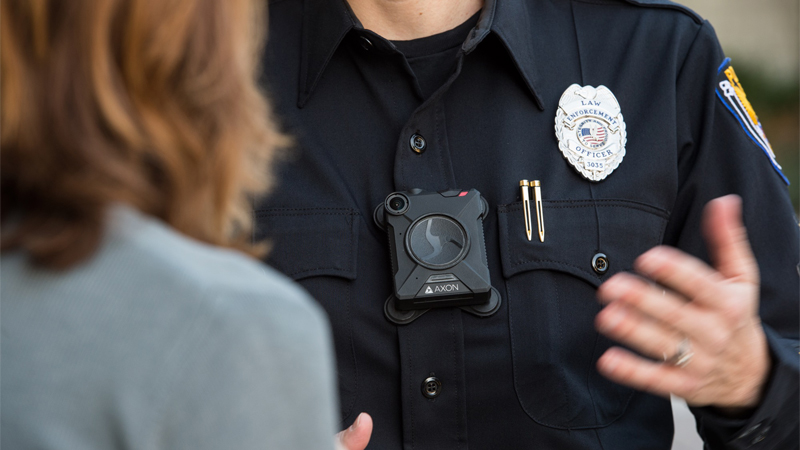 Security specialists Axon have supplied Six Flags' US theme parks with body cameras for staff


Pixel Artworks has worked with Merlin Entertainments to develop Sundown Spectacular - an all-new lightshow at Warwick Castle celebrating the end of the British summer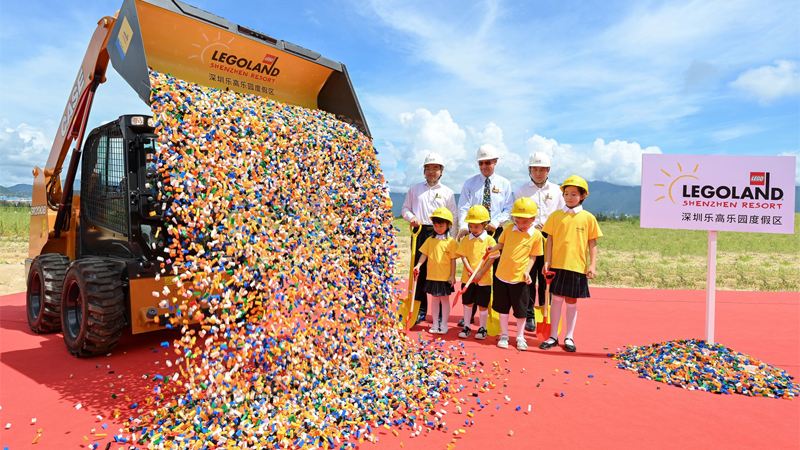 The US$1.08bn Legoland Shenzhen Resort is Merlin's latest - and largest - venture in the Chinese market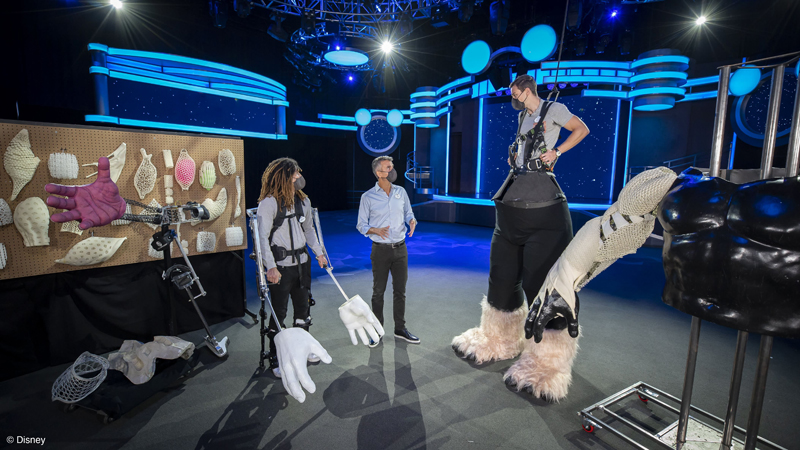 Everything is about to get bigger (and smaller) as Disney continues to take the world by storm with its latest animatronic projects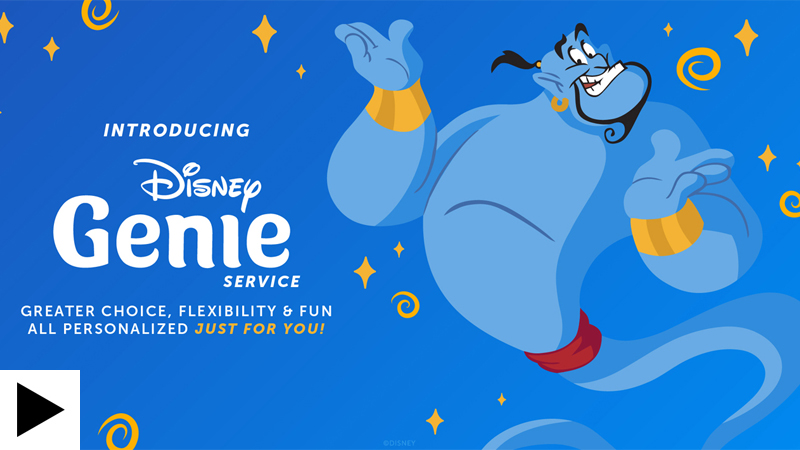 Disney has introduced a new digital service offering personalised itineraries for visitors wanting to get the most out of their day at one of the operator's parks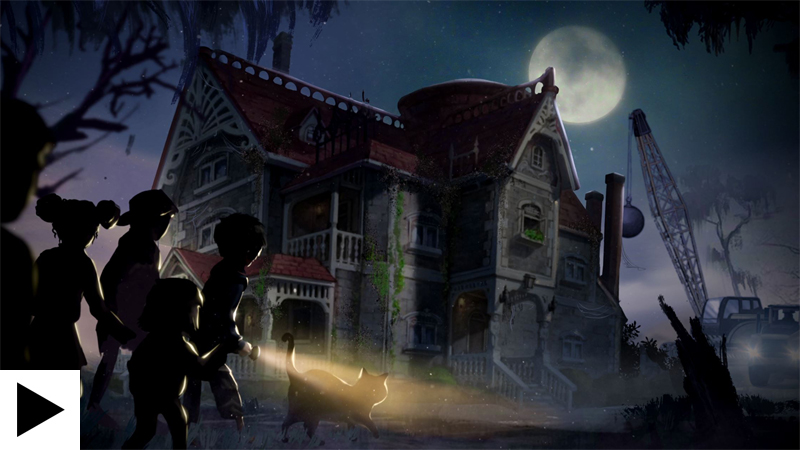 The experience was developed to meet growing demands for high-end turnkey solutions and reliable technology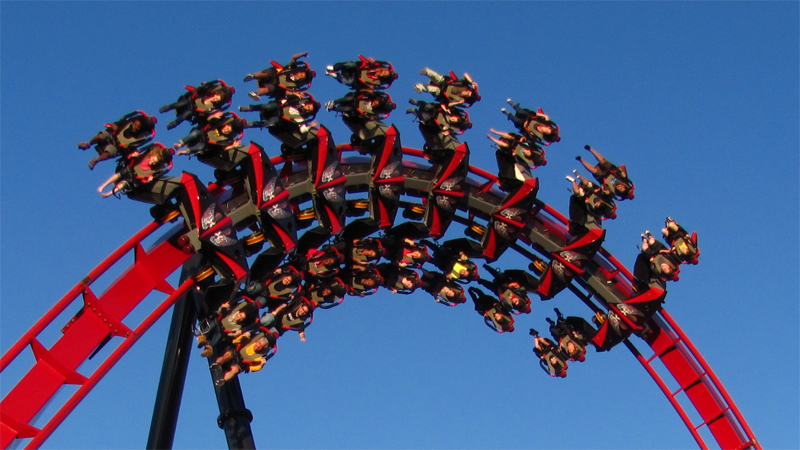 Following a rollercoaster year, Six Flags is certainly on a high after more than doubling its expected EBITDA for Q2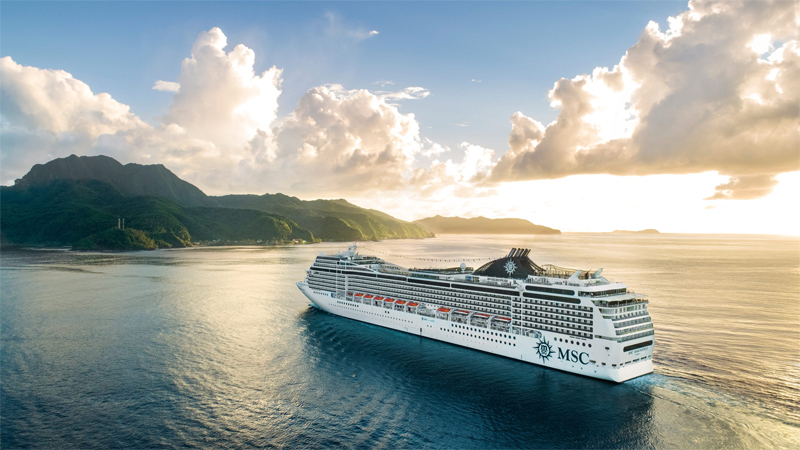 A carbon-neutral cruise ship could be realised in the not-too-distant future, with MSC Group announcing a feasibility study for a hydrogen-powered vessel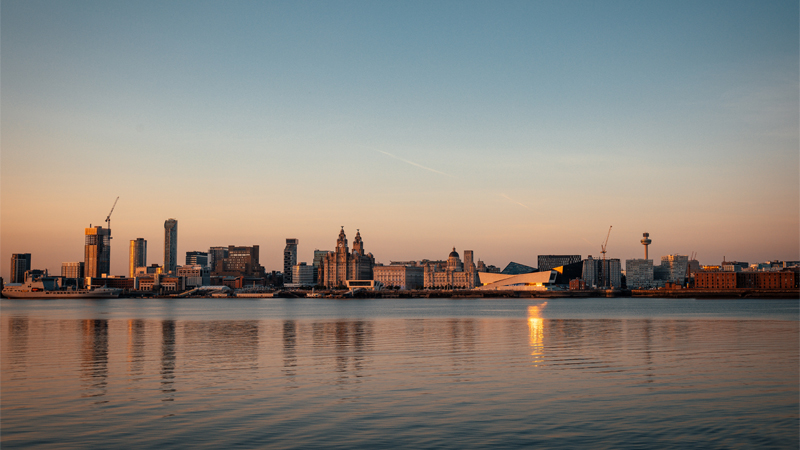 Unesco has deleted Liverpool from its World Heritage List after a committee determined new developments were damaging the city's global heritage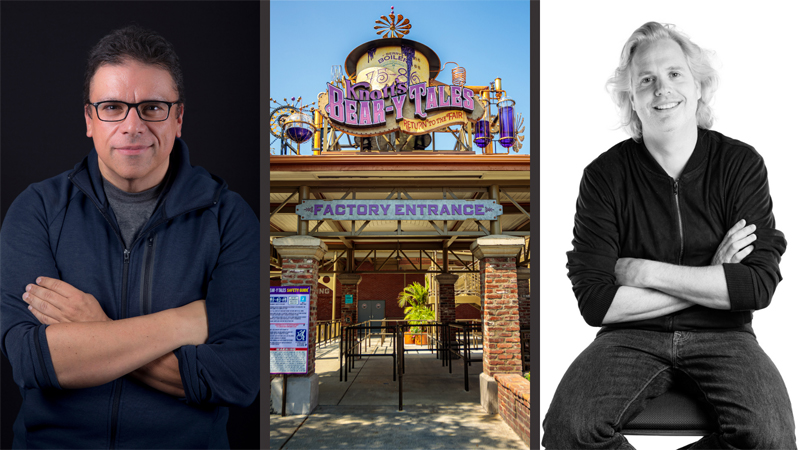 We spoke to Triotech's Ernest Yale and Nol van Genuchten about Knott's Berry Farm's iconic Bear-y Tales dark ride, which has been reimagined for a brand new audience more than three decades later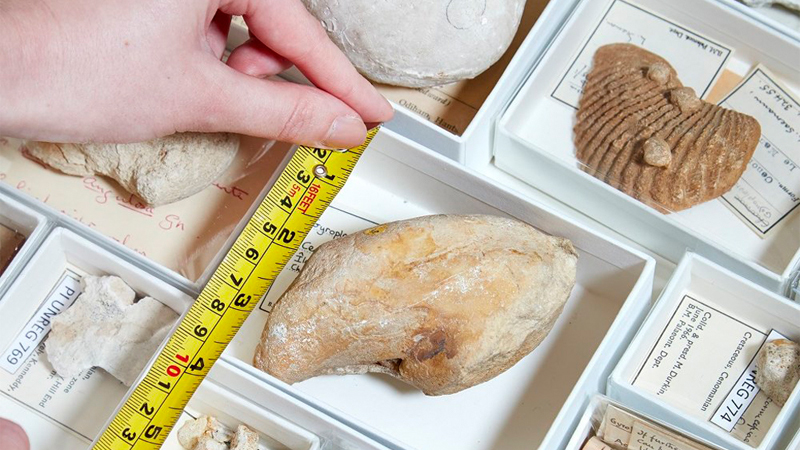 The migration of artefacts will be the largest since the 1880s and will see more than a third of the museum's collection relocated to the brand-new Harwell Campus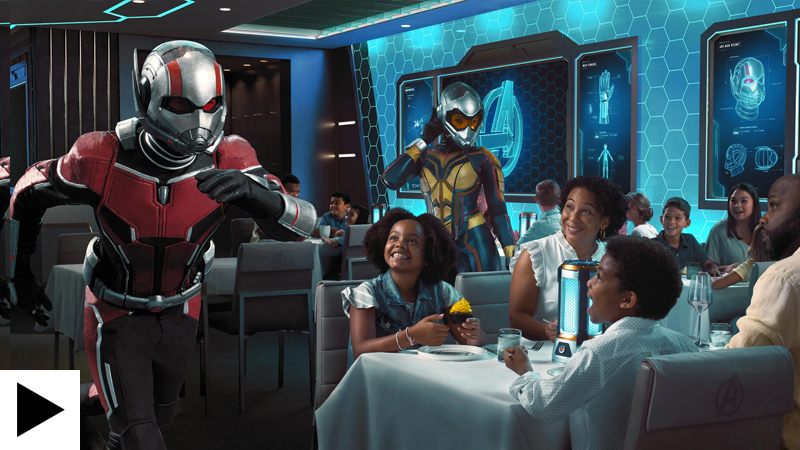 Disney is promising a first-ever Marvel-cinematic dining adventure with the debut of Avengers: Quantum Encounter on board the Disney Wish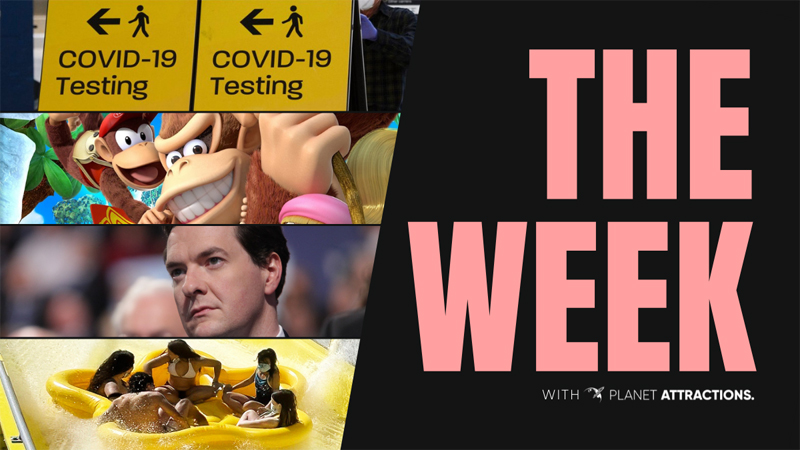 IAAPA supports the lifting of US travel restrictions, Donkey Kong could be making his way to Universal's theme parks, George Osborne becomes British Museum chairman and Portugal has welcomed Europe's first five-person water coaster. Welcome to the latest edition of The Week from Planet Attractions.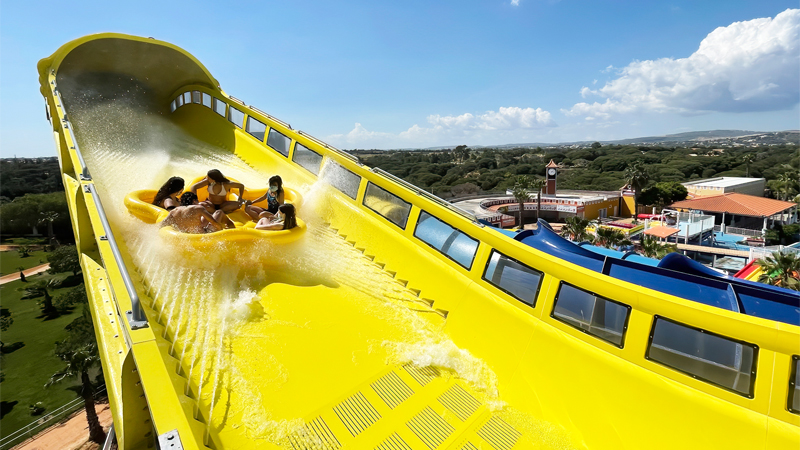 ProSlide's MammothBlast five-person water coaster has made its European debut at Portugal's popular Aquashow Park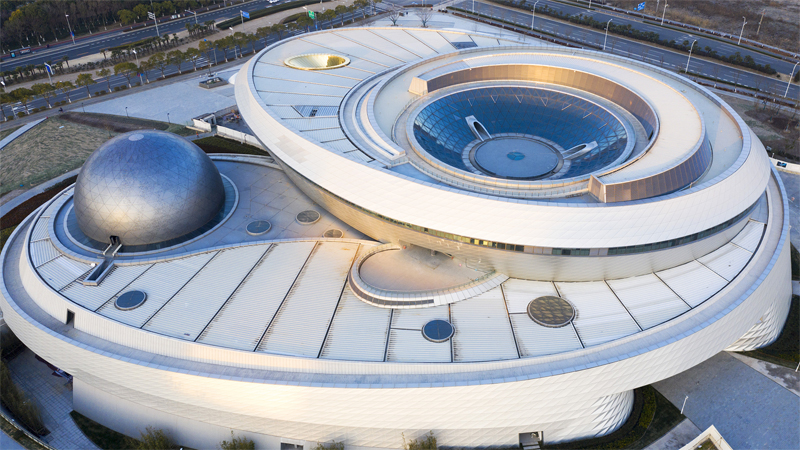 The long-awaited Shanghai Astronomy Museum is set to open its doors to the public on July 18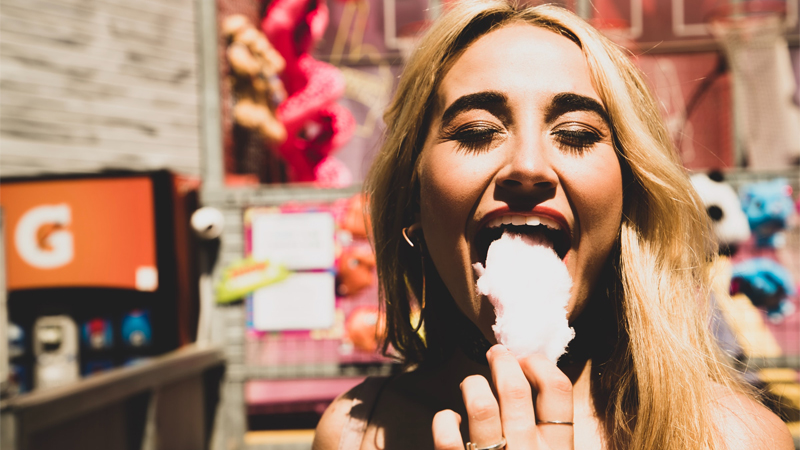 The Mobile Food Ordering system saves guests time and reduces the risk of COVID transmission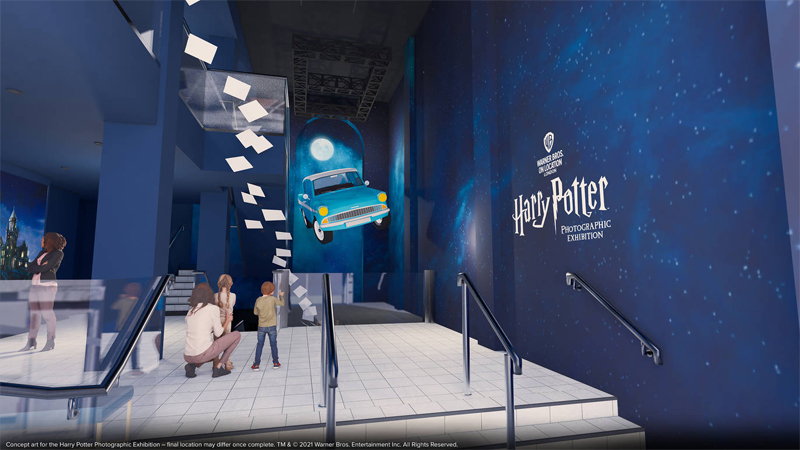 The attraction will feature never-before-seen photographs and behind-the-scenes shots from the Harry Potter and Fantastic Beast films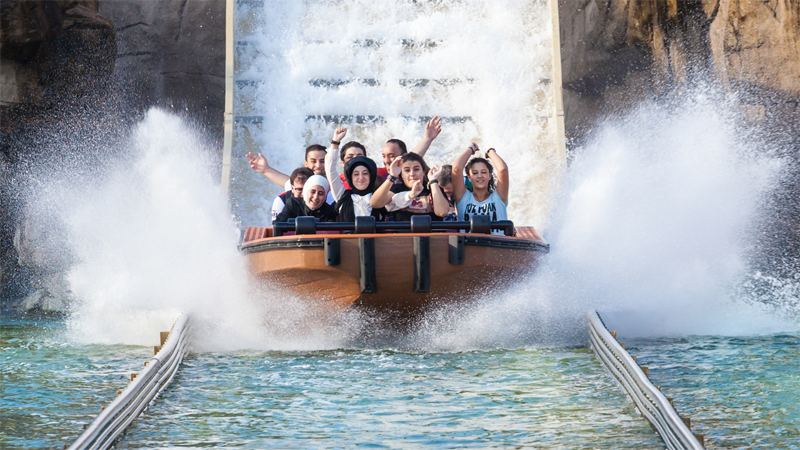 As the COVID tide begins to turn, the recreation sector looks set to bounce back with a new report suggesting the market could be worth as much as US$1.92tn by 2025





© Kazoo 5 Limited 2023