Museums in England and Wales can now dispose of objects on moral grounds

Drayton Manor's Apocalypse stand up drop tower to close permanently this month

Cruise operator Carnival partners with Kennedy Space Centre for on-board programme

Icon Park's Orlando FreeFall to be taken down following death

Meet IAAPA's director of global communications Caitlin Dineen

Journey to Hell Freak Nights set to return to Blackpool Pleasure Beach

Professional wrestler cuts promo on waterslide

House of the Dragon dagger goes on display at Game of Thrones Studio Tour

Natural History Museum partners with National Academy of Sciences of Ukraine to help save historic artworks

RWS to produce live entertainment at IAAPA Expo

Jack Silkstone to host 'Slkstn Unlocked' at Thorpe Park's Fright Nights

Heygo takes streaming tours into museums sector

Ethiopia's Museum of Art and Science inaugurated by Prime Minister

Triotech names Ryan Engles new business development director for US market

Florida's museums reopen in wake of Hurricane Ian

Tokyo Disney cuts capacity by 20% for enhanced visitor experience

WATCH: Paradise Wildlife Park recruits The Pool Guy to boost social media presence

Louvre turns the lights out amid spiralling energy costs

Highlights from Fright Nights!

WATCH: Meet Spree Interactive CEO and co-founder Jonathan Nowak Delgado

Universal's Incredible Hulk Coaster is underwater

Meet climate change pledges with cloud-based ticketing, says Vennersys

Heavy flooding in Orlando as Hurricane Ian continues through Florida

WATCH: Meet Katapult's creative strategist Kelly Herrick

Into Overdrive: Inside the innovative new dark ride from Simworx

WATCH: Meet Vantage president Michael Jungen

Florida's theme parks close as Hurricane Ian approaches

Hurricane Ian set to hit Florida as theme parks prepare for 'storm of the century'

Carnegie Science Center to open new permanent exhibition dedicated to Mars

WATCH: Meet Conductr CEO and co-founder Peter Cliff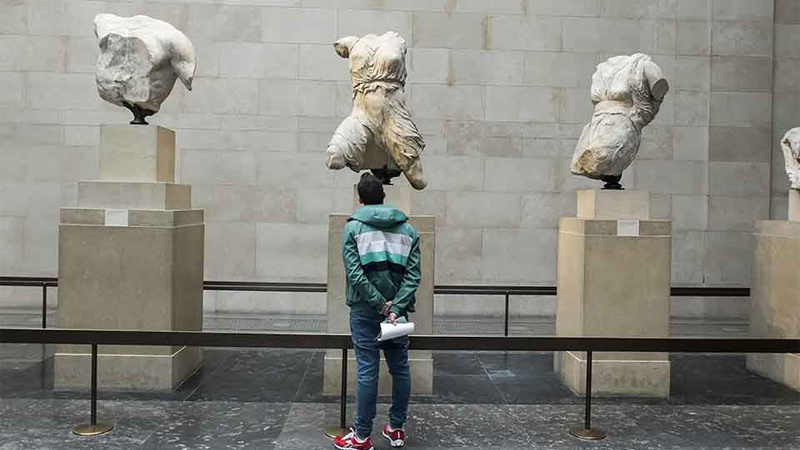 Museums and galleries in England and Wales will be given unprecedented powers to dispose of objects in their collections if there is a compelling moral obligation to do so, under a new law.

The Charities Act 2022, which is expected to come into force during the autumn, includes a clause which means that trustees of national museums will soon be able to seek authorisation from the Charity Commission, attorney general or court to return collection objects if they are motivated by a moral obligation. For low-value objects, they would be able to do so without authorisation.

More from The Guardian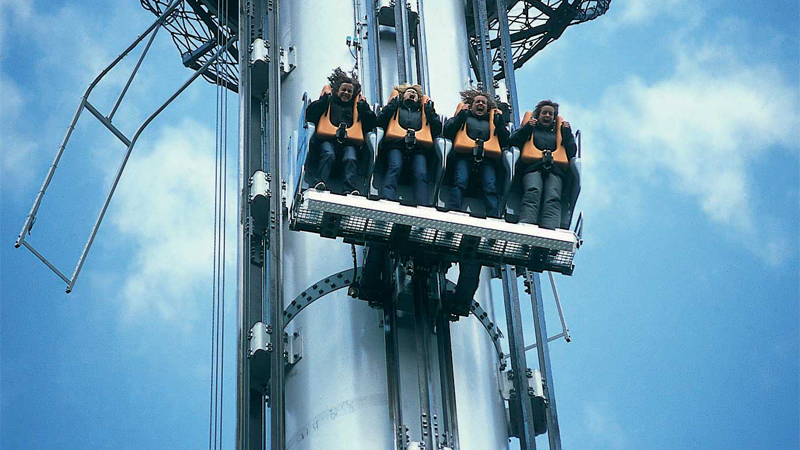 One of the most eye-catching and iconic rides at Drayton Manor in the UK will close permanently on October 30, with fans being invited to take one last ride on the Apocalypse drop tower.

Opened in 2000 as the first of its kind in the world, the gravity-defying stand-up drop tower sends riders plummeting down a 54m (177ft) free-fall at 50mph (80kmph).

Riders will be able to take their final journey during the park's Halloween event 'Night at the Manor'.

The closure of Apocalypse forms part of significant investment plans for the resort, which will see it expand its offering with exciting new thrills in the coming years.

"We know how much our brave riders have loved boarding Apocalypse since it first opened 22 years ago, so we're calling all thrill-seekers to enjoy one last chance to ride this October half-term," said Victoria Lynn, managing director at Drayton Manor Resort.

"It's always been such an honour to have the world's first-ever stand-up drop tower ride right here at Drayton Manor Resort, and while it's the end of an era for Apocalypse, we have big plans in the pipeline to expand our offering and make the resort as exciting as possible for our guests. We can't wait to reveal our new developments in due course."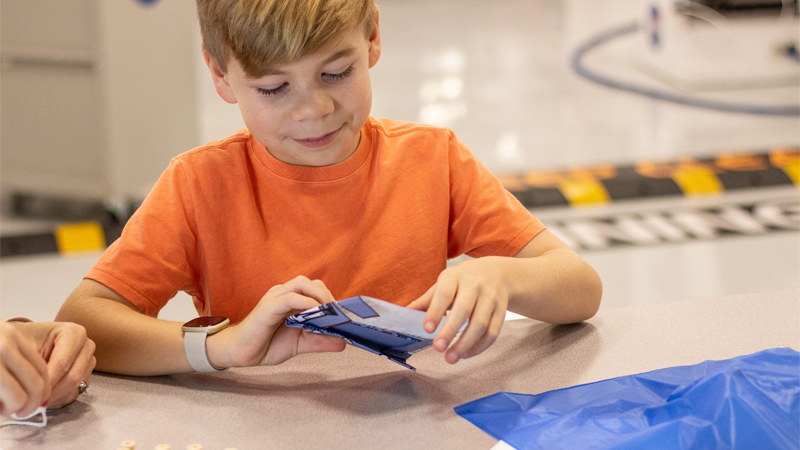 In celebration of World Space Week, Carnival has announced a partnership with the Kennedy Space Center Visitor Complex to launch a children's space programme featuring activities inspired by NASA science.

Set to debut on Carnival Celebration this November, Space Cruisers is designed to be both fun and educational, and will enable children of all ages to explore the universe in an array of hands-on and one-of-a-kind learning experiences.

Highlights of the programme include:

Optimal Orbit (ages 2-8) – Learn the pull of gravity and how planets, satellites and other objects move through space in a hands-on experience with a giant trampoline.

Design Your Own Mission Patch (ages 6-11) – Join the long-standing tradition among astronauts and design your own take-home mission patch to tell your story.

Space Cruisers Rocket Workshop (ages 6-11) – Follow in the footsteps of NASA's talented engineers and build your own paper rocket to fly high in the sky.

Mars Base Connect (family-friendly) – Explore the steps it takes to build a Mars base and come together with family members to create your own.

ASTRO! (family-friendly) – Call out constellations as they're displayed on a unique star projector in a space-themed bingo game for the chance to win special giveaways.

"Space Cruisers will truly take our offerings to the next level with the perfect balance of fun and education to give both our younger guests and their families something to be excited about," said Melissa Mahaffey, director of youth experience for Carnival Cruise Line.

"Kids are always looking to explore new things, and this program gives them the chance to discover many of the awesome aspects of space through fun activities while taking away unique learnings."

Find out more about Space Cruisers here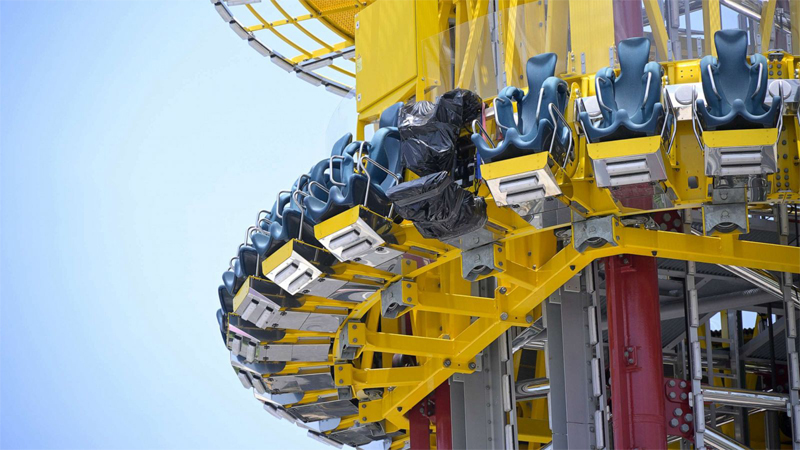 Orlando FreeFall will close permanently and be fully dismantled following the death

Credit: AP



A record-breaking tower drop ride in Orlando, Florida, US, which saw a 14-year-old boy fall to his death in March, will be closed down permanently and dismantled, the ride's operator has said.

The 430ft-tall (131m) Orlando FreeFall at Icon Park - the world's tallest freestanding drop tower - had only been open a number of months before Tyre Sampson's death.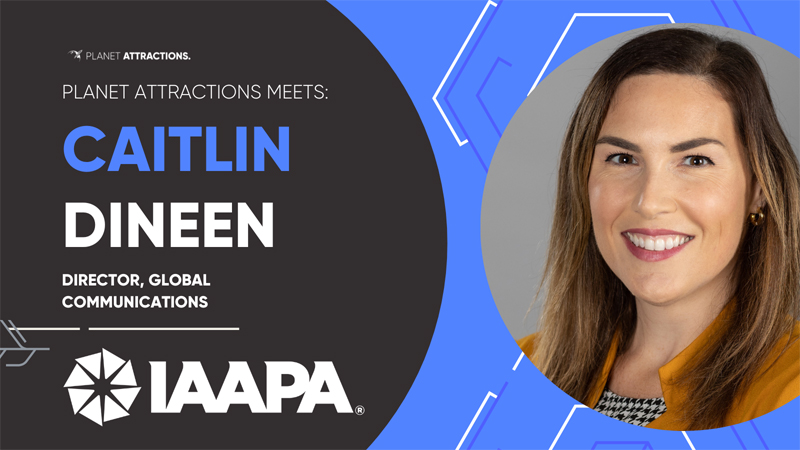 This year's IAAPA Expo Europe was a landmark show for the organisation. After two years of disruption, the London event was the first European IAAPA show post-Covid that took place with no restrictions related to the pandemic.

It's a monumental task to put an event of this scale together and someone who played a part in that this year for the first time officially was Caitlin Dineen.

A regular at IAAPA shows for a number of years, Dineen took up the position of director, Global Communications, for IAAPA in May earlier this year. In her new role, she is responsible for the creation and execution of all external communications products targeting IAAPA members, the media, and the public.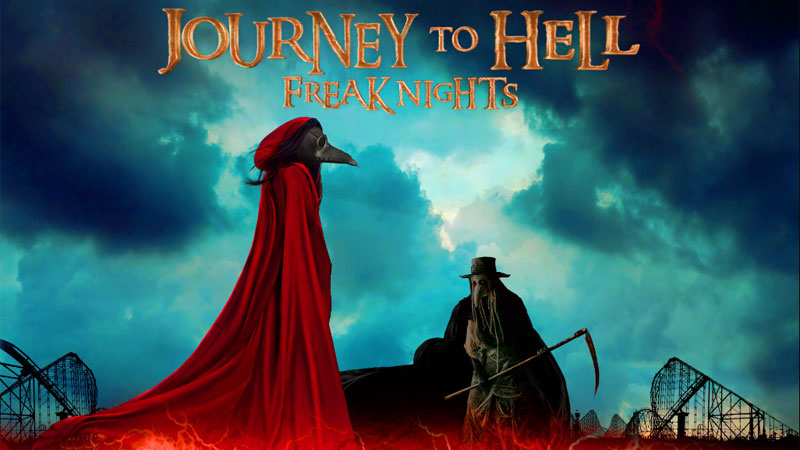 Blackpool Pleasure Beach's Halloween spectacular returns this week with the Journey to Hell, the theme park's interactive live-actor horror experience.

Running from October 7-30, Journey to Hell Freak Nights is described as "a terrifying, experience-led event featuring live actors through eight themed areas of Blackpool Pleasure Beach".

Visitors are set to come up against "silent assassins, evil carnival dwellers, undead sorcerers and even aquatic terrors" at the ticketed event, which takes place in the evening after the park closes to the general public.

Scare zones include The Legend of the Cursed River Caves, Pleasure Beach Hexpress, Rising Ghost Train and The Lost and more, with some scare zones incorporating the park's rollercoasters and other ride experiences.

Click here for more information and to book tickets


British independent professional wrestler Gene Munny caused a literal splash recently by climbing a set of stairs and sliding down a water slide, all while delivering a wrestling promo.


Munny - who is set to face off in a new match dubbed 'Super Mob Smash XII' at Progress Wrestling's 'Chapter 143: The Deadly Viper Tour – Codename: Sidewinder' on October 9 - filmed the promo at TUI Magic Life Masmavi in Belek, Turkey.

The Aquapark is part of the hotel and resort, which features five slides alongside a complex of 10 different pools.

Munny is the current reigning Gene Munny Champion of Gene Munny and was ranked 476 on PWI's Top 500 wrestlers for 2022.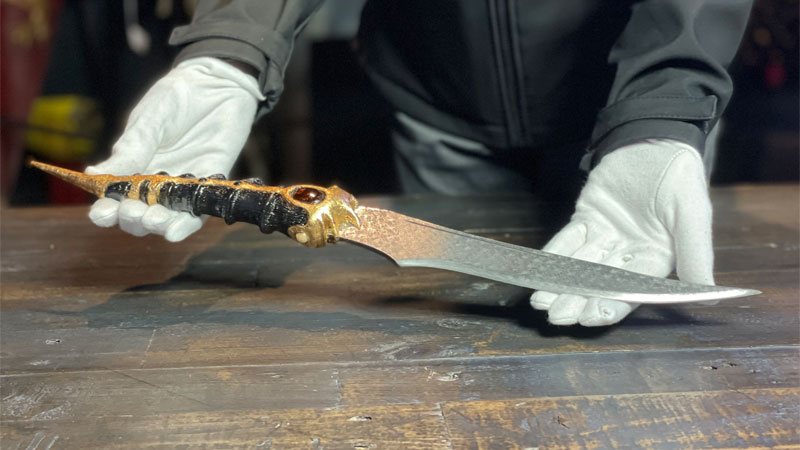 The Catspaw Dagger - one of the most iconic weapons in HBO's hit series House of the Dragon - has gone on display at the Game of Thrones Studio Tour in Bambridge, Northern Ireland.

Sitting alongside other weapons, such as Jon Snow's Longclaw sword and King Joffrey Baratheon's crossbow, the dagger first appeared in season one of Game of Thrones during an assassination attempt on Bran Stark and would later be used by Arya Stark to kill the Night King. The weapon returned in the prequel, House of the Dragon, as held by Viserys Targaryen.

"For me, it joins up the two worlds," said Game of Thrones Weapons Master Tommy Dunne. "I'm proud of all the equipment and weapons made for Game of Thrones. It's great that fans can watch the world of Westeros on screen, whilst also delving behind the scenes of the making of this world at Game of Thrones Studio Tour."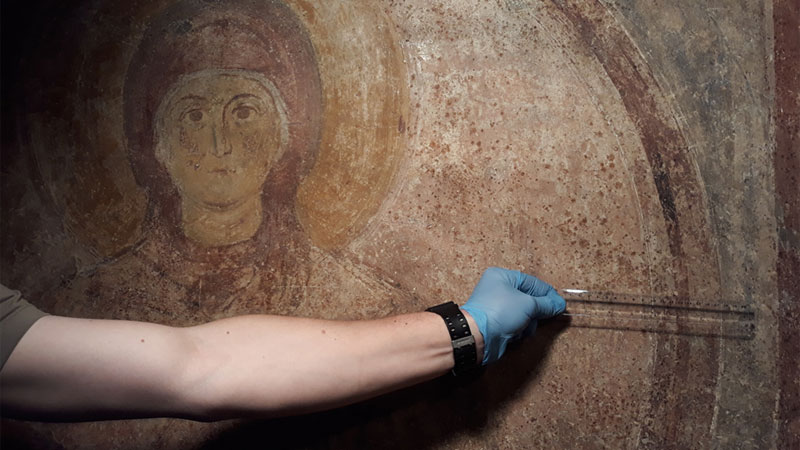 The research collaboration found that fungi in the plaster was causing the murals to deteriorate

Credit: Natural History Museum/National Academy of Sciences of Ukraine



Researchers from the National Academy of Sciences of Ukraine and London's Natural History Museum (NHM) have discovered what has been causing damage to several significant medieval frescoes in Ukraine.

Painted on the walls of the Saint Sophia Cathedral, a Unesco World Heritage site in Kyiv, the murals date back to 11th century and are some of the country's most significant artworks.

In recent years, however, the murals have begun to flake and develop dark spots. In a bid to restore and protect the works, research has been carried out to find out what kind of microscopic organisms are living on the walls and damaging the paintings.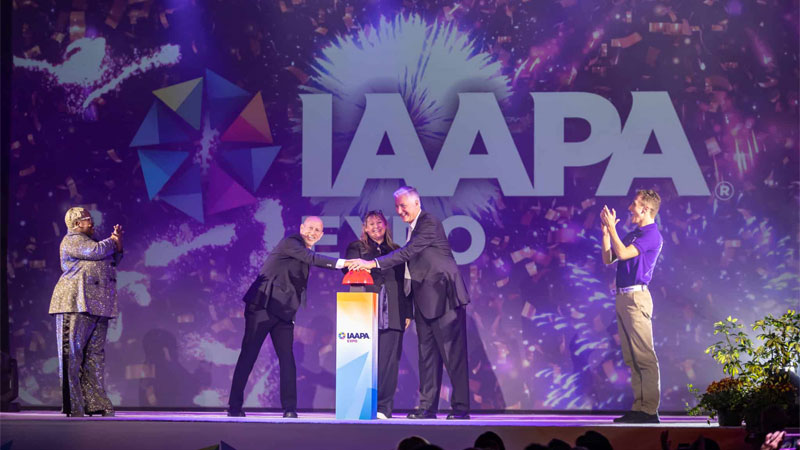 RWS will stage, script and provide media and AV services for all entertainment on the IAAPA mainstage at this year's Expo

Credit: RWS Entertainment Group



RWS Entertainment Group (RWS) will produce all mainstage live entertainment at this year's IAAPA Expo in Orlando, Florida.

The entertainment company will provide full creative and production services – including stage design and construction, scripting, staging, music, lighting design and AV services installation – for all events in the IAAPA Theater, including the Opening Ceremony, Welcoming Reception, Brass Ring Awards, Leadership Breakfast and Lunch and Learn events.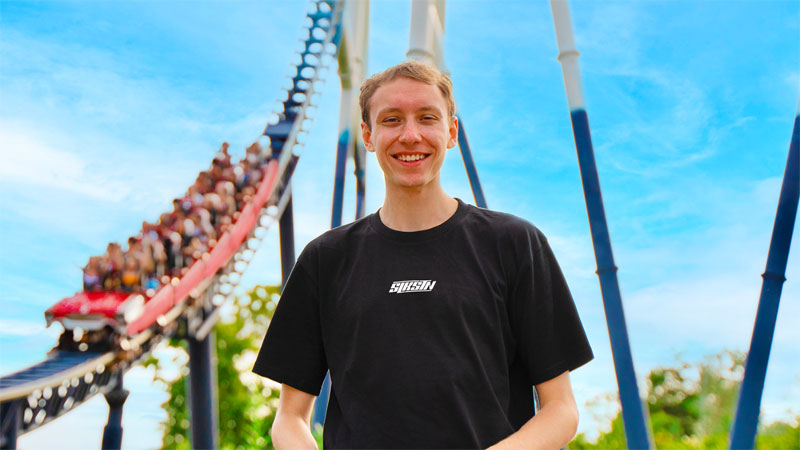 Jack Silkstone has announced a new partnership with Thorpe Park that will see the popular vlogger and theme park enthusiast host a takeover of the UK attraction's popular Fright Nights event on November 3.

Dubbed "Slkstn Unlocked", the event will see guests receive unlimited access to all of the park's mazes and attractions, smaller queues and an afterparty featuring the Fright Night actors alongside a DJ Set from fellow enthusiast Archie Stephen, also known as Arch Nemesis.

"Keep posted," said Silkstone posting on Instagram, "I have loads more details to share ASAP".



Live streaming tour platform Heygo is venturing into the culture sector, with the company announcing a number of partnerships with various museums to "create a space for all to interact, learn and connect with like-minded people".

Described as "Twitch for travel". Heygo connects guides who stream tours to viewers who can attend from the comfort of their own home.

Starting October 17, the International Museum of Surgical Science in Chicago, US, is running a limited time partnership, while University College London and the Sir John Soane's Museum have also signed up, with intention of creating a long-term partnership starting November this year.

"Heygo was started to help everyone experience and get the benefits of travel," said John Tertan, CEO and co-founder, Heygo. "It's been remarkable how the platform has helped make travel a much more accessible experience by breaking down the barrier of distance and money. Thousands of people who would never have been able to visit incredible museums or breathtaking views are now able to have that experience and make new friends along the way."




The Prime Minister of Ethiopia has inaugurated a new science museum in the heart of the country's capital.

Located in central Addis Ababa, Abiy Ahmed was on-hand to launch the Museum of Art and Science alongside the new technology startups and public/private institution exhibition that will be on display and open to the public for the next several weeks.

Built over 70,000sq m 753,500sq ft) - of which 80% is green space - the museum has two massive buildings offering views of the capital from its roof. The museum is intended to serve as centre of research and a place to preserve ancient and modern technology in different fields.

"As we inaugurate Ethiopia's Science Museum; launch a technology exhibition and open the first PanAfrican AI conference today, all are essential for networking, learning and co-creating across the continent, as we strive to empower Africa through digital transformation," Tweeted the Prime Minister.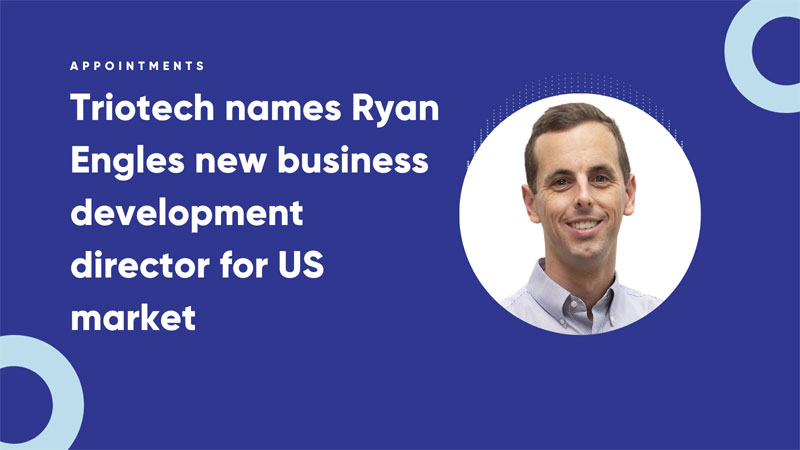 Triotech has announced the appointment of Ryan Engles as the company's new business development director for the US market.

Responsible for the development of Triotech's position in the amusement and theme parks segment in the US, Engles takes up the position with immediate effect.

"We're excited having Ryan joining the team to help strengthen Triotech's global leadership position in media-based attractions," said Yannick Gemme, vice-president of Sales and Marketing for Triotech.

"His experience in business development and marketing, as well as his customer focus, will be an asset."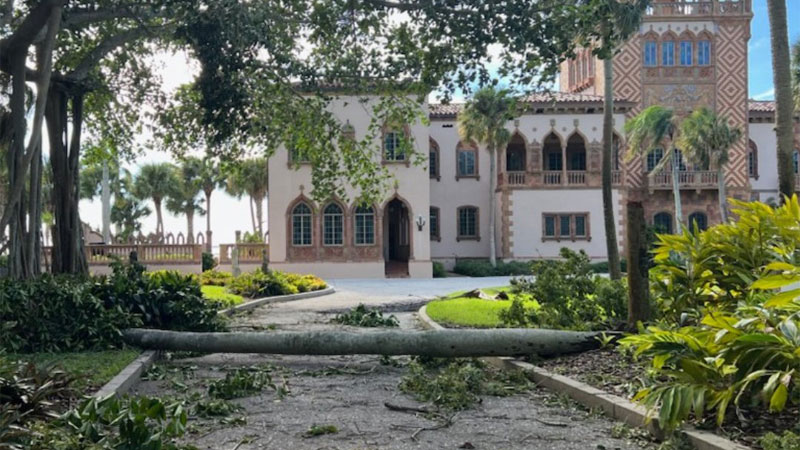 The John and Mable Ringling Museum of Art in Sarasota reopened on Tuesday following some damage

A number of museums in Florida have reopened their doors after escaping the worst of Hurricane Ian, a devastating storm that tore a path of destruction through the state last week.

The Tampa Museum of Art, situated along Florida's Gulf Coast, says that it has escaped any serious damage to its building during landfall or subsequent flooding. After brief closures, the Perez, Orlando Museum of Art, and the Norton Museum of Art have also reopened their doors, with minimal to no damage to either property. The Bass Museum of Art in Miami is also operating as usual.

Some damage was sustained by the John and Mable Ringling Museum of Art in Sarasota, but the building's structures and collections remain secure. The museum remained closed "for assessing and clearing" but has since opened on October 4.

One of the strongest hurricanes ever to hit Florida, the death toll from Ian currently stands at 99 people and is expected to reach triple figures as rescue personnel continue to search for survivors.

More from Art News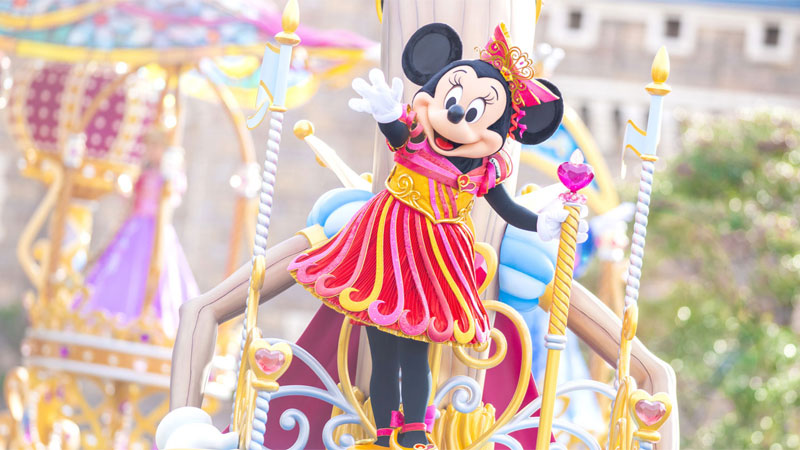 Tokyo Disneyland and Tokyo DisneySea are set to reduce annual visitor numbers by 20% by 2024 - a major shift in emphasis for the park to provide greater customer satisfaction from less congestion and shorter wait times for attractions.

The policy, which is included in operator Oriental Land's business plans for fiscal 2022 to fiscal 2024, has been implemented to boost revenue by freeing visitors from long lines and offering them opportunities to spend more on dining and shopping.

The company's attendance target for 2024 is 26 million - a deliberate decrease from the record 32.55 million visitors in pre-pandemic 2018.

"Our guests now have more time to use as they wish, and the value of their experience (at the parks) has increased greatly," Oriental Land president Kenji Yoshida said.

More from Japan Times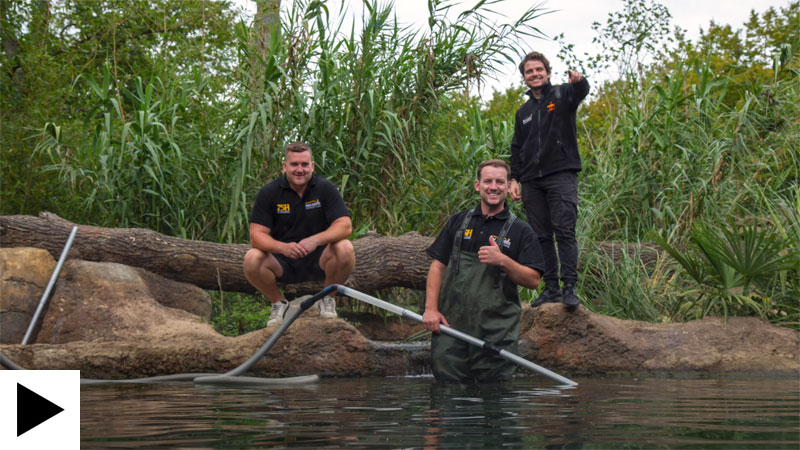 The Pool Guy has more than 15 million followers on social media

A zoo in the UK has turned to a rather unusual source for social media attention - a professional pool cleaner.

Known as The Pool Guy (sometimes styled as thep00lguy), Bedfordshire-based Miles Laflin found himself at the forefront of social media in 2020, sharing surprisingly satisfying videos of himself cleaning pools and narrating over the top of them. At present, he has more than 15.5 million followers across all of his social media channels.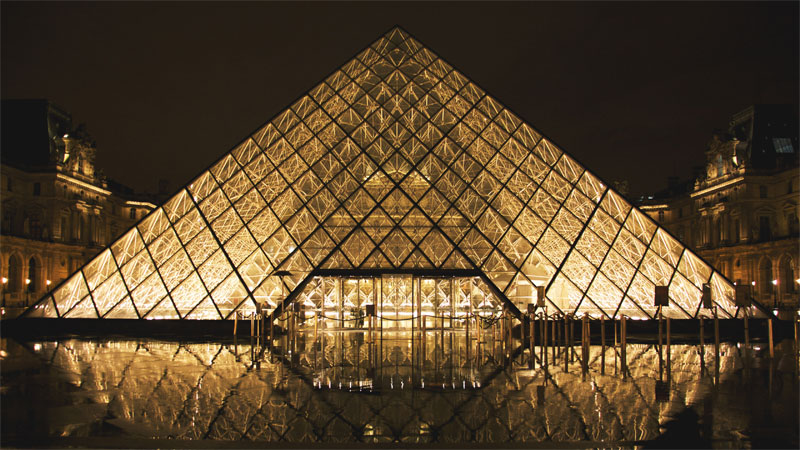 The Louvre is among a number of institutions across France turning their lights off in an attempt to save energy

Credit: Canva



Paris' iconic Louvre has joined the Eiffel Tower and Musée d'Orsay in turning its lights out early in a bid to tackle skyrocketing energy costs as part of a government scheme.

The Louvre is among a number of major cultural institutions in France to turn off the lights earlier than usual, with the museum's iconic glass pyramid now turning dark every night at 11pm instead of 1am.

Announced by France's culture minister, Rima Abdul Malak, the restriction came into effect last month and will continue for the foreseeable future.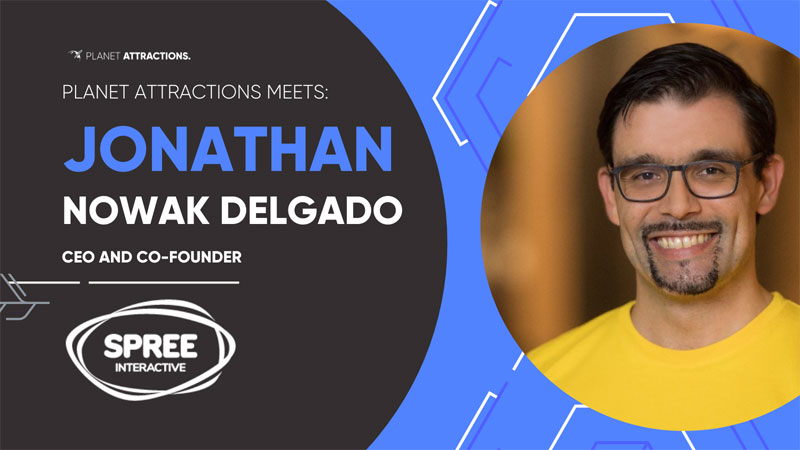 A virtual reality specialist that finds its roots in the Galapagos Islands, German company Spree Interactive was founded by Ecuadorian native Jonathan Nowak Delgado and has gone from strength to strength since its inception in 2015.

Based in Nuremberg, Spree is a leading provider of family-friendly active free-roam VR experiences, with the company specialising in the development of turnkey, large-scale products that are active, social and fun.

In addition to free roam experiences, Spree is also part of a vehicle-based experience, with the company's sensor fusion VR tracking technology now available as a turnkey upgrade for bumper cars.


Universal is currently dealing with the fallout from Hurricane Ian with a photograph emerging on social media showing the Incredible Hulk Coaster partially submerged following the weather event.


The New York Post also reports some damage to Islands of Adventure's Jurassic Park ride, with a hole opening up in the side of the building.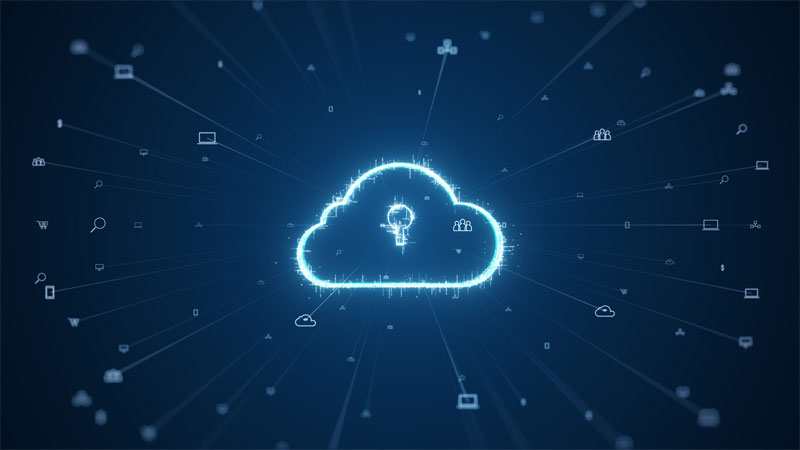 Online ticketing and integrated POS provider Vennersys has said that using a cloud-based ticketing solution could help save the environment.

According to the company, by switching to a cloud-based system, an attraction could reduce energy consumption and carbon emissions by nearly 80% when compared to on-premises servers.

"The type of attraction you operate will affect how much you are fuelling the climate crisis, but there are steps that every attraction can take to reduce their impact," said Megan Thompson, business development manager at Vennersys. "For one, you could move your business infrastructure to the cloud."

These systems, says Vennersys, will help attractions cut down on the amount of paper they use, for example, printed admission tickets, leaflets, brochures, maps, vouchers, and more.

Instead, visitor attractions can provide these directly to the visitor's mobile device, which can be more convenient for the guest, and reduces paper waste.

Read more here


More than a foot of rain fell overnight in Orange County last night with winds of up to 80mph, according to reports, with Disney World, Universal and other major theme parks in the area affected by the weather event.

According to the National Hurricane Center, "widespread, life-threatening catastrophic flooding, with major to record river flooding, will continue today across portions of central Florida".

At Disney World, flooding is a major concern, while video shot at Universal shows cars submerged in the water.


Footage of the event also shows the severity of the weather overnight, with nearly 150,000 people in Orange County without power.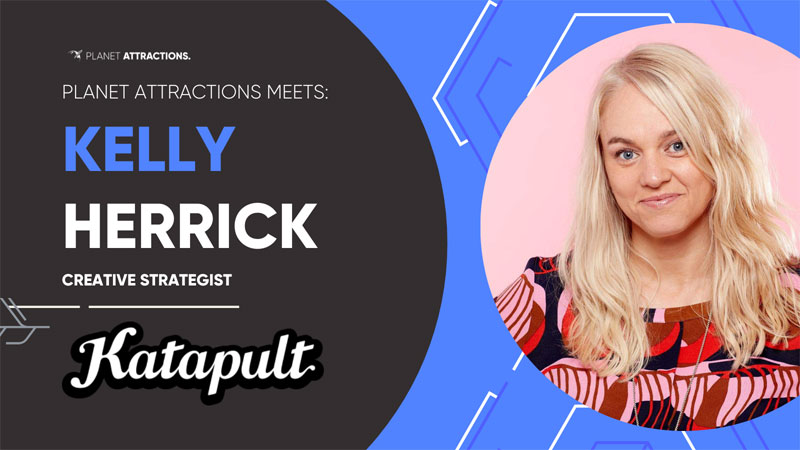 Themed attraction and experience specialists Katapult have projects enjoyed by more than 50 million people each year.

At this year's IAAPA Expo Europe in London, UK, Katapult took its entire team to the British capital, with new team members including former Walt Disney Imagineer and creative director Andy Sinclair-Harris, live experiences lead Natalie Dawson and art director Lily-Ann Bedder joining the team.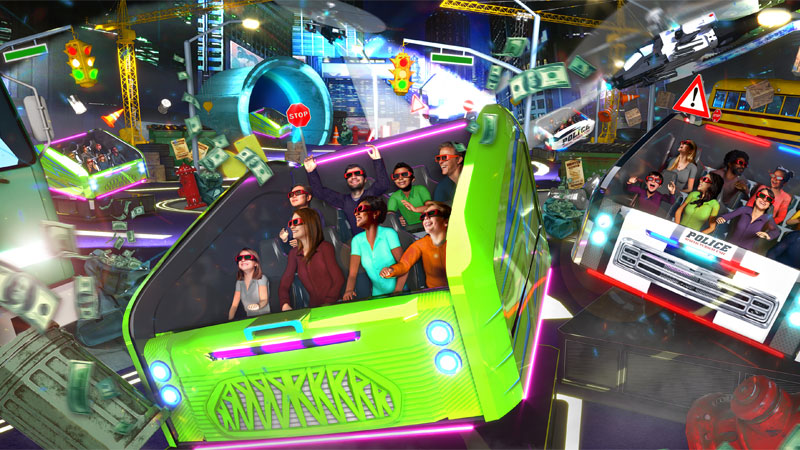 The Overdrive concept was officially launched at this year's IAAPA Expo Europe in London

Credit: Simworx



Leading dynamic media-based attractions specialist Simworx has teamed up with themed entertainment designer Katapult to develop a new high-octane ride concept.

Called Overdrive: The Ultimate Heist, the concept can accommodate up to 1,100 riders per hour and was created for Simworx's AGV (Automated Guidance Vehicle) dark ride. It showcases the capabilities of its dynamic trackless ride system, as well as demonstrates the new heights that modern dark ride attractions are capable of reaching.

Officially launched at this year's IAAPA Expo Europe in London, Simworx showcased the concept on their stand with a working AGV Dark Ride unit, themed to look like a police car. Visitors to the booth were able to get a close-up look at the technology, while attendees could visualise the fully-realised attraction.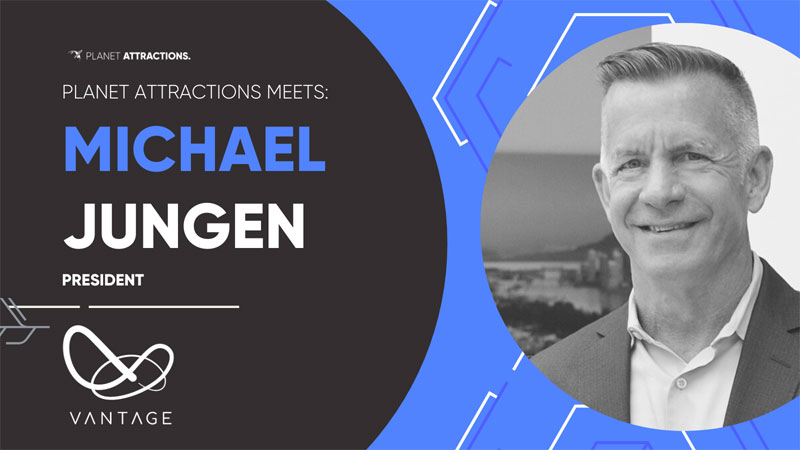 In 2018 Whitewater launched Vantage - a new division of the company that uses technology of the same name to take real-time visitor data and use that to optimise park operations for the guest.

Since its launch, the division has grown, with Michael Jungen taking up the role of president of Vantage earlier this year.

With a 25-year track record of implementing cutting-edge technologies for the attractions and hospitality industries, Jungen previously played a major role in the creation of Disney's MagicBand and MyMagic+ technology, as well as single-finger biometrics at park entrances and the Disney Gift Card. He was also a key figure in the development of Carnival's Ocean Medallion guest experience platform.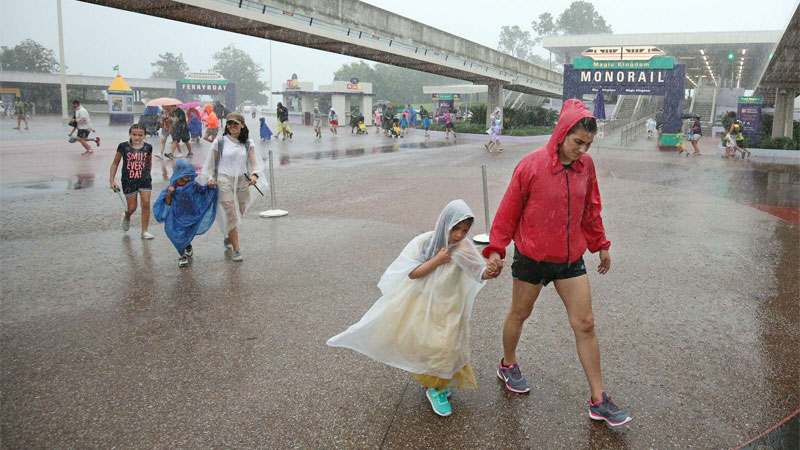 After initially monitoring the approach of Hurricane Ian, Florida's major theme parks have all taken the decision to close for both today (September 28) and Thursday (September 29).

With Ian forecast to cross directly over central Florida, Disney will close Animal Kingdom, Hollywood Studios, Epcot and the Magic Kingdom, as well as Disney Springs. The company has also cancelled Star Wars: Galactic Starcruiser voyages due to the potential impact on guest experiences.

Meanwhile, Universal Orlando Resort has also announced its closure on the same days. Universal anticipates reopening on Friday, as conditions permit.

SeaWorld and Legoland have also announced closures, with anticipated reopenings both set for Friday.

Already hitting Cuba, the storm is expected to hit Florida first in the Tampa Bay area.

The storm, with maximum sustained winds rising to near 250 km/h (155 mph), is "rapidly intensifying", the National Hurricane Center (NHC) said.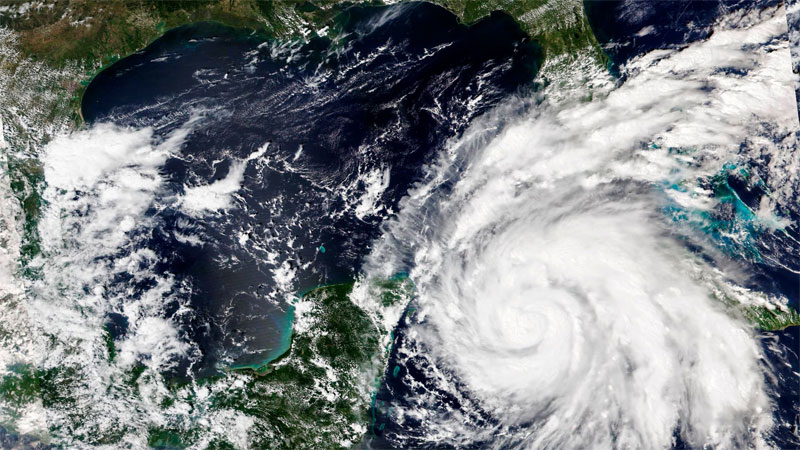 Parts of Florida will have not seen a hurricane of Ian's magnitude in about a century

Hurricane Ian continues to rapidly intensify, with the Category 3 hurricane about to hit Cuba before moving up towards Florida.

Over the course of 24 hours, Ian's maximum sustained wind speed jumped from 75 mph to 125 mph, meaning the hurricane meets the criteria for rapid intensification.

Some of Ian's worst impacts are likely to occur in Cuba, where a hurricane warning has been in place since Sunday morning with tens of thousands of people told to leave their homes and seek shelter.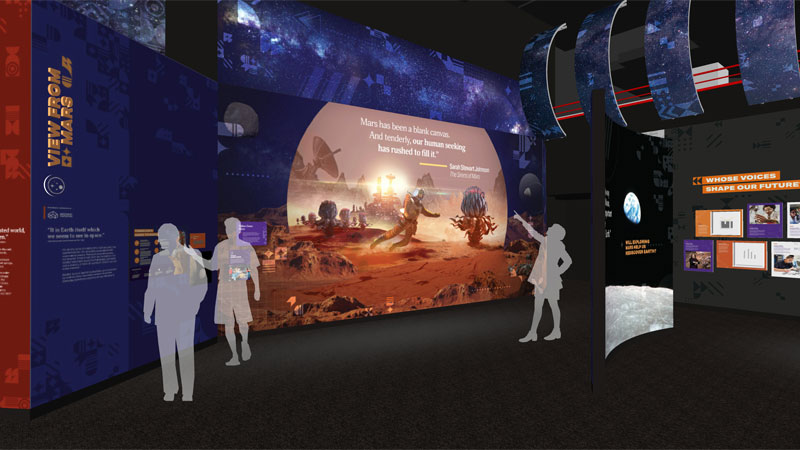 Carnegie Science Center in Pittsburgh, Pennsylvania, US, has unveiled plans for a new permanent exhibition dedicated to "the next giant leap", Mars.

Declared by the museum as its "most ambitious new experience" to be built since its foundation in 1991, Mars: The Next Giant Leap will be set over seven zones and 7,400sq ft (687sq m), with the exhibit exploring how the issues of sustainability, climate change, social justice, and equitable access to resources can shape humanity's future on Mars and on Earth.

"The goal of Mars: The Next Giant Leap is to appeal to broad audiences and spark dialogue well beyond their visit, whether it leads them to think about space exploration, important social issues, or STEM careers they can pursue," said Jason Brown, director of Carnegie Science Center.

"This exhibition is truly unique from any other exhibition as it provides engaging and unexpected perspectives on space exploration while at the same time illuminating why it is important to our everyday lives here on Earth."

The project will cost US$4.48m (€4.6m, £4.1m) and will open to the public on November 19.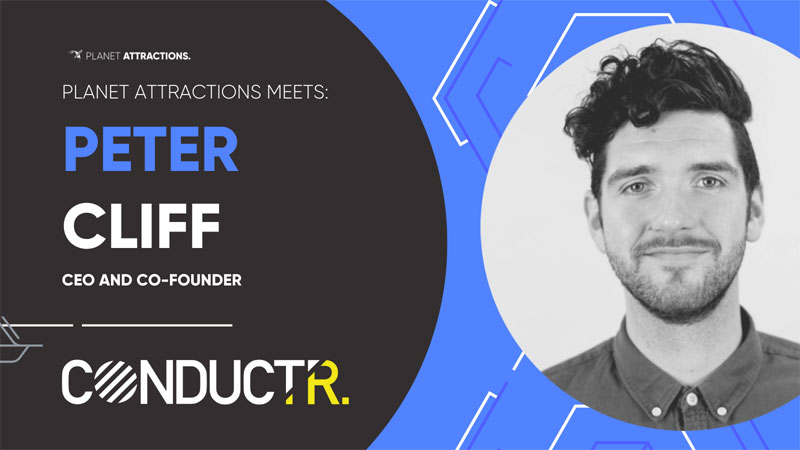 A new player in the attractions sector, experiential design firm Conductr was formed earlier this year by industry veterans Peter Cliff and Jos van der Steen.

Though still in its formative stages, the company - which is based in Manchester, UK, and creates large-scale attractions and experiences using media and next-gen technologies - has grown significantly in its first year, expanding its workforce and taking on major projects with a number of operators worldwide.