Icon of the Seas will feature the largest waterpark at sea when it sets sail for the first time in 2024, here's what went into developing the record-breaking attraction




Christie has teamed up with Brazil's Museum of Image and Sound of Ceará on the installation of an immersive multimedia room as part of a revamp of the historic institution




Kate Mavor CBE has announced that she will step down as CEO of English Heritage later this year




A cargo port controversially seized from a US company last week by the Mexican government has been earmarked for an XCaret style water and theme park, as well as a docking point for cruise ships




SeaTrade Cruise Global is returning to Florida next week. Here's everything you need to know...




Immersive attractions developer Miral has confirmed that SeaWorld Abu Dhabi will open in May




Development company Seven is to launch the world's first Play-Doh-themed attractions in partnership with Hasbro




David Herrera has been named the new president of Norwegian Cruise Line, with Harry Sommer transitioning to be the next president and chief executive officer of parent company Norwegian Cruise Line Holdings




Ferrari World Abu Dhabi's Mission Ferrari opened to the public to much fanfare in January. Holovis's James Lodder shares a decade-long journey to realise this incredible immersive rollercoaster experience




The Lucas Museum of Narrative Art is expected to open in 2025 after experiencing several delays.




Disney has revealed a 'real' lightsaber at this year's SXSW, an arts and technology festival currently underway in Austin, Texas




Staffordshire-based theme park Alton Towers has unveiled details of its upcoming Curse at Alton Manor dark ride ahead of its opening on March 18




Thousands of UK museum and heritage workers have joined industrial action protesting against low pay and other working conditions.




The first phase of construction on a new aquarium and nature conservation campus in Florida is scheduled to begin in October




A new report exploring the market dynamics of the global cruise industry estimates the sector to grow to $16.7bn over the next several years




Teaching the construction sector the necessary skills to retrofit the UK's heritage structures could provide the British economy with a £35bn boost, a new report has suggested




The Whitney Museum of American Art's long-term director Adam Weinberg is set to leave the institution in November, with Scott Rothkopf set to succeed him in the role




Therme Manchester, a major waterpark and wellbeing resort development in the UK, will soon enter its first phase of construction following demolition works




Universal's Parks & Resorts division will now be called Universal Destinations & Experiences following a rebranding




London's Natural History Museum has turned down a proposal to establish a branch in Aberdeen's vacant Norco House building, saying it has no plans to develop a regional offer.




Bruce Vaughn is set to return to Disney Imagineering as chief creative officer, co-leading the division alongside Imagineering president Barbara Bouza




The Millennium Forum theatre in Derry has become the first Irish cultural venue to achieve Makaton Friendly Status




Tate Liverpool will close its doors in October ahead of a £25.5m multi-year redevlopment helmed by British architecture firm 6a architects




Equity is different from equality, and on International Women's Day Una de Boer reflects how to support this foundational step towards a more just world




Fun Spot America Atlanta's hotly-anticipated RMC-manufactured ArieForce One is set to open later this month, with the major attraction representing the park's largest-ever investment




Scandinavian artist Olafur Eliasson has collaborated with author Robert MacFarlance to create a permanent art installation on the West Cumbria coastline




Keith James, president of JRA; Robin Breese-Davies, executive vice president of ted; and Danielle Kramer, executive vice president of RWS, speak to Planet Attractions about what looks to be a bumper year ahead for the company




The UK's National Lottery Heritage Fund has announced several changes to its funding priorities to address concerns for the 'health and future of the nation's heritage'




Adam Hattan explains how content creators can be effectively used to drive new and returning guests to your attraction




A private contemporary art museum in the US has received a US$1.9bn endowment, one of the largest arts donations ever made, from US businessman Mitchell Rales




The Young V&A, formerly the V&A Museum of Childhood, will reopen in East London, after a multi-year, multi-million-pound redevelopment




The Smithsonian has raised more than US$55m towards the development of its upcoming American Women's History Museum in Washington, D.C.




Universal wants to enhance its interactive experiences on offer, with the operator filing two new patents for character and wand technologies at its parks




Aquatic play structures are among the fundamentals needed for a waterpark. WhiteWater's Cassidy Newman tells us why...




Florida's Republican governor has declared an end to Disney's 'corporate kingdom' with new legislation seeing the state gaining effective control of the company's Florida operations




Ukrainian security company Ajax Systems has installed US$13,000 worth of security equipment to protect several Banksy artworks in Kyiv created by the artist during the Russian invasion




Saudi Arabia's Crown Prince has announced plans for New Murabba - a US$48bn commercial downtown development in Riyadh, anchored by a cube-shaped skyscraper large enough to accommodate 20 Empire State buildings




Merlin Entertainments is adding to its cluster of attractions in Blackpool, with a £2.3m Gruffalo-themed attraction set to open later this year




Original costumes, set designs, drawings and handwritten lyrics will allow visitors to V&A East to trace David Bowie's creative process across six decades




Romain Grosjean's torched F1 car from the 2020 Bahrain Grand Prix is set to go on display as part of a wider touring exhibition looking at the world of F1




A riverside retreat featuring Manhattan's first public beach is set to open in New York City this summer




DEAL is coming back to Dubai next month. Here's everything you need to know about the region's hottest attractions show




Rumours that a Peaky Blinders theme park is in the works are not to be believed but officials have said there are potential plans for a permanent attraction based on the popular IP




3D printing has been used to create a full-size replica of a World Heritage site in China, offering visitors an up close and personal experience while also securing crucial data for future world heritage protection




Fancy a job as a rollercoaster test rider? Well good news - Blackpool Pleasure Beach is on the hunt...




The Hegra Welcome Centre in AlUla, Saudi Arabia, has unveiled a new exhibit; the reconstructed face of Hinat, a woman who lived more than 2,000 years ago




Cedar Fair has broken revenue and earnings records, with the operator bouncing back from the effects of the global pandemic




A recent survey suggesting the public would support the phasing out of large animals in zoos doesn't 'seem to relate to the real world', according to BIAZA




London is set to emulate New York's Highline with its own version running from Camden to St Pancras. Here's everything you need to know about the £14m project




From waterpark suppliers and media specialists to creative designers and dark ride producers, Planet Attractions has gone to every corner of the globe to find out what's hot in 2023




A new partnership between ZooTampa and the Children's Hospital at Tampa General Hospital will see the development of several new wellbeing-focussed experiences at the zoo




SeaWorld is expanding its network of rescue centres with the launch of Yas SeaWorld Research and Rescue - the first such SeaWorld site to open outside of the US




Disney is set to axe 7,000 people as part of a US$5.5bn cost cutting plan following its Q1 results. The operator's parks however continue to thrive with the Parks, Experiences and Products division performing strongly




A museum dedicated to sharing Scotland's history with the occult will open in Edinburgh at the end of February




Unesco has offered its support to the victims of the devastating earthquake that rocked Turkey and Syria this week as concern grows for a number of historically important World Heritage sites in the region




The popular Titanic Belfast attraction will reopen next month with four new galleries and a 7.6m-long replica of the iconic ship following a multi-million pound revamp




Mickey and Minnie's Runaway Railway is the featured addition to Disneyland as the park celebrates 100 years of Disney with a host of new attractions and experiences




The former Pleasure Island could find new life as a tourist destination after plans were submitted to turn the former theme park into a £65.9m holiday site




Operator Great Wolf has broken ground on a new US$300m resort in Connecticut, with a 91,000sq ft indoor waterpark set to be the development's main attraction




Hersheypark has revealed the official video for the highly anticipated Wildcat's Revenge, showing for the first time the full track layout of the upcoming hybrid coaster in first person




SeaWorld has announced a shakeup of its leadership structure, making eight new appointments as the company seeks to accelerate growth




Norway's TusenFryd will soon launch Europe's first ever suspended triple launch coaster, with the NOK100m Storm - The Dragon Legend being described as the 'most important single investment' in the park's 34-year history




Media tech specialist 7thSense has been recognised for two products in its brand new Performer range at this year's ISE, which is currently underway in Barcelona




South Carolina's Greenville Zoo is looking at changing to a nonprofit operation following a city consultation last month




The Vagina Museum has announced that it will close this week after being asked to vacate its East London premises




The owners of four luxury flats overlooked by the Tate Modern in London have won a privacy bid over the use of the gallery's viewing platform.




A new report exploring the market dynamics of the global amusement and theme park industries estimates the sector to grow to $85bn in the next five years




Workers at the British Museum along with a number of other institutions across the UK are set to go on strike in February




Kids in Museums has launched a new initiative aimed at having young people discuss, learn and advocate for the future of the museum sector




Universal parent company Comcast revealed a nearly 50% increase in revenue driven by theme park attendance in its annual financial report




Patients at a number of children's hospitals across the state of South Carolina can now explore Charleston's popular aquarium remotely, using a robot to interact with the exhibits and take part in tours




Disney is celebrating 100 years with an adult-oriented immersive experience coming to London, Berlin and Paris in 2023




An interactive experience taking visitors inside hit NBC sitcom 'The Office' is set to open in Toronto later this year




Universal Studios Hollywood is levelling up the experience at the upcoming Super Nintendo World with its all-new Power-Up Band. Here's what the technology does




Another mega project has been announced for Saudi Arabia, with the PIF's Seven announcing plans for a SAR1bn entertainment destination in the city of Tabuk




Connect&Go - a global leader in guest and attractions management technology - has grown significantly over the last decade. Its co-founder Anthony Palermo spoke to Planet Attractions




Chessington World of Adventures has unveiled what will become the world's first Jumanji-themed coaster when it opens later this year




Tate St Ives is seeking an architect-led multi-discipline team to lead a major renovation of Palais de Danse, the former studio of renowned sculptor Barbara Hepworth




The fifth annual MENALAC Awards ceremony will take place in Dubai, with the event bringing together senior leaders to celebrate attractions across the Middle East and North Africa




A new technology from the Industrial Technology Research Institute can display information about different animals inside aquariums by tracking the eye movements of the user




MSC and the New York Knicks have announced a multi-year marketing partnership that sees MSC become the official cruise line of the NBA side




Attractions.io has teamed up with SSA Group to provide a fully digital experience for visitors to cultural attractions in 2023




The UK government has announced the launch of a new Energy Bill Discount Scheme offering significant discounts for vulnerable businesses including museums and heritage sites




A 'radical, once-in-a-generation' development will see Bradford's National Science and Media Museum undergo a year-long transformation starting in June




After a difficult few years the museum sector is showing promising signs of recovery with several exciting projects set to open this year. Here are 14 of 2023's most anticipated museum openings




The Sidemen recently took a trip to Dubai for an epic game of hide and seek in one of the world's premiere waterparks




Heritage organisations in the UK are in serious jeopardy of closure as a result of the cost of living crisis, with nine in 10 concerned about their future




A zoo in the UK will start to fit solar panels to try to save money after seeing its energy bill soar over the past year.




A plot to steal a 10-tonne ancient statue of Egyptian Pharaoh Ramesses II has been foiled after police arrested three men attempting to make away with the gigantic antiquity




Following Argentina's historic win at the 2022 World Cup, the student accommodation that global footballing icon Lionel Messi stayed in is set to be turned into its own mini museum




A family-friendly Universal theme park is coming to Texas while a permanent Horror Nights experience is making its way to Las Vegas




Nike chair and Disney director Mark Parker is set to succeed Susan Arnold as Disney's new chairman




Rodin Museum officials have decided to pull out of a €16m project in the Canary Islands, which would have seen an outpost of the famous institution built in Santa Cruz de Tenerife




Disney is introducing a number of consumer-friendly changes to its US parks, including an increase on the number of days its lowest-priced ticket will be available and increased access for annual passholders




It's a new year with old records just waiting to be broken by some incredible new projects. Here are twelve blockbuster rollercoaster openings for the coming year




Arguably Britain's most well known dinosaur - the Natural History Museum's iconic 'Dippy' the diplodocus - is set for a three year move to Coventry starting next month




Trade body Experience UK has named David Willrich as its new chair




The virtual band worked with Google to host two first-of-their-kind AR experiences in New York and London to promote their new single




A Ukrainian activist who tried to take a Banksy work from Kyiv faces a 12-year prison sentence for an act he says was intended to support the work of the country's army




A new version of Amazon's Alexa digital voice assistant will come complete with Disney branding and the ability to work alongside the operator's MagicBand+ technology




Just a quick message from everyone at Planet Attractions to say thank you and to wish you a happy holiday




Py Gerbeau is leaving the London Resort project with those in charge saying the development will be significantly scaled back to accommodate a number of environmental concerns




The Neobio Museum is a brand new attraction in Shanghai, China, offering experiential STEM education to young people




The Museum of Sex is expanding, with the New York attraction announcing plans to open a new Miami location in the spring




Berlin's AquaDom aquarium exploded in the early hours of the morning on December 15. It contained a million litres of water and more than 100 different fish species




Simworx's new flying theatre concept delivers a thrilling and immersive experience within a limited footprint. Simworx CEO Terry Monkton and lead creative Matt Clarkson told Planet Attractions more about the Brass Ring Award-nominated attraction




The Italian theme park will open a new themed maze attraction inspired by the multi-billion-dollar movie franchise




The opening marks the North American debut of the attraction, which first opened at Universal Studios Japan in 2021




When it comes to all-in-one solutions for visitor attractions, Semnox's Venue Management Software system has transformed operations at popular FEC Kokomo Joe's. Here's how the technology works




A world-first Discovery entertainment centre is coming to Saudi Arabia with more to follow in the coming years




The highly-anticipated Pipeline surf coaster is coming to SeaWorld Orlando this spring. SeaWorld's vice president of rides and engineering, Jonathan Smith, spoke to Planet Attractions about the project




London Eye operator Merlin Entertainments has applied to extend the attraction's planning permission ahead of its 2028 deadline




Hasbro's Monopoly Lifesized has opened in Riyadh following a three-way partnership between the toy manufacturer, the Al Hokair Group and The Path Entertainment Group




New online courses from the Natural History Museum will share exciting insights into the institution's research




Convious has signed a multi-year deal with West Midland Safari Park to supply its fully-integrated eCommerce and guest experience platform




A new attraction inspired by the BBC's




Culture, heritage and sport sites are set to receive £4.5m over the next three years to support actions in the Welsh Government's Anti-Racist Wales Action Plan




Country music icon Dolly Parton has revealed plans to open a self-dedicated museum in Tennessee that could form part of a wider cultural complex




Disney Parks has teamed up with the Russell Innovation Center for Entrepreneurs (RICE) to introduce a supply chain accelerator programme focused on transforming the businesses of diverse entrepreneurs




Developed specifically for attractions, nWave's newest title takes viewers on an adventure with skunk and martial artist Meg, as she searches for a missing relic




PortAventura has announced plans for a new Uncharted dark ride coaster with Sally Dark Rides and Intamin behind the €25m attraction




Audiences around the world will soon get to see record-breaking stunt performers pushing the boundaries of what is possible with Guinness World Records and Mirage Entertainment Design announcing the launch of an exciting new show




Saudi Entertainment Ventures - part of Saudi Arabia's Public Investment Fund - will develop more than 150 new attractions in the kingdom across 21 integrated entertainment destinations




EAG - the Entertainment, Attractions and Gaming International Expo - is on course for one of the largest shows in its history after its organisers revealed registration is up 58% on 2020's pre-pandemic figure.




Real Madrid's president Florentino Perez worked with a team of Disney executives including former CEO Michael Eisner on a plan to turn the world-famous football club into a theme park




Merlin executive Fiona Eastwood has been promoted to oversee the operator's global portfolio of theme parks and midway attractions




World-leading visitor transportation specialist Severn Lamb has announced a major move in the acquisition of US company Trams International




Directors from The Met, British Museum, Louvre and National Gallery have signed an open letter published by ICOM condemning the 'risky endangerment' of irreplaceable artworks in climate demonstrations




The world-first theme park will feature several key attractions inspired by iconic Mattel brands including Barbie, Thomas & Friends and Hot Wheels




A new permanent exhibition exploring life on Mars has opened at the Carnegie Science Center in Pittsburgh, US




Dronisos is seeking partners in the US following a successful year, which saw the company serve as a technology partner for Disneyland Paris




More than 36,000 people travelled to Orlando in November for the annual spectacular known as IAAPA Expo. Planet Attractions was in attendance




Footballing legend Cristiano Ronaldo has taken over the iconic Times Square to unveil a new waxwork for Madame Tussauds New York




Longtime member and actor Helena Bonham Carter CBE has become the first female president of The London Library




The attractions industry and wider attractions community has paid tribute to the legendary Alberto Zamperla following his death last week aged 71




In a shocking move, Disney has reappointed Bob Iger as CEO, effective immediately, as Bob Chapek is ousted after less than three years in the role




ProSlide will announce a major new project at this year's IAAPA Expo, with the company also revealing a record number of projects for 2023




WhiteWater will unveil six new products at IAAPA Expo, including three new waterslides, an all-in-one play structure and an innovation that 'has been years in the making.'




Extreme Engineering will announce four new Cloud Coaster projects as well as debut two new products at this year's IAAPA Expo in Orlando




A number of exhibitors will be using Christie technology at this year's IAAPA Expo, with the company also set to showcase its MicroTiles LED among the products on its own stand




Spree Interactive is getting into the Christmas spirit a little early this year, with the launch of its Christmas Crunch VR title at the upcoming IAAPA Expo in Orlando




Ride manufacturer Zamperla is behind the CA$9m development of what will be Canada's fastest launch coaster when it opens in 2024




Princess Cruises has debuted a brand new immersive experience that combines dining, storytelling, music, scent and more for a one-of-a-kind journey through the Mediterranean




RWS's Sponsored Spotlight will showcase the company's 'endless possibilities' following major acquisitions




IAAPA has unveiled the list of finalists for its prestigious Brass Ring Awards, with winners to be announced during a special ceremony at this year's IAAPA Expo in Orlando, Florida




Red Raion will offer an exclusive preview of its latest title - 'Around the World in 80 Days - Journey of Wonders' - at this year's IAAPA Expo




Frontgrid has launched its ParadropVR Pod attraction at Adventure Park Snowdonia in North Wales




The 2022 edition of IAAPA will see experience and attraction design firm Scruffy Dog return to the trade show floor for the first time since 2017




IAAPA has appointed Jakob Wahl as its new president and CEO. Wahl will assume the role at the beginning of 2023




The dynamic media-based attractions specialist will showcase the attraction alongside its new Overdrive concept at the IAAPA Expo in Orlando, Florida




Industry legends Joan Ganz Cooney, Xavier Lopez Ancona, Darrell Metzger and Dennis Speigel are all set to be inducted into IAAPA's prestigious Hall of Fame at this month's IAAPA Expo




The immersive attractions designer will unveil details of its new attraction, new project and new ride content throughout this year's IAAPA Expo, which takes place at the Orange County Convention Center in Orlando in November




Cunard has announced its 2023 Insights enrichment programme, with adventurer Bear Grylls taking centre stage for the operator's maiden 2023 voyage to Alaska




Following a special panel session featuring some of the UK's top theme park content creators, Planet Attractions joined Jack Silkstone, Sean and Jo Dyer, and Kieran Adams as they explored this year's IAAPA Expo Europe in London




Disney World's Blizzard Beach waterpark will reopen to the public next month with new Frozen additions following a lengthy refurbishment




Gateway Ticketing Systems has appointed Joe Marshall to lead the company's UK operations




Flight bookings to Qatar and the UAE are currently 10 times higher than pre-pandemic levels ahead of this winter's FIFA World Cup




Convious showcased its digital engagement platform at this year's IAAPA Expo Europe. The company's managing director for the UK & Ireland, Andy Povey, tells Planet Attractions about everything the company has to offer




Leading experience designers Mather & Co have named Kim Kherlopian as the company's new managing director. Planet Attractions caught up with him at this year's IAAPA Expo Europe to find out more




Ahead of a special industry panel looking at iconic attractions, experts from WhiteWater have named their personal picks, explaining why they think their choice is an iconic attraction




Cruise operator Holland America Line is celebrating 150 years with the announcement of a partnership with the Statue of Liberty-Ellis Island Foundation




Ohio's Kings Island theme park will introduce Adventure Port, its newest themed area, in 2023. The themed land will feature several attractions and enhanced theming on a classic rollercoaster




IAAPA's president and CEO, Hal McEvoy spoke to Planet Attractions about this year's IAAPA Expo Europe, the industry's post-Covid recovery, his retirement plans and more




Creative firm Zeitgeist Design and Production is behind three of this year's haunted houses at Hersheypark's Halloween spectacular Dark Nights




WhiteWater brings a strong presence to each and every IAAPA Expo. The company's chief marketing officer, Una de Boer, tells Planet Attractions about everything the company has to offer




Industry veteran Paul Kent has been named as VP of global business development at Mad Systems




A world-first theme and waterpark utilising Sony IPs has opened its doors in Pattaya, Thailand




UK museums are struggling to meet skyrocketing energy bills, with the energy crisis posing a higher threat to the sector than the Covid-19 pandemic




A wildfire on Easter Island which could have been started deliberately has caused 'irreparable' damage to the Unesco World Heritage Site's iconic moai head statues




Clearwater Marine Aquarium has debuted a new manatee exhibit to inform guests about the threats the species faces as well as the work being carried out by various groups to protect them




AVIXA produces a number of popular events around the world, including InfoComm and Integrated Systems Europe. The organisation's regional manager for the UK and Ireland, Ben Barnard, spoke to Planet Attractions




Russia's lethal barrage of strikes against Ukrainian cities this week has seen a number of cultural sites in the capital of Kyiv hit




The world's tallest freestanding drop tower will be dismantled in Orlando following the death of a 14-year-old boy on the ride




IAAPA's director, Global Communications, Caitlin Dineen, spoke to Planet Attractions at this year's IAAPA Expo Europe about her new role and what goes into putting on an event of such magnitude




Researchers from the National Academy of Sciences of Ukraine and London's Natural History Museum have discovered the cause of damage to several medieval murals in a Unesco World Heritage site in Ukraine




The entertainment group will provide full creative and production services for all live entertainment at this year's IAAPA Expo




Holla at your boy for the zoo work - Paradise Wildlife Park recently turned to professional pool cleaner turned social media influencer Miles Laflin - aka The Pool Guy - to clean the zoo's animal pools




The Louvre is among a number of French cultural institutions and landmarks turning their lights off in an attempt to cut soaring energy costs




Family-friendly active free-roam VR experiences provider Spree Interactive showcased its technology at this year's IAAPA Expo Europe. Co-founder and CEO Jonathan Nowak Delgado spoke to Planet Attractions at the show




A panel of industry legends will share their stories about the creation and evolution of Disney's Epcot at this year's IAAPA Expo in Orlando, Florida




Katapult brought its entire team down to this year's IAAPA Expo Europe in London. The company's creative strategist, Kelly Herrick, spoke to Planet Attractions




Simworx has partnered with Katapult to develop a new dark ride offering an adrenaline-fuelled car chase. Simworx CEO Terry Monkton and lead creative Matt Clarkson spoke with Planet Attractions about the exciting new project




Vantage announced the launch of The Joy Economy at this year's IAAPA Expo Europe. Planet Attractions spoke to the Whitewater division's new president, Michael Jungen, about the campaign and what he hopes to deliver with the technology




As Florida prepares for the arrival of Hurricane Ian, here's how the state's theme parks are handling the situation




Experiential design collective Conductr made its first appearance at an IAAPA show this year as part of the Experience UK stand in London. Planet Attractions spoke to co-founder and CEO Peter Cliff about the start-up and its plans for the future




With sizeable business growth and the need for new team members, HB Leisure has embarked on a recruitment drive, with the company aiming to expand its workforce in multiple locations worldwide




More than 200,000 people have voted in this year's UK Theme Park Awards 2022 with Alton Towers, Flamingo Land, Drayton Manor and more coming out with some of the top accolades




Triotech has landed a deal with Puy du Fou Asia that will see the dynamic attractions specialist supply several attractions to the upcoming SAGA attraction in Shanghai




The Giant - a mammoth moving attraction and exhibition - is coming to a city near you




IAAPA Expo Europe saw a 30% increase in attendees to its 2022 show in London, compared to its previous year in Barcelona




BoldMove will offer attendees a close-up look at its AR Hybrid Quest attraction




IAAPA Expo Europe is coming to London this September. Here's everything you need to know about the event




OCT Group has debuted a first-of-its-kind attraction at its new Fabland Valley Resort in China. Triotech's Ernest Yale and Nol van Genuchten speak to Planet Attractions about the exciting new multi-path dark ride, how it came to be and what it could mean for future attractions




WhiteWater is set to offer attendees a first look at its record-breaking Icon Tower at this year's IAAPA Expo Europe




The attractions community has been sharing stories of the profound impact Queen Elizabeth II had on some of Britain's most beloved institutions, paying tribute to the monarch following her death, aged 96




Planet Attractions recently travelled to meet the team behind IAAPA Expo Europe - the EMEA region's largest trade show for the attractions industry. Here's what to expect from this year's show.




Convious will recreate the guest experience to showcase the full capabilities of its cloud-based sales and marketing solution with an interactive, rocket ship-themed booth




Progress slow and hampered by financial woes, but museum soldiers on with hopes of a full reopening in 2027




Holovis has created an innovative two-in-one system that supports the delivery of two different media or real-time interactive experiences simultaneously within the same ride or attraction




Riders will face stormy weather and supernatural mysteries on this Intamin launch coaster




JRA has revitalised Bush's Visitor Center Museum in Tennessee, celebrating the brand's history and all things bean with an all-new guest experience




accesso is set to showcase what it calls 'the future of mobile consumer engagement' at this year's IAAPA Expo Europe, with expanded solutions designed to help operators connect, engage and build loyalty with visitors




Alterface has revealed new theming and media packages for its award-winning Action League dark ride




The kind of robotic technology seen at theme park rides worldwide will soon be available to cruise passengers out at sea




The 30-year-old Newport aquarium is also restoring and renovating its indoor exhibits and coffee shop




Experience design firm FORREC will be on hand to discuss several of its high-profile projects, including the new Legoland Korea Resort, at this year's IAAPA Expo Europe




The US$69m addition furthers the Queens Museum mission to bring arts and education to a diverse and international community




The multi-million-euros project will enable PortAventura to get one-third of its annual energy from clean electricity, and should be ready to power the park by the end of the year




As well as multi-sensory, playful and colourful installations, the attraction has a café, bar and retail store




Attractions.io is adding a new feature to its mobile platform with the company set to showcase its new for 2022 wayfinding solution at this year's IAAPA Expo Europe




Changes to the 2007 definition of a museum reflect industry's more inclusive and sustainable aims and roles




An immersive experience celebrating the life and music of rock legend Prince has opened in Chicago




FORREC and Sun Group have formed a long-term strategic partnership to develop world-class tourism projects in Vietnam




The Natural History Museum's Generation Hope: Act for the Planet programme will offer a series of free in-person and online events aimed at young people to help drive positive change for the planet




Media-based attractions specialist Triotech will showcase a new stand-up flying theatre attraction and announce a major European theme park project at this year's IAAPA Expo Europe




Hongkou attraction to honour city's avant-garde literary movement of the 1920s and its respected authors




With an influx of Ukranian refugees threatening to overwhelm available housing in Scotland, the government has announced plans to accommodate up to 1,750 people onboard Ambassador Cruise Line's Ambition on a temporary basis




The dynamic media-based attractions specialist will showcase several new ride concepts at IAAPA Expo Europe




Blurring the lines between an experiential art gallery, interactive theme park and detailed film set, Wake the Tiger is a new attraction that just opened its doors in Bristol, UK. We spoke to co-founder Graham MacVoy about the new attraction, dubbed the world's first 'Amazement Park'




More than 30 people have been injured after two rollercoaster trains crashed into each other at Legoland Germany




RWS Entertainment Group will showcase its capabilities as a full-service provider of visitor attractions and experiences at this year's IAAPA Expo Europe following two major acquisitions




Carnival's new sustainability plan will cut its emissions by 500,000 metric tons per year and save US$150m annually in fuel costs




Merlin has announced that three of its 'next generation' Lego Discovery Centres are coming to the US in 2023




SeaWorld, Cedar Fair and Universal have all experienced strong second quarters with the operators also revealing some hints as to what's coming for each in the near future




A light trail inspired by the iconic forest from the Harry Potter and Fantastic Beast franchises will open in the US in October




A new art installation powered by data from London's Natural History Museum will provide an ever-changing visual representation of how society's choices impact the natural world




Carmel Allen has been named the new managing director of Tate




Planet Attractions is set to be joined by some of the UK's top content creators this September for a special panel session to be held at IAAPA Expo Europe in London




Mather & Co has developed the visitor experience for Hydro Ness - a new hydro scheme in Scotland on the River Ness that generates renewable energy using an Archimedes Screw




The British Museum has proposed a 'Parthenon partnership' that could see the Parthenon Marbles - also known as the Elgin Marbles - returned to Greece for the first time in more than 200 years




A change in the law will see private ownership of big cats in the US banned, putting an end to possession of tigers, lions and other big cat species except by qualified entities




Michael Myers, Dracula and now The Weeknd will be offering the scares at this year's Halloween Horror Nights, with the Grammy Award-winning singer-songwriter set to debut an all-new horror experience




IAAPA is on the hunt for its new president and CEO with a global search now underway to find a replacement for the outgoing Hal McEvoy




Fundraising has started for the Natural History Museum's Urban Nature Project, a scheme which will allow the museum to turn its five-acre site into a free-to-visit educational outdoor space




As we enter the busiest time of the year for most waterpark operators, the team at WhiteWater has offered some tips to ensure the season runs smoothly




Experiential design collective Conductr has appointed Ben Dowson to oversee the company's creative division




Shark Week is back for 2022 and Planet Attractions has taken a deep dive to find a collection of shark-related content that you can take in during the event




Disneyland's Finding Nemo attraction has undergone a complete renovation, with the new attraction reopening to the public after a year-long closure




Disney is about to launch its upgraded MagicBand+, with the wearable technology offering a host of new features for visitors




Merlin Entertainments has partnered with Coca-Cola to offer exclusive experiences to guests who recycle their used plastic bottles at Merlin attractions




The projection mapping market could be worth as much as US$8bn according to a new report on the technology




Former pro skateboarders Jason Lee and Chris Pastras have donated personal skateboarding memorabilia to The Smithsonian to be a part of its sports history collection




Detailed replicas of the controversial Elgin or Parthenon Marbles, created by a robot, will soon go on display in London




Six Flags is offering improved access for its guests with physical disabilities with a specialised restraint harness that allows them to experience rides they would otherwise be unable to




The heatwave currently cooking the UK has forced the closure of one of Europe's most visited zoos




Rounding up all the biggest news from fans and influencers, here is your latest edition of From the Community from Planet Attractions




Planet Attractions travelled to Belgium recently to meet Peter van der Schans, IAAPA's new executive director and vice president for the Europe, Middle East, and Africa region. Here's what he had to say




Art conservators at the National Galleries of Scotland have discovered a hidden self-portrait of Van Gogh on the back of another of the artist's works during an X-ray




A £38m cultural development in the north of England is set to open its doors this weekend, with the debut of the astonishing Shakespeare North Playhouse in Prescot




The Avengers have assembled, this time in Paris for the launch of Avengers Campus at Disneyland Paris with stars Brie Larson, Pom Klementieff and Iman Vellani (and even Bob Chapek) all on-hand for the spectacular opening event






















© Kazoo 5 Limited 2023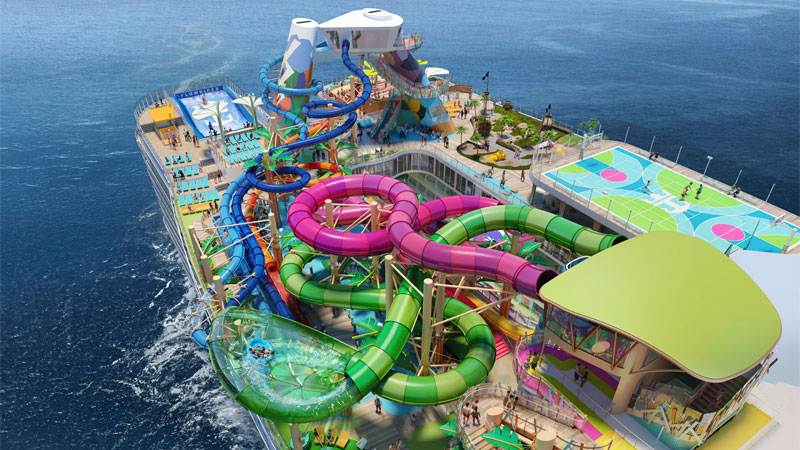 Icon of the Seas will feature the largest waterpark at sea when it sets sail for the first time in 2024, here's what went into developing the record-breaking attraction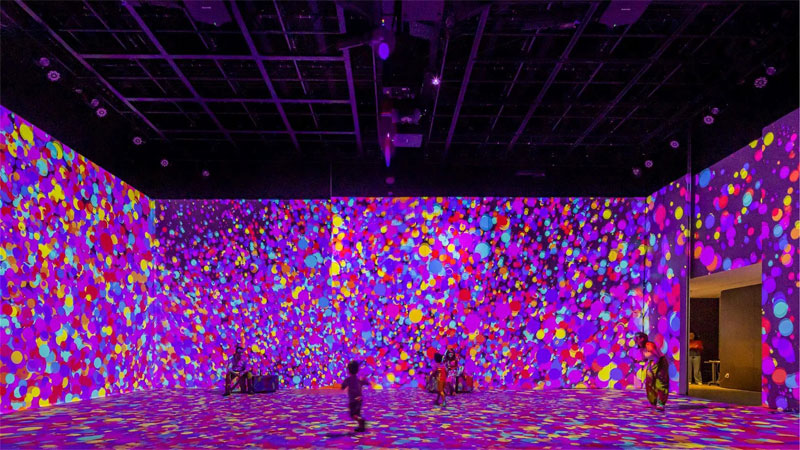 Christie has teamed up with Brazil's Museum of Image and Sound of Ceará on the installation of an immersive multimedia room as part of a revamp of the historic institution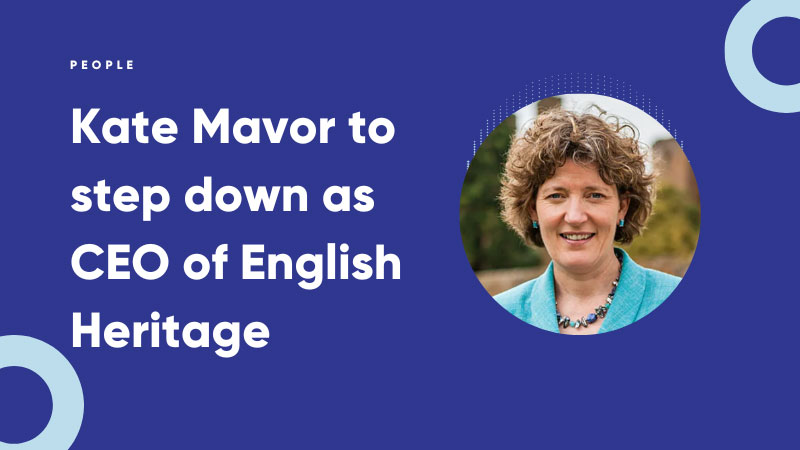 Kate Mavor CBE has announced that she will step down as CEO of English Heritage later this year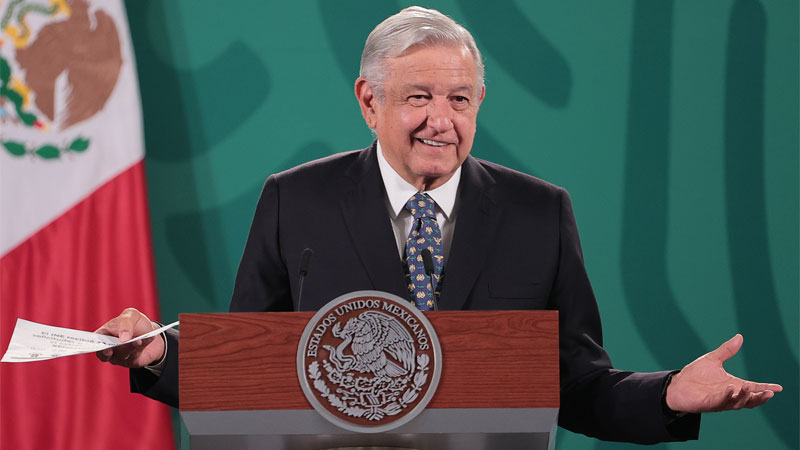 A cargo port controversially seized from a US company last week by the Mexican government has been earmarked for an XCaret style water and theme park, as well as a docking point for cruise ships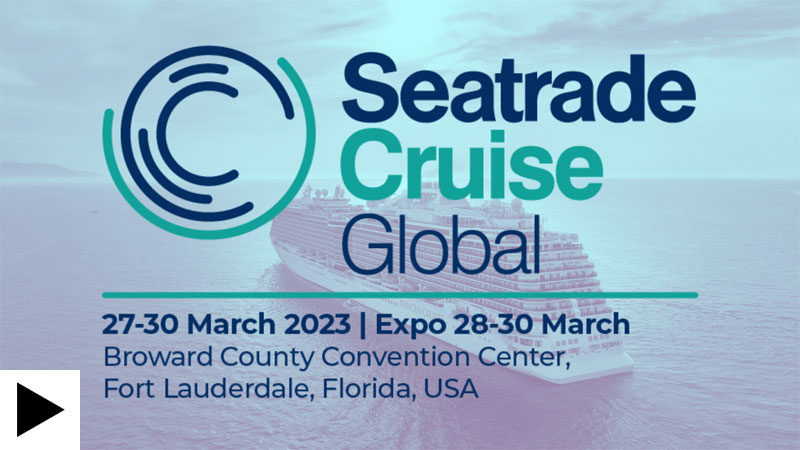 SeaTrade Cruise Global is returning to Florida next week. Here's everything you need to know...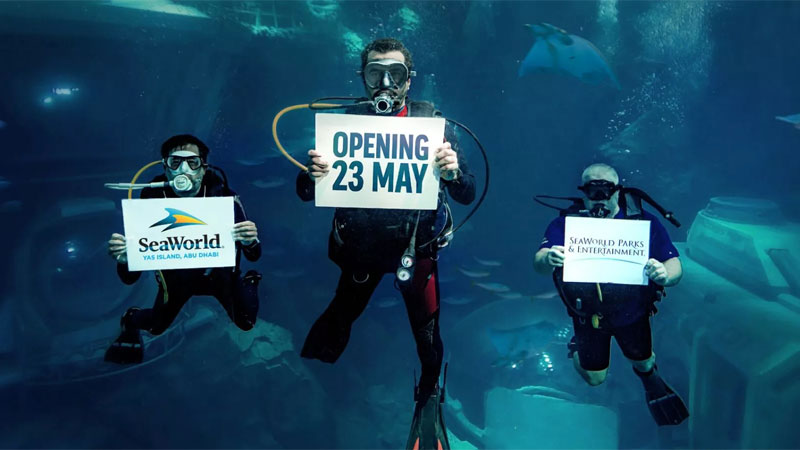 Immersive attractions developer Miral has confirmed that SeaWorld Abu Dhabi will open in May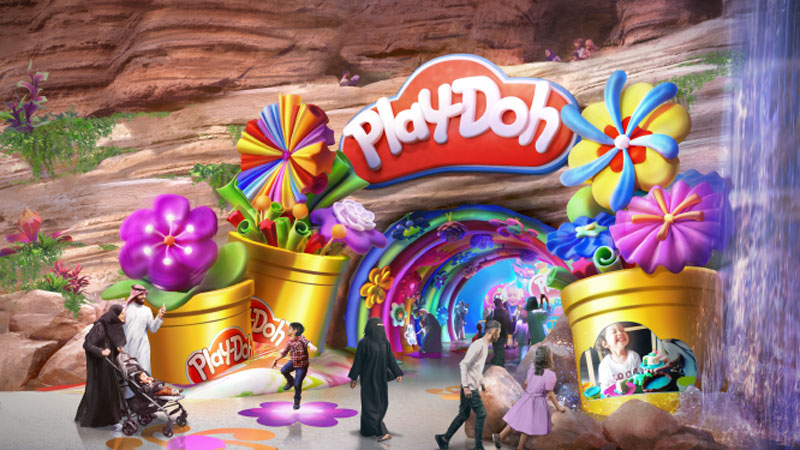 Development company Seven is to launch the world's first Play-Doh-themed attractions in partnership with Hasbro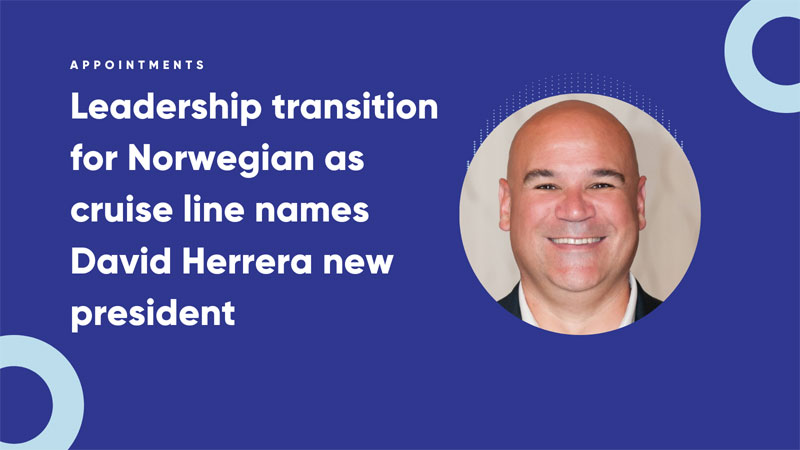 David Herrera has been named the new president of Norwegian Cruise Line, with Harry Sommer transitioning to be the next president and chief executive officer of parent company Norwegian Cruise Line Holdings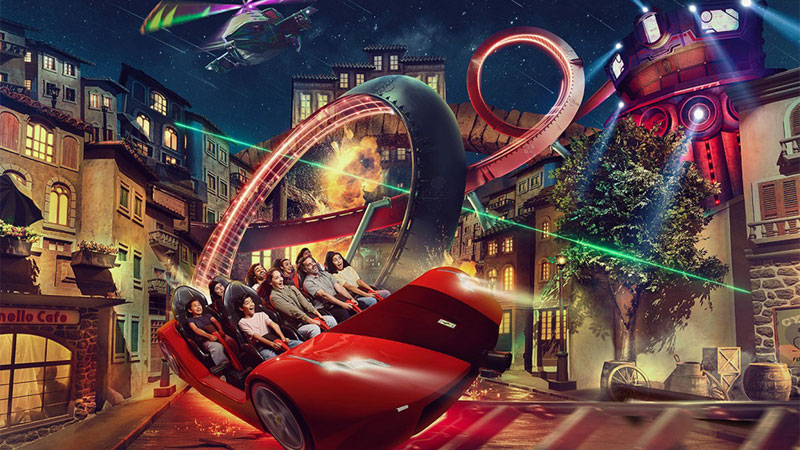 Ferrari World Abu Dhabi's Mission Ferrari opened to the public to much fanfare in January. Holovis's James Lodder shares a decade-long journey to realise this incredible immersive rollercoaster experience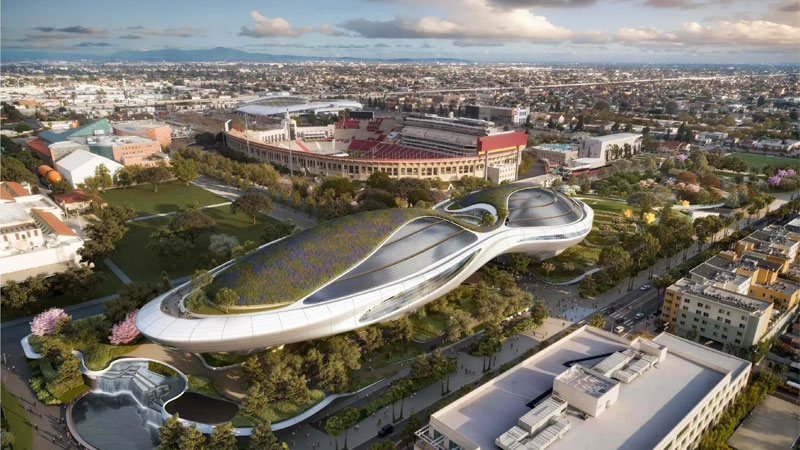 The Lucas Museum of Narrative Art is expected to open in 2025 after experiencing several delays.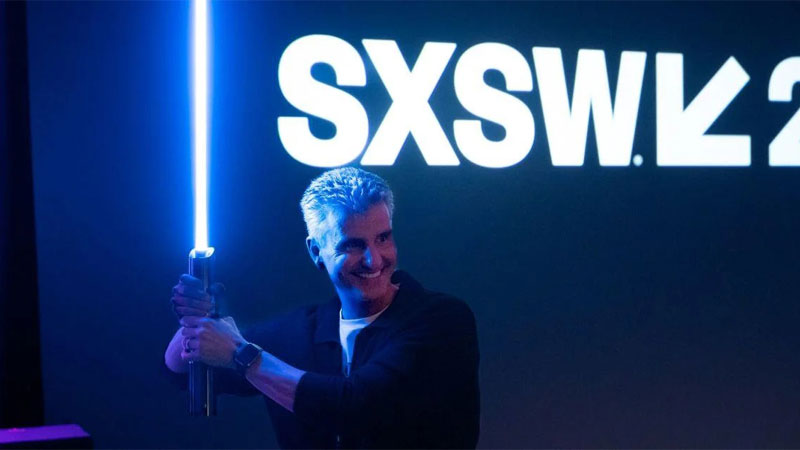 Disney has revealed a 'real' lightsaber at this year's SXSW, an arts and technology festival currently underway in Austin, Texas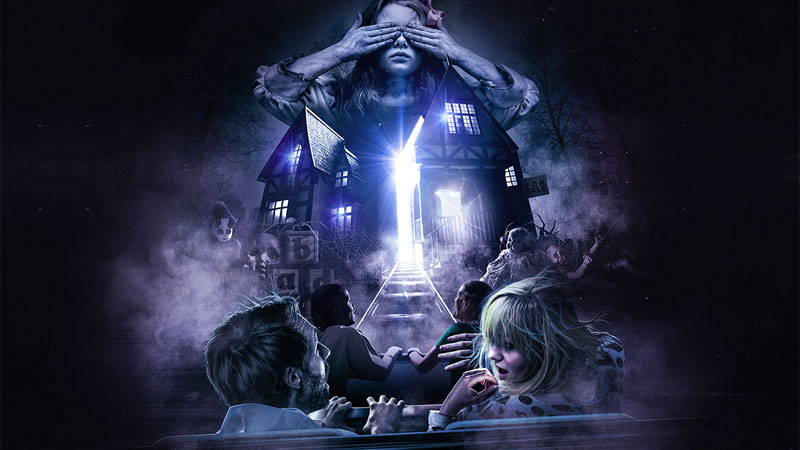 Staffordshire-based theme park Alton Towers has unveiled details of its upcoming Curse at Alton Manor dark ride ahead of its opening on March 18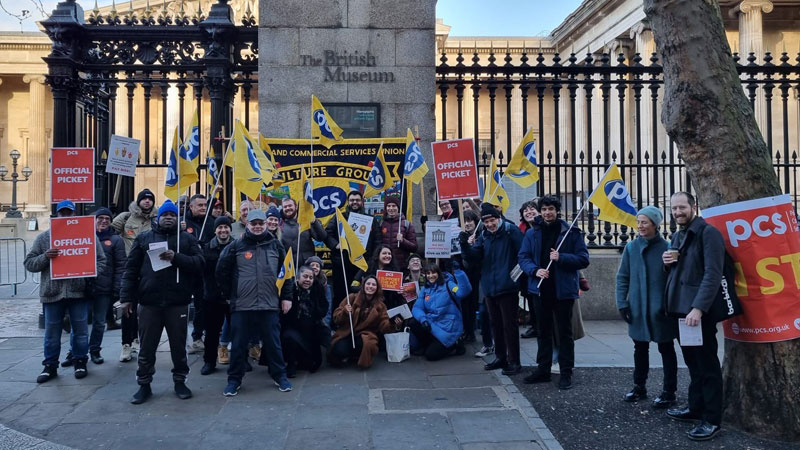 Thousands of UK museum and heritage workers have joined industrial action protesting against low pay and other working conditions.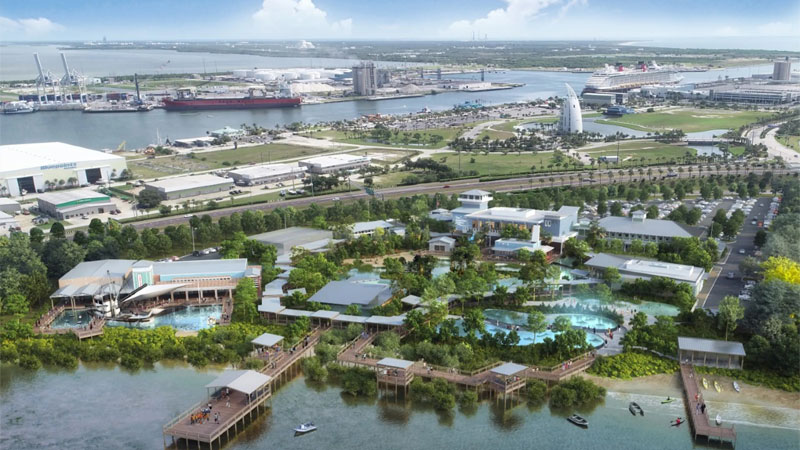 The first phase of construction on a new aquarium and nature conservation campus in Florida is scheduled to begin in October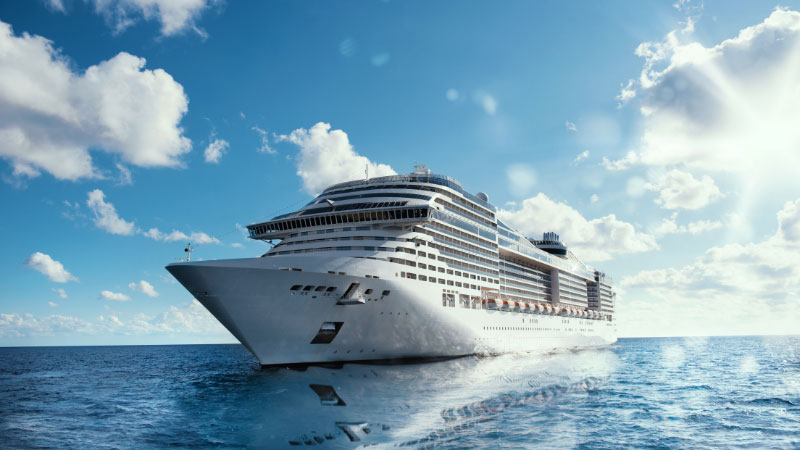 A new report exploring the market dynamics of the global cruise industry estimates the sector to grow to $16.7bn over the next several years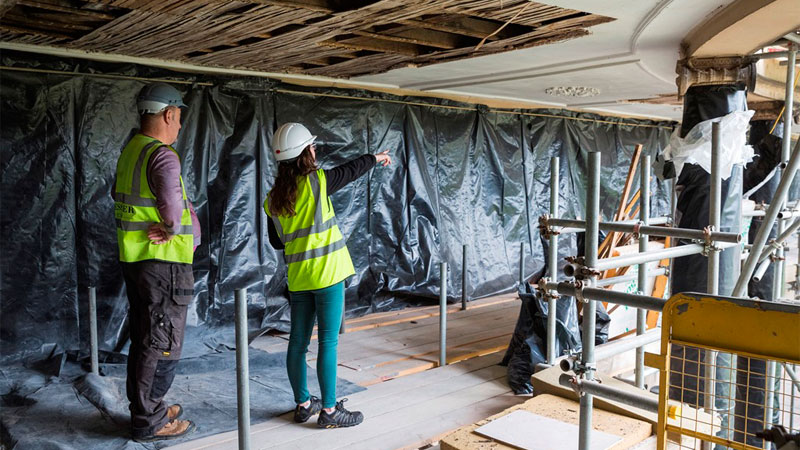 Teaching the construction sector the necessary skills to retrofit the UK's heritage structures could provide the British economy with a £35bn boost, a new report has suggested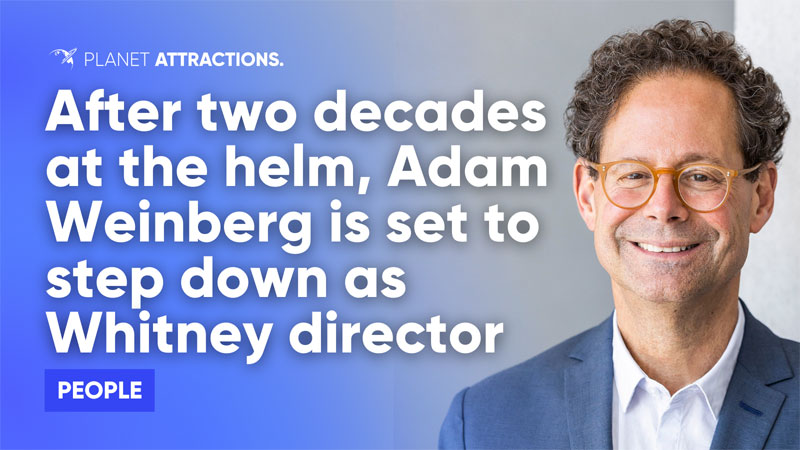 The Whitney Museum of American Art's long-term director Adam Weinberg is set to leave the institution in November, with Scott Rothkopf set to succeed him in the role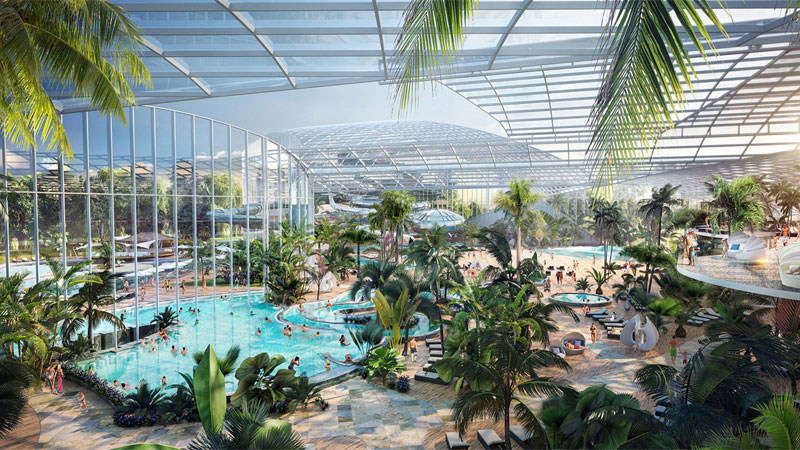 Therme Manchester, a major waterpark and wellbeing resort development in the UK, will soon enter its first phase of construction following demolition works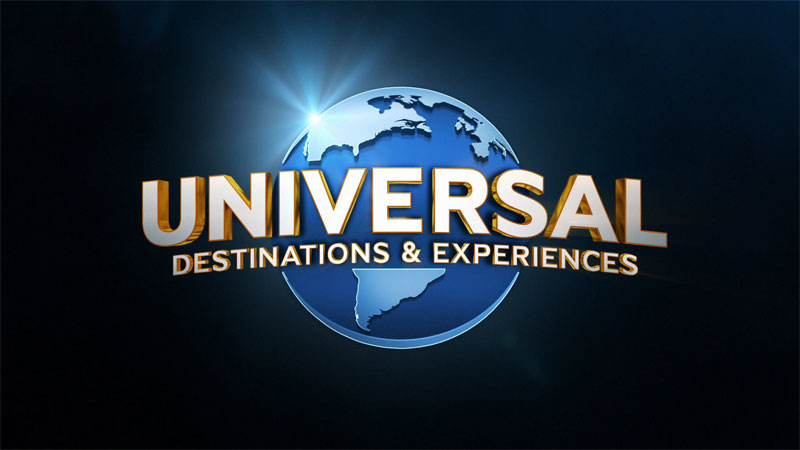 Universal's Parks & Resorts division will now be called Universal Destinations & Experiences following a rebranding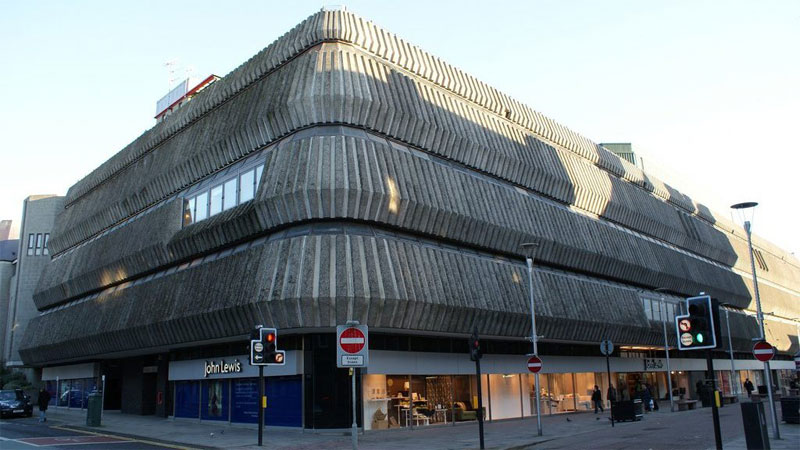 London's Natural History Museum has turned down a proposal to establish a branch in Aberdeen's vacant Norco House building, saying it has no plans to develop a regional offer.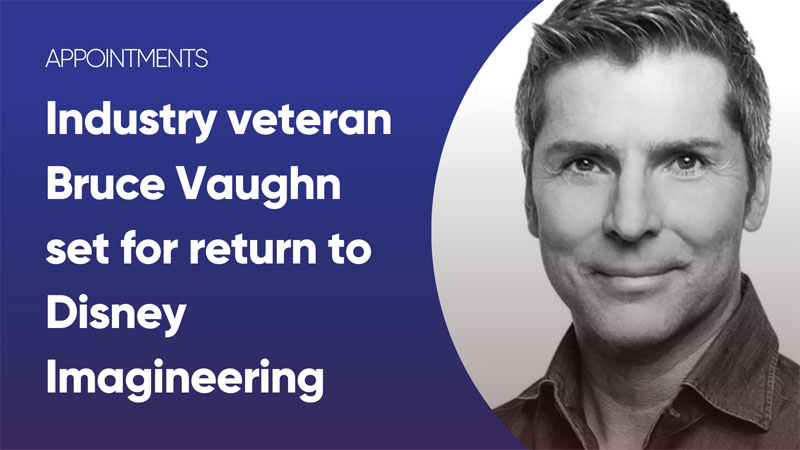 Bruce Vaughn is set to return to Disney Imagineering as chief creative officer, co-leading the division alongside Imagineering president Barbara Bouza


The Millennium Forum theatre in Derry has become the first Irish cultural venue to achieve Makaton Friendly Status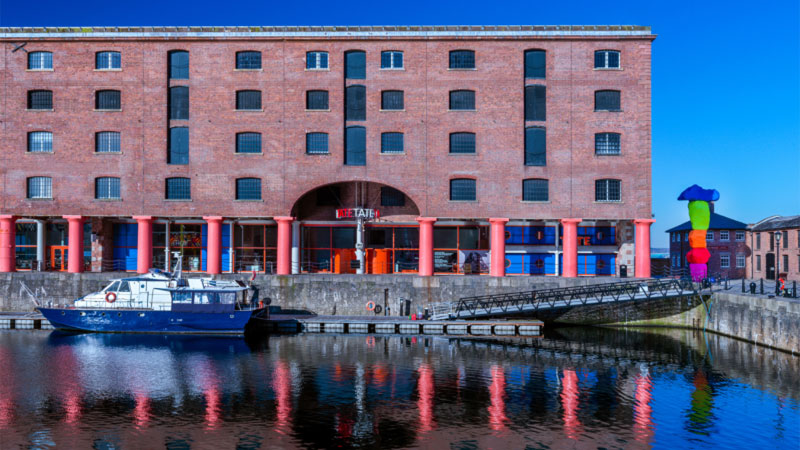 Tate Liverpool will close its doors in October ahead of a £25.5m multi-year redevlopment helmed by British architecture firm 6a architects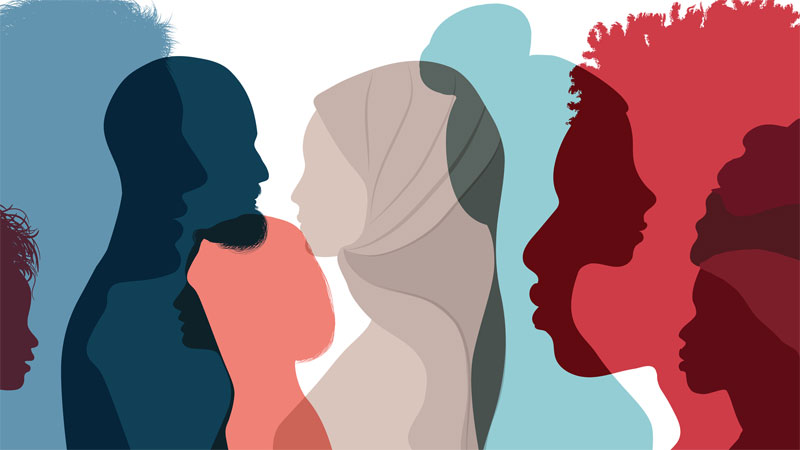 Equity is different from equality, and on International Women's Day Una de Boer reflects how to support this foundational step towards a more just world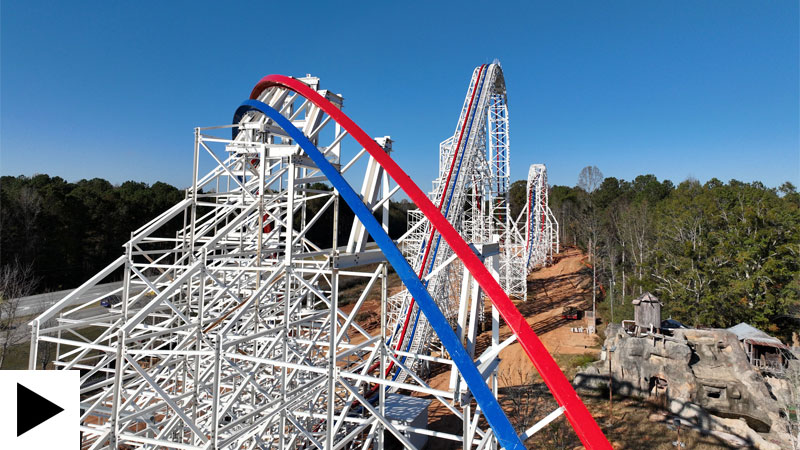 Fun Spot America Atlanta's hotly-anticipated RMC-manufactured ArieForce One is set to open later this month, with the major attraction representing the park's largest-ever investment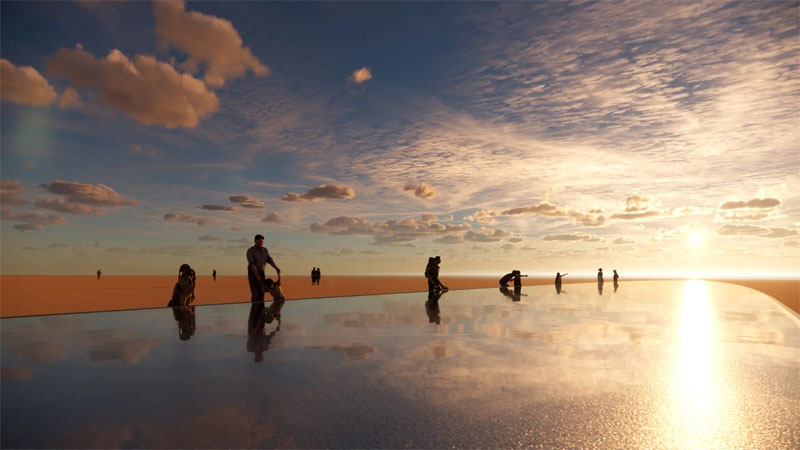 Scandinavian artist Olafur Eliasson has collaborated with author Robert MacFarlance to create a permanent art installation on the West Cumbria coastline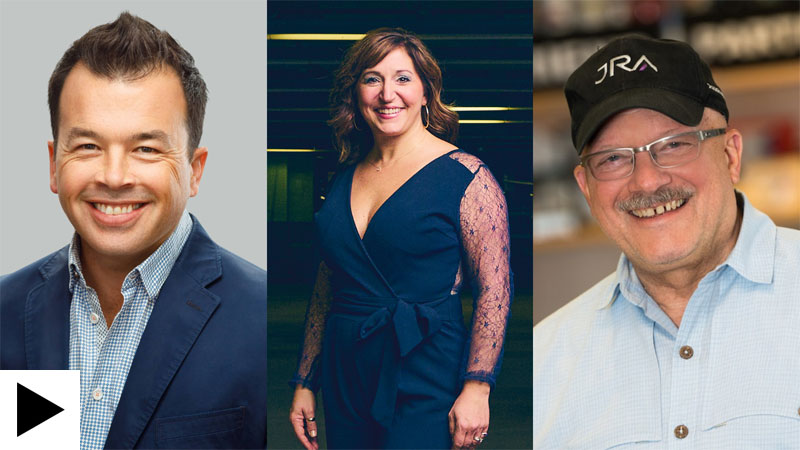 Keith James, president of JRA; Robin Breese-Davies, executive vice president of ted; and Danielle Kramer, executive vice president of RWS, speak to Planet Attractions about what looks to be a bumper year ahead for the company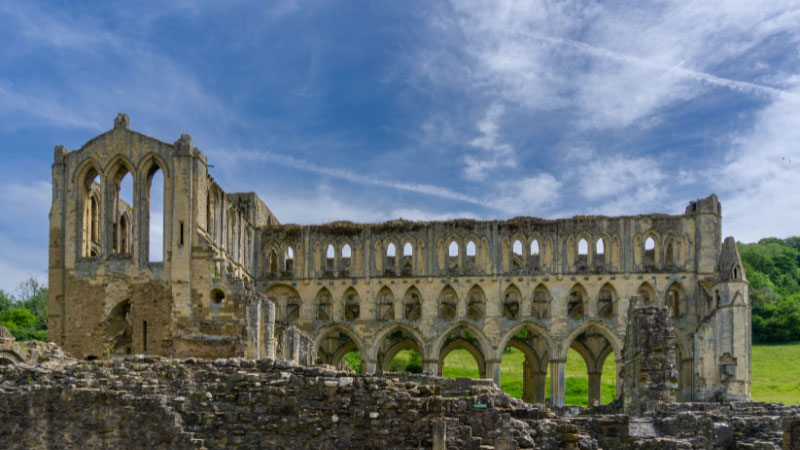 The UK's National Lottery Heritage Fund has announced several changes to its funding priorities to address concerns for the 'health and future of the nation's heritage'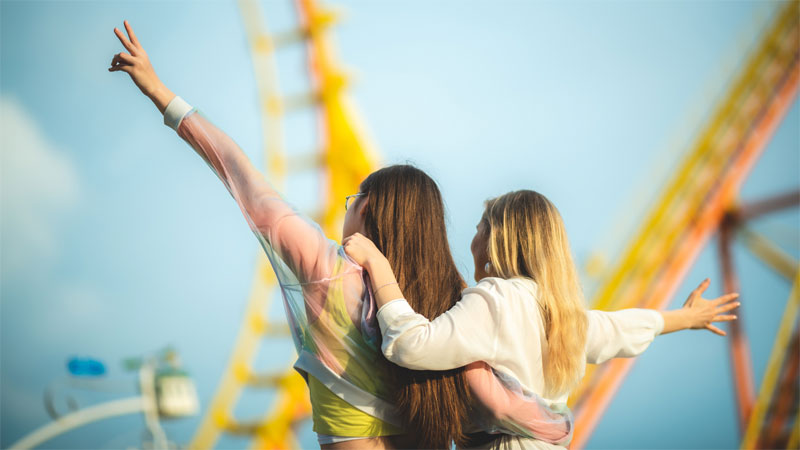 Adam Hattan explains how content creators can be effectively used to drive new and returning guests to your attraction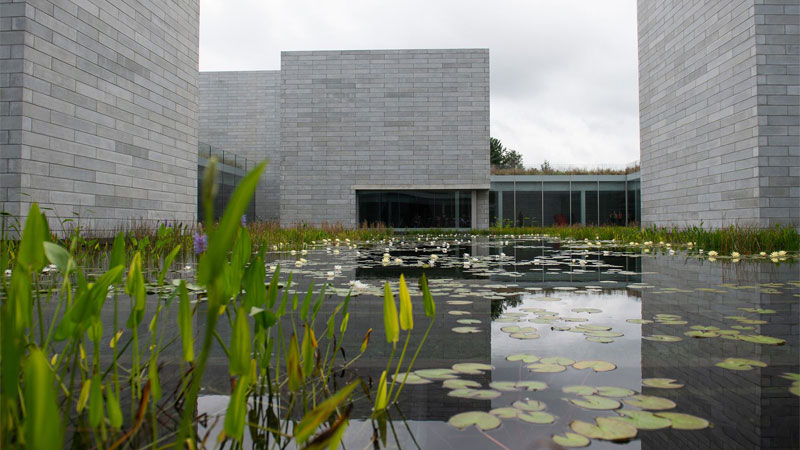 A private contemporary art museum in the US has received a US$1.9bn endowment, one of the largest arts donations ever made, from US businessman Mitchell Rales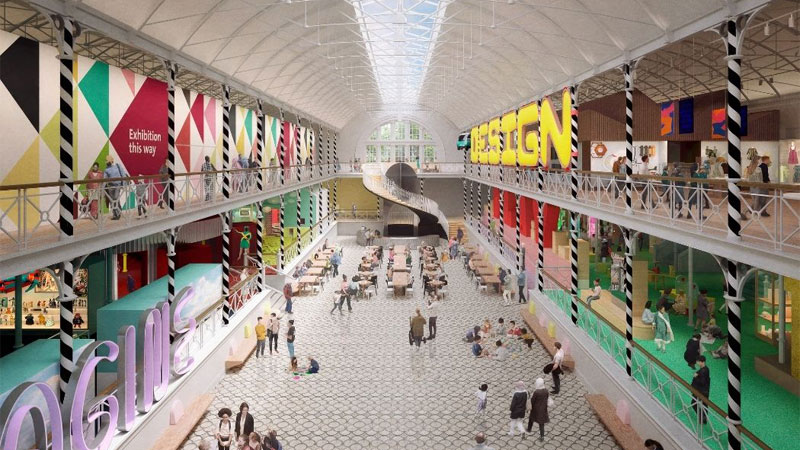 The Young V&A, formerly the V&A Museum of Childhood, will reopen in East London, after a multi-year, multi-million-pound redevelopment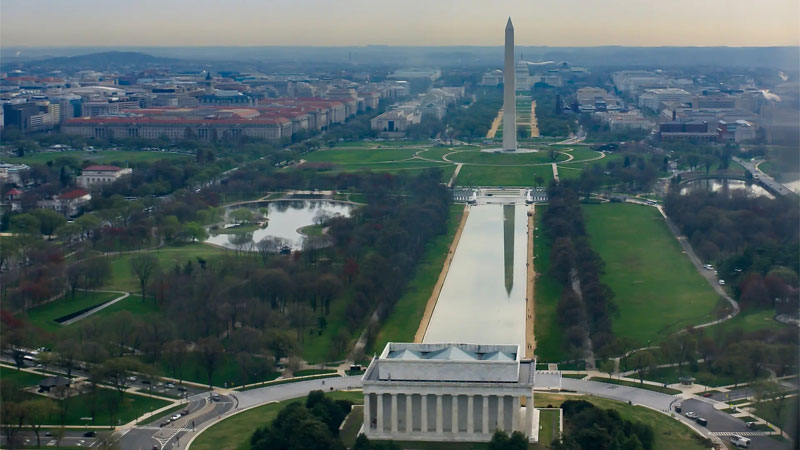 The Smithsonian has raised more than US$55m towards the development of its upcoming American Women's History Museum in Washington, D.C.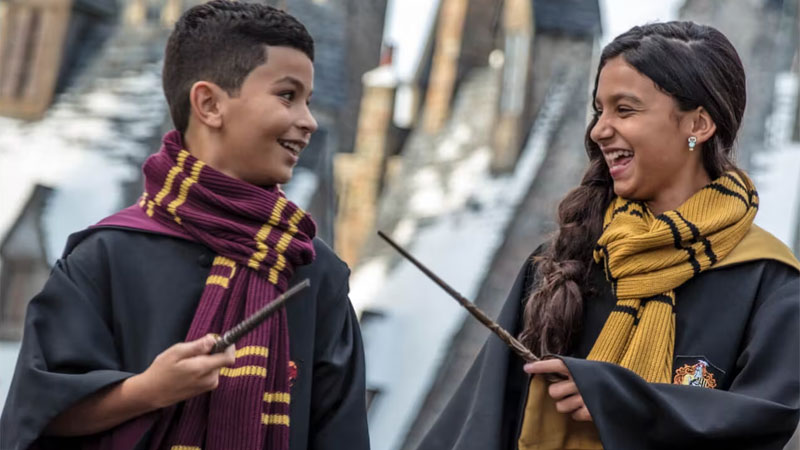 Universal wants to enhance its interactive experiences on offer, with the operator filing two new patents for character and wand technologies at its parks


Aquatic play structures are among the fundamentals needed for a waterpark. WhiteWater's Cassidy Newman tells us why...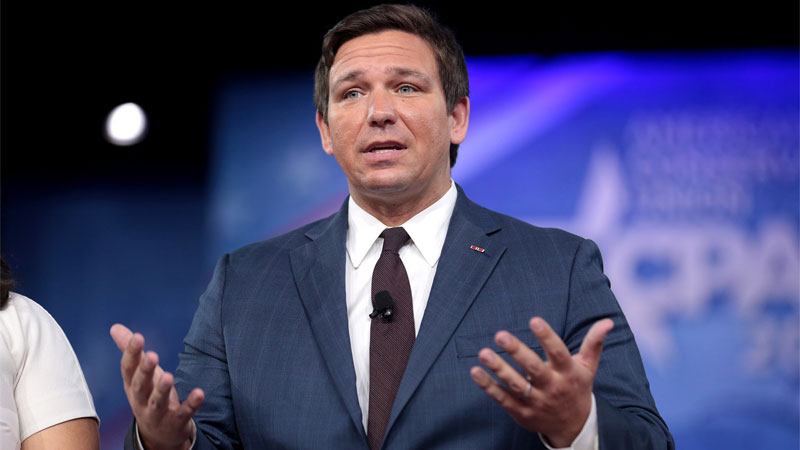 Florida's Republican governor has declared an end to Disney's 'corporate kingdom' with new legislation seeing the state gaining effective control of the company's Florida operations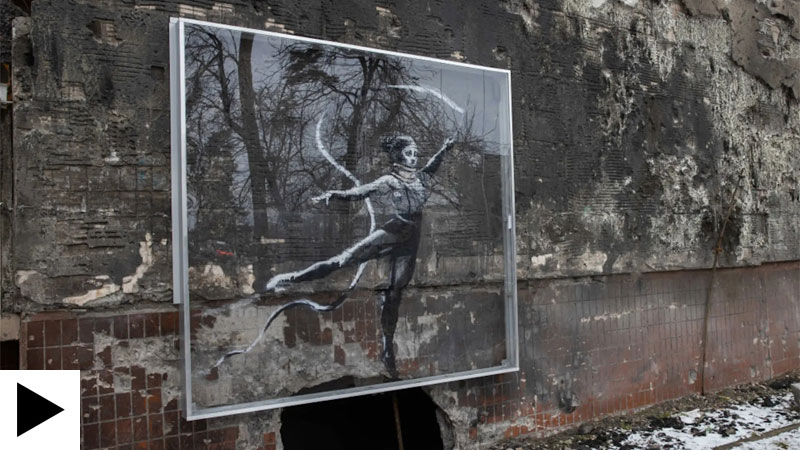 Ukrainian security company Ajax Systems has installed US$13,000 worth of security equipment to protect several Banksy artworks in Kyiv created by the artist during the Russian invasion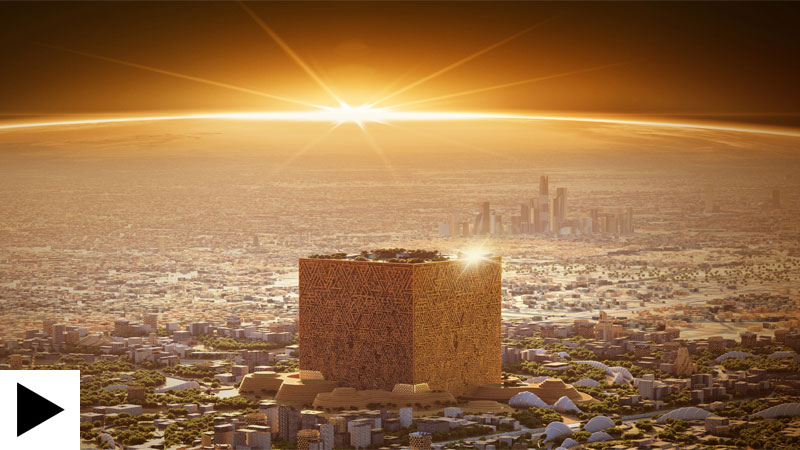 Saudi Arabia's Crown Prince has announced plans for New Murabba - a US$48bn commercial downtown development in Riyadh, anchored by a cube-shaped skyscraper large enough to accommodate 20 Empire State buildings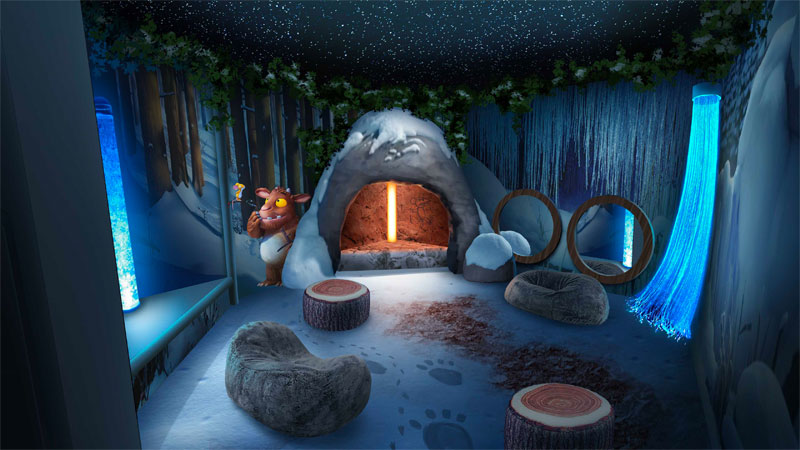 Merlin Entertainments is adding to its cluster of attractions in Blackpool, with a £2.3m Gruffalo-themed attraction set to open later this year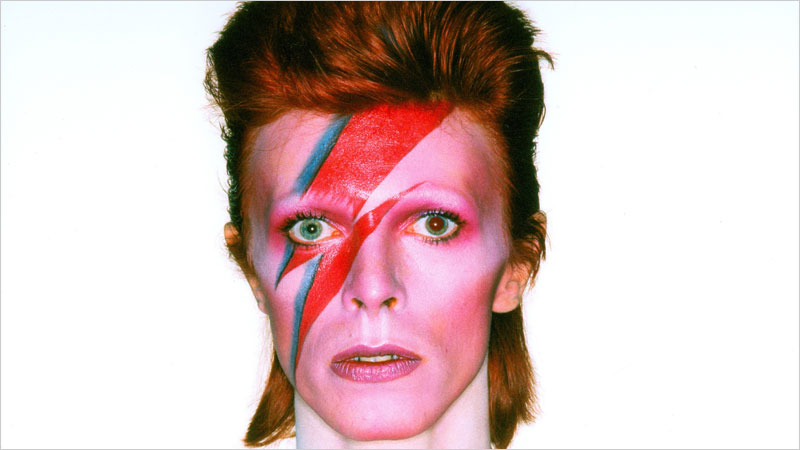 Original costumes, set designs, drawings and handwritten lyrics will allow visitors to V&A East to trace David Bowie's creative process across six decades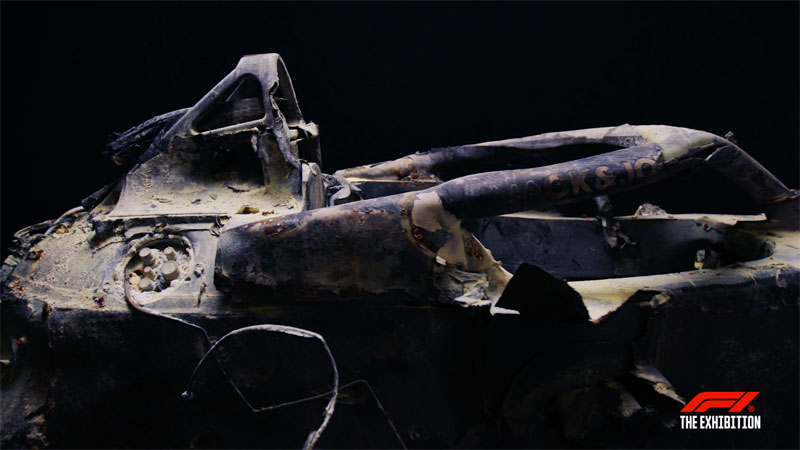 Romain Grosjean's torched F1 car from the 2020 Bahrain Grand Prix is set to go on display as part of a wider touring exhibition looking at the world of F1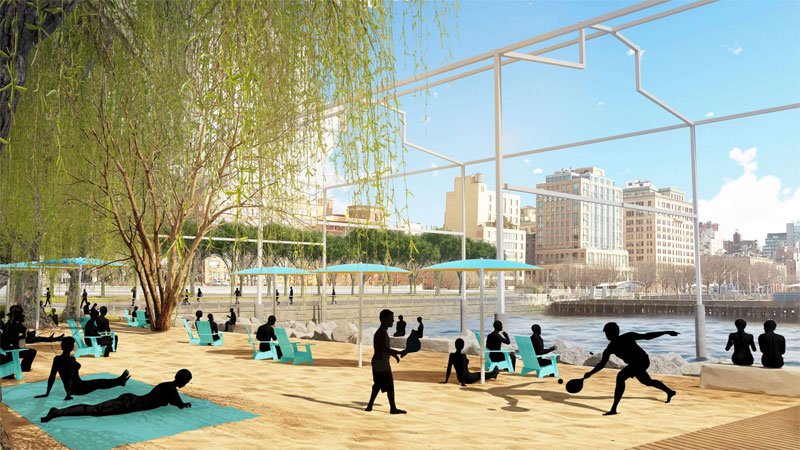 A riverside retreat featuring Manhattan's first public beach is set to open in New York City this summer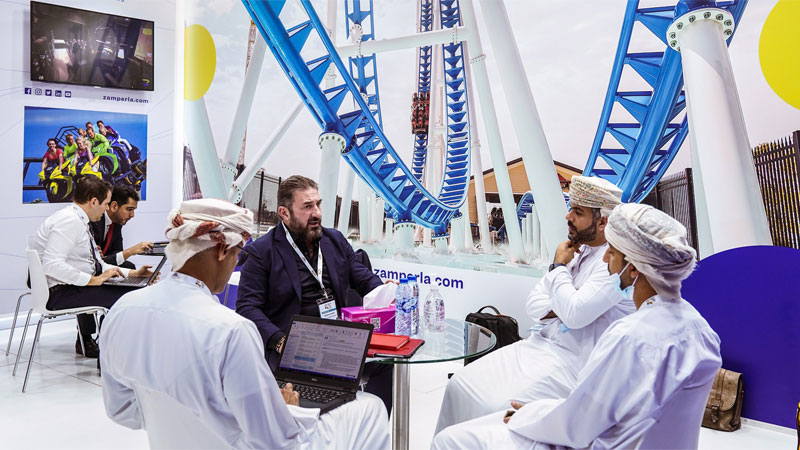 DEAL is coming back to Dubai next month. Here's everything you need to know about the region's hottest attractions show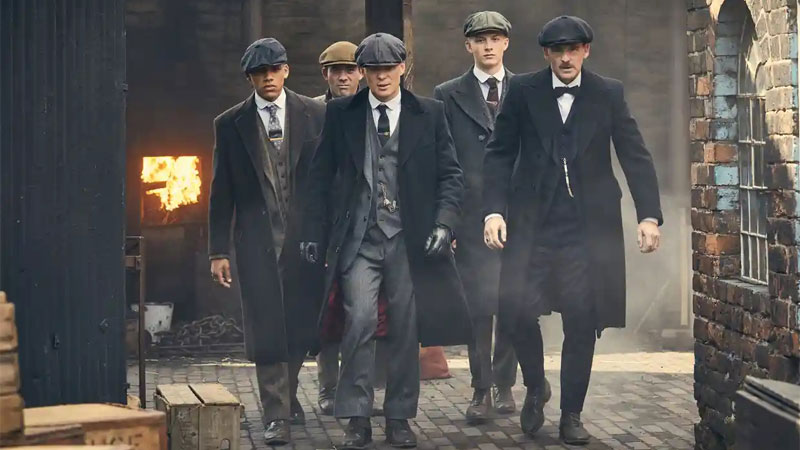 Rumours that a Peaky Blinders theme park is in the works are not to be believed but officials have said there are potential plans for a permanent attraction based on the popular IP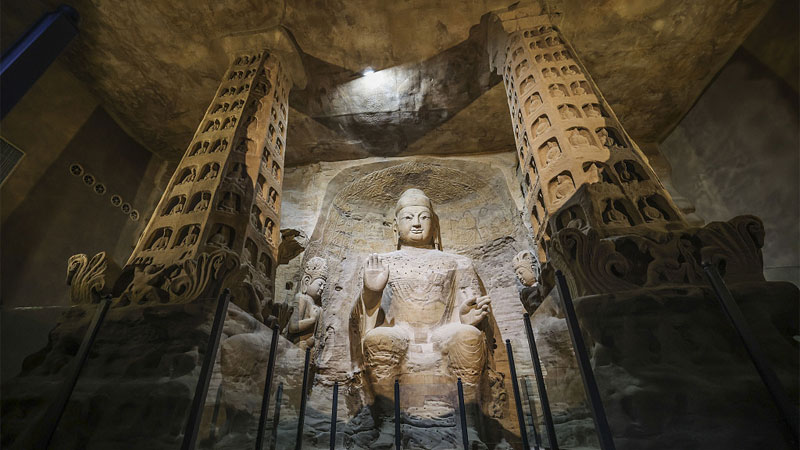 3D printing has been used to create a full-size replica of a World Heritage site in China, offering visitors an up close and personal experience while also securing crucial data for future world heritage protection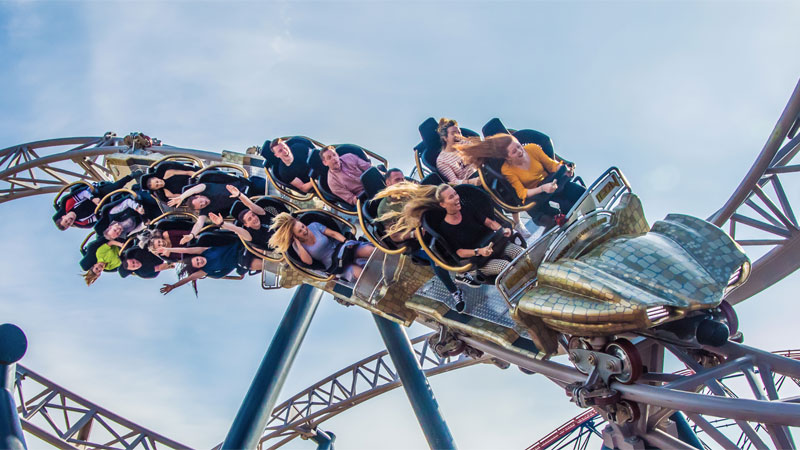 Fancy a job as a rollercoaster test rider? Well good news - Blackpool Pleasure Beach is on the hunt...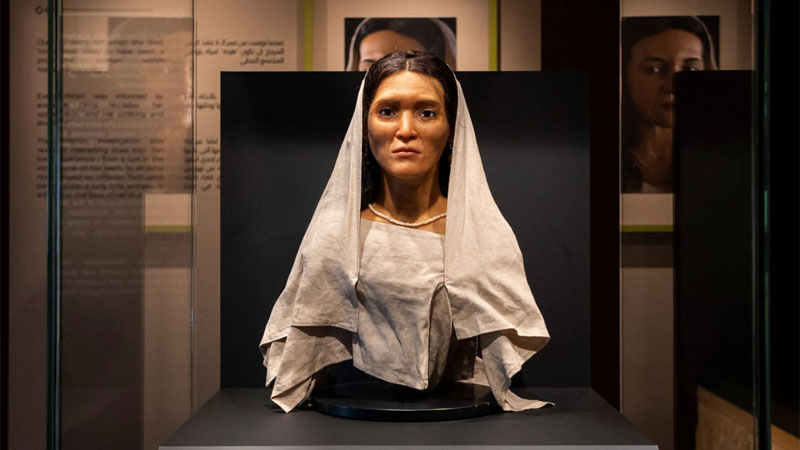 The Hegra Welcome Centre in AlUla, Saudi Arabia, has unveiled a new exhibit; the reconstructed face of Hinat, a woman who lived more than 2,000 years ago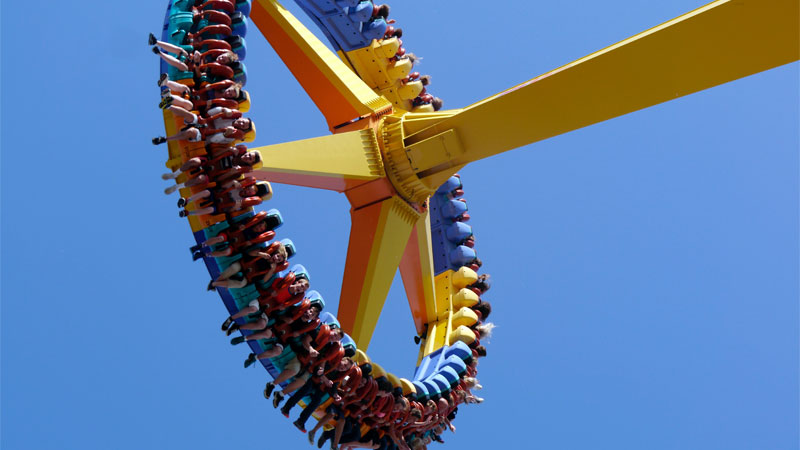 Cedar Fair has broken revenue and earnings records, with the operator bouncing back from the effects of the global pandemic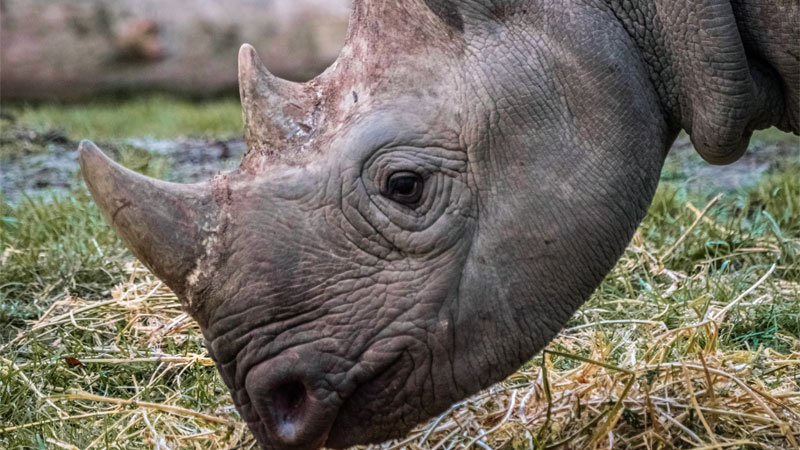 A recent survey suggesting the public would support the phasing out of large animals in zoos doesn't 'seem to relate to the real world', according to BIAZA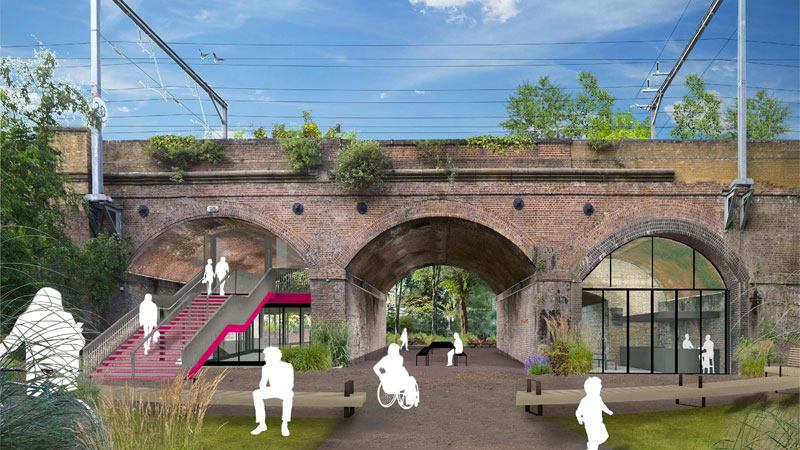 London is set to emulate New York's Highline with its own version running from Camden to St Pancras. Here's everything you need to know about the £14m project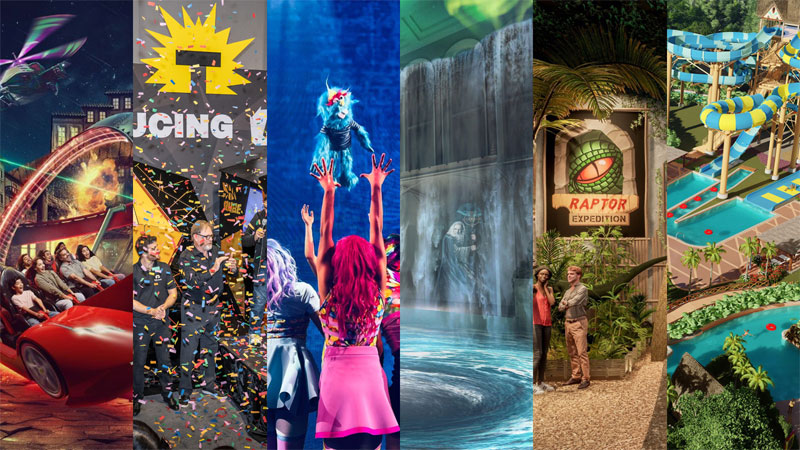 From waterpark suppliers and media specialists to creative designers and dark ride producers, Planet Attractions has gone to every corner of the globe to find out what's hot in 2023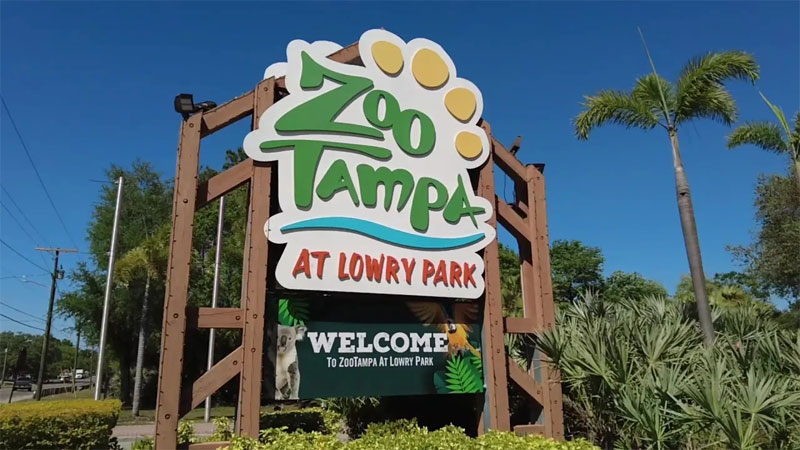 A new partnership between ZooTampa and the Children's Hospital at Tampa General Hospital will see the development of several new wellbeing-focussed experiences at the zoo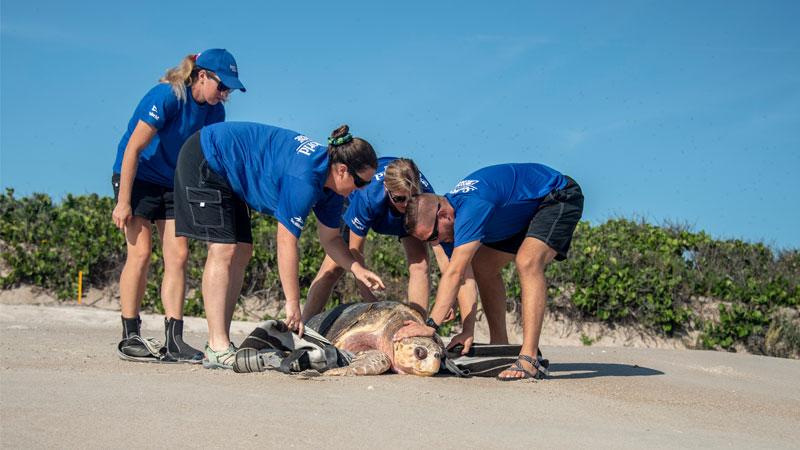 SeaWorld is expanding its network of rescue centres with the launch of Yas SeaWorld Research and Rescue - the first such SeaWorld site to open outside of the US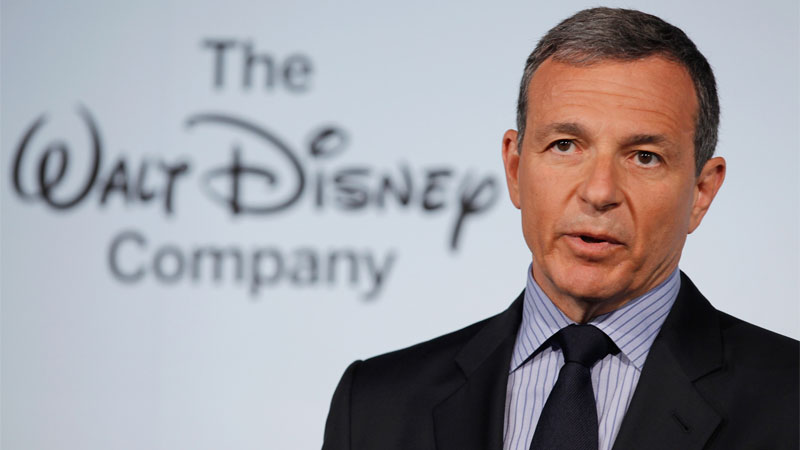 Disney is set to axe 7,000 people as part of a US$5.5bn cost cutting plan following its Q1 results. The operator's parks however continue to thrive with the Parks, Experiences and Products division performing strongly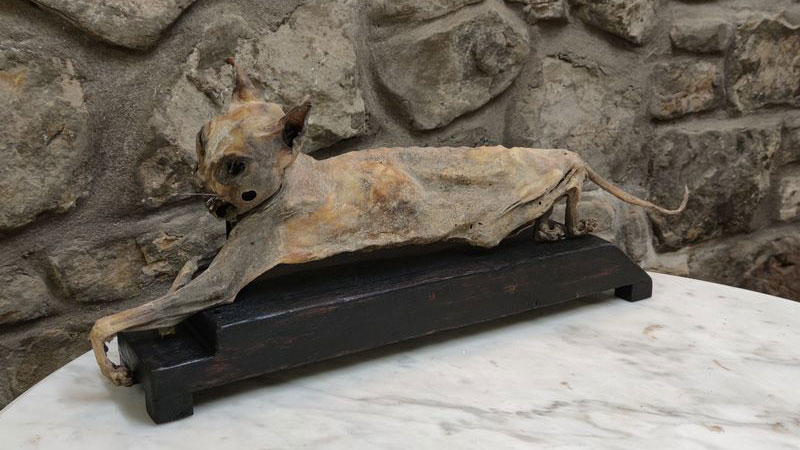 A museum dedicated to sharing Scotland's history with the occult will open in Edinburgh at the end of February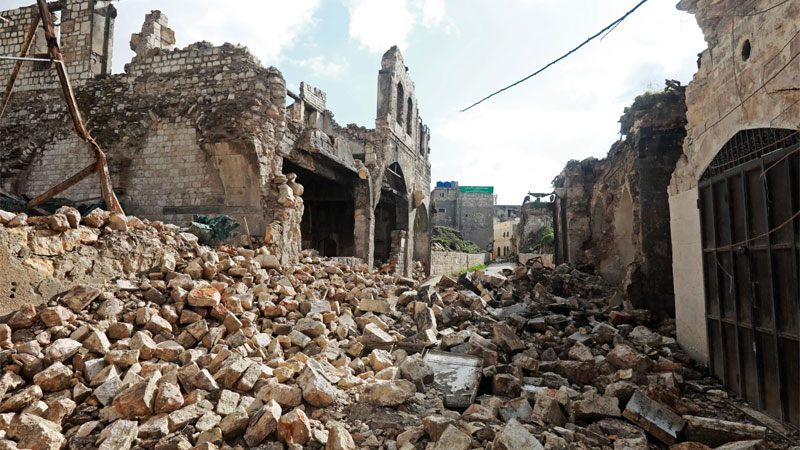 Unesco has offered its support to the victims of the devastating earthquake that rocked Turkey and Syria this week as concern grows for a number of historically important World Heritage sites in the region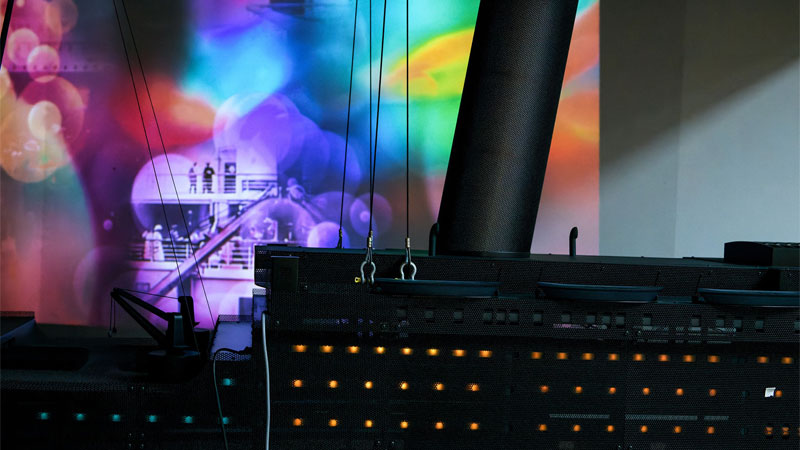 The popular Titanic Belfast attraction will reopen next month with four new galleries and a 7.6m-long replica of the iconic ship following a multi-million pound revamp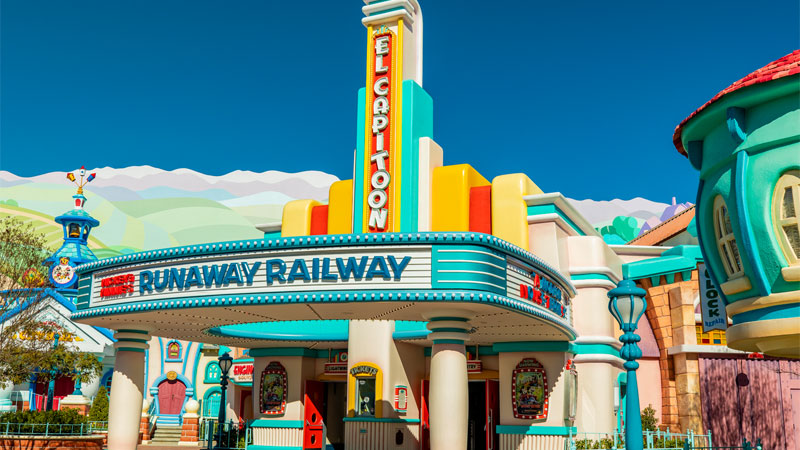 Mickey and Minnie's Runaway Railway is the featured addition to Disneyland as the park celebrates 100 years of Disney with a host of new attractions and experiences


The former Pleasure Island could find new life as a tourist destination after plans were submitted to turn the former theme park into a £65.9m holiday site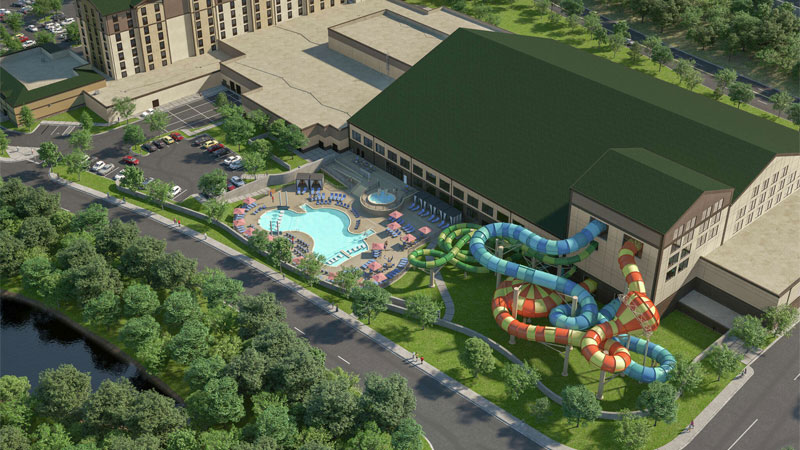 Operator Great Wolf has broken ground on a new US$300m resort in Connecticut, with a 91,000sq ft indoor waterpark set to be the development's main attraction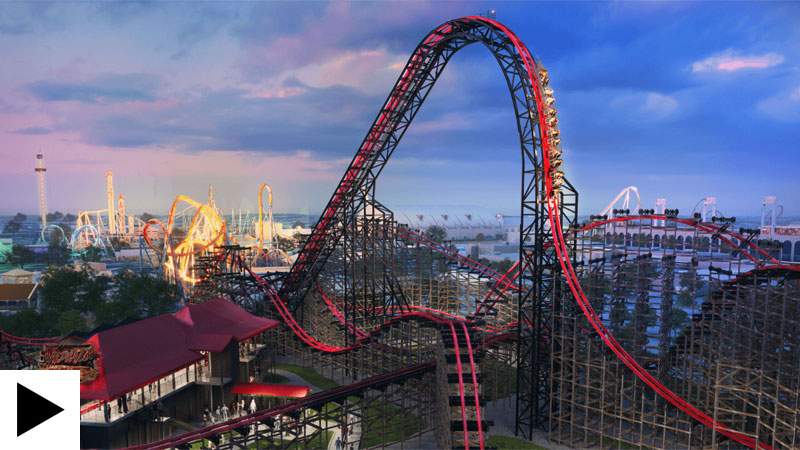 Hersheypark has revealed the official video for the highly anticipated Wildcat's Revenge, showing for the first time the full track layout of the upcoming hybrid coaster in first person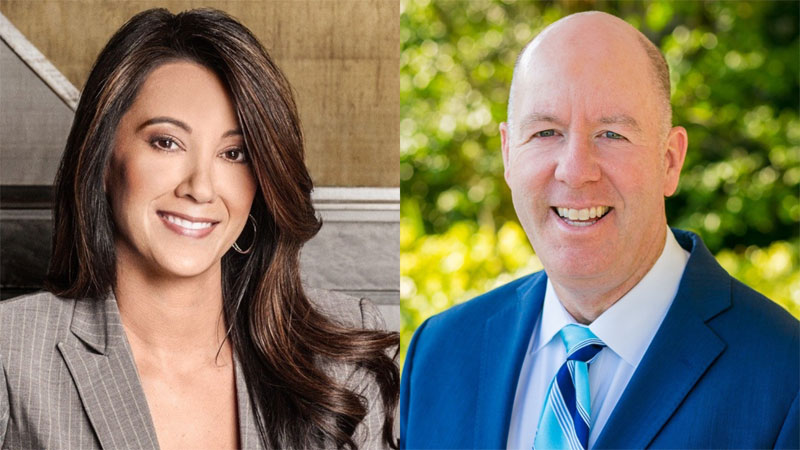 SeaWorld has announced a shakeup of its leadership structure, making eight new appointments as the company seeks to accelerate growth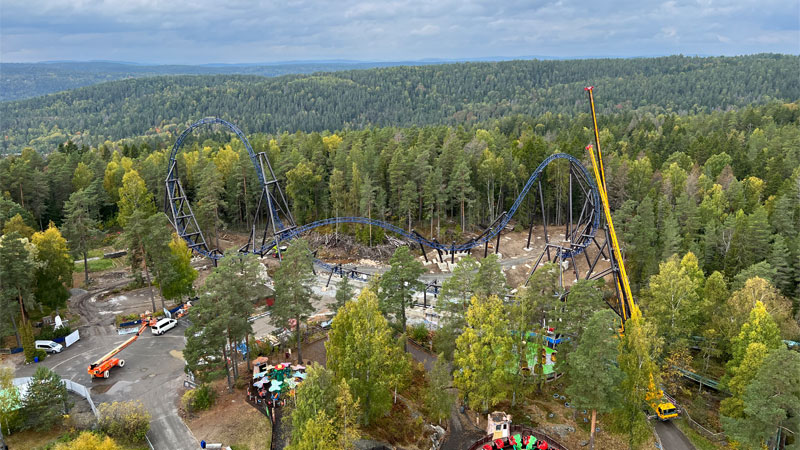 Norway's TusenFryd will soon launch Europe's first ever suspended triple launch coaster, with the NOK100m Storm - The Dragon Legend being described as the 'most important single investment' in the park's 34-year history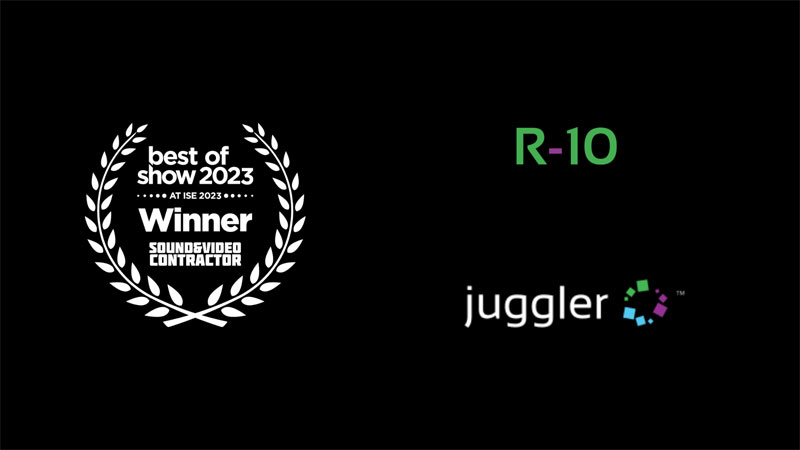 Media tech specialist 7thSense has been recognised for two products in its brand new Performer range at this year's ISE, which is currently underway in Barcelona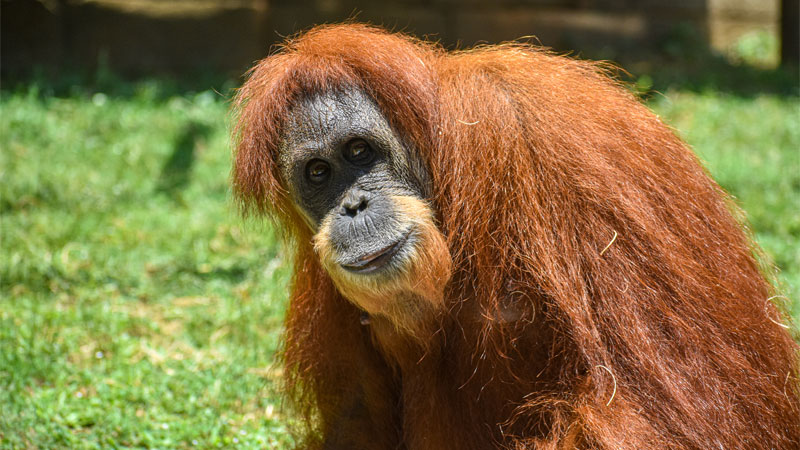 South Carolina's Greenville Zoo is looking at changing to a nonprofit operation following a city consultation last month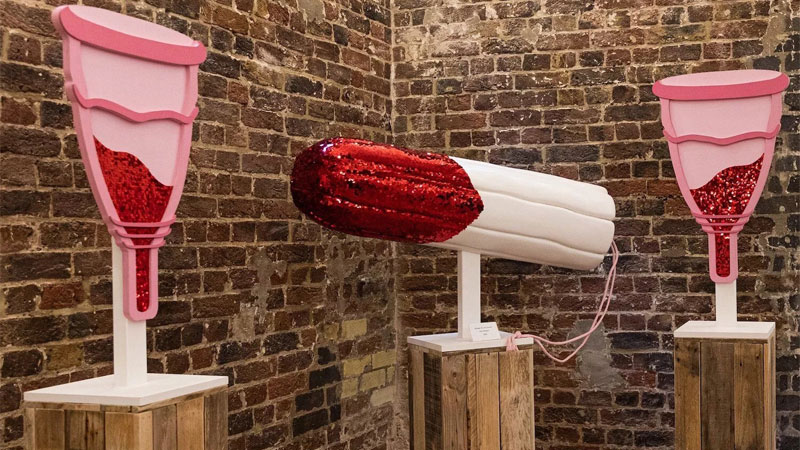 The Vagina Museum has announced that it will close this week after being asked to vacate its East London premises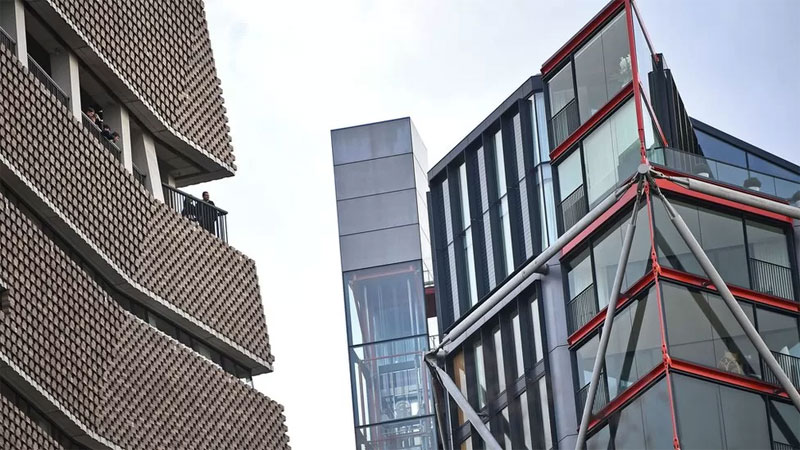 The owners of four luxury flats overlooked by the Tate Modern in London have won a privacy bid over the use of the gallery's viewing platform.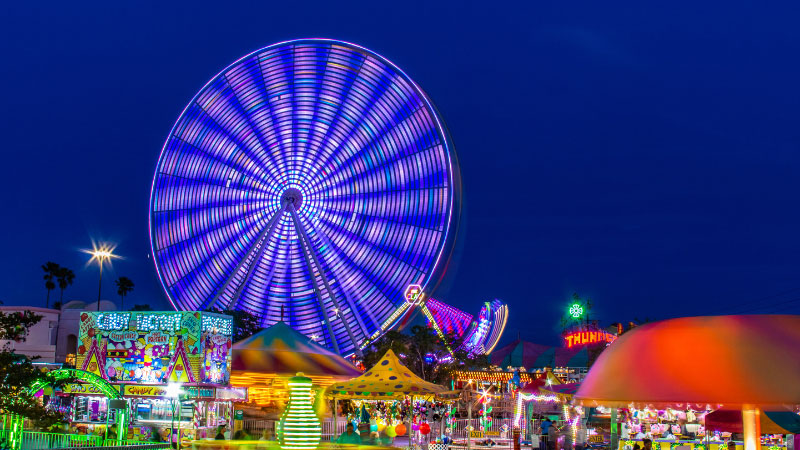 A new report exploring the market dynamics of the global amusement and theme park industries estimates the sector to grow to $85bn in the next five years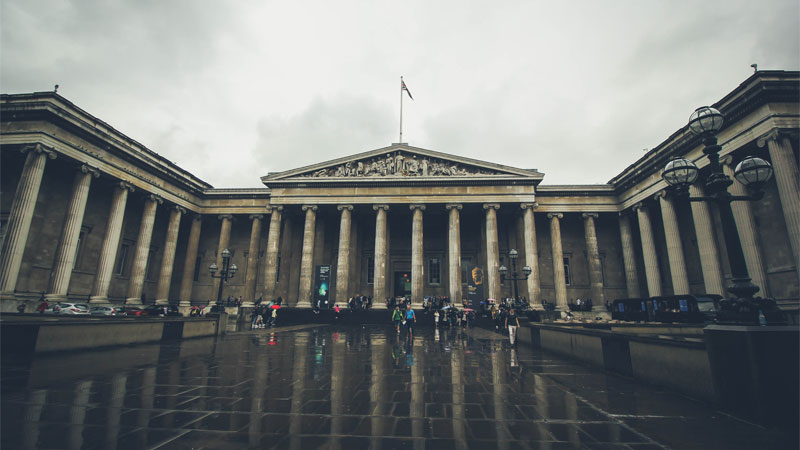 Workers at the British Museum along with a number of other institutions across the UK are set to go on strike in February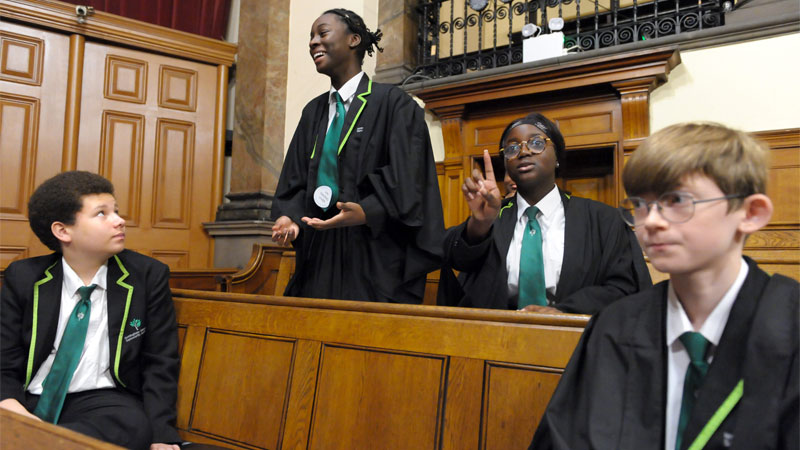 Kids in Museums has launched a new initiative aimed at having young people discuss, learn and advocate for the future of the museum sector


Universal parent company Comcast revealed a nearly 50% increase in revenue driven by theme park attendance in its annual financial report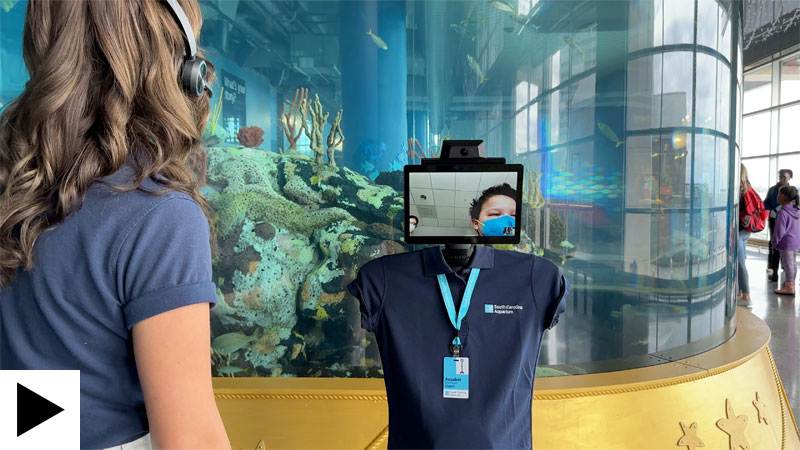 Patients at a number of children's hospitals across the state of South Carolina can now explore Charleston's popular aquarium remotely, using a robot to interact with the exhibits and take part in tours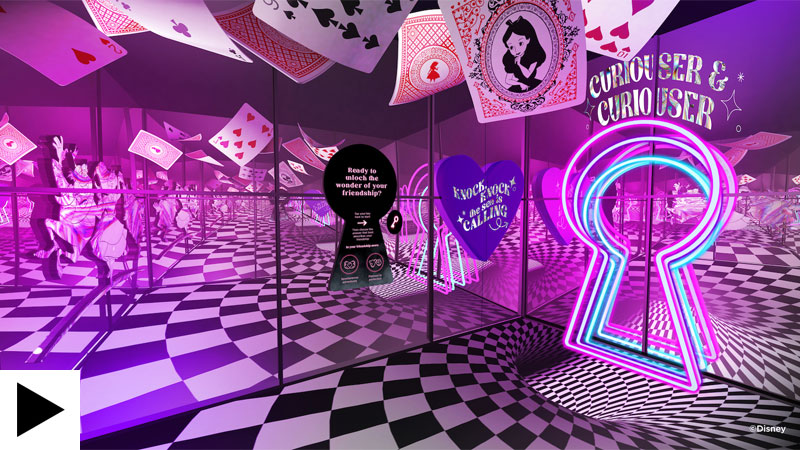 Disney is celebrating 100 years with an adult-oriented immersive experience coming to London, Berlin and Paris in 2023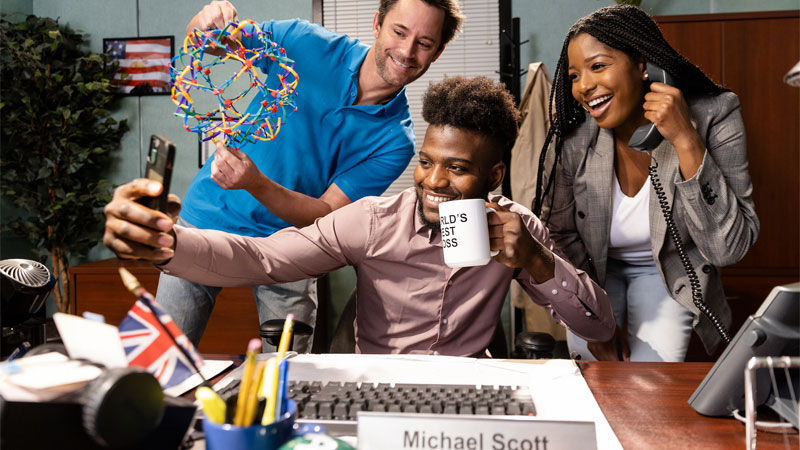 An interactive experience taking visitors inside hit NBC sitcom 'The Office' is set to open in Toronto later this year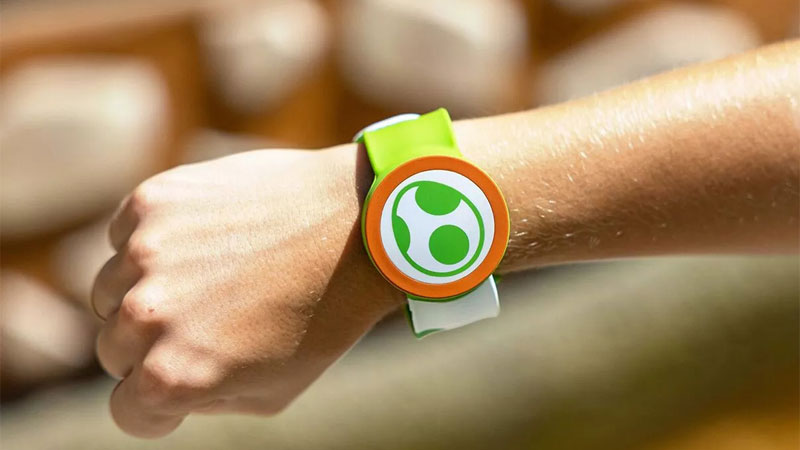 Universal Studios Hollywood is levelling up the experience at the upcoming Super Nintendo World with its all-new Power-Up Band. Here's what the technology does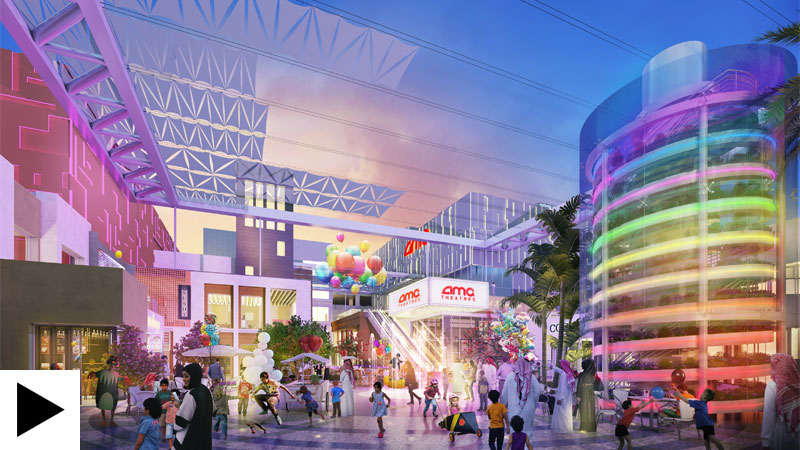 Another mega project has been announced for Saudi Arabia, with the PIF's Seven announcing plans for a SAR1bn entertainment destination in the city of Tabuk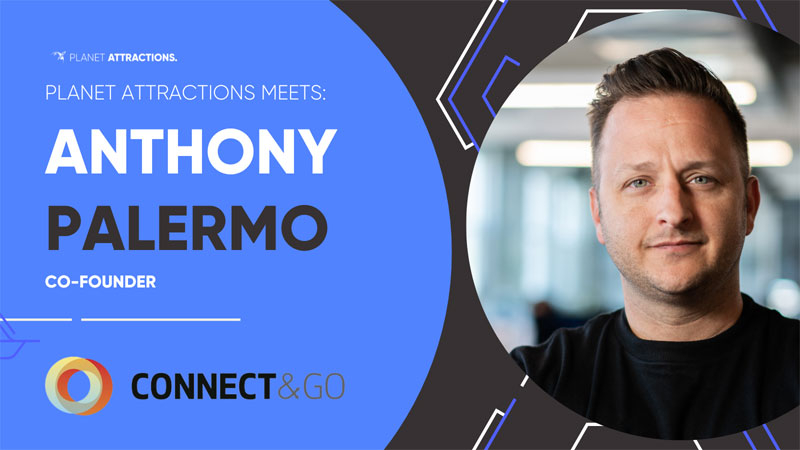 Connect&Go - a global leader in guest and attractions management technology - has grown significantly over the last decade. Its co-founder Anthony Palermo spoke to Planet Attractions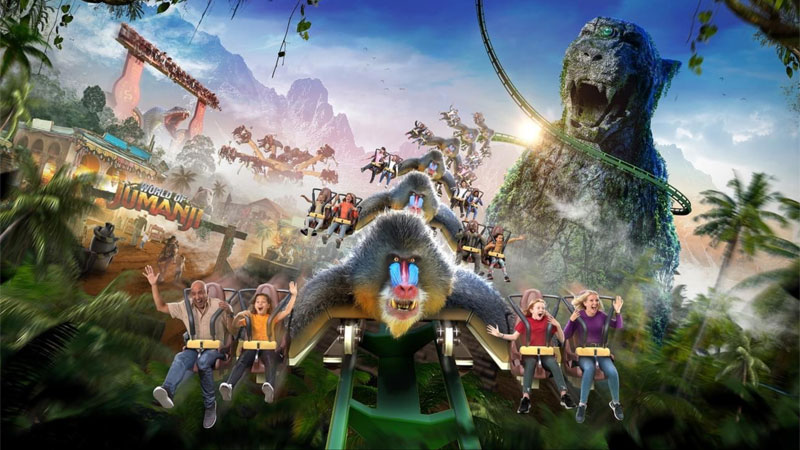 Chessington World of Adventures has unveiled what will become the world's first Jumanji-themed coaster when it opens later this year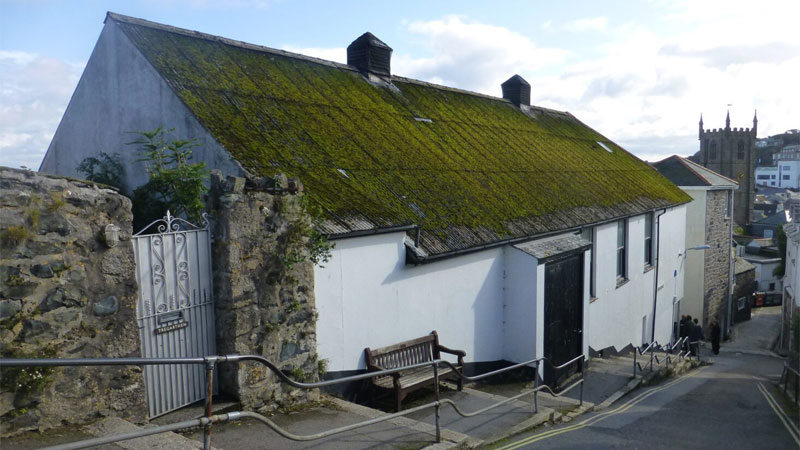 Tate St Ives is seeking an architect-led multi-discipline team to lead a major renovation of Palais de Danse, the former studio of renowned sculptor Barbara Hepworth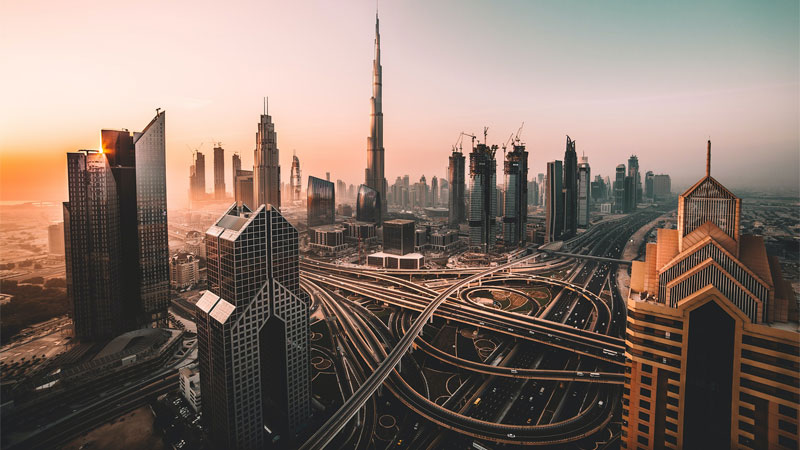 The fifth annual MENALAC Awards ceremony will take place in Dubai, with the event bringing together senior leaders to celebrate attractions across the Middle East and North Africa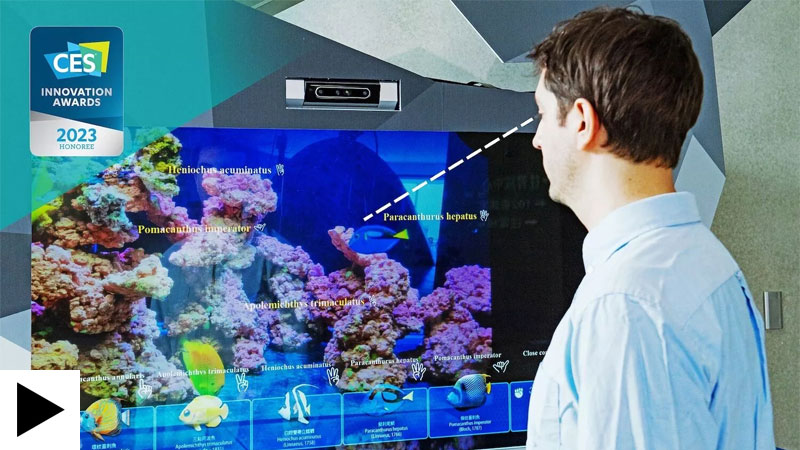 A new technology from the Industrial Technology Research Institute can display information about different animals inside aquariums by tracking the eye movements of the user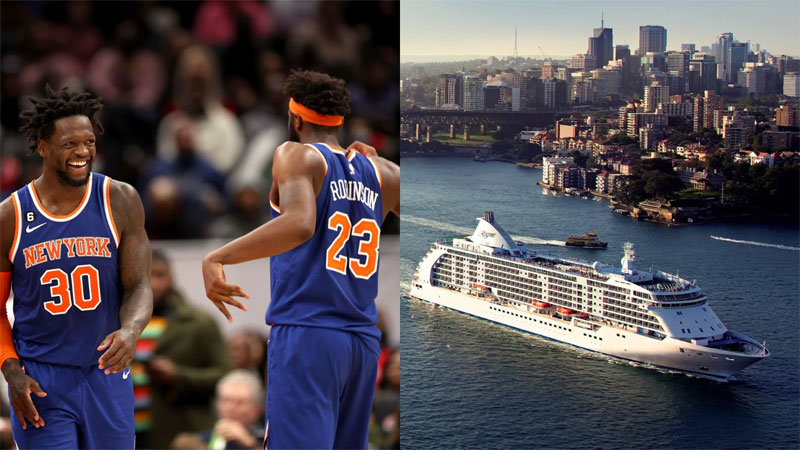 MSC and the New York Knicks have announced a multi-year marketing partnership that sees MSC become the official cruise line of the NBA side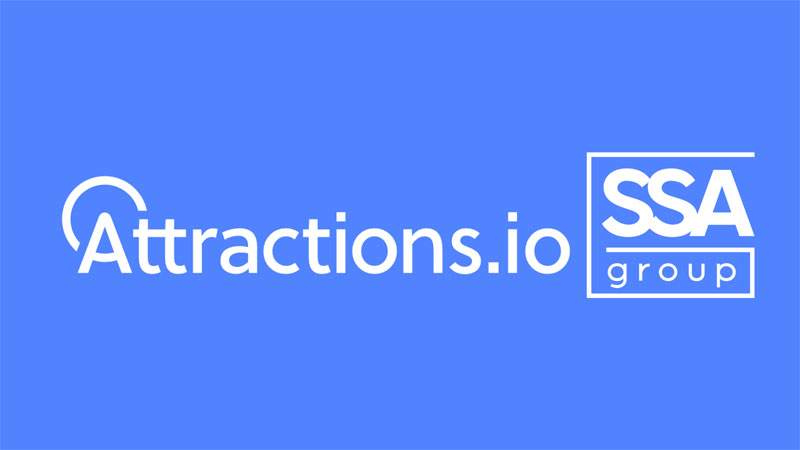 Attractions.io has teamed up with SSA Group to provide a fully digital experience for visitors to cultural attractions in 2023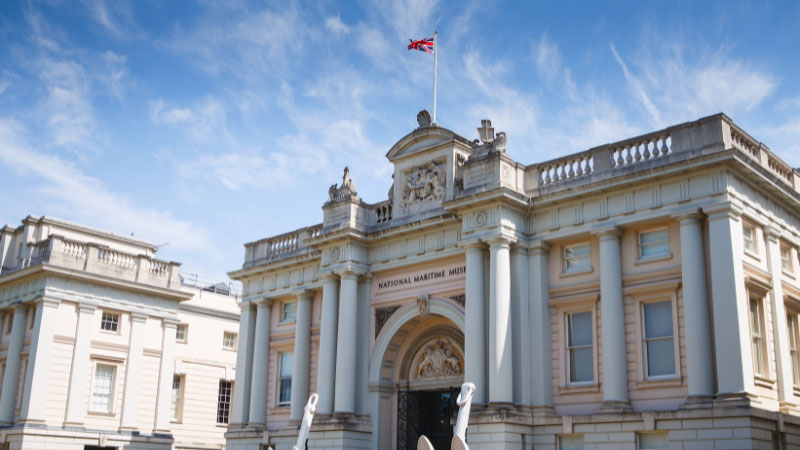 The UK government has announced the launch of a new Energy Bill Discount Scheme offering significant discounts for vulnerable businesses including museums and heritage sites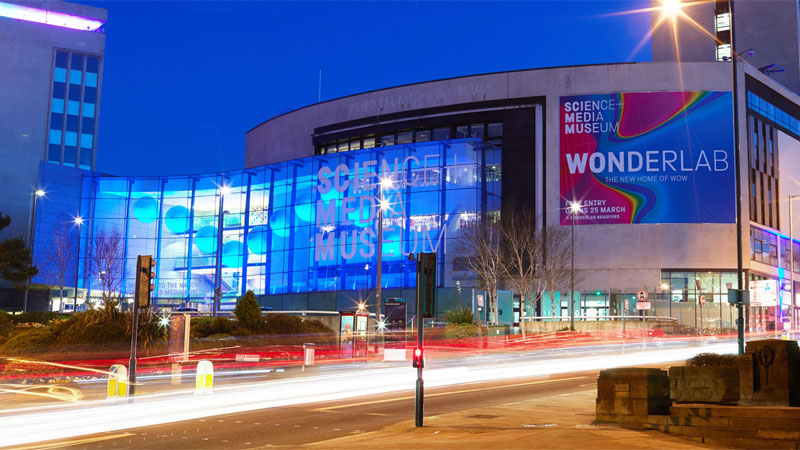 A 'radical, once-in-a-generation' development will see Bradford's National Science and Media Museum undergo a year-long transformation starting in June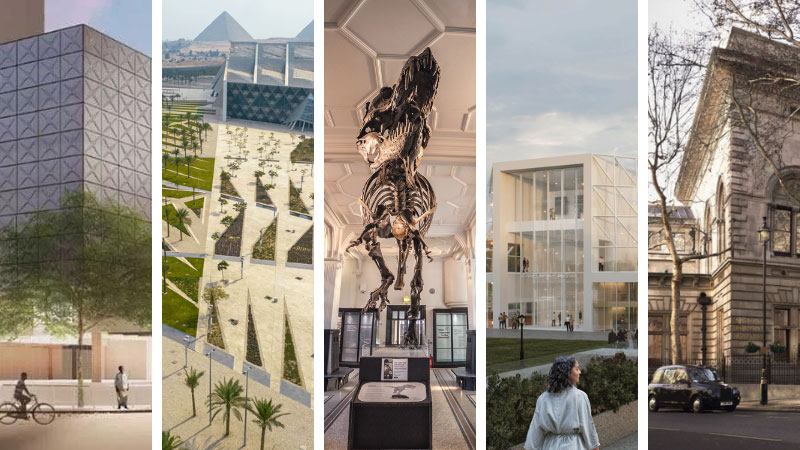 After a difficult few years the museum sector is showing promising signs of recovery with several exciting projects set to open this year. Here are 14 of 2023's most anticipated museum openings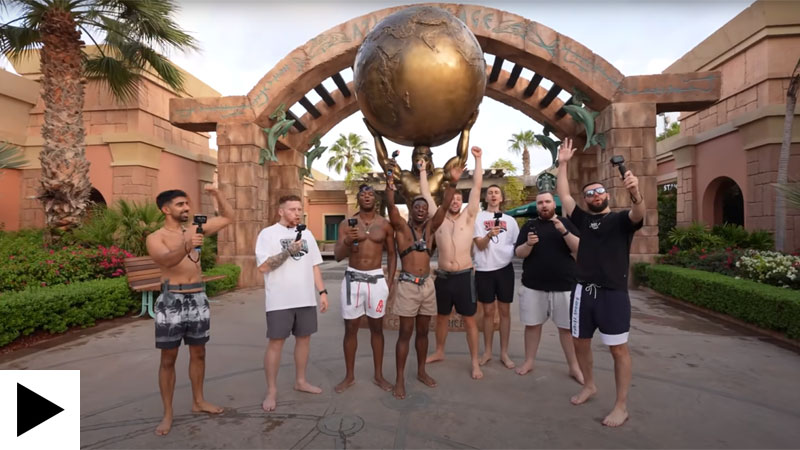 The Sidemen recently took a trip to Dubai for an epic game of hide and seek in one of the world's premiere waterparks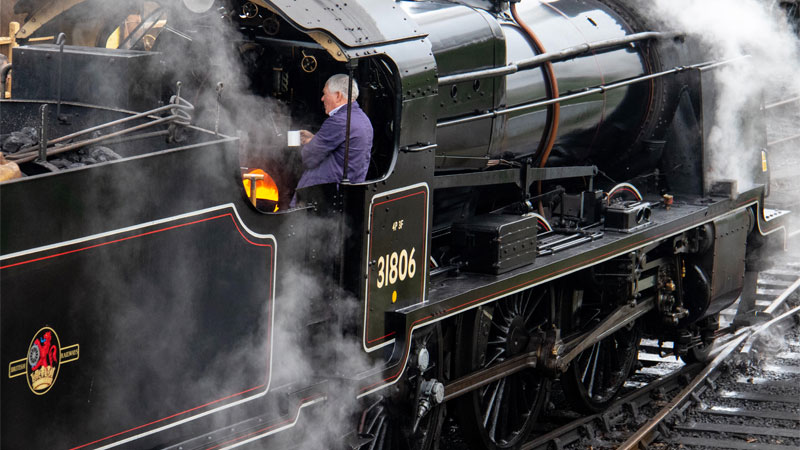 Heritage organisations in the UK are in serious jeopardy of closure as a result of the cost of living crisis, with nine in 10 concerned about their future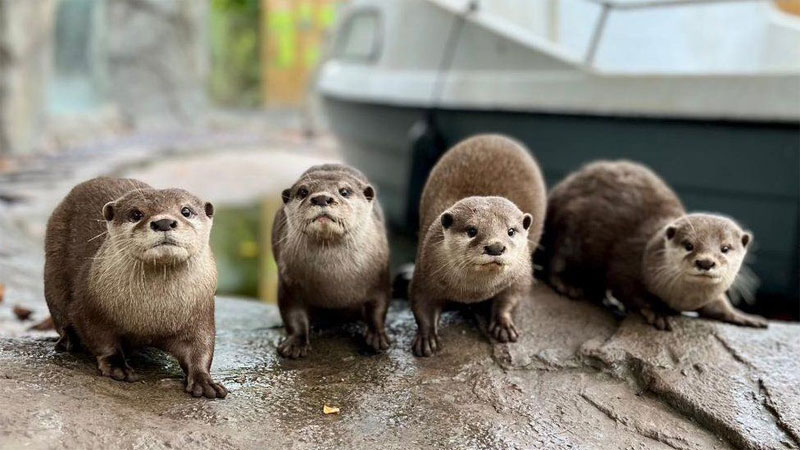 A zoo in the UK will start to fit solar panels to try to save money after seeing its energy bill soar over the past year.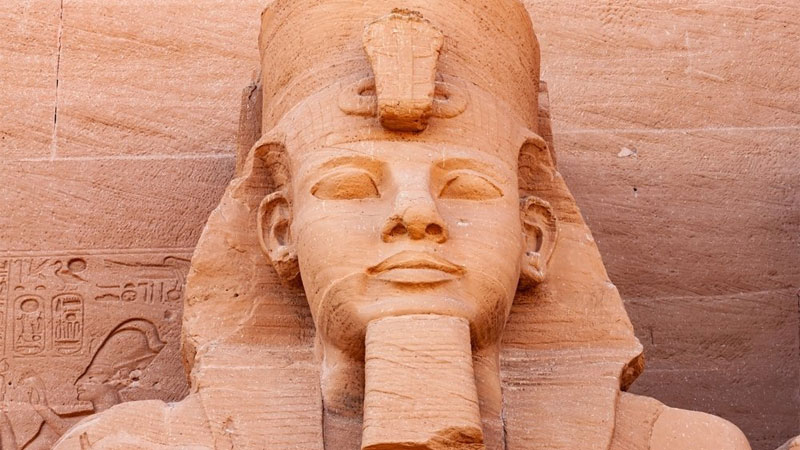 A plot to steal a 10-tonne ancient statue of Egyptian Pharaoh Ramesses II has been foiled after police arrested three men attempting to make away with the gigantic antiquity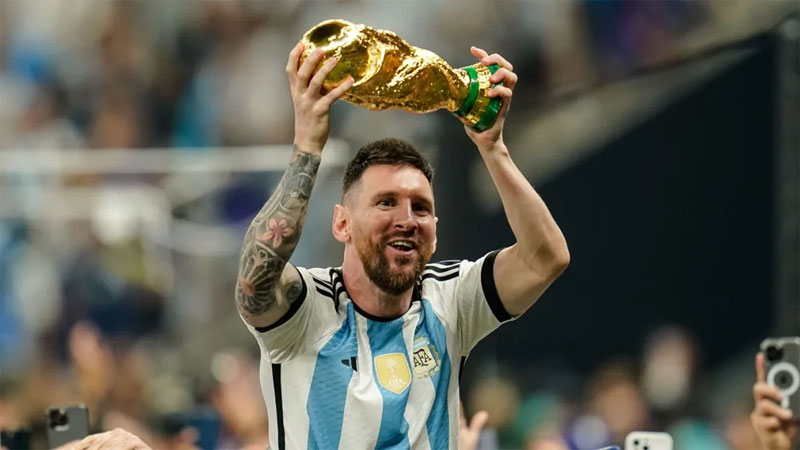 Following Argentina's historic win at the 2022 World Cup, the student accommodation that global footballing icon Lionel Messi stayed in is set to be turned into its own mini museum


A family-friendly Universal theme park is coming to Texas while a permanent Horror Nights experience is making its way to Las Vegas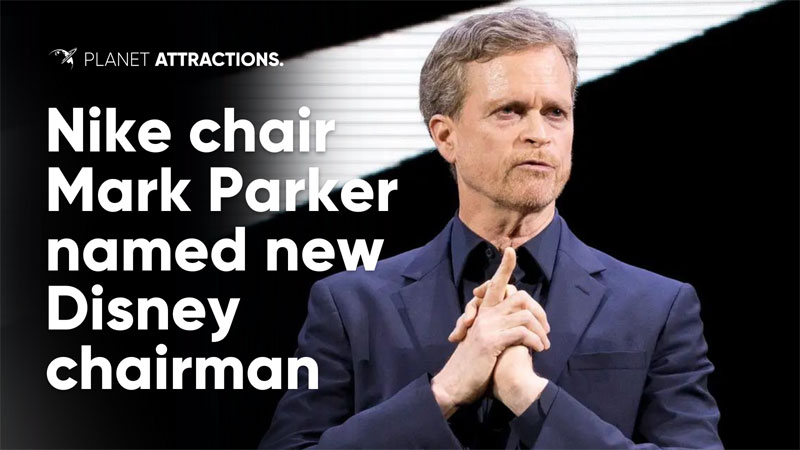 Nike chair and Disney director Mark Parker is set to succeed Susan Arnold as Disney's new chairman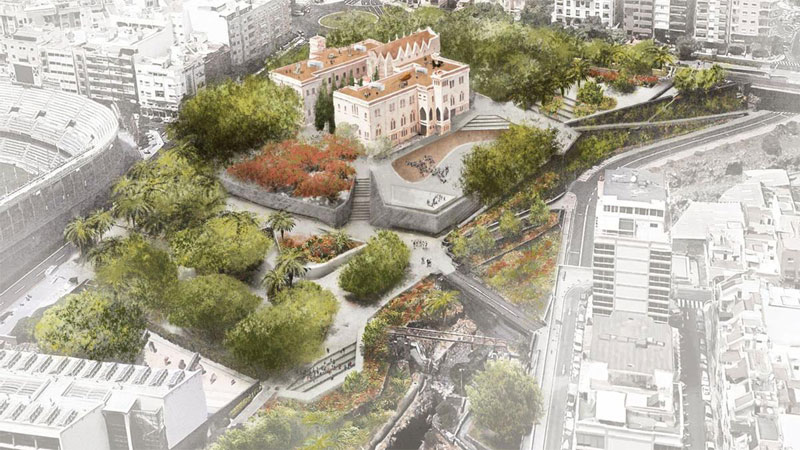 Rodin Museum officials have decided to pull out of a €16m project in the Canary Islands, which would have seen an outpost of the famous institution built in Santa Cruz de Tenerife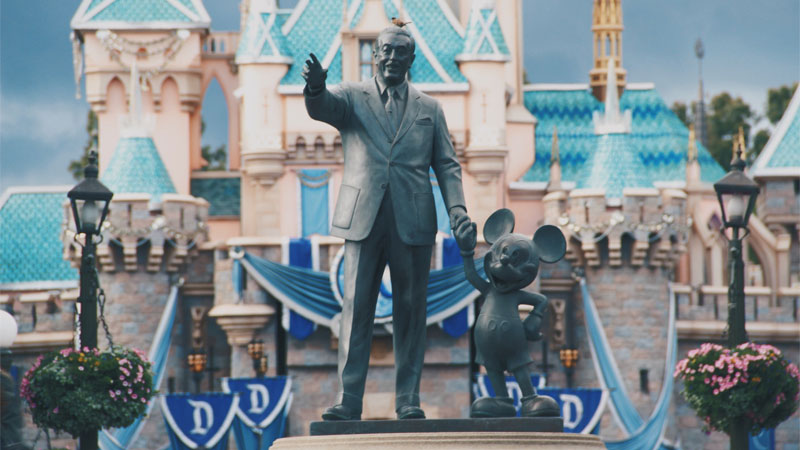 Disney is introducing a number of consumer-friendly changes to its US parks, including an increase on the number of days its lowest-priced ticket will be available and increased access for annual passholders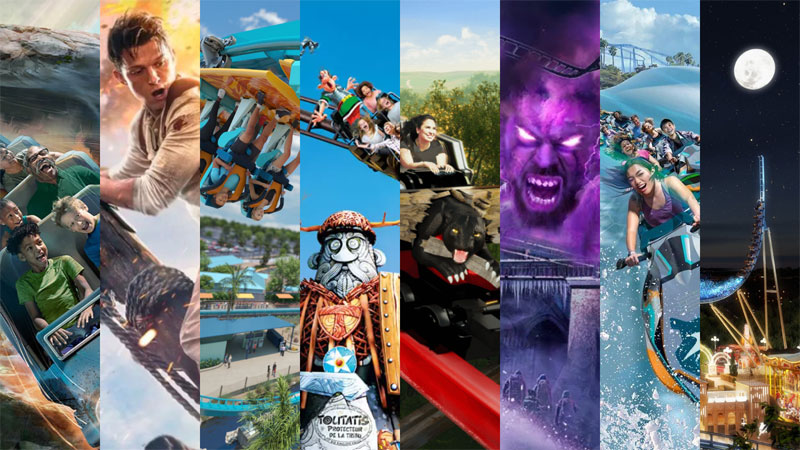 It's a new year with old records just waiting to be broken by some incredible new projects. Here are twelve blockbuster rollercoaster openings for the coming year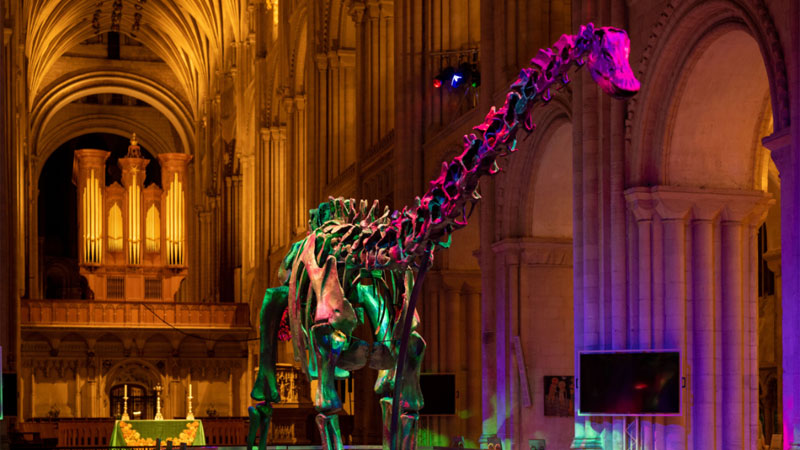 Arguably Britain's most well known dinosaur - the Natural History Museum's iconic 'Dippy' the diplodocus - is set for a three year move to Coventry starting next month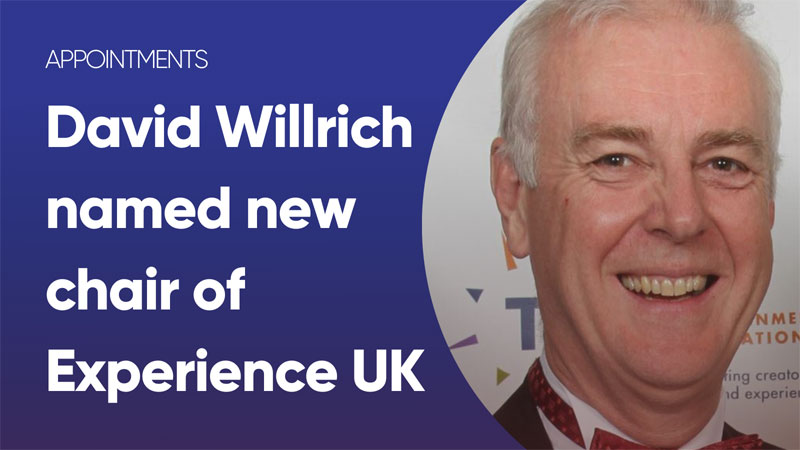 Trade body Experience UK has named David Willrich as its new chair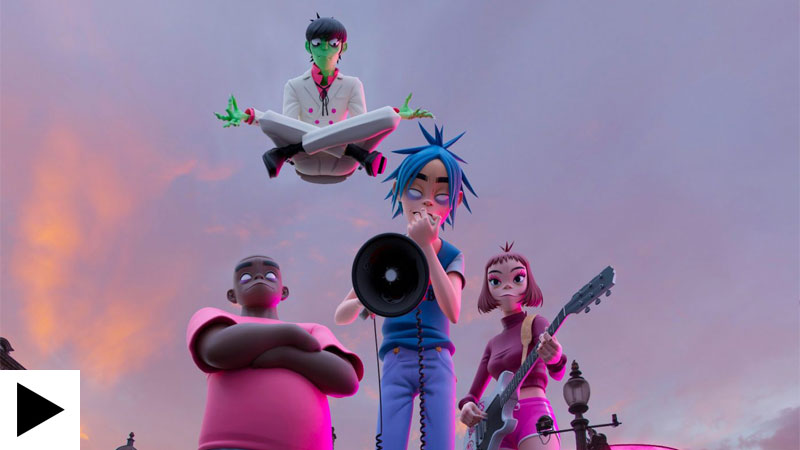 The virtual band worked with Google to host two first-of-their-kind AR experiences in New York and London to promote their new single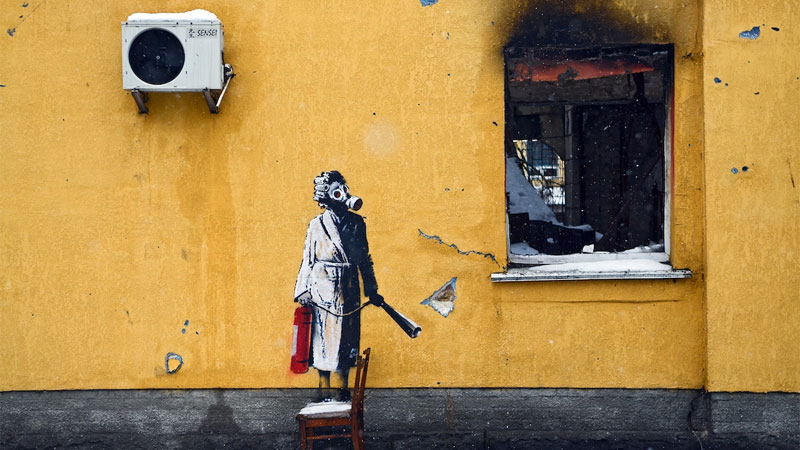 A Ukrainian activist who tried to take a Banksy work from Kyiv faces a 12-year prison sentence for an act he says was intended to support the work of the country's army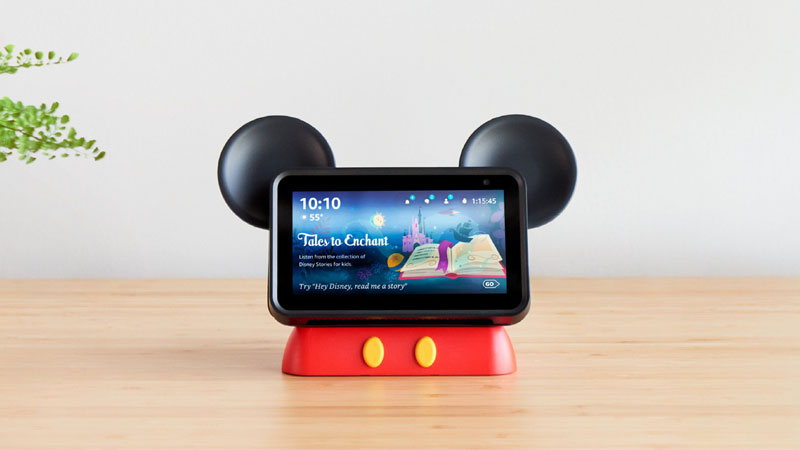 A new version of Amazon's Alexa digital voice assistant will come complete with Disney branding and the ability to work alongside the operator's MagicBand+ technology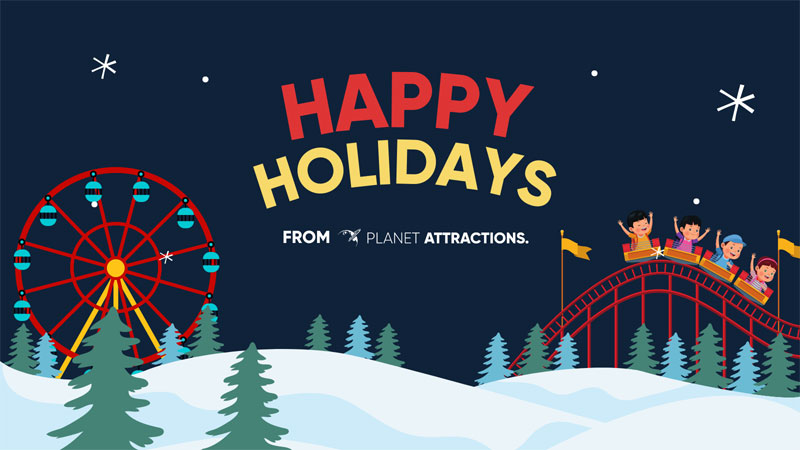 Just a quick message from everyone at Planet Attractions to say thank you and to wish you a happy holiday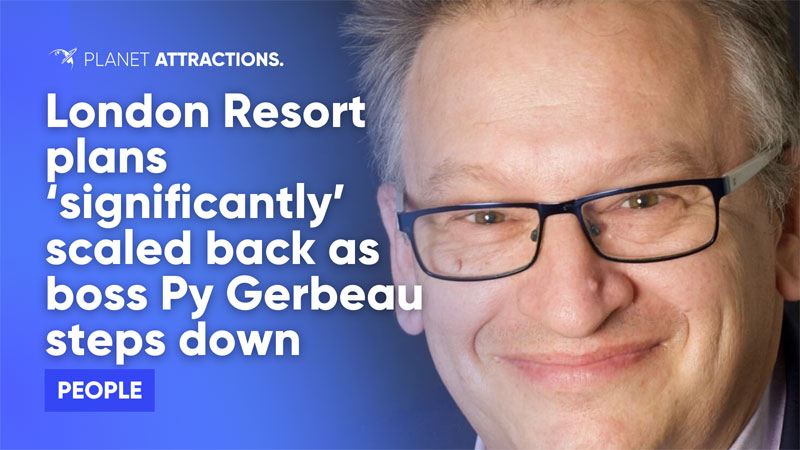 Py Gerbeau is leaving the London Resort project with those in charge saying the development will be significantly scaled back to accommodate a number of environmental concerns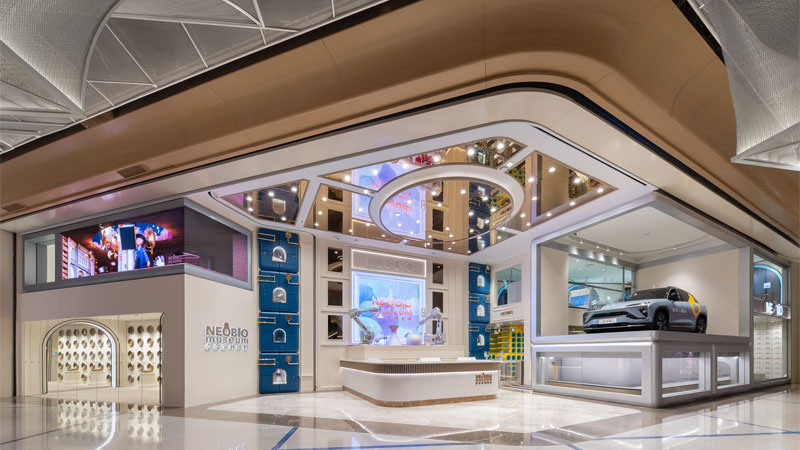 The Neobio Museum is a brand new attraction in Shanghai, China, offering experiential STEM education to young people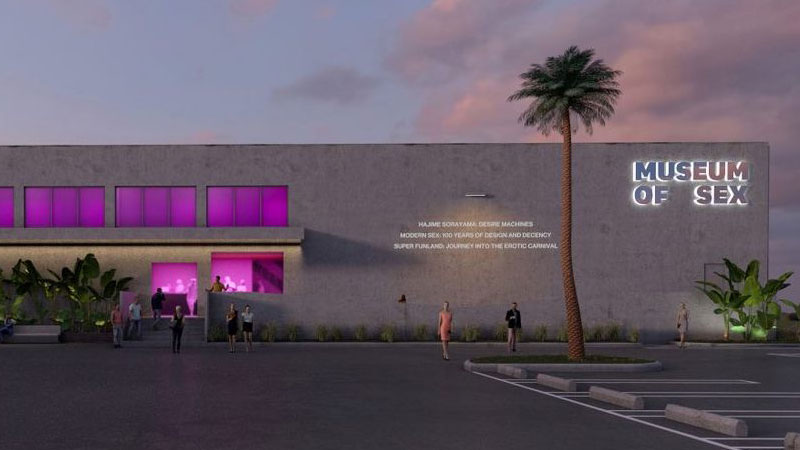 The Museum of Sex is expanding, with the New York attraction announcing plans to open a new Miami location in the spring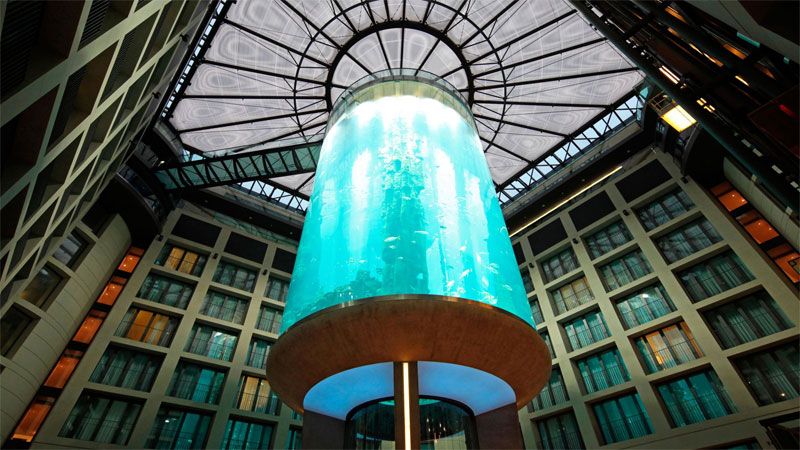 Berlin's AquaDom aquarium exploded in the early hours of the morning on December 15. It contained a million litres of water and more than 100 different fish species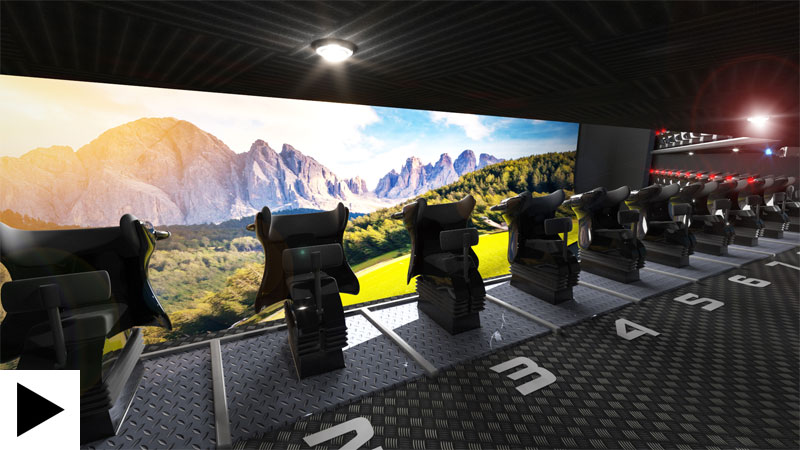 Simworx's new flying theatre concept delivers a thrilling and immersive experience within a limited footprint. Simworx CEO Terry Monkton and lead creative Matt Clarkson told Planet Attractions more about the Brass Ring Award-nominated attraction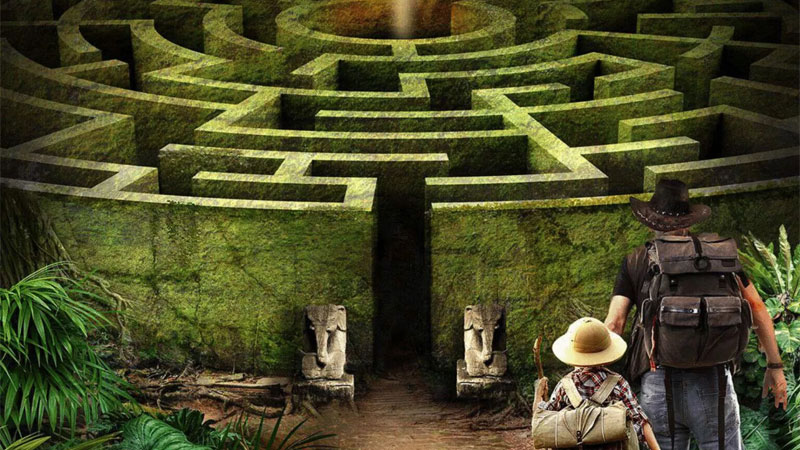 The Italian theme park will open a new themed maze attraction inspired by the multi-billion-dollar movie franchise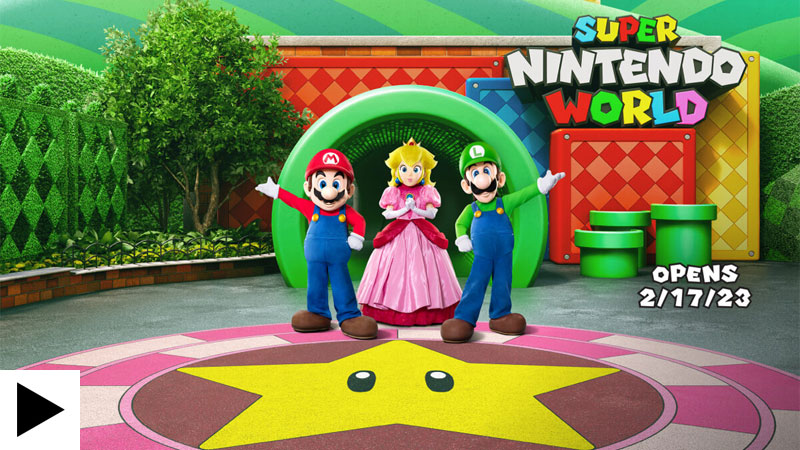 The opening marks the North American debut of the attraction, which first opened at Universal Studios Japan in 2021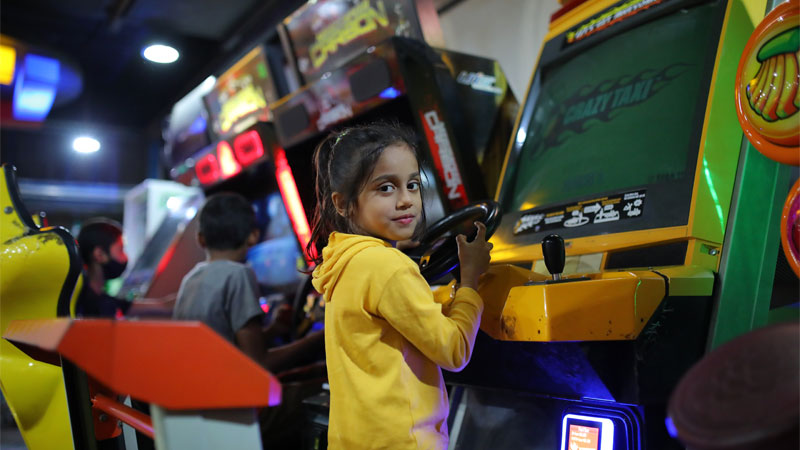 When it comes to all-in-one solutions for visitor attractions, Semnox's Venue Management Software system has transformed operations at popular FEC Kokomo Joe's. Here's how the technology works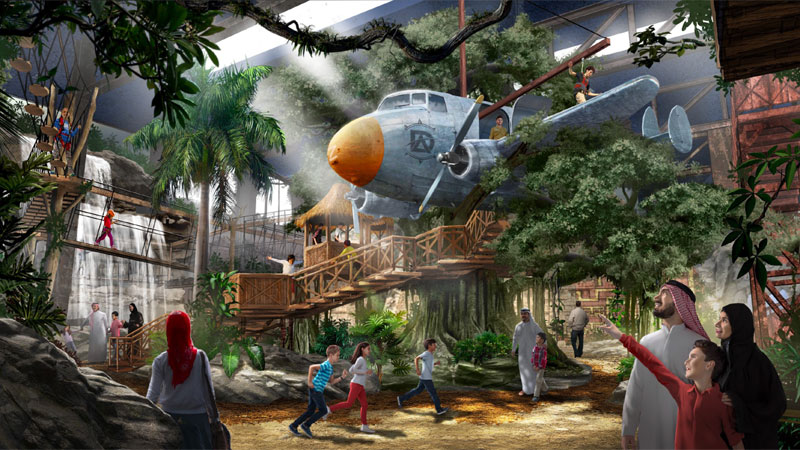 A world-first Discovery entertainment centre is coming to Saudi Arabia with more to follow in the coming years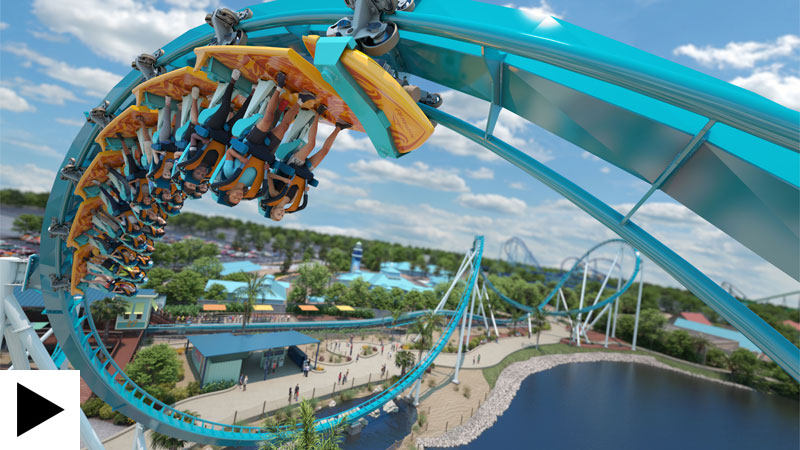 The highly-anticipated Pipeline surf coaster is coming to SeaWorld Orlando this spring. SeaWorld's vice president of rides and engineering, Jonathan Smith, spoke to Planet Attractions about the project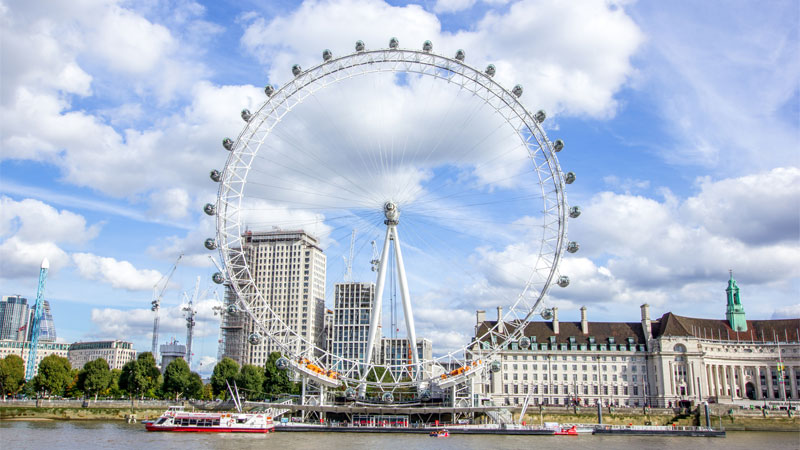 London Eye operator Merlin Entertainments has applied to extend the attraction's planning permission ahead of its 2028 deadline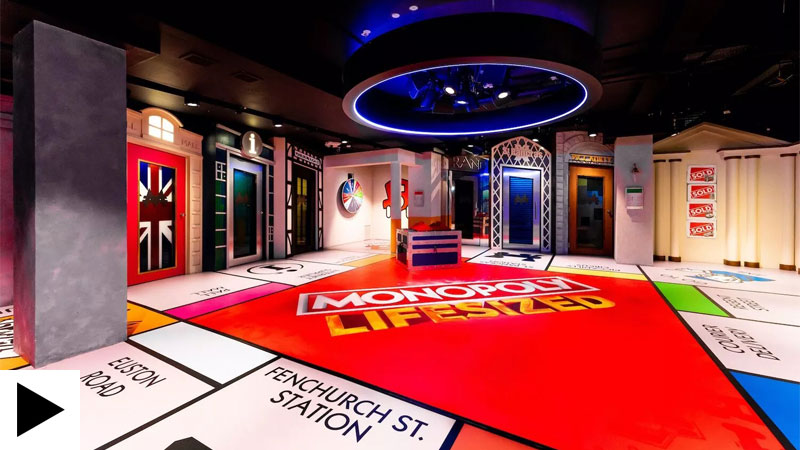 Hasbro's Monopoly Lifesized has opened in Riyadh following a three-way partnership between the toy manufacturer, the Al Hokair Group and The Path Entertainment Group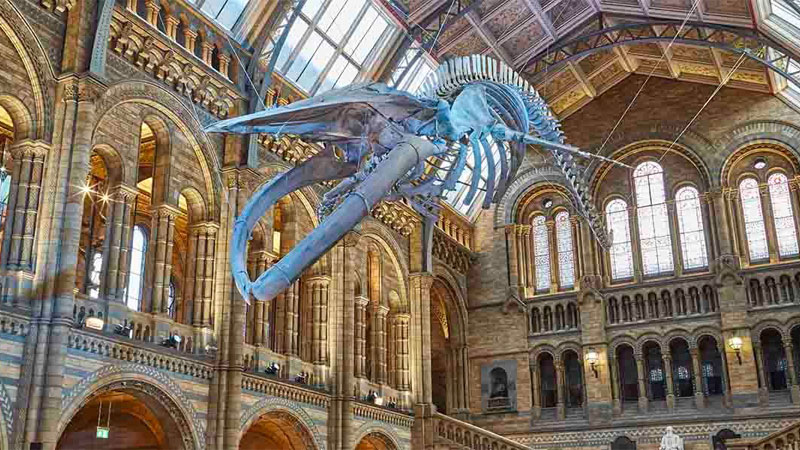 New online courses from the Natural History Museum will share exciting insights into the institution's research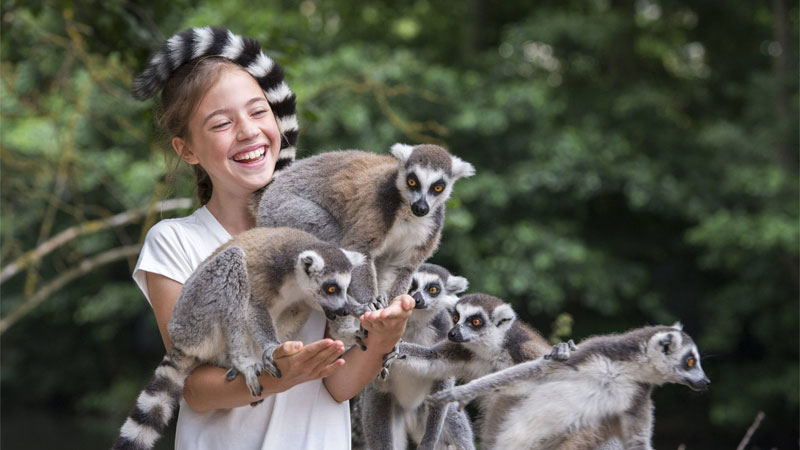 Convious has signed a multi-year deal with West Midland Safari Park to supply its fully-integrated eCommerce and guest experience platform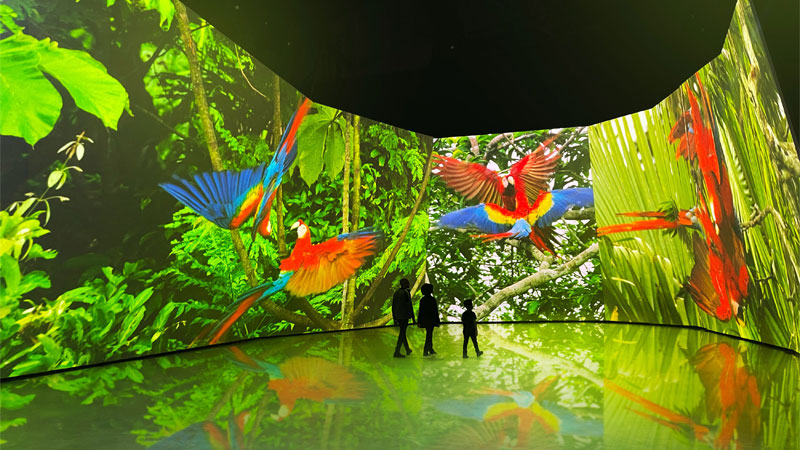 A new attraction inspired by the BBC's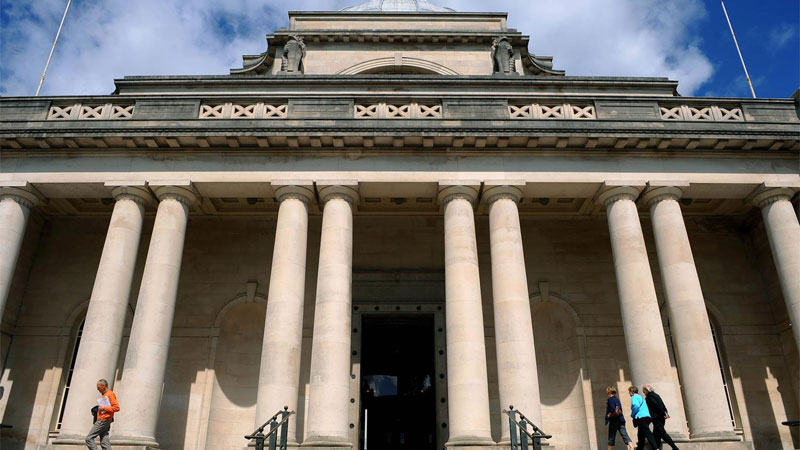 Culture, heritage and sport sites are set to receive £4.5m over the next three years to support actions in the Welsh Government's Anti-Racist Wales Action Plan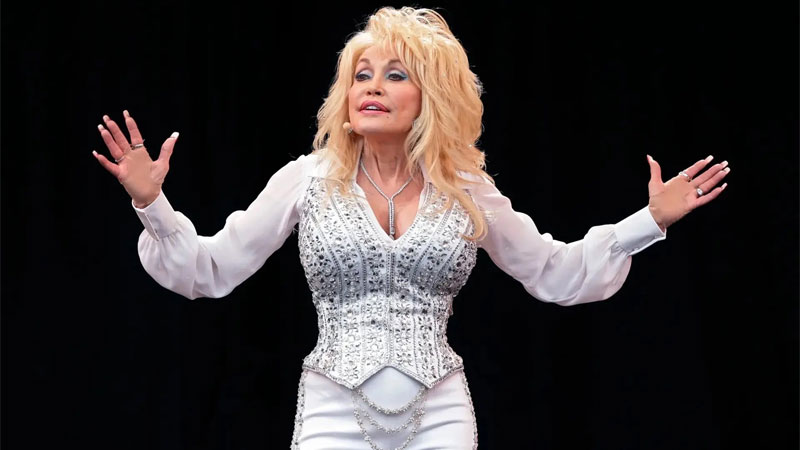 Country music icon Dolly Parton has revealed plans to open a self-dedicated museum in Tennessee that could form part of a wider cultural complex


Disney Parks has teamed up with the Russell Innovation Center for Entrepreneurs (RICE) to introduce a supply chain accelerator programme focused on transforming the businesses of diverse entrepreneurs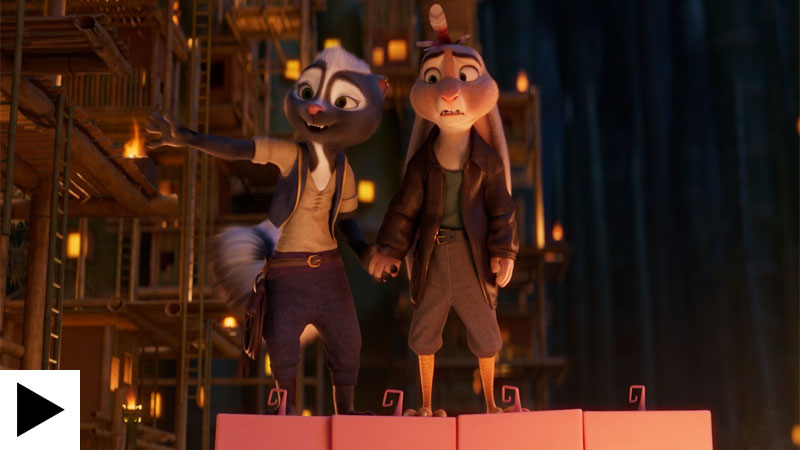 Developed specifically for attractions, nWave's newest title takes viewers on an adventure with skunk and martial artist Meg, as she searches for a missing relic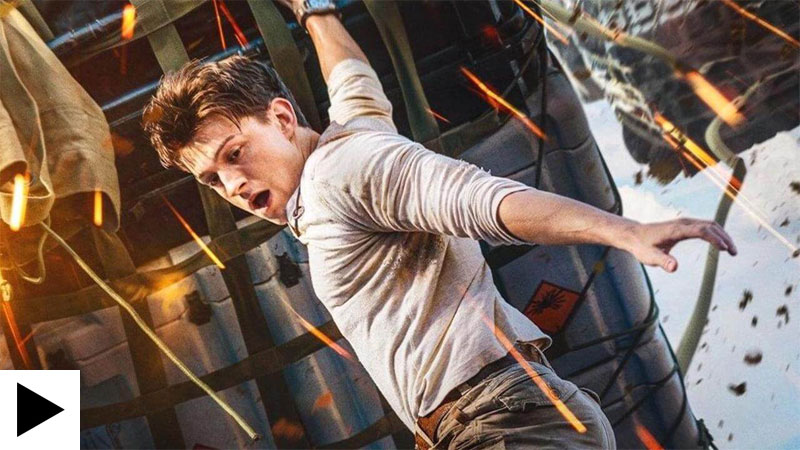 PortAventura has announced plans for a new Uncharted dark ride coaster with Sally Dark Rides and Intamin behind the €25m attraction


Audiences around the world will soon get to see record-breaking stunt performers pushing the boundaries of what is possible with Guinness World Records and Mirage Entertainment Design announcing the launch of an exciting new show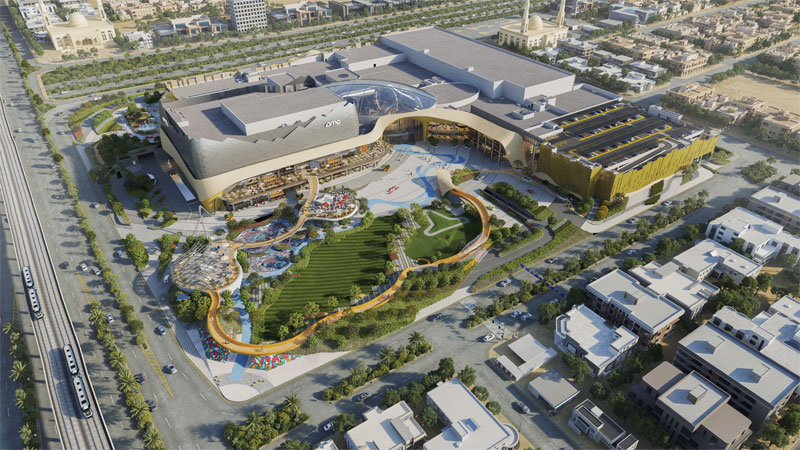 Saudi Entertainment Ventures - part of Saudi Arabia's Public Investment Fund - will develop more than 150 new attractions in the kingdom across 21 integrated entertainment destinations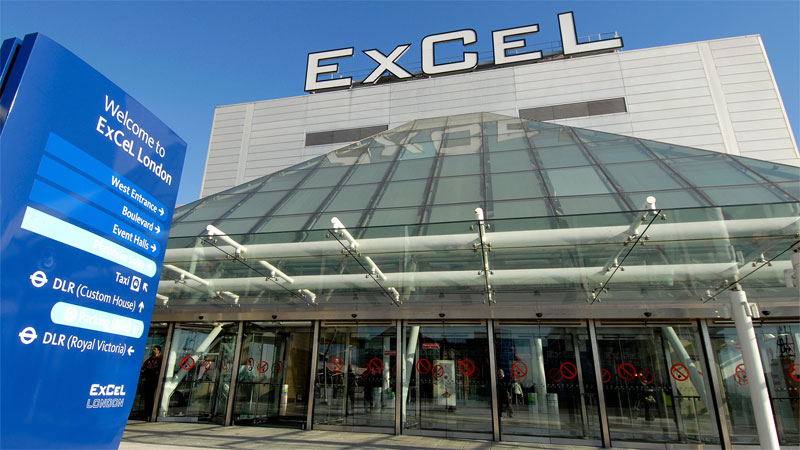 EAG - the Entertainment, Attractions and Gaming International Expo - is on course for one of the largest shows in its history after its organisers revealed registration is up 58% on 2020's pre-pandemic figure.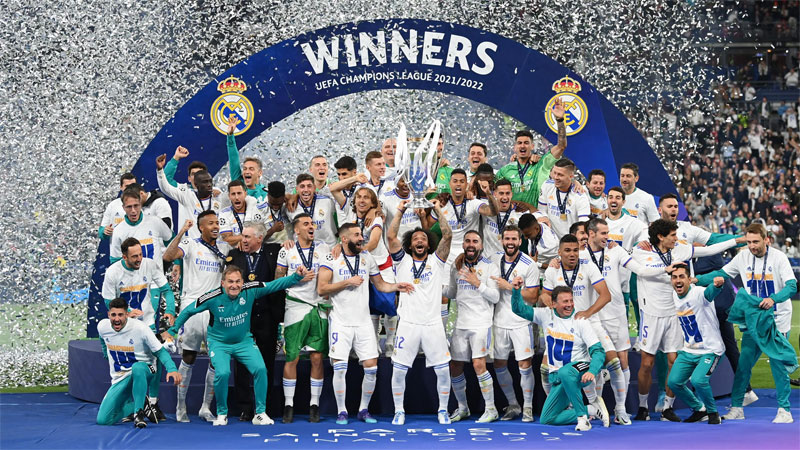 Real Madrid's president Florentino Perez worked with a team of Disney executives including former CEO Michael Eisner on a plan to turn the world-famous football club into a theme park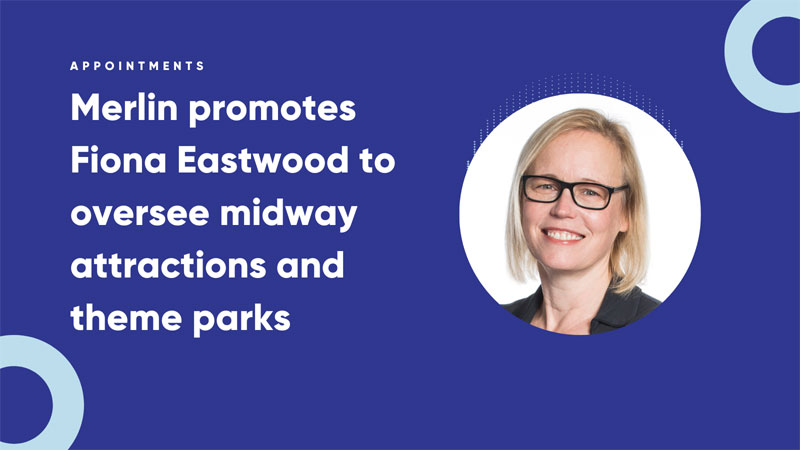 Merlin executive Fiona Eastwood has been promoted to oversee the operator's global portfolio of theme parks and midway attractions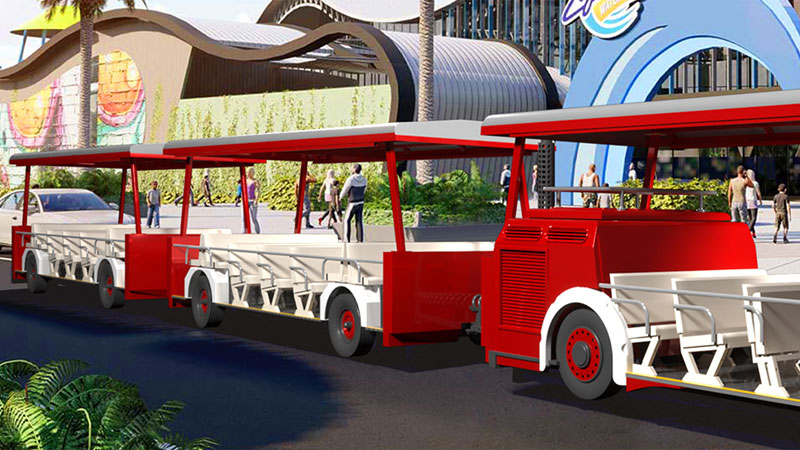 World-leading visitor transportation specialist Severn Lamb has announced a major move in the acquisition of US company Trams International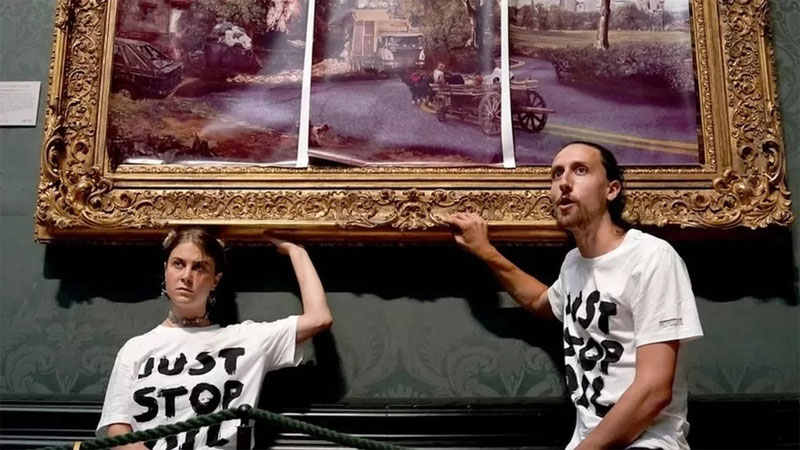 Directors from The Met, British Museum, Louvre and National Gallery have signed an open letter published by ICOM condemning the 'risky endangerment' of irreplaceable artworks in climate demonstrations


The world-first theme park will feature several key attractions inspired by iconic Mattel brands including Barbie, Thomas & Friends and Hot Wheels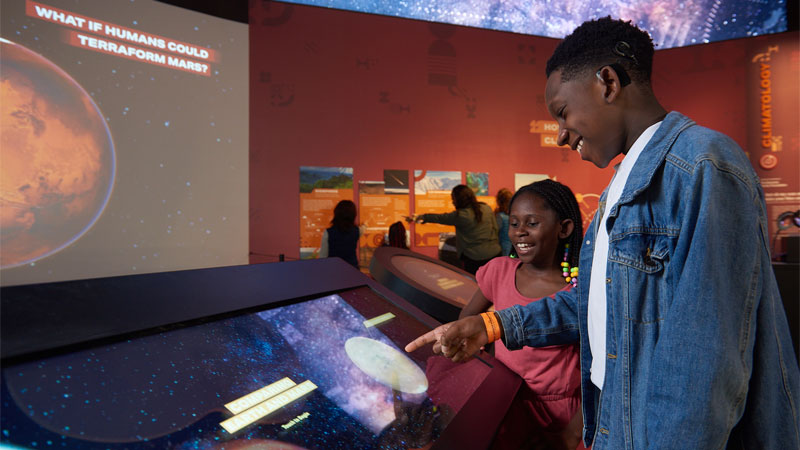 A new permanent exhibition exploring life on Mars has opened at the Carnegie Science Center in Pittsburgh, US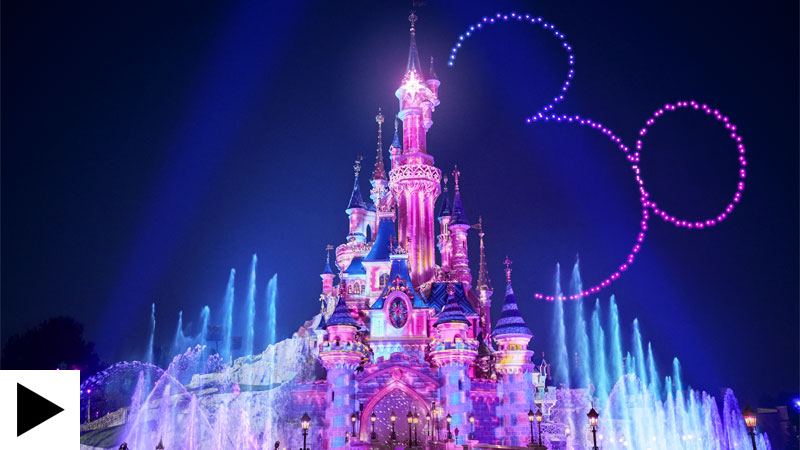 Dronisos is seeking partners in the US following a successful year, which saw the company serve as a technology partner for Disneyland Paris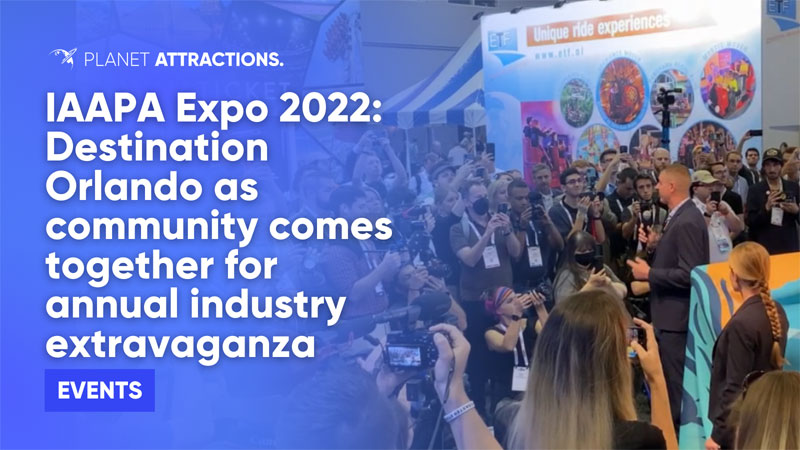 More than 36,000 people travelled to Orlando in November for the annual spectacular known as IAAPA Expo. Planet Attractions was in attendance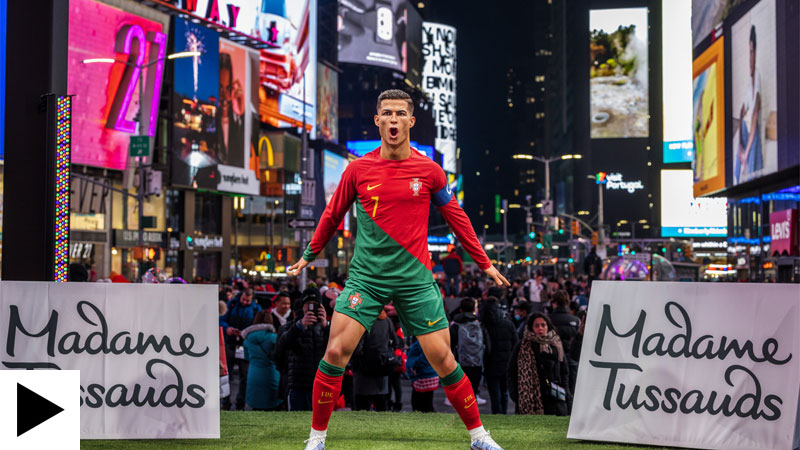 Footballing legend Cristiano Ronaldo has taken over the iconic Times Square to unveil a new waxwork for Madame Tussauds New York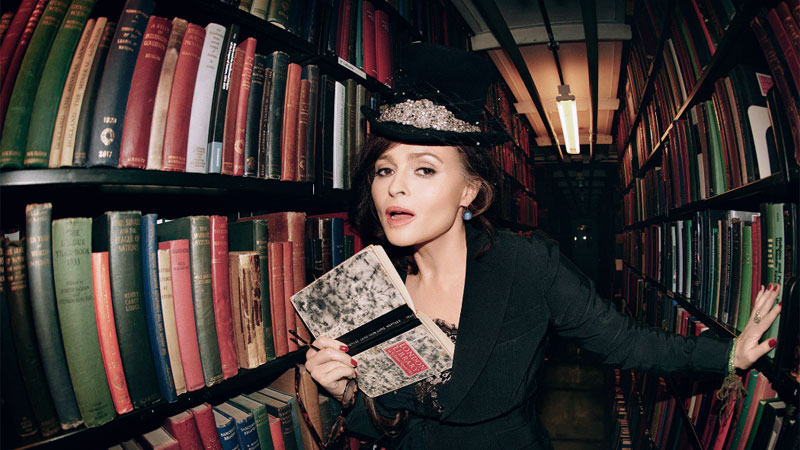 Longtime member and actor Helena Bonham Carter CBE has become the first female president of The London Library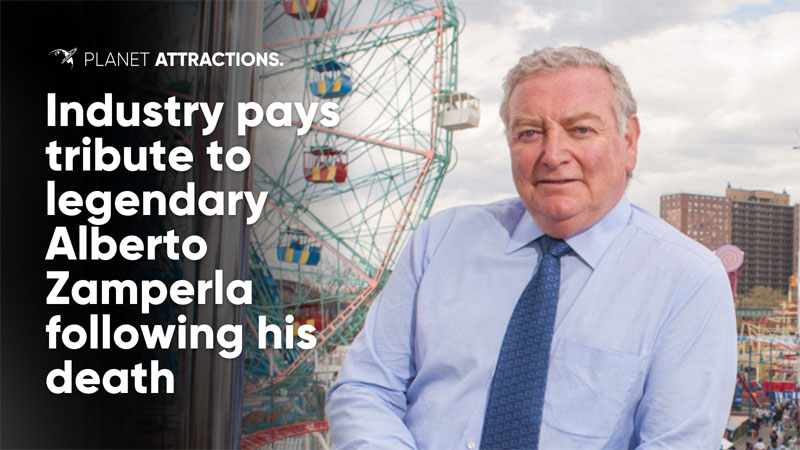 The attractions industry and wider attractions community has paid tribute to the legendary Alberto Zamperla following his death last week aged 71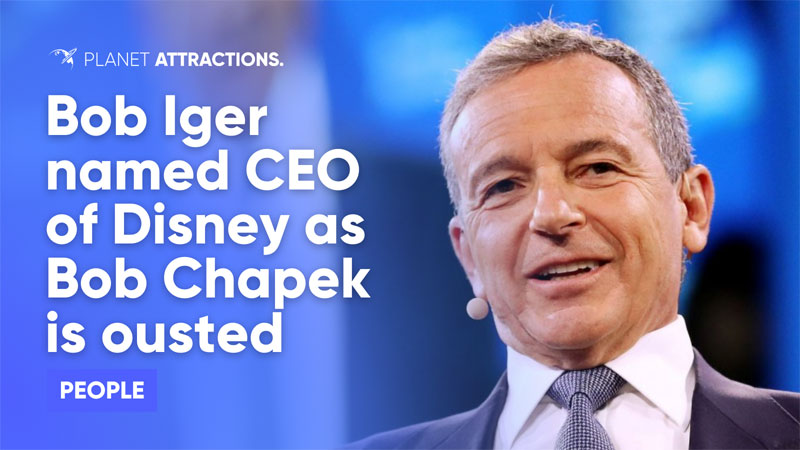 In a shocking move, Disney has reappointed Bob Iger as CEO, effective immediately, as Bob Chapek is ousted after less than three years in the role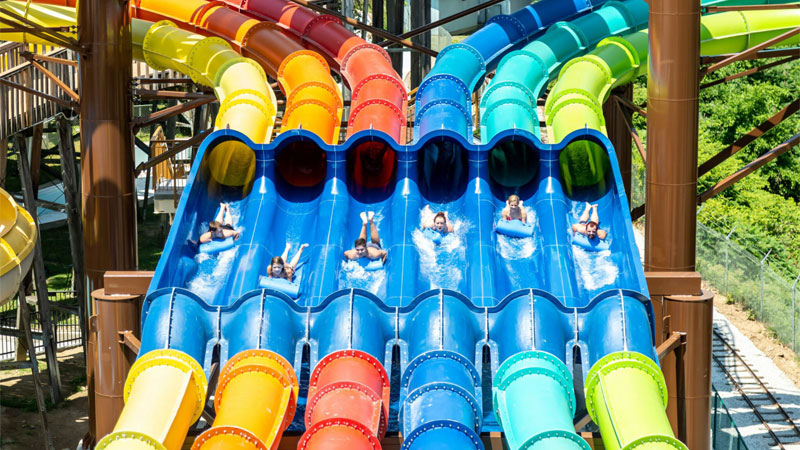 ProSlide will announce a major new project at this year's IAAPA Expo, with the company also revealing a record number of projects for 2023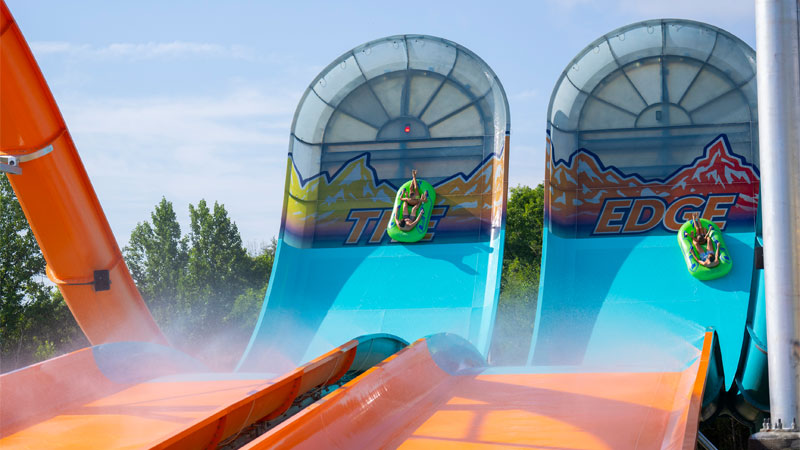 WhiteWater will unveil six new products at IAAPA Expo, including three new waterslides, an all-in-one play structure and an innovation that 'has been years in the making.'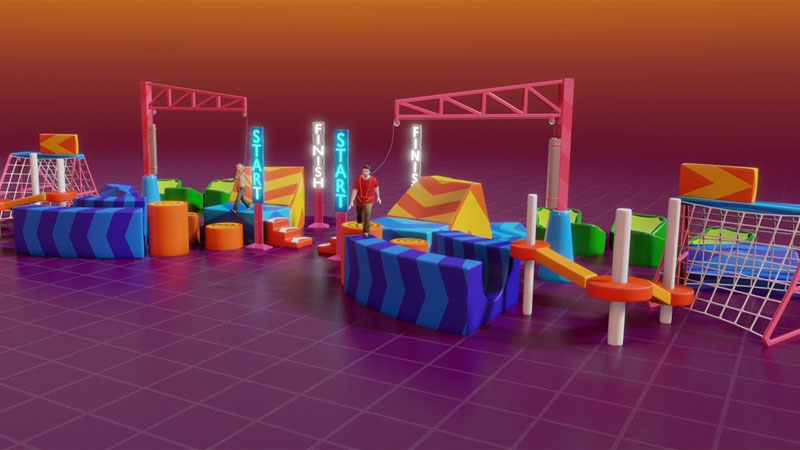 Extreme Engineering will announce four new Cloud Coaster projects as well as debut two new products at this year's IAAPA Expo in Orlando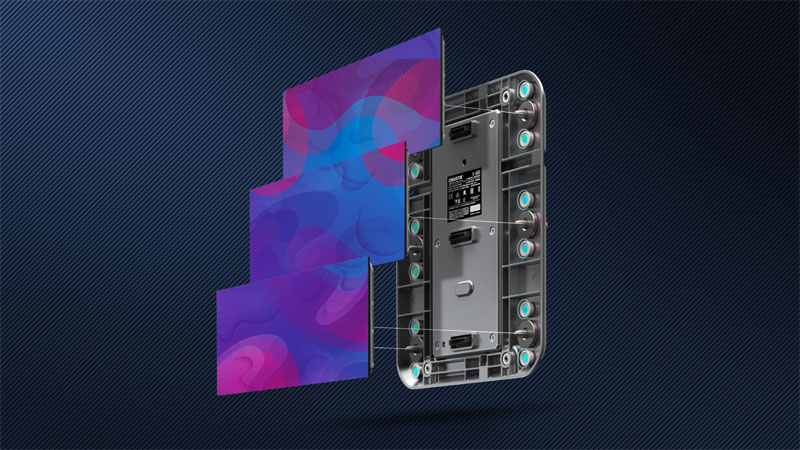 A number of exhibitors will be using Christie technology at this year's IAAPA Expo, with the company also set to showcase its MicroTiles LED among the products on its own stand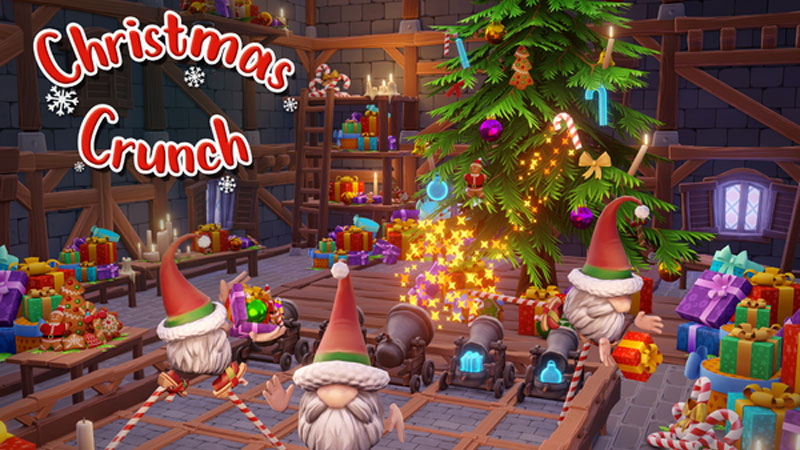 Spree Interactive is getting into the Christmas spirit a little early this year, with the launch of its Christmas Crunch VR title at the upcoming IAAPA Expo in Orlando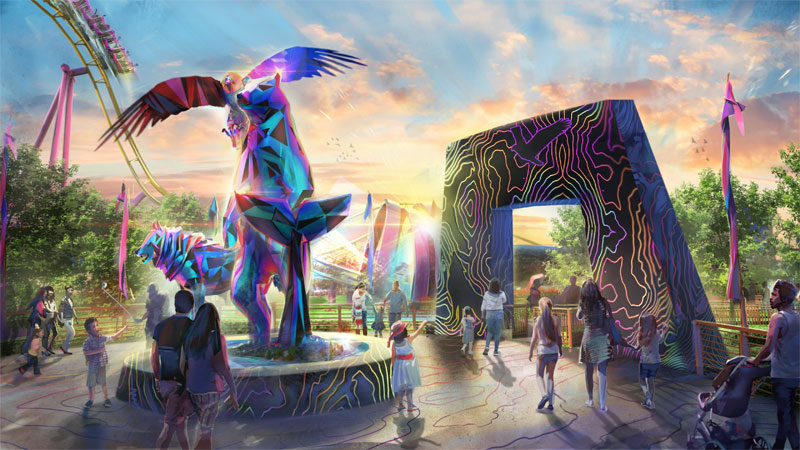 Ride manufacturer Zamperla is behind the CA$9m development of what will be Canada's fastest launch coaster when it opens in 2024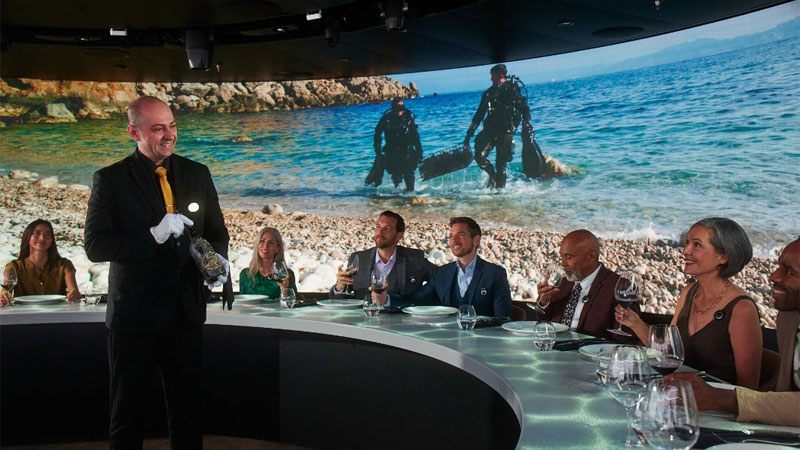 Princess Cruises has debuted a brand new immersive experience that combines dining, storytelling, music, scent and more for a one-of-a-kind journey through the Mediterranean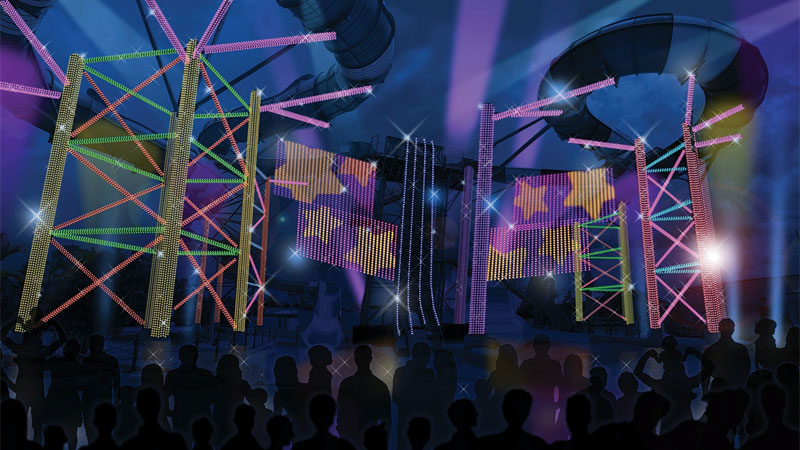 RWS's Sponsored Spotlight will showcase the company's 'endless possibilities' following major acquisitions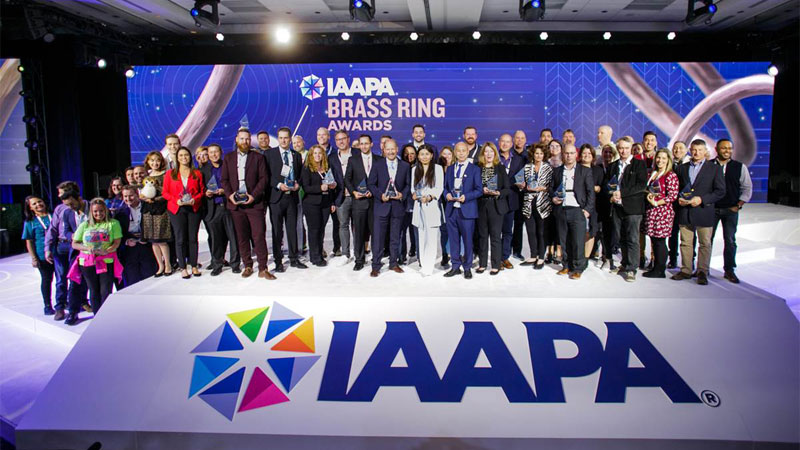 IAAPA has unveiled the list of finalists for its prestigious Brass Ring Awards, with winners to be announced during a special ceremony at this year's IAAPA Expo in Orlando, Florida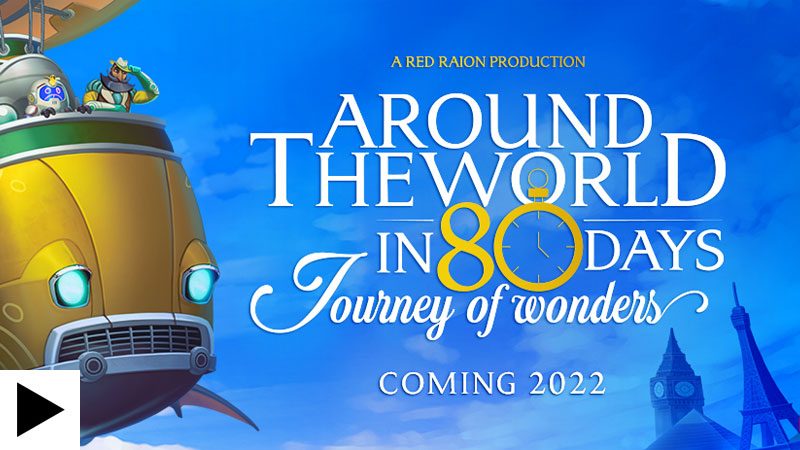 Red Raion will offer an exclusive preview of its latest title - 'Around the World in 80 Days - Journey of Wonders' - at this year's IAAPA Expo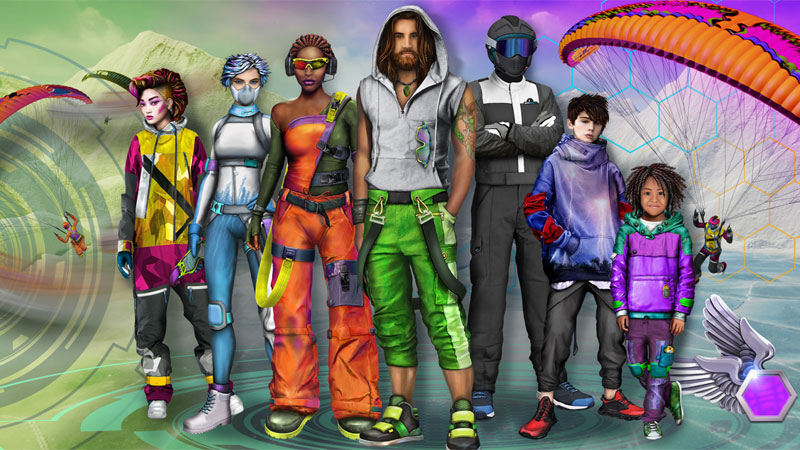 Frontgrid has launched its ParadropVR Pod attraction at Adventure Park Snowdonia in North Wales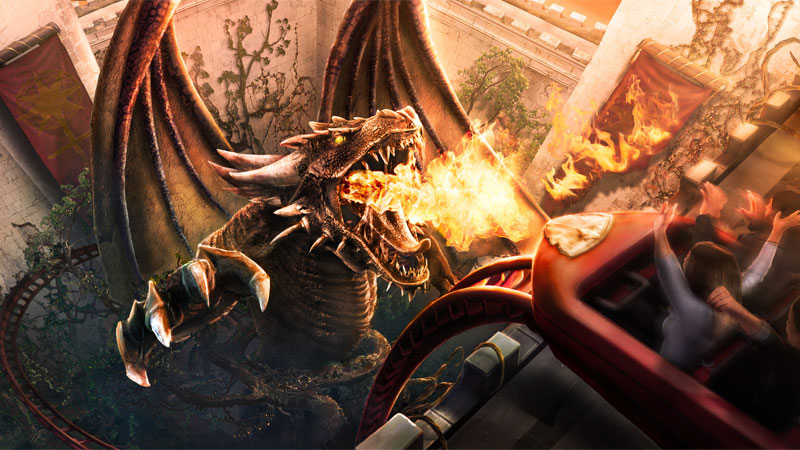 The 2022 edition of IAAPA will see experience and attraction design firm Scruffy Dog return to the trade show floor for the first time since 2017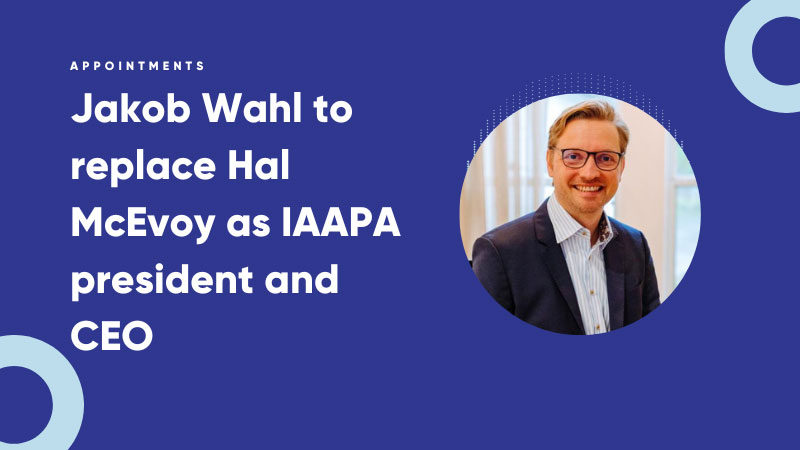 IAAPA has appointed Jakob Wahl as its new president and CEO. Wahl will assume the role at the beginning of 2023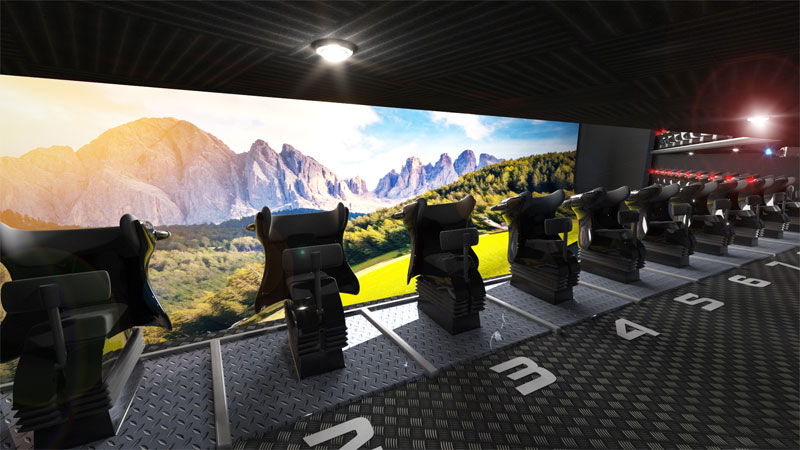 The dynamic media-based attractions specialist will showcase the attraction alongside its new Overdrive concept at the IAAPA Expo in Orlando, Florida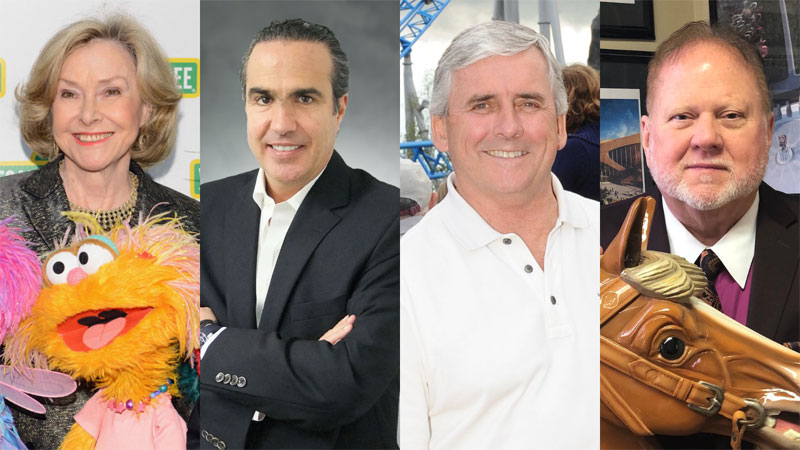 Industry legends Joan Ganz Cooney, Xavier Lopez Ancona, Darrell Metzger and Dennis Speigel are all set to be inducted into IAAPA's prestigious Hall of Fame at this month's IAAPA Expo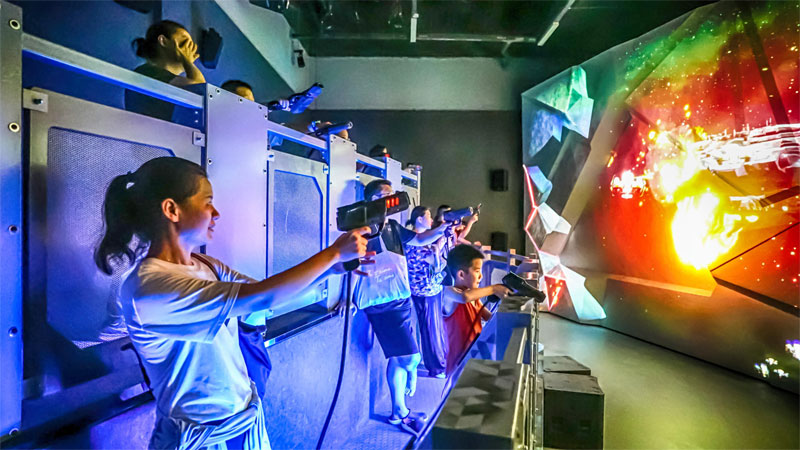 The immersive attractions designer will unveil details of its new attraction, new project and new ride content throughout this year's IAAPA Expo, which takes place at the Orange County Convention Center in Orlando in November


Cunard has announced its 2023 Insights enrichment programme, with adventurer Bear Grylls taking centre stage for the operator's maiden 2023 voyage to Alaska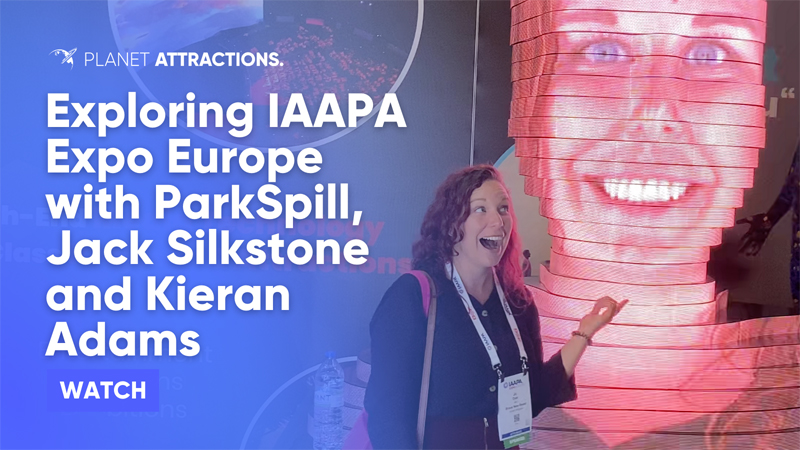 Following a special panel session featuring some of the UK's top theme park content creators, Planet Attractions joined Jack Silkstone, Sean and Jo Dyer, and Kieran Adams as they explored this year's IAAPA Expo Europe in London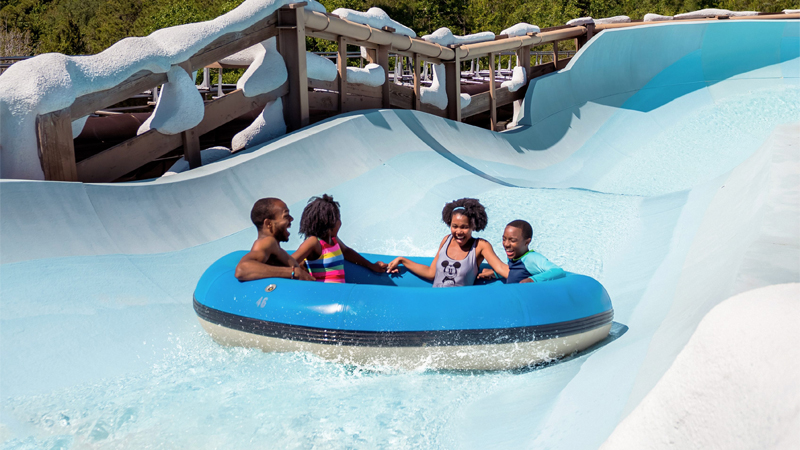 Disney World's Blizzard Beach waterpark will reopen to the public next month with new Frozen additions following a lengthy refurbishment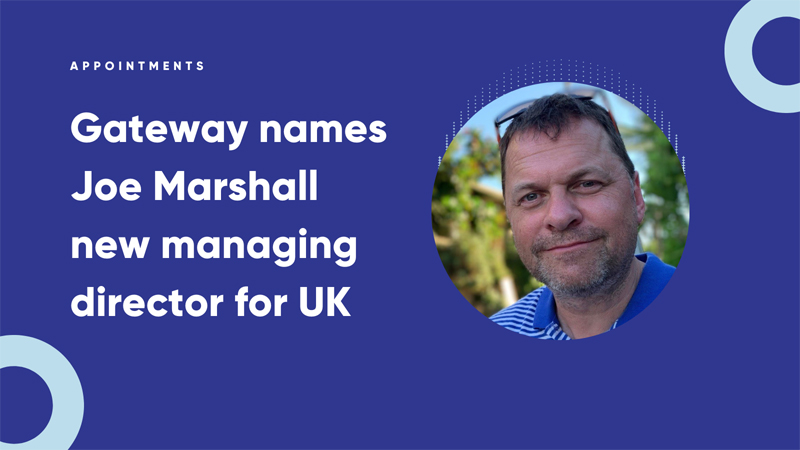 Gateway Ticketing Systems has appointed Joe Marshall to lead the company's UK operations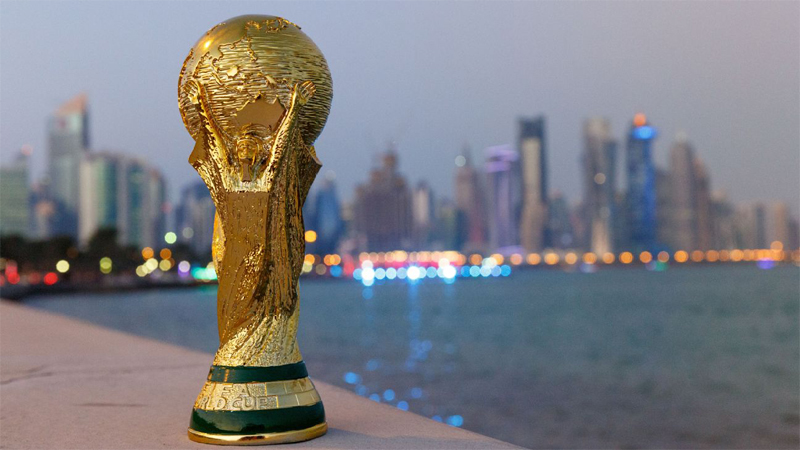 Flight bookings to Qatar and the UAE are currently 10 times higher than pre-pandemic levels ahead of this winter's FIFA World Cup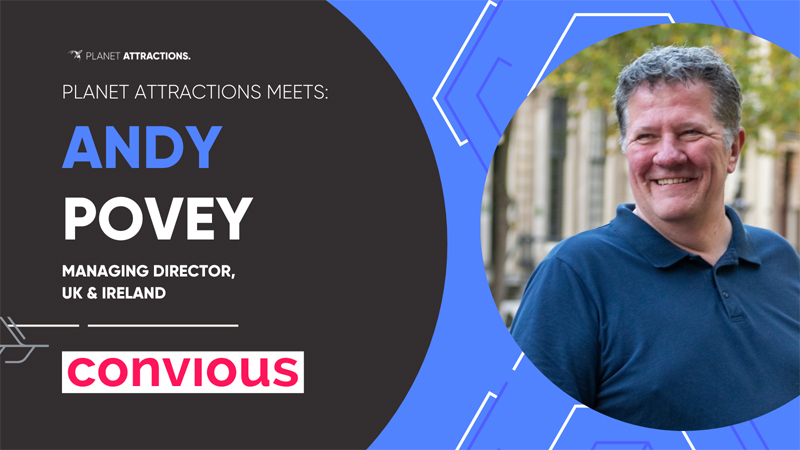 Convious showcased its digital engagement platform at this year's IAAPA Expo Europe. The company's managing director for the UK & Ireland, Andy Povey, tells Planet Attractions about everything the company has to offer


Leading experience designers Mather & Co have named Kim Kherlopian as the company's new managing director. Planet Attractions caught up with him at this year's IAAPA Expo Europe to find out more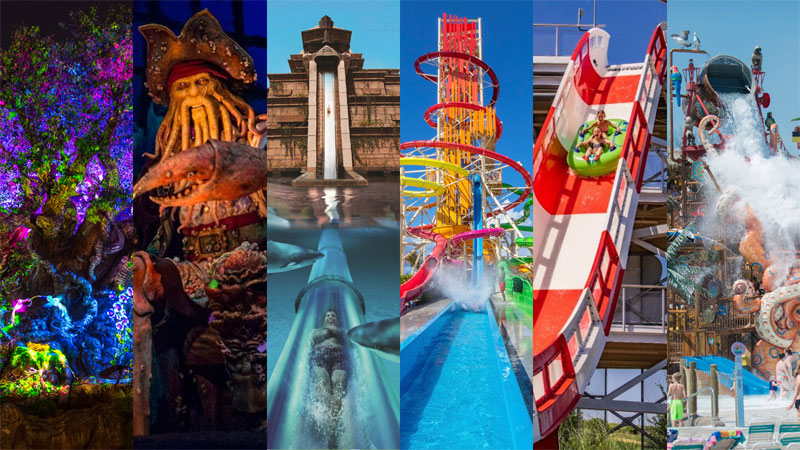 Ahead of a special industry panel looking at iconic attractions, experts from WhiteWater have named their personal picks, explaining why they think their choice is an iconic attraction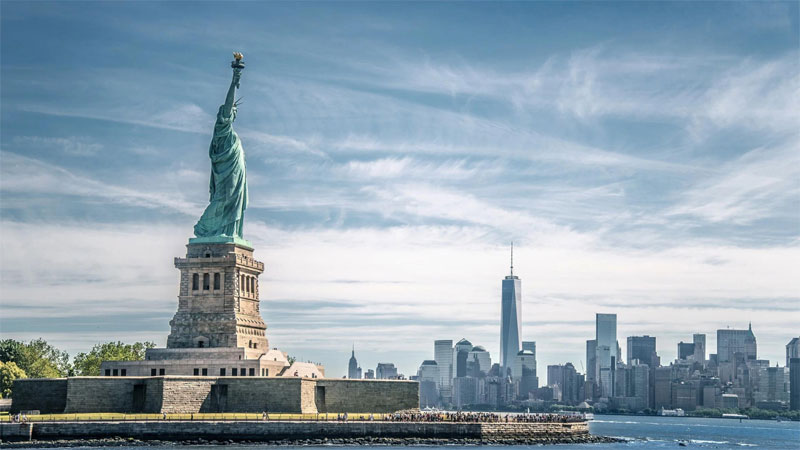 Cruise operator Holland America Line is celebrating 150 years with the announcement of a partnership with the Statue of Liberty-Ellis Island Foundation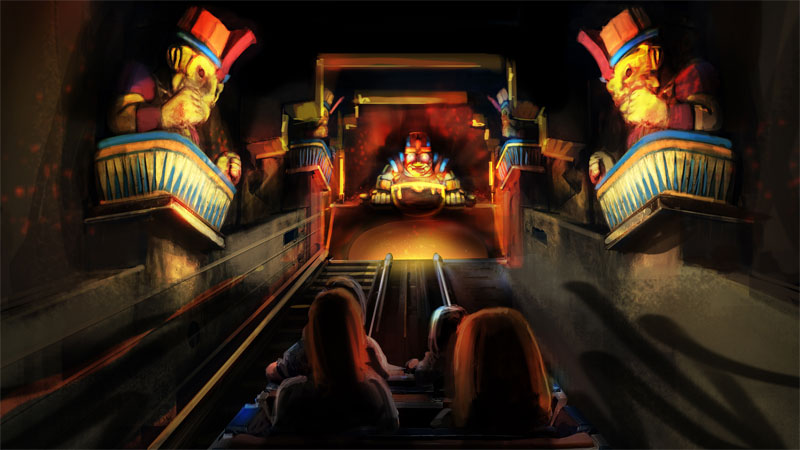 Ohio's Kings Island theme park will introduce Adventure Port, its newest themed area, in 2023. The themed land will feature several attractions and enhanced theming on a classic rollercoaster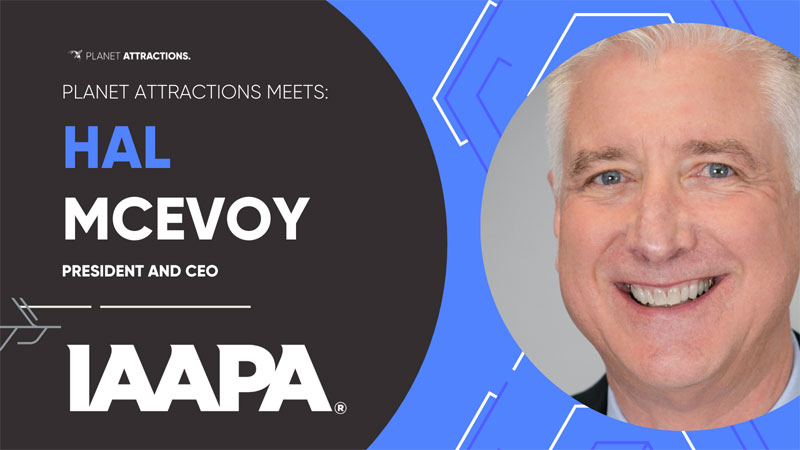 IAAPA's president and CEO, Hal McEvoy spoke to Planet Attractions about this year's IAAPA Expo Europe, the industry's post-Covid recovery, his retirement plans and more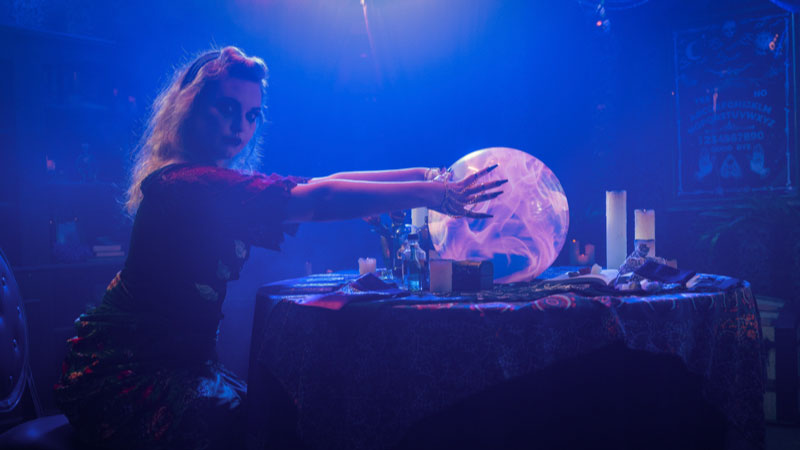 Creative firm Zeitgeist Design and Production is behind three of this year's haunted houses at Hersheypark's Halloween spectacular Dark Nights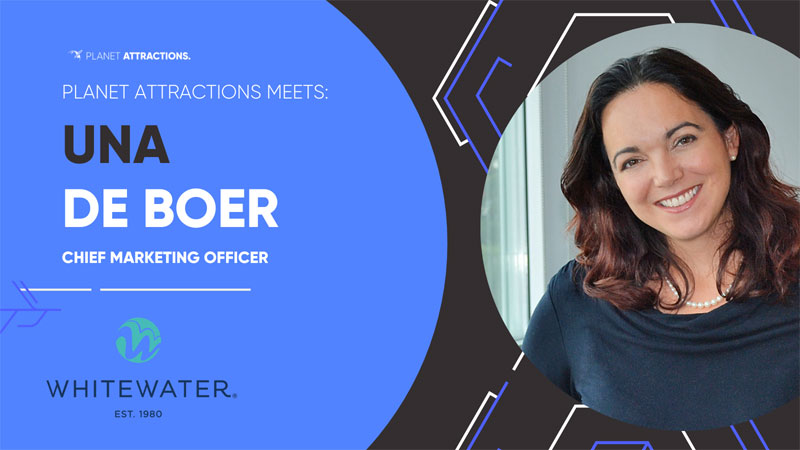 WhiteWater brings a strong presence to each and every IAAPA Expo. The company's chief marketing officer, Una de Boer, tells Planet Attractions about everything the company has to offer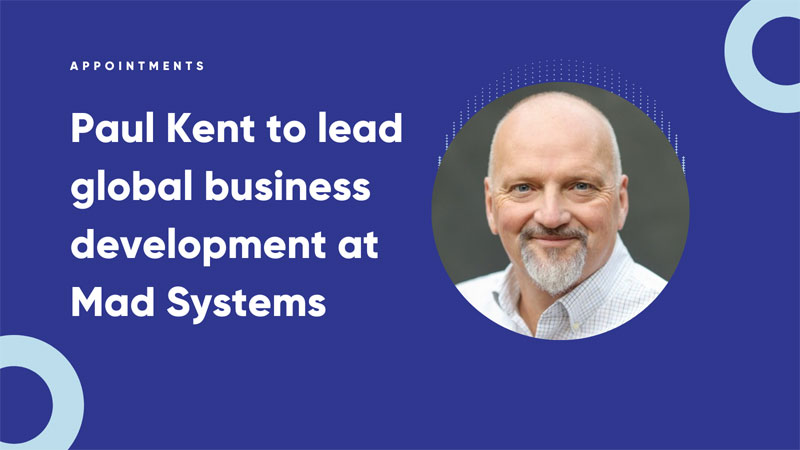 Industry veteran Paul Kent has been named as VP of global business development at Mad Systems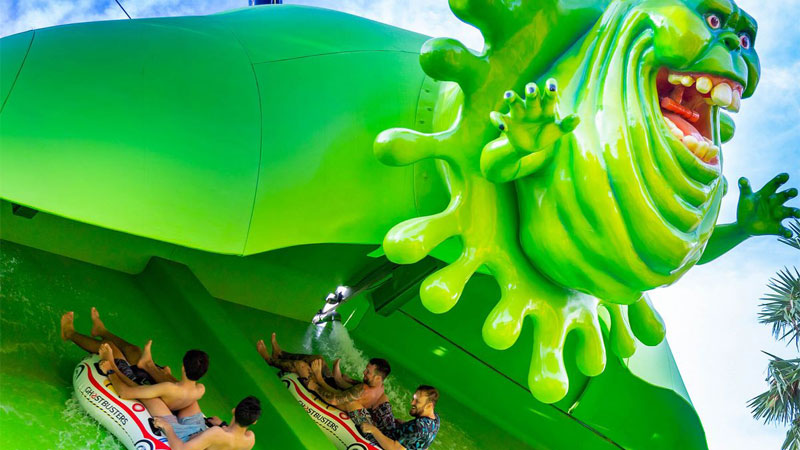 A world-first theme and waterpark utilising Sony IPs has opened its doors in Pattaya, Thailand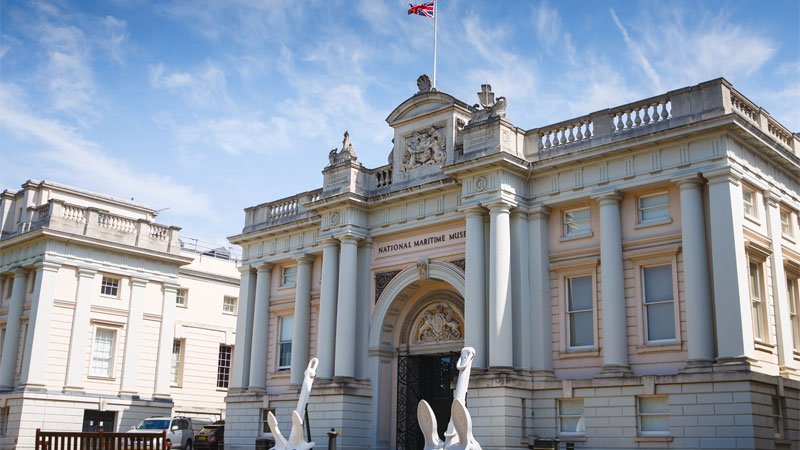 UK museums are struggling to meet skyrocketing energy bills, with the energy crisis posing a higher threat to the sector than the Covid-19 pandemic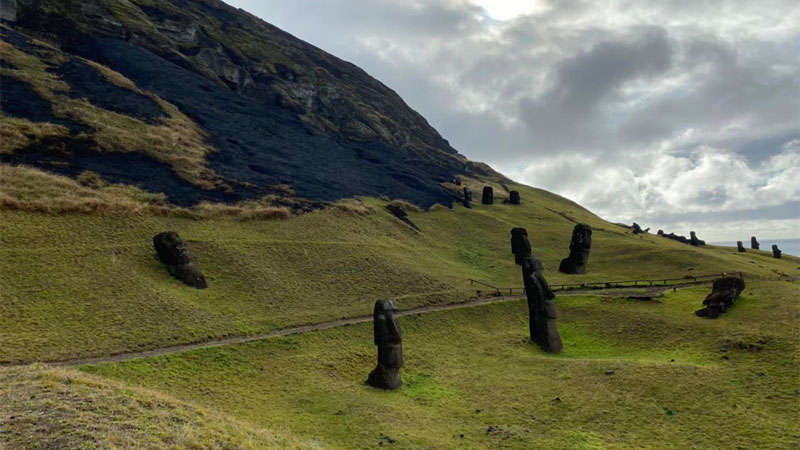 A wildfire on Easter Island which could have been started deliberately has caused 'irreparable' damage to the Unesco World Heritage Site's iconic moai head statues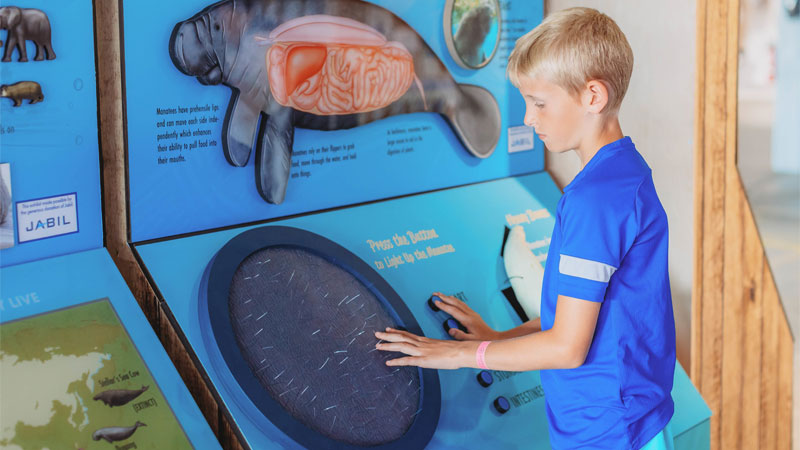 Clearwater Marine Aquarium has debuted a new manatee exhibit to inform guests about the threats the species faces as well as the work being carried out by various groups to protect them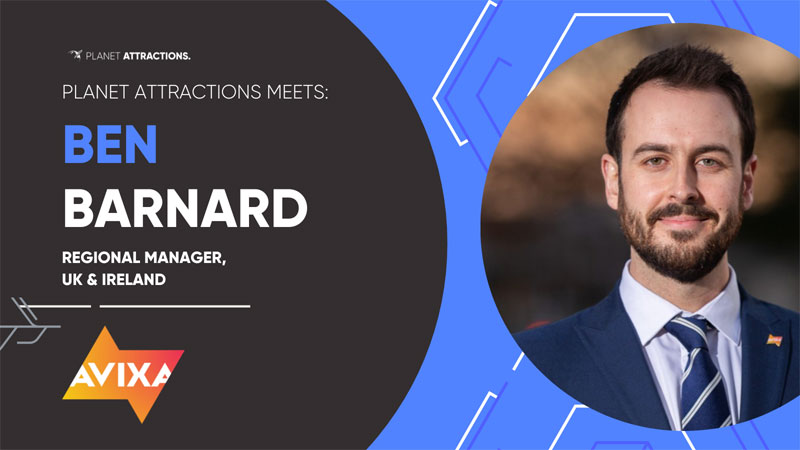 AVIXA produces a number of popular events around the world, including InfoComm and Integrated Systems Europe. The organisation's regional manager for the UK and Ireland, Ben Barnard, spoke to Planet Attractions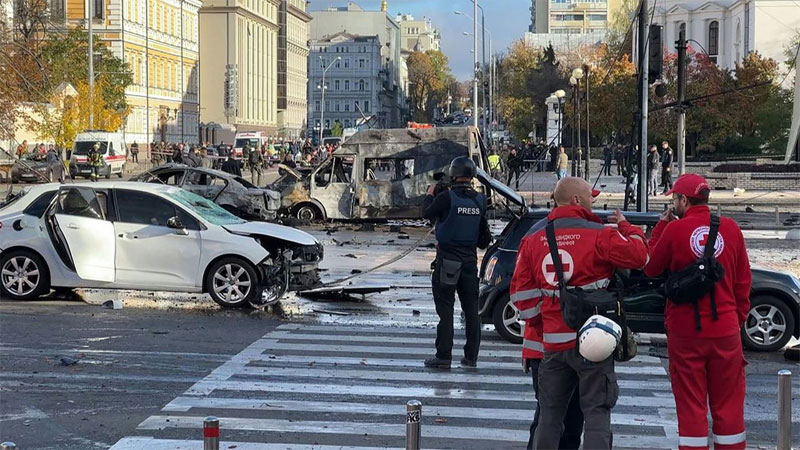 Russia's lethal barrage of strikes against Ukrainian cities this week has seen a number of cultural sites in the capital of Kyiv hit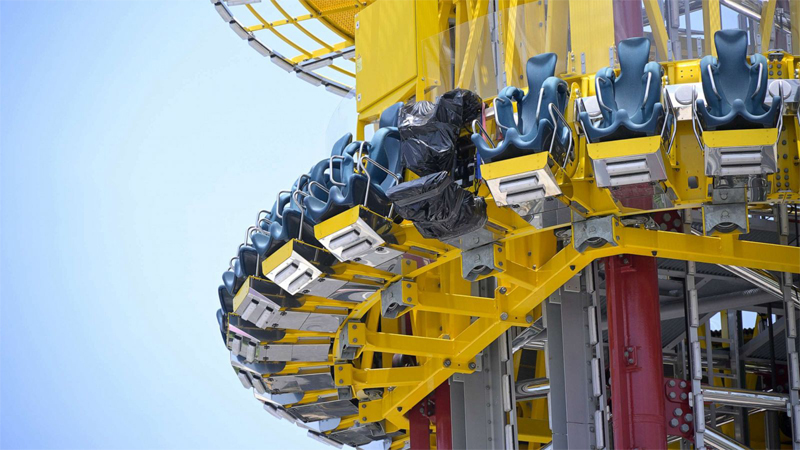 The world's tallest freestanding drop tower will be dismantled in Orlando following the death of a 14-year-old boy on the ride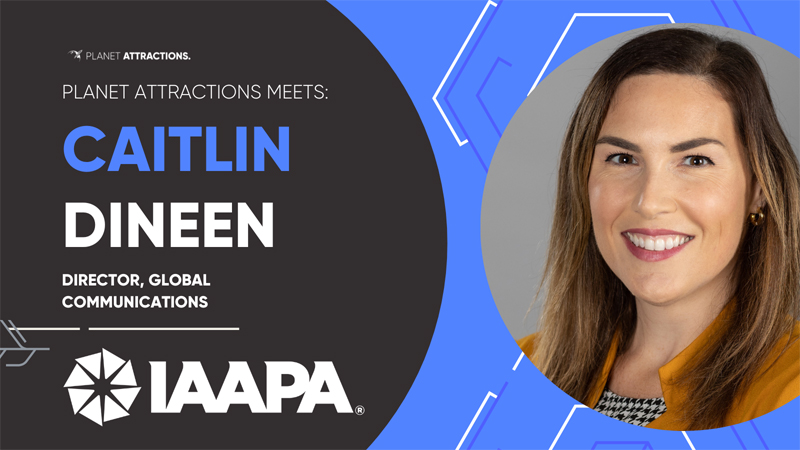 IAAPA's director, Global Communications, Caitlin Dineen, spoke to Planet Attractions at this year's IAAPA Expo Europe about her new role and what goes into putting on an event of such magnitude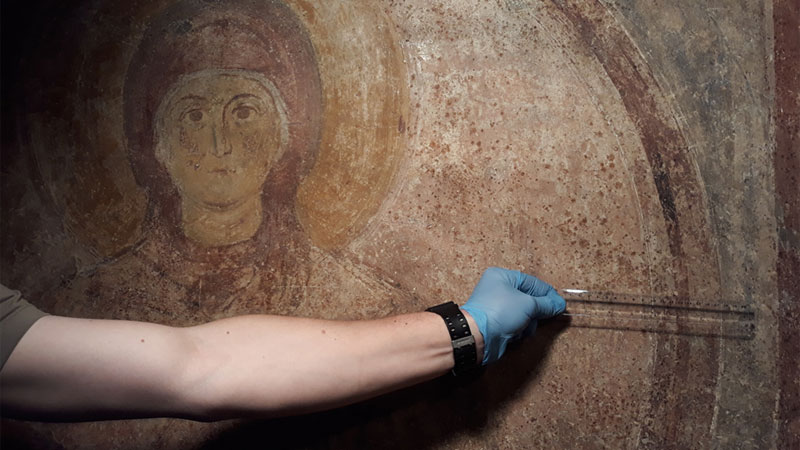 Researchers from the National Academy of Sciences of Ukraine and London's Natural History Museum have discovered the cause of damage to several medieval murals in a Unesco World Heritage site in Ukraine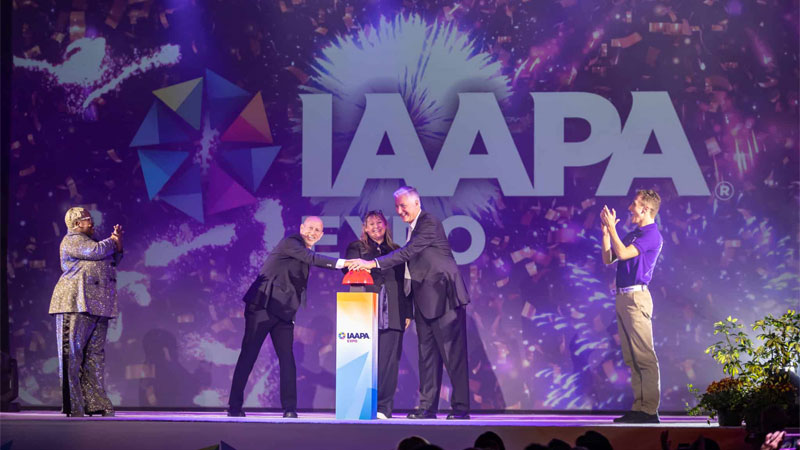 The entertainment group will provide full creative and production services for all live entertainment at this year's IAAPA Expo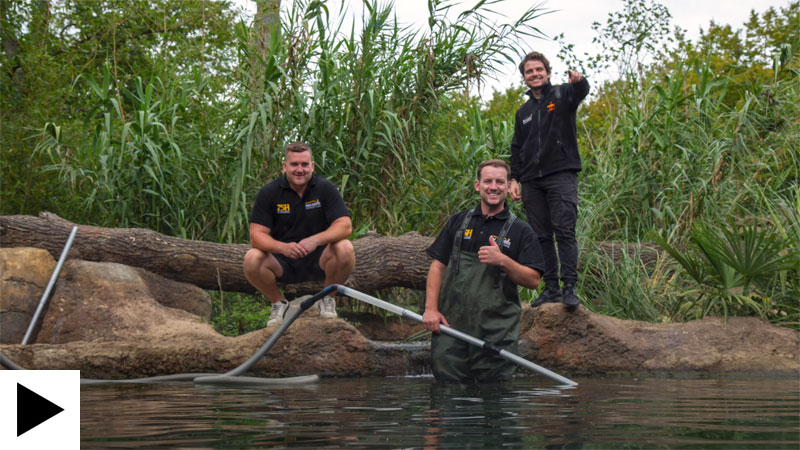 Holla at your boy for the zoo work - Paradise Wildlife Park recently turned to professional pool cleaner turned social media influencer Miles Laflin - aka The Pool Guy - to clean the zoo's animal pools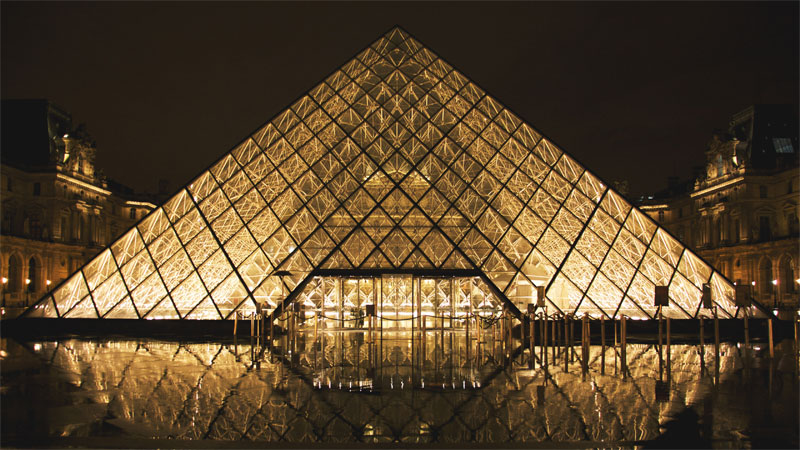 The Louvre is among a number of French cultural institutions and landmarks turning their lights off in an attempt to cut soaring energy costs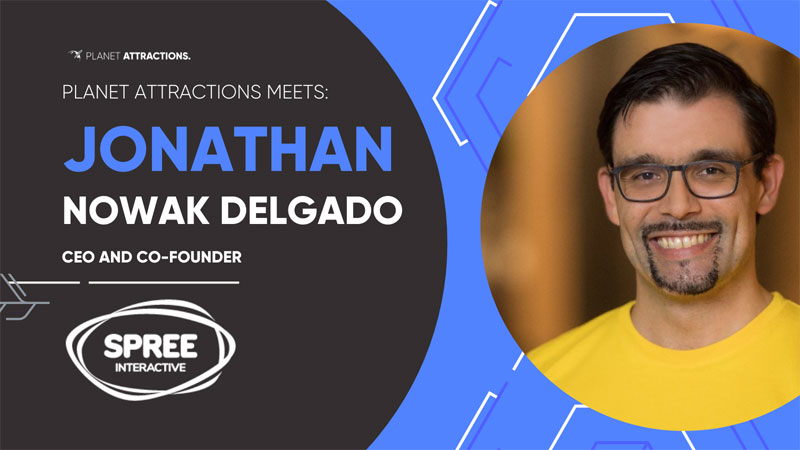 Family-friendly active free-roam VR experiences provider Spree Interactive showcased its technology at this year's IAAPA Expo Europe. Co-founder and CEO Jonathan Nowak Delgado spoke to Planet Attractions at the show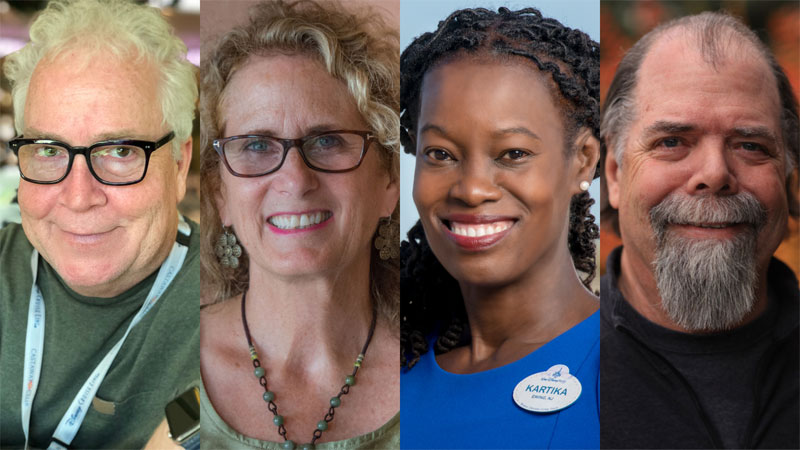 A panel of industry legends will share their stories about the creation and evolution of Disney's Epcot at this year's IAAPA Expo in Orlando, Florida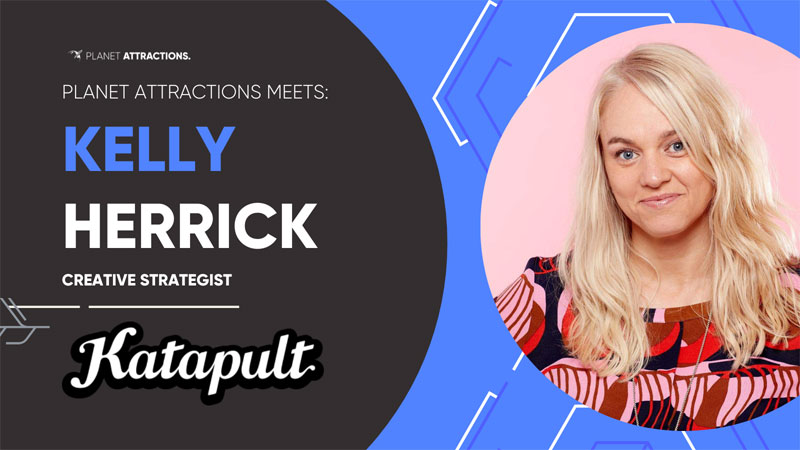 Katapult brought its entire team down to this year's IAAPA Expo Europe in London. The company's creative strategist, Kelly Herrick, spoke to Planet Attractions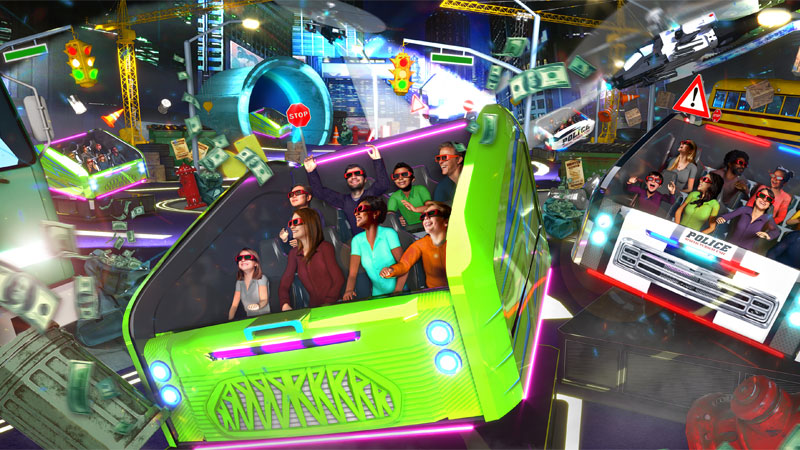 Simworx has partnered with Katapult to develop a new dark ride offering an adrenaline-fuelled car chase. Simworx CEO Terry Monkton and lead creative Matt Clarkson spoke with Planet Attractions about the exciting new project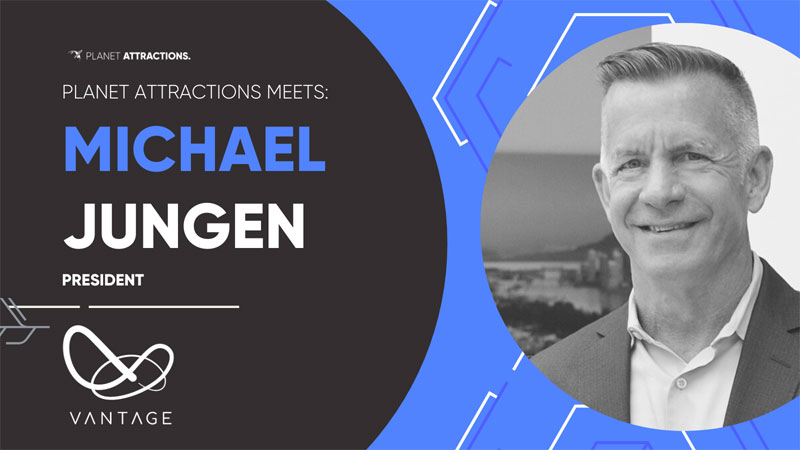 Vantage announced the launch of The Joy Economy at this year's IAAPA Expo Europe. Planet Attractions spoke to the Whitewater division's new president, Michael Jungen, about the campaign and what he hopes to deliver with the technology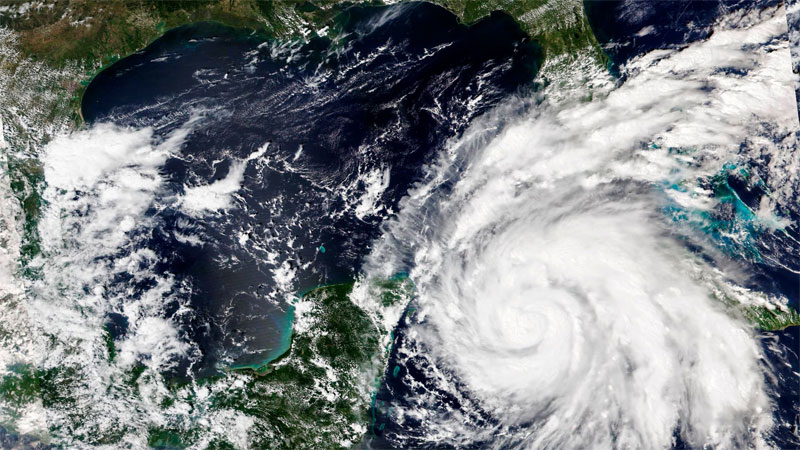 As Florida prepares for the arrival of Hurricane Ian, here's how the state's theme parks are handling the situation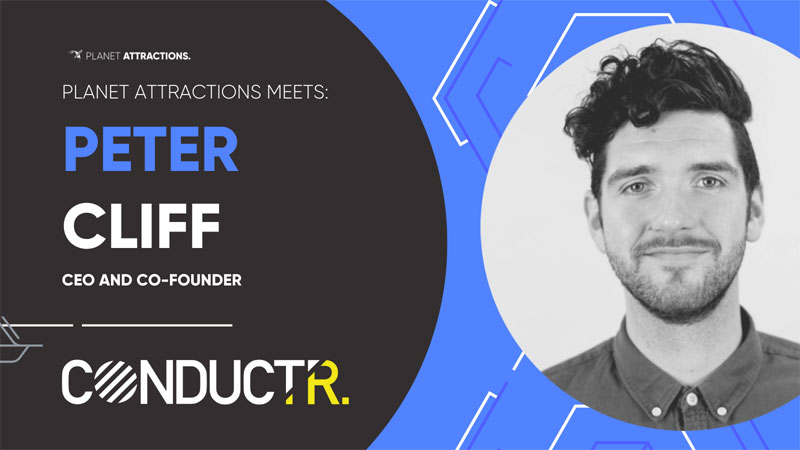 Experiential design collective Conductr made its first appearance at an IAAPA show this year as part of the Experience UK stand in London. Planet Attractions spoke to co-founder and CEO Peter Cliff about the start-up and its plans for the future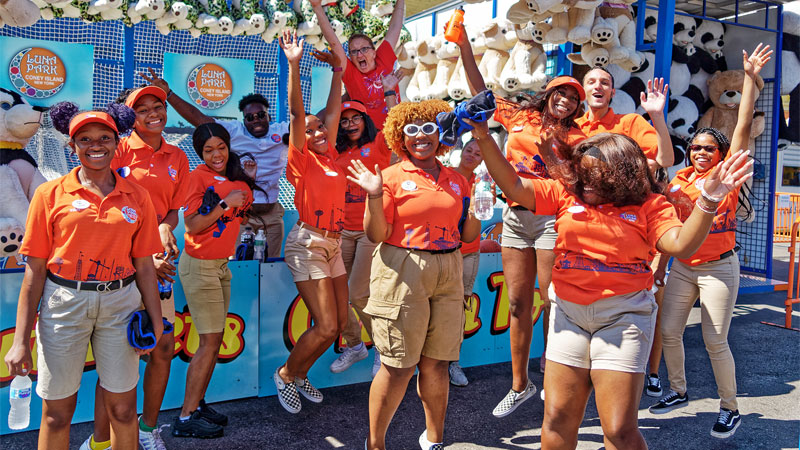 With sizeable business growth and the need for new team members, HB Leisure has embarked on a recruitment drive, with the company aiming to expand its workforce in multiple locations worldwide


More than 200,000 people have voted in this year's UK Theme Park Awards 2022 with Alton Towers, Flamingo Land, Drayton Manor and more coming out with some of the top accolades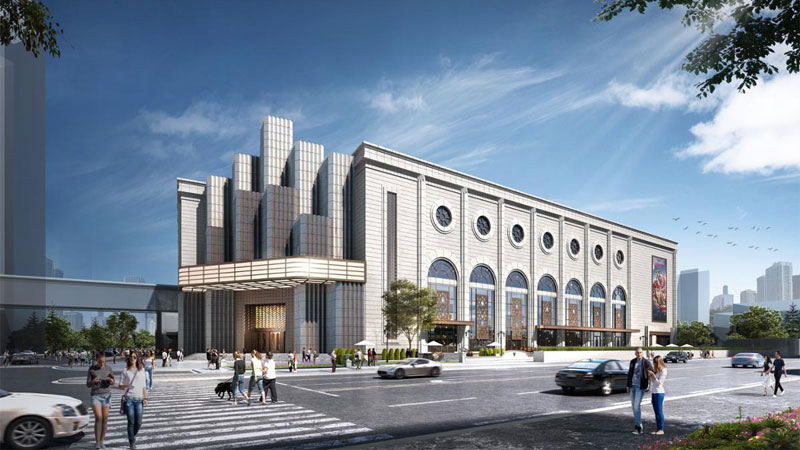 Triotech has landed a deal with Puy du Fou Asia that will see the dynamic attractions specialist supply several attractions to the upcoming SAGA attraction in Shanghai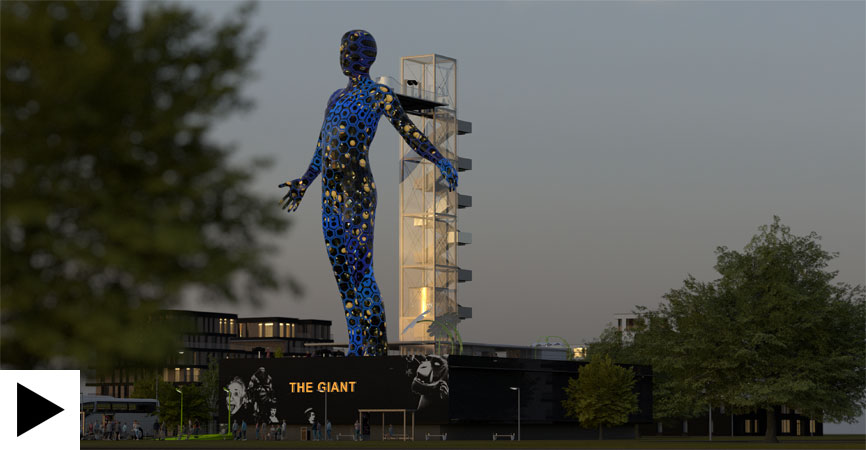 The Giant - a mammoth moving attraction and exhibition - is coming to a city near you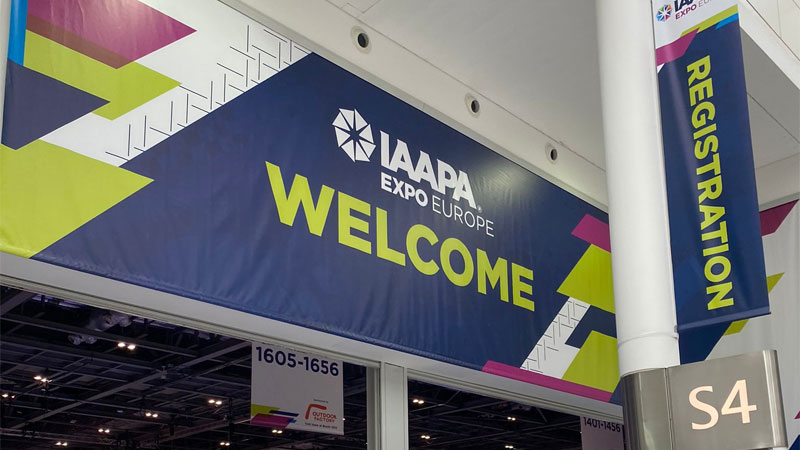 IAAPA Expo Europe saw a 30% increase in attendees to its 2022 show in London, compared to its previous year in Barcelona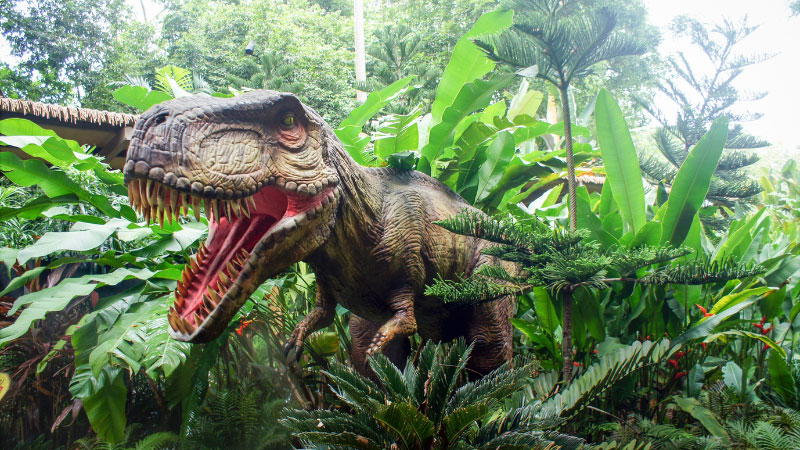 BoldMove will offer attendees a close-up look at its AR Hybrid Quest attraction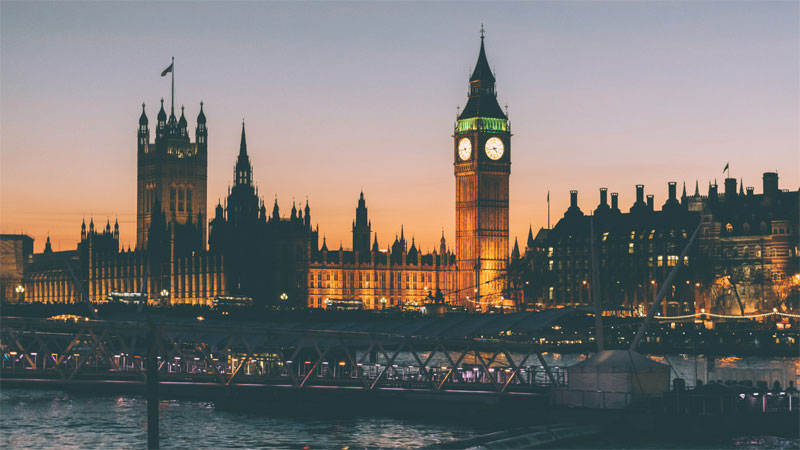 IAAPA Expo Europe is coming to London this September. Here's everything you need to know about the event


OCT Group has debuted a first-of-its-kind attraction at its new Fabland Valley Resort in China. Triotech's Ernest Yale and Nol van Genuchten speak to Planet Attractions about the exciting new multi-path dark ride, how it came to be and what it could mean for future attractions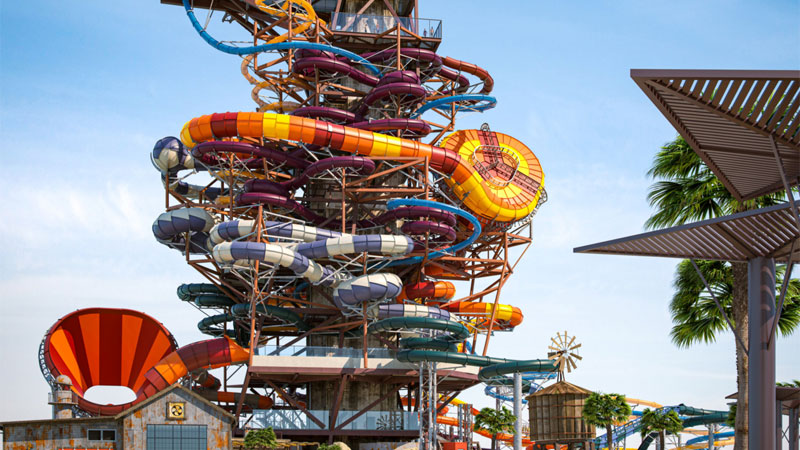 WhiteWater is set to offer attendees a first look at its record-breaking Icon Tower at this year's IAAPA Expo Europe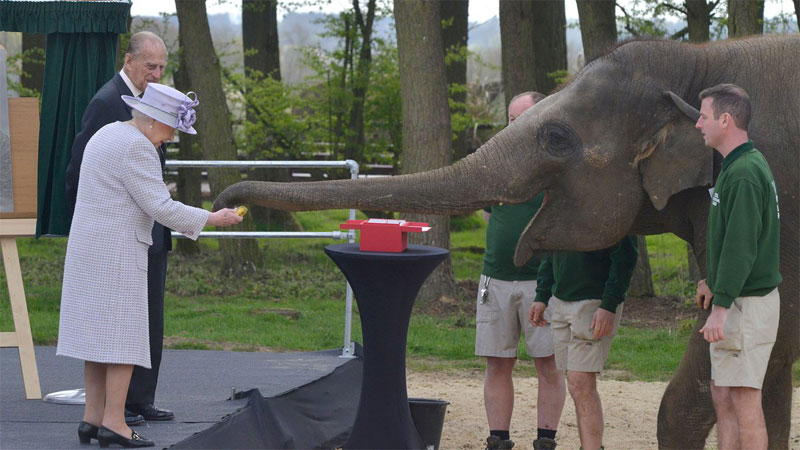 The attractions community has been sharing stories of the profound impact Queen Elizabeth II had on some of Britain's most beloved institutions, paying tribute to the monarch following her death, aged 96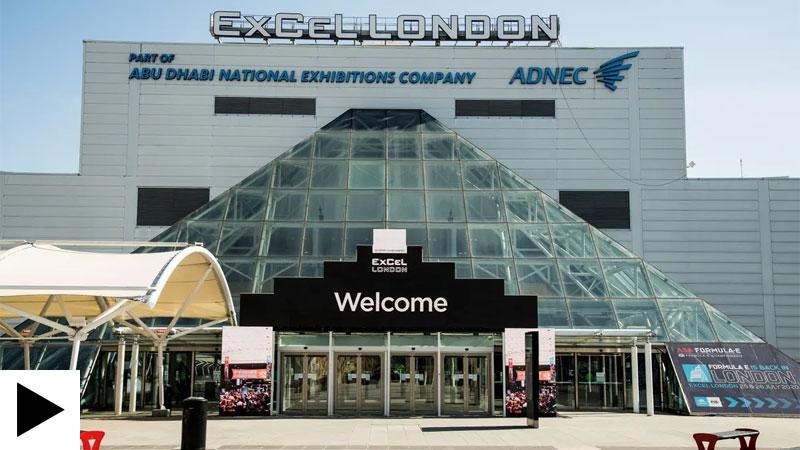 Planet Attractions recently travelled to meet the team behind IAAPA Expo Europe - the EMEA region's largest trade show for the attractions industry. Here's what to expect from this year's show.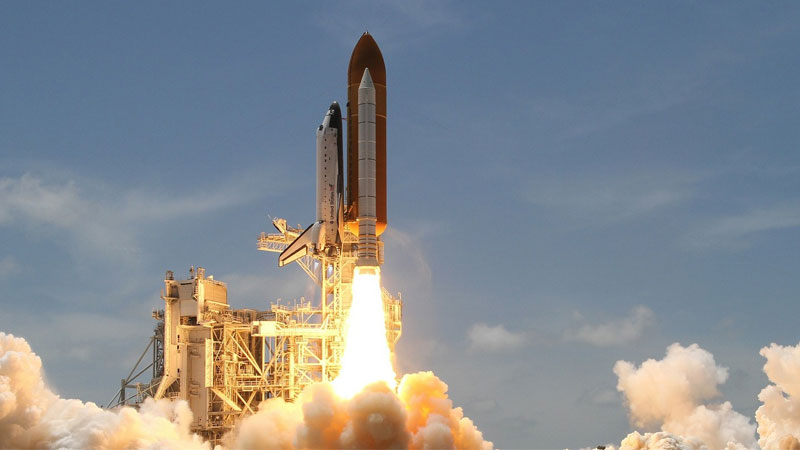 Convious will recreate the guest experience to showcase the full capabilities of its cloud-based sales and marketing solution with an interactive, rocket ship-themed booth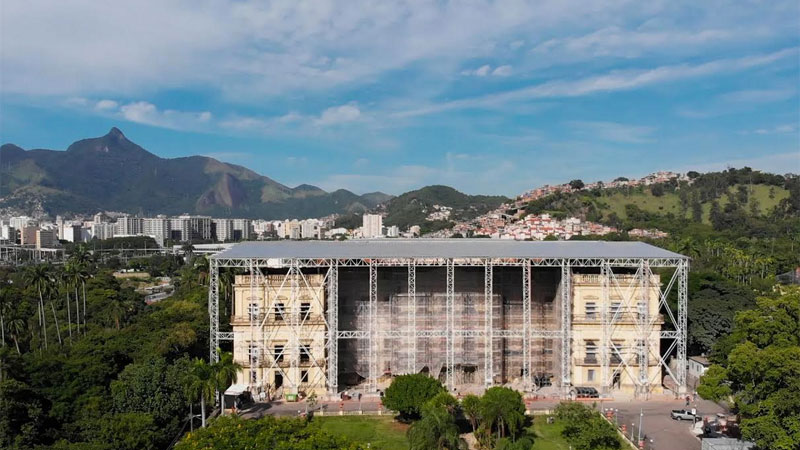 Progress slow and hampered by financial woes, but museum soldiers on with hopes of a full reopening in 2027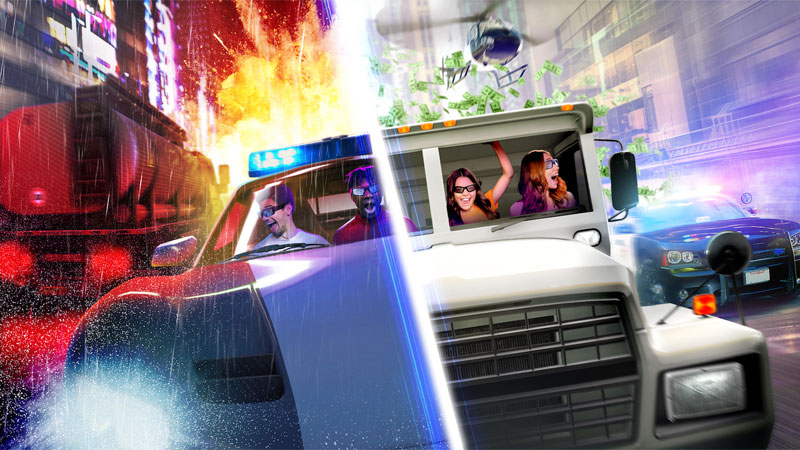 Holovis has created an innovative two-in-one system that supports the delivery of two different media or real-time interactive experiences simultaneously within the same ride or attraction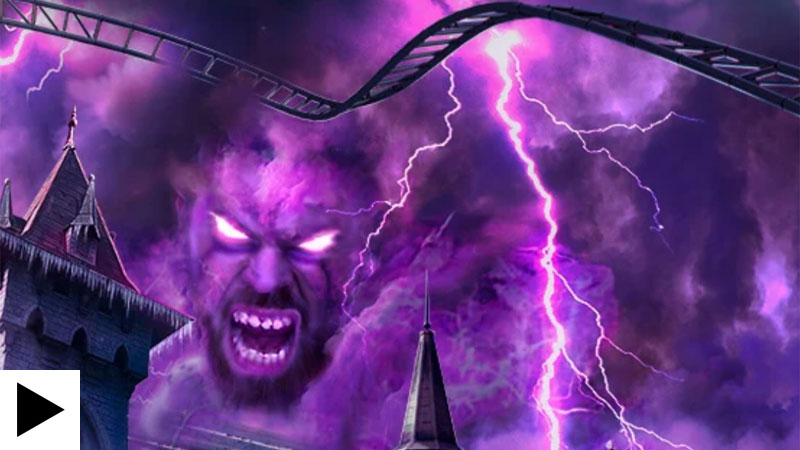 Riders will face stormy weather and supernatural mysteries on this Intamin launch coaster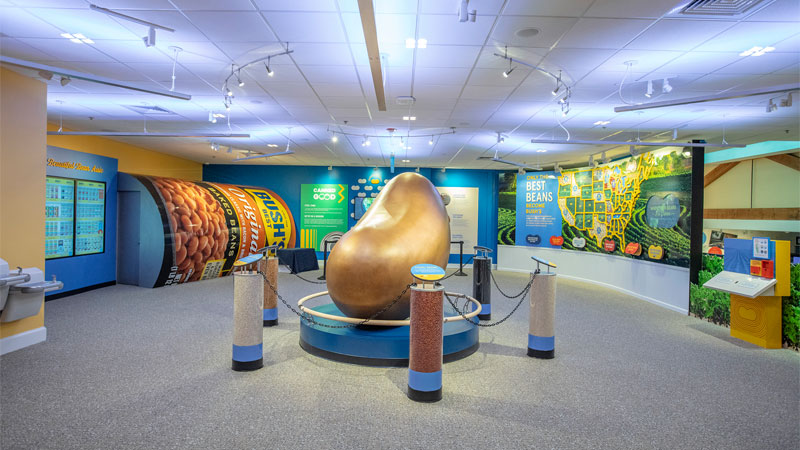 JRA has revitalised Bush's Visitor Center Museum in Tennessee, celebrating the brand's history and all things bean with an all-new guest experience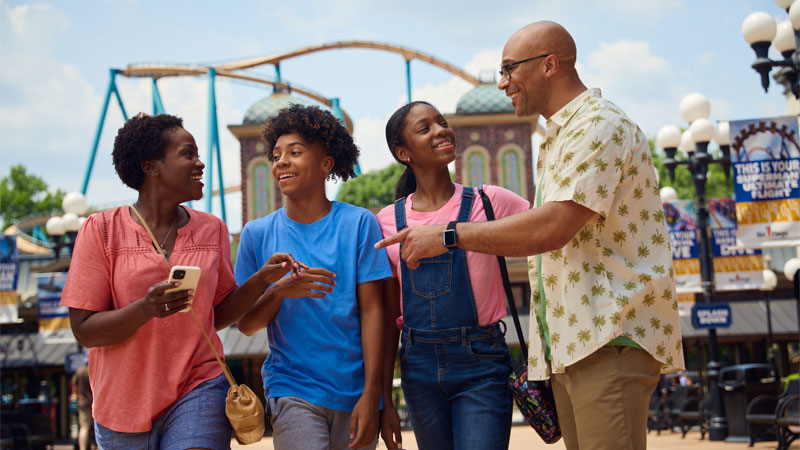 accesso is set to showcase what it calls 'the future of mobile consumer engagement' at this year's IAAPA Expo Europe, with expanded solutions designed to help operators connect, engage and build loyalty with visitors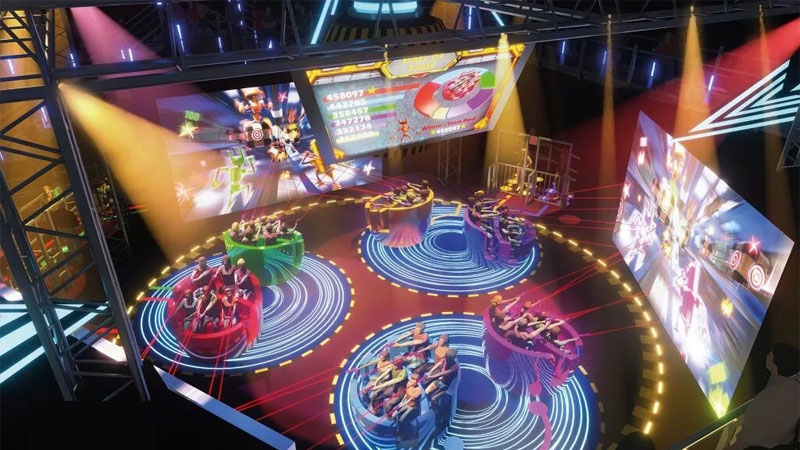 Alterface has revealed new theming and media packages for its award-winning Action League dark ride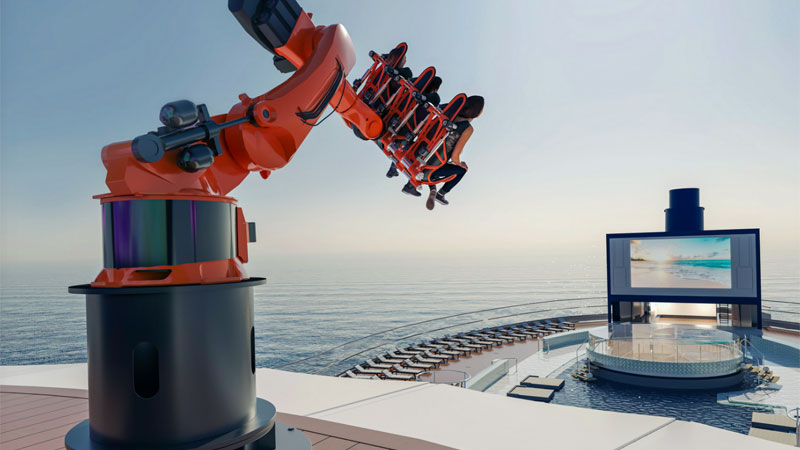 The kind of robotic technology seen at theme park rides worldwide will soon be available to cruise passengers out at sea


The 30-year-old Newport aquarium is also restoring and renovating its indoor exhibits and coffee shop


Experience design firm FORREC will be on hand to discuss several of its high-profile projects, including the new Legoland Korea Resort, at this year's IAAPA Expo Europe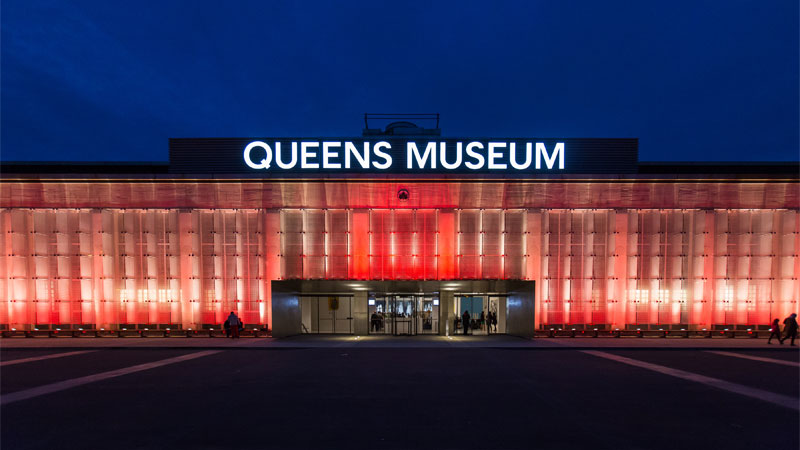 The US$69m addition furthers the Queens Museum mission to bring arts and education to a diverse and international community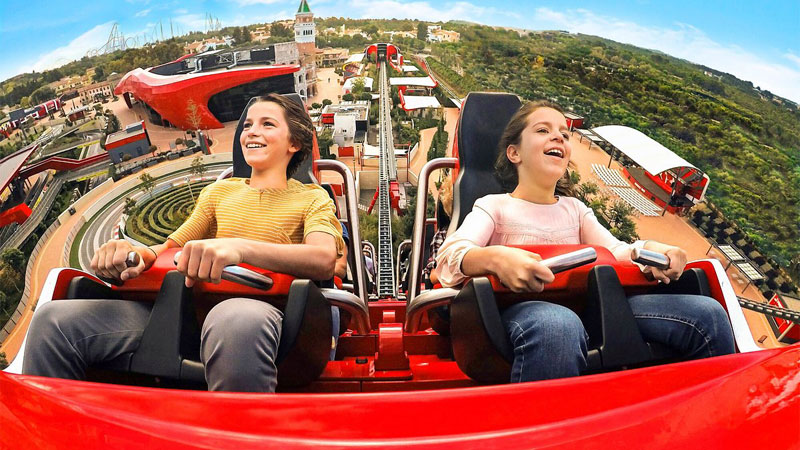 The multi-million-euros project will enable PortAventura to get one-third of its annual energy from clean electricity, and should be ready to power the park by the end of the year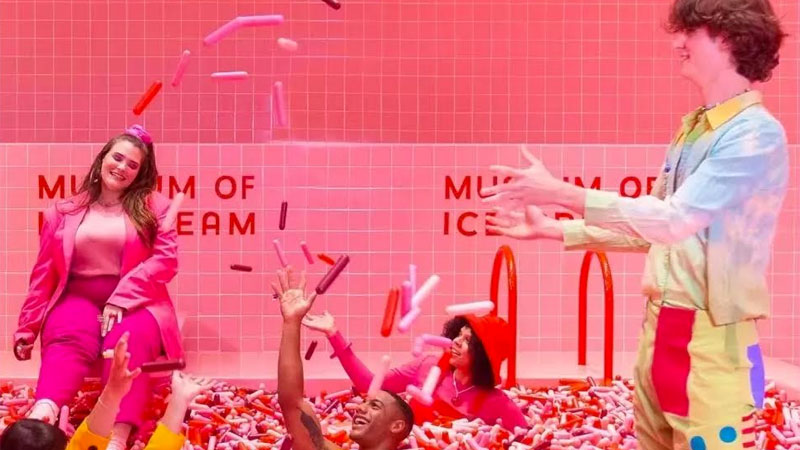 As well as multi-sensory, playful and colourful installations, the attraction has a café, bar and retail store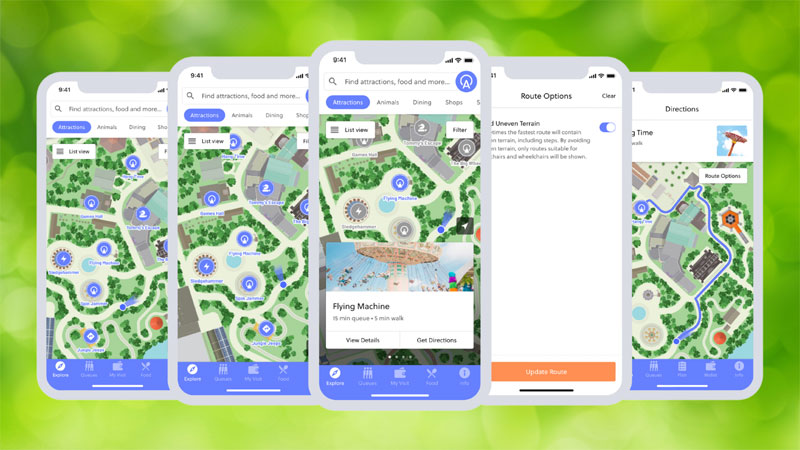 Attractions.io is adding a new feature to its mobile platform with the company set to showcase its new for 2022 wayfinding solution at this year's IAAPA Expo Europe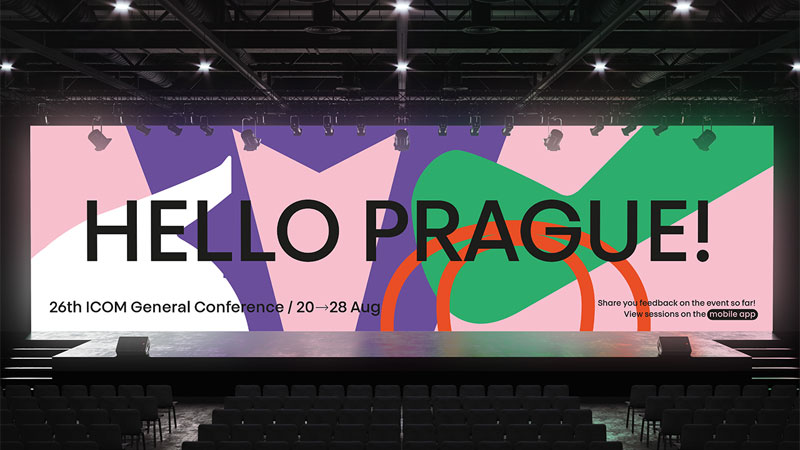 Changes to the 2007 definition of a museum reflect industry's more inclusive and sustainable aims and roles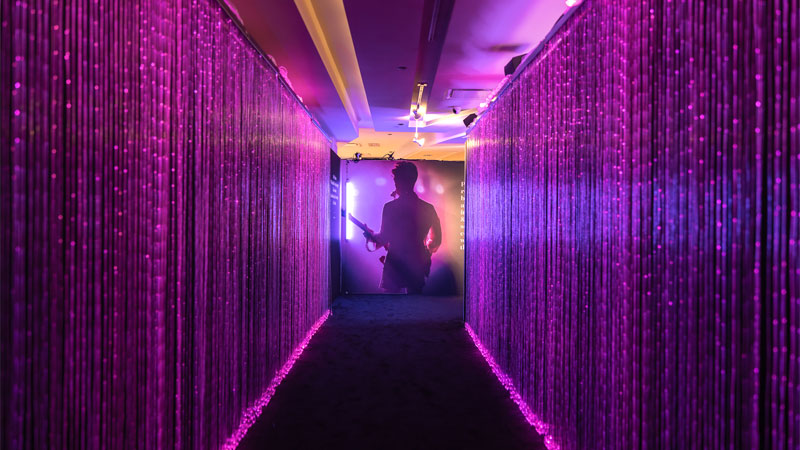 An immersive experience celebrating the life and music of rock legend Prince has opened in Chicago


FORREC and Sun Group have formed a long-term strategic partnership to develop world-class tourism projects in Vietnam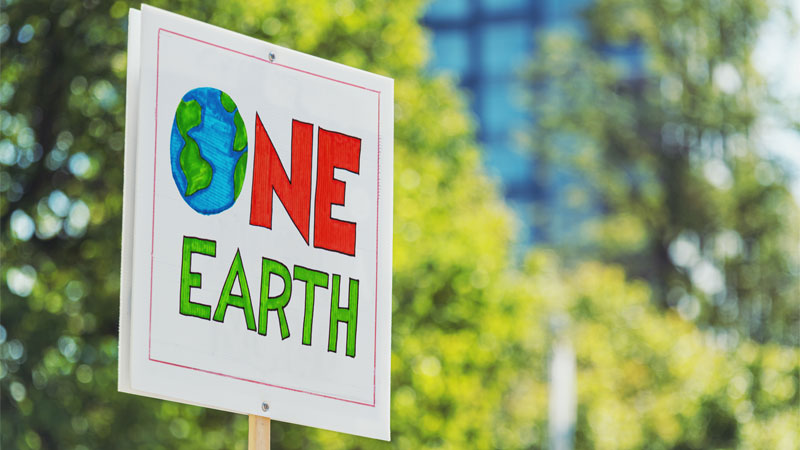 The Natural History Museum's Generation Hope: Act for the Planet programme will offer a series of free in-person and online events aimed at young people to help drive positive change for the planet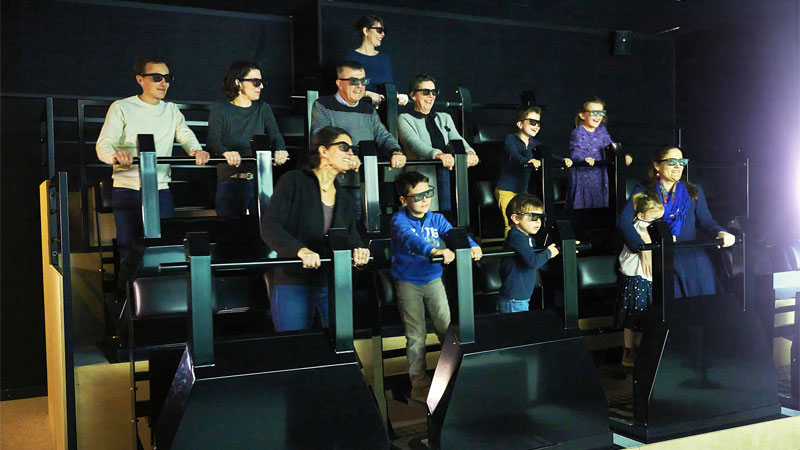 Media-based attractions specialist Triotech will showcase a new stand-up flying theatre attraction and announce a major European theme park project at this year's IAAPA Expo Europe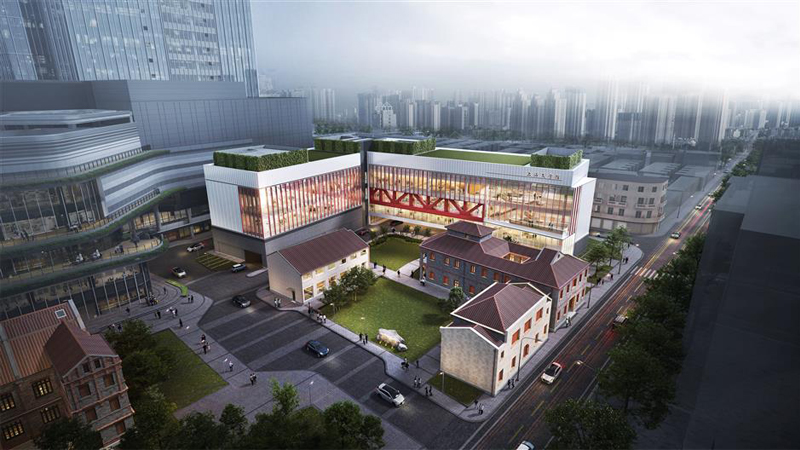 Hongkou attraction to honour city's avant-garde literary movement of the 1920s and its respected authors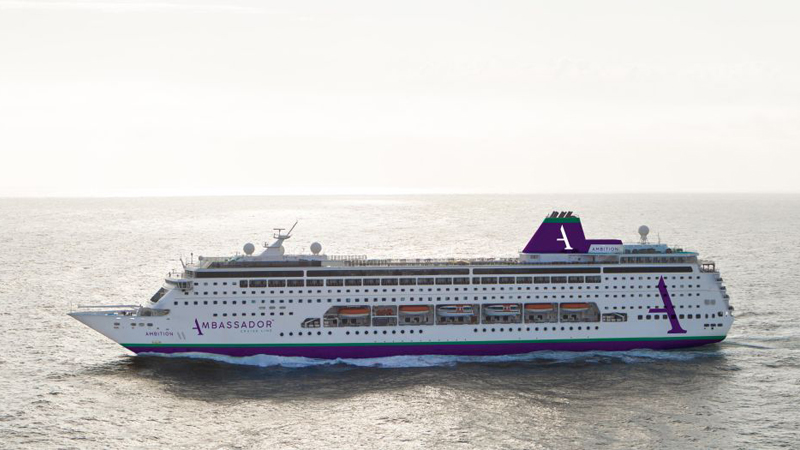 With an influx of Ukranian refugees threatening to overwhelm available housing in Scotland, the government has announced plans to accommodate up to 1,750 people onboard Ambassador Cruise Line's Ambition on a temporary basis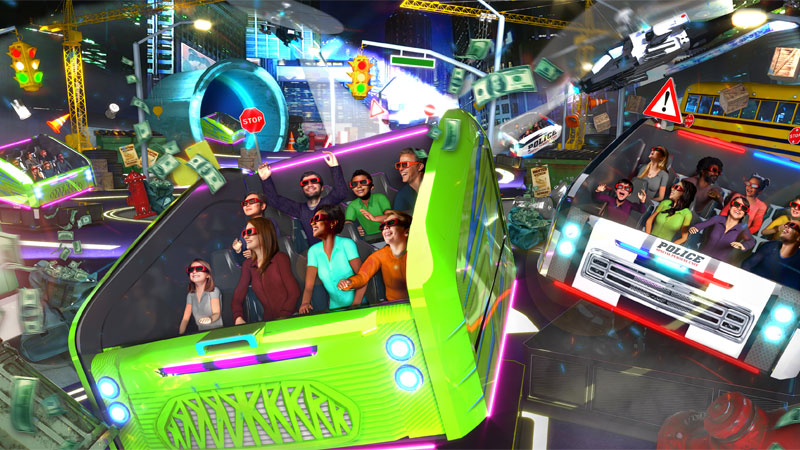 The dynamic media-based attractions specialist will showcase several new ride concepts at IAAPA Expo Europe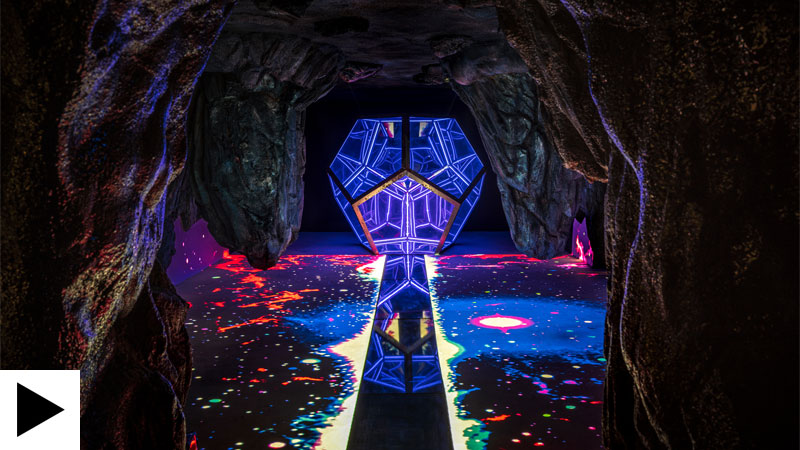 Blurring the lines between an experiential art gallery, interactive theme park and detailed film set, Wake the Tiger is a new attraction that just opened its doors in Bristol, UK. We spoke to co-founder Graham MacVoy about the new attraction, dubbed the world's first 'Amazement Park'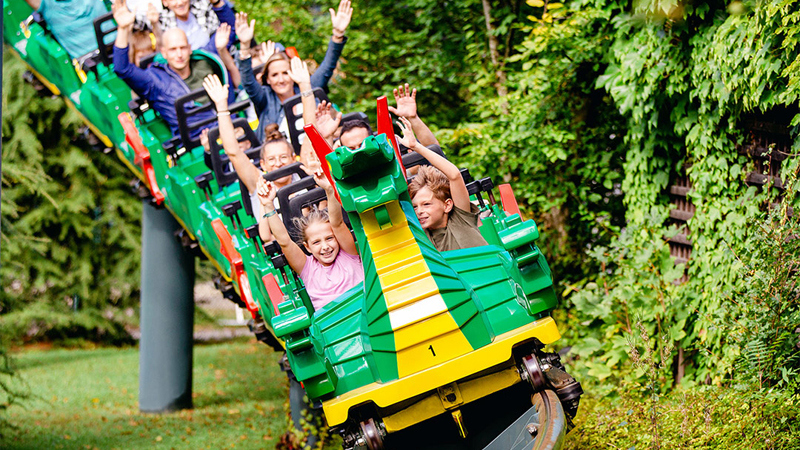 More than 30 people have been injured after two rollercoaster trains crashed into each other at Legoland Germany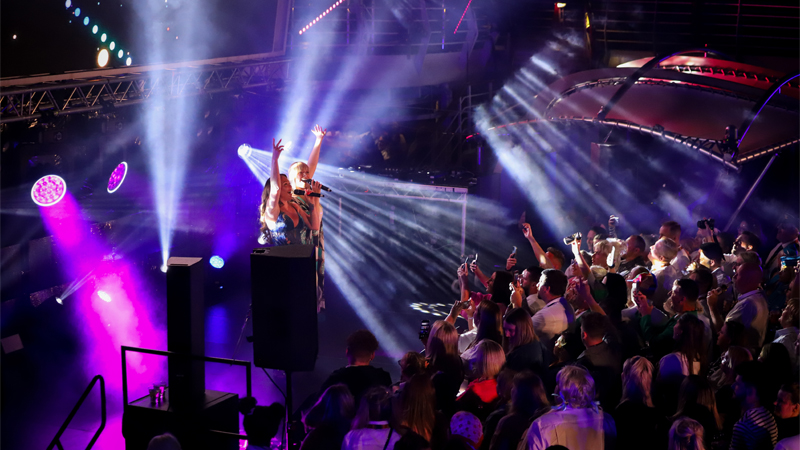 RWS Entertainment Group will showcase its capabilities as a full-service provider of visitor attractions and experiences at this year's IAAPA Expo Europe following two major acquisitions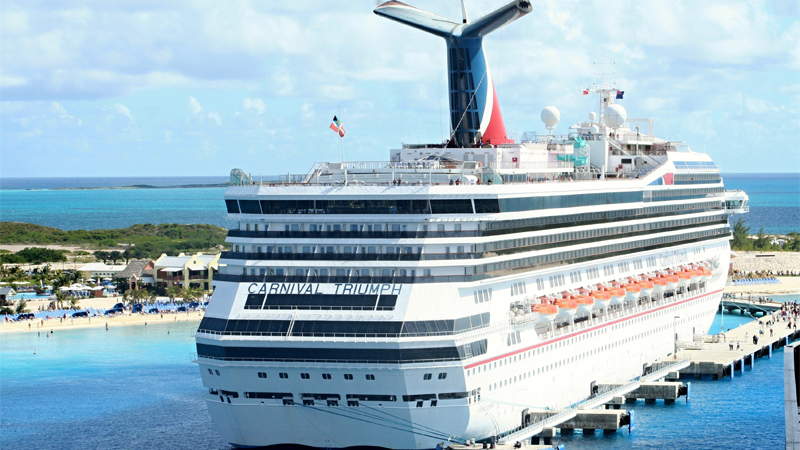 Carnival's new sustainability plan will cut its emissions by 500,000 metric tons per year and save US$150m annually in fuel costs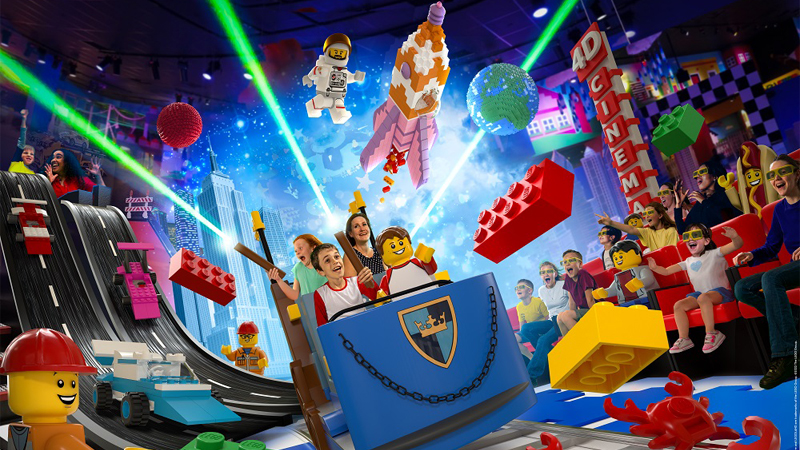 Merlin has announced that three of its 'next generation' Lego Discovery Centres are coming to the US in 2023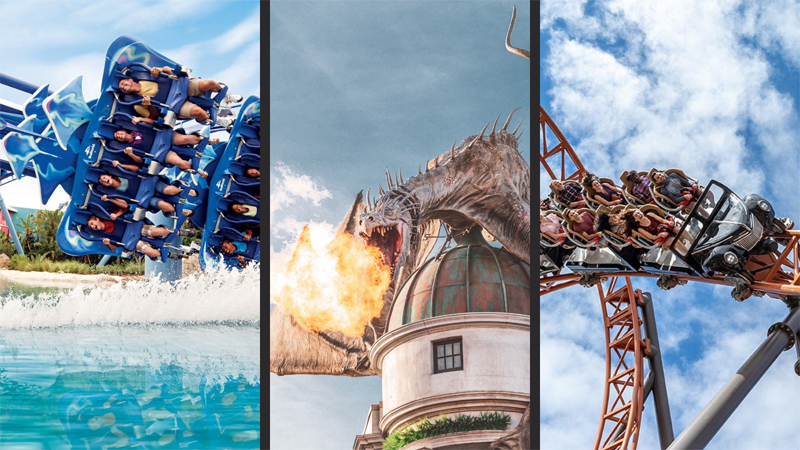 SeaWorld, Cedar Fair and Universal have all experienced strong second quarters with the operators also revealing some hints as to what's coming for each in the near future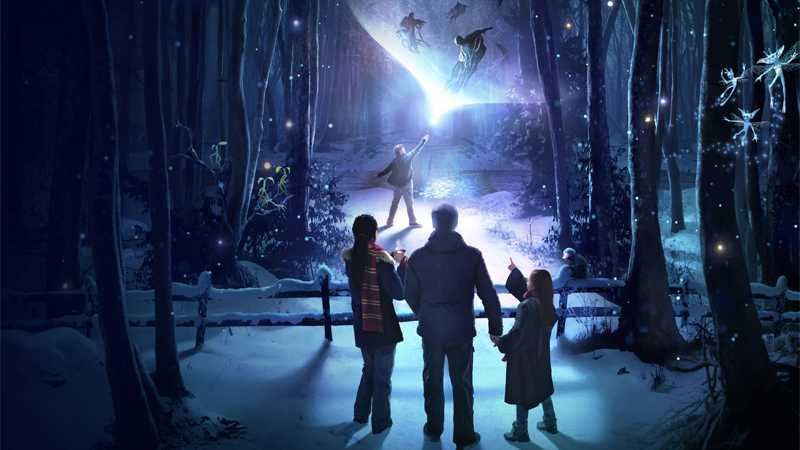 A light trail inspired by the iconic forest from the Harry Potter and Fantastic Beast franchises will open in the US in October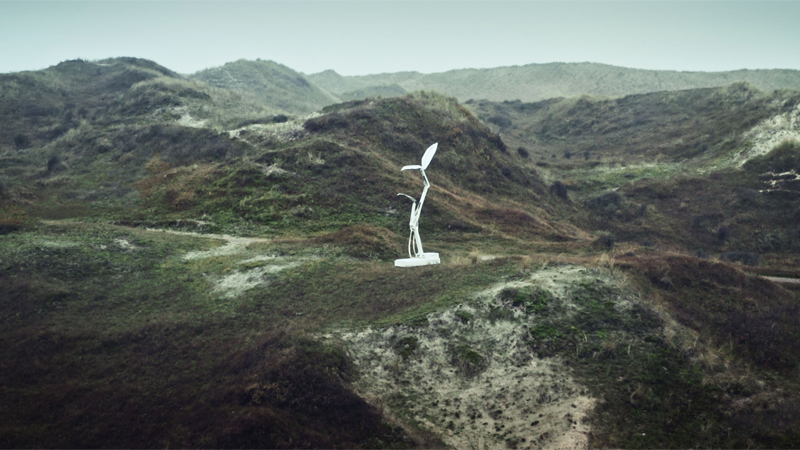 A new art installation powered by data from London's Natural History Museum will provide an ever-changing visual representation of how society's choices impact the natural world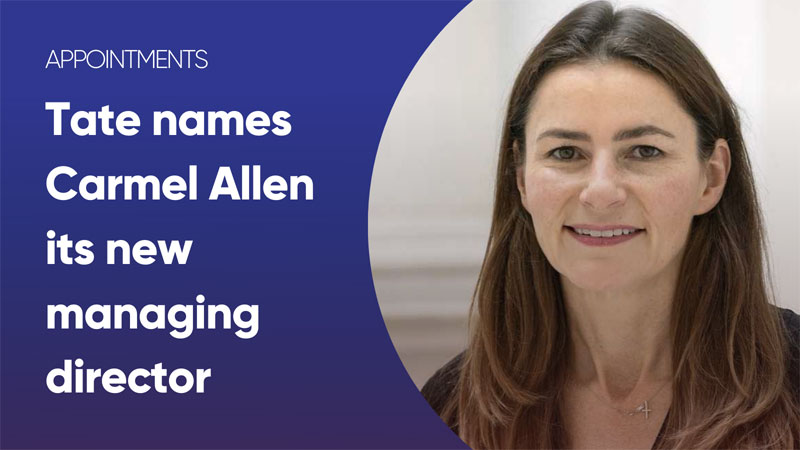 Carmel Allen has been named the new managing director of Tate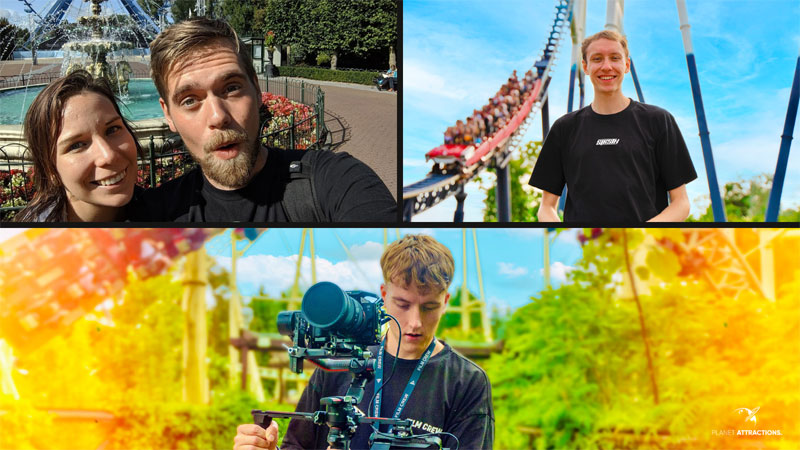 Planet Attractions is set to be joined by some of the UK's top content creators this September for a special panel session to be held at IAAPA Expo Europe in London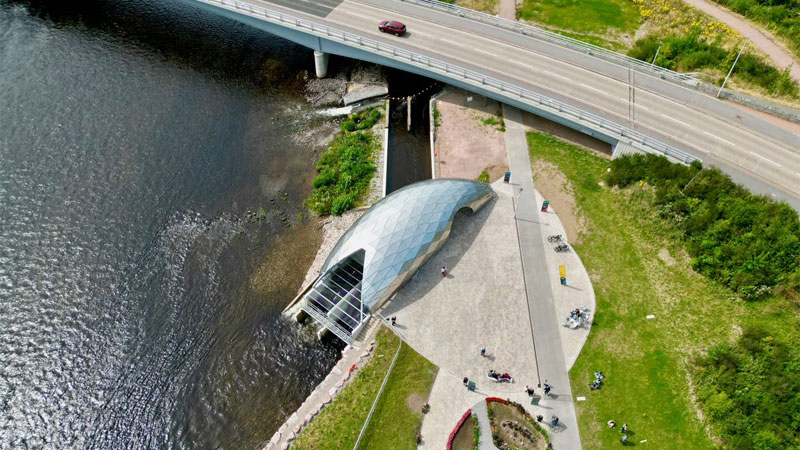 Mather & Co has developed the visitor experience for Hydro Ness - a new hydro scheme in Scotland on the River Ness that generates renewable energy using an Archimedes Screw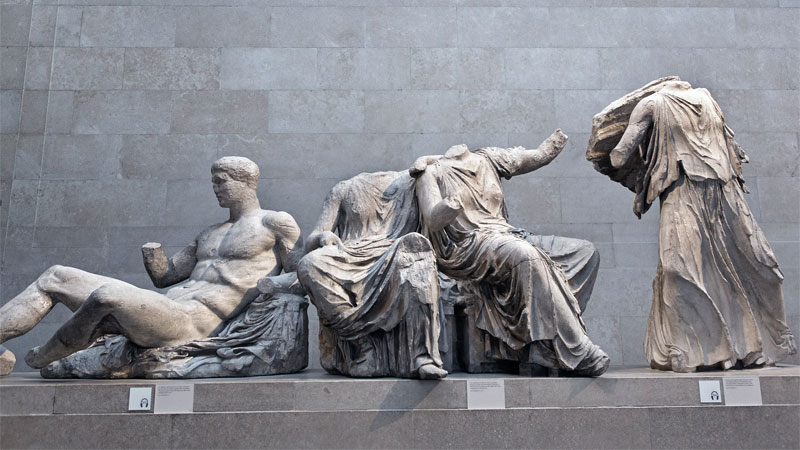 The British Museum has proposed a 'Parthenon partnership' that could see the Parthenon Marbles - also known as the Elgin Marbles - returned to Greece for the first time in more than 200 years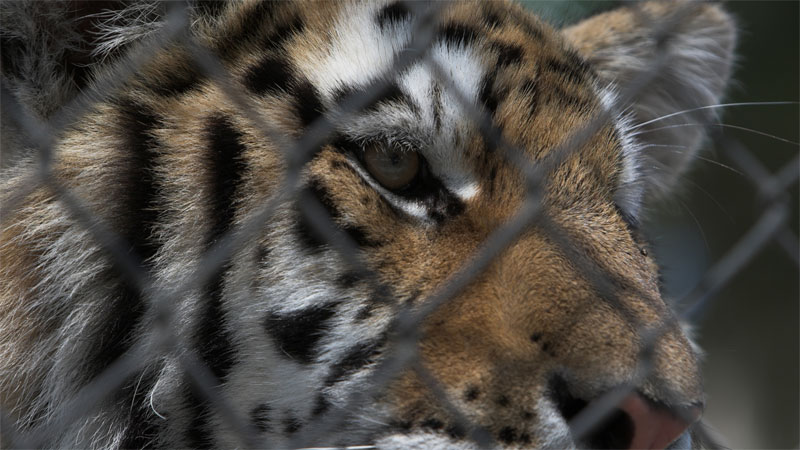 A change in the law will see private ownership of big cats in the US banned, putting an end to possession of tigers, lions and other big cat species except by qualified entities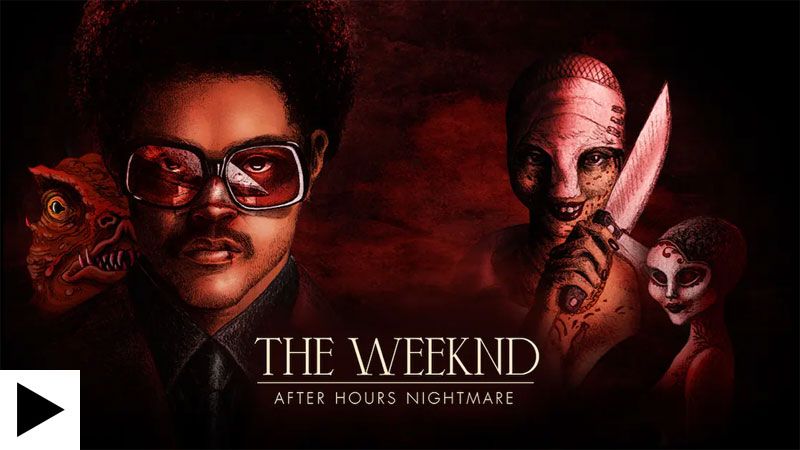 Michael Myers, Dracula and now The Weeknd will be offering the scares at this year's Halloween Horror Nights, with the Grammy Award-winning singer-songwriter set to debut an all-new horror experience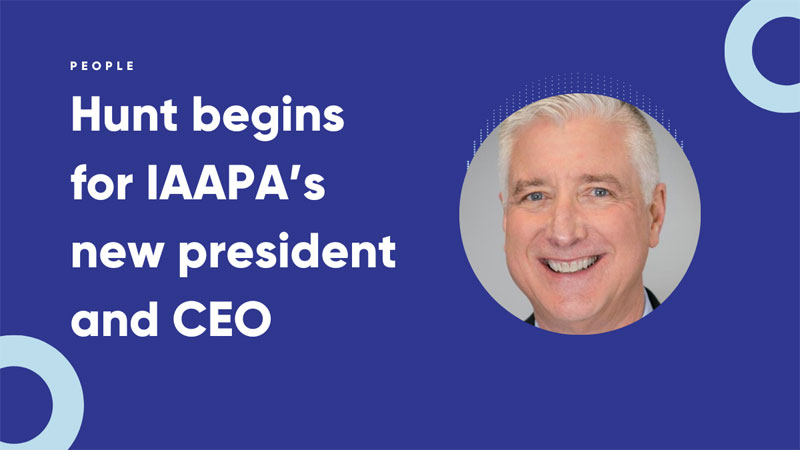 IAAPA is on the hunt for its new president and CEO with a global search now underway to find a replacement for the outgoing Hal McEvoy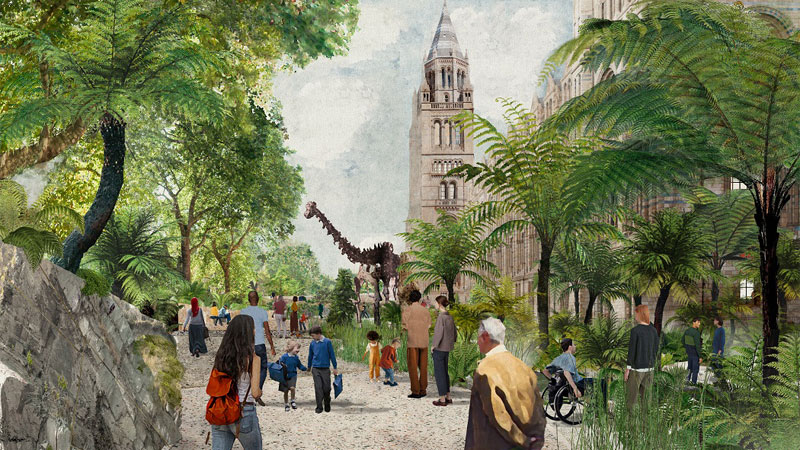 Fundraising has started for the Natural History Museum's Urban Nature Project, a scheme which will allow the museum to turn its five-acre site into a free-to-visit educational outdoor space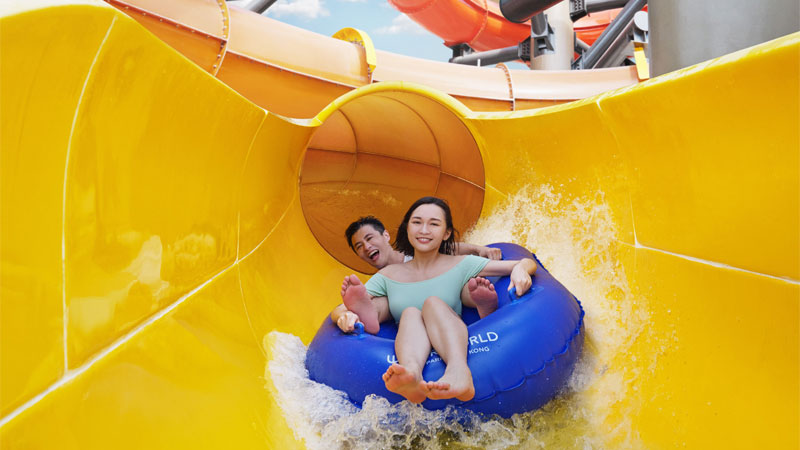 As we enter the busiest time of the year for most waterpark operators, the team at WhiteWater has offered some tips to ensure the season runs smoothly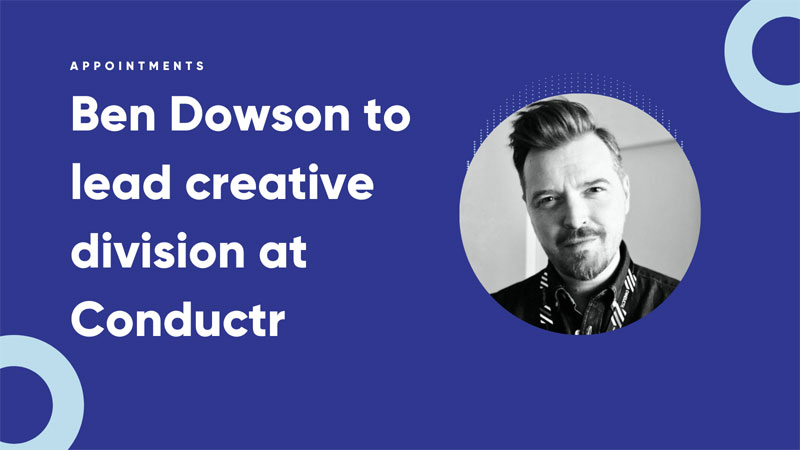 Experiential design collective Conductr has appointed Ben Dowson to oversee the company's creative division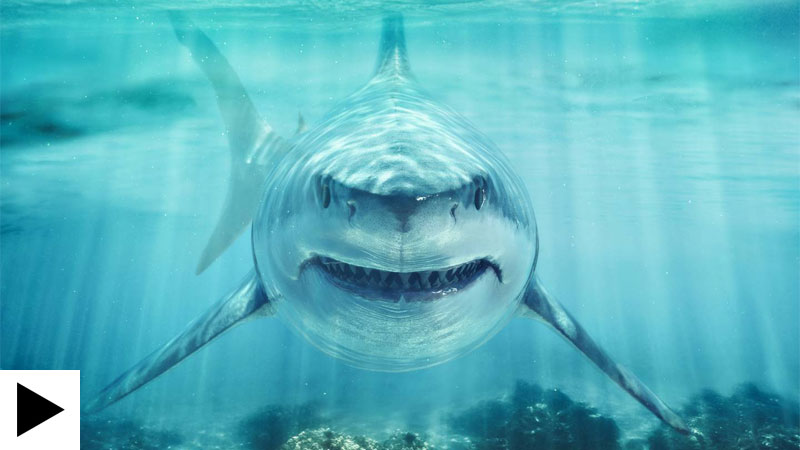 Shark Week is back for 2022 and Planet Attractions has taken a deep dive to find a collection of shark-related content that you can take in during the event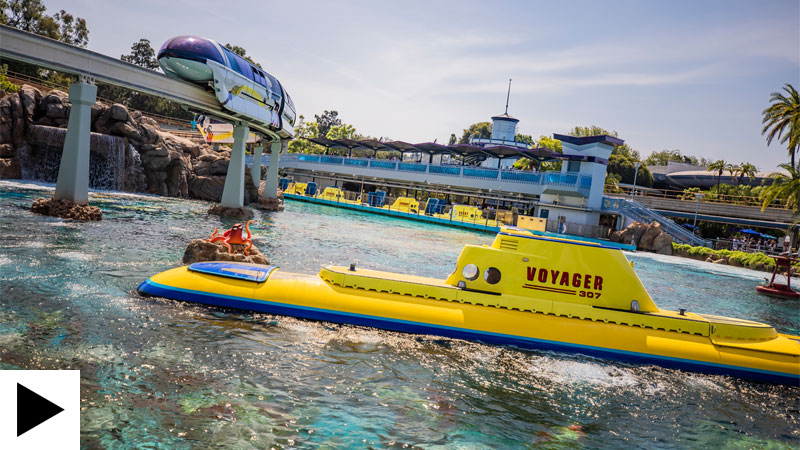 Disneyland's Finding Nemo attraction has undergone a complete renovation, with the new attraction reopening to the public after a year-long closure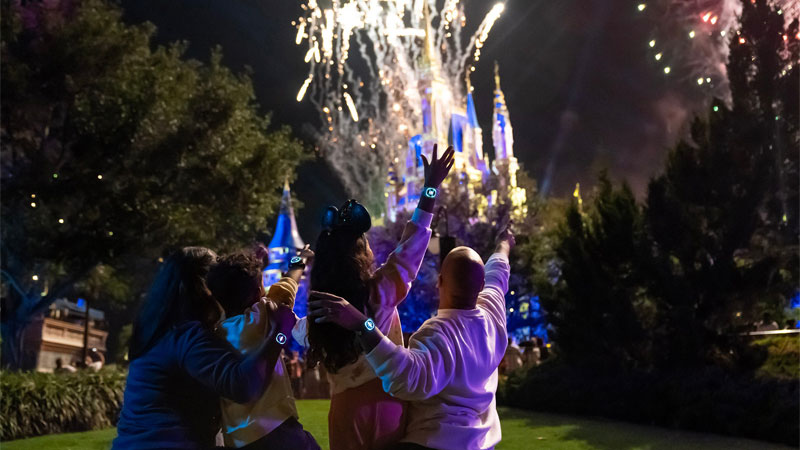 Disney is about to launch its upgraded MagicBand+, with the wearable technology offering a host of new features for visitors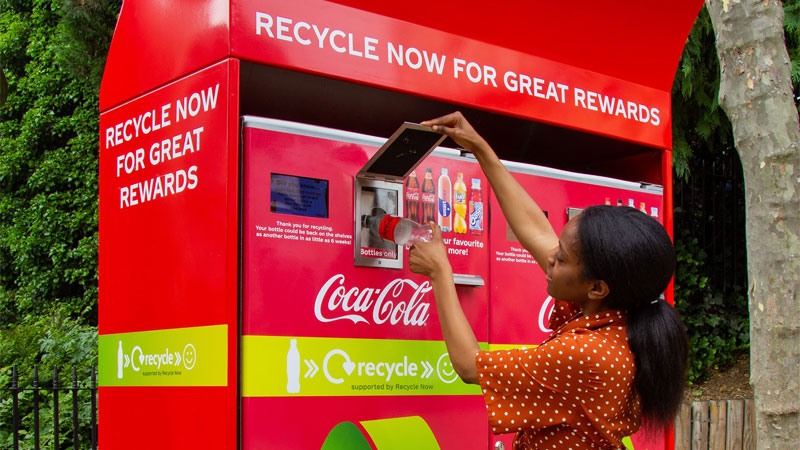 Merlin Entertainments has partnered with Coca-Cola to offer exclusive experiences to guests who recycle their used plastic bottles at Merlin attractions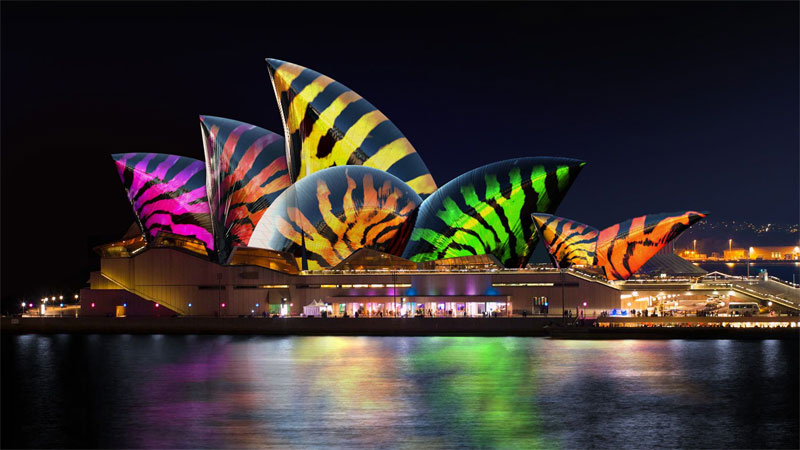 The projection mapping market could be worth as much as US$8bn according to a new report on the technology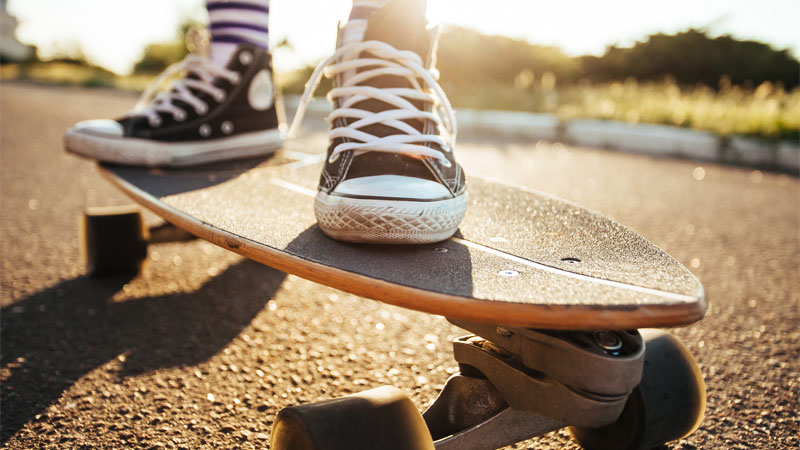 Former pro skateboarders Jason Lee and Chris Pastras have donated personal skateboarding memorabilia to The Smithsonian to be a part of its sports history collection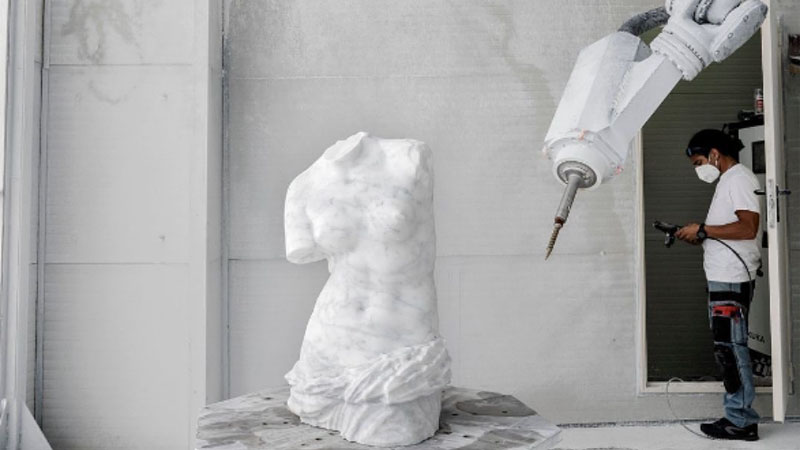 Detailed replicas of the controversial Elgin or Parthenon Marbles, created by a robot, will soon go on display in London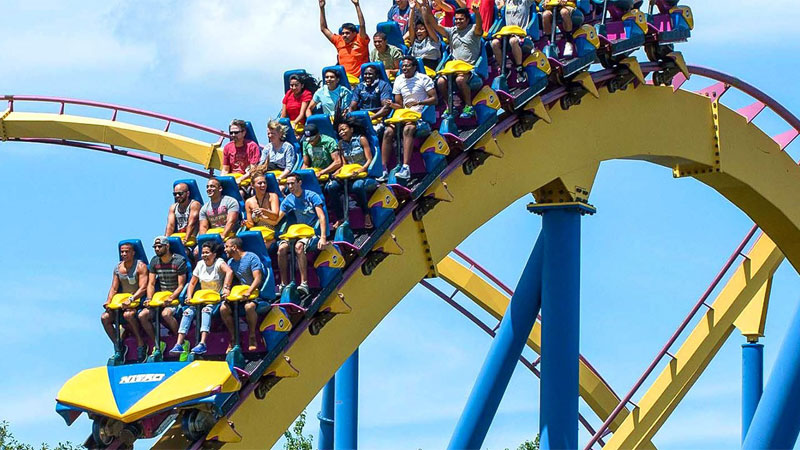 Six Flags is offering improved access for its guests with physical disabilities with a specialised restraint harness that allows them to experience rides they would otherwise be unable to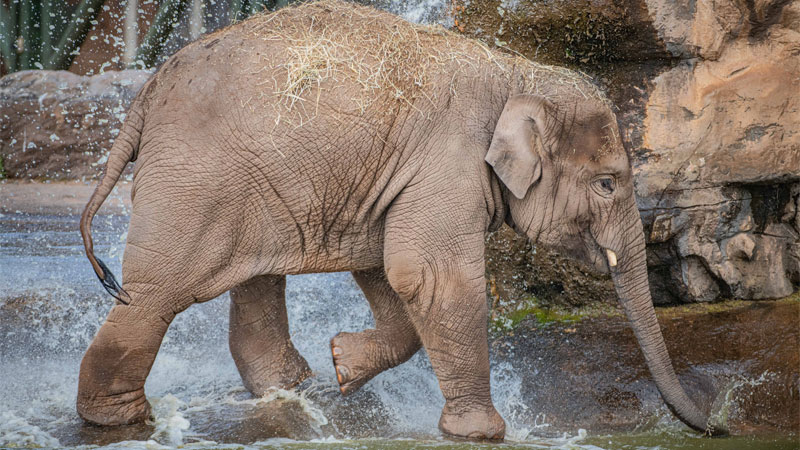 The heatwave currently cooking the UK has forced the closure of one of Europe's most visited zoos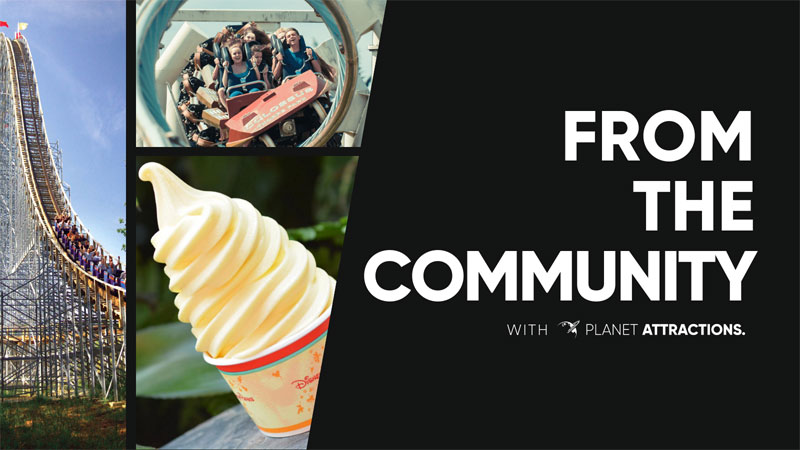 Rounding up all the biggest news from fans and influencers, here is your latest edition of From the Community from Planet Attractions


Planet Attractions travelled to Belgium recently to meet Peter van der Schans, IAAPA's new executive director and vice president for the Europe, Middle East, and Africa region. Here's what he had to say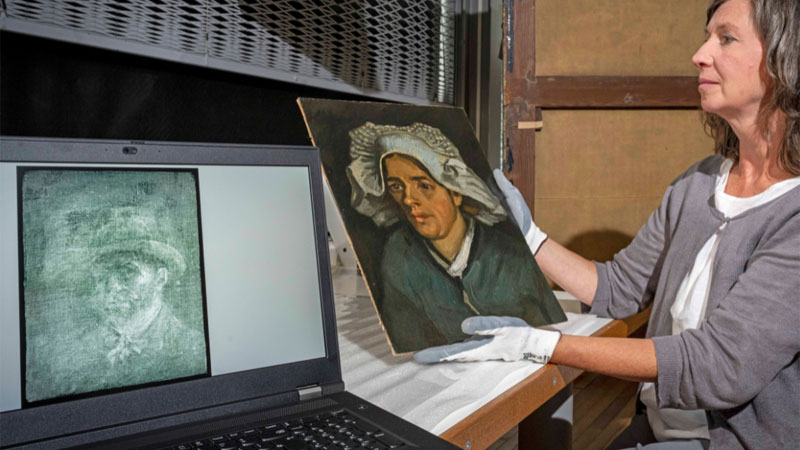 Art conservators at the National Galleries of Scotland have discovered a hidden self-portrait of Van Gogh on the back of another of the artist's works during an X-ray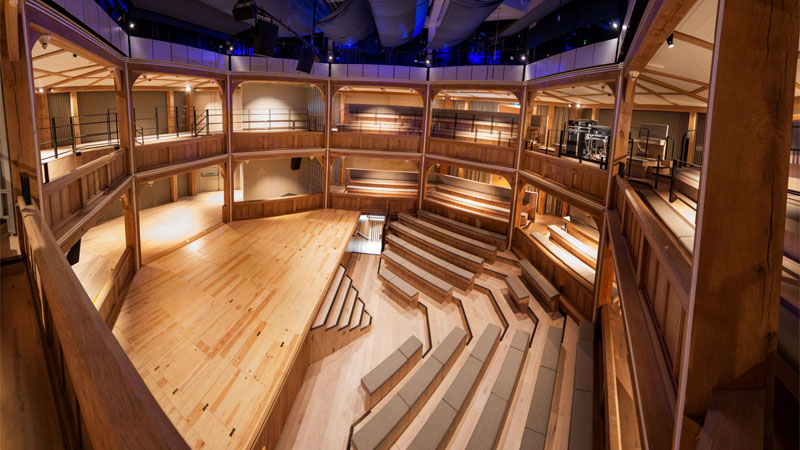 A £38m cultural development in the north of England is set to open its doors this weekend, with the debut of the astonishing Shakespeare North Playhouse in Prescot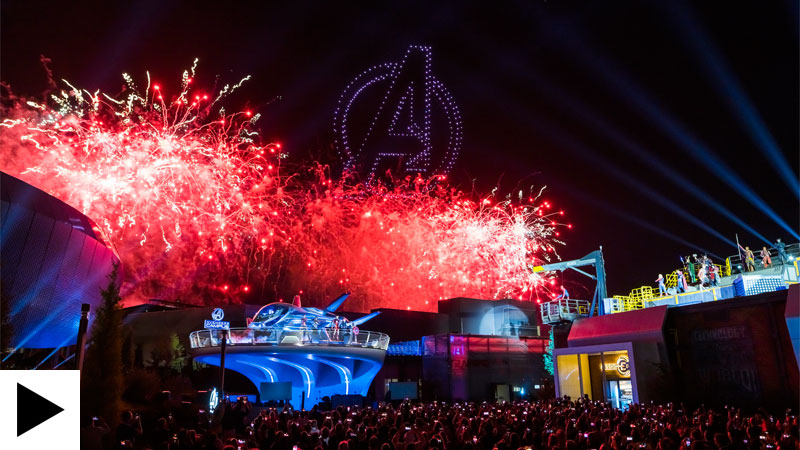 The Avengers have assembled, this time in Paris for the launch of Avengers Campus at Disneyland Paris with stars Brie Larson, Pom Klementieff and Iman Vellani (and even Bob Chapek) all on-hand for the spectacular opening event





© Kazoo 5 Limited 2023