news

The Week: Cruise resurgence, Legoland's new attraction, the K'Nex coaster and fan revolt

The US cruise industry is a step closer to resuming operations, the creation of the Lego Sky Lion at Legoland Windsor, the fan who built a gargantuan rollercoaster entirely out of K'nex and the operator's role as a custodian of treasured memories. Welcome to the latest edition of The Week from Planet Attractions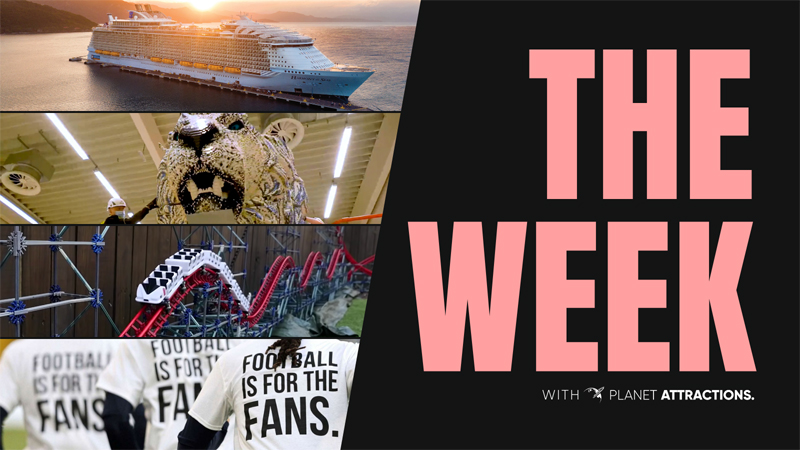 Welcome to the eleventh edition of The Week. It's been a busy couple of weeks for the Planet Attractions team and an equally busy couple of weeks for the attractions industry.

As the gears start to turn and some form of normality edges its way into all of our lives, we're taking a look at a number of topics this week, starting with a lesson a group of incredibly wealthy businessmen learned this week - that money might talk but people power still reigns supreme.

Welcome to your seven day breakdown of everything related to the visitor attractions industry. Welcome to The Week from Planet Attractions.


---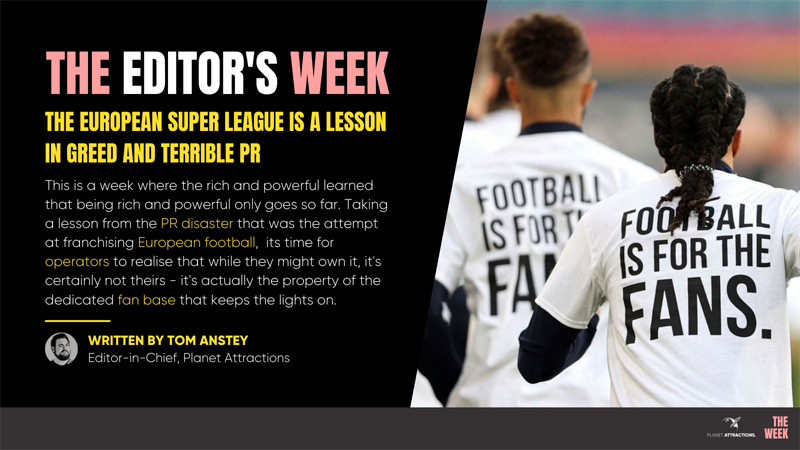 The headlines around much of the world this week have been dominated by the seemingly sudden - but actually long-planned behind closed doors - announcement to take the world's most popular sport and turn it into an 'elite' competition where only the so called 'big boys' can play.

Out of nowhere, 12 of Europe's elite football teams announced plans to form a new league to effectively replace what is currently the pinnacle of European professional club football - the Champions League.

The new proposal, called the European Super League, would be a competition unsanctioned by football bodies FIFA and UEFA between 20 European clubs. The competition would come in direct competition with the historic Champions League, with the 12 teams removing themselves from that prestigious contest to instead focus on the new league.

The league would comprise fifteen "founding clubs", whose league status was guaranteed, alongside five other European football clubs who could qualify based upon their performance in their domestic league's most recent season.

The fallout from this proposal could have seen players in these teams banned from playing international football and the teams being potentially kicked out of their domestic leagues. The money involved was reportedly so high, that any of the clubs didn't care, treating the competition purely as business and ignoring the sporting legacies of their sides.

This attempt to effectively franchise football - guaranteeing riches for the 15 founding clubs at the expense of the rest of European football - was met with outrage from the majority of the footballing world, including many fans of the clubs represented.

With no threat of relegation and no chance for many clubs to even qualify for the league, the move would have effectively removed sporting competition.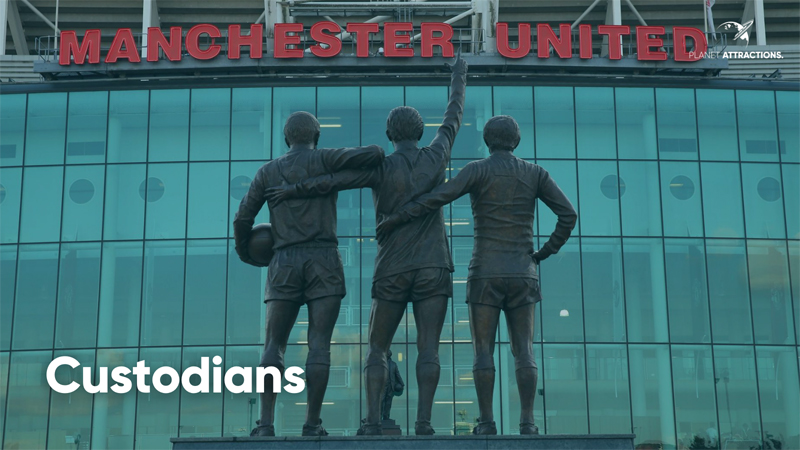 The ESL was a plan formulated at the highest level of each of these clubs. Even the players and managers reportedly had to find out about the plans via news services. The uproar - both internally and externally - was so great that within two days, nine of the 12 teams had pulled out. In the proposed format, the attempted formation of the league was essentially a footballing coup, with many saying the Super League leaders had declared war on the rest of football, focusing on only their own selfish desires.

Like many visitor attractions, football also has a hardcore fan base and if you try to change something because it will make you more money, it could end up costing you something far more valuable - your credibility, your reputation and your legacy.

This catastrophe of a PR exercise has hopefully taught the owners of these clubs a very important lesson - like a museum charged with preserving and maintaining the many wonders of the ancient world, football chiefs are the custodians of these treasures that are clubs with huge legacies.

The lesson for attractions is that while, for example, Disney might own Disney World and Universal might own Universal Studios, if you mess with your customers' treasured memories and some of the things they hold dearest to them, it's not going to end well.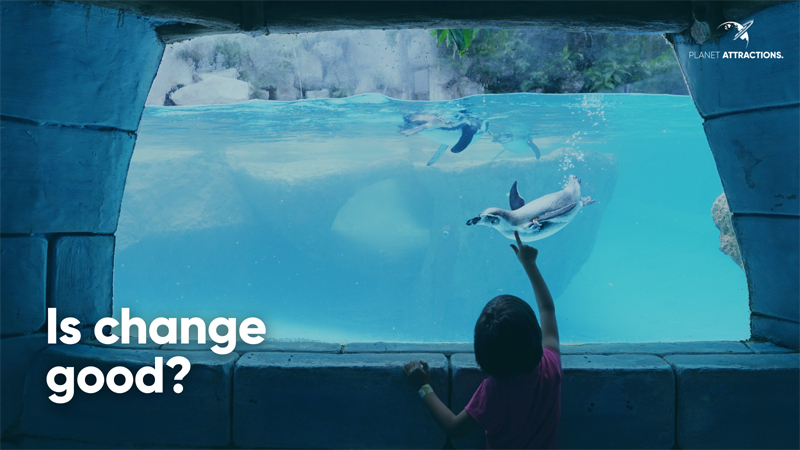 Now this isn't saying that change shouldn't exist because it certainly should.

Upgrades to rides, removing what have become distasteful elements from attractions over the years, returning items seized during the colonial era, finding new homes for cetaceans and things that simply improve safety are just a handful of very valid reasons for all kinds of attractions to make important changes.

But if a theme park owner (and this is obviously a very hypothetical extreme situation) suddenly rebranded all of its rides to the smiling face of a country's dictator because that country paid them billions of dollars to do so, then the outrage in the long term will almost certainly be worse than the short term gains.

For probably a more realistic hypothetical, to you it might just be your oldest rollercoaster but to someone else - your loyal customer - it's the reason they fell in love with rollercoasters in the first place and the reason they choose your attraction to visit over the other ones.

Instead of demolishing it and replacing it with a shiny new attraction, maybe find a different space for that new ride and treat the old one with the respect it deserves - improve and upgrade it while maintaining the character and legacy of this well established and hopefully beloved attraction.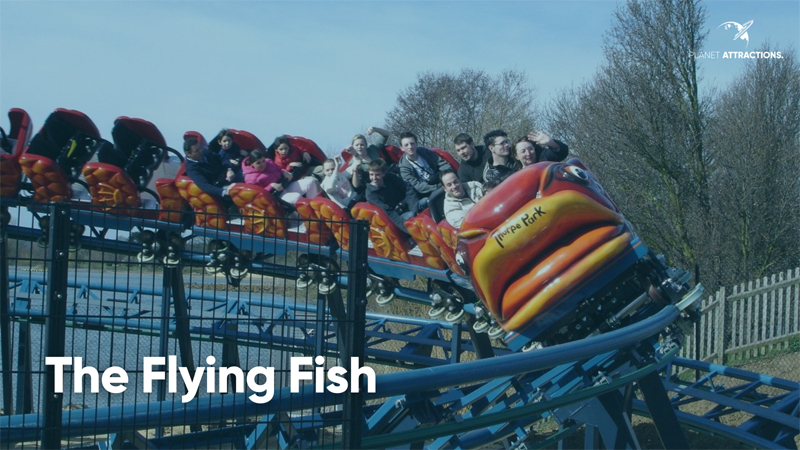 For me, it was the Flying Fish rollercoaster at Thorpe Park in the UK - my favourite ride hands-down as a child.

Learning of its removal in 2005 saddened me but then learning it made a comeback just two years later in a new location filled me with deep joy.

Admittedly I was probably a little too old for that ride when it made its comeback but just learning of its return put the park in such a positive light for me - an element of my childhood had been retained and whenever I visit Thorpe Park, I'm always happy that it's still in operation.

The Flying Fish is special. It's a ride with history where people who enjoyed it as children a generation ago can now share that experience with their own children. That's a priceless experience in my book.

The final decision will always come down to you as the owner or operator of the attraction. But remember that your actions will have wide reaching consequences. It's not your attraction, it's the people's - the last year especially has taught us how useless an attraction is without its customers. Treat it with respect, treat with care and be considerate about everything you do when it comes to making changes. Sometimes change is good but if that change is self serving, then you might find yourself on the end of a European Super League-level backlash.


---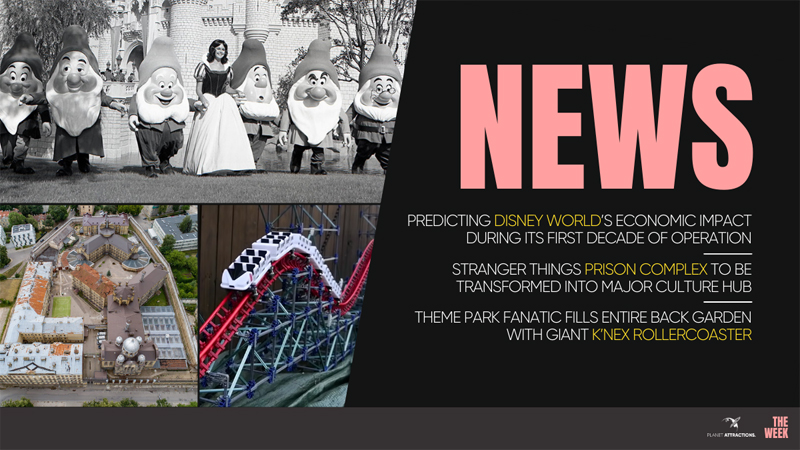 In 1967, Economic Research Associates were hired to find out what impact the upcoming Disney World Resort would have on the state. The outcome, it turned out, would surprise even Disney

Called the Economic Impact of Disney World, the report reflected what the company thought Disney World would do to the state during its first ten years of operation. The Disney World that ended up being developed was significantly different from Walt Disney's original vision, with Epcot turning from a living city to a world showcase and vision of ...keep reading

Lithuania's government is backing plans to transform its famous Lukiškės Prison complex into a multifunctional hub featuring museums, restaurants, hotels and other commercial and cultural spaces

An abandoned Lithuanian prison used as a set for season four of the hit Netflix series Stranger Things could soon become a major attraction following the announcement of significant redevelopment plans for the site. Located in the centre of the Lithuanian capital of Vilnius, the historic Lukiškės Prison was...keep reading

YouTuber CoasterWriter has built a gargantuan rollercoaster entirely out of K'nex, with the mega ride filling his entire back garden

Inspired partially by Cedar Point's Magnum XL-200, the K'nex version of the attraction has been officially christened the Magnum XL-300 to reflect its 300cm drop rather than the real-life ride's...keep reading


---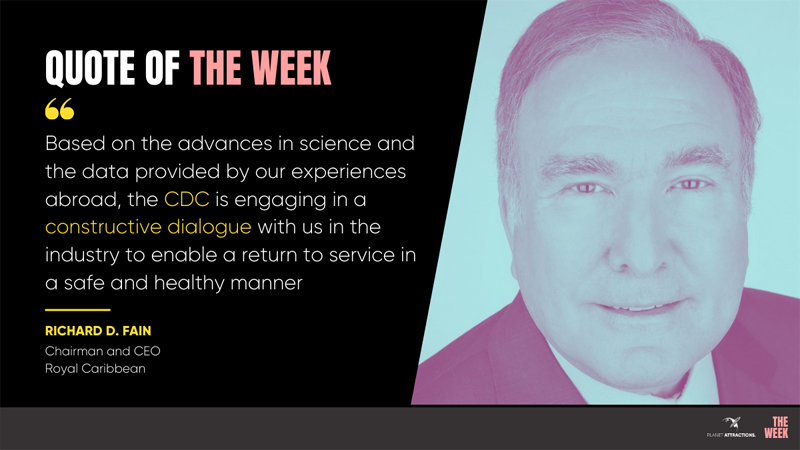 Our quote of The Week comes from Royal Caribbean's Richard Fain, who has hailed positive discussions with the CDC, bringing the US cruise industry a step closer to a return to operations.

Read more here


---
More reading
• Fantawild set for imminent openings of new Chinese history-themed Glorious Orient theme parks
• Polin seeks innovative ideas from across the sector with launch of new Innokind platform
• Thailand's SEXY tourism strategy bringing the visitors back
---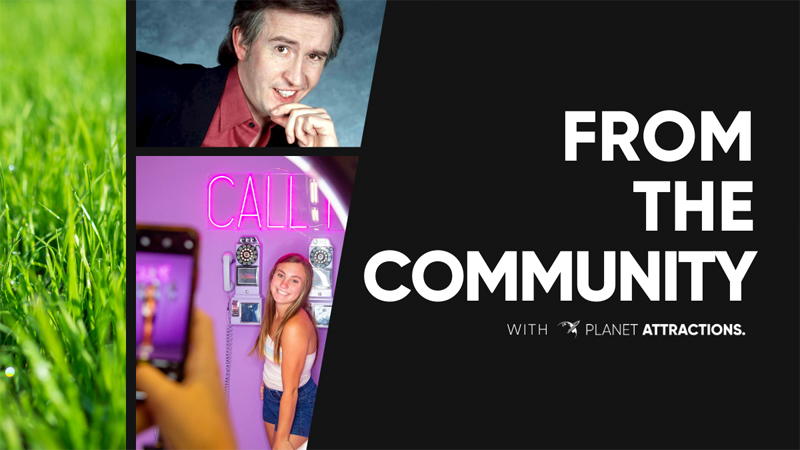 Highlighting some incredible content, welcome to From The Community - a fortnightly roundup of everything fans and influencers from within the attractions community have been up to.

This week we're looking at how long it would take you to mow all of the lawns at Disney World, a new pop-up experience in Orlando and the news reporter who did an accidental Alan Partridge.

Read more here


---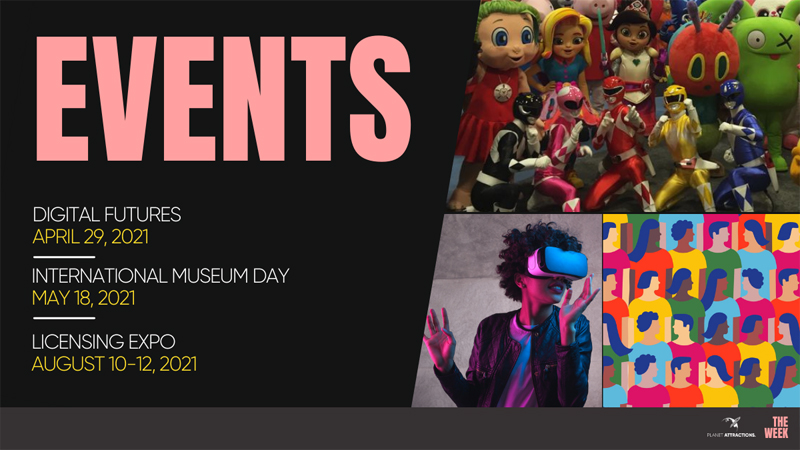 Digital Futures: Embracing New Strategies

From the Museums Association, the Covid pandemic has changed our understanding of digital engagement and forced museums to think more creatively about how to reach and connect with different audiences. This has resulted in powerful work, from e-learning initiatives and digital exhibitions to viral social media strategies. But impact evaluation, digital literacy and digital exclusion remain pressing concerns.

All this and more will be discussed in Digital Futures: Embracing New Strategies, with a wide range of expert speakers set to reveal how they have experimented with digital engagement during the pandemic.

Click here to book

International Museum Day

Every year since 1977, ICOM - The International Council of Museums - has organised International Museum Day (IMD), an event which represents a unique moment for the international museum community.

On this day, participating museums plan creative events and activities related to the International Museum Day theme, engage with their public and highlight the importance of the role of museums as institutions that serve society and its development.

Participation in International Museum Day is growing among museums all over the world. In 2020, despite the limitations imposed by a digital-only format, International Museum Day 2020 activities reached more than 83,000,000 users on social media.

More information

Licensing Expo

Taking place live and online at the Mandalay Bay Convention Center in Las Vegas, Nevada, the Licensing Expo connects the world's most influential entertainment, character, art, and corporate brand owners and agents with consumer goods manufacturers, licensees and retailers. The event touts itself as "the meeting place for the global licensing industry".

Originally rescheduled for May 25-27, the event has now been moved back, instead taking place August 10-12, 2021.

More information


---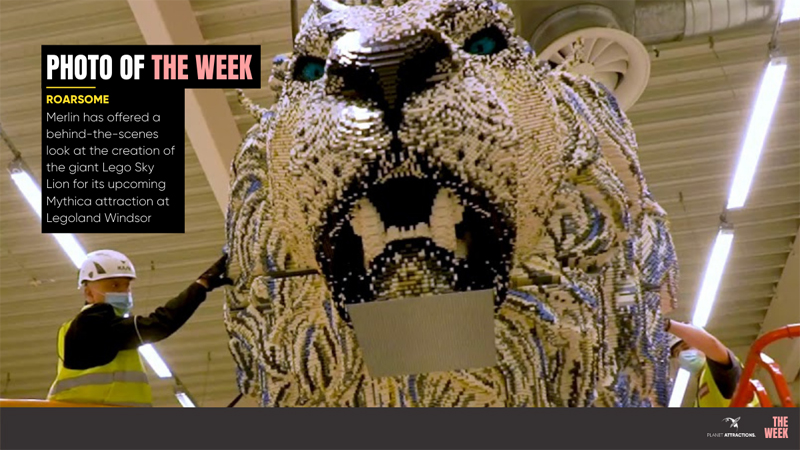 Our photo of The Week comes from Merlin Entertainments, which has offered a behind-the-scenes look at the creation of the giant Lego Sky Lion for its upcoming Mythica attraction at Legoland Windsor.

Read more here


---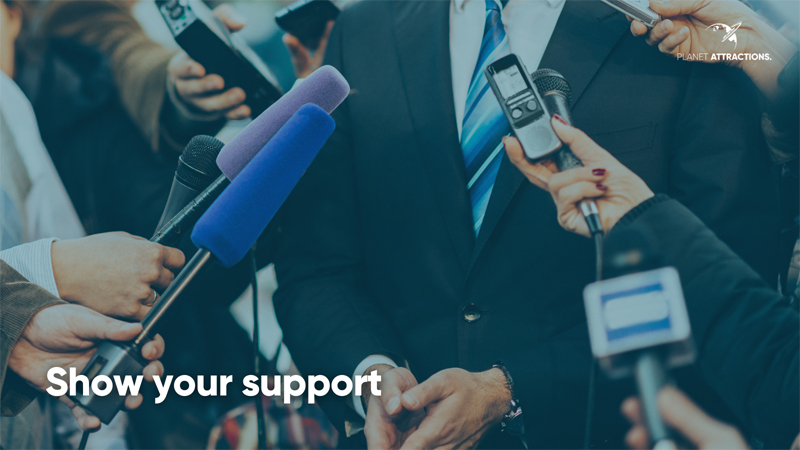 We're in extraordinary times right now and this website is a direct result of that. Featuring a team of world-class attractions journalists and behind-the-scenes team of equal calibre, we need your support to make Planet Attractions happen.

We believe that everyone deserves equal access to accurate and compelling content, so we won't hide anything behind a paywall.

We're here to support both the industry and the consumer and to achieve our goals, we would love it if you could support us right back.

So how can you do this? It's easy. Just contact our sales team

[email protected]

and let us know about your company. We will create a package tailored to your specific needs and deliver that in the way we believe will benefit you the most.

You can also support us at no cost to you. All you need to do is follow our social channels.

You can do this by:

Liking us on Facebook

Following us on Twitter

Liking our Instagram page

Subscribing to our YouTube channel

Following our LinkedIn page

Most importantly, once you've subscribed, make sure to go on these social channels and engage! We're building a community and we love being able to bring you all together.

Thank you,

The team at Planet Attractions.
Visitor attractions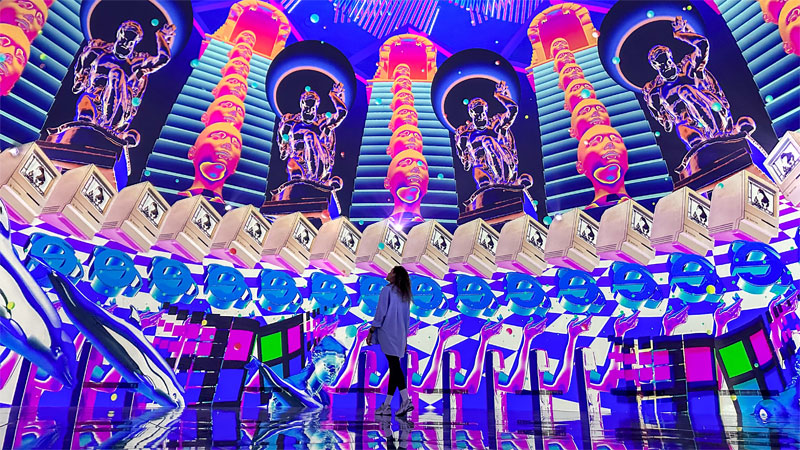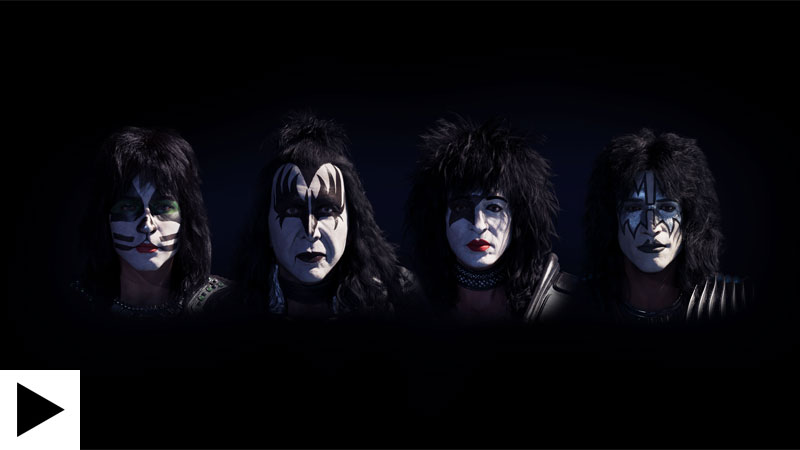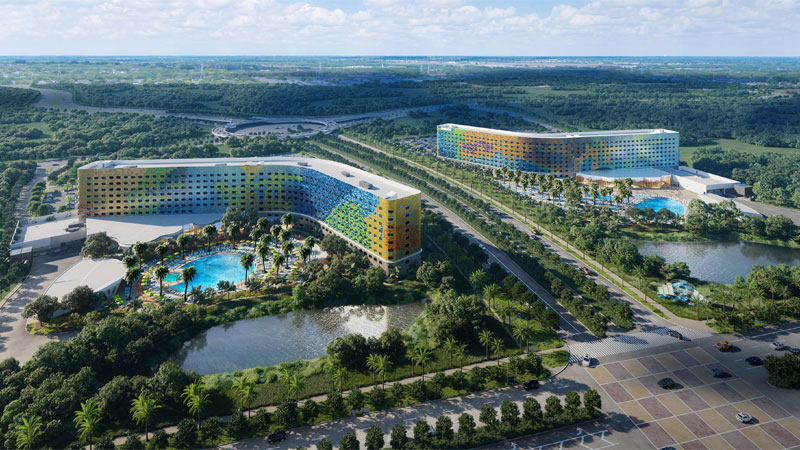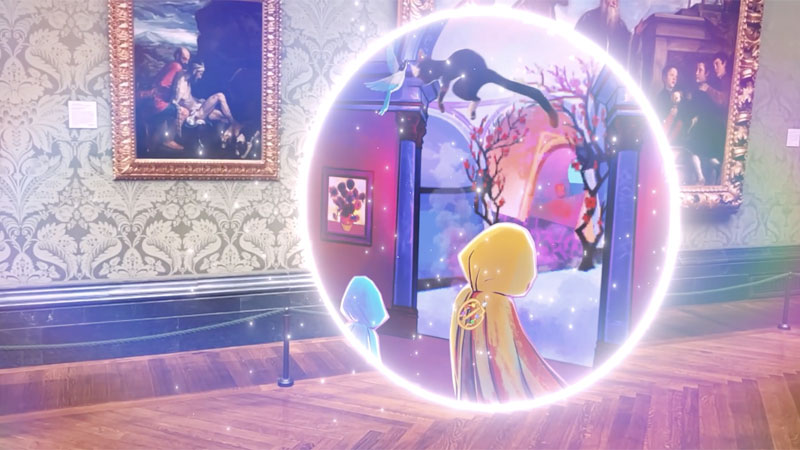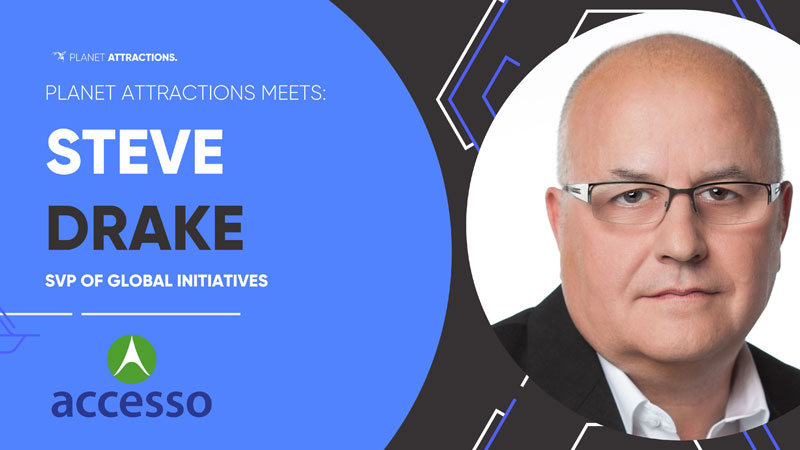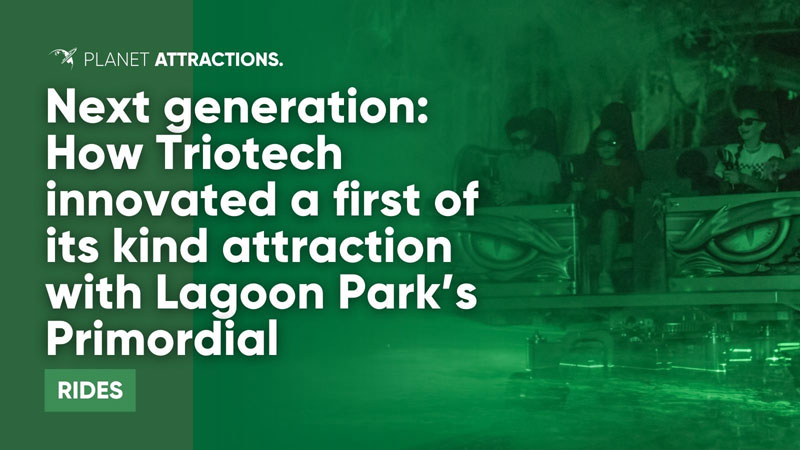 Next generation: How Triotech innovated a first of its kind attraction with Lagoon Park's Primordial