news

Disney Imagination Campus celebrates 70 years of Alice In Wonderland with look at science behind iconic Mad Tea Party attraction

Alice in Wonderland has reached the grand old age of 70 and as a result the Disney Imagination Campus has taken a look at the science behind its historic Mad Tea Party attraction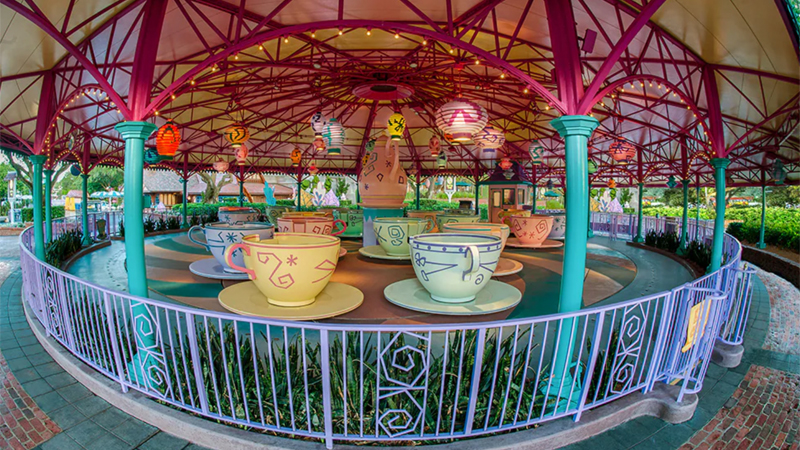 The Mad Tea Party attraction is present at five Disney resorts around the world
Credit: Disney
To celebrate the seventieth anniversary of Disney's Alice in Wonderland, The Disney Imagination Campus (TDIC), Disney's student enrichment programme, has revealed the science behind Disney's historic Mad Tea Party spinning teacup attraction.

Present at five of the six Disney resorts around the world, the attraction is inspired by the Unbirthday Party scene in the animated film and was one of the opening day attractions operating at the Disneyland resort in California, US, when it first opened in 1955. It closed for renovation in 1982, before reopening in 1983 and has been in operation ever since.

According to TDIC, the ride utilises two scientific principles to enhance the rider experience.

The first is centripetal force, which causes an object to follow a curved path. The teacup vehicle is controlled by a central steering wheel, which, when spun, moves the teacup in circles. Centripetal force moves the rider, who is kept in their seat by gravity, in the same circular path as the teacup.

The second is the rainbow colour spectrum. The human eye and brain translate light on electromagnetic surfaces into colours. Isaac Newton observed that colour is not inherent in objects, but an object's surface can reflect some colours and absorb others.

The colourful teacups, designed by Disney artist and animator Mary Blair in the fifties, are painted with two colours, a lighter main colour with a pattern in a darker colour. We're able to see these colours because when light hits the teacups they reflect some of the light and absorb the rest of it.

The rainbow colours on the ride are used to immerse riders in the fantastical, technicolour world of Alice in Wonderland.

"The next time you experience the Mad Tea Party, take a moment to reflect on the science behind the magic of this attraction," said the blog.






© Kazoo 5 Limited 2021