news

Can artificial intelligence design the perfect rollercoaster?

The Art of Engineering has developed a program capable of designing optimised track layouts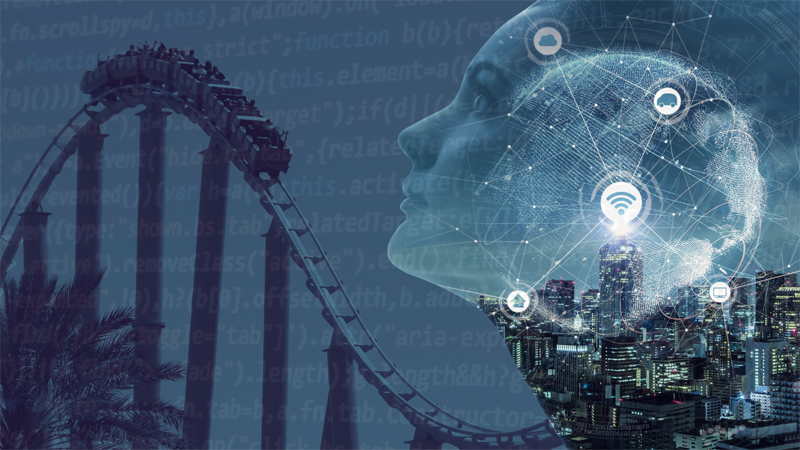 The process of machine learning could be used to train artificial intelligence in rollercoaster design
Credit: Canva
Everyone has their favourite rollercoaster. For some, theming is essential with rides like Hagrid's Magical Motorbike Adventure or Expedition Everest topping the bill. For others, height is the key with a ride like Shambhala providing the ultimate thrill. Some just love a wooden coaster or maybe a fast launch. But is there a perfect rollercoaster and can artificial intelligence be used to work out what that is?

"I wanted to experiment to see if I could teach an AI program how to generate track layouts," said James St.Onge, the creator of the technology and host of the popular YouTube channel Art of Engineering.

"My initial thinking was that if it's possible to teach an AI how to design a rollercoaster, then, in theory, it should be possible for it to come up with the most optimal layout within a specified area."

Compared to the human brain, which uses creativity and reasoning, AI works in a more structured way, using algorithms and programming. However, it can be trained to complete a given task in an optimised way through a process called machine learning.

The biggest challenge when it comes to rollercoaster design from an AI perspective is multi-objective optimisation. What this means, is that there are several conflicting objectives, making it nearly impossible to define what an optimal rollercoaster looks like compared to a bad one.

This didn't stop St.Onge, however, who managed to solve the problem by developing a computer program called CoasterAI, which is capable of designing 2D rollercoasters through a genetic machine learning algorithm.

How does it work?

The CoasterAI technology is made up of four key components - spline generation via a neural network, a rollercoaster physics engine, a rating system and the previously mentioned machine learning algorithm.

In mathematics, a spline is data points on a graph that are fitted to a curve as close as desirable. In simple terms, imagine using mathematics to find the perfect fitting shoe for a foot. Now apply that same logic to the curvature of a rollercoaster track.

The spline generation tool means that the AI creates a smooth track that wouldn't be jarring or dangerous for the passenger.

Once the spline has been generated, the physics engine will work out the reaction of a rollercoaster train in terms of velocity, g-force, rolling friction and aerodynamic drag on the presented track.

The ratings system is responsible for giving each track design a numerical score, similar to the ratings system in games such as Rollercoaster Tycoon and Planet Coaster. The system used by CoasterAI scores the layouts based on the criteria of speed, g-force, steepness, boundary constraints (such as maximum or minimum height) and inversion.

The machine-learning algorithm then takes these elements and combines them, as it attempts to generate the highest possible score.

Artificial evolution

The algorithm was created through the process of artificial evolution. In the first phase, a pool of bots is created with random weights and biases to different elements of the rating system set for each individual bot.

Within the population, the bots that created the best traits form a new, smarter, generation. This process is repeated until an optimal solution is discovered and a high intelligence bot is created.

In its current form, CoasterAI shows the idea of a bot-created world-class rollercoaster is certainly possible but the project is still a work in progress.

According to St.Onge, the designs created are not necessarily the most optimal by definition but are completely generated through AI, with the technology even imagining some brand-new rollercoaster elements that have never been built before.

"From here, the next step is to expand the program so that it can string multiple elements together and eventually I would like to try building a more advanced AI that can create a full track layout in 3D," he said.






© Kazoo 5 Limited 2022