Scotland's Inverness Castle is set to undergo a redesign, with Mather & Co appointed by the Highland Council to oversee exhibition and content design on the major project.

The plans will see Mather consider the entire visitor experience, including what guests interact with before, during and after their visit, ensuring they have a memorable experience and will want to return.

'The Spirit of the Highlands in 100 Stories' will be the core theme of the experience, with Mather tasked to bring the concept to life in 'imaginative and unexpected ways'.

"The appointment of Mather & Co as exhibition designers for the project is an important step in the transformation of Inverness Castle," said Fergus Ewing, co-chair of the Inverness Castle Delivery Group.

"Their wide experience across a varied range of visitor attractions throughout the world will be a welcome contribution to the development of the castle as a gateway for tourism in the Highlands, as well as a place that locals will be keen to visit again and again."

The Highland Council is aiming to use the project to create a 'gateway' for tourism to the wider Highlands region. The redevelopment is being supported by a £15m (US$20.6m, €17.5m) investment from the Scottish government and a £3m (US$4.1m, €3.5m) investment from the wider UK government.

Further support comes from the Inverness and Highland City Region deal - a joint initiative that aims to stimulate sustainable regional economic growth. The initiative is supported by investments of up to £315m (US$433m, €368m) from the UK and Scottish governments, The Highland Council, Highlands and Islands Enterprise and University of the Highlands and Islands.

Mather has more than 25 years experience creating visitor attractions and has recently worked on The R&A World Golf Museum in St Andrews and Downton Abbey: The Experience.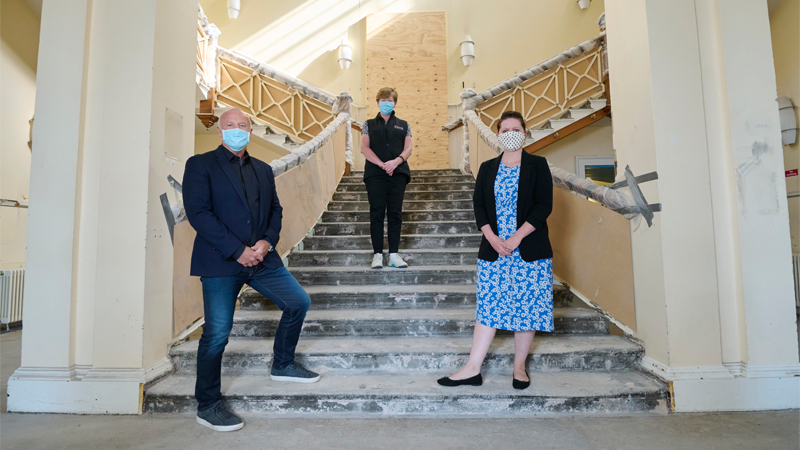 Chris Mather, CEO of Mather & Co, with Fiona Hampton, director of Inverness Castle and Sarah Clarke, MD of Mather & Co   CREDIT: LDN ARCHITECTS