Japanese architecture firm Kengo Kuma & Associates (KKAA) has won an international competition to design a new visitor centre at Albanian Unesco World Heritage Site, Butrint National Park.

The design, which combines traditional Albanian architectural elements with KKAA's signature 'uneven' geometry and tessellated surfaces, was selected by a jury that said it was "impressed by the team's evident passion, thoughtfulness and their connection with Albanian culture and memory."

Located on Albania's Ionian coastline, the visitor centre will offer spectacular views across the World Heritage site and will feature two facilities, with each acting as a 'gateway' to the archaeological park to help manage its increasing number of visitors.

The centre will consist of multiple timber and steel structures with limestone roofs, and will also function as an educational hub and community space, featuring an inclusive plaza among its offerings.

"This project aims to provide a space to witness the change of light and weather and share the everyday working experience if nothing else takes place. And probably more will happen; one creativity enhances other creativities," wrote KKAA.

The firm is collaborating with CHwB Albania, Ervin Paci, Solaron Albania, iMEPS Engineering & Consulting, Esmerela Agolli, and GE-D Engineering to bring the centre to life. The project also aims to operate sustainably with a minimal carbon footprint by utilising locally-sourced materials, rainwater capture, and a natural ventilation system.

Butrint National Park was inscribed on the National Heritage List of Protected Monuments in 1948. Butrint was then inscribed onto the Unesco World Heritage list in 1992. Inhabited since prehistoric times, Butrint has been the site of a Greek colony and a Roman city. Following a brief occupation by the Venetians, the city was abandoned in the late Middle Ages after marshes formed in the area.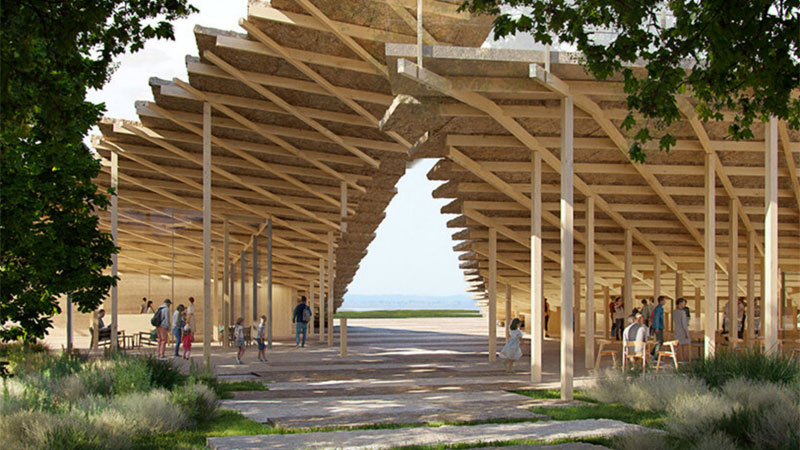 The visitor centre will feature two facilities, with each acting as a 'gateway' to the archaeological park CREDIT: KENGO KUMA