To mark this year's World Water Day (March 22), leading waterpark designer and manufacturer WhiteWater has announced a new partnership with environmental charity Swim Drink Fish.

The partnership will see the company encourage sustainability within the wider attractions industry and help clear Canada's waterways through the sponsorship of a Seabin sustainability project.

The project will see Seabins, essentially floating waste containers designed to skim the water's surface to trap floating waste, attached to docks throughout Vancouver. Swim Drink Fish then removes, sorts and categorises the waste collected to further understanding of pollution sources before recycling. The collected data can then be used to inform governments and businesses on waste and litter prevention.

There are currently 860 Seabins worldwide, with four already operating in Vancouver, while WhiteWater will work alongside Swim Drink Fish to support the installation and maintenance of several more.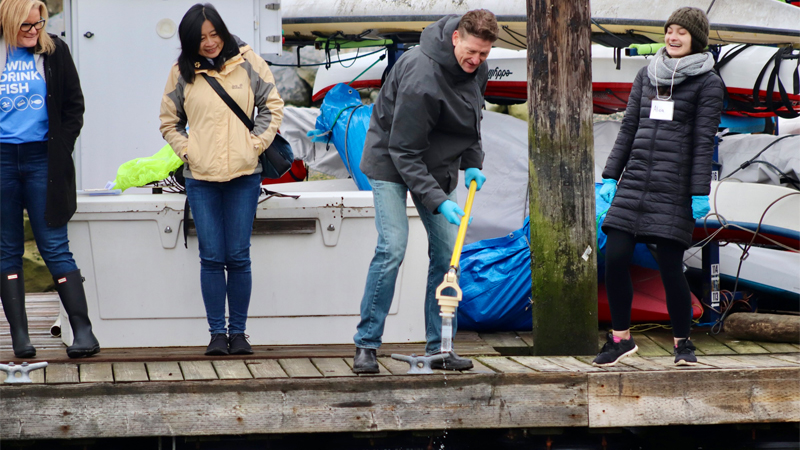 Members of WhiteWater's sustainability team took water samples to test for E.Coli as well as monitor temperature, pH and salinity   CREDIT: WHITEWATER


"WhiteWater's sponsorship is cleaning up waterways through Swim Drink Fish's Vancouver Plastic Cleanup. Swim Drink Fish is installing, maintaining and overseeing multiple Seabin trash trapping devices in Vancouver to engage in a waste characterisation, plastic education and advocacy project. This is made possible with the support from WhiteWater," said Sadie Caron, programme manager for Swim Drink Fish.

WhiteWater's chief marketing officer Una deBoer added: "Swim Drink Fish is the right fit for WhiteWater because both our organisations are all about people enjoying and celebrating water. We wanted to find a charity that is local yet internationally involved."

The partnership also forms part of WhiteWater's Sustainability Scorecard, which sees the company take a hands-on approach to environmental and sustainability issues by participating in non-tourism based initiatives.

As part of its Social Responsibility aims, the company also plans to donate 1% of its annual corporate profits to a water-based Non-Governmental Organisation (NGO) each year and empower its employees to be socially responsible in their daily lives.

Additionally, the company also maintains a river trail close to its corporate headquarters in Richmond, British Columbia, which employees frequently clear of rubbish.