Merlin Entertainments has entered into a formal multi-territory exclusivity agreement with Sony Pictures Entertainment (SPE), that will see the development of several major attractions – including rides, lands, retail outlets and themed hotel rooms – based on the studio's hit franchise Jumanji at Merlin theme parks and waterparks across the UK, Europe and North America.

The first attraction to launch under the agreement is the upcoming Jumanji - the Adventure. Opening at Merlin's Gardaland Resort in Italy, the multi-million-pound dark ride will be the first Jumanji- themed attraction in the world.

Described as a "dark ride for adventure lovers of all ages", the attraction was developed in partnership with Oceaneering and Framestore and will transport riders to the magical world of Jumanji, where they will be tasked with breaking a powerful curse by returning a mystical gem to a lost temple.

A 21 ft (6.4 m) stone giant animatronic appearing in a deafening thunderstorm serves as the ride's focal point, while guests will be further impeded by a giant's hand, an enormous spider and a hippo.

Jumanji - the Adventure is scheduled to open in April 2021, with the launch coinciding with the opening of several Jumanji-themed bedrooms at the resort's hotel.

A second ride is already in development for a currently unnamed theme park and is expected to open in 2023.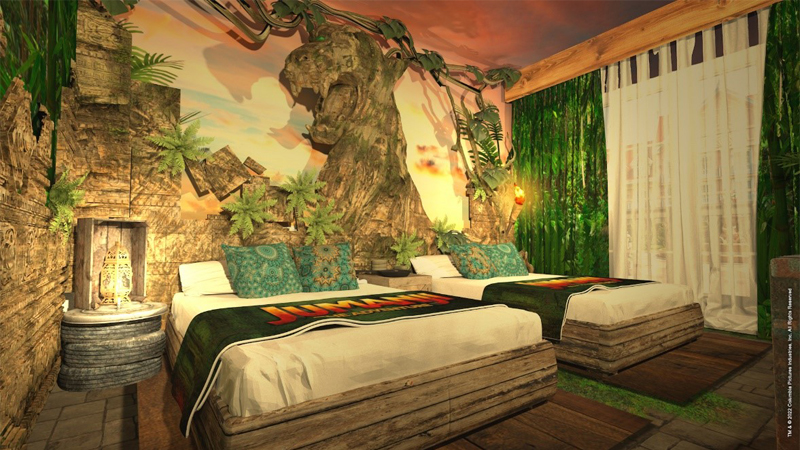 Jumanji-themed hotel rooms will launch at Gardaland in April 2022


The partnership builds on the companies' already successful relationship, which has seen the rollout of two in-attraction themed experiences; the Ghostbusters 5D ride at Heide Park in Germany and the Ghostbusters experience at Madame Tussauds New York.

It also drives the companies' broader goals, which for Merlin is to engage and work with leading IP and brands across its global estate. While Sony is looking to expand further into location-based entertainment by using its globally-recognised film and TV brands to create immersive experiences.

"Sony are one of the top movie companies on the planet and Jumanji is a multi-billion-dollar brand, which has appealed to guests of all ages for over two decades," said Merlin Entertainments' chief development officer Mark Fisher.

"Our Merlin team are already at work developing brilliant creative concepts, which will bring to life the blockbuster famous Jumanji film across our theme parks and waterparks. We can't wait to deliver thrilling rides and experiences for guests and film fans alike."

Jeffrey Godsick, executive vice president of Global Partnerships and Brand Management and head of Location-Based Entertainment at Sony Pictures Entertainment, said: "Merlin is the ideal company to bring the world of Jumanji to life.

"Their commitment to strong storytelling, quality of craftsmanship and fantastic guest experiences ensure that the fans of Jumanji will be fully immersed into the world of our films and have an unforgettable experience."