In depth

Reimagining the guest experience in a mobile-first world with accesso

We're not far off Mark Zuckerberg's big reveal of the metaverse and what that means for the future, but when it comes to attractions, there are some companies already well ahead of the curve. Andrew Jacobs, accesso's chief commercial officer, explains what it means for operators to be in a mobile-first world.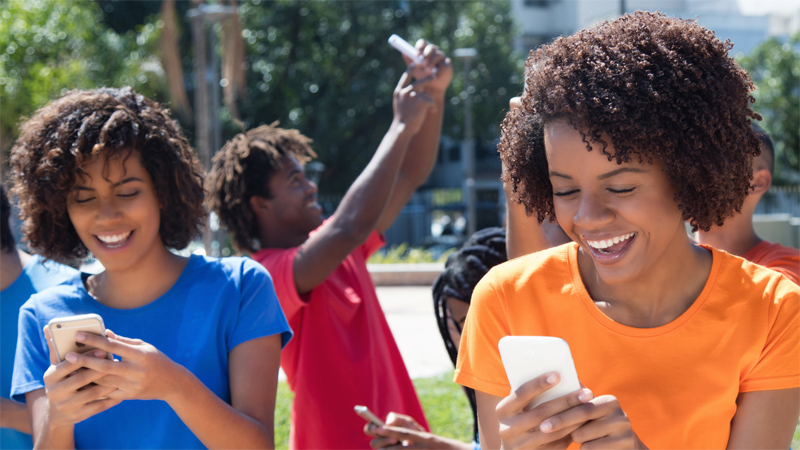 In a mobile-first world what steps should we take to ensure we're at the cutting edge?
Credit: Canva
Mobile-first is probably a concept that doesn't need a huge amount of explanation, but it is one that could be overlooked by an attraction.

In an era where, over the course of the last two decades, the phones in our hands have become more advanced and ever-more important to the consumer, we're now at a stage where we can effectively manage our entire lives from the small computer we keep in our pockets. All day. Every day.

So why is it that many attractions still don't take mobile into consideration when forming new experiences? Yes, mobile-first experiences are much more prevalent than before. Take Disney's highly publicised and recently rolled out Genie service for example. The mobile service is a prime example of how big operators are using mobile services to empower their guests in planning an entire day out using a dedicated app. But that's just the tip of the mobile iceberg, with the trend for digital-first accelerated by the ongoing pandemic.

"Mobile-enabled experiences were already growing pre-pandemic, but over the course of COVID-19, they skyrocketed," says Andrew Jacobs, who oversees sales and marketing for guest experience management, ticketing, eCommerce, queuing and distribution experts accesso, which serves as the solutions partner for more than 1,000 venues around the globe.

"As the entire world transitioned to contactless transactions, consumers began purchasing their retail items, restaurants orders, groceries and even cars through the convenience of their smartphones."

And according to the numbers, this trend will only continue to grow. Statista reports that nearly 70% of all worldwide retail website visits in 2021 took place on a mobile device, while mobile eCommerce made up approximately US$3.5tn (€3.1tn, £2.65tn) in global sales in the last year alone.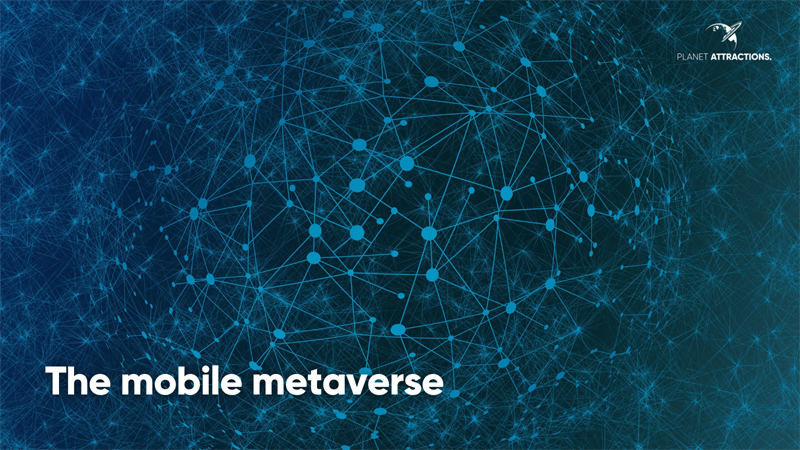 CREDIT: CANVA

"When Accesso approaches the mobile-first revolution, it's not just about eCommerce, though that piece certainly plays an integral role in the guest journey," explains Jacobs.

"Once guests step foot on-site at an attraction or venue, they expect the same level of smartphone interconnectivity throughout the day as they'd experience anywhere else. In the mobile-first guest journey, guests look to their smartphones as their primary source of information. With this in mind, it's important for operators to explore ways to turn guests' mobile devices into all-in-one resource hubs that store itineraries, payment methods, tickets and more."

This idea is the first step in something that will become significantly more prevalent over the years, with huge names such as Mark Zuckerberg pushing the idea of a 'metaverse' - so much so that he renamed the company Facebook to Meta to reflect this new and exciting direction.

For operators, the early physical version of the metaverse will feature the integration of solutions like mobile food and beverage (F&B) ordering or mobile-accessible virtual queuing.

By incorporating such technologies, accesso says that operators can empower guests to create their own on-demand experiences – giving them the ability to do what they want, when and where they want it, all from the convenience of their own device.

"When it comes to guests' mobile devices and the technology designed to enhance their experience, the horizon is practically limitless," says Jacobs.

"The metaverse is all about creating your own, personalised digital reality. With the help of Accesso technology, operators are bringing that type of customisation and control to guests in the real world. In the same way, we're learning to curate our online, digital experiences, we can create environments for theme parks and attractions where no two guests' experiences are the same.

"With the right technology, nearly every element of the tangible theme park experience can now also be accessed through the digital realm."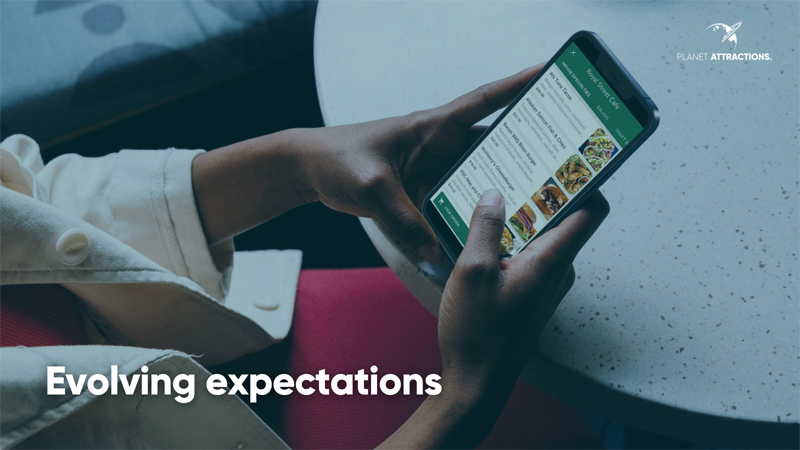 CREDIT: accesso® Technology Group plc

With a rise in the use of mobile technology to complement the guest experience, the modern visitor not only expects mobile-driven experiences to be available – such experiences are practically considered a necessity.

It's safe to say that digital ticketing is now the norm, and guests expect the ability to purchase and store their tickets on their smartphones. But far beyond just ticketing, the modern guest expects a seamless experience from beginning to end. In a large, busy venue like a theme park, for example, having ride queue times in the palm of your hand or having easy access to a digital virtual queuing pass is something that will not only improve the visitor experience but also improve guest flow.

So, what does this mean for a theme park or attraction operator? It boils down to seeking out new and innovative ways to place a guest in the driver's seat to create their own, personalised on-site experience, something accesso offers through its guest experience management platform The Experience Engine (TE2).

Acting as a virtual assistant, TE2 offers an end-to-end streamlined guest journey, from pre-visit planning and ticket purchasing to storing season passes and facilitating contactless entry, enabling mobile-accessible virtual queuing and in-venue wayfinding, and more.

"While consumer expectations continue to evolve, the expectation of a fun day at the theme park still lies at the heart of the guest experience," says Jacobs.

"What has changed is how guests expect to access and engage with that experience. And now, two years into the pandemic, consumers are excited to return to their favourite theme parks and attractions but expect it to look a lot different."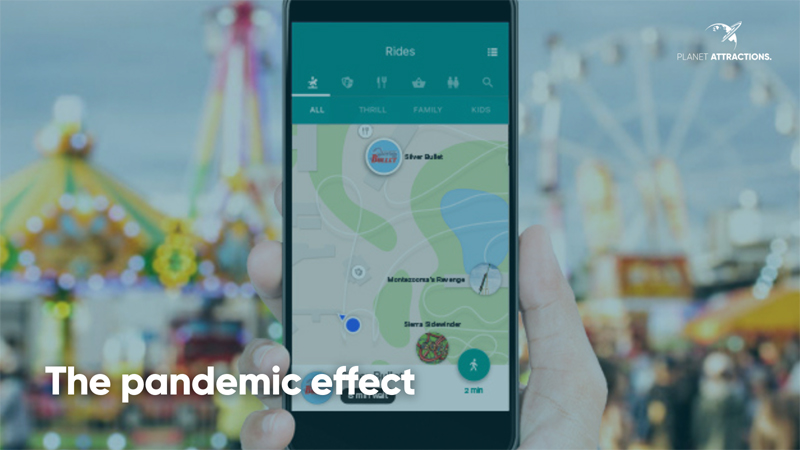 CREDIT: accesso® Technology Group plc

Of course, one thing that accelerated this shift to a mobile-first world like no other is COVID-19.

With the rise of the mobile phone over more than two decades and, then, the subsequent period of time where digital was our only connection to the outside world, operators have had to think outside the box when it comes to both digital and physical experiences.

When it comes to attractions, it was in fact mobile solutions providers such as accesso that provided the industry with ways to safely bring back returning visitors.

"As we look to the future of our industry, we realise the modern guest's reliance on digital solutions will only continue to grow," says Jacobs.

"When COVID-19 brought our industry to a halt in early 2020, we were in a unique position to quickly adapt our proven contactless solutions."

"This allowed us to further, and more rapidly, assist our client-partners in getting back on their feet and, ultimately, welcoming their loyal guests back once again."

One change that had started to find its feet pre-pandemic but really made its mark when social distancing became an obstacle, was the rise of the virtual queue, something that has revolutionised operations at theme parks and attractions worldwide.

Shortly after theme parks and attractions shut down due to COVID-19, accesso rolled out its 100% Virtual Queuing model, allowing operators to make virtual queuing available to all of their guests at select rides and attractions throughout a venue – all at no additional cost to the guest.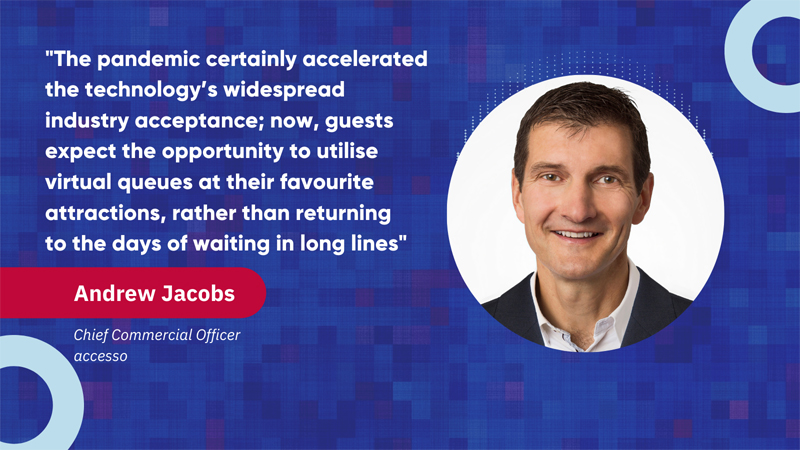 The model has proved a big success, with four major operators adopting the technology across three continents, including Walibi Holland, Parc Astérix, Holiday World and Village Roadshow Theme Parks. Of those, Parc Astérix and Walibi Holland have renewed their partnership through 2022 and 2025, respectively. Plus, a 2020 Walibi Holland survey showed that nearly 75% of guests preferred virtual queuing over a traditional queue with the majority being more likely to visit the theme park in the future if the system remained in place.

"The pandemic certainly accelerated the technology's widespread industry acceptance; now, guests expect the opportunity to utilise virtual queues at their favourite attractions, rather than returning to the days of waiting in long lines," says Jacobs.

"This is a great opportunity to drive revenue for operators, as guests are inclined to use the time they've reclaimed with virtual queuing to go shopping, catch a show or grab a bite to eat. And, from the guest experience perspective, virtual queuing works wonders. You're putting the guest in the driver's seat of their own experience, empowering them to do what they want, when and where they want to do it."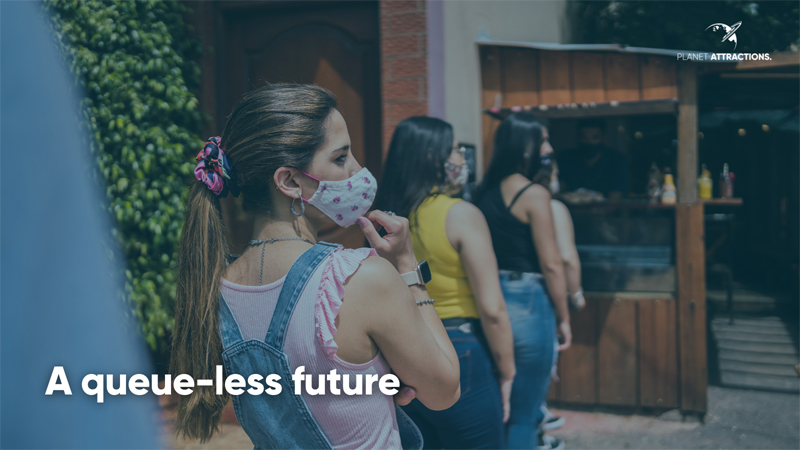 CREDIT: CANVA

A mouthwatering prospect for not only theme park fans, but places anywhere in the world where you might find yourself in a line for some time waiting to enjoy an experience, is the idea that one day we could experience an attraction with no built-in lines – just time to enjoy everything on offer with your friends and family for an entire day or more.

"For quite some time now, our CEO Steve Brown has discussed the idea of a 'queue-less' future, and with the support of technology like ours, we know that many points of friction, like long lines, can be eliminated from the day-to-day operations of a theme park or attraction," says Jacobs.

"When we think of eliminating friction points, we start by asking; 'how can we help guests make the most of their on-site experience?' Oftentimes, guests' frustrations lie within missed opportunities or wasted time. Whether that stems from waiting in long lines or losing their way in the attraction, guests don't like wasting their precious time on site, and they're looking to operators to help them make the absolute most of their day.

"By offering self-service opportunities available from a smartphone – making offerings like virtual queuing available in the moment – guests are empowered to truly make the most of their time and curate their experience however they please."

Alongside queueing, accesso has also seen a big uptick in the popularity of mobile F&B ordering over the last couple of years – another solution with widespread adoption spurred by the pandemic.

"Consumers' desire for convenience is a trend that won't slow anytime soon," says Jacobs. "So, it's important that operators establish a mobile F&B ordering solution for their venues today, to stay ahead of this curve.

"We must recognise mobile F&B not only as a pandemic 'quick fix,' but also as an area with immense room for future growth."

While innovations like these were effectively forced by the pandemic, Jacobs adds that many of these advances are now the norm and are likely to be expected by visitors.

"Guests don't want to return to what we might now coin 'the pre-pandemic stone age,' where they were expected to wait in long lines and participate in cookie-cutter experiences," he explains.

"The guest experience of the future lies squarely within the digital realm. Now is a special time for operators in leisure and entertainment, as those who utilise this time as an opportunity to learn and innovate will find themselves better prepared for a bright and successful future. The pandemic has been tough for everyone and in this industry if the past couple of years has taught us one thing, it's that the best way to predict the future is to create it."
Suppliers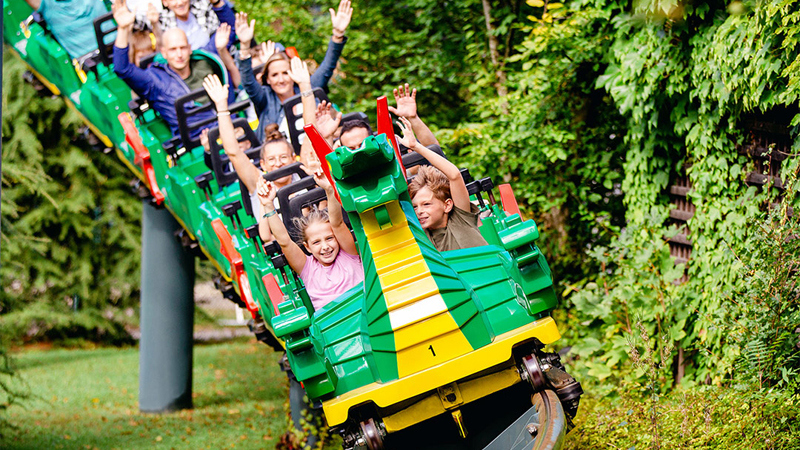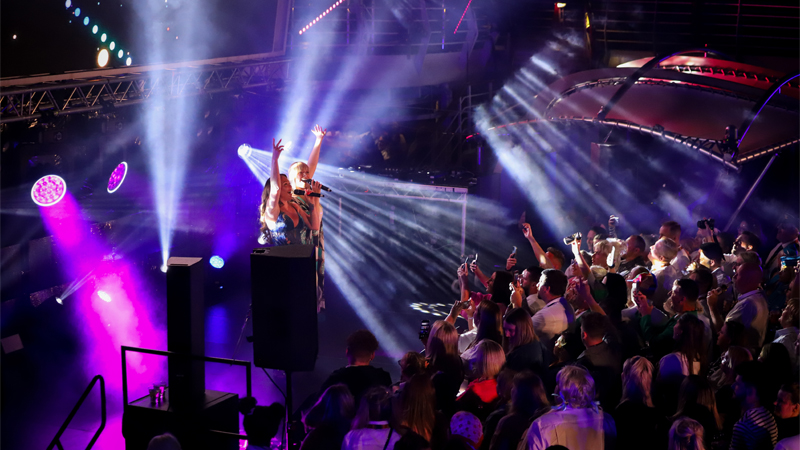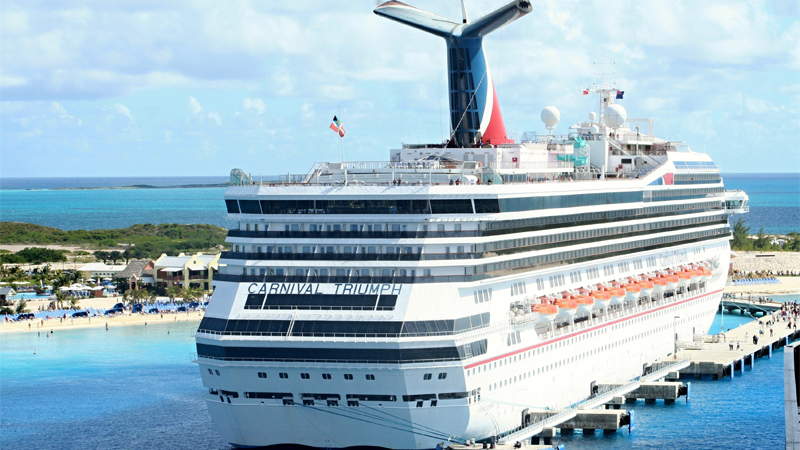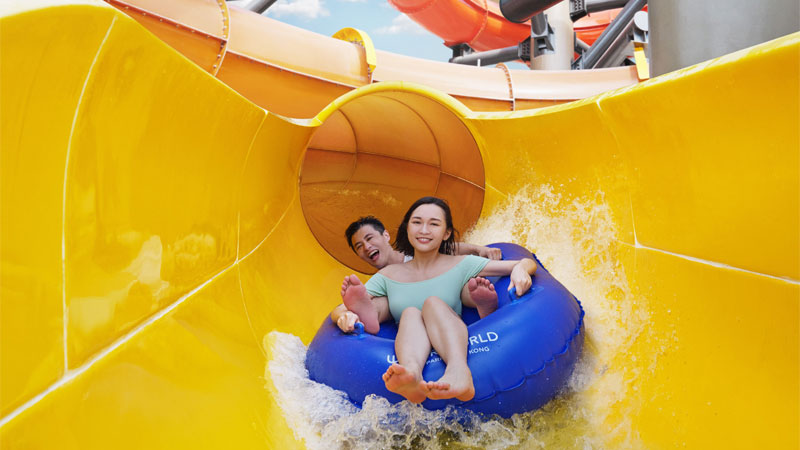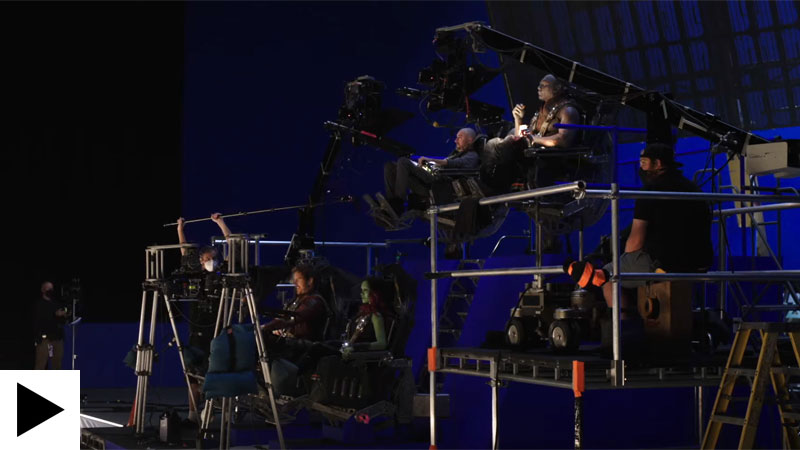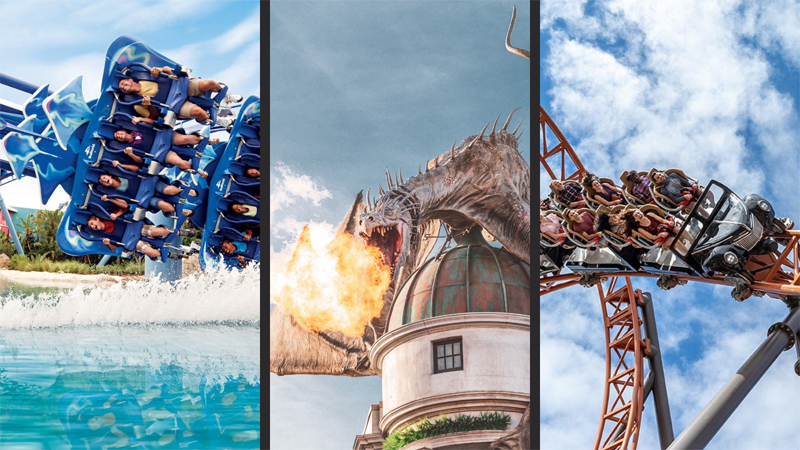 Earnings reports: SeaWorld, Cedar Fair and Universal all soar in the face of Covid-19