One of the stand out moments of Disney and Marvel's Hawkeye was the Broadway version of The Battle of New York - 'Save the City'. Now, as part of its Disney100 celebrations, Disney is bringing 'Steve Rogers: The Musical' to life.

Taking place in the Hyperion Theater at Disney California Adventure Park, the one-act live theatre production is performing for a limited time at the attraction and tells the story of Steve Rogers - AKA Captain America - and his relationship with Peggy Carter.

The show runs for approximately 30 minutes and features music from Grammy Award-winning composer Christopher Lennertz, with Save the City joined by seven other songs through the musical performance, including some recognisable songs from Captain America, as well as the Imperial March from Star Wars.

"It was important to us to continue the best of both Avengers and Broadway traditions, infusing humour, heart and heroic action into the music," said Lennertz.

"The score has memorable melodies and a huge scope of instrumentation that match the iconic presence of our hero. Audiences will hear big band jazz, modern funk, classic orchestra and more."



The live production of 'Rogers: The Musical' has been specially crafted for Disneyland by a team of more than 20 creatives and theatre experts at Disney Live Entertainment.

"The moment we saw 'Save the City' performed in the Hawkeye series on Disney+, it sparked an idea: What if we could bring 'Rogers: The Musical' to life?" said Dan Fields, executive creative director at Disney Live Entertainment.

"I'm thrilled that audiences are finally going to get to experience the humour, heroism and heart of that show on stage at the Hyperion Theater."

Rogers: The Musical is now playing at the park until August 31, 2023.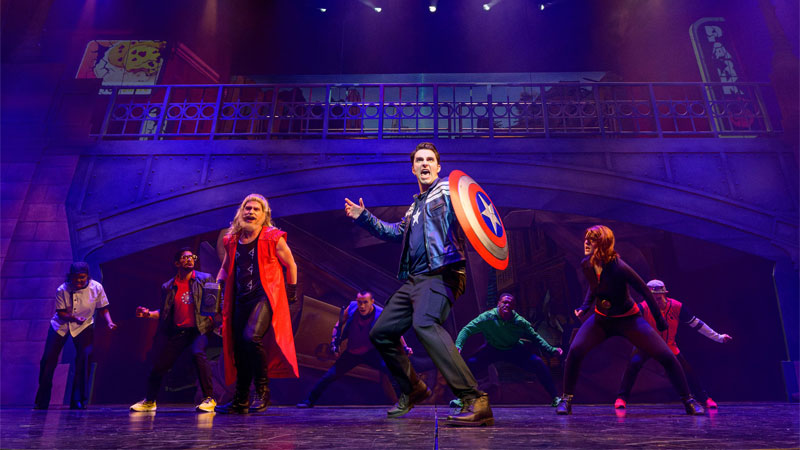 Rogers: The Musical is now on show at Disney California Adventure   CREDIT: DISNEY