news

British music festivals call on government to save COVID-hit sector

Industry leaders have urged the British government to set out reasonable return timetable for mass gatherings and to introduce insurance policies to provide stability for the country's music festivals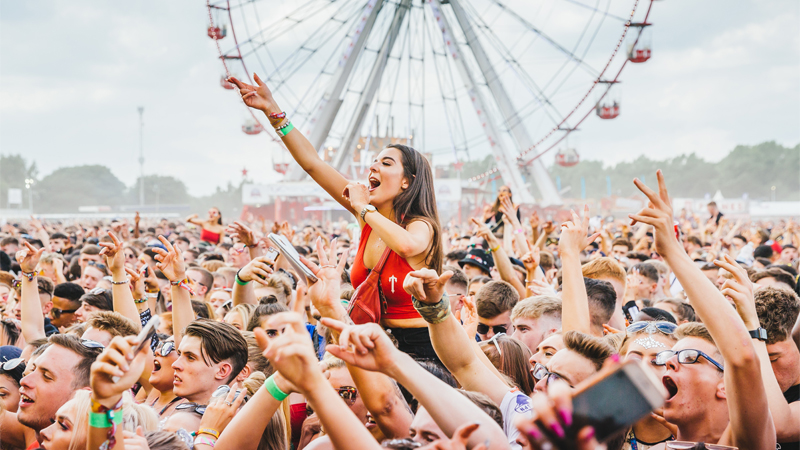 British music festivals lost 90% of expected revenue in 2020 with the sector in danger of collapse if events can't run in 2021
Credit: Steve Turvey / Fanatic
The UK's Department for Digital, Culture, Media & Sport has opened an inquiry into the future of music festivals in Britain, with the ongoing global pandemic resulting in a devastating year for the sector.

In 2020, British music festivals such as Glastonbury, Download and V Festival saw operations almost completely grind to a halt, with revenues year-on-year down an estimated 90%.

The committee, which assembled remotely at 10 AM on January 5, heard from festival organisers Anna Wade, communications and strategy director for Boomtown and Sacha Lord, co-founder of Parklife.

The inquiry discussed the future of the music festival industry in the UK, examining "what is required for UK-based music festivals to survive the impact of COVID-19 and the health and financial barriers to planning festivals in 2021."

Industry witnesses called for the government to provide a target date for when mass gatherings could be possible, which would allow organisers to assess the viability of the 2021 festival season.

"The first, most important thing we absolutely need is a target date that we can work towards, and that target date needs to come sooner rather than later," said Lord.

Steve Heap, general secretary of the Association of Festival Organisers, said: "If we get to Easter and we still don't know what crowds can gather at festivals, however large or small, then we are in a catastrophic situation with this year's festival season."

Insurance policy

Witnesses also called for a government-backed coronavirus cancellation insurance scheme, similar to those implemented in Austria and Germany.

"Insurance is the most critical factor that will enable us to plan festivals," said Paul Reed, CEO of the Association of Independent Festivals.

The UK music festival sector brings in £1.76bn to the economy each year and supports 85,000 jobs. This insurance - described by Reed as "the key to unlocking the planning process" - would benefit supply chains and boost local economies as organisers would be able to start planning their events.

Without it, organisers would either be forced to cancel "early and en masse", or have to commit capital without protection preventing further loss of revenue should they be forced to cancel at a later date. Currently, festival organisers are operating on the belief that insurance for coronavirus-related cancellation is unlikely to exist until 2022.

Committee members were also warned that the majority of British music festivals will likely fold if not allowed to operate in 2021.

"The UK has the biggest festival market globally. We are proud of that. Music is one of our biggest exports. If we do not take place in '21, I think the vast majority could disappear," said Lord.

Jamie Njoku-Goodwin, CEO of UK Music, said: "In the UK, we have a vibrant and proudly global live music scene. People travel from across the world to our country because of that vibrant and dynamic scene.

I cannot think of another sector that imports the supply and the demand but generates millions of pounds for our economy in the midst of doing so. It is a real asset to our country."

Further support

Other requests included an extension of business rates relief, a three-year extension of reduced 5% VAT on admission charges and continued furlough support for freelance workers integral to the industry. Wade described the potential loss of these contractors as 'catastrophic'.

Also discussed was the impact Brexit will have on the sector, with queries as to why the UK's £5.8bn (US$7.9bn, €6.4bn) music industry hadn't been prioritised in debates surrounding the UK's trade deal with the EU.

UK Music had compelled the government to make touring a priority in supplementary agreements, describing the music industry as "a key national asset".

"It's critical to us and to the future of the festival sector because our festival sector depends so much not just on European talent but on UK musicians being able to go to Europe and to bring back that experience and fan base," said Njoku-Goodwin.

Lord and Wade added concerns that said changes to visa policies could lead to a drying up of talent, as the costs would be too much to bear for smaller acts.

"That's a big piece of red tape, a big barrier that is in the way now that never was before, so it might stagnate new talent coming through," said Lord.

The inquiry ended with the government's £1.75bn (US$2.4bn, €1.94bn) culture recovery fund, which received a low number of applications from festival operators due to a £50,000 (US$68,000, €55,000) threshold, meaning a number of smaller events were not eligible for assistance.

The committee said that supporting smaller music festivals in Britain was essential in keeping the sector competitive, affordable and diverse. As a result, it pledged to raise the issue and said it would look at trying to lower the threshold in order to support smaller operations.

© Kazoo 5 Limited 2021