news

Shanghai's highly-anticipated planetarium and astronomy museum set to open later this month

The long-awaited Shanghai Astronomy Museum is set to open its doors to the public on July 18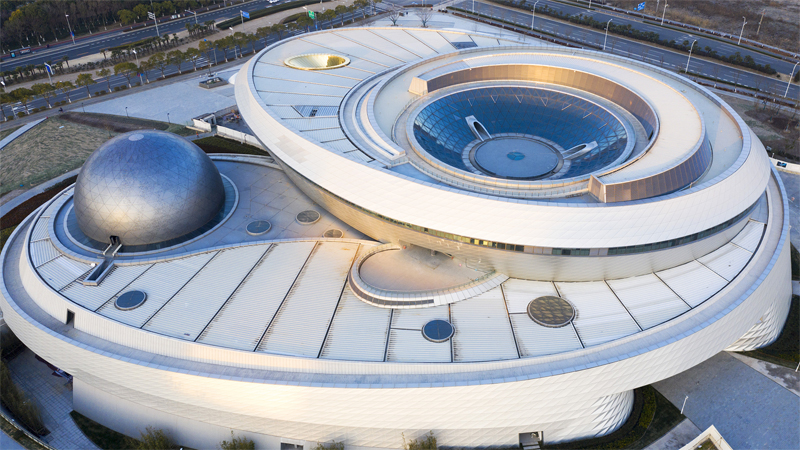 The development took six years to complete
Credit: Shanghai Planetarium
Not long after astronauts Liu Boming and Tang Hongbo completed their spacewalk on China's new Tiangong space station, back on Earth, the long-awaited Shanghai Planetarium (Shanghai Astronomy Museum) welcomed its first visitors, also revealing its official opening date.

The planetarium, the biggest in the world, is welcoming a limited number of visitors as it carries out stress tests in the coming days. The attraction will celebrate its official opening on July 17, welcoming guests the following day on July 18.

The 38,000sq m (409,000sq ft) museum and planetarium took five years to construct and was designed by Ennead. It's design, says Ennead, replicates a celestial orbit.

The museum boasts a capacity of 7,000 visitors per day, and, unlike most planetariums around the world, has designed the facility to offer a huge array of museum exhibits and interactive experiences.

Inside the museum, visitors will find three main themed exhibitions: Home, Universe and Odyssey. In the Home-themed area, visitors learn about planet Earth and the moon, and can view the sun on a live screen. A meteorite collection is also on display.

A 4D theatre experience is themed around Earth's galaxy, leading to the Universe exhibition, which focuses on the big bang, time-space, light, and life.

The third main area of the museum - Odyssey - shows the development of the human understanding of astronomy throughout history, culminating in space travel, with a special mention for China's Chang'e lunar rovers and the newly-orbiting Tiangong space station.

Further special exhibits cover the topics of solar eclipses, ancient Chinese astronomy, space travel to mars, and alien life. Another World: Landscapes of the Solar System features 77 photographs by American space photographer Michael Benson. The 23-metre 8K ultra-high-definition dome, a 17-metre optical dome, an observatory and sun tower are all in addition to the vast offer of the Shanghai Astronomy Museum.

An array of immersive experiences utilise the best in modern technology to bring the experience to life, such as simulators, data visualisation, multi-sensory experiences, AR and VR. According to the museum, there are over 300 exhibits, and more than half of them are interactive.

More traditional artefacts include the works of Galileo Galilei and Johannes Kepler, alongside a first English-language edition of Isaac Newton's Mathematical Principles of Natural Philosophy (1729). A scale model of the Tiangong space station core module, Tianhe, will also be on display.

The Shanghai Astronomy Museum is a branch of the Shanghai Science and Technology Museum, which plans to open many more science and technology attractions in future years.




© Kazoo 5 Limited 2021