news

Multi-use K-pop attraction CJ LiveCity breaks ground in Seoul

The K-pop music arena plans to host some 190 concerts per year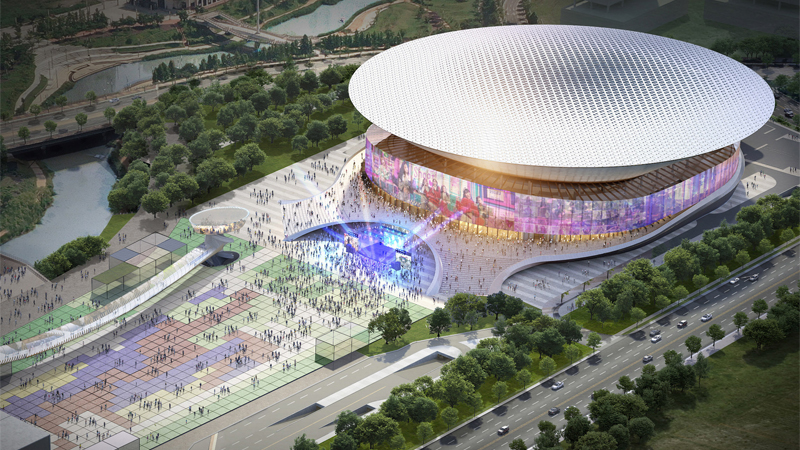 Bird's-eye view of the CJ LiveCity Arena
Credit: CJ LiveCity / CJ E&M
Few things have taken the world by storm with the same force as K-pop, a music genre that can garner 10 billion views in just 24 hours, and boasts fans not only in South Korea and Asia, but across Europe and the US. Now, fans in Seoul are celebrating as construction begins on the world's first dedicated K-pop venue.

CJ LiveCity, the brainchild of Korean entertainment giant CJ E&M, features a K-pop arena at the heart of its plans. The 20,000-seat concert stadium will be equipped with cutting-edge technology and aims to attract more than 20 million visitors a year. Its indoor-outdoor concept means that up to 40,000 visitors to CJ LiveCity will be able to enjoy the concerts along with those inside the arena.

Designed as a tourism landmark that will capitalise on the immense success of numerous K-pop IPs, CJ LiveCity will also feature a K-pop themed entertainment district where visitors can enjoy 'K-content' in both the real and virtual worlds. It is expected that the complex will embrace virtual reality and the 'metaverse' to put a new spin on the fully immersive music experience, facilitating a virtual audience to interact with one another, and creating "a content experience beyond time and space constraints".

The project is in partnership with global sports and live entertainment company AEG. However, eager K-pop fans will have to wait until 2024 before the first concert takes place.




© Kazoo 5 Limited 2021