A new attractions concept could see a stationary helium-filled balloon soon take to the skies in some of the world's most prominent locations.

Called Diamond Balloon, the triangle-shaped hot air balloon would ascend to around 300m (984ft) but remain attached by ground cables, meaning it could be seen from around 25km away on a clear day, with its occupants receiving similar views from the lower viewing gondola.

The gondola has a maximum capacity of 64 people, with the viewing platform rising into the air via a cable system to around 175m (574ft). Visitors will then have 15 minutes to take in the sights, which will be observable through the glass pod.

The concept also features rollercoaster-like floorless seats, which would rotate under the gondola for thrill seekers looking for the ultimate viewing experience.

On the ground, a two-storey landing station will act as a docking station for the gondola, along with a control centre, ticket station, retail area and a café.

Depending on weather conditions, Diamond Balloon would be able to host up to 3,000 people per day.

The balloon also offers an advertising opportunity, with digital LED boards with a total screen area of 2,700sq m placed on each side of the balloon. Because of this, the attraction could operate at a profit even if visitor numbers are low.

"Diamond Balloon's captive balloon is a revolutionary concept because of its patented design and its dimensions," said a statement from Diamond Balloon. "Due to its shape, the balloon will be far less sensitive to wind and offers ideal digital and conventional advertising surfaces.

"The innovative design of the gondola and it's lifting system provide maximum safety and comfort for the passengers. The Diamond Balloon will be the largest captive balloon in the world.

"Two groups of passengers will be targeted; the family tourist and the thrill seekers. The family tourist will make the ride inside the air-conditioned gondola and enjoy the 360 degrees unobstructed view through the glass walls or enjoy the ride standing in the open air on the surrounding balcony. Thrill seekers will sit under the gondola in the open air in 15 protected seats, the sky seats, which will rotate 360 degrees during the ride."

The plans have been given the thumbs up by engineering firm KCI, while a potential location and investors have been lined up in the Middle East.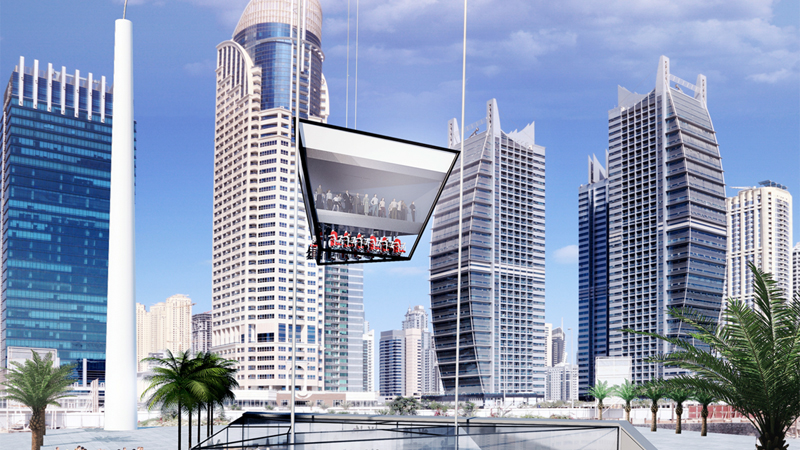 The two storey base station will act as a hub for the entire Diamond Balloon operation   CREDIT: DIAMOND BALLOON