Colombian waterpark Cafalandia has welcomed a major new attraction in the shape of a water coaster.

Designed by ProSlide Technology, the ride, which debuted in April, is the first dueling water coaster to come to Latin America, positioning the waterpark as one of the premier destinations in the entire region.

Winner of IAAPA's coveted Impact Award in 2019, the Dueling PipelineBlast is a head-to-head racer, with the attraction pitting riders against each other in battle to the finish line.

Taking about 40 seconds to reach the bottom of the waterslide, the ride features a maximum capacity of 720 people per hour. The ride path was custom designed to include high-speed straightaways and G-force turns that accelerate riders into six of ProSlide's FlyingSaucers, which mimic the speed of a giant slalom ski turn. The ride path was also adapted to preserve as much of the environment as possible.

Three RallyPoints - sections of u-shaped flume with low divider walls that enhance the racing sensation by allowing riders to see and hear their competition as they descend - also feature. For uphill sections, two booster sections propel the vehicles using precisely positioned water nozzles.

"Cafalandia's new water coaster is one of the best water rides in the world and sets the park apart as one of the leaders in the region", said Aaron Wilson, ProSlide's vice president of business development for Europe and Latin America.

"The addition of the Dueling PipelineBlast is a strategic addition and introduces a high-performance water coaster exclusive to the region, making Cafalandia the only place in Latin America to experience this unique attraction."

The launch of the new attraction represents a milestone for the waterpark, which has been operating under limited capacity thanks to COVID-19 restrictions since the start of October. Located in Melgar, the attraction is part of the wider CAFAM Melgar holiday park, which is a well-known holiday destination in the region featuring Colombia's largest hotel complex.

ProSlide has previously worked on two other projects with Cafalandia, starting in 2017 with the installation of three water rides - FreeFall, SuperLoop with SkyBox and OctopusRacer. Following the success of these attractions, the park partnered with ProSlide once again to develop seven new children's rides.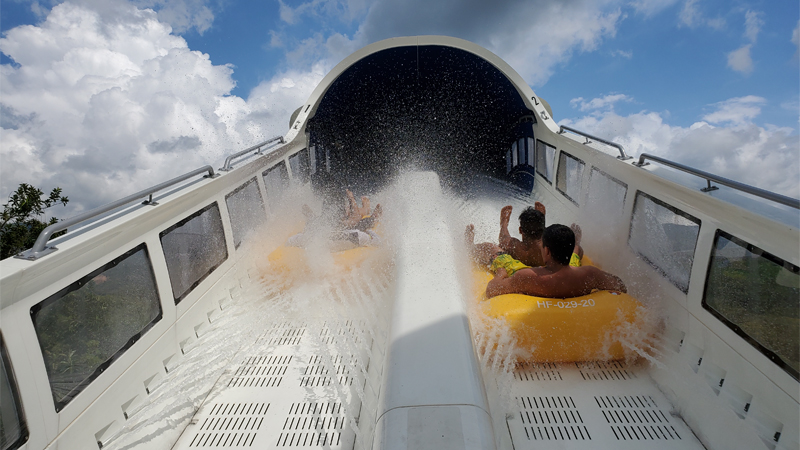 Booster sections power vehicles through the ride by using precisely positioned water nozzles to propel riders up inclines with uncompromising speed   CREDIT: PROSLIDE