news

BoldMove set to bring Marsupilami to life with Houba World announcement

The popular Belgian IP will be the main focus of a brand-new media-led family attraction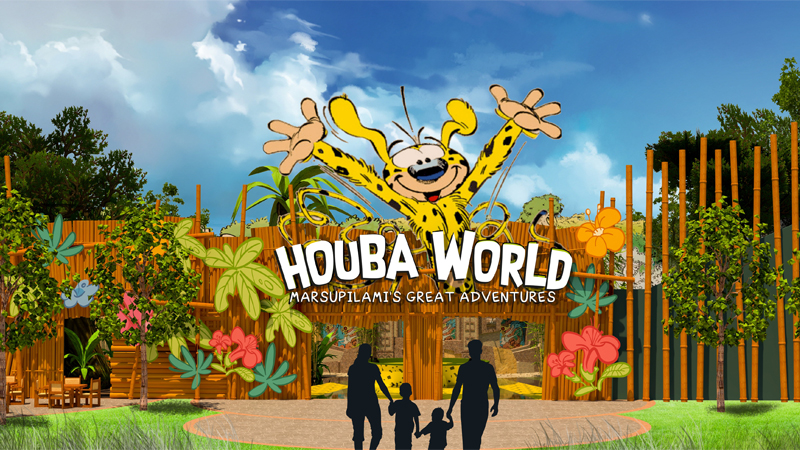 BoldMove has teamed with Mediatoon to create the Houba World concept
Credit: Mediatoon
Media-based attractions designer BoldMove has announced plans for Houba World - an immersive family experience utilising Belgium's popular Marsupilami IP.

The new concept from BoldMove has been developed alongside Mediatoon, which manages a number of other IPs, including Spirou and Lucky Luke.

"The product comes in two forms - first as an indoor attraction around 3,000sq m (32,000sq ft) in size, or as an indoor/outdoor hybrid over 6,000sq m (64,000sq ft) with additional attractions," said Benoit Cornet, CEO and captain of creative minds at BoldMove, speaking to Planet Attractions.

Called Houba World, the attraction will include several media-based options, including themed versions of BoldMove's Smash and Reload dark ride.

Also included will be a number of virtual reality attractions, mechanical rides, a game zone, a soft play area, party rooms, a retail store and a themed restaurant.

The outdoor version of the attraction will also include an AR treasure hunt and two additional indoor attractions.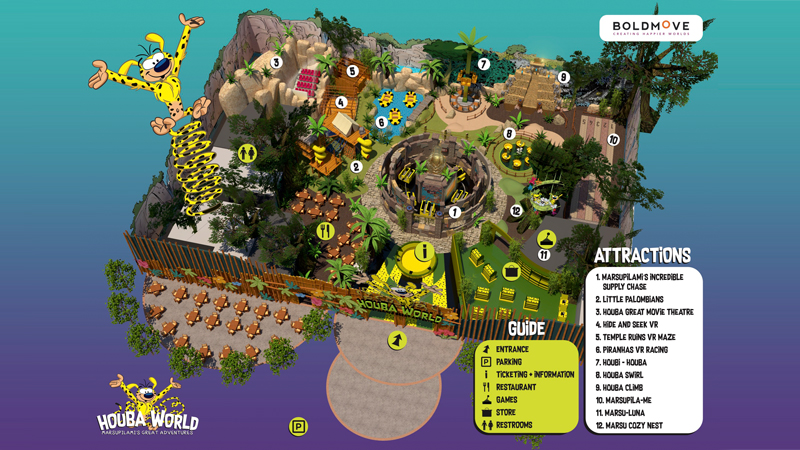 Hoube World will feature a host of multimedia attractions - Credit: BoldMove

The attraction model has a couple of applications - either as a new zone within a theme park or as a standalone Family Entertainment Centre (FEC).

"This will fit perfectly as an extension to an existing park," said Cornet. "You can simply take an existing attraction and build an entire Marsupilami zone as an addition.

"The second element is retail outlets, which are struggling for customers at the moment with the ongoing pandemic. These malls and outlets are looking for new ways to bring people in and this is something that could do that."

Created in 1952 for Franco-Belgian comic Spirou, the character Marsupilami appeared regularly in the series, eventually branching off for his own comic and later becoming a multimedia franchise, with multiple animated series, a feature film and a videogame. The character has become so popular, that it even has an asteroid in space named in its honour.

"Some IPs are known but not designed for location-based entertainment," said Cornet. "You need a character that is highly likeable, even if you don't know them - we have this with Marsupilami.

"The beauty of the character is that it has a full story. When you're working with a character with a rich background, you have soul. That's what really made me enthusiastic about this project."

BoldMove is currently in talks to bring the attraction to China, with an eye also on the Middle East and Europe. The IP is particularly popular in Belgium, France, Germany, Russia and much of northern Europe.




© Kazoo 5 Limited 2022