In depth

The zoo of the future: Toronto Zoo CEO lays out attraction's CA$328m masterplan

Toronto Zoo is starting to undergo a major transformation. Its CEO Dolf DeJong spoke to Planet Attractions about the ambitious masterplan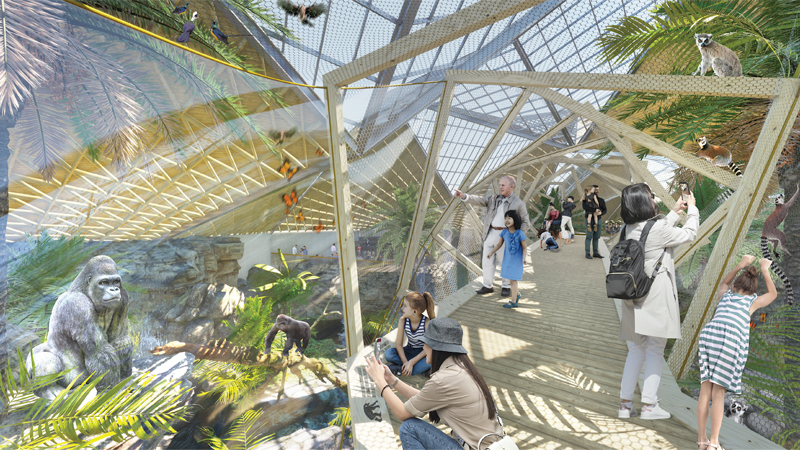 Toronto Zoo is set to undergo a major transformation over the course of the next two decades
Credit: Toronto Zoo
Last month Canada's Toronto Zoo unveiled an ambitious multi-year masterplan to transform the attraction into the "zoo of the future", a year-round prospect with animal care and conservation at its heart.

The blueprint for the 2.87sq km (1.1sq mile) site's evolution will see the zoo undergo a major redesign over the next 20 years, with its animal-human interactions changing for the better.

The zoo has worked with design studio Mandaworks on the masterplan, with its plans acting as a drastic departure from the traditional zoo experience.

Included in the plans are an animal rescue sanctuary, which will be located near conservation science buildings on the north side of the site, while a wilderness and landscape mimicking Eurasia's climate will be built on the site's northeast side. An Australasia climate zone is also in the works, alongside a discovery area and splash zone.

A wooded area has been retained at the heart of the property, while the west features a forage farm with nature reserves. The southside features both African savannah and Indo-Malaya micro-climates.

In addition to improved animal habitats, a number of experiences and amenities are planned in the 120-page document, including a new on-site hotel, a restaurant, all-new pavilions and viewing areas, rooftop attractions, convertible events spaces, an educational daycare centre and more. The plan even calls for a working brewery complete with an upper space accessible by the zoo's orangutans.

Not only is the masterplan good for the zoo's animals and good for its visitors, but it's also good for the environment, with a slew of innovative sustainability initiatives factored in.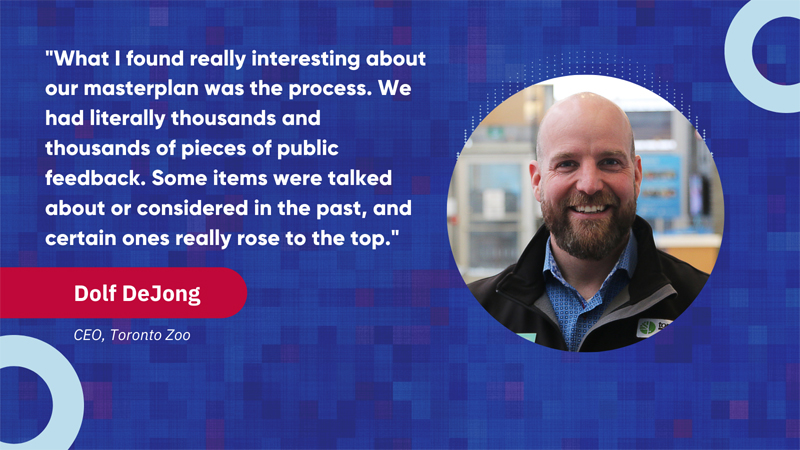 ---
Planet Attractions spoke to Dolf DeJong, CEO of Toronto Zoo, about the plans and what they mean for the zoo and its animals going forward.
---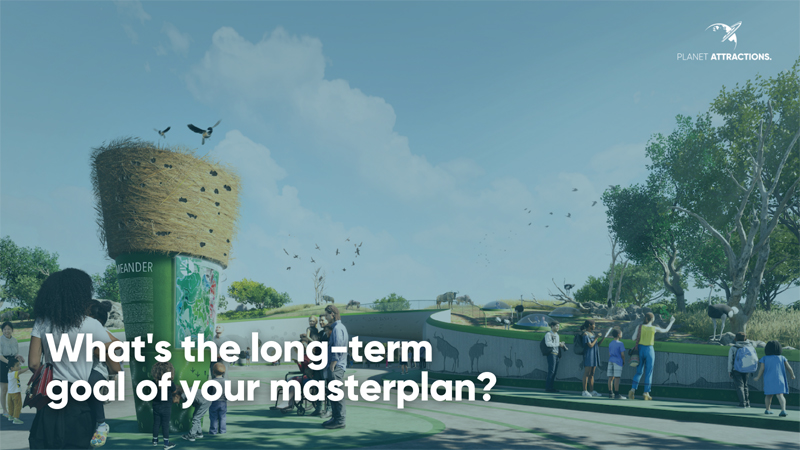 "With any masterplan, you're looking to really make sure that what you're building and the direction you're going reflects your organisation's values and ties closely to your strategic plan and your community's wants and needs. We're extremely excited about a plan that we think really takes our mission of connecting people, animals and conservation science to fight extinction and puts technology alongside the bricks and mortar updates in place to serve that.

That ties back to one of our key drivers. We care about our animals. We care about our team of staff and volunteers. We care about our guests. We want to give them amazing experiences and we care about our communities. So this is the plan that lets us physically build the zoo to meet those goals."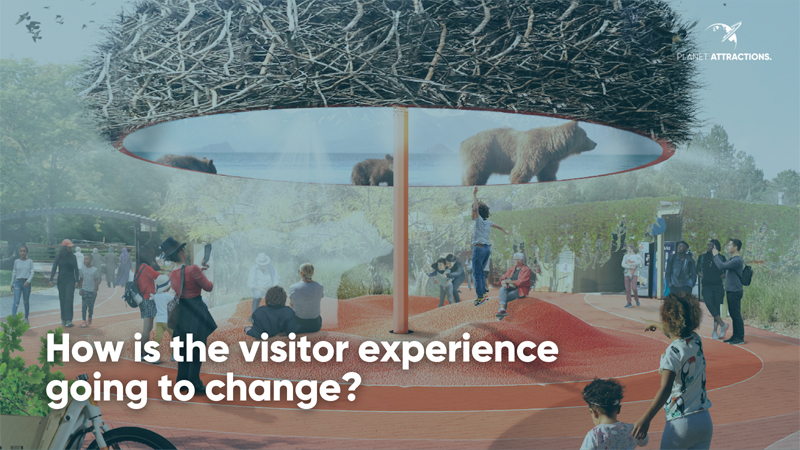 "It runs back to our strategic plan, where one of our targets is to create 'WOW'. So how do we present unique experiences and relationship-building opportunities with animals for people? That means stepping back. Long term, we're going to have fewer species at the zoo with more space for the animals. This will also offer more options for unique opportunities for people to be in and around those animals safely. We also want to make sure we have those safe experiences and make more progress on animal welfare."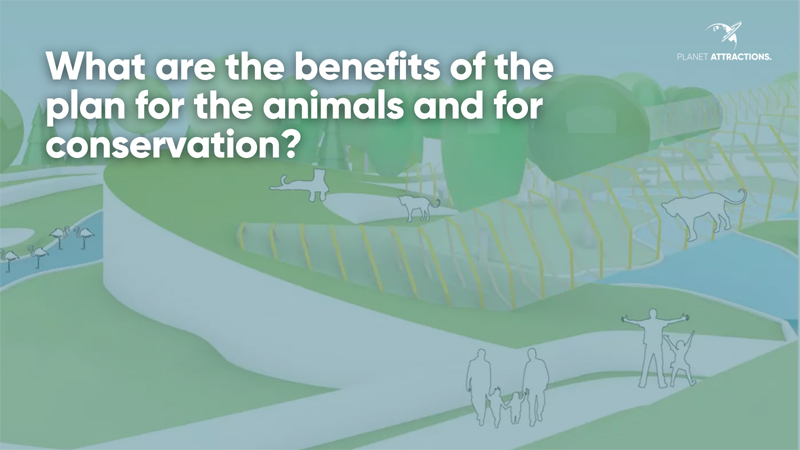 "There's so much great work that goes on at accredited zoos, such as the breeding of endangered species like Blanding's turtles, loggerhead shrikes and black-footed ferrets. A lot of that work goes on behind the scenes and with the masterplan we want to bring that to the forefront.

We're also looking at building far deeper storytelling into our habitats. When you see an orangutan, for example, you're not only going to have that unique, amazing experience that many folks would never have, but you'll take a real deep dive on things like palm oil - the challenges, the habitat loss and the implications of unsustainable work.

In the next phase of the plan, we're going to be working on that. Starting this year is our interpretive plan. That will be the unifying storytelling document that brings all of this together."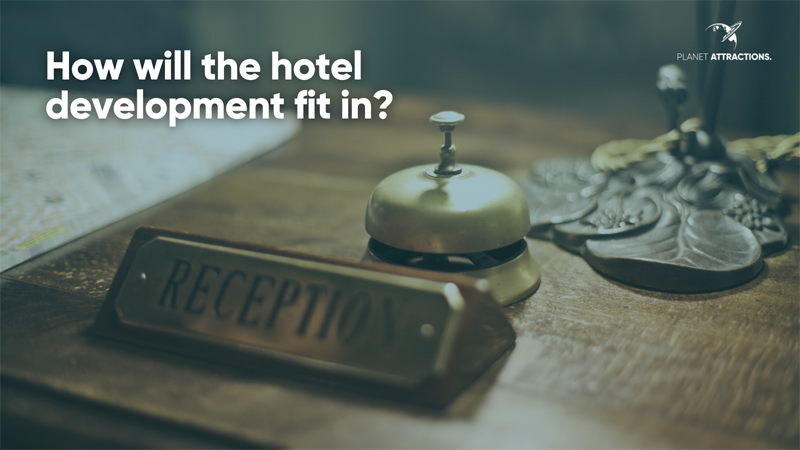 "What I found really interesting about our masterplan was the process. We had literally thousands and thousands of pieces of public feedback. Some items were talked about or considered in the past, and certain ones really rose to the top. One of those items was this notion of accommodation - both as something that is needed in our part of the city, but also as something that can provide a unique experience. Through the hotel piece, you see the yurts and the expansion of our bush camp. So it's really about different ways to provide safe, immersive experiences modelled on a mindset of public-private partnership. You'll also see a section in our master plan that isn't actually factored into the base capital cost. We're looking for partners to do that part together while making sure that's in our planning framework and we're making sure that we're going through the process to have those approvals.

I don't know if we really knew we would have all those things at the start of the planning process. But we've listened, we've learnt and I think it's going to be a really neat opportunity that you've seen in other places that we can have a 'made in Toronto' stamp on."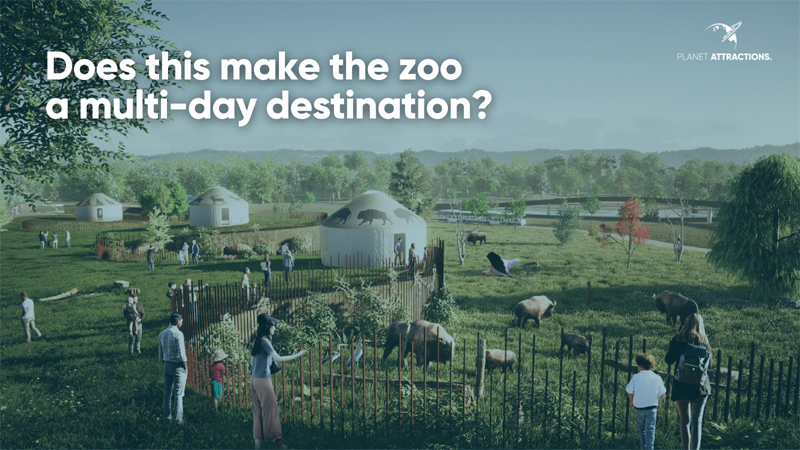 "I think in collaboration with other community partners, we want to bring people to the city of Toronto, we want them to stay multiple days. Our zoo is on the edge of the city. We're about 45 minutes from downtown, so it's often a great staging point as people are coming or going. We think there are a lot of practical applications and when you start looking at scaling up, having changing exhibits, having meeting spaces, we're really looking at a conservation destination for both meetings and educators."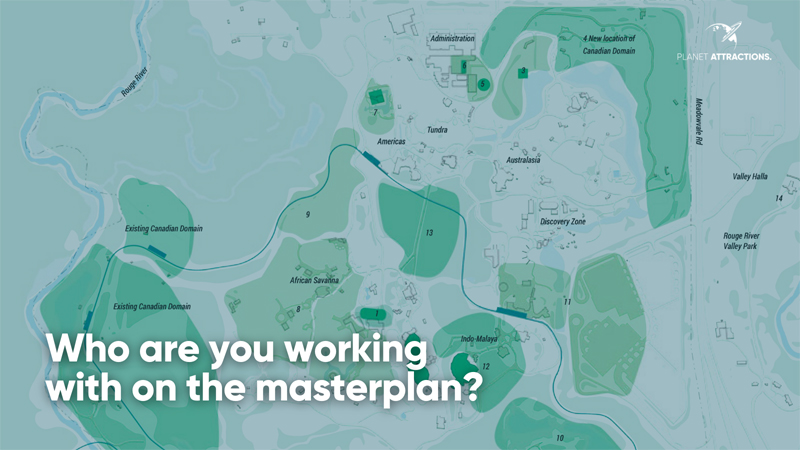 "It starts with our incredible team on-site. We've got a project management team that's been growing as we look to deliver on these projects. We've also worked with a variety of different design consultants, architects, landscape architects on a project by project basis. Mandaworks prepared the project masterplan and we've worked with a number of different companies on various projects.

For the community Conservation Campus, for example, the design is with Zeidler Architecture. When we look at these other projects, we will be tendering design builds and we look forward to working with leaders from across the sector and making sure we get the best thinking applied in these projects.

There's a real diversity of things we're looking to put together. Whether you're talking accommodation for people, a new habitat for animals, or an immersive digital experience. Each needs a different skill set so we'll be bringing in a lot of different partners."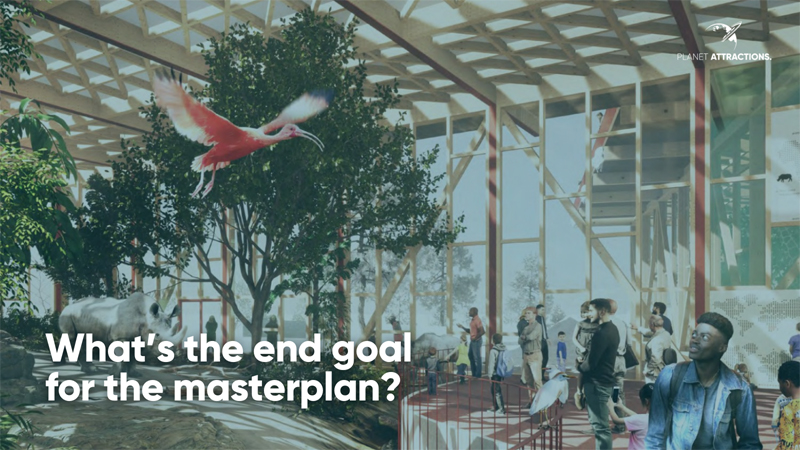 "I think when you look at these plans, they never actually end. They just keep evolving from that starting point. Now that we have it approved, the Conservation Campus is a project we are looking to revitalise our front entrance with. The orangutan habitat that's been underway for a few years we hope to open as early as this spring. Then what you see in the back is actually the sequencing of these projects.

With the pandemic came supply chain challenges. We were reluctant to say 'you're going to see Project A breaking ground in March of 2024' for example because we've had so much wobble as a result. So what we've done is go through this process to determine our sequencing. We've got a great relationship with the City of Toronto for our 10-year capital plan, and we look forward to bringing these forward as quickly as we can in the interest of amazing guest experiences and improving things for the animals in our care."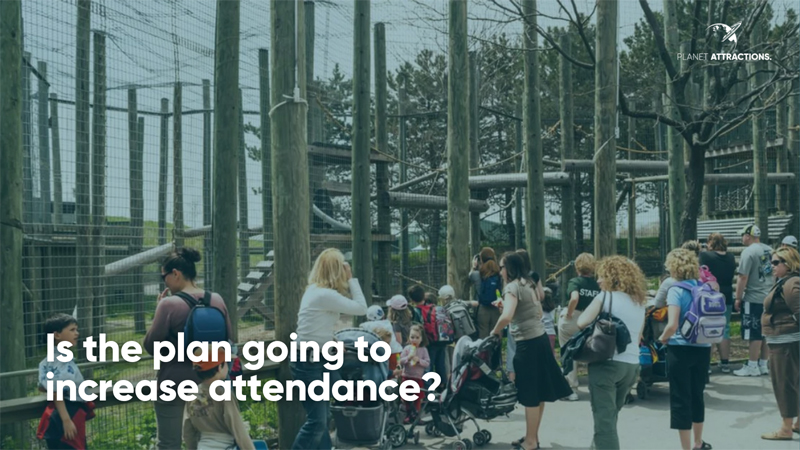 "Our goal is always to serve our community and serve more members, so yes, we want to see attendance increase. But we've seen in our sector and in other sectors of museums and art galleries that with starchitecture and big pieces, you get a short term lift. It's not necessarily always sustainable. What you see in this plan is this idea of '24/7, 365', with an aim to increase our capacity year-round.

In the summer, we're an incredible destination. In my time here our record attendance on a single day is 19,000 guests. So we're really looking to expand that to our off-season as we aim to become known as a year-round destination. That's where you see those accommodation pieces, as well as things like the indoor African Savanna, broaden out those winter experiences.

It gets cold in the winter in Canada and we have a saying here that there's no bad weather, just bad clothing. So we think making sure we have indoor offerings are a key way to help raise our attendance, particularly in what have traditionally been shoulder seasons."




"If you actually total up all the projects and it's not all, but almost all, that's around CA$328m (US$262.5m, €237.8m, £200.1m)

We've really mapped out the first CA$140m (US$112.1m, €101.6m, £85.8m) worth of projects and I'm estimating we'll revisit this plan probably in seven or eight years and see where we are and see what else we've learnt.

This plan is a product of our team evolving to a reflection of a pandemic and a changing world. Hopefully, we don't have too many more bumps on this scale between now and then."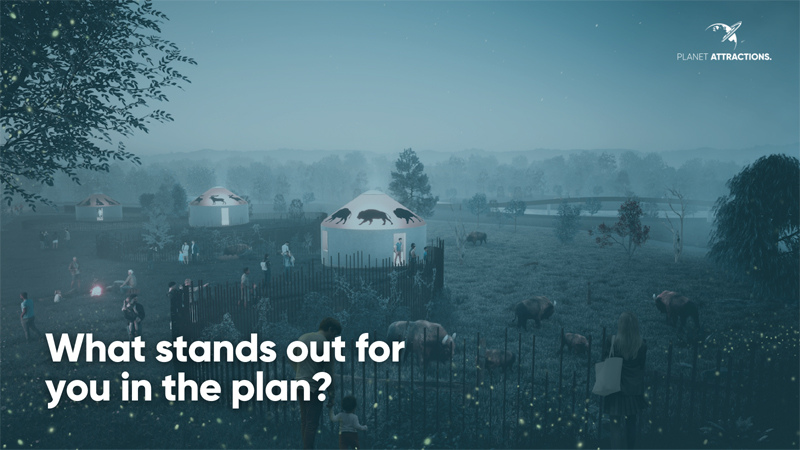 "A project that really jumps out for me is the indoor African Savanna. As a northern zoo that has African species in our care right now, for the winter, they end up behind the scenes. With this plan, we're creating a big space for them to cycle through, essentially giving them their sports field so they can leave their regular accommodations and stretch their legs. We're then adding a new space where guests can see them in the off-season, which is going to really change how people see the zoo and move it from being a summer place to visit, to a great place to be any time of year.

I'm also really excited about the Saving Species Sanctuary, which highlights the trafficking of exotic species globally, as well as more local threats to injured, orphaned and confiscated species. The issue of roadside zoos and private ownership of wildlife is a real concern for us, so building the capacity to be able to take some of these animals in when they're in harm's way, provide care and rehome them, we think that's just part of who we need to be as a zoo going forward."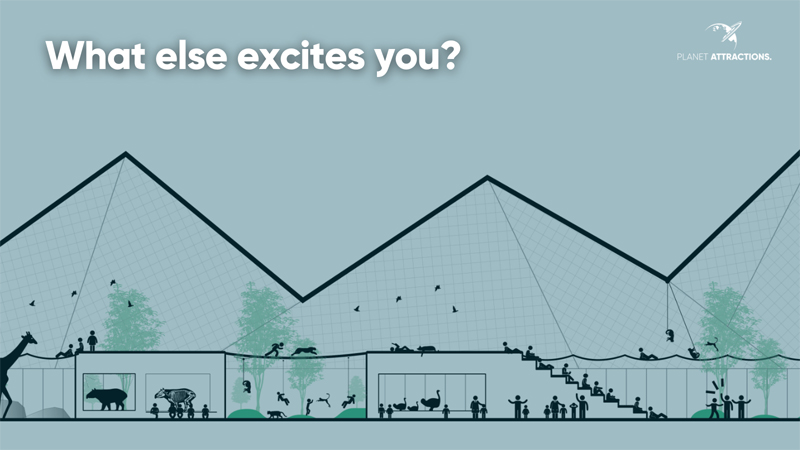 "I feel like I could just list all the projects. I'm super excited about the Daycare. The notion of an outdoor school at the zoo, that really embraces both indigenous values and traditional knowledge is one of the key pieces for us. It's also a site where kids can be outdoors while exploring and learning.

Overall, if you go through the plan, you'll see almost in every case expansion of animal habitats, giving them more choice and more real estate. We think that's going to serve them exceptionally well and provide more opportunities for our guests to see them also. Those are some things that jump out to me. I'd also like to stress how incredible the community feedback has been on this. This is not the plan I thought we'd have when we started but it's so much better thanks to all the input we received."


---
To read the full 120-page masterplan click here
Animal attractions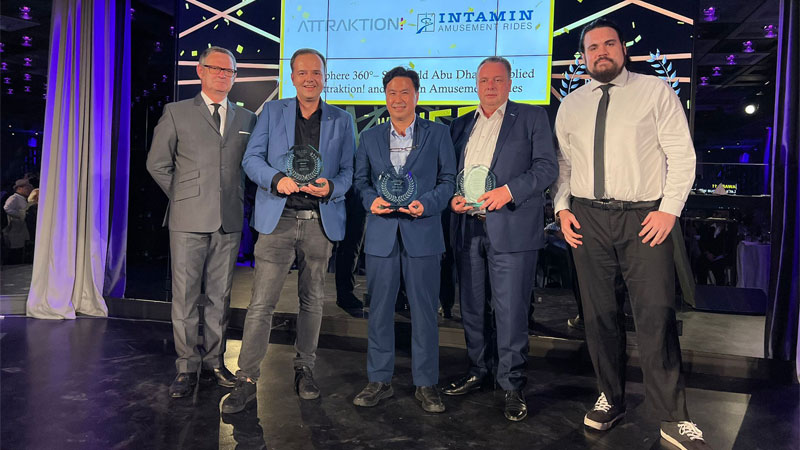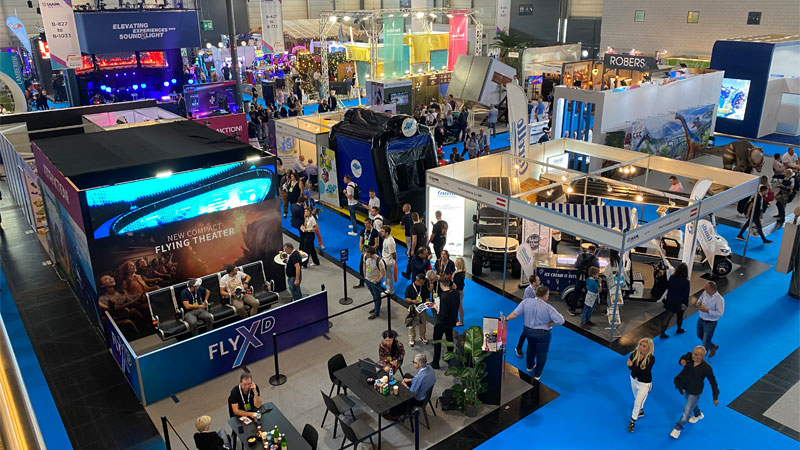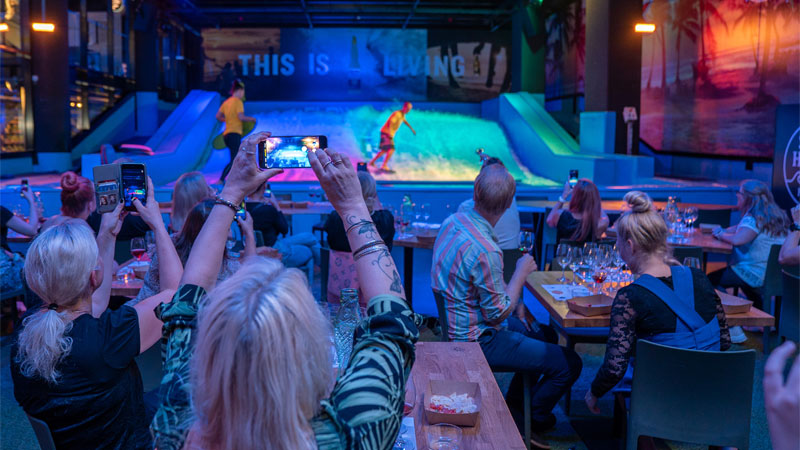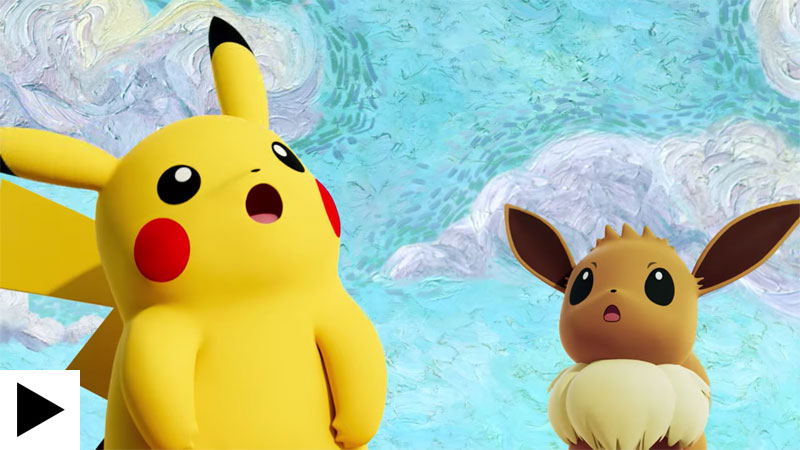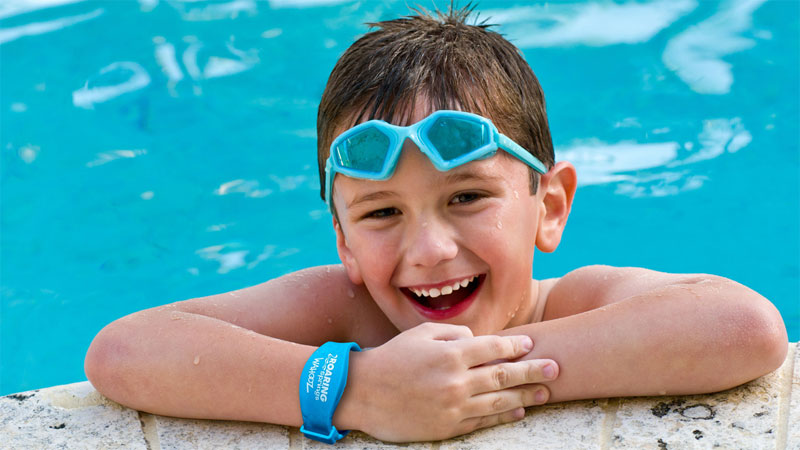 Solving the puzzle: Connect&GO's Anthony Palermo on how technology is rapidly changing attractions management