In depth

Part One: Meet 'Dino' Don Lessem - The man who advised on Jurassic Park and has his own army of robotic dinosaurs

Don Lessem has gone from advising on Jurassic Park to building enough robotic dinosaurs that he could fill an entire zoo. In part one of our interview, we get a peek into the life of 'Dino Don', who talks about everything from Steven Spielberg to the real-life dinosaur that's been named after him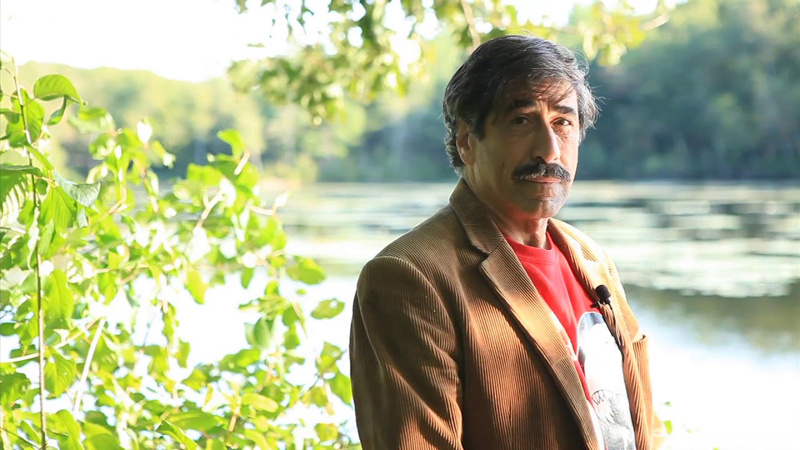 'Dino' Don Lessem has been working with dinosaurs since the late 80s
A journalist and writer turned dinosaur robotics expert, 'Dino' Don Lessem is one of the most interesting people you could ever hope to meet.

Falling hard for the prehistoric beasts in 1988 while working at The Boston Globe, Lessem has had a dino-filled career, launching a travelling exhibition company in 1993, correcting inaccuracies on Jurassic Park, working with both Disney and Universal on their dinosaur-related attractions, and eventually developing robotic dinosaurs in 2017 purely to combat the inaccurately-designed ones that already existed.

From working with Steven Spielberg to having his own dinosaur named after him and even riling up Donald Trump supporters with an iconic piece of protest art, it's certainly been an eventful few decades for Don. In part one of this two part interview, he talks to Planet Attractions about his early career, working on Jurassic Park and what led him to becoming a world-leading expert in everything dinosaur.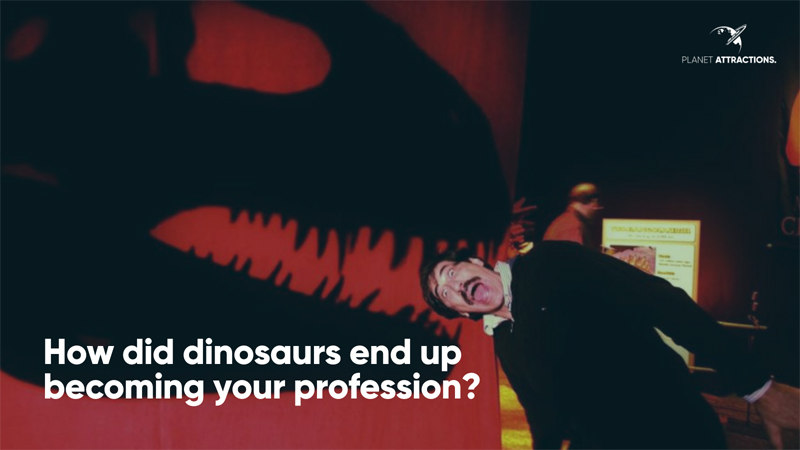 "I seemingly have to have a new career every two weeks. Briefly I started out as a science reporter for a newspaper in Boston. While doing that, I was sent out on a dinosaur story and ended up never coming back.

I can find a million different things to do with dinosaurs rather than find a million different things to write about in science. It's an extremely vibrant science and there aren't many people who do it. We were in the golden age of dinosaurs, so I started out writing books for grown-ups and about 50 books for kids. I've also worked on TV shows, documentaries and this little movie called Jurassic Park.

For Universal I was an advisor to the Jurassic Park attraction and for Disney I was an advisor on Dinosaur at Animal Kingdom.

In 1993 I got into the exhibits business, which helped to raise a couple million dollars for research. I'd been sponsoring exhibitions and organising the research groups. This led to us digging up the biggest meat eater and plant eater in the world in Argentina, so we made permanent and temporary exhibits of those fossils for museums.

Finally, three years ago, I got into the robot business."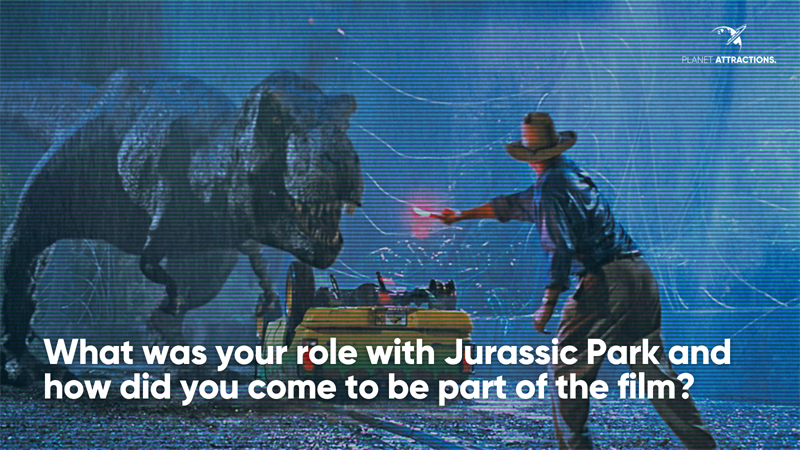 "A few years before the movie came out, there was an upcoming bestseller that had gotten a lot of attention. It was by Michael Chrichton and it was this new book about dinosaurs called Jurassic Park, so I called him up and interviewed him.

By then, I had already decided to start up a dinosaur charity because I'd been all over the world to see the tiny amount of funding these guys had when they were indirectly generating millions of dollars for dinosaur-related commerce.

So I told this to Chrichton. He was a very generous, peculiar, nice guy and he told me I didn't know what I was doing and he was right! He then offered me some advice and some money for the nonprofit and then he said 'I'll introduce you to Spielberg'. I of course said I didn't mind and he could definitely do that.

When they got around to shooting the movie, a woman called me from the studio and said 'we understand you're going to be helpful to us'. She then told me to 'show up in the Mojave Desert in California next Tuesday', so I did.

When it came to the movie, a lot of time had already gone into preparing and making those dinosaurs before I came along. So when I would get there and say 'this is wrong, this velociraptor is on steroids' they'd politely tell me to shut up. That's a lot of what the advising was. I did however change a number of lines in the movie because they were wrong.

A lot of the work involved discussing how we could maximise the opportunity to do something for research. Spielberg is a kind-hearted person and pretty generous. The movie studio of course would cut your throat, so whenever I wanted something I would say 'Steven said' and then things would happen. They printed a million copies of a kids newspaper I had and distributed it in every movie theatre when Jurassic Park opened, which built a huge subscription list for this charitable, educational kids newsletter. We also got an exhibit going with the sets and props from the movie.

I ended up with the moulds from the movie so I could make casts for exhibits and I still have a velociraptor from the original.

My work on the movie led to me doing other stuff with the studio. If you watch the credits of Jurassic Park, the very last credit in the whole movie is mine. I remember the cinema staff trying to kick my family out of the theatre because they were sweeping up the popcorn and I said 'no I'm sure my name is in here somewhere'."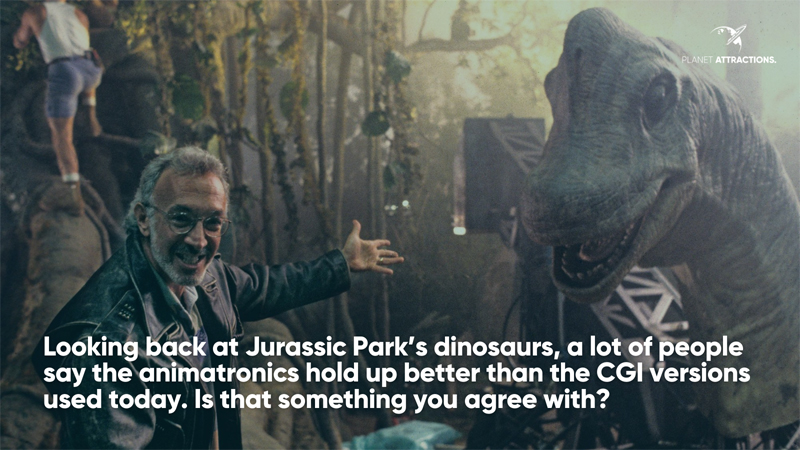 "There's something about robotics or a physical presence that CGI can't create. It has a weight visually. It has this substance that makes it seem more real. For me, there's this kind of ethereal quality to CGI that makes it feel like it isn't there. Where CGI has the advantage, is those robots were incredibly time-consuming and very expensive as a system.

Often it was just half the body of an animal in close-up. When I took the dinosaurs from the movie on tour, I asked for the stegosaurus from The Lost World: Jurassic Park. They mailed it to me and I said 'it's missing a leg'. They responded 'well it was in a forest, so we didn't need to build a fourth leg!' I ended up having to make the missing leg myself. It wasn't a solution to the kind of robotics I wanted to do.

The use of dinosaurs in the movie is a testament to how good Spielberg is. The whole movie has only 13 minutes of dinosaurs but the animatronics are so impactful that it feels like more."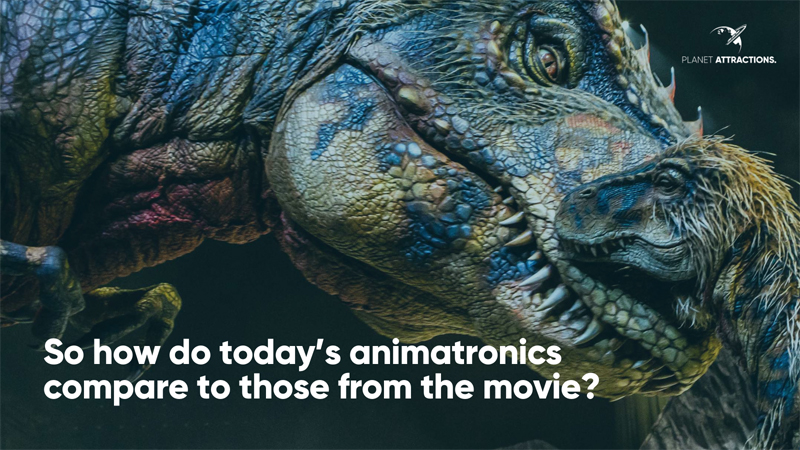 "Right now there's a great combination of animatronic robotics that have been appearing in these touring arena shows for the last decade - Walking With Dinosaurs for example.

In that show, the dinosaurs are inflatable and have facial features that are maneuvered by the glove of an operator on the other side of the amphitheatre, which means they can make very fine movements.

The combination of those technologies makes a very convincing live robot. A lot of it really comes from the facial expressions and the eyes. We read everybody and it's how we see animals. Robots don't offer that. The problem with doing that technology is that it costs upward of half-a-million dollars. Stan Winston's robots from Jurassic Park cost several million dollars each. I've got to come up with a solution that is in the tens-of-thousands, so it's affordable for clients.

There are compromises. I often see robots in a cheap show or a mall and they aren't good. They're inaccurate, they're half-size at best and they move like they've got a serious injury. They're very unconvincing in their appearance, so I've stayed away from those companies."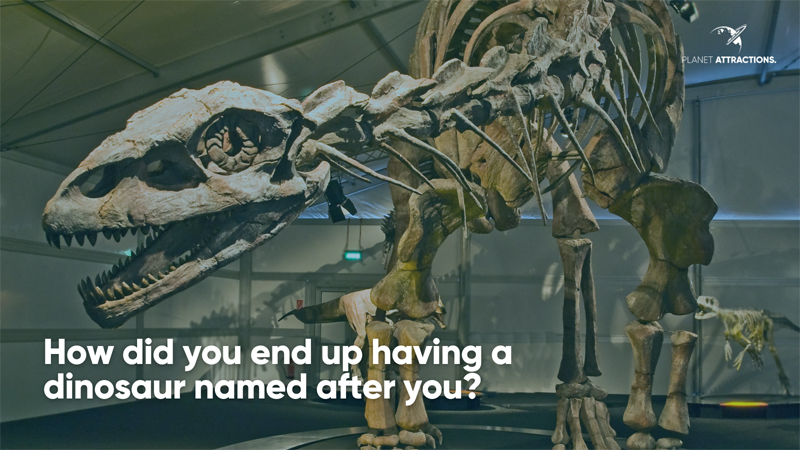 "I had started this non-profit and raised a lot of money for research, with the money going to different scientists.

A guy in Argentina who I was funding found a new species of dinosaur, and named it after me. I was home one day and I got this package. I opened it up and it was an Argentinian journal. It had a paragraph on the front in English, which said the newly-discovered dinosaur Lessemsaurus was named in honour of me. Then I said 'holy sh*t I have a dinosaur!'

Half of all dinosaur names are invalidated over time, so I thought it was probably 50/50 that mine wouldn't make it but it actually turned out that he was actually quite important. Lessemsaurus is a transition between the early Chinese dinosaurs - prosauropods that walked on their hind legs and got to be 20 feet long and the giant dinosaurs like the Argentinosaurus. He's a key character and they found three good skeletons."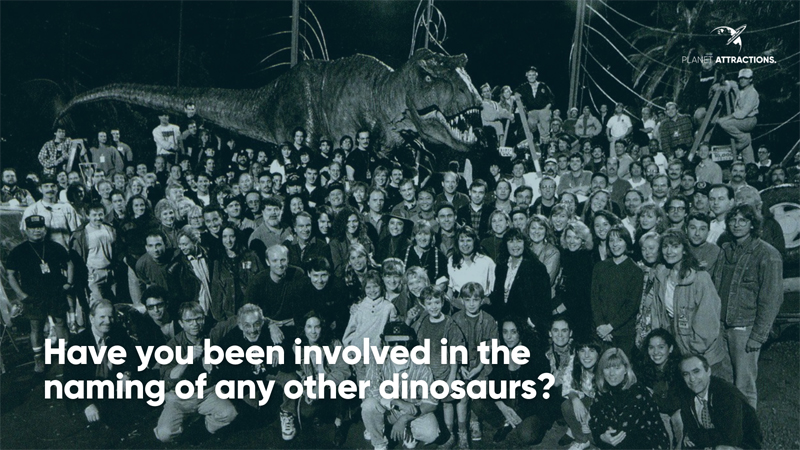 "At the end of shooting a movie, they have a wrap party. On these Hollywood blockbusters, they normally give a Mercedes to an actor who already has 12 of them.

After Jurassic Park, Spielberg asked me if I could get a dinosaur named for the cast. If you donate US$25,000 to a researcher, that goes a long way. If he makes a bunch of new finds, he can name it whatever you ask him to name it. So instead of a Mercedes, Spielberg asked me to do this for the film's actors.

I went to China because they find a lot of dinosaurs there. I spoke to a scientist who said he had an armoured dinosaur which didn't have a name yet. We said that we wanted to name it Jurassisaurus with a species name of Nedegoaperferkamorum - Ne is Sam Neil, De is Laura Dearn, A for Attenborough, Go for Goldblum etc.

The scientist later decided 'this is tacky' and renamed it Tianchisaurus based on the place it was found."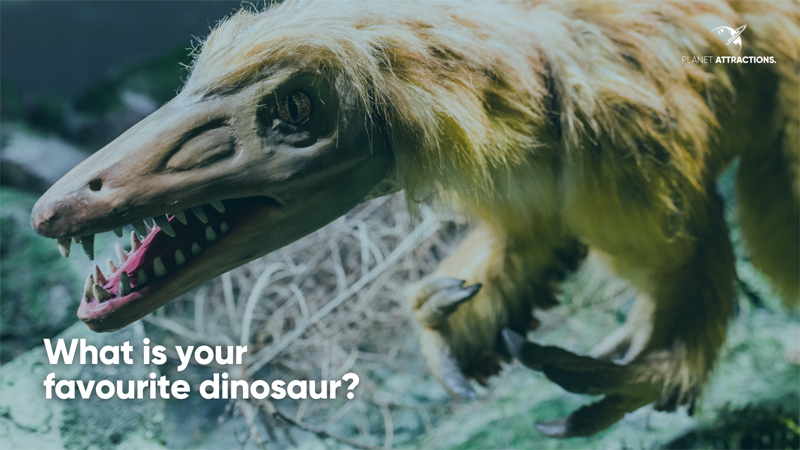 "Well I have to root for the guy named after me but my actual favourite is a dinosaur called Troodon. He's a little guy about the size of an eight-year-old human. He's the smartest dinosaur that ever lived."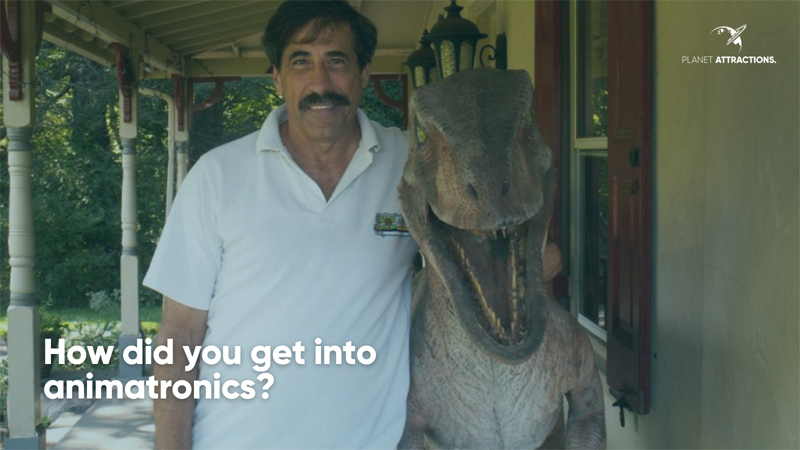 "The best dinosaur quarry in the world for fossil discovery happens to be one that was made in the 1960s in central China. It was in a nowhere town but I always wanted to go there because I had read about it for years.

Three years ago I finally visited as a tourist and I was told this was the town where they make all the robot dinosaurs. So I asked to go to a factory and I assumed they worked like Jurassic Park's or with a mould so they would all turn out the same. Well that wasn't the case.

They had some crazy idea of what the thing was supposed to look like. They gave the workers a bunch of foam from couch cushions and the workers then carved the dinosaurs by hand, which meant they would come out looking weird.

I offered to send a scientist out to stand over the workers and tell them how they really ought to look and that visit was how I decided to go into the robot industry.

This was three years ago. I've had a company doing exhibits and fossils and books for forty years but the robot part came when I saw this."




"It's not a big field, so there isn't a huge amount of competition. At the time, there were really only two companies. One was going bankrupt for non dinosaur-related reasons and the other was using an antiquated pneumatic technology. Since launch, we've grown to be the largest of these companies.

Today, we mainly supply zoos because museums are having a very hard time surviving. We create dinosaur shows with substance, covering things like evolution and behaviour. We create scenes featuring dinosaurs rather than what used to look like the layout for an auto showroom. It's a big step up and why we've been able to corner that market.

When we're not doing dinosaurs, we offer dragons and the good thing about that is there's no dragon paleontologists, so we can use our imaginations. We also have ice age animals."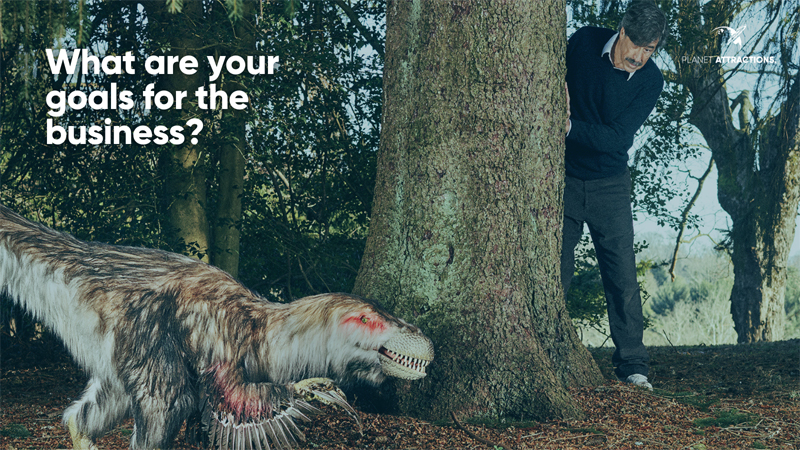 "The goal is to stop making robots because if you have enough stock, we can assign those same dinosaurs each summer to a different place. We're just about reaching that threshold. As of spring we'll have about 250 robots.

In the off-season, you can't find enough places to put these things. In Los Angeles we have this big warehouse, which I think we should turn into a dinosaur attraction. People can come through and see us working on some of the dinosaurs and then see some of the other ones hanging out.

The theme park market is one we really haven't penetrated yet and I think it's crazy that we haven't. The only time I've seen dinosaur robots, other than in specific attractions was when Cedar Fair had a deal with a manufacturer where they would bring in 50-60 dinosaurs to Kings Dominion.

In COVID times, one of the key things you need is more outdoor attractions. They occupy a lot of space because of how big they are but are very low cost. We want to bring our quality dinosaur attractions to the theme park market.

A park that does branded stuff like Universal or Disney, it's not what they would do but the vast majority of theme parks, I would think it was right up their alley.

I've worked for more than three decades with museums. The zoo community we know well. I haven't quite cracked that theme park barrier but it would be great to create nicely landscaped outdoor dinosaur experiences."

Visit us again next Thursday (March 11) for part two of our interview with 'Dino' Don Lessem, where he will talk about the business of dinosaurs, more on his robotics company, touring exhibitions, the infamous Trump Toilet and more.
Visitor attractions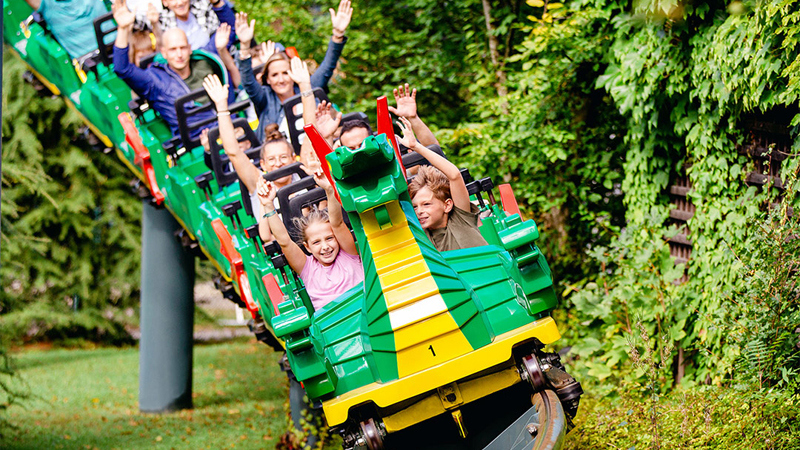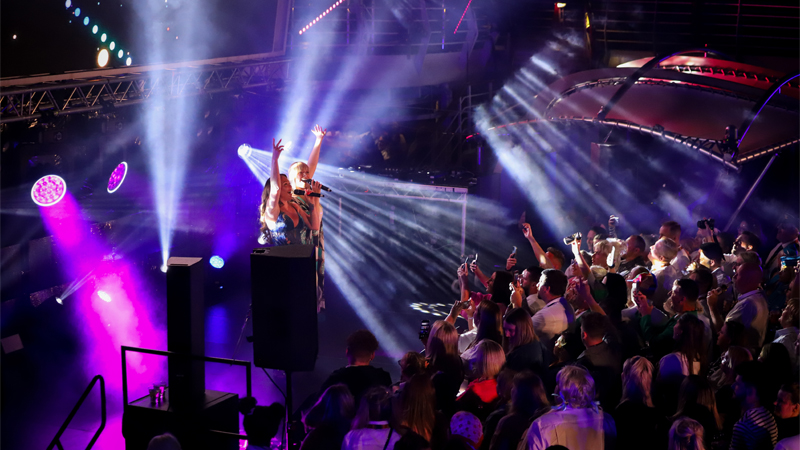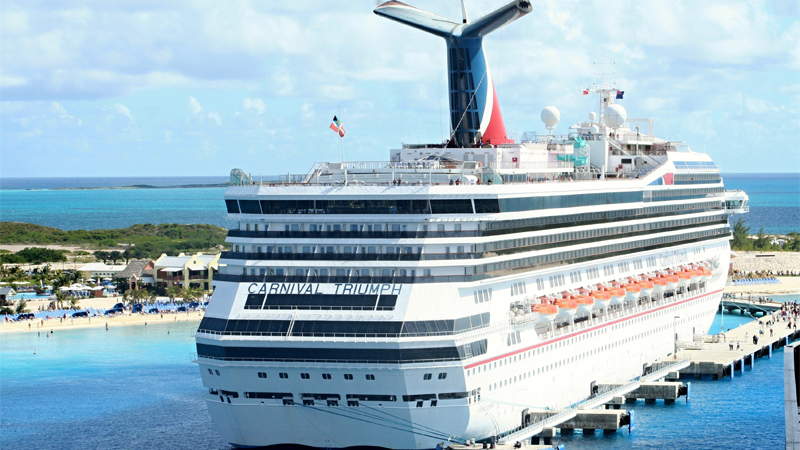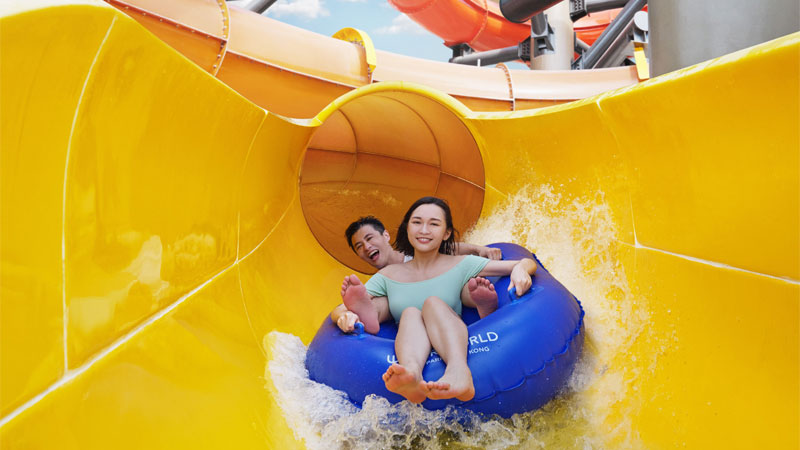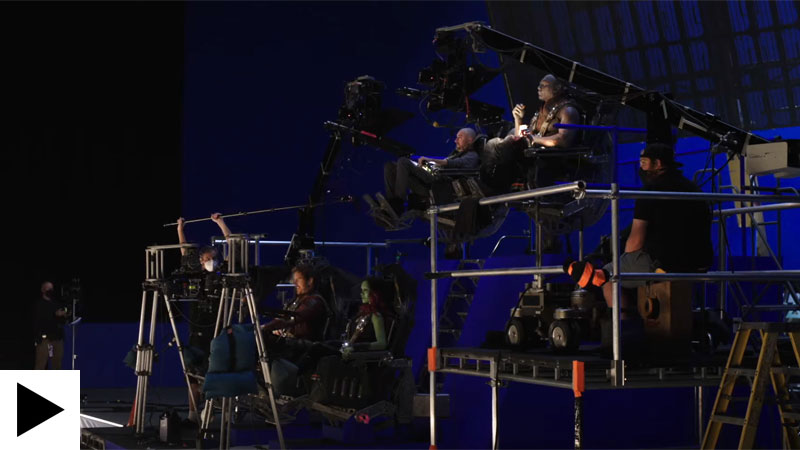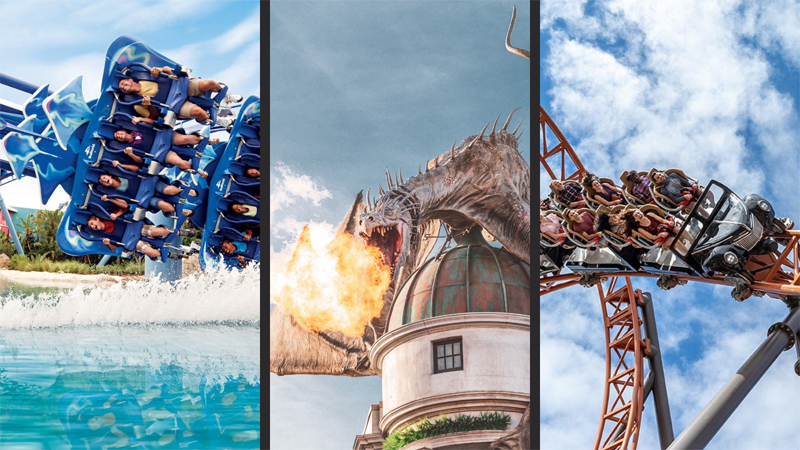 Earnings reports: SeaWorld, Cedar Fair and Universal all soar in the face of Covid-19