In depth

Nine fictional attractions we wish existed in real life and one we definitely don't

From The Simpsons to Black Mirror, we cross the entertainment multiverse to find the very best fictional attractions we wish existed, also offering you a real-world alternative.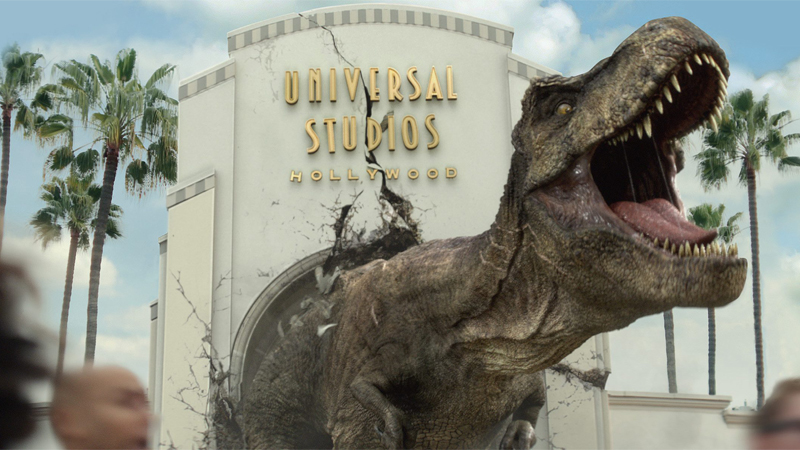 Keeping some attractions in our imaginations could be for the best...
Credit: Universal Hollywood
The visitor attractions industry is pretty incredible. In recent years, immersive theming has been taken to a whole new level and entire worlds are being plucked from the imagination and turned into incredible real-life marvels.

Take an attraction like the Wizarding World of Harry Potter. Based at Universal's theme parks in Hollywood, Orlando and Osaka, you don't just visit an attraction, you enter a whole new world. Likewise, a visit to Disney's Pandora - The World of Avatar, or Star Wars: Galaxy's Edge will make you forget for a brief moment that you're even in a theme park. It's the apex of themed entertainment and a standard that is realised more and more as each year goes by, each experience somehow topping the last.

On the flip side of this are attractions that live completely in fiction. There are some theme parks, some museums, even a chocolate factory or two. These are the attractions thought up but never realised. So what are the best ones and what's the best real-life alternative?

Planet Attractions takes a look at the attractions we really wish existed and one we definitely want to remain in our imaginations. Also a quick side-bar here - a lot of these attractions end with destruction and chaos. We're picturing a nice, up to code, version of these fictional fantasies. Safety first!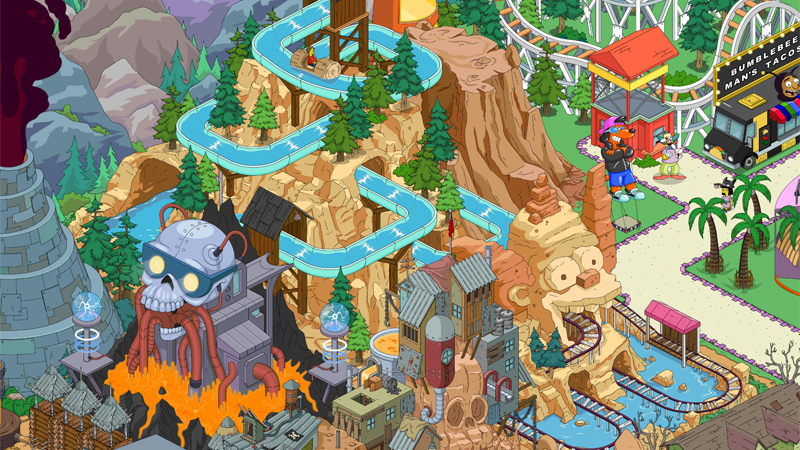 The Simpsons - Itchy and Scratchy Land

First appearing on our screens way back in 1994, Itchy and Scratchy Land (not to be confused with Krusty Land) was The Simpsons' answer to Disneyland.

The Simpson family visit the park as an alternative to a bird sanctuary, with Bart and Lisa convincing their parents of the change in destination thanks to its areas for adults, including bars, bowling alleys and a rehab centre.

Admittedly, you probably wouldn't want to visit the iteration of the park seen in episode 107 of the show, primarily because the animatronic robots go rogue and try to kill all of the park's guests (as mentioned, attraction inhabitants trying to kill their guests is a running theme in this list). Be safe in the knowledge though that if the robots do rise up, the Simpsons were able to stop them using the flash on their disposable cameras – the SOS light function on your smartphone should do the trick.

If you want a safer, and real-life, version of Itchy and Scratchy Land, you can visit The Simpsons Ride at Universal Studios Florida and at Universal Studios Hollywood. One of my personal favourite rides anywhere in the world, the IMAX Dome motion simulator by Blur Studio, Reel FX and Universal Creative, is the centrepiece of both parks' Simpsons-themed areas.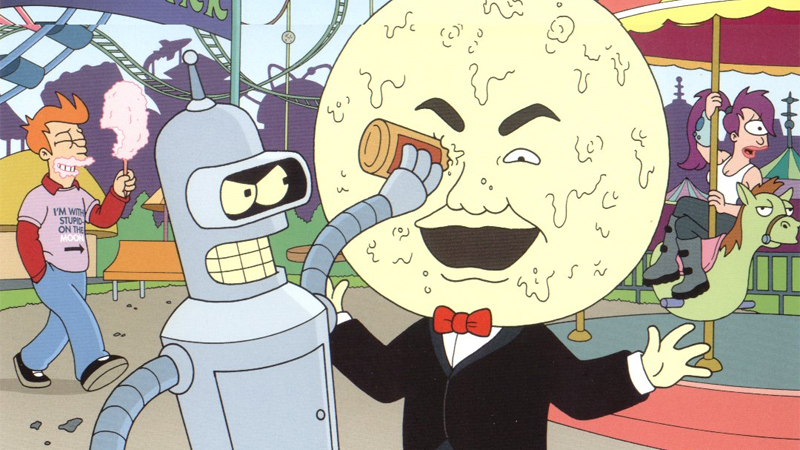 Futurama - Luna Park

An attraction where getting to visit the surface of the moon is the most boring ride? Sign us up!

Another one from the mind of Simpsons creator Matt Groening, the moon-based Luna Park from Futurama is housed inside a giant orb filled with rides, games and dining options.

In the show, the Planet Express delivery crew visit the park to deliver some stuffed toys for the park's claw machines. Fry and Leela take a ride on the Lunar Rover, which in the 31st century is considered an educational kids ride rather than a marvel of modern science. The park also has a unique mascot - the moon-shaped Craterface. Known attractions include Whalers on the Moon, Destination Moon, Goophy Gopher Revue, Moon Street and the Orlon Candy Stand.

Much like Itchy and Scratchy Land, Luna Park is also a spoof of Disneyland, as well as the real-life Luna Parks in both Melbourne and Sydney, Australia. The fictional attraction also shares its name with three other parks – one on Coney Island in New York, US, another in Scarborough, UK, and a third in Tel Aviv, Israel.

One roadblock, admittedly, to making this park a reality might be the cost to visit. Space travel hasn't quite been perfected for the domestic customer yet, so as an alternative, we suggest any of the park's namesakes. Luna Park Sydney has just announced a A$30m (US$22.2m, €18.5m, £16.6m) investment in nine new rides, so that might be one to keep your eye on.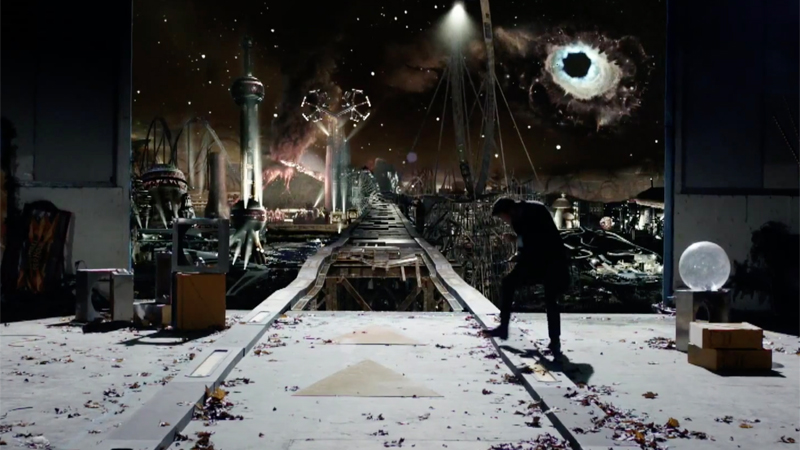 Doctor Who - The Nightmare in Silver

You probably wouldn't want to visit this park as it appeared in Doctor Who, particularly as it turned out to be a stronghold for a Cyberman army, but we're heading back to the moon for our next fictional adventure to think about what could have once been.

In the episode, the Eleventh Doctor (portrayed by Matt Smith), takes Clara and her nanny charges Angie and Artie to the extraterrestrial theme park. More of a museum, a deactivated cyberman is one of the exhibitions, though it would turn out the Cybermen had been hiding under the park, slowly upgrading their parts as they rebuilt.

At one point the heroes take shelter inside 'comical castle' - a disused attraction at the park. It might now be rundown and overrun with cyborg killers BUT the few glimpses we get of the theme park and its attractions suggest that this fictional world would have been a wonder to behold in its prime.

Our alternative? Well if Doctor Who is your bag then the upcoming London Resort could be just the thing to scratch that Whovian itch! The multi-million-pound theme park project, which is currently under development, could feature Doctor Who. The London Resort Company struck a branded attractions deal with the BBC in 2014, so The Doctor, in one of his many iterations, could potentially feature in the lineup. Allons-y!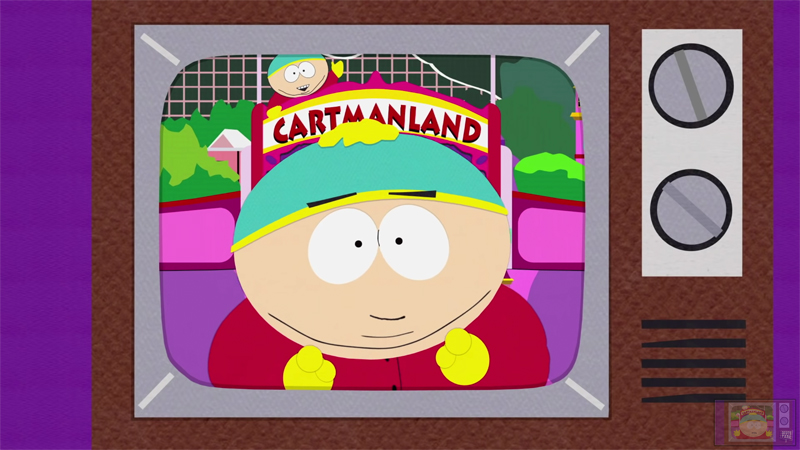 South Park - Cartmanland

Imagine a theme park where you're the only guest. No lines for miles and unlimited rides on anything you fancy. Sound good?

It was the dream of Eric Cartman, who sadly learned a lesson in economics during the fifth season of South Park, when he purchased his own theme park after his grandmother left him a million dollars in her will.

To keep his friends out, Cartman has to hire a security guard. Having spent his inheritance on the park, he has to let a certain number of people in to pay the guard's wages. Expenses then begin to mount with costs such as ride maintenance, refreshments, utilities, and added security. Suddenly, Cartman is surrounded by thousands of people, his theme park dream turned into a personal nightmare. Cartman then sells the park but ends up in deep debt from taxes, penalties and lawsuits. A tough lesson in theme park management - especially when you're only 10 - but an important one we're sure you would agree.

This is one where we can't really suggest an alternative. If you're going to a theme park and there's no one there, it's either closed or not the place for you to be! The best replica we've personally enjoyed is a weekday trip to Alton Towers during the school term. Definitely not empty but a little more room to breathe!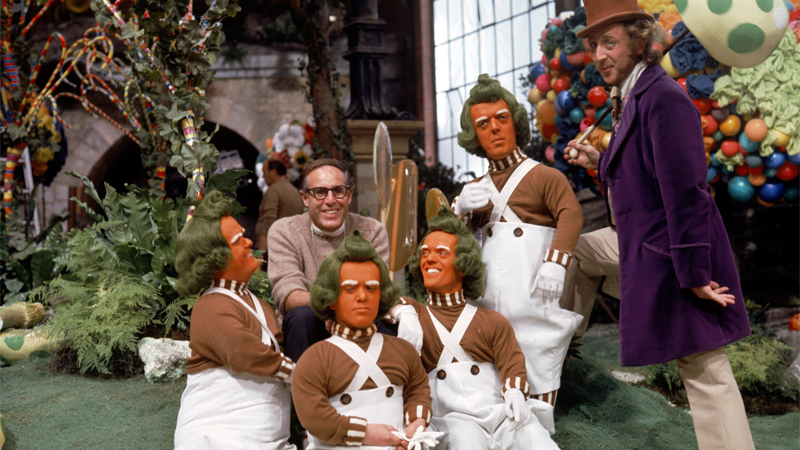 Willy Wonka's Chocolate Factory

Gene Wilder. Oompa Loompas. A river of chocolate. It's got everything you could ever wish for. Yes it's Willy Wonka and his chocolate factory, an edible wonderland of confectionery creations that defy logic.

Based on Roald Dahl's iconic children's book, Charlie and the Chocolate Factory tells the story of 11-year-old Charlie Bucket, who wins the chance for a magical tour inside the Willy Wonka's mysterious and magical chocolate factory, alongside a colourful cast of characters who manage to eliminate themselves from the tour one after the other.

A tour of this chocolate factory, hopefully with less casualties, would be a dream, meaning absolutely no swimming in the chocolate river no matter how much you want to!

Did we mention Wonka also owns a flying glass elevator? Wouldn't mind a ride on that while we're at it.

If you wanted to visit the real-life location, the 1971 classic was filmed in Germany. The factory today sadly isn't as magical as a secretive chocolate factory - it's really home to the Munich Gasworks.

If magic and wonder are on the agenda, as well as the chance to try some mind blowing sweet treats, Universal CityWalk in Orlando is home to the Toothsome Chocolate Emporium – a 19th century-themed, Steampunk-inspired dining establishment with a façade of towering smokestacks and an interior adorned with intriguing gadgets and gizmos. If a real-life chocolate factory visit is what you're looking for, then look no further than Cadbury World in Birmingham, England.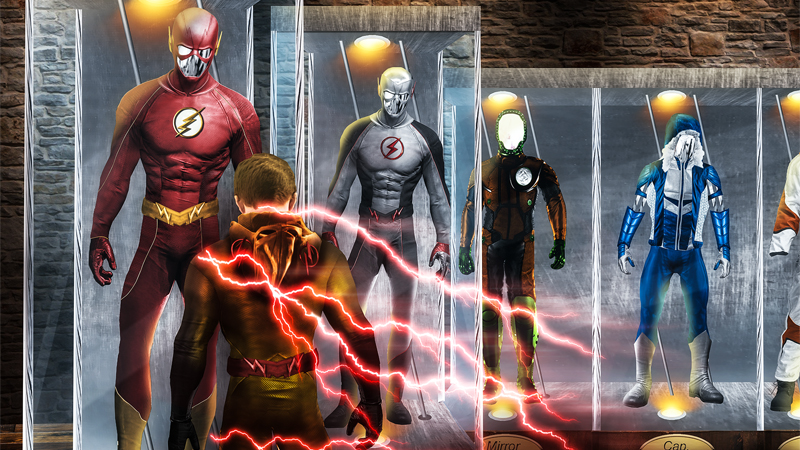 DC Comics - The Flash Museum

Inaugurated sometime between 2019 and 2024 in an alternative universe in a possible future, the Flash Museum is even conceptual in its fictional reality. Dedicated to the quick-footed superhero, the museum is a mainstay of the DC Comics Universe, debuting way back in Flash #154, released in August 1965.

The attraction has a number of areas, including the Hall of Heroes, the Hall of Villains and the all-important gift shop.

In the Hall of Heroes, you can see artefacts such as Flash's various outfits, as well as items and outfits used by heroes he worked with over the years, with names such as Green Arrow and Kid Flash featuring prominently.

The Hall of Villains showcases many of the suits and other equipment that the Flash's enemies had used over the years. Items on display include the Reverse-Flash suit, Savitar's armour, the Thinker's Hoverchair, and Zoom's speed-dampening mask.

Sadly, there is no real-life version of the Flash Museum. However, in the US, the Warner Bros Studio Tour in Hollywood, California, features a Justice League exhibit where you can see authentic costumes and props from the Justice League film, including The Flash himself, while Madame Tussauds in Orlando, Florida and Sydney, Australia, also feature DC waxworks.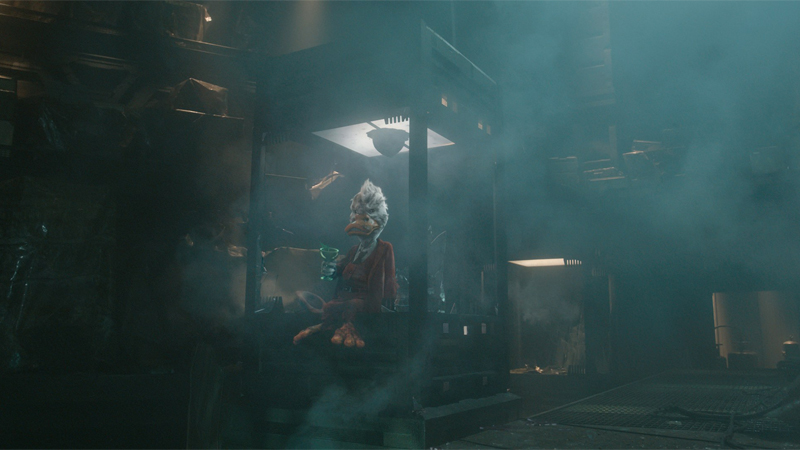 Marvel - The Collector's Museum

From one museum to another and from DC to Marvel to explore the incredibly exclusive private museum curated by Taneleer Tivan, better known as The Collector.

Located inside the Knowhere mining colony (the severed head of a deceased Celestial avatar) far, far away from earth, The Collector is renowned as the keeper of the largest collection of interstellar fauna, relics and species in the galaxy, meaning by definition he has the most incredible museum the universe has ever seen.

We're thinking about a visit in the timeline pre-Avengers: Infinity War, as the museum fell victim to a devastating attack from Thanos in search of the Reality Stone. Hopefully Howard the Duck lived through the attack.

If you're looking for the best real-life alternative, we think the British Museum is quite impressive, and it might be a bit easier (and less dangerous) to access. Over on the other side of the pond, New York's Metropolitan Museum could try and give The Collector's Museum a run for its money.

You can actually visit a mini replica of the museum with a visit to Disneyland in California. One of the park's newest attractions - Guardians of the Galaxy - Mission: Breakout - features a themed queue line, which is filled with easter eggs and references to Marvel movies, comics, television shows and even Disney theme park attractions and characters.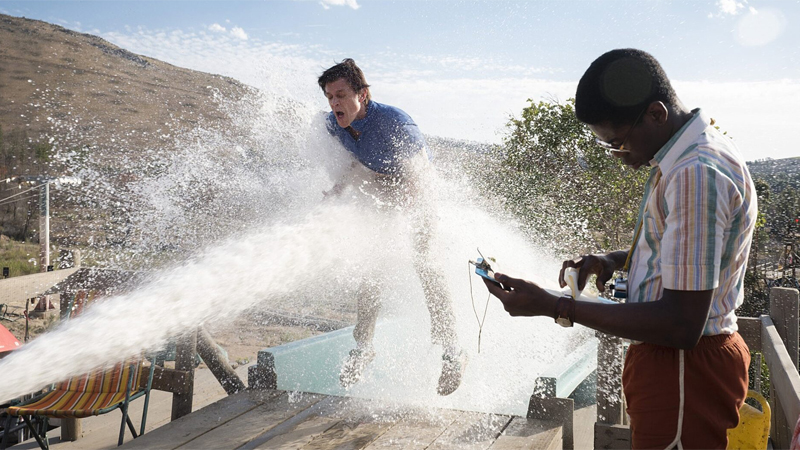 Action Point

Admittedly this is more us saying we enjoy watching Johnny Knoxville repeatedly hurting himself for our amusement but Action Point is a throwback to the theme park of the past that we could really use in our lives today.

In Action Point, which was released in 2018, a theme park owner with incredibly dangerous attractions and zero safety measures, is forced to revamp the attraction before it goes out of business. The film is a mixture of Jackass-style stunts, intertwined with the story of running the attraction.

If you went to this park in real life, there would likely be a high chance of injury. Our advice is to definitely visit, but watch from afar and keep an eye on the stuntmen.

Action Point is, of course, based on a real life theme park – the notorious New Jersey-based Action Park. It's probably for the best you can't visit, as increasing numbers of personal injury lawsuits led to the closure of many of the park's rides before its full closure in 1996.

The park has since been completely redeveloped and reopened as the Mountain Creek Waterpark, which operates to this day. It did however briefly change its name back to Action Park between April 2014 and May 2016, Its safety record, thankfully, does not match its predecessor.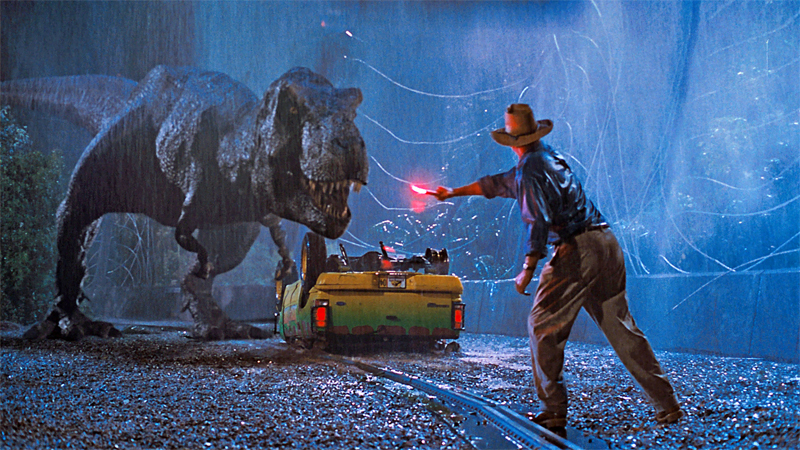 Jurassic Park

Arguably the ultimate in fantasy attractions. A wildlife park on a far away tropical island filled with prehistoric beasts - Welcome to Jurassic Park.

Originally based on Michael Crichton's 1990 novel and later transformed by Steven Spielberg into one of the greatest cinematic experiences of all time, Jurassic Park is set on the fictional Isla Nublar - a private island off the coast of Costa Rica. There, wealthy businessman John Hammond and a team of genetic scientists have managed to do what no one thought possible - bring dinosaurs back to life. Of course in every one of the Jurassic Park and Jurassic World movies, chaos ensues and park visitors are left scrambling to survive the perilous island and its inhabitants, who very quickly realise their place at the top of the food chain.

We're envisioning the Jurassic Park we want to visit as that bit before the Indominus Rex escapes in Jurassic World - fully functioning and following the highest safety protocols - not a mad scientist (will that hubristic Dr Wu never learn?) or corporate espionage spy in sight.

If you want to visit a real life version of Jurassic Park, sadly DNA sequencing isn't quite there yet, however, it may not be as far off as you think. Following the birth of Dolly the sheep in 1996, there have been great advances in the science of creating life using cloning.

At San Diego's Frozen Zoo, cryopreserved cells of a horse that died more than 40 years ago were brought to life by scientists earlier this year. Named Kurt, the Przewalski horse is the first such example of frozen DNA being brought back to life, while the remains of a near-complete woolly mammoth could be a huge leap forward in the process of bringing an extinct species back from the dead. The Russian federal government has even funded a laboratory in Siberia to help them to win the race to clone a mammoth, which has become a matter of national prestige, much like the space race of the fifties. It does beg the question: if a 10,000-year-old extinct animal can be brought back, will the T-Rex be following soon after?

If cloning doesn't pan out, Universal Studios does of course offer its fantastic Jurassic World attractions at its parks in the US, Japan and Singapore. Its latest attraction - the Intamin-designed Velocicoaster debuts in 2021 at Universal's Islands of Adventure in Orlando, Florida, and will be the largest such attraction in the park.

To our money, Jurassic Park: The Ride - the Vekoma-designed classic water ride - is one of the best theme park attractions anywhere in the world. At Universal Studios Hollywood, the ride has been rebranded and updated to reflect the more recent Jurassic World franchise.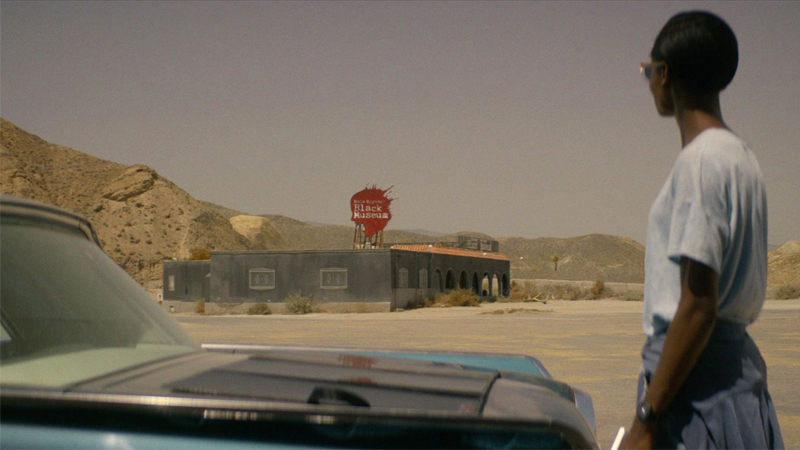 Black Mirror - The Black Museum

This final one is actually one we're highly recommending you DON'T visit.

The sixth and final episode of season four of Charlie Brooker's Black Mirror, the Black Museum boasts a number of criminal artefacts and an extremely disturbing main attraction – a holograph of a man condemned to death by electrocution. The exhibit sees visitors pull a lever for the conscious hologram to get the chair over and over again. This cruel and horrific exhibition becomes the worst nightmare of the museum's curator, who unwittingly shows it to the hologram's real-life daughter, who, hellbent on revenge, then transfers his consciousness into the hologram before electrocuting it.

The museum also hosts a number of equally dark and depraved exhibits, including a hairnet that allows people to feel the physical sensations of other people and a toy monkey containing the consciousness of a comatose woman.

We'd probably avoid this one all together. Jurassic Park sounds much nicer...
Visitor attractions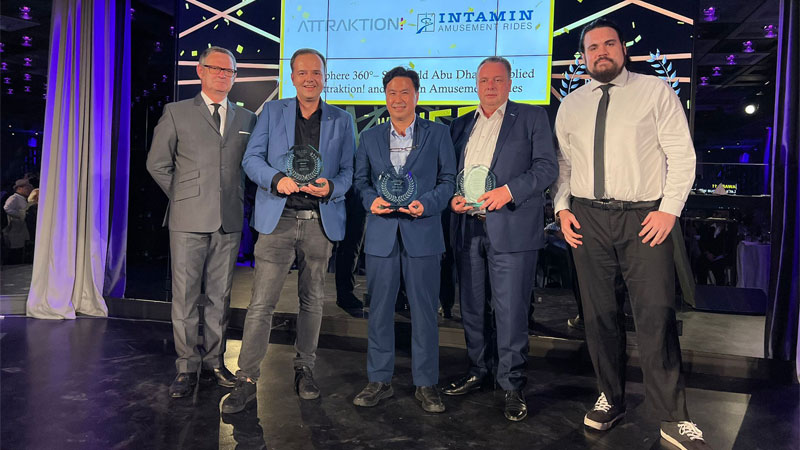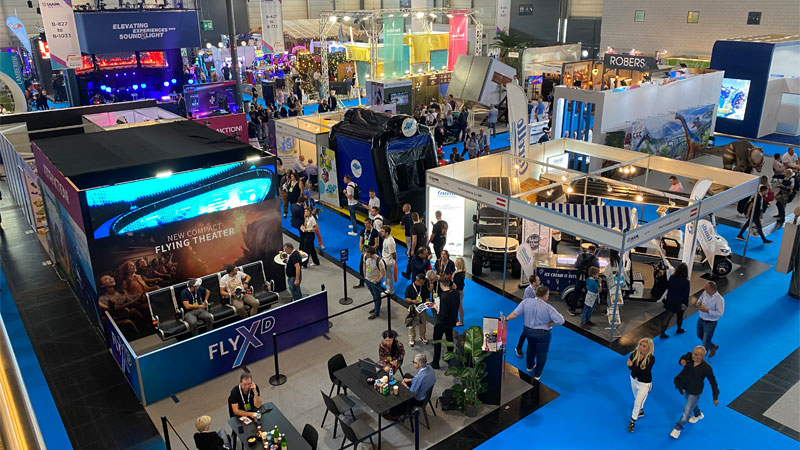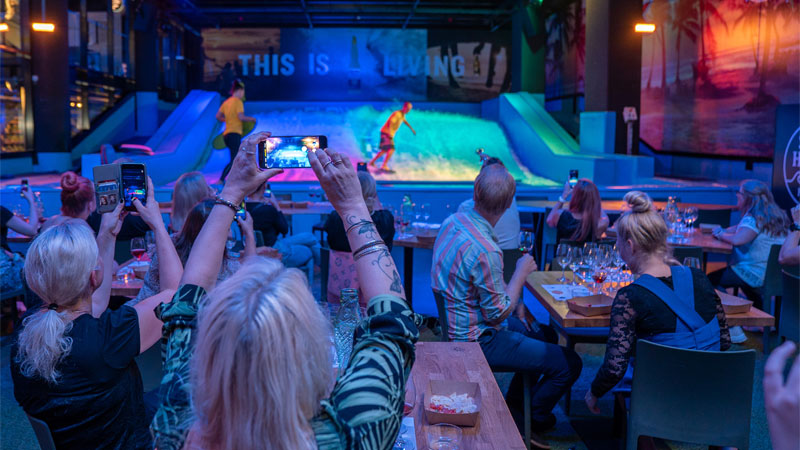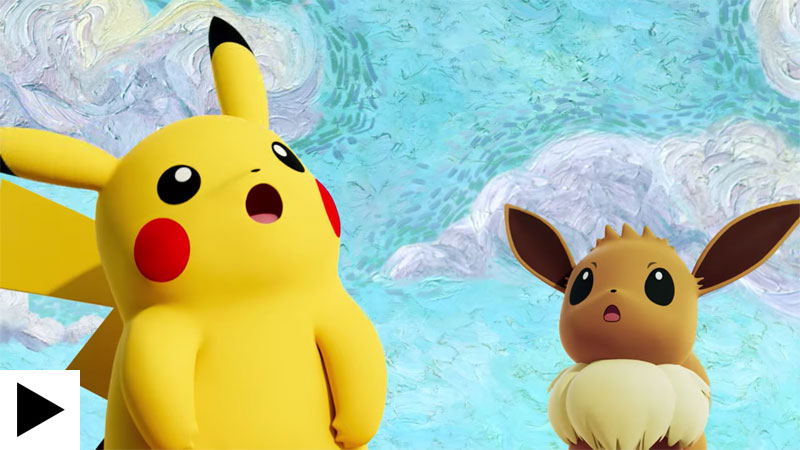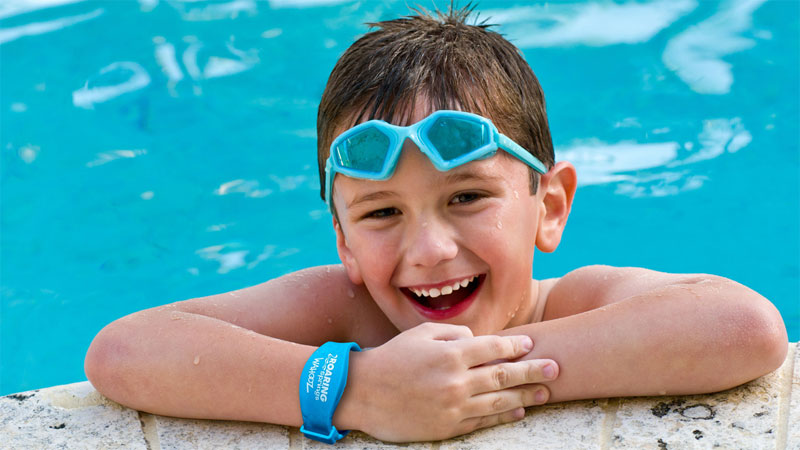 Solving the puzzle: Connect&GO's Anthony Palermo on how technology is rapidly changing attractions management