The fossilised remains of a 180-million-year-old ichthyosaur dubbed the 'Rutland sea dragon' is set to go on display in the UK once the gargantuan fossil has been assembled.

Discovered at the Rutland Water Reserve in the Midlands, Anglian Water - which owns and operates the Rutland Water Reserve alongside Rutland County Council and Leicestershire & Rutland Wildlife Trust - is hoping to secure funding for a Rutland-based display either at the discovery site or the county museum.

"We recognise the significance a find like this will have for the local community in Rutland," said Peter Simpson, CEO of Anglian Water. "Our focus now is to secure the right funding to guarantee its legacy will last into the future."

Described as one of the 'greatest finds in the history of British palaeontology', the 180-million-year old ichthyosaur is the largest and most complete specimen ever found in the UK, with a 10m (32.9ft) -long skeleton and a skull weighing in at a tonne. It was discovered during a routine draining in February 2021.

Its excavation was led by Dr Dean Lomax, a palaeontologist from Manchester University, and funded by the National Lottery Heritage Fund (NLHF). The NLHF also provided funding to conserve the fossil, with preservation works led by palaeontological conservation specialist Nigel Larkin taking place over the next 12 - 18 months.

Speaking to The Guardian Dr Lomax said: "Despite the many ichthyosaur fossils found in Britain, it is remarkable to think that the Rutland ichthyosaur is the largest skeleton ever found in the UK. It's a truly unprecedented discovery and one of the greatest finds in British palaeontological history."

"Usually we think of ichthyosaurs and other marine reptiles being discovered along the Jurassic coast in Dorset or the Yorkshire coast, where many of them are exposed by the erosion of the cliffs. Here at an inland location is very unusual," Lomax told the BBC.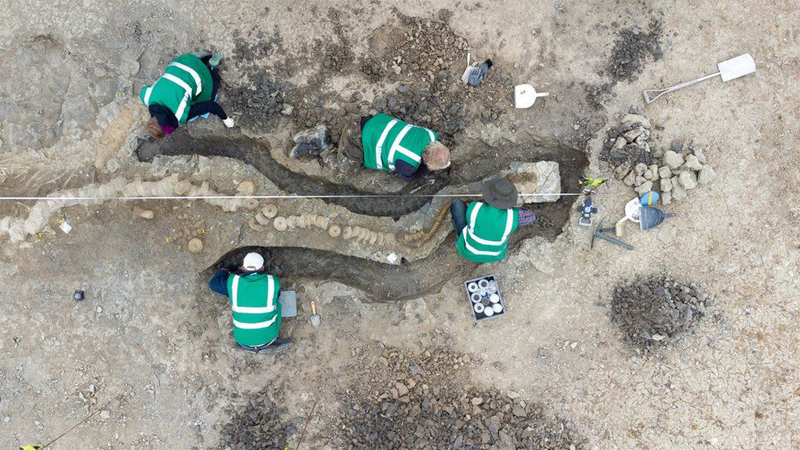 The excavation was funded by the National Lottery Heritage Fund CREDIT: ANGLIAN WATER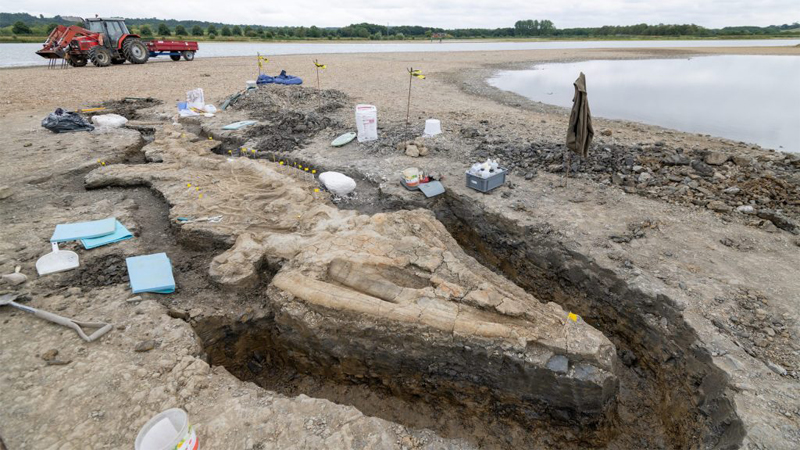 The fossil was discovered during a routine draining at the reservoir in February 2021 CREDIT: ANGLIAN WATER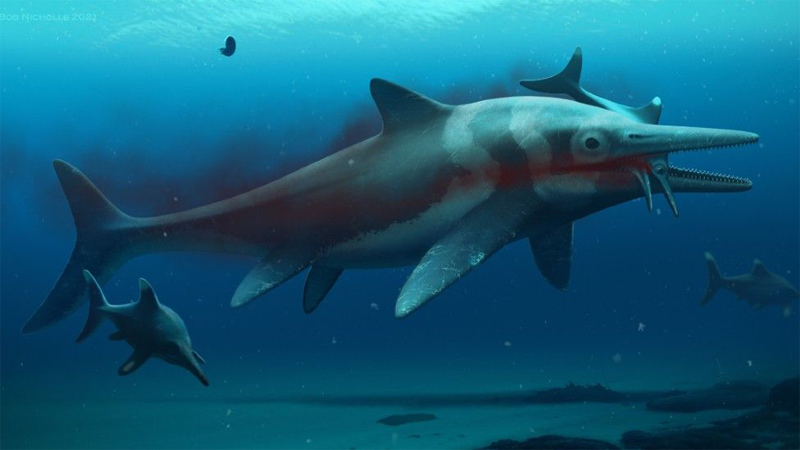 Ichthyosaurs were warm-blooded, air-breathing mammals similar to dolphins. They became extinct 90 million years ago CREDIT: ANGLIAN WATER